It was Day 3 of our Kazakhstan trip and it was reserved for Almaty to Charyn Canyon Day Tour. Charyn Canyon is a place about 200 km east of Almaty, a 4.5-hour drive away. We'd read in several guidebooks that Charyn is like a mini-Grand Canyon, and we had even seen some footage of it in the Kazakh leg of the 'Long Way Round' series.
Thus, it became a must-do item on our list. The quoted costs for going to Charyn were exorbitant, to say the least. A return taxi with a driver for an entire day was about 18,000 INR, with a park entrance fee of 500 INR. Upon going through some recommendations in one of the guidebooks, we found an alternate solution.
Journey So Far:
We could book ourselves on a guided tour to Charyn on a bus which ferried people on weekends. The only catch was that the guided tour was supposed to be in Russian only. The cost was very attractive though – at 3200 INR all-inclusive, it was a steal when compared to 18,500 INR.
We requested Madina, our trip organizer, to make the bookings for us since the offices were only open on weekdays, and she charged a 10% commission to get the same done. The pickup point was near the town center at 8:00 am, and we were advised not to be late by even a minute.
Almaty to Charyn Canyon Day Tour
We had requested the hotel to serve us breakfast at 7 am sharp and planned to leave by 7:15 am with the same driver we had arranged the night before. Everything went as per plan, but as we approached the rendezvous point, I could not find the receipt of payment for the bus.
Without the receipt, they would definitely not have allowed us to board, given that we were foreigners and did not know the language. I was panicking like crazy, but Aarti was cool and calm. As soon as we disembarked, I saw the receipt lying on the floor of the taxi and was reprimanded by Aarti for losing my cool.
It is so typical of us. Should anything move away from a set plan, I am the one to panic while she is always cool. So far, this synergy has been working just fine.
The Tour Begins
All were aboard the bus by 8 am sharp, and off we went. Thus began the most irritating bus ride of our lives – the cramped seats, no air conditioning, no way to open the windows, the monologue of the tour guide in Russian – it was all too much. The guide in particular got on our nerves.
He had a microphone and kept speaking non-stop for the next 4 hours until we reached Charyn. You have to appreciate this guy's tenacity for speaking. He was fairly old and it was hot, so continuous speaking would not have been easy, especially when no one was too interested in his 'guided tour'.
The only ventilation was from two sunroofs along the length of the bus, giving some reprieve from the oppressive heat. The temperature must have been in the mid-30s that day.
The road conditions were as one would expect on a state highway in India. It was two-laned without a divider in between, tarred but the quality of tar was poor resulting in a bumpy ride throughout. For the longest time, the highway crossed through some densely populated areas, and thus the scenery outside was unexciting.
Pitstop
Relief from the guide's monologue came two hours later when we halted at a small pitstop. It boasted of one small shop where one could buy some chips, local snacks, and bottled water.
The guide came to us with a woman who could speak English and requested us to buy some water and snacks for ourselves. He mentioned that we were all to fend for ourselves and there were no dhabas or restaurants at the Canyon. This nugget of information came as a shocker as we had absolutely nothing on us to eat.
The chips packets were really expensive and the only thing we could buy were some chocolates and a really weird local snack which we had to eventually buy for lack of anything else to eat.
Half an hour after the pitstop, we were out in the countryside where there was little population and nothing but wide-open plains with barren mountains on either side of the road. We were moving closer to the Kyrgyz border. About 20 km before the Canyon, the bus stopped, the driver got out and started doing something on the side of the bus.
We thought he was engaging four-wheel drive, and our suspicions were confirmed when we left the tarred highway and moved on to a dirt track as soon as the bus re-started. With the AC not working, and the vents now closed so as to stop dust from entering, it was a suffocating hour as we trudged slowly on the dirt track.
Charyn Canyon
Finally, at 12:30 pm we reached the edge of the Canyon, a good four and a half hours after our departure from Almaty.
Pit-stop to pick up food and water

As we neared Charyn, the population thinned out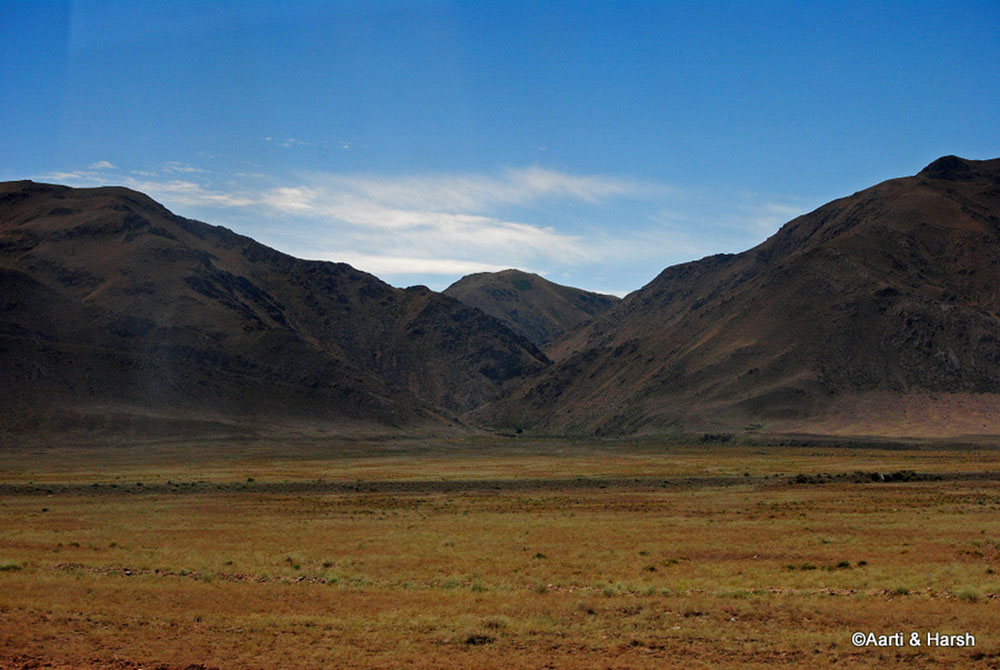 And what welcomed us were wide open plains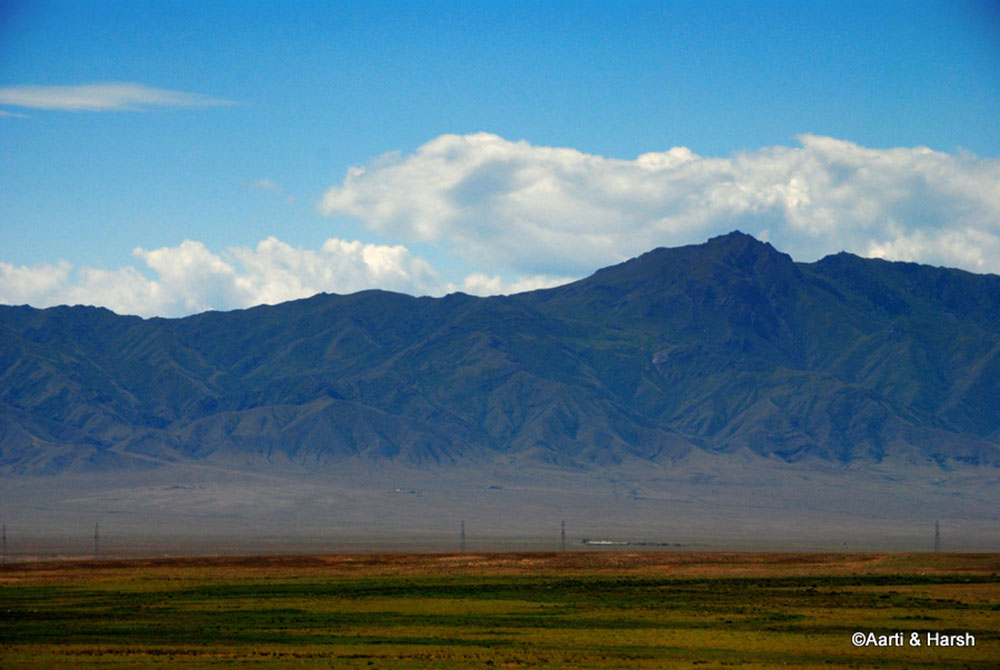 Eventually, we left the highway to take this dirt track on the last stretch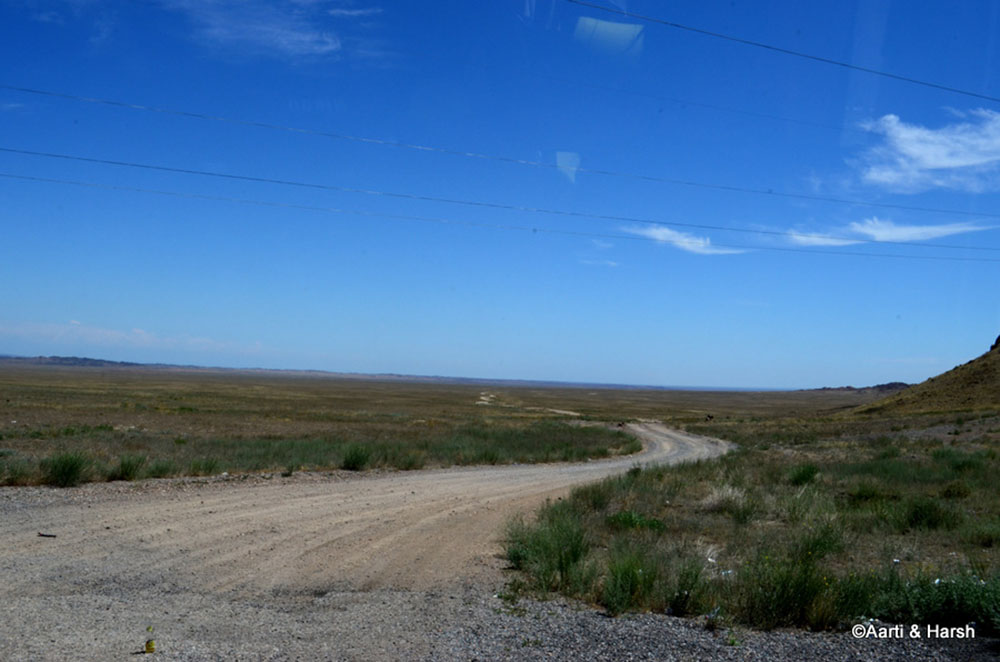 Lada 4x4s, they climb anywhere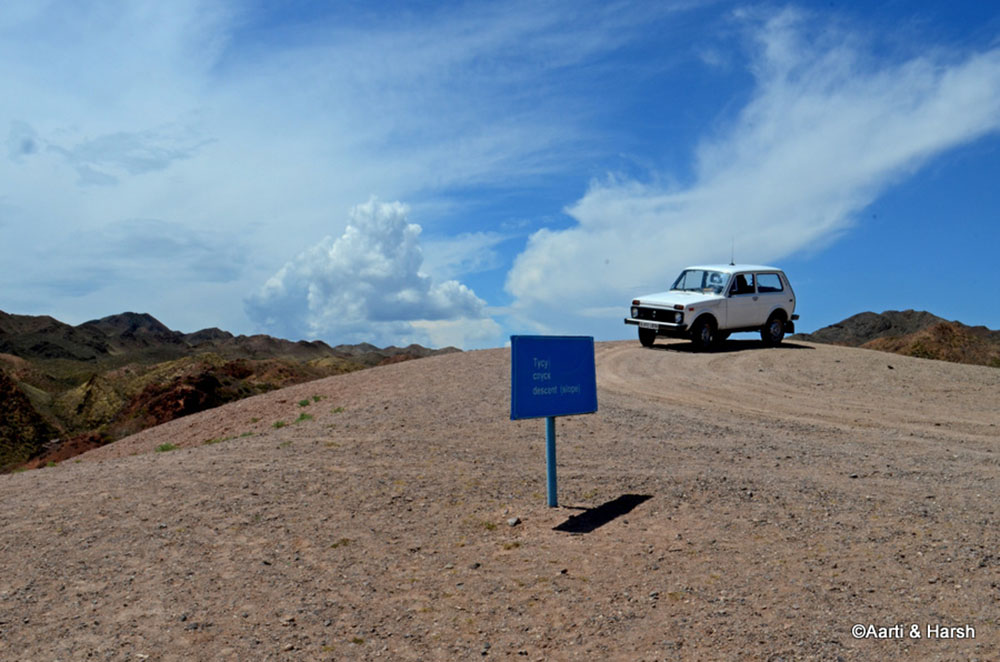 ​We jumped outside to get some fresh air and to get as far away as possible from the monologue-delivering guide. He led the entire group down the mountain and into the canyon and spoke loudly even without the mic as he went along.
The poor guy was just doing his job, but we chose to stay a bit behind the group to have a quiet walk by ourselves. The sun was out with all its fury, the clouds nowhere to be seen. So much for our prayers the previous night!
Too Hot a Day to Walk in a Canyon
The trekking path climbed steeply down the mountain and into a dirt track between the two canyon walls used by 4×4 vehicles. Despite the searing heat, it was fun to walk in the canyon. It was quite a touristy thing to do, but heck we were tourists, weren't we?
We met the only desi we came across on the trip here. He was employed in a hospital in Almaty and was on his day out with his wife and kid. I did not see him on the bus, so probably he had come in his own vehicle. I was tempted to ask him for a lift back in the comforts of his air-conditioned car, but I resisted the urge to do so.
We purposefully let the group go-ahead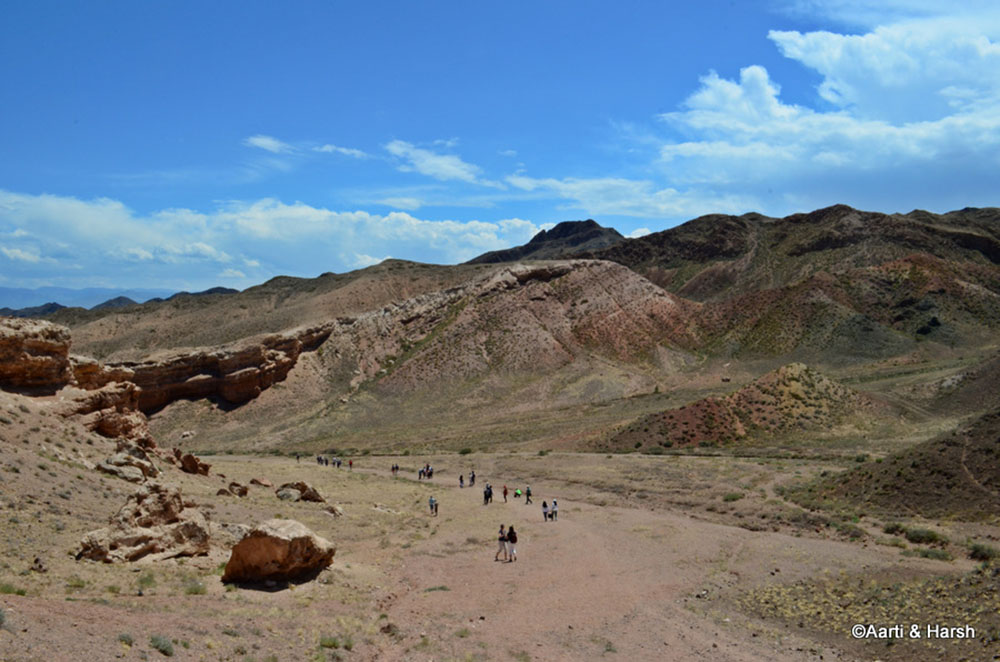 Photo Requests
While walking, another local family ganged up on Aarti and me for a photo opportunity, but this time it was a bit weirder. While the first round of pictures included both of us, in the second round Aarti was requested to step out of the frame, and so did all the male members of the family.
I was sandwiched between 4 women with Aarti smiling ostensibly in front of me. She was actually fuming at having been removed from the photograph. Such was her anger that I feared for the family's safety and urged them to proceed quickly away from us. Jokes apart, it was a bit rude on their part to get Aarti out of the frame. We decided to politely refuse further proposals for photographs.
Charyn River
The walk ended after 4 long, hot, and sweaty kms at a very beautiful picnic spot. The Charyn river was in front of us and it was lush green all around. Sort of an oasis in the middle of a desert. The landscape so reminded me of Ladakh – patches of green in the middle of brown.
We now had a big problem on our hands – our tummies were rumbling, rather growling, and all we had to eat were 2 bananas and a very bad snack that seemed to have been baked in hell.
To add salt to our woes, there was a family picnicking next to where we were sitting. They had driven down in their 4x4s and had set up an open barbeque. They were making shashlik. The smell was heavenly and was making our minds fuzzy with hunger. I almost approached them to beg for food, but Aarti coaxed me not to. I had even thought of an offer they could not have refused – one shashlik + nan for every photo clicked.
There was nowhere else to go, and the aroma kept coming towards us wherever we sat. Those two hours of sitting by the river must be one of the toughest in my life. We ate our bananas and our stupid snacks from hell.
A Pleasant Break
If we had only known that we would not get any food, we would have packed some sandwiches. Apart from the hunger part, it was fun to just sit by the river and relax. The river was freezing cold and it helped cool our hot bottle of water.
Caught again on the camera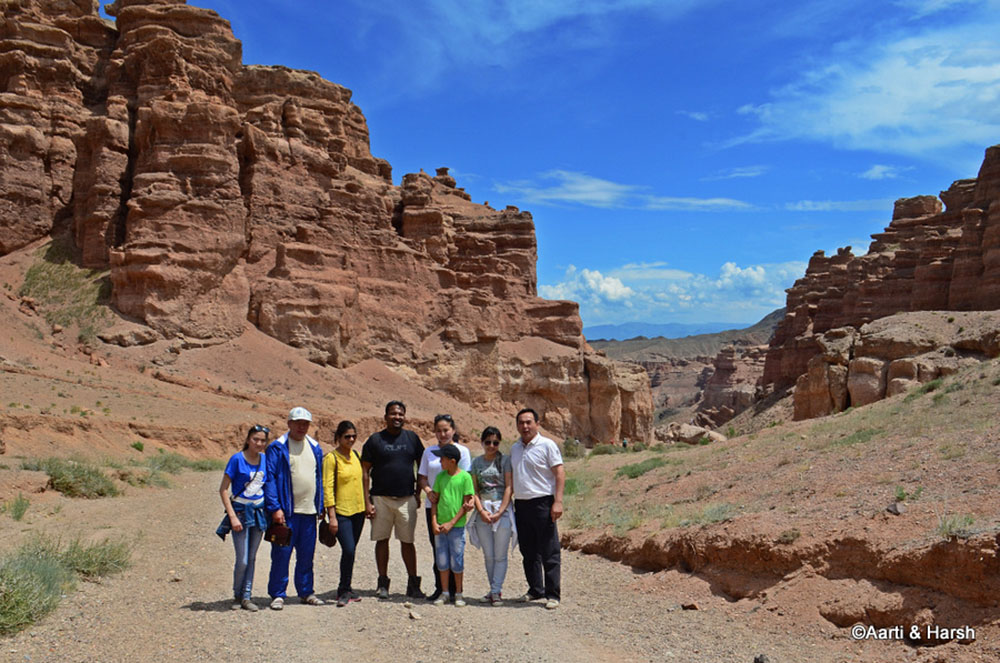 Aah it would have been fun to drive and camp here for a night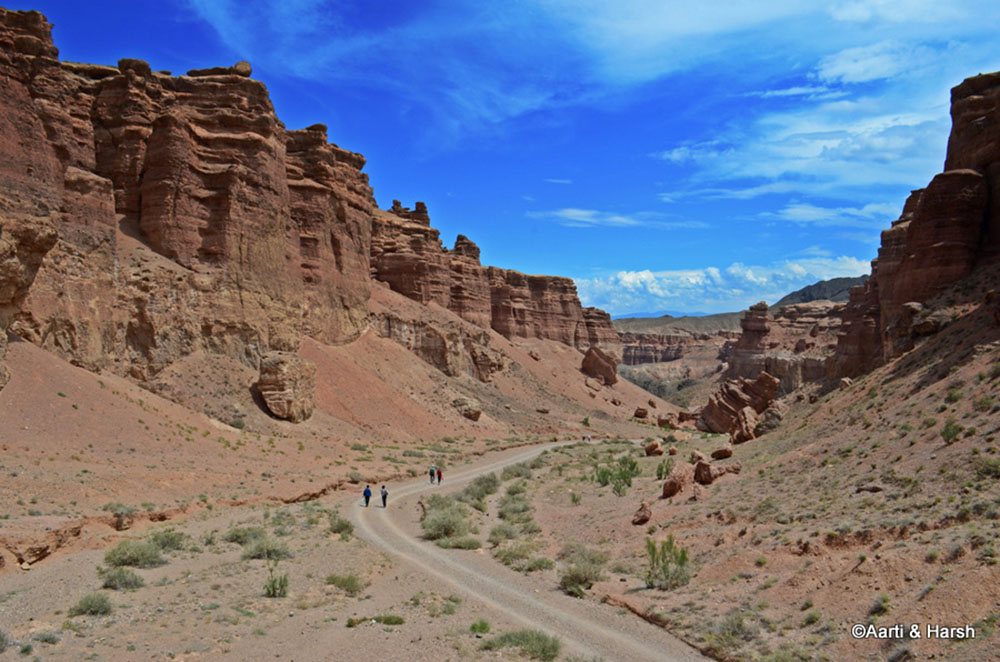 Aarti shoots me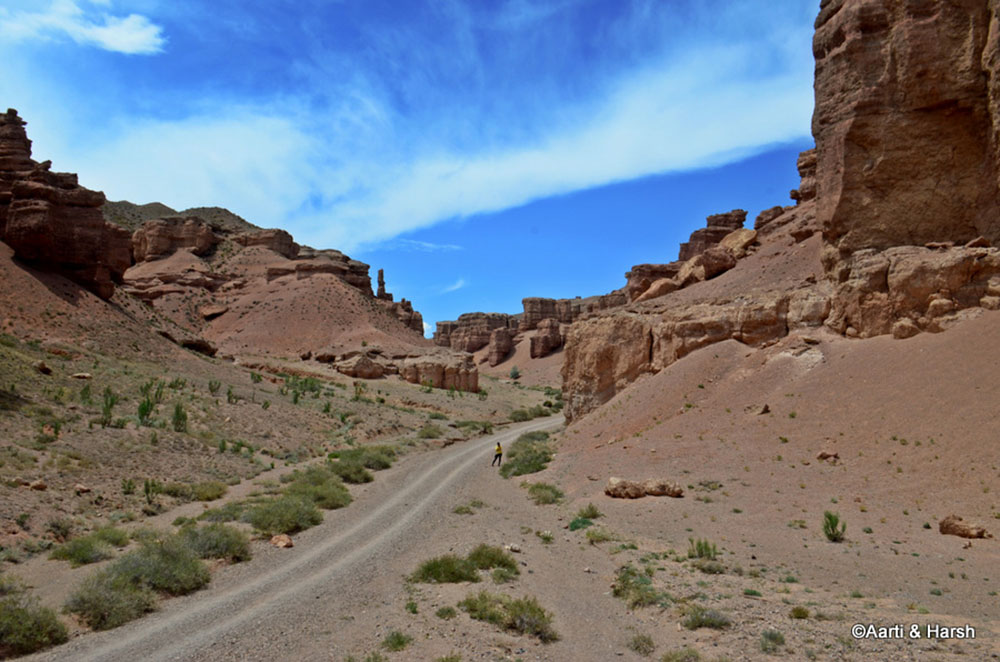 This rock could tumble any moment, or so it seemed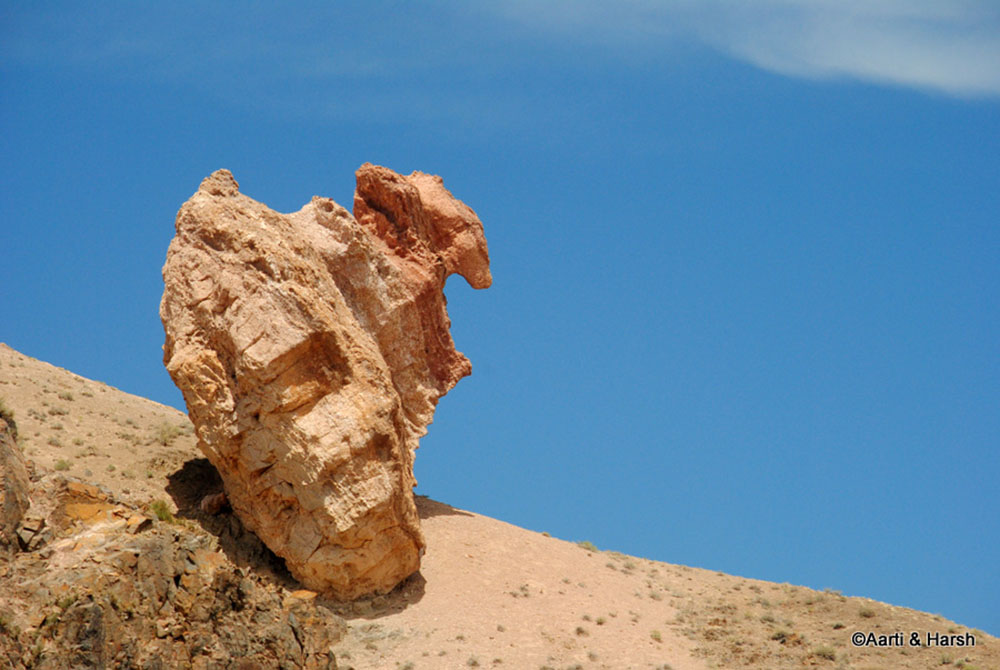 A nice place to chill after a tiring hike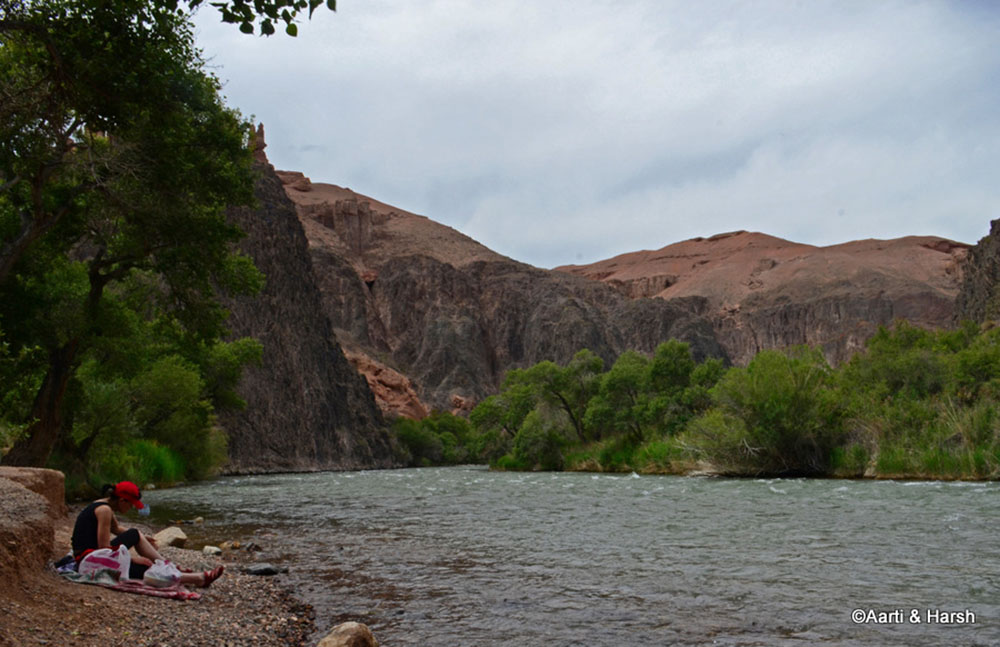 There were spots for love birds as well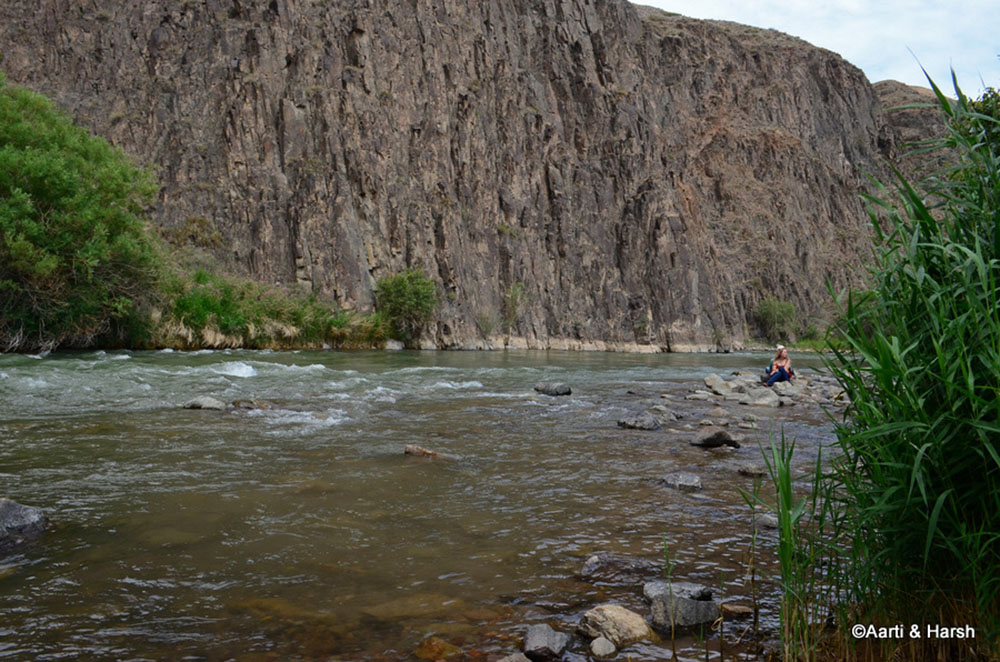 ​Walk Back
After an hour or so, we decided to start the trudge back to the bus. The guide had asked all of us to be back by 4:45 pm, and since we wanted to walk back slowly, we left the river around 3:15 pm. The sun was even hotter now, and our progress was achingly slow. Every 15 minutes, we had to stop under the shade of rock to rest and have water.
It took us an hour to reach the bus. We saw that a few of our fellow passengers were already inside the bus. Others were ambling outside. Aarti was tired, so she sprawled on the seat and began to read. I was tired too, but I glimpsed a few good photo ops, and so went on a short photography walk, not far from where the bus was parked.
Charyn Canyon to Almaty
It was 6 pm by the time all passengers arrived and we finally left the Canyon. The one-hour drive on the dirt track was again slow and painful. Once we reached the tarred road, our progress improved substantially. We bought some food at the same shop as we had on our way to the Canyon and then settled back to sleep some and talk some.
Some shade for the tired souls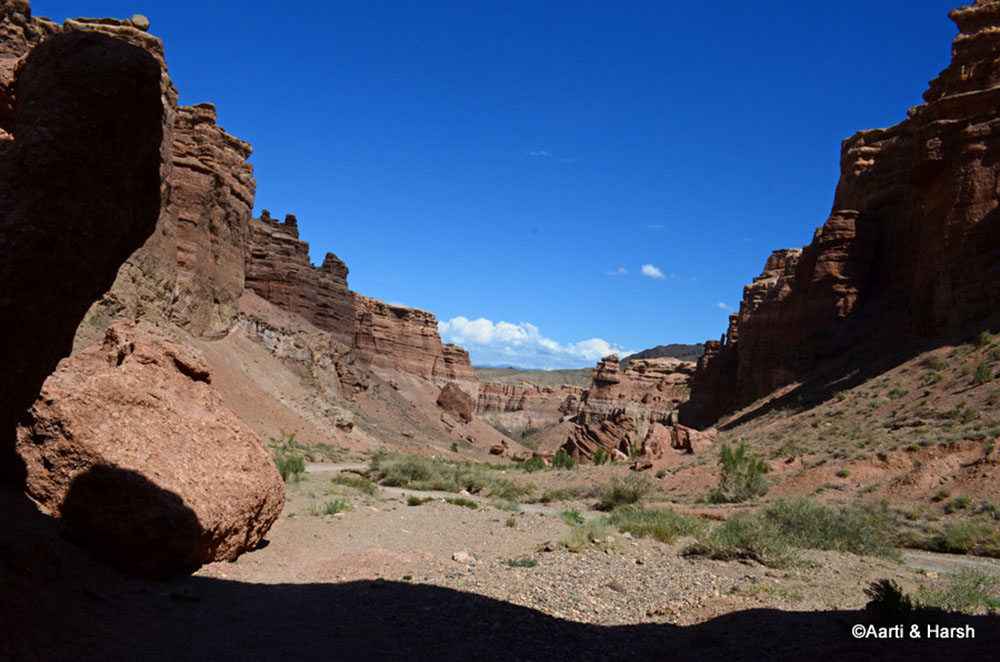 The old and the young tire equally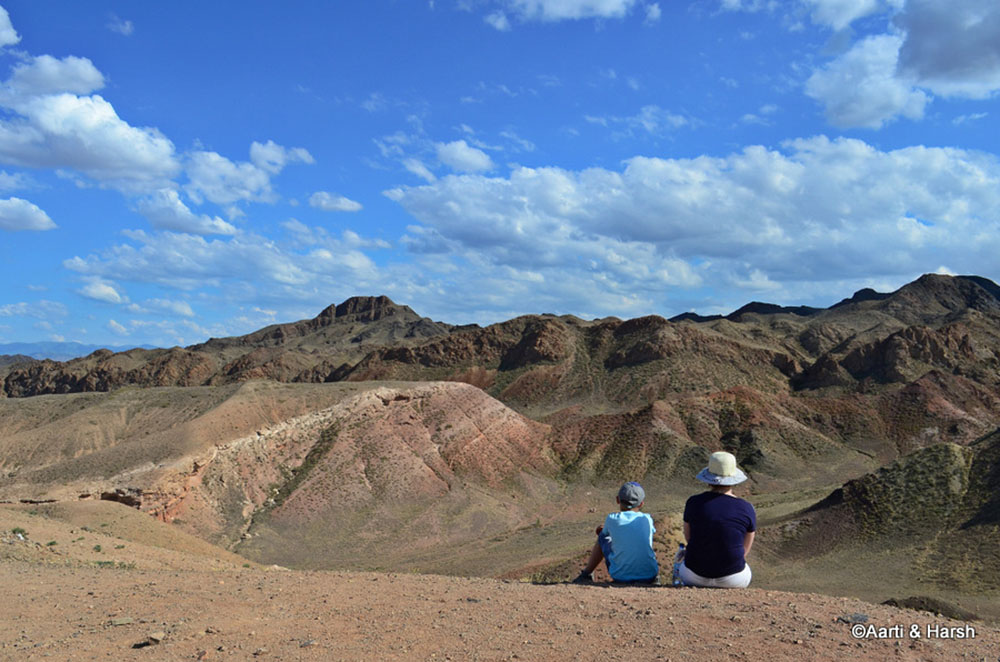 A bumpy ride, which the bus could not undertake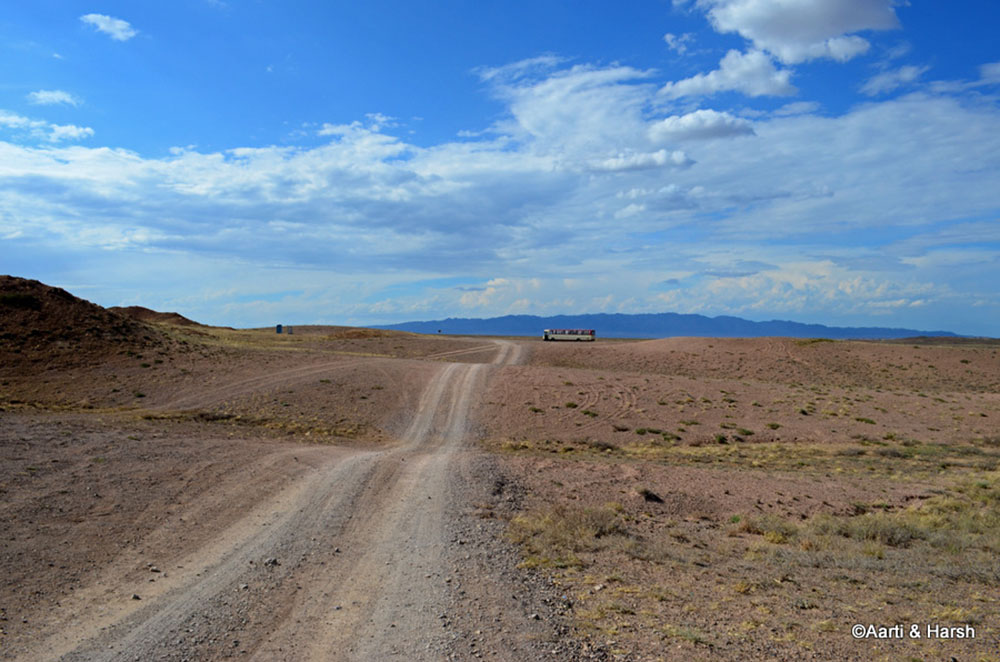 We wait for the others to return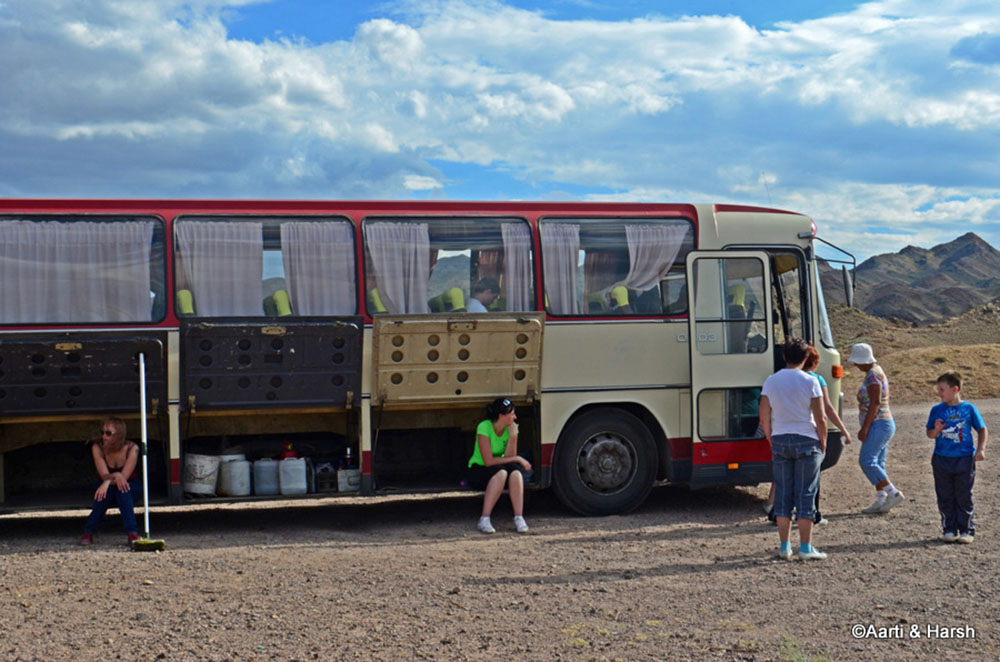 Finally, clouds come in, I wish they were here earlier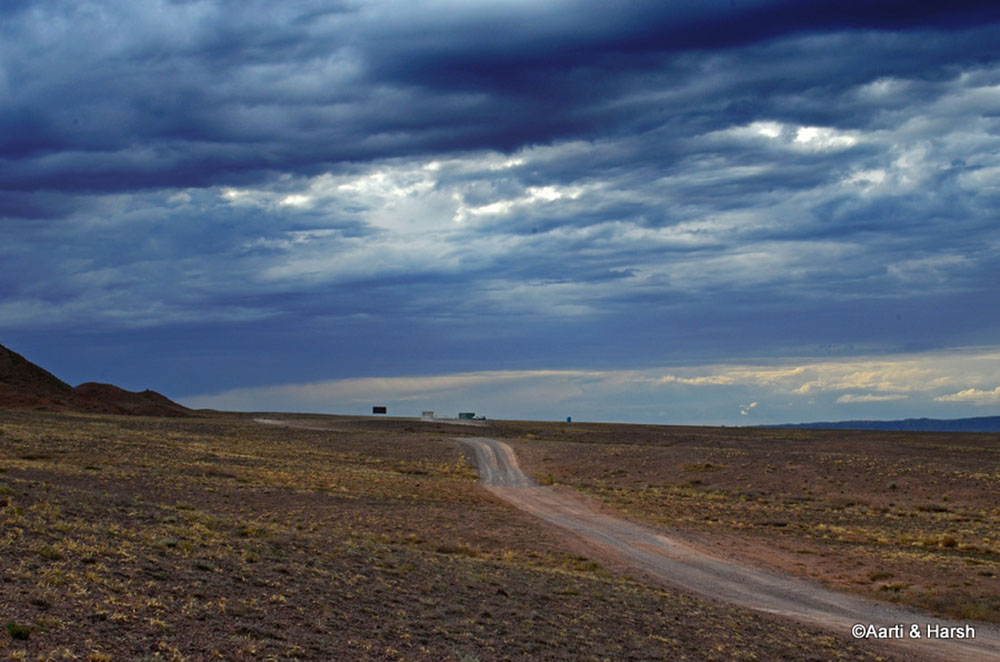 The bus dropped us off near the center of the city around 10:30 pm, concluding our Almaty to Charyn Canyon Day Tour. We took a taxi from there to the kebab joint near our hotel, where we hogged on one doner kebab each.
This was our first proper meal after breakfast, which mind you was at 7 that morning. Charyn had taken out all the energy from us. We dropped off to sleep as soon as we hit the bed that night.
The next day was to be spent with Madina. We were to be driving around the mountains that surround Almaty and then eventually going to her camp. She was to pick us up at 9, which we postponed to 10 as we wanted to sleep in a bit.  Please click on the link above to continue reading the next part of the travelogue.
Almaty to Charyn Canyon – Conclusion
I hope the travelogue, pictures, and information above on Almaty to Charyn Canyon day tour were of help. If you have any questions, please feel free to ask in the comments section below or at our Community Forum, and I will be happy to answer. You can also follow me on Instagram and chat with me live there or subscribe to my YouTube channel and ask a question there.