Day 13's plan was to keep heading south and take a dynamic decision on where to spend the night. We ended up staying in a homestay at the At-Bashy Village but that was finalized after we got there. The main idea of the day was to leave Kochkor for Naryn province and drive towards the Chinese border, hoping against hope to be allowed on the infamous Torugart pass.
Many must have heard of this particular land crossing into China when reading about road trips that span Europe and Asia. It is notoriously famous for being one of the most difficult land crossings into China in terms of logistics.
Journey So Far:
Our eventual plan was to do a circuitous road back towards the crown jewel lake of Song Kul and eventually head back towards Bishkek. If Issyk Kul can be compared to the Dal Lake in Srinagar, Song Kul can only be compared with the beautiful Pangong Tso. It was an obvious decision to keep the best for the last.
Day 13: Kochkor – At-Bashy – Bosogo – At-Bashy
We started late from Kochkor after having a sumptuous breakfast and an unhurried morning. The owner of the guest house had warned us that the road leading towards Naryn was not in the best of condition. The distance of 160 odd kms to At-Bashy could take us more than 6 hours.
Sure enough, the tarmac soon gave way to an 'under-construction' two-laned highway. The road was bumpy and so our progress remained slow. It was through some fine landscape which was a unique mixture of barren brown and lush green.
Dolon Pass
The climb of Dolon pass, situated at roughly 3,000 m ASL, was pretty straightforward and from there onwards, the brown gave way to lush green meadows stretching for miles – rolling hills literally.
After the pass, the landscape turned into a mix of brown, pink, green, and purple with a border of white. The fields looked very pretty, and as I stopped to capture them, I heard someone holler at me in the distance. The source of the noise was a bunch of farmers whose fields I was trying to shoot.
We exchanged pleasantries after which they offered me koumiss brewed by them. I could not decline the offer but was wary of consuming it as it is mildly alcoholic. Once again, Kyrgyz hospitality was demonstrated.
We continued our journey and by lunch, the statue of Manas greeted us at the entrance of Naryn city. It was still too early to call it a day, so we decided to have lunch there and head towards At Bashy which lay further south.
A good tarmac greeted us on our way out of Kochkor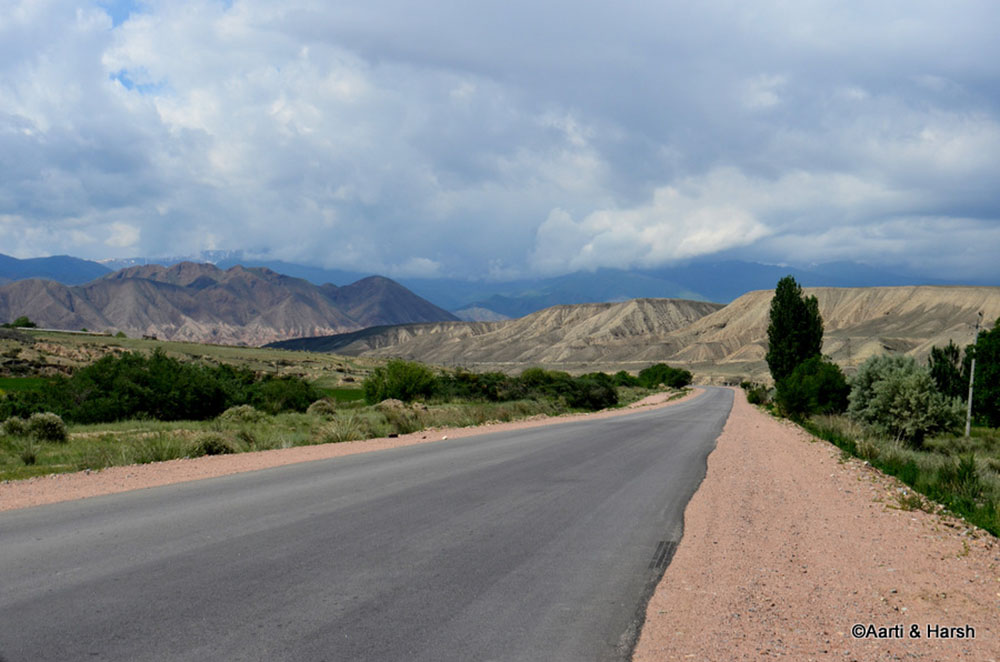 But the landscape soon turned brown and the tarmac went away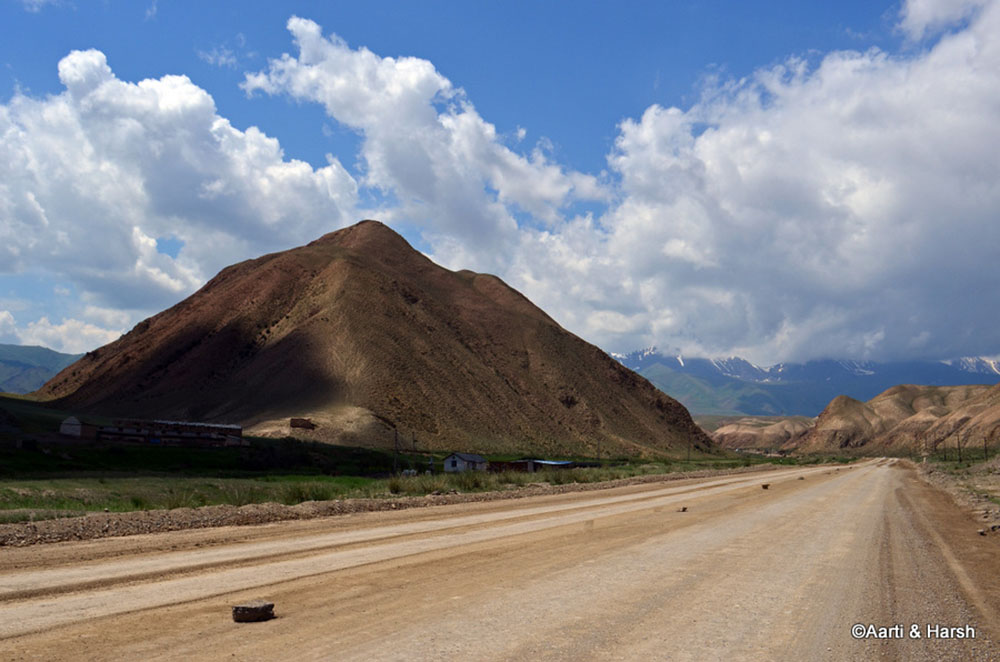 At the top of the Dolon pass. As you can imagine just a couple of twists and turns on this one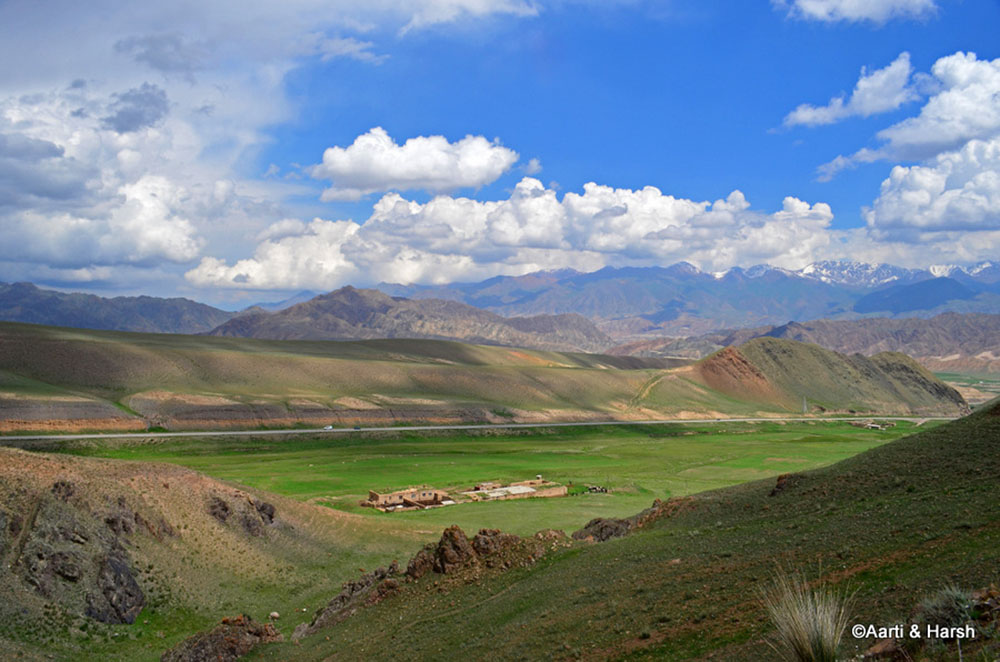 A carpet of green waited for us beyond the pass. A picturesque settlement.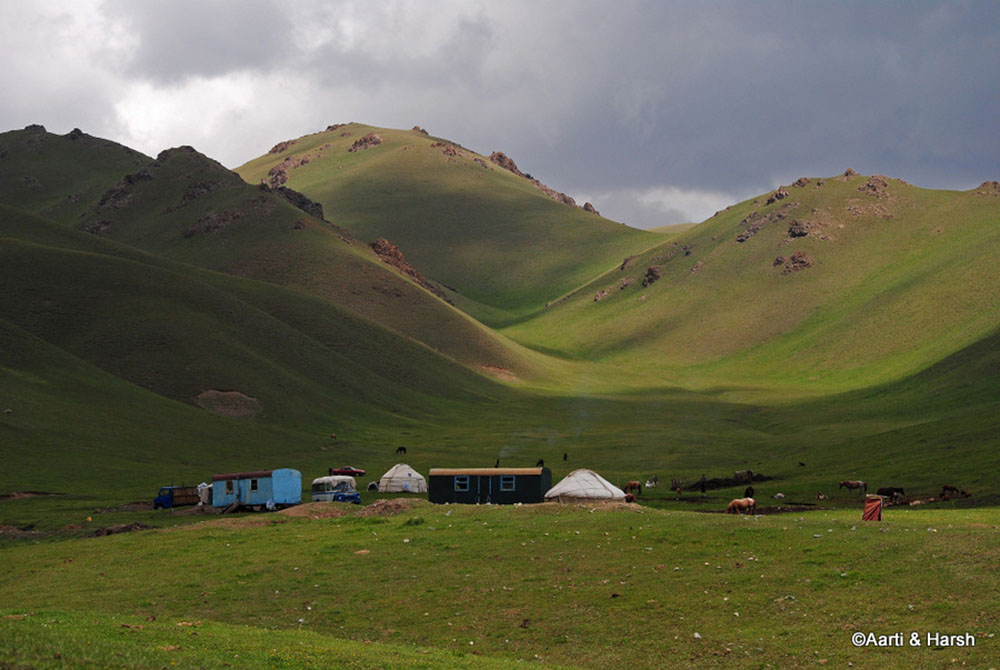 Naryn City
Naryn town wore a run-down, ex-Russian look. There were many huge apartments that lay dilapidated but seemed to be occupied nevertheless.
As I drove, Aarti was furiously searching for a place to eat in the guide books. Her lone criteria for selection was the availability of an English menu. For us, that meant the liberty of actually trying something else other than Manty, Shashlik, Laghman, and Ashlan Fu.
She did find such a restaurant, and after finding it with much difficulty, we saw that the menu there too was only in Russian. So once again our staple food was ordered and polished off. Aarti's ability to handle meat in all her meals was decreasing exponentially and thus she stuck to bread and sugar.
Kyzyl Bel Pass
We started on our way towards At-Bashy by about 2:30 pm after refueling at a petrol pump immediately after Naryn city. Here onwards we were about to venture very close to the Chinese border and fuel stations would be difficult to come by.
We started to climb towards the Kyzyl Bel pass immediately after getting out of Naryn. It was a bit overcast but the meadows that were seen from this pass were mesmerizing. The green hills rolled on and on in the distance and were fantastic to look at.
The road condition improved dramatically after the pass, and a 2-lane highway was now a 4-lane super-highway on which one could easily rip at 150kmph.
As we found out later, this road had been sponsored by China to facilitate trade between the two countries. This is also the shortest route to Kazakhstan and making a good road is in the interest of the Chinese.
Enroute At-Bashi, we get closer to the China border and Chinese truck sightings become more frequent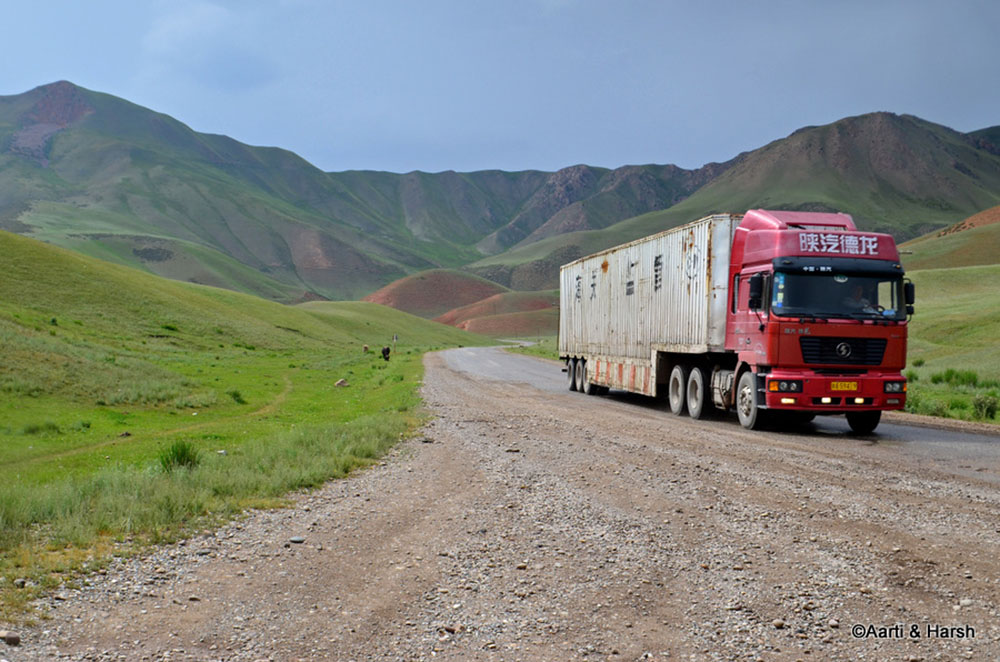 At-Bashy Village
As we descended the pass, the valley opened up and it did not seem that we were more than 2000 m above sea level. A mountain range ran south boasting of snow-clad and 5000 m + peaks, while a shorter range ran northwards.
We ripped to reach At-Bashy by 4:30 pm and started to look for the lone CBT guest house in town. A Swiss couple guided us to it. As we found out later, they too were on a road trip and had rented a self-driven Lada 4×4 for $50 a day through a friend.
The guy mentioned that his friend ran a motorcycle rental company in the Osh province and did not as such specialize in car rentals. This was given more as a favor than a commercial deal.
Sadly, I do not remember the name of the company now, but if one searches for motorcycle rentals in Osh probably one would be able to locate this dealer.
Off-roading tracks marked this lush meadow and were tantalizingly close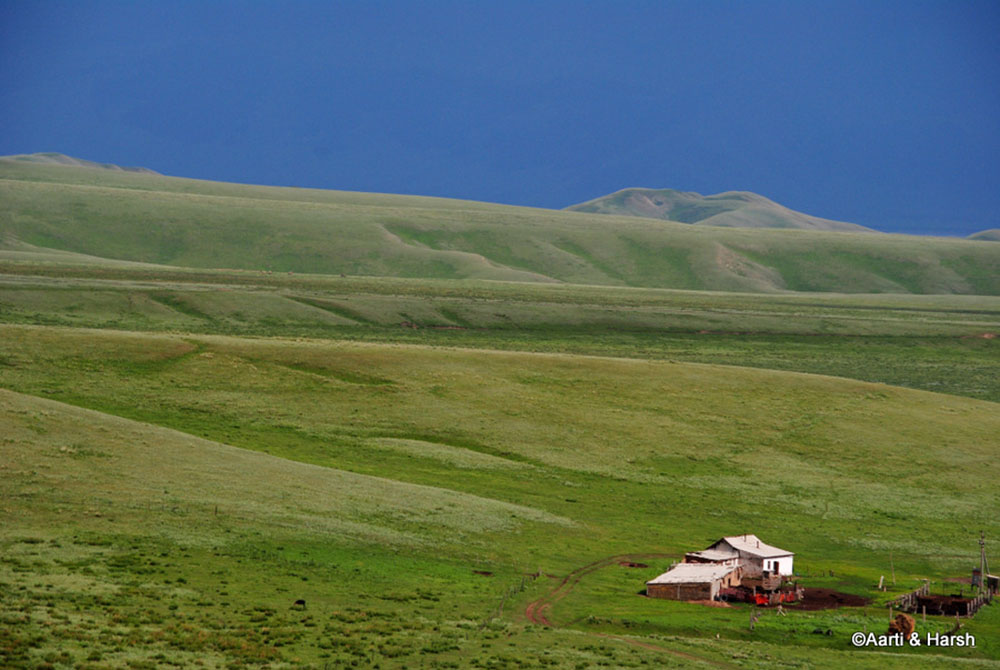 A graveyard atop a hill at At Bashy, next to the guest house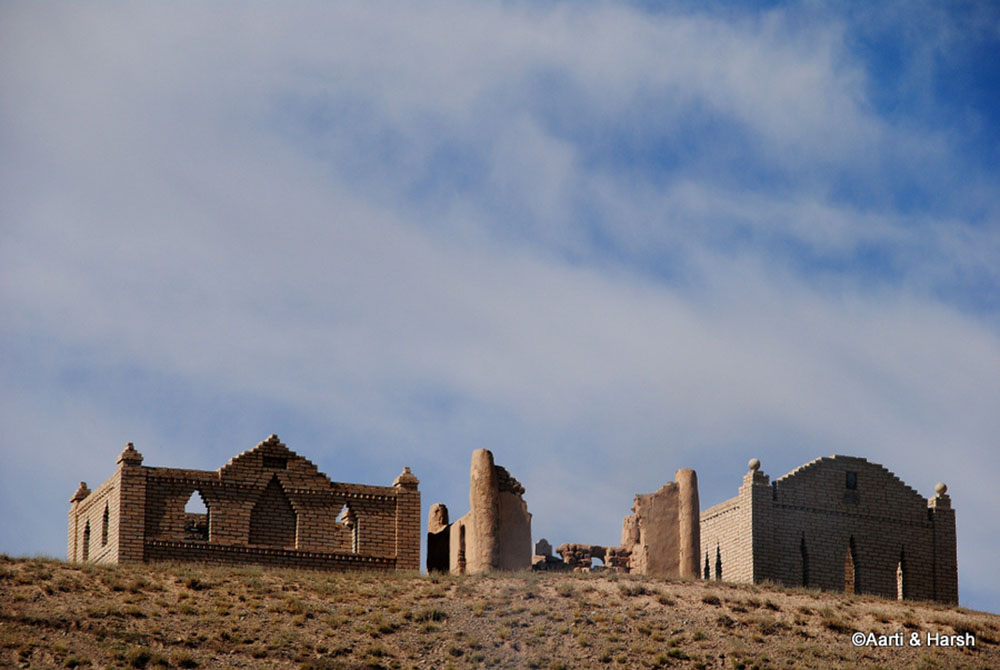 ​Homestay at At-Bashy
The guest house was nice but very full! The private rooms on the first floor were already taken up by the Swiss couple and another lone tourist from England.
We were left with an option to choose the lobby on the first floor which had no door or a room on the ground floor without a bed, and we obviously chose the latter.
The room rental was high as per the Kyrgyz standard at 1400 SOM a night (including breakfast) but the killer part was the dinner. It was being charged at an astronomical 300 SOM per person. I guess monopolistic markets do tend to charge customers on their own accord.
We checked in agreeing to the room rental but decided to have dinner outside. We still had a good 4 hours of sunlight left in the day and decided to head out towards Bosogo.
In hindsight, that was probably one of the worst decisions of the trip. Neither was the place beautiful and that accident on the way back was the worst one I have been involved in so far. I still shiver thinking about those couple of seconds when I look back at it.
At-Bashy to Bosgo
It was only 5 pm by the clock, and to call it a day at that hour, with 4 hours of daylight still remaining, would have been a crime. However, there was only tented accommodation available beyond At-Bashy at a place called Tash-Rabat, and so we thought it more prudent to stay at a homestay that night and then rough it out the next two days in tents.
Bosogo lay 60 km east from where we were and came highly recommended by a Belgian motorist whom I had interacted with, although the place did not find mention in any of the guidebooks.
As soon as we were out of At-Bashi, a wide untarred road greeted us. The progress was extremely slow though as the road had been ribbed and it was not for our pleasure. It was a pretty drive, flanked by fields which in turn were bordered by villages, and on the edge of that were snow-clad peaks.
The picturesque colorful fields near At-Bashi. Looking towards the northern periphery of the wide valley, towards Naryn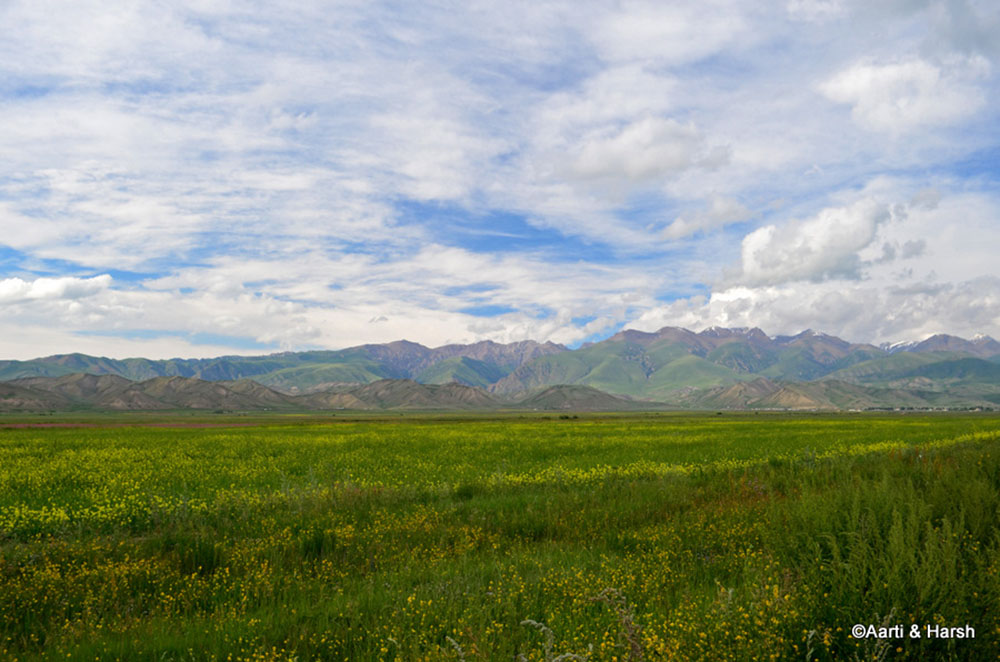 The untarred road towards Bosogo.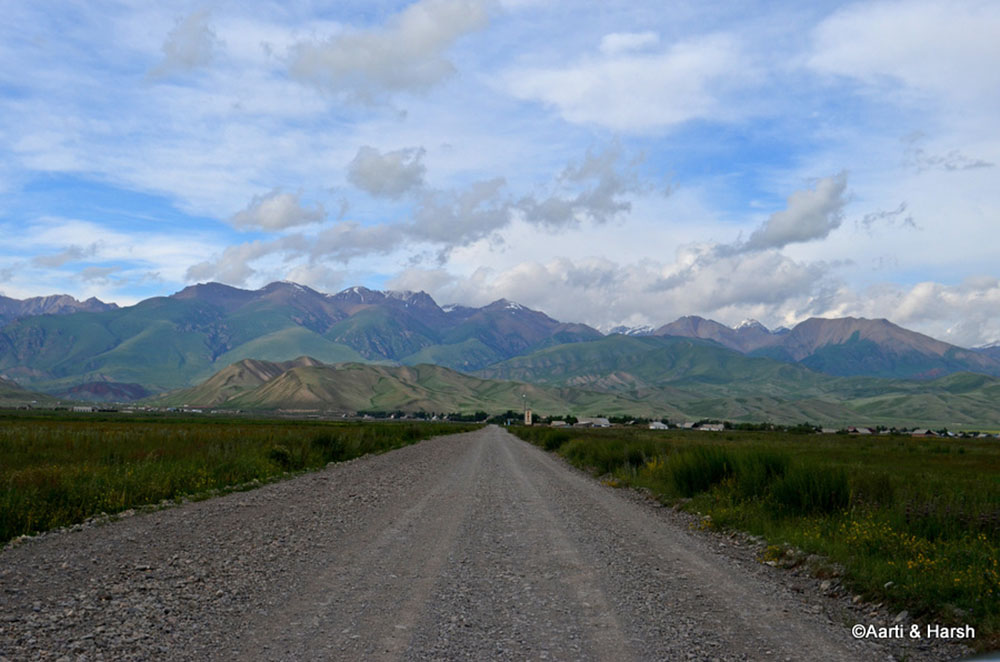 The settlement of Bosogo came and went by, with only GPS to advise that we had reached. Taking a turn back towards At-Bashy.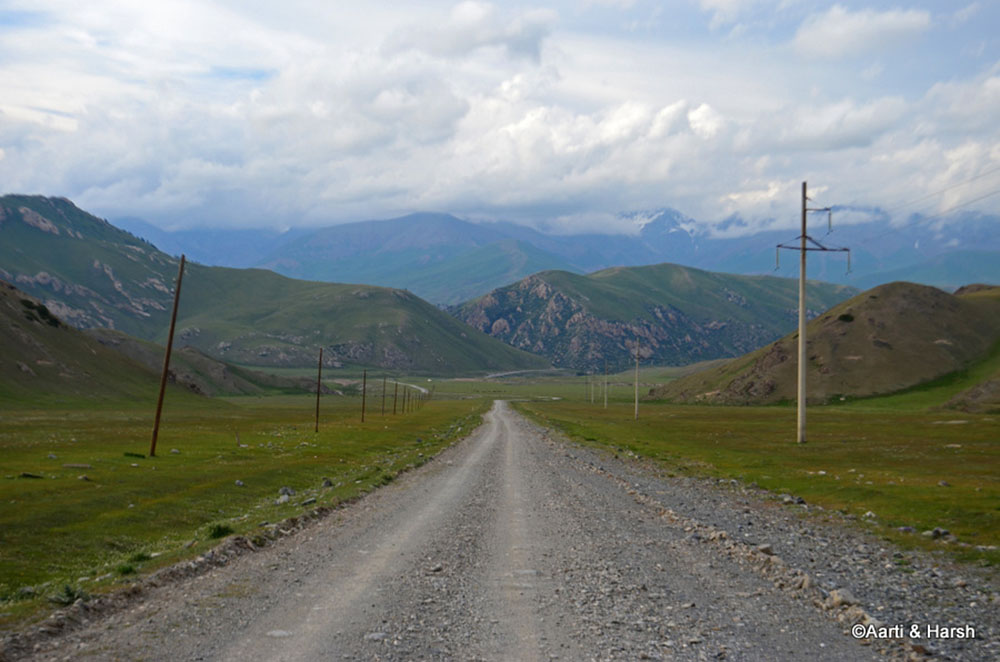 The mountains south of the valley in which At-Bashi lay. 5000m+ peaks I guess

A colorful bird, ID anyone?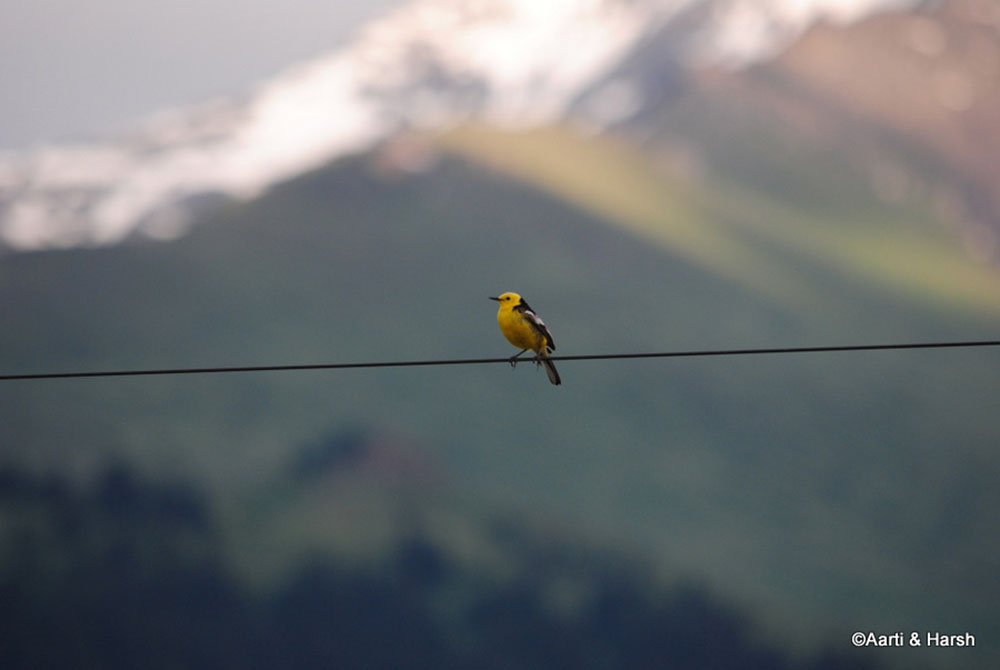 One of my favorite snaps of the trip. The sunset was mesmerizing.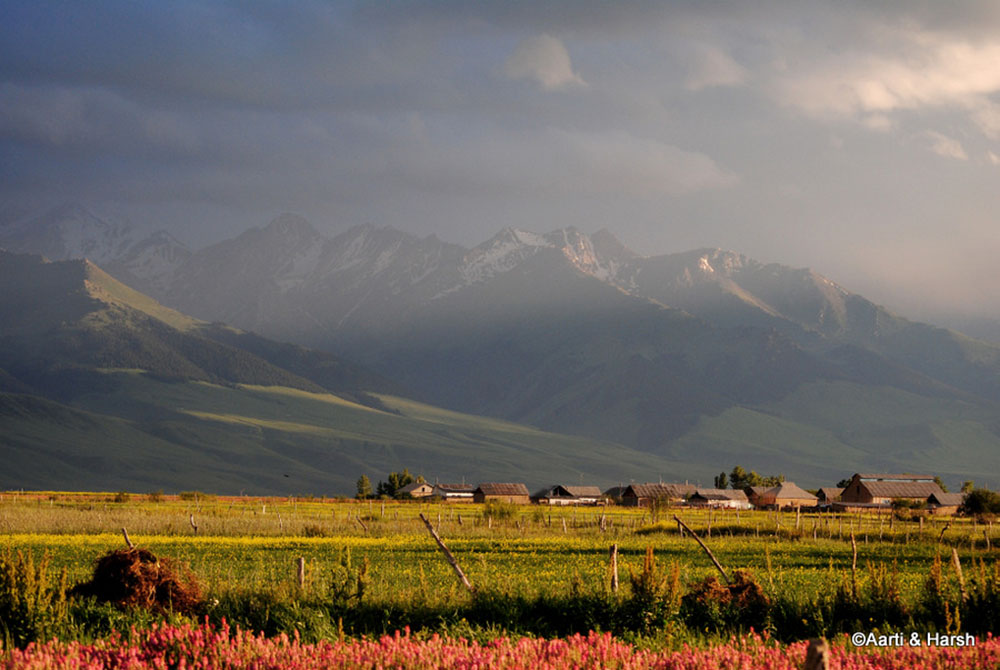 ​The Accident that Shook Us
The road went on and on, and Bosogo came and went by, however, there was no dramatic change in the scenery. Pretty as it was, it was exactly like At Bashy. After driving for a good 2 hours we took a U-turn and decided to head back to our halt for the night.
The road was still untarred and gravely to boot. The rays of the golden sun made the scenery look even more beautiful. We were cruising at 60 kmph or so when all of a sudden, the car swerved wildly to the left.
My instincts took over, the way they had a few days ago near Kumtoor. I don't know if I was turning into the skid or out of it, but in those few seconds, it was clear that the car was not going to get back under control.
The brake was not helping either. A couple of swerves later, we were ready and bracing for impact! The road was elevated by about 2 feet or so and on either side, it was a bit marshy.
The car must have been doing around 20-30 kmph by the time we were at the edge of the road and about to fly off into the marsh. Thankfully, instinct made me align the vehicle perpendicular to the road so that at least we do not go off at an angle.
I shudder to think what could have happened otherwise, probably an overturned Land Cruiser!
The Silent Drive Back
Since we were perpendicular to the road, the landing in the marsh was soft and all the tires landed together. The mud broke our momentum and we came to a halt immediately. All the 4 tires were stuck but it was soft mud hence the car swiftly came out of the bog and we were back on the highway.
We were both shaken and stirred! Our first thought was of a flat tire but each one of them was perfectly fine. We went back to see what had caused the skid in the first place. We could see where the skid started because of the tire marks, and like in a movie it zig-zagged a couple of times on the road before flying off into the marsh.
At the beginning of the skid marks, there was a slightly inclined trough in which the right tires went, and because of the gravel when we came back up from the trough the skid started. And once it had started, it had become difficult to control. The car was fine and there were no creaks or other sounds, but it had been a close shave.
We drove back in near silence, each trying to soothe the other's frayed nerves intermittently. We took a different route on the way back and went a bit further to join the highway. The route was longer but the latter half was on a magical tarred road.
When we were about to join the highway, a car stopped next to us. The driver rolled down his windows and asked us where we came from. On hearing India, he seemed to be very pleased and offered us the vodka he was drinking. We had to politely refuse.
At-Bashi
Hurrying back towards At Bashy with frayed nerves. We were too psyched to stop and take pictures.
Back at At-Bashy, we went to the center of the town and had our dinner in a run-down cafe. The only thing on the menu was Laghman, which is essentially our Thupka. Another tourist came by and we got talking.
The guy, a Britisher, had been traveling for 6 months and had come into Kyrgyzstan a couple of days back after spending the rest of that time in China. I wondered when it would be possible for us to ever take that kind of a break.
It had been a crazy evening and thankfully we had escaped unhurt. We thanked our stars and hit the sack. The next day was going to be another long day. Please click on the link above to continue reading the next part of the travelogue.
At-Bashy Village in Kyrgyzstan – Conclusion
I hope the travelogue, pictures, and information above on At-Bashy Village in Kyrgyzstan were of help. If you have any questions, please feel free to ask in the comments section below or at our Community Forum, and I will be happy to answer. You can also follow me on Instagram and chat with me live there or subscribe to my YouTube channel and ask a question there.