There was no rush to start the day early. The plan was to travel from Bishkek to Issyk Kul lake but since our passports were still stuck with the tour operator, we couldn't do that until later in the day. But the problem was that we went to bed early the day before. So, despite all our efforts to delay getting out of bed, we were both wide awake early in the morning.
An initial couple of hours were spent just idling around. Finally, we started off only by 9 am without having breakfast at the hotel. The employees had mysteriously eloped and the kitchen was absolutely empty. We had our supplies in the form of juices and biscuits and for now, they would have to do.
Journey So Far:
To kill time and enjoy it at the same time, we decided to go towards the canyon adjacent to Ala Archa by the name of Alameddin canyon, situated about 15 km east as the crow flies. There was a possibility to take the longer and easier route to this canyon, however, we decided to take the tough route just for the fun of it.
Day 7 – Bishkek to Issyk Kul Lake
It had rained the night before and the dirt track over the mountain was partially slushy at places and there were deep ruts formed at many such stretches. The road climbed steeply towards the east on a broad dirt track as soon we exited the Ala Archa canyon and soon enough we were in open, lush green meadows, bordered by towering snow-clad mountains.
There were no villages on this route, only shepherd settlements all along the track. The distance was hardly 30 km and we thought despite the bad roads we should be able to cover it in an hour or so. But we were highly mistaken. That 30 km took us a bit more than 2 hours to cover and we were introduced to the subject matter 'Off-roading in Kyrgyzstan 101'.
Introduction to offroading in Kyrgyzstan
The drive itself was very pretty. We were constantly accompanied by cattle and horses grazing in vast lush meadows. The most amazing part is that the place itself is a stone's throw distance away from Bishkek. Imagine having something like this next to Mumbai or Delhi!
If one off-roads frequently, one must be aware of the strength and the weakness of one's vehicle. My mind had been tuned to the limits of the off-roading vehicle I own, if one can call it that, a 2010 model Tata Safari 4×4. However, here I was riding one of the better off-roading vehicles on the planet, a Toyota Land Cruiser (TLC).
Initially, I was pleasantly surprised at how the vehicle could pull on on inclines, despite its enormous weight. It was pulling effortlessly on stretches where the Safari would have howled.
However, the problem came when the off-roading limits of the Land Cruiser extended beyond the limits I had taken my Safari to. There were stretches on which the articulation of the TLC was way better than what I was used to, and those stretches formed lumps in our throats.
After crossing the Ala Archa river, the track deteriorates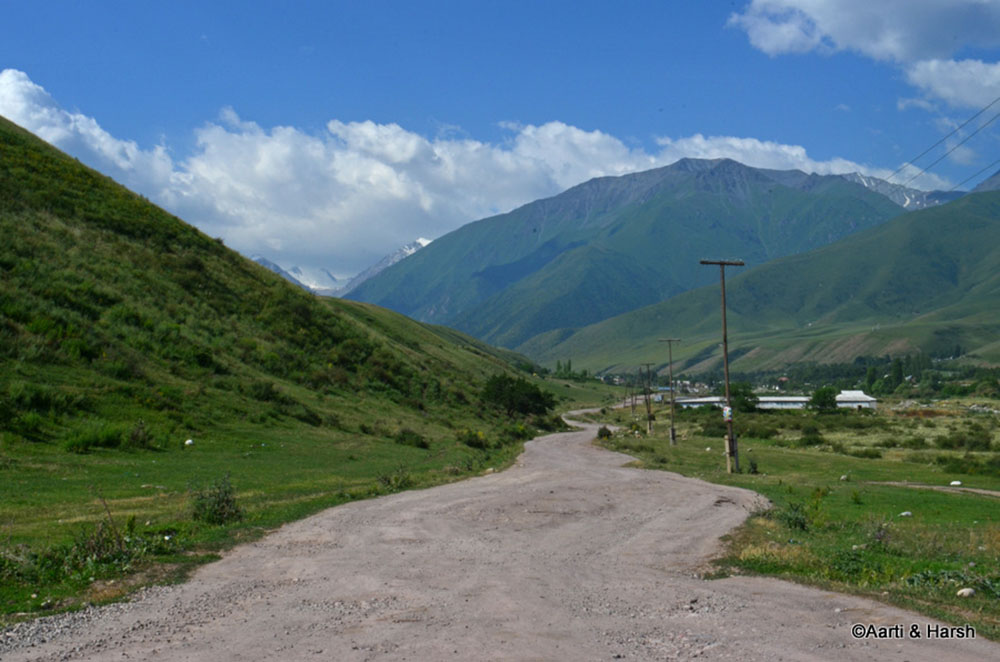 Horses meander next to the river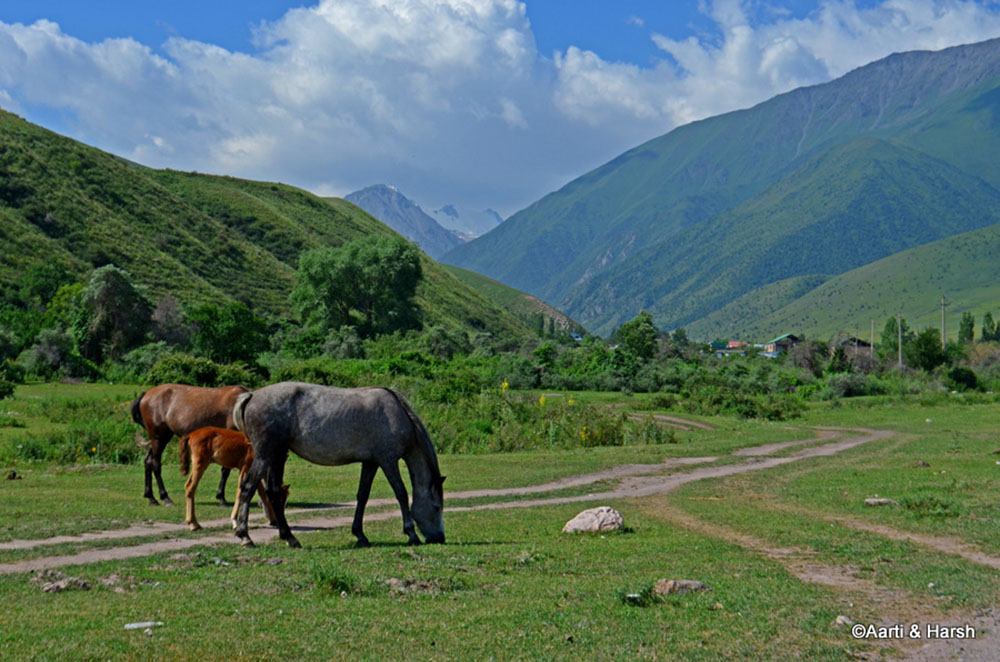 The dirt track climbs up ahead and with recent rains, it was not a good track to drive upon. But thankfully it was wide and dry at certain places.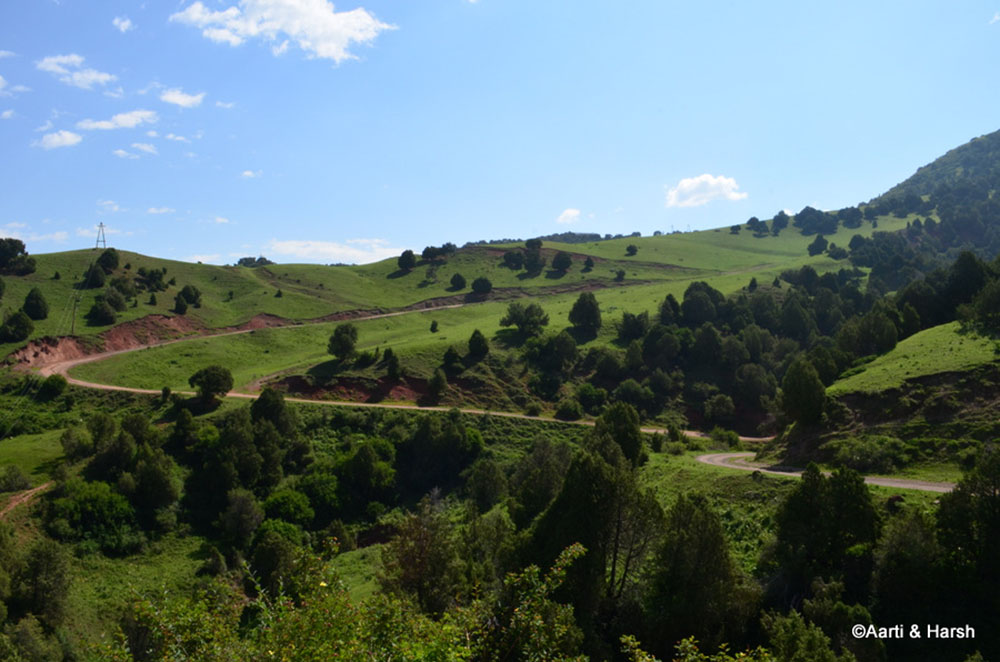 The TLC stands in the meadow with snow-capped peaks behind it.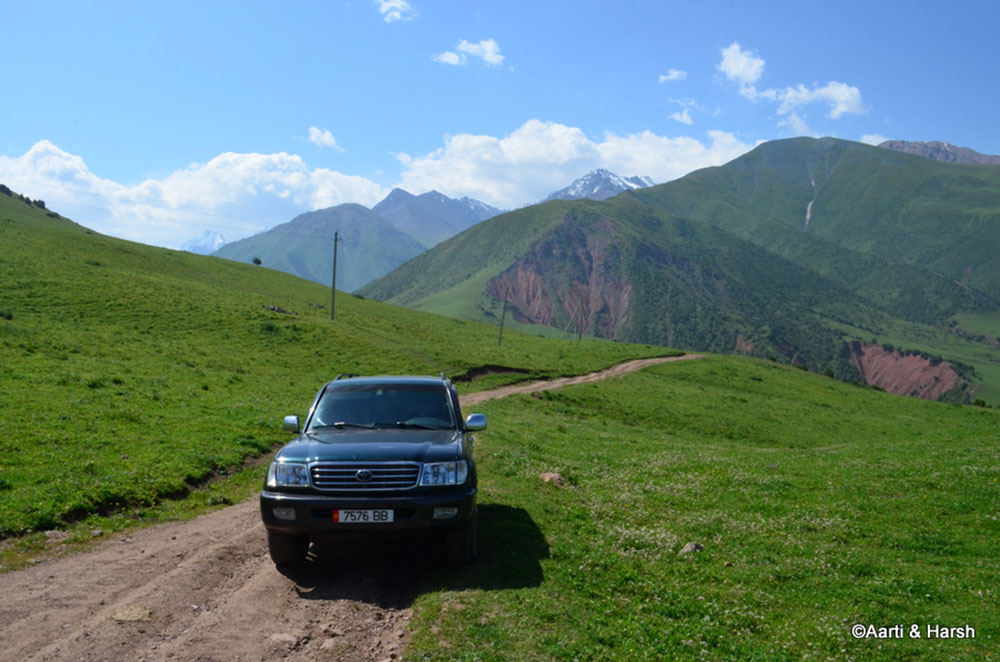 ​An Adventurous but Fun Drive
Since I was operating outside my comfort zone, I half expected the TLC to turn turtle if the rut was too deep on one side and flat on the other. I was scared out of my mind on stretches where apart from Marsimik La'ish inclines, there were ruts on either side of the road, which made me stop and study the stretch before I could move on.
There was one particular decline that was very scary. The track was hardly used as one could figure from the growth of the grass. The decline compelled me to engage the 4L-mode and to crawl slowly downhill carefully tackling some deep muddy traps which were a danger for the car.
Aarti was practically hanging out of the car this entire 300m stretch and guiding me since I was still getting used to the width of the vehicle.
Very slowly and steadily we made progress and after a good 2 hours or so made it to the other side – the Alameddin canyon. I had never thought that I would ever buy a vehicle such as a TLC as it would be a waste of my money. But this trip has changed my perspective entirely.
The things that the vehicle can do at a flick of a button/ lever are beyond belief. Too bad it is so expensive that I might never buy one, but at least now I can dream.
Also, we now understood why people say that one needs a 4×4 jeep to cover Kyrgyzstan. The offroads there are seriously offroads, and not the ones we call off-roads on the Manali-Leh highway or even Ladakh. It is some serious stuff out there, and more light will be shed on that topic as we move along.
Alameddin Canyon
It was already 11:30 by the clock and we were super hungry but there were no shacks to be seen. In the summer months, shepherds who rear horses make 'Koumiss' and sell it near their shacks. It was here that we had our first sip of the infamous drink at a roadside stall.
For those who do not know 'Koumiss', it is the traditional beverage of Kyrgyzstan and is prepared by fermenting mare's milk. It tastes very much like 'sour lassi' or 'chhachh', but the comparison ends here as it is much sourer and actually mildly alcoholic.
One would probably not like the drink on the first sip but after sipping it slowly, it did make an impression on me. As for Aarti, after one sip, she knew that that is one beverage she would never taste again.
The Alameddin canyon was a disappointment and we turned around after driving for 5 kms or so inside it. We headed back towards Bishkek for lunch and then to get on with our actual trip.
Notice the dip in the road up ahead and the climb after it. It was one of the trickier parts.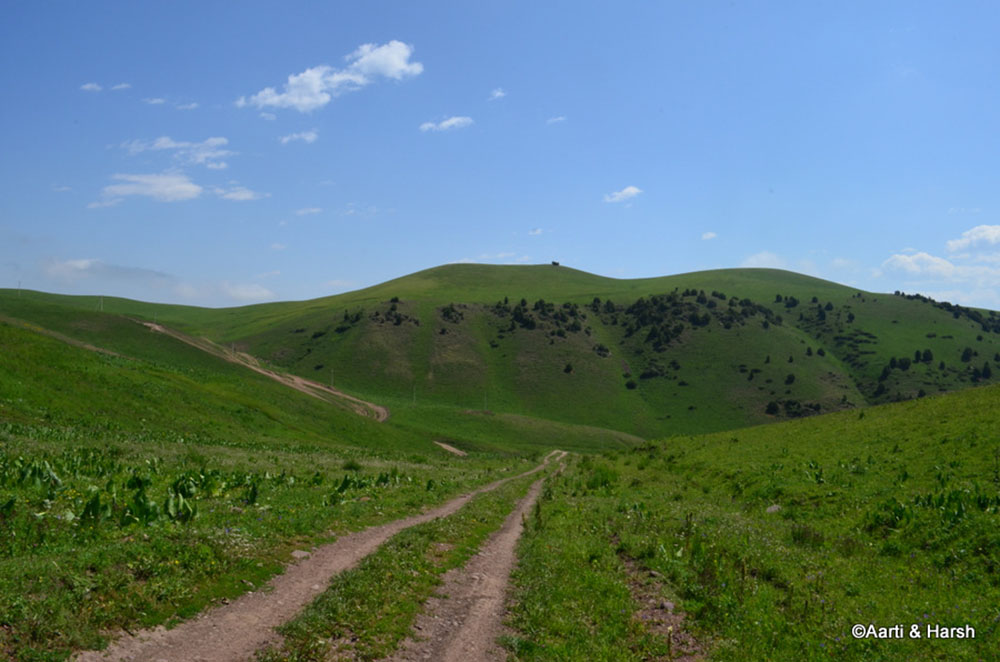 There were some settlements as well, and what a place to settle I say.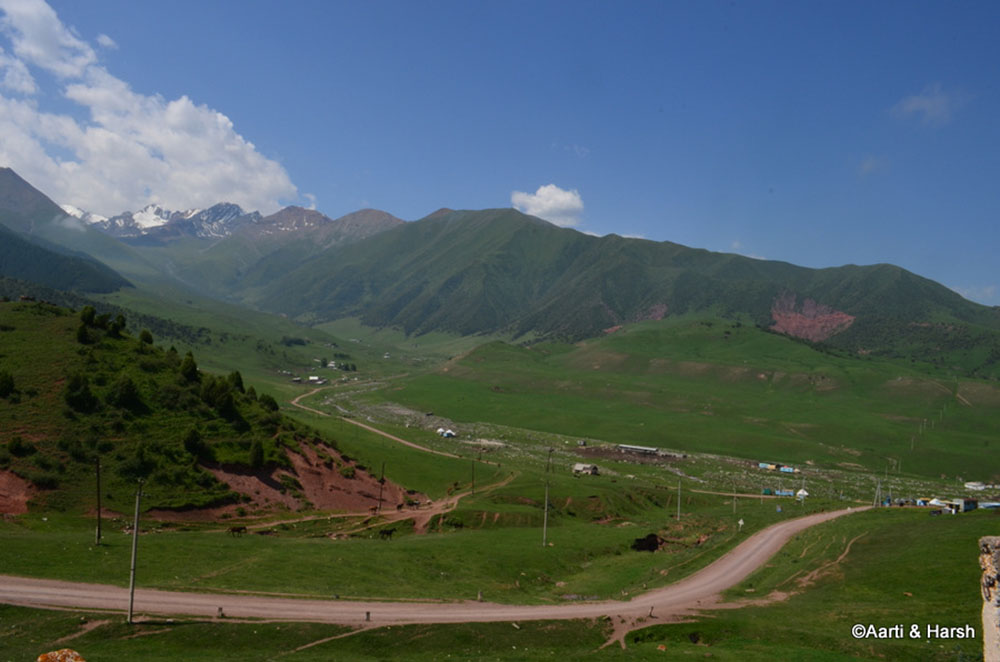 Osh Bazar
​It was noon already and a call to Maratt was made to inquire about the status of our passports. He said that we would only get our passports by 3 pm, so we decided to head to Osh Bazaar in the meanwhile to get souvenir shopping out of the way and also to buy a quilt.
The crowded Osh Bazar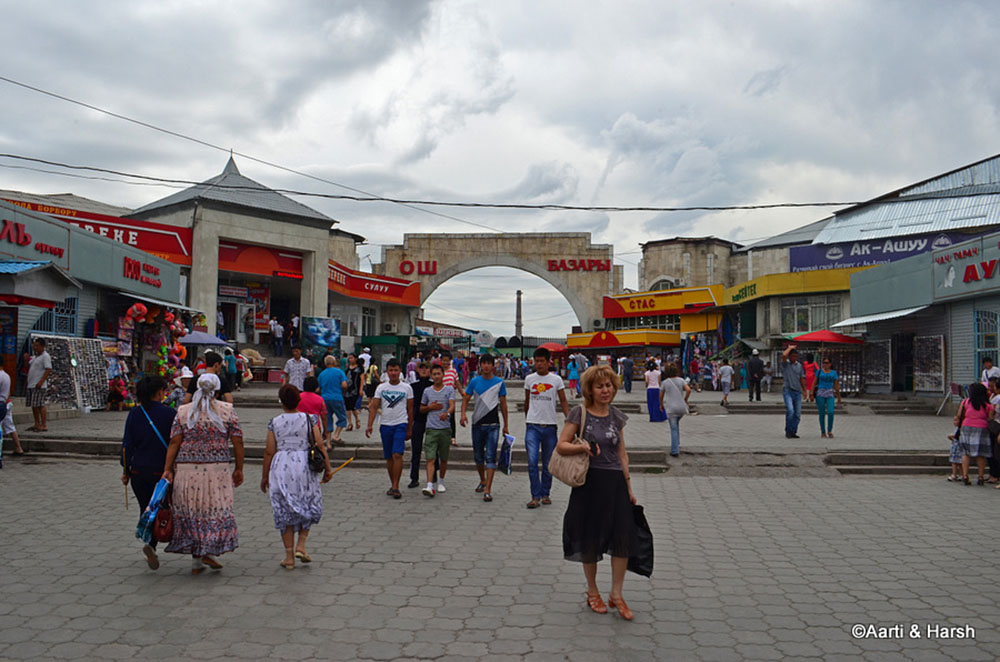 ​The parking lot at Osh Bazaar was jam-packed and it was with much difficulty that we were able to finally find an empty space. At Osh Bazaar, one can find all types of goods – from vegetables to fruits, to dry fruits or clothes or kitchen appliances. It was there that I finally found what I had been craving forever since I reached Kyrgyzstan – a 'Samsa'.
Traditional Food in Kyrgyzstan
A 'Samsa' is nothing but our very own 'samosa' but instead of a spicy mashed potato filling, it has minced meat with onions and is typically baked.
I, being a die-hard 'samosa' lover, immediately bought one while Aarti saved her hunger for 'proper food'. Too bad it went down too quickly for Aarti to click any photograph of it.
Lunch was at a busy restaurant at the market where the waitress was super sweet and even spoke a bit of English. She seemed very excited to meet us, and despite her super busy job, found time to make small talk with us.
Lunch consisted of two typical Kyrgyz dishes, Manty and Ashlan Fu. The name Ashlan Fu had always aroused my curiosity while reading guidebooks and seemed that it must have something to do with Kung Fu. In a small way, it actually did.
Ashlan Fu is a Dungan dish, with origins in China. The Dungan people are Muslims who live in Central Asia and have a Chinese origin. They are referred to by the same name in their province in China. So Ashlan Fu did have a Chinese connection, and hence a long connection with Kung Fu.
It is actually a cold, vinegary, spicy dish with loads of chili flakes floating about. To balance the spicy vegetables, typically cucumber and tomatoes apart some weird gelatine noodles are added to it. It actually tastes very nice and is a typical dish of the Karakol region of Kyrgyzstan, a region by Lake Issyk Kul.
Manty on the other hand is actually momos with a minced meat filling. One can find Manty in any one of the Afghan restaurants located in Lajpat Nagar, Delhi. Since we are regulars at these restaurants, we knew what Manty was.
Shopping in Kyrgyzstan
​The walk around Osh Bazaar was fun. We bought some further supplies and also bought hazelnuts. It was quite cheap there, probably 400 INR a kg, and was fantastic to eat.
While searching for a quilt, we chanced upon an entire row of shops that sold souvenirs and the lady at the first stall spoke English. Aarti spent about an hour there buying souvenirs of all shapes and sizes including a heavy Shyrdak for her sister.
Shyrdak is a hand-made rug made of sheep wool and the process is quite labor-intensive. The wool is dyed and dried and then begins the slow and tedious process of threading the rug manually. The one we bought was small in size and yet it was for a good 3000 SOM (3600 INR).
The best part of the shopping was the fact that these Shyrdak were stored in an underground nuclear shelter right beneath Osh Bazaar! The quilt was found at a nearby shop for 800 INR.
A long stack of candies and dry fruits on sale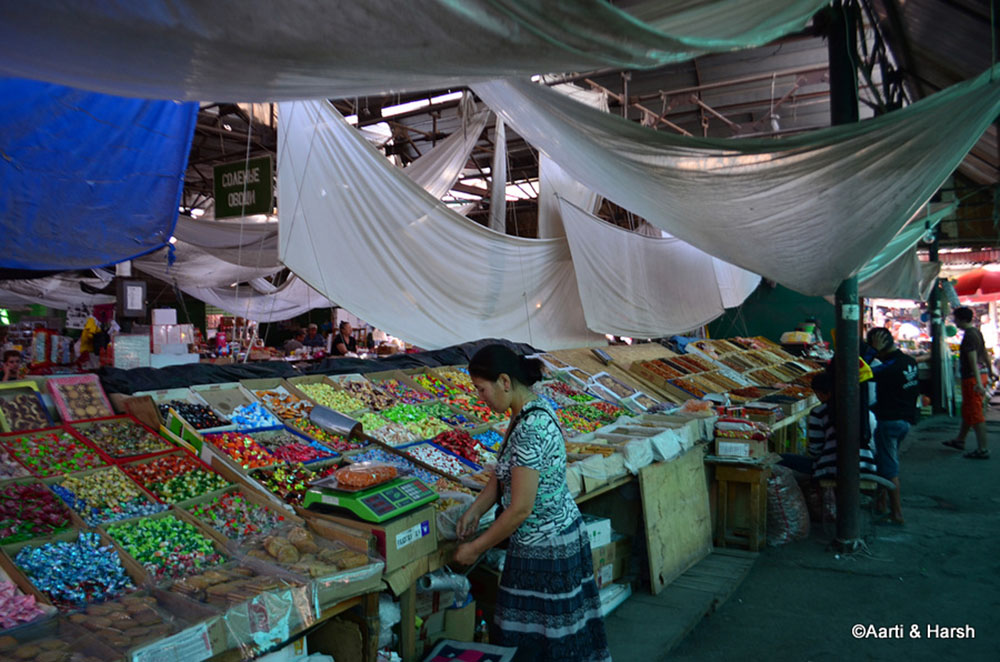 Grains of all kinds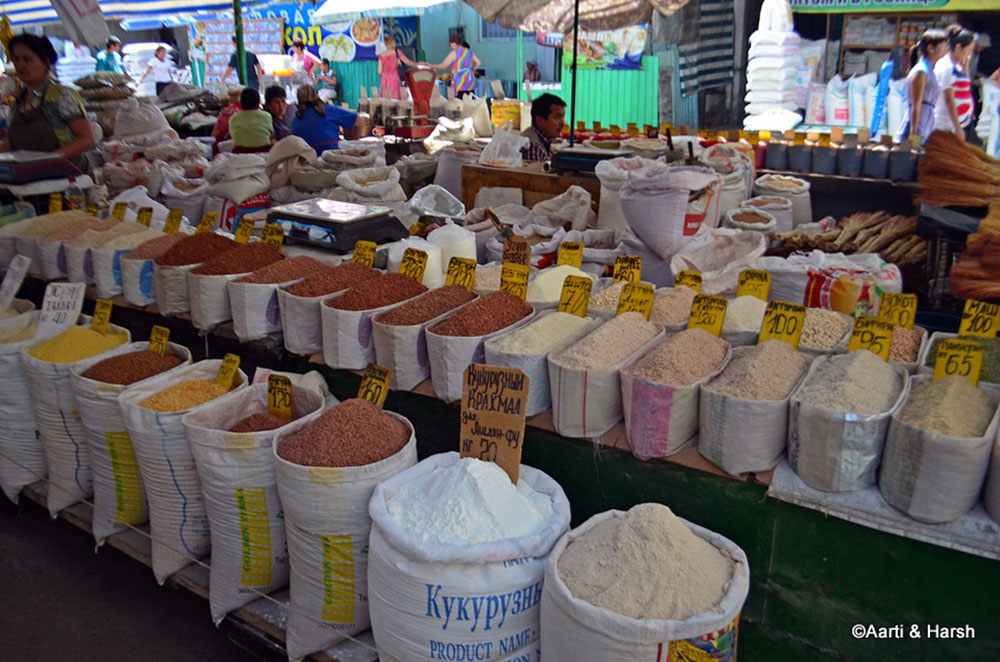 What a place to sell carpets, inside a nuclear shelter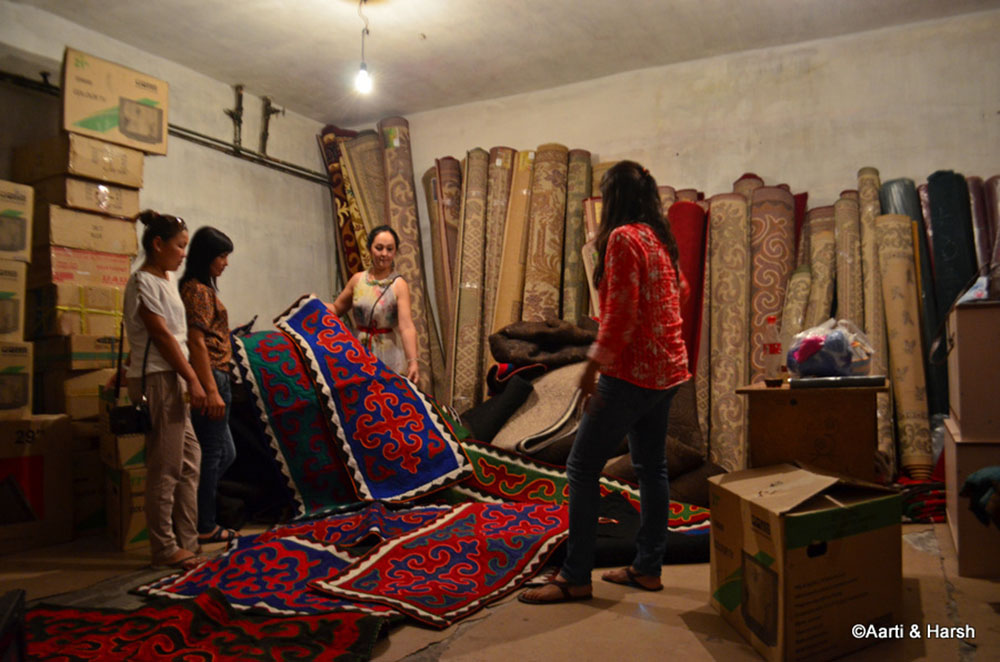 Bishkek to Issyk Kul Distance
The lake, Issyk Kul, is about 200 km away from Bishkek. All guidebooks mentioned that the road was decent and it should take us about three and a half hours.  After finishing our business at Osh Bazaar, we quickly hurried to Marat to pick up our passports and were off to begin our drive from Bishkek to Issyk Kul Lake by 4:30 pm.
We had plenty of daylight left. The road heads out east from the city on a pretty wide highway, with no dividers. The traffic was heavy owing to numerous towns en route. Pretty soon, we left what must have been a state highway and joined on the A365 heading straight towards the lake.
The drive was fantastic, the roads really nice and Kazakhstan was to our left (we were driving along the border for the longest time). The river Chui runs between the two countries, forming a natural border.
Boom Gorge
After driving for about 2 hours we were about to enter the Boom Gorge when we decided to take a break at a roadside stall just before it. It was very similar to a set of 'dhabas' we find in India and there were many like us who had stopped for some evening snacks.
We decided to have an early dinner which consisted of Shashlik and Hashan. Shashlik is the Central Asian version of our tikkas, grilled on hot coals over skewers. In each skewer, this is one piece which is only the fat of the sheep. Kyrgyz people relish this piece but it might be disgusting to many others.
Hashan was a very weird preparation. It was large in size and made of dough and filled with minced meat. To prepare Hashan, I saw the lady pan-fry them for a while, then lined them up in a pan and topped the pan with water. It was cooked in its own steam for about 20 min and was then served hot and fresh.
Tokmok announces its arrival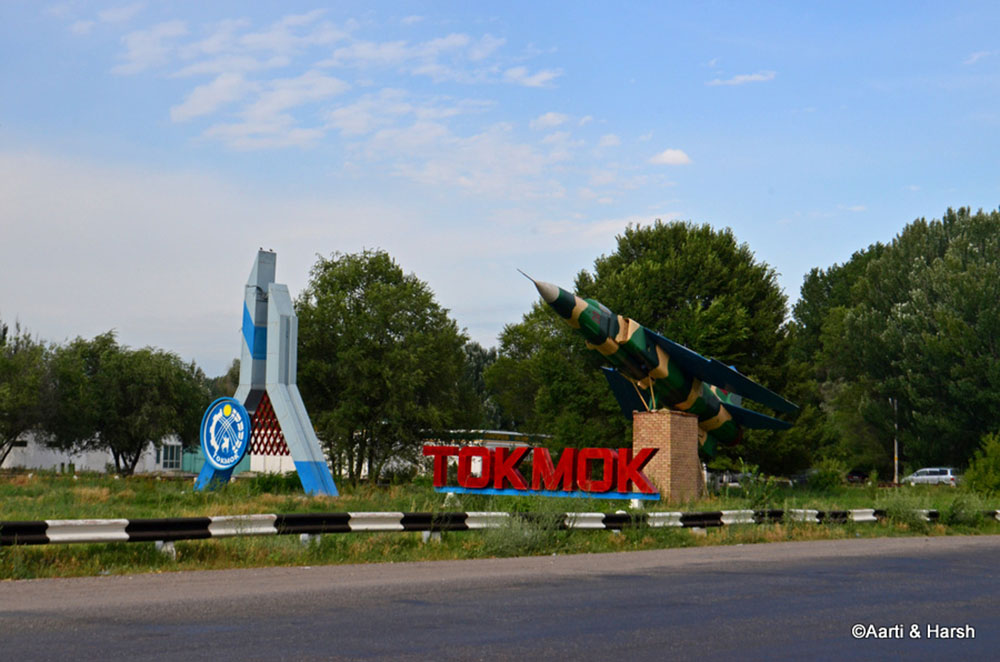 A terrific highway is a rare commodity in Kyrgyz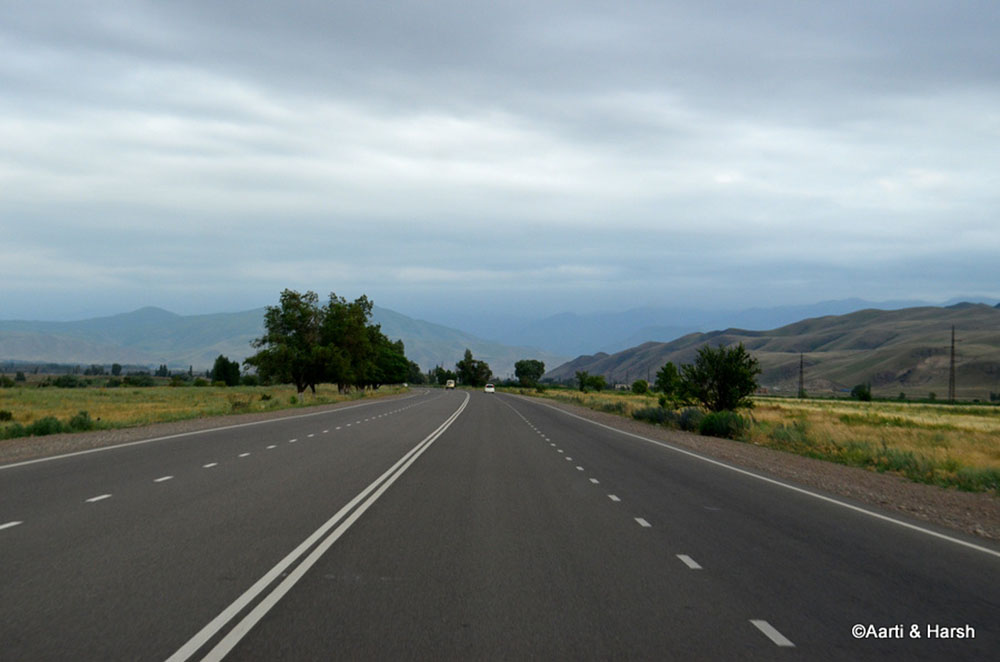 A bus stand in the shape of a 'Kalpak', a traditional hat worn by many
A woman prepares those delicious 'Hashan'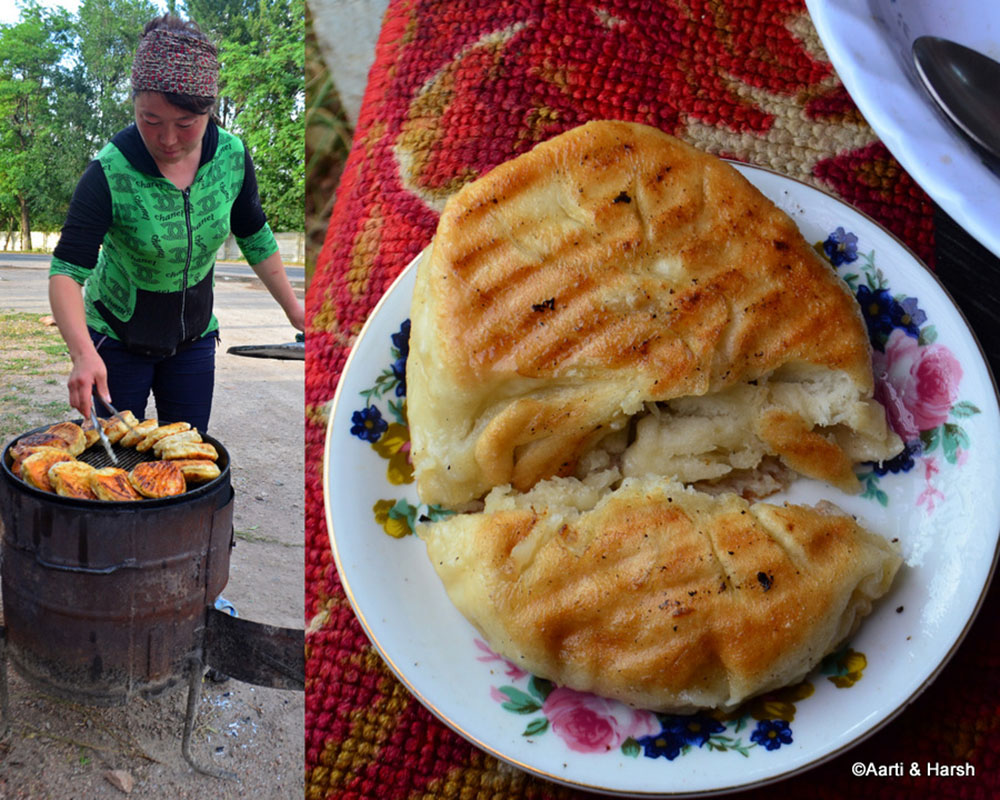 Tamchy
The Boom Gorge cuts across the Tien Shan mountain range north of the lake. It is the only direct access point to it from Bishkek. They have built an excellent highway through the gorge now. One can rip at 120 kmph easily with traffic and cops permitting.
Such roads are few in Kyrgyz, so they do deserve special mention here. We had planned to take a detour to visit the Konorchok canyon from the gorge, which apparently has a very Mars-like landscape. However, with the sun lowering in the west, we thought it would be best to skip it and head straight towards the lake.
By 8:30 or so, a good 4 hours after we had begun from Bishkek, we managed to reach Tamchy, our halt for the night. I went to the best homestay as mentioned in the guidebook and negotiated a room for 900 SOM a night. When I came back to the car, I found a Kyrgyz lady sitting in the back seat.
She had already convinced Aarti to check out her homestay. Needless to say, she hardly knew any English. But I do not think a salesperson anywhere on this planet requires a language to sell.
Issyk Kul Lake
Her homestay was much better than the one mentioned in the guidebook and was for the same price, so we decided to stay there. We quickly put away our luggage and rushed to the lake and barely managed to catch it at twilight.
The Boom gorge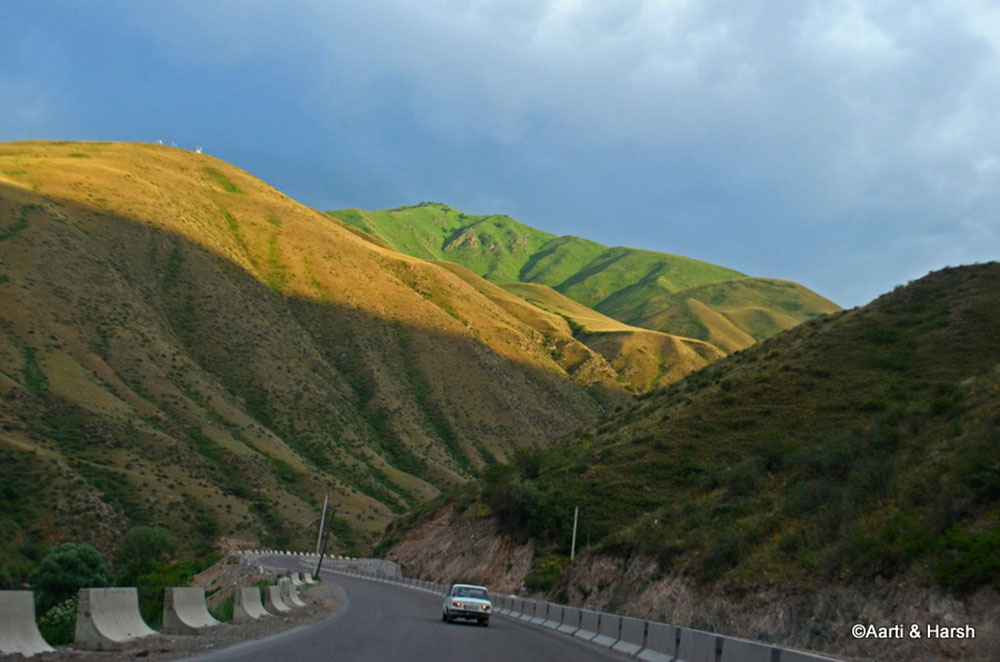 And the first view of the Lake Issyk Kul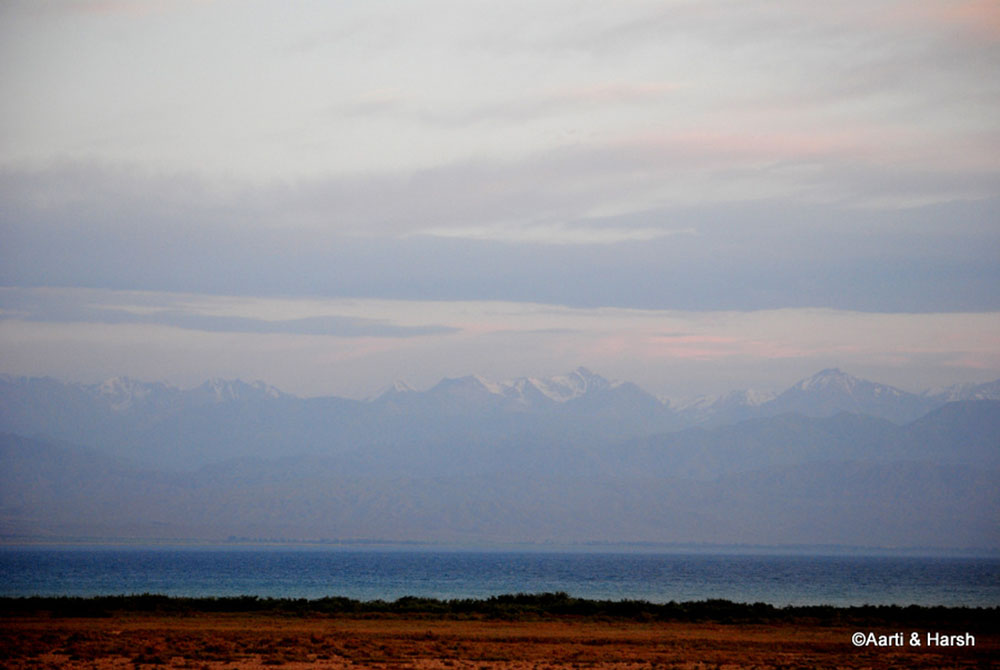 Twilight at the lake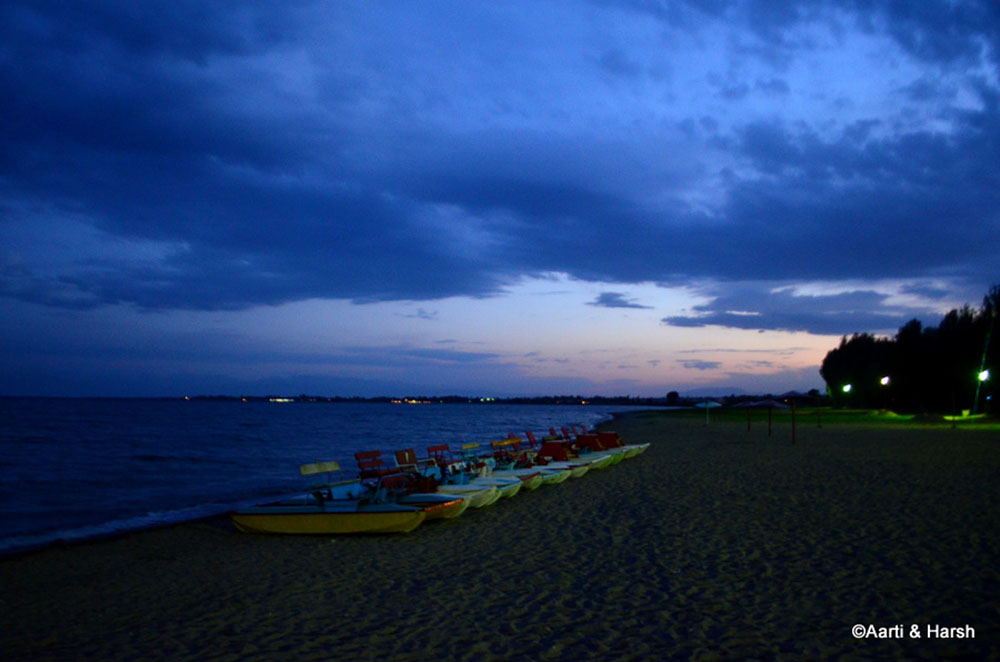 There were some shacks near the beach and only one of them was open. We had some snacks there which included a dry salty fish. I had no clue how to eat it so immediately dug into it. The owner rushed to me and explained how to peel the skin of the fish first and then consume it.
The follow-up question was: "Don't you have fish in India?". I was left blushing by that question and felt quite stupid. We all had a hearty laugh though about it. The evening spent by the beach in the dying light was fantastic. The bed was comfy and so was the room. Thus ended our drive from Bishkek to Issyk Kul Lake.
The plan for tomorrow was to travel to Karakol via Kok Airyk Pass, a pass that did not let us pass. Please click on the link above to continue reading the next part of the travelogue.
Bishkek to 

Issyk Kul Lake

 – Conclusion
I hope the travelogue, pictures, and information above on traveling from Bishkek to Issyk Kul were of help. If you have any questions, please feel free to ask in the comments section below or at our Community Forum, and I will be happy to answer. You can also follow me on Instagram and chat with me live there or subscribe to my YouTube channel and ask a question there.