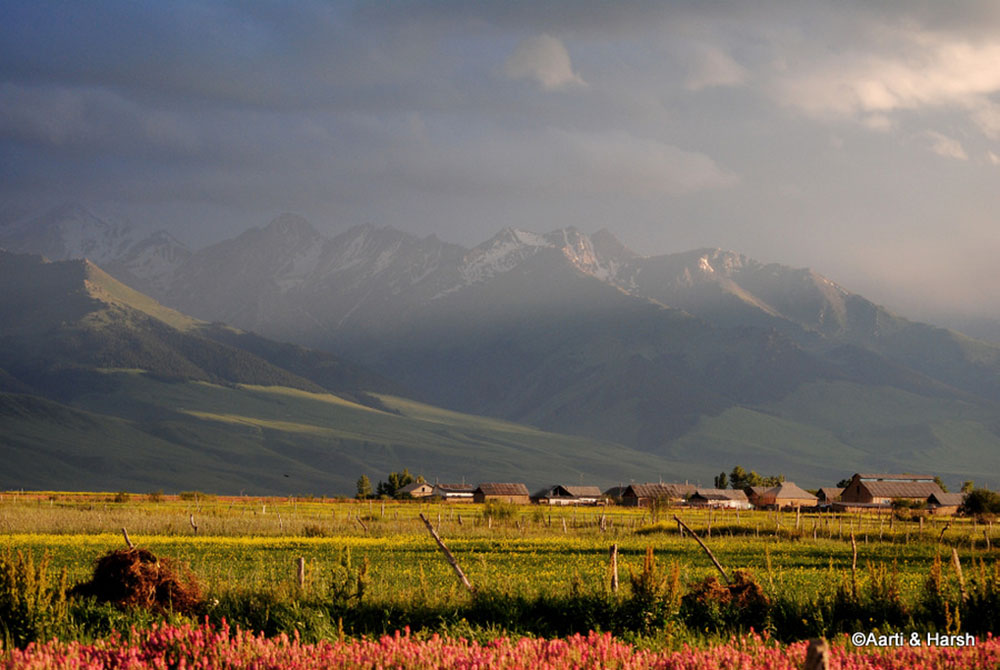 This was our first-ever international trip abroad after 6 years of togetherness. Kazakhstan trip from India, a road trip in a land unknown, all alone, with a language unknown. Just the two of us, crazy enough to undertake such an adventure. To experience something new altogether, to make new friends, to discover a different way of living, and to enjoy our solitude.
The Travelers: Aarti & Harsh
The machines: An Airbus, 2×2 legs, buses, taxis & a rented 4×4 Toyota Land Cruiser
The journey covered the two erstwhile Russian nations of Kazakhstan and Kyrgyzstan in 16 memorable days.
The trip gave us a taste of all kinds of adventures – a continuously changing plan at the spur of the moment, a strenuous day hike through a canyon on a blazing hot day, roads that are just not fit to be called motor-able, being caught in a blizzard with a burst tire, camping in the middle of nowhere, coming close to the infamous Torugart pass to China, getting stuck in slush with all 4 tires dug in, a road which scared the living hell out of us and an SUV which could take it all in its stride.
Kazakhstan Trip from India
After the arrangements for travel route, destination, visa, travel agencies, money transfer, and car rentals were taken care of, we moved on to the next part of our planning our preparation. To read the previous part of this post detailing how we handled all of the above-mentioned, please read Planning & Preparation for a Trip to Central Asia.
Language
One of the biggest challenges in traveling alone in Central Asia is the language barrier. There are hardly any people who can speak or understand any form of English.
The only unifying language these countries had was Russian, although Kazakh have a different official language and so do the Kyrgyz people. In order to make it logistically possible for us to visit these regions, and do something on our own, we had to learn a bit of Russian, to begin with.
Work on this had started sometime in early March when evenings were spent memorizing the Cyrillic alphabet and trying to memorize simple words. There was no point in looking at the nuances of grammar as that would have been overkill. The stress was more on building as much vocabulary as possible, understanding simple phrases and questions in Russian, and hoping for the best.
We ended up having a big printout hung on our bedroom wall with Cyrillic alphabets and Russian words for a good 3 months and our mobiles and Kindles filled with English-Russian-English dictionaries.
The hard work did pay off at a lot of places, especially while ordering food and staring at menus with Russian all over it. And to be damn honest, a part of the excitement of the trip was this challenge itself.

Travel Literature
It was practically impossible to find logs and blogs written in English about the region. For our Kazakhstan trip from India, we had to rely completely on travel books that we had at our disposal.
Books like Lonely Planets are an excellent place to begin researching about a country. In our case, they failed to deliver the goods as they hardly have a 40-page book on a country like Kyrgyzstan and a similar-sized section on a country as huge as Kazakhstan.
Thus began our search for better and detailed literature which would serve as a detailed guide. Searching in offline bookstores turned to be futile as they are packed with more regular international destinations. Amazon and their Indian competitors came to our rescue. These were the books we referred to:
Bradt Travel guide to Kyrgyzstan (print edition by Flipkart)
Kazakhstan by Justin Dodge (Kindle Edition – Amazon)
Roaming Kyrgyzstan by Jessica Jacobson (Kindle Edition – Amazon)
Maps & Directions
Whether it be an international trip or a national one there is no replacement for the amount of information one can take out from Google Earth. We spent months pondering on different regions, clicking on geo-tagged photographs of various locations and off-the-road places to finalize our places of interest.
Some of these were as mentioned in guidebooks, but others were not. We even interacted with a couple of fellas who had done extensive motor-biking tours in Kyrgyzstan and had uploaded geotagged images on Panoramio. Sadly, they did not know much English, and thus extracting too much information out of them was difficult.
A screenshot of how Google earth was abused by us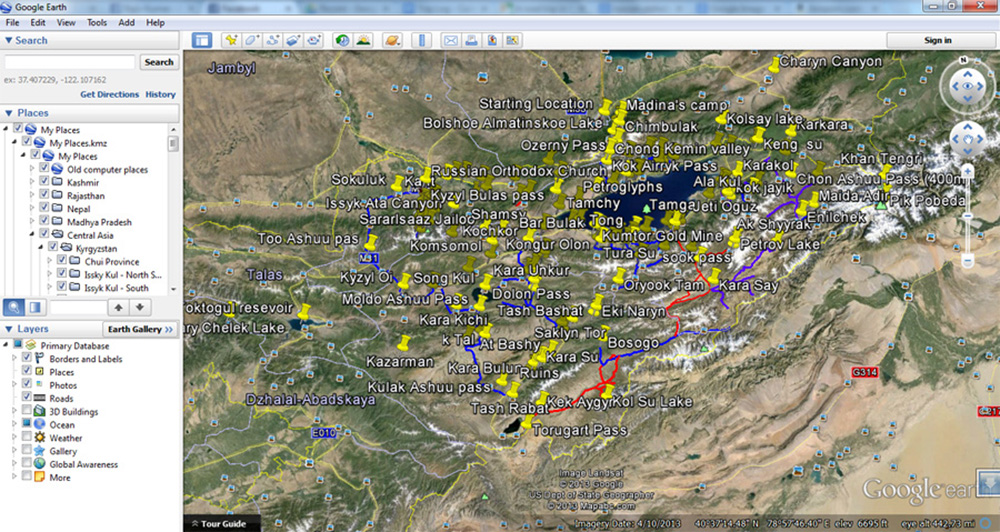 ​As for Navigation, I would have to take a pause and thank Tanveer for that. His introducing Zanavi and OpenStreetMap to me were one of the best things that could happen on our trip. The pre-marked road tracks as well as my own manually marked GPS tracks worked beautifully for all the off-road adventures we embarked upon this trip.
Accommodation
It was supposed to be a do-your-own-thing trip with a very flexible itinerary. Booking anything in advance did not make any sense. Armed with our books and our tent we were well equipped to take a last-minute call at any point inside the country.
However, we did have to book a hotel in Kazakhstan. Aarti eventually narrowed it down to Sarai-Shik. It is a hotel on the outskirts of Almaty. Madina gladly helped us in arranging for the same.
Culture, Customs, and Clothing
Both of the countries are predominantly Muslim, but because of a Russian past, one could hardly feel they practice any form of religion in these countries. In our 16 days of traveling around, we found 2 women wearing Hijaabs, and that too with uncovered faces!
We met plenty of people drinking Vodka merrily in pubs, restaurants, outside in the streets, and on the highway! Safety was hardly a concern (apart from lunatic drivers on the road). All reports pointed to a country that was much safer to travel than India for men and women alike.
We had to do a bit of reading on their cultural practices and norms as well to ensure that we do not end up offending locals on our travel. This was particularly useful in the interiors of Kyrgyzstan.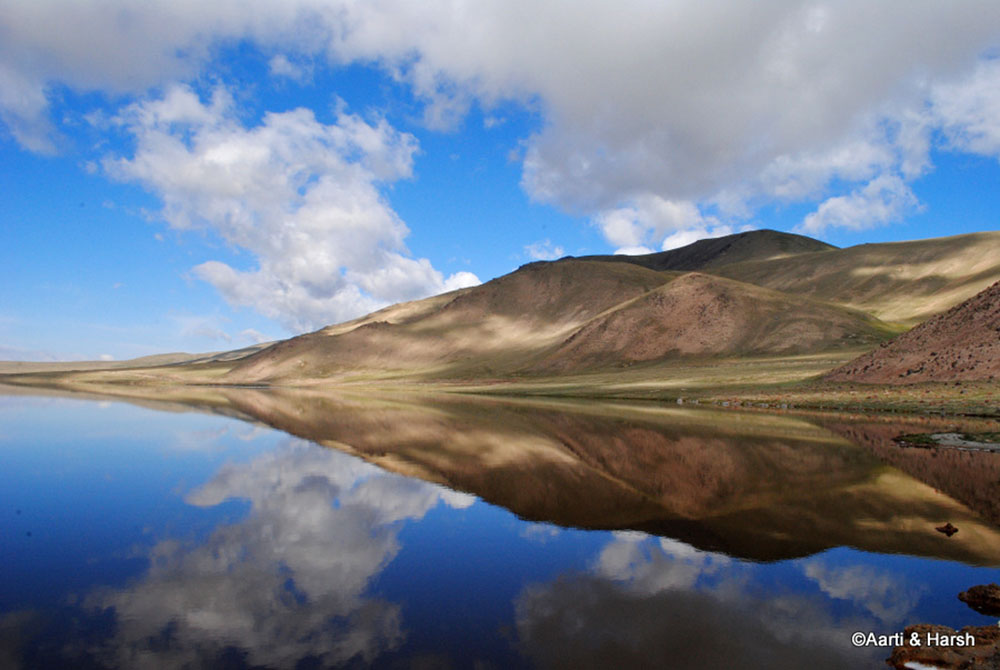 Financials & Estimates
The biggest area of concern for any traveler is of course the budget itself. So far, we had been quite frugal on our trip spendings in the past. But an endeavor of this proportion was about to cost us a bomb. A Kazakhstan trip from India was not going to be a budgeted affair but we could try to make it as cost-effective as possible.
Careful and in-depth planning was done to estimate accommodation, fuel, visa, flight, and all other related costs. The google-doc itself spanned 14 individual sheets; each one cross-referencing the other and picking up items like conversion rates. Eventually, it came up with a total budget for multiple itineraries as they evolved. (Yes, geek alert.)
The careful planning did help us on budgeting nicely so that there was no bummer of finding any hidden costs later on. The contingencies were well accounted for and this way we enjoyed each moment of our trip despite minor cost escalations.
We had budgeted 3.4 lakhs for the trip excluding contingencies. We ended up shelling out 3.25 lakhs in total. So the percentage change from the budget was hardly 5% and that too on the lesser side which made us happier.
Although much of this would be attributed to a far over-estimation of food & accommodation in Kyrgyzstan while under-estimating contingencies & other hidden expenses. Luckily for us, In the end, they kind of balanced each other out.
A breakup of costs (estimates only) among major heads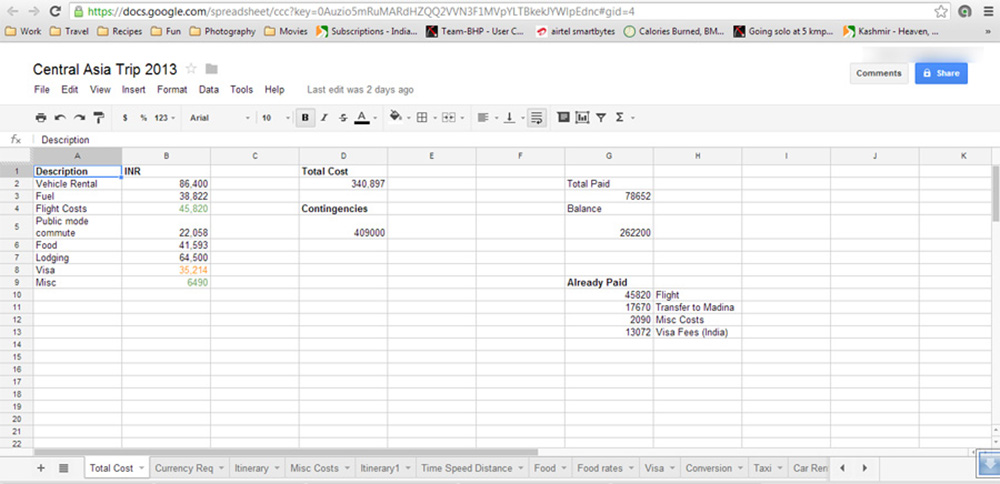 Itinerary for Kazakhstan Trip from India
The planned itinerary before the trip looked like this:
Delhi – Almaty (flight) – Day 1
Sightseeing in Almaty city (walk) – Day 2
Almaty – Charyn canyon – Almaty (bus) – Day 3
Almaty – Big Almaty lake – Yurt camps in the mountains near Almaty. (taxi & walk) – Day 4
Camp – Bus stand – Bishkek (taxi, bus & walk) – Day 5
Bishkek city (we were supposed to get our car on this day) (car rental from here onwards) – Day 6
Bishkek – Cholpon Ata (Issyk Kul) – Day 7
Cholpon Ata – Karakol – Day 8
Karakol – Barskoon – Day 9
Barskoon – Kara Sai (camp) – Day 10
Kara Sai – Barskoon – Naryn province (camp) – Day 11
Camop – Naryn – Tash Rabat (yurt camps) – Day 12
Tash Rabat – Torugart pass (china border) – Bosogo (camp) – Day 13
Bosogo – Song Kul (yurt camp) – Day 14
At Song Kul (rest day/ buffer day) – Day 15
Songkul – Bishkek – Almaty (car rental return – bus to Almaty) – Day 16
Almaty – Delhi (flight) – Day 17
Obviously, the best-laid plans change on a road trip and that adds to the charm of the whole thing. We had our plans changed and altered. Even the draft itinerary had a gaping hole, as we were trying to do an "un-marked" road from Kara Sai to the China border, but were unsure of the existence of that track.
Border Permits
As we were traveling pretty close to the Chinese border in KG, we had to pre-arrange our border permits. It cost us $40 per head and was arranged by Advantour without any fuss.
Packing
The weight limit on Air Astana was 20kg for the check-in baggage (per person) with an additional 8kg as carry-on. We began to pack our bags a couple of days in advance for the trip to ensure maximum efficiency.
Weather predictions in these countries showed the general temperature to be in the range of 12 – 35 degrees celsius, so we decide to pack as few woolens as possible. As there were camping nights, so we had to pack in our tents and sleeping bags too.
There were not going to be many laundry days, as it would have been expensive so we thought of maximizing on layered clothing. However, with everything packed the way it was we were exceeding our weight limit by quite some margin.
Eventually, we ended up buying an ultra-lightweight tent which we had our hearts set on, for quite some time. A Quechua 3 men-tent for 7500 bucks. We decided not to take our sleeping bags. Instead, we decided to buy a quilt at Bishkek and donate it on the way back to someone in need.
This way we economized on our weight and volume constraint, and maybe get the return on investment by spending less on expensive and cleaner accommodation.
A laptop was a necessity since it makes life so much more convenient with a barrage of gadgets from phones, to tabs and multiple charging equipment for the car. Again, thanks to Tanveer for lending his Belkin car power inverter. That was a godsend for the trip.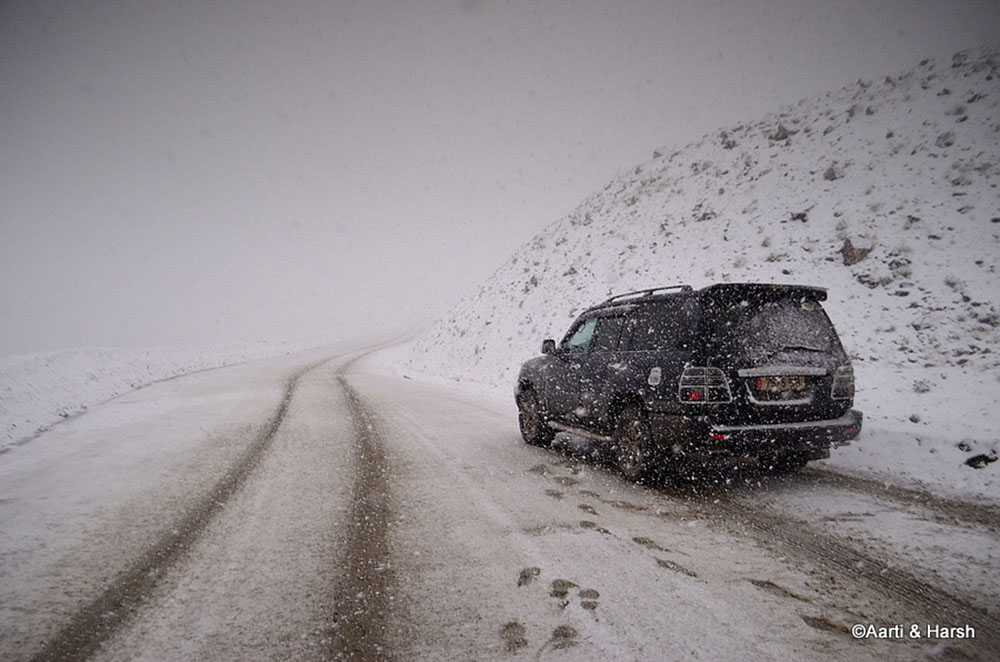 Disasters Just Before the Trip
There's a saying among travelers that the few days before the trip are the days most crucial for its success. If traveling in groups, partners often back out during the last few days. It happens with all of us. If the car has to break down, it does so a day before. If there's an urgent meeting planned, it happens a couple of days before the trip.
For us, it was a call by our landlord for evicting our premises rented for the past 6 years and a front-page news item mentioning a crashing rupee. We had to shift flats, a week before our departure – It was a painful and exhausting task, but it was done.
Had it not been for our non-refundable flight tickets, we might have postponed the trip by a week. Anyone who has ever shifted a set household could sympathize with us on this front.
The rupee had slid from in comparison to 1 USD by the time I had arranged funds to convert currency. We managed to catch the local trough but still lost a few rupees to a dollar already. The expected expenses had been increased by 6.5% which is a lot considering the baseline was > 3 lakhs INR. That was a whopping 20k lost, a typical budget for our 4-day trip. That is the fate for you, and such things happen.
Despite our setbacks, we were all set and super-excited for our first ever and long-awaited international trip together. Please click on the link above to continue reading the next part of the travelogue.
Kazakhstan Trip from India – Conclusion
I hope the information above on planning a Kyrgyzstan and Kazakhstan trip from India was of help. If you have any questions, please feel free to ask in the comments section below or at our Community Forum, and I will be happy to answer. You can also follow me on Instagram and chat with me live there or subscribe to my YouTube channel and ask a question there.