Home Stay in Kyrgyzstan is one of the most popular tourist activities. It allows tourists to stay with locals in their homes, and learn about their lives and the local culture. On the other hand, it also supports the local livelihood and help the people earn some income from tourism.
The option of homestays is available in every part of the country. Kyrgyz people are known to be very hospitable, and we experienced it first-hand. They love to invite you into their homes and talk about just anything. The concept of homestays and using it to grow the local economy is driven by a non-profit organization called the CBT initiative.
Journey So Far:
We had heard about the CBT initiative while researching Kyrgyzstan but this was the first time we actually used their services. The initiative is a not-for-profit organization that helps the locals cater to tourists by helping them convert their homes into tourist-friendly homestays in various regions of Kyrgyzstan.
They also promote the locals to sell local handicrafts to visiting tourists at market prices, thereby infusing more money into the producers rather than the middlemen.
Day 12: Campsite to Kochkor Village
After our drive and sightseeing on Day 11, we decided to self-camp near a small lake near Barskoon valley. I had a relatively comfortable night when I compare it with Aarti. While I did get some sound sleep, most of her night was spent tossing and tumbling in the sleeping bag.
When I woke up at 6:30 or so the sun was already up and warming up the tent. This had led her to a deep slumber. I thought it would be best to let her rest a bit more.
A Cold but Pleasant Morning
I went out only to rush back inside immediately to put on some more woolens. It was still pretty cold outside. With time on my hands, I strolled around leisurely. I had half a mind to climb the adjacent knoll and see if I could figure out the source of that booming sound that had awakened us several times in the night.
Halfway up, I came across a big skeleton of a Marco polo sheep. The species is typically found in the mountainous regions of Central Asia and is now considered endangered. I was happy to have found at least skeletal remains of this rare species.
I wanted to bring it back home but realized that carrying it past customs will be nigh impossible. Back from my stroll in an hour, I found Aarti still resting, so went about preparing breakfast for both of us.
Breakfast was served in 'bed' and consisted of a lavish spread which included cheese sandwiches, potato sandwiches, and a cup of hot lemon tea. The view through the open flap of the tent was mesmerizing.
The early sun was behind us and the calmness of the weather resulted in a near-perfect reflection of the nearby mountains in the lake.
A Curious Nomad
By the time we were done with breakfast, a nomad came by snooping on us. He was curious to see a car parked in the middle of nowhere. There were three companions with him, a stallion and two dogs.
He knew a few words in Russian so our exchanges were limited to hand gestures. One of those gestures asked me for a couple of smokes to which I happily obliged. Once again, a bond was made.
The dogs were quite grumpy. Despite us feeding them leftovers of our breakfast, we could not forge a bond with them. The nomad soon went away and it was time for us to leave as well.
A picture-perfect morning and view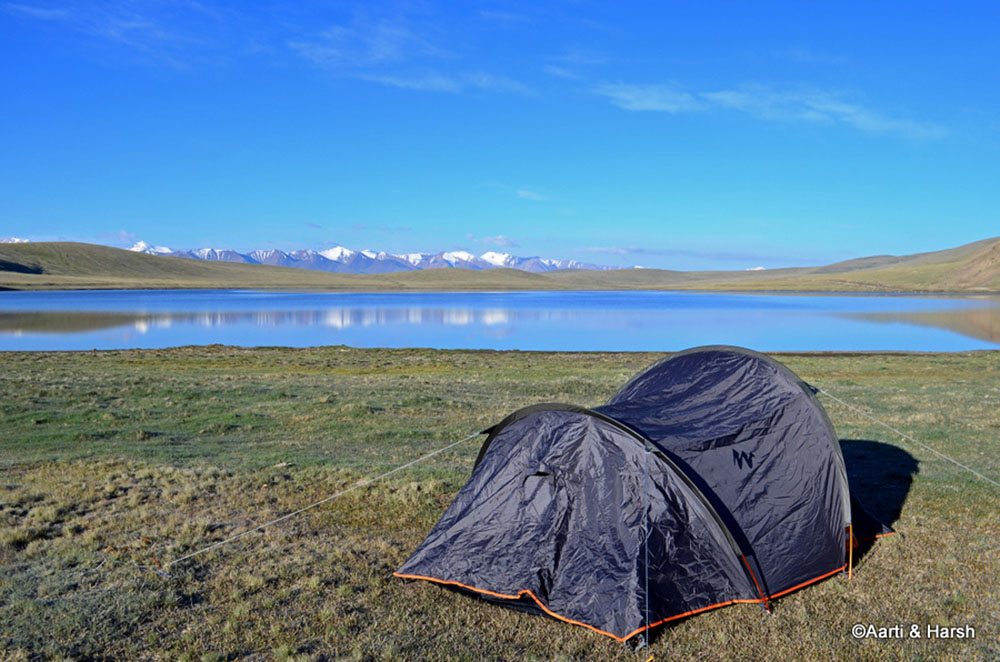 Calmness leads to a perfect reflection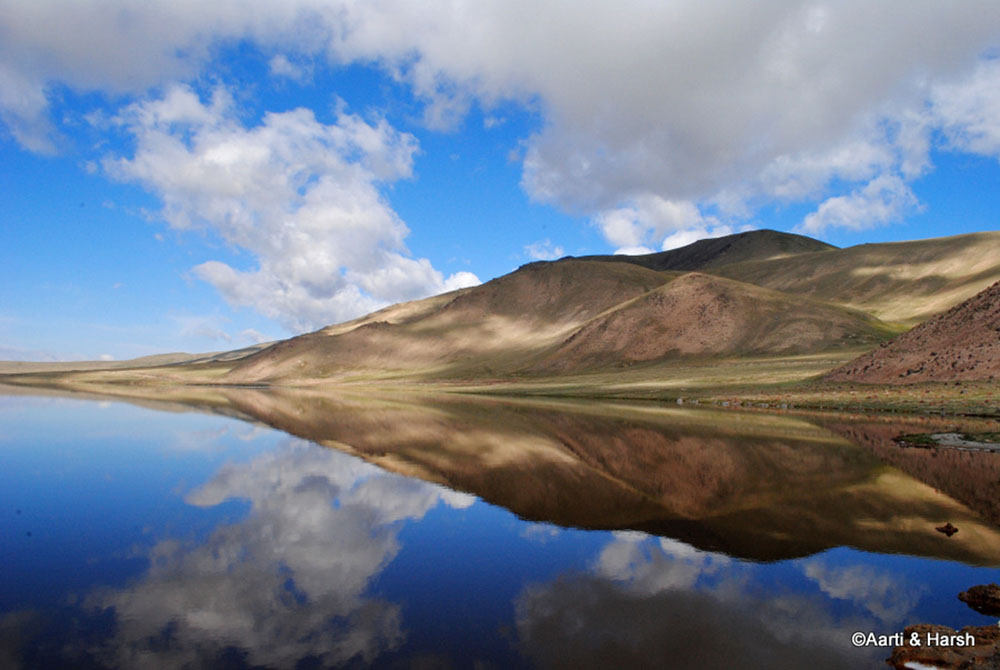 Naryn Province
​We resumed our journey for the day by around 9:45 am and continued to head west towards Karakolka and the supposed route onward towards the Naryn province. The village Karakolka was about 40 km away. By our estimates, and given the road conditions, we expected to reach there in another hour and a half.
Initially, the drive was through hills and marshland much similar to the one going towards Pangong Tso in Ladakh. Even the fauna was similar with marmots running helter-skelter. Unlike their Ladakhi brethren, these marmots were very shy and ran back to their burrows as the vehicle drew near.
Soon we left the hills and the marsh and reached the wide Naryn river. The origin of this river is somewhere near the mountains behind Kumtor gold mines and it runs west through the entire Kyrgyzstan crossing Naryn city as well. It flows eventually towards Uzbekistan where it merges with another river and flows into the Aral Sea in Kazakhstan.
We drove on the right bank of the Naryn river for the longest time through a wide plateau sandwiched between high-rise mountains to our south and smaller ones to our north. The road was untarred and dusty but in a reasonably good condition.
The drive was one of the best we did in the country through vast stretches of nothingness. A comfort drive for our souls. The drive was dotted with some sporadic settlements primarily belonging to shepherds. Some seemed temporary in nature while others were brick, mud, and mortar.
There were many signboards en route as well requesting people not to hunt for fauna. Apparently, the skin of Marco polo sheep fetches a lot of money in the black market. In hindsight, the questions by the army officer at the check-post made sense now.
Local Shepherds
After moving west for a long time, we eventually came across a bridge across the river Naryn to take us across to its left bank. A few kilometers ahead, a settlement consisting of a single house could be seen, but it was more like a complex than a single house.
We assumed this must be Karakolka and there seemed to be a road leading beyond the village as well. The thought of doing an unmarked route was pumping adrenalin into my already charged-up body. As we approached the settlement, all its inhabitants came out of their respective houses.
We stopped as well to say hello and ask for directions. The populace was mostly women and children and a sole man was around cutting up some wood. Before I could ask questions, the lady of the house requested us to have a cup of tea with them in their house.
Marsh and hills ahead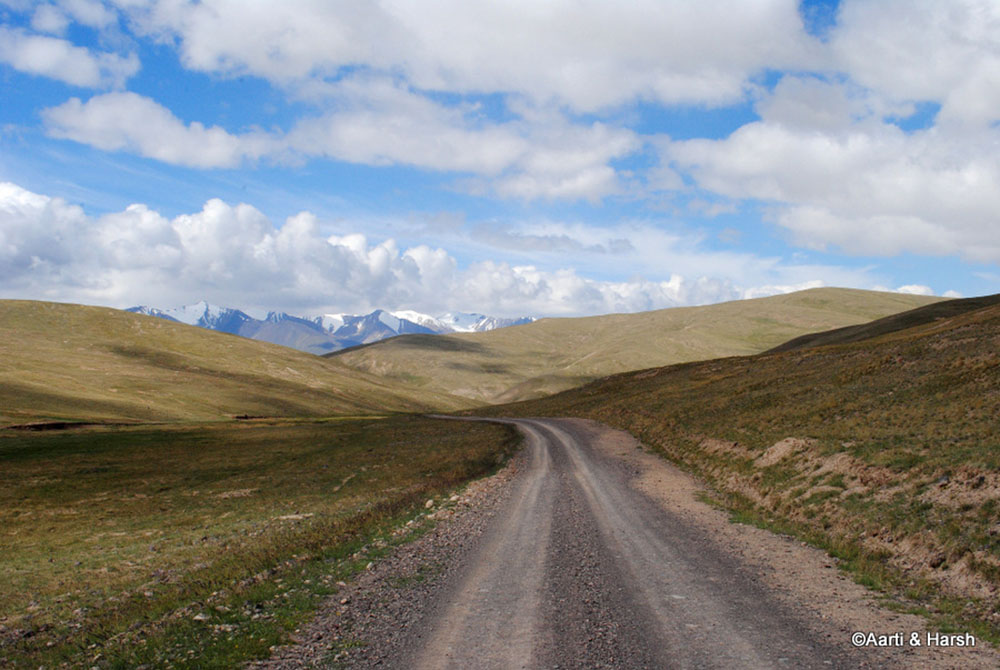 Say hello to the river Naryn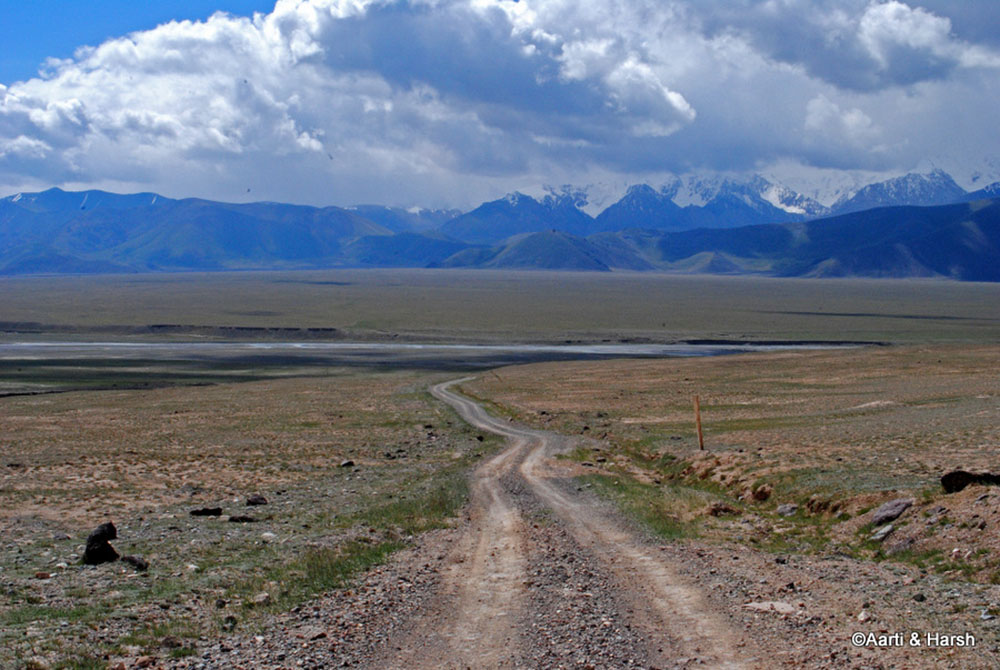 A bridge over river Naryn, the settlement on the left is where we stopped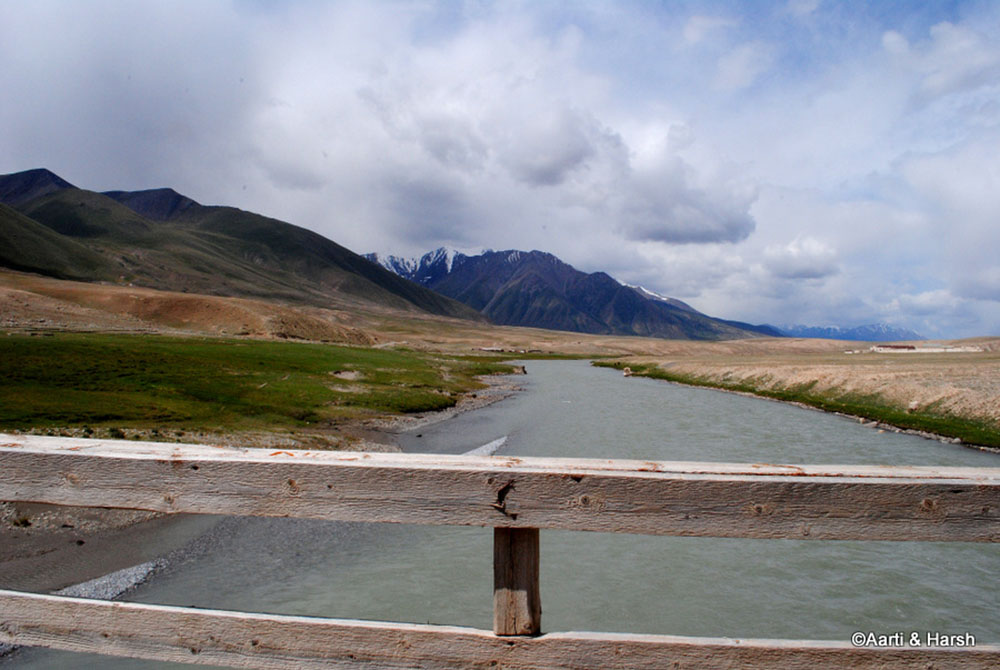 ​

Experiencing Hospitality in the Middle of Nowhere
Kyrgyz people are known to be very hospitable, and we experienced it first-hand that day. Despite their limited income sources, the lady served us with bread, a plethora of jams, butter, and of course chai.
To honor their guests, the Kyrgyz people serve chai in very small quantities in saucers so that each sip remains piping hot. It also gives the host an excuse of refilling the guest's cup from time to time.
As no one knew English, conversations were a bit awkward. We relied on using our Eng-Ru dictionary to converse while they tried their best with gestures. Despite our lingual difficulties, the lady of the house was aghast when she got to know that we were still without a child despite being married for almost 6 years.
In that sense, the Kyrgyz people are very Indians-like. They value their family as much as we do here and do not shy away from asking extremely personal questions. That is why maybe Bollywood movies are such a hit there.
We discussed (as much as we could) on all topics possible, including their daily lives, the difficulties they face, the education imparted to their kids. After spending about half an hour with them, we requested their permission to leave.
Aarti remembered that she had some candies and nuts in the car, and treated everyone to it. This has to be the most heartwarming experience we had in Kyrgyzstan.
Karakolka
As we were leaving, the lady informed us that the road ended at Karakolka which lay about 6 kms ahead. That really shattered our hopes of doing a new route, one that would have been completely off the radar. However, the charm of going till the end of the road was too strong. We decided to go to the village just for the heck of it.
The last km of the road was very tricky as the descent was quite steep. I have always found descents trickier than ascents. The 4L mode was engaged with the central diff locked and slowly we descended towards a tributary that went into the river.
As we descended, we found another track going down to the river which seemed much simpler. Both the tracks merged and started deteriorating rapidly. The track had started moving north as well and we could see it end a km ahead.
Knowing that it was futile to go any further, we took a U-turn. We took the easier ascent up and soon were back at the settlement again. I went back inside the house to fetch my camera cover which had been left inside. Soon we were back on the road and our long drive back towards Barskoon by noon.
Lady of the house – with a young one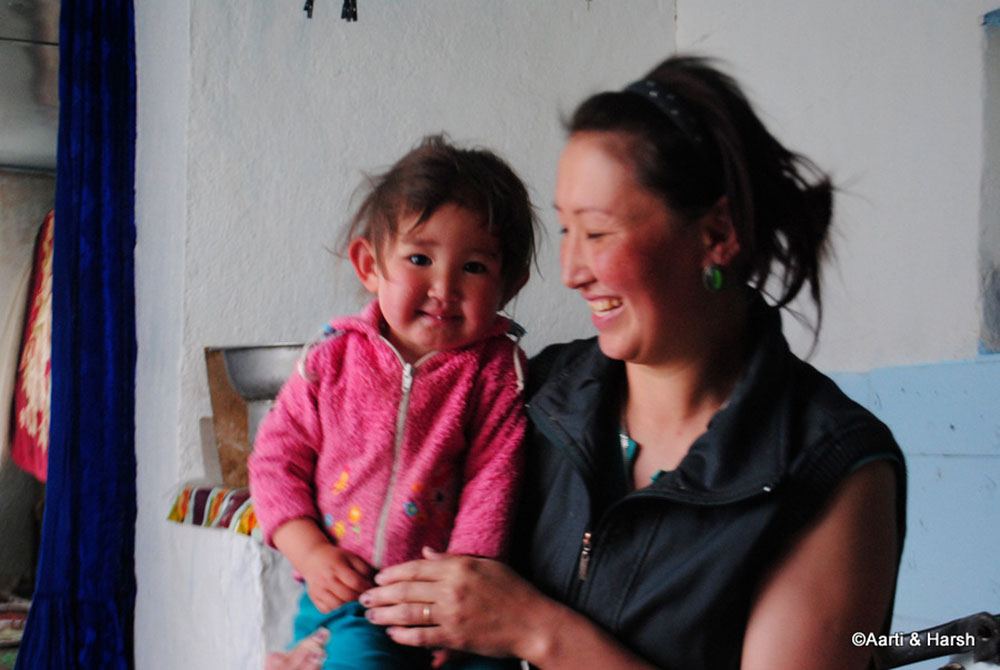 That is Karakolka on the right and towards South a possible route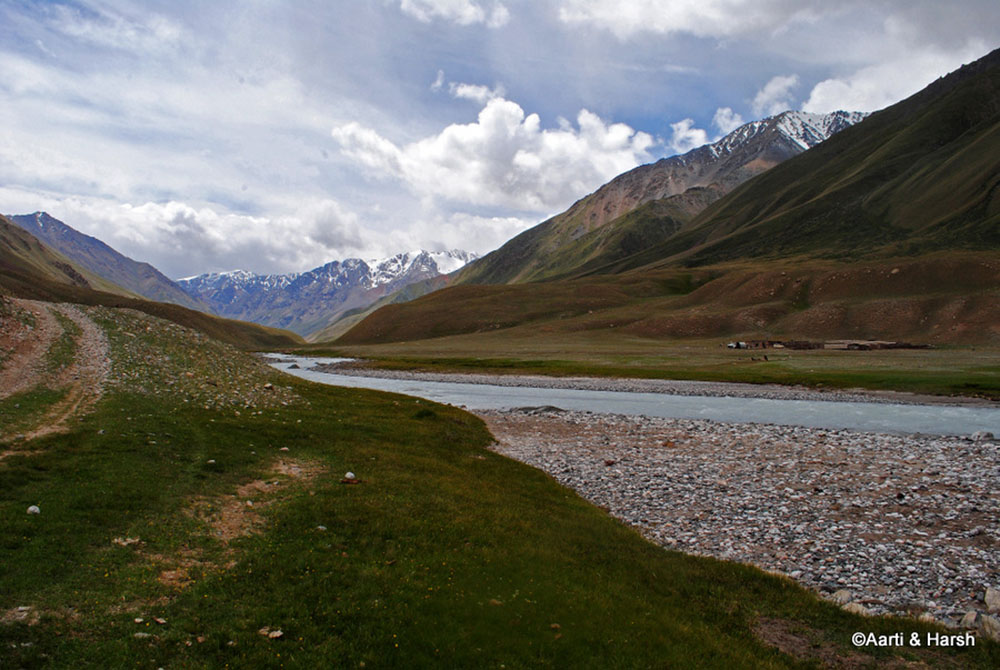 Crossing the river again back towards civilization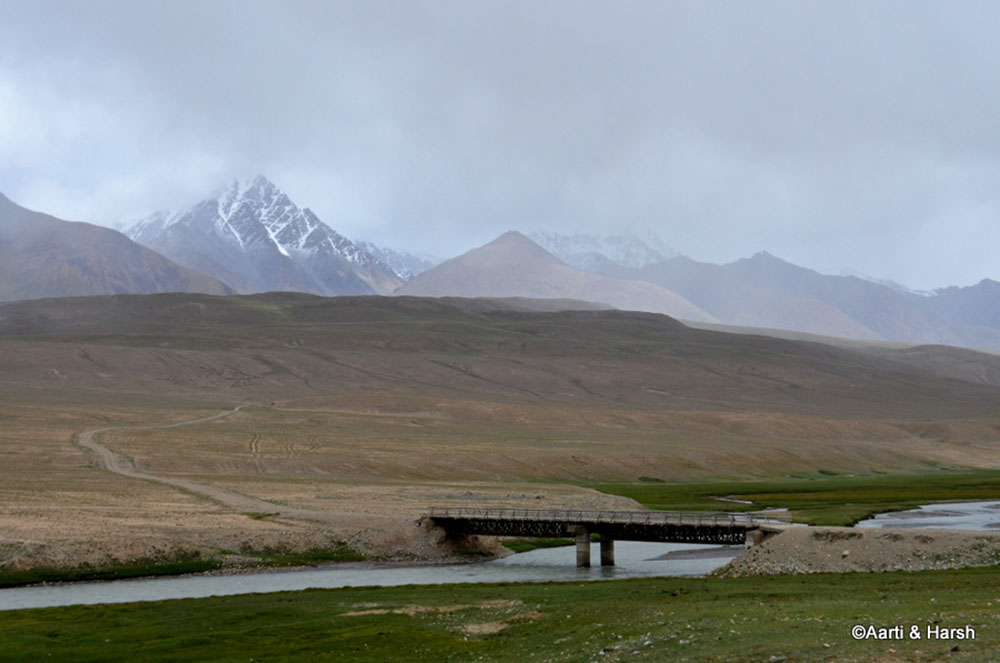 ​Barskoon Pass
The drive back was uneventful and there were fewer breaks as well. Some breaks had to be made to run after marmots, some to run after free eagles and one was to cook lunch. We parked by a stream and prepared some ready-to-eat goodies. There, sitting by the stream, preparing our own lunch with a panorama to behold in front of us, we were in heaven.
By half-past two, we were back at the settlement below Sook pass and in another 45 min were standing at Barskoon pass. The clear skies gave way to overcast weather which led to another bout of small snowfall. At 4:30 pm, we were back on the highway next to lake Issyk Kul.
A big flock of sheep gives one an idea of the scale of the scenery in front of you
Many vultures were sighted but few got close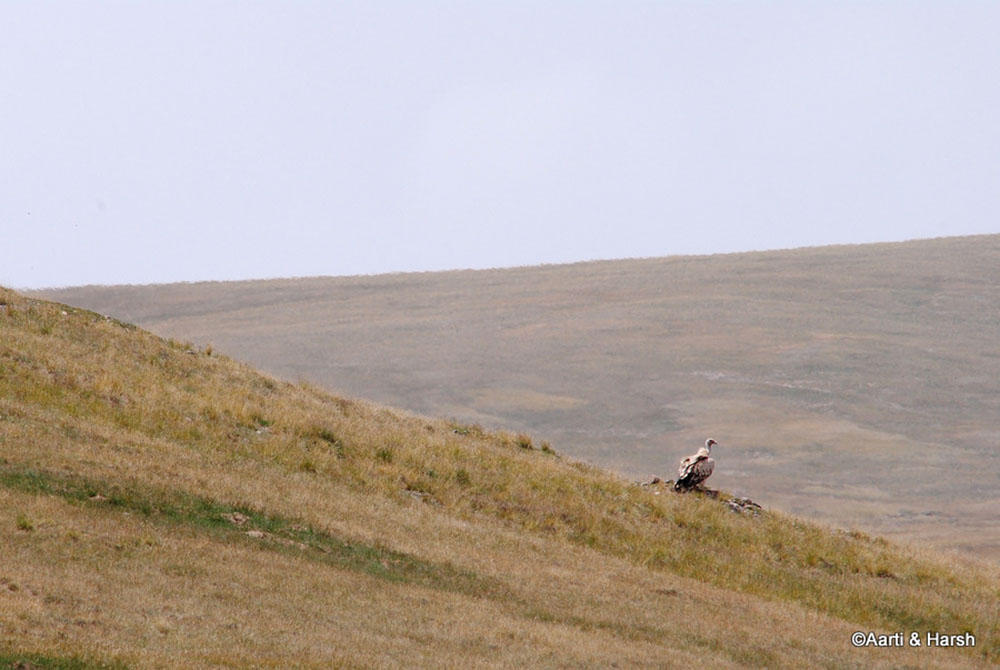 A wild eagle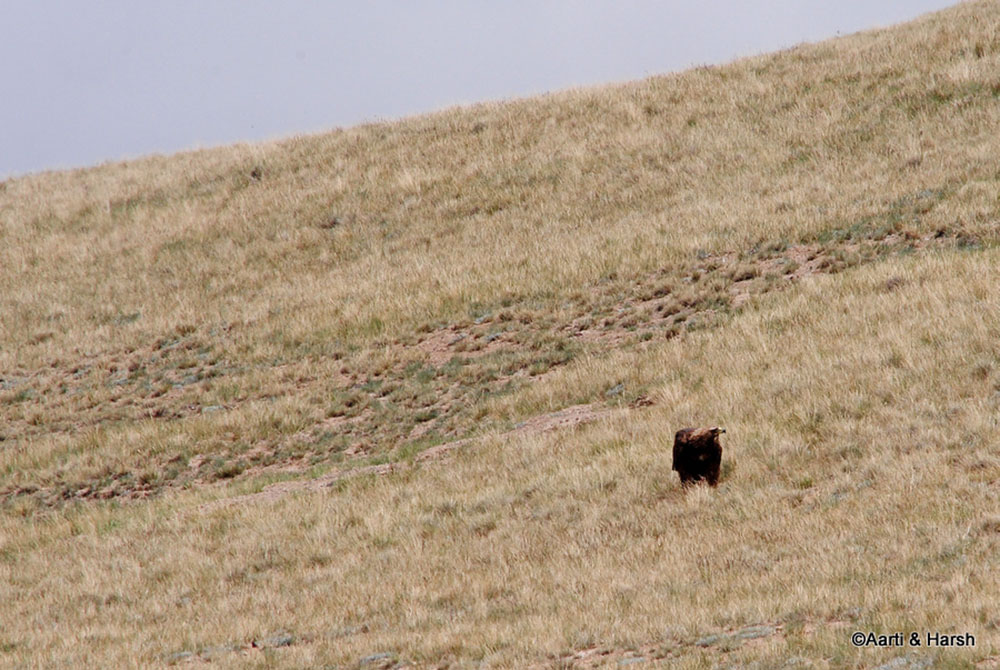 Lunch break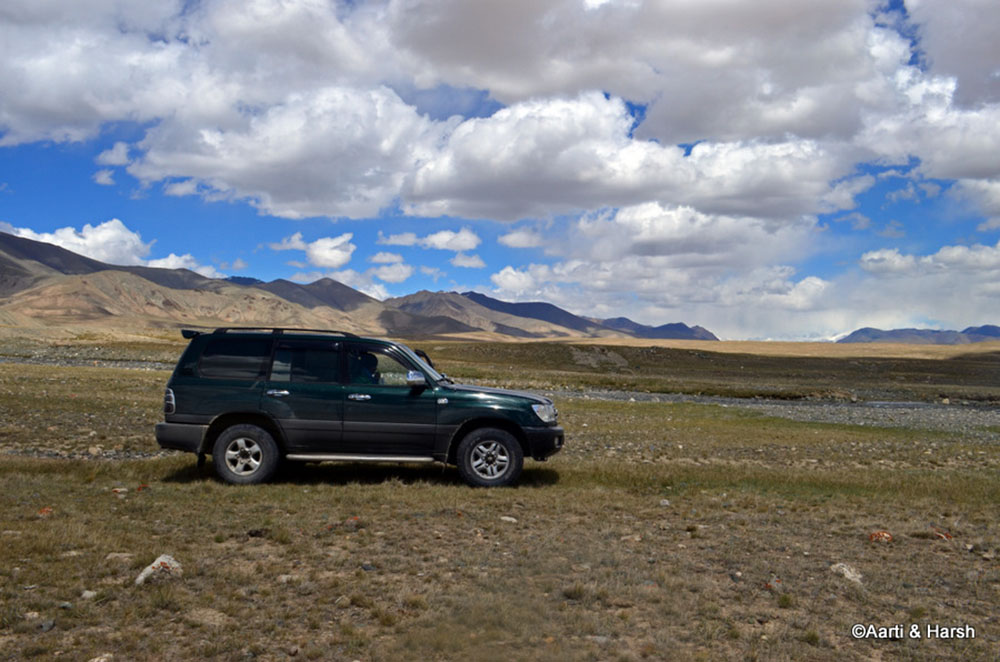 The sink where utensils were washed post-lunch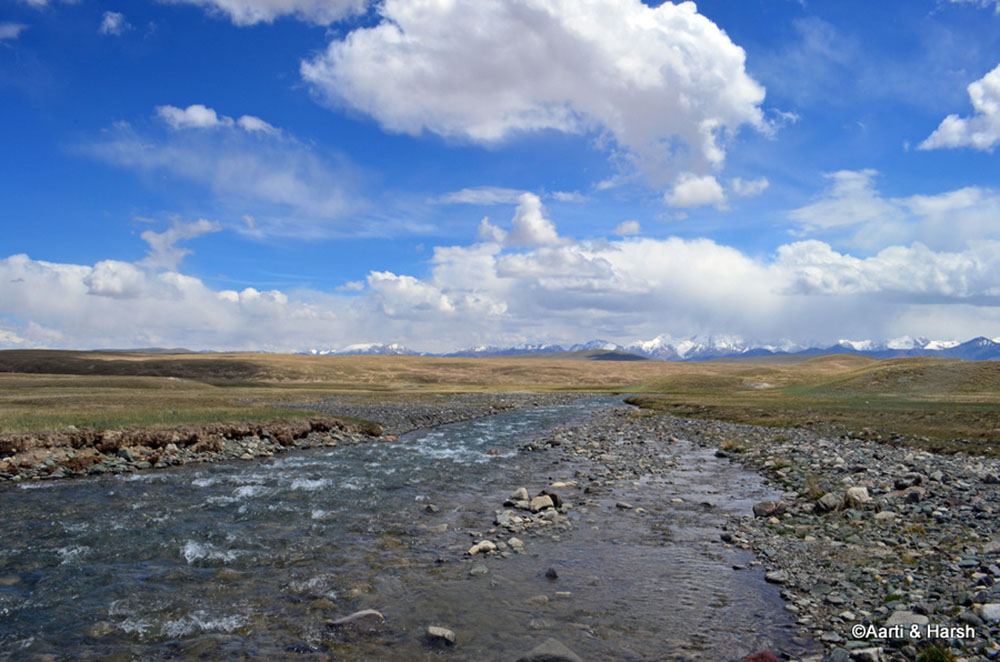 These trailers are found all throughout the country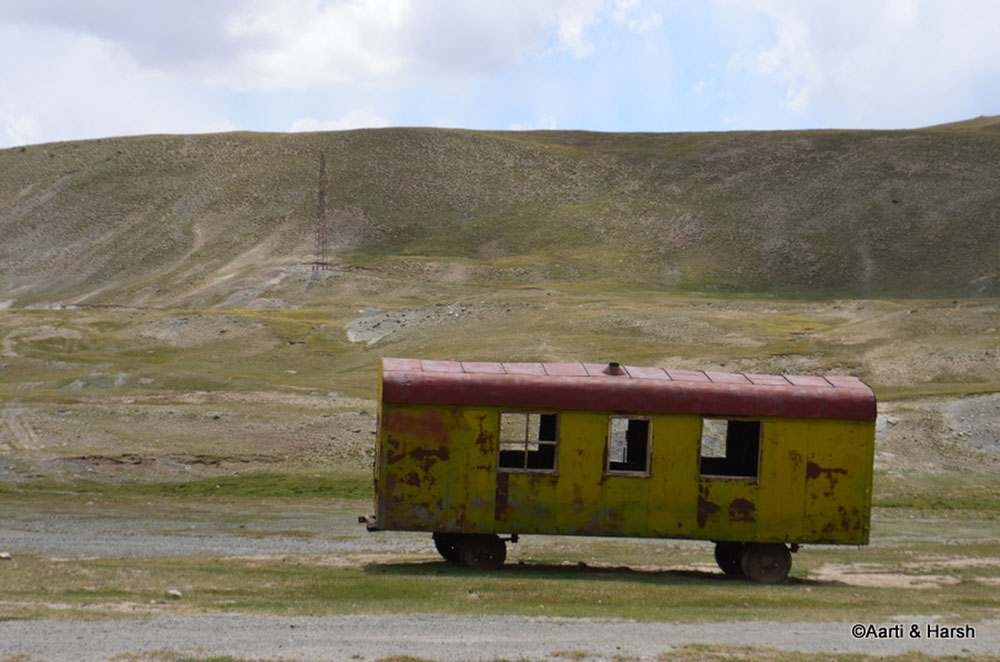 Descending the rocky Sook pass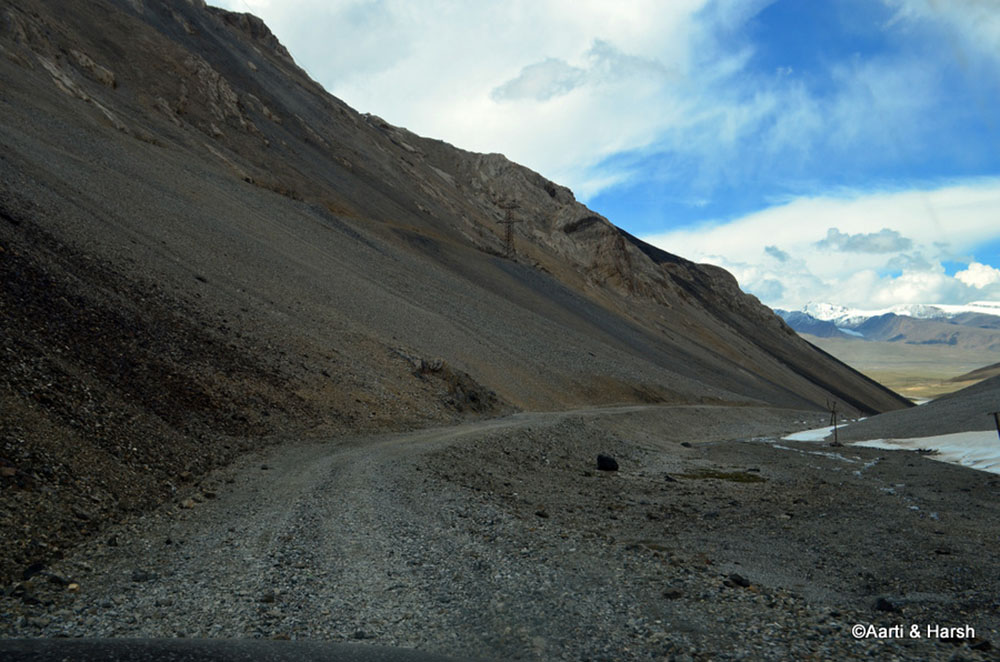 Kochkor Village
We decided to break our night at Kochkor, a town at the crossroads of Issyk Kul, Naryn, and Bishkek. Kochkor would probably be much more touristy than Karakol. It serves as a base station for many treks in the mountains around it, including a trek to lake Song-Kul, the jewel of Kyrgyzstan.
Aarti made a couple of calls to CBT (community-based tourism), Kochkor, and fixed up a home-stay for us after speaking with an English-speaking CBT agent.
The drive to Kochkor seemed boring as compared to the one we had done earlier in the day. To make matters interesting, we took a detour off the highway towards a jailoo (meadow) running 40 km parallel to the main highway.
It was a terrible decision. The road in the meadow above was horrible. A bulldozer had driven through the entire breadth of the road, creating ripples throughout the stretch. Our progress was painfully slow and rattled us to our very bones.
The detour cost us an hour and delayed our arrival at Kochkor from 7 pm to 8 pm. The CBT agent met us at the main market and thereafter we followed her car to the home-stay. And what a pleasant surprise it was!
Home Stay in Kyrgyzstan
We were expecting a home-stay on the lines of what is available in Ladakh, but what lay before us was more like a three-star hotel! The room given to us was very clean and the hosts very warm.
The stay package cost us 1100 SOMs for the night and included breakfast. Dinner was expensive at 250 SOMs per head, but we decided to take it as Aarti really wanted to have some vegetables for a meal. She was now getting sick and tired of the non-vegetarian fare, which I was enjoying tremendously.
Clear weather welcomes us back near the lake. The blue lake mesmerizes again.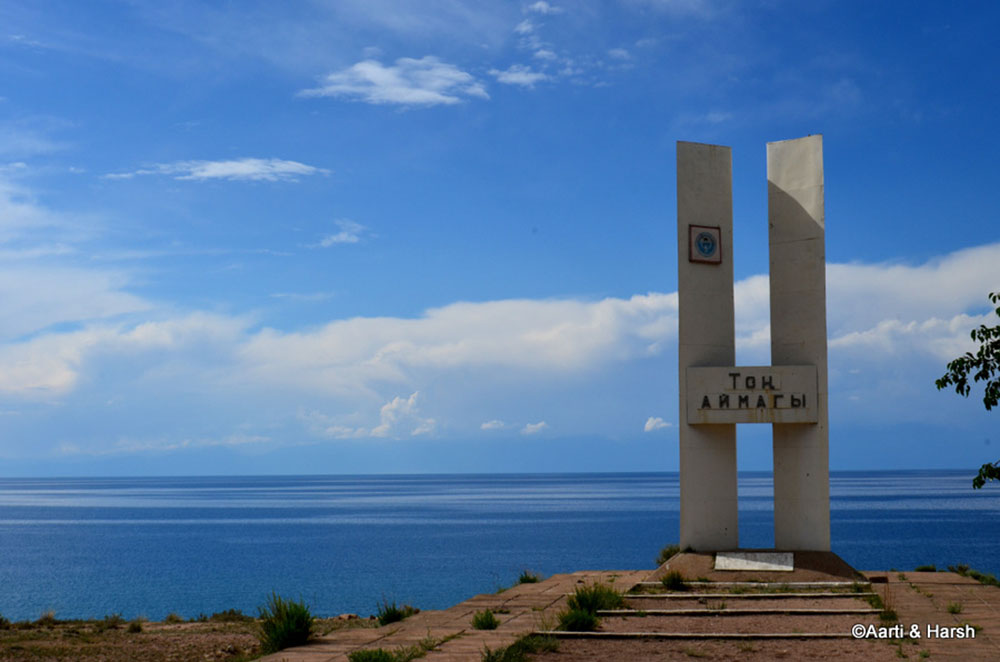 Kochkor sits pretty beneath mountains ahead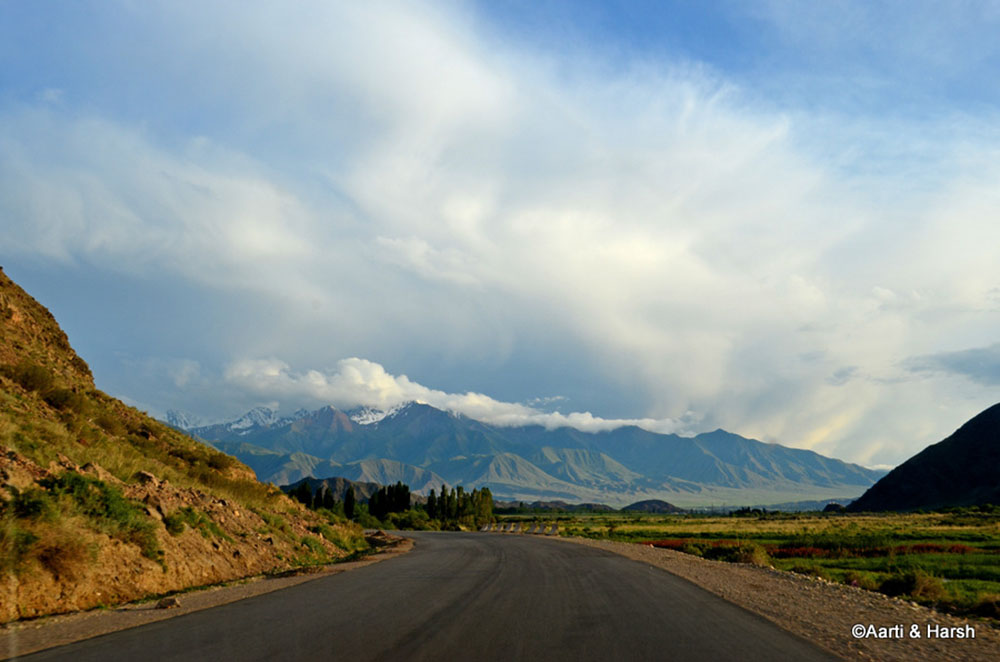 An hour later after we checked in, a Korean couple arrived at the homestay. When we got chatting, we came to know that the couple had been in Kyrgyzstan for more than 2 years now, teaching Kyrgyz kids Korean music.
The guy explained that he had pledged to support orphan kids after the Korean war in which he was orphaned back in the 50s. I could appreciate his sentiments but still could not see the logic in how teaching Kyrgyz kids Korean music would be helpful to them.
Anyway, it was not my place to question his belief and I was grateful for the home-cooked sushi that his wife shared with us. We decided against going out that evening and gorged on the home-cooked food spread out in front of us. Please click on the link above to continue reading the next part of the travelogue.
Home Stay in Kyrgyzstan – Conclusion
I hope the travelogue, pictures, and information above on a home stay in Kyrgyzstan were of help. If you have any questions, please feel free to ask in the comments section below or at our Community Forum, and I will be happy to answer. You can also follow me on Instagram and chat with me live there or subscribe to my YouTube channel and ask a question there.