The plan for this day was to be spent with Madina, our tour organizer. We were to be driving around the mountains that surround Almaty and then eventually go to her camp for the night. Big Almaty Lake and Ozerny pass were the two destinations we planned to cover in the first half of the day.
Journey So Far:
Madina reached the hotel at the scheduled time, 10:00 am, and we were ready as well, but the hot receptionist took the longest time to arrange for the invoice. Thus, we were delayed by an hour in leaving. While waiting, we pre-booked our last night's stay at Almaty (after coming back from Kyrgyzstan) at the same hotel at a discounted price of 9500 Tenge (3800 INR) since our stay would only be for half a day – 6 pm to 4 am.
Day 4: Almaty to Big Almaty Lake to Yurt Camp
Finally, at around 11 am, we drove off in Madina's Pajero towards the Ile Altau National Park. Our first stop was the Big Almaty Lake, or Ozera Bol'shoye Almaatinskoye, which provides fresh drinking water to the entire city and is about 35 km away from Almaty at an altitude of 2500 meters above sea level.
The road bifurcates at the lake, one leading up to the Ozerny pass and eventually entering Kyrgyzstan which is hardly 20 km away from the lake; the other climbs steeply to an erstwhile Russian space observatory.
Little is known about what happens there now. Given the sensitive location of the lake, and the fact that it is located in a well-protected biosphere, the government has enforced strict rules on visiting the area.
The older version of Lonely Planet mentions that earlier people were allowed to walk freely near the lake. Hell, they were even allowed to take their 4WDs all the way till the Ozerny Pass. However, in recent times, a lot of Kyrgyz illegal immigrants were using this route to enter into prosperous Kazakhstan, forcing the government to block the road to Ozerny completely.
Big Almaty Lake
Madina had made prior arrangements for us to visit the lake and take a walk around it. She also convinced the 'guide' just to take his fees and not accompany us, as mandated by the 'law'. In fact, some army personnel even tried to stop us when we began to walk next to the lake, but Madina, being Madina, convinced the guys and we continued.
The temperature in Almaty must have been in the mid-30s that day, but in the mountains, just an hour's drive away, it had dropped to 12.
We walked for half an hour on the mountain next to the lake and then turned back since we were too tired from our trip to Charyn the day before. It had also begun to drizzle, making the temperature plummet even further, and so we ran under the shade of our umbrellas to the car.
The Ile Alatau National Park is tantalizingly close to Almaty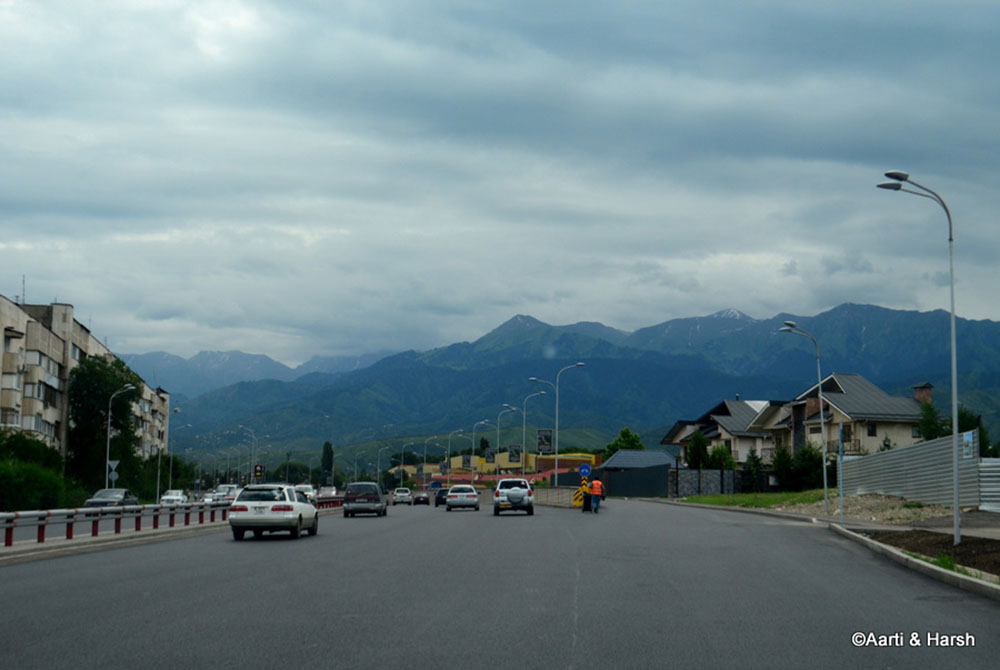 The big azure Almaty lake, notice the check-post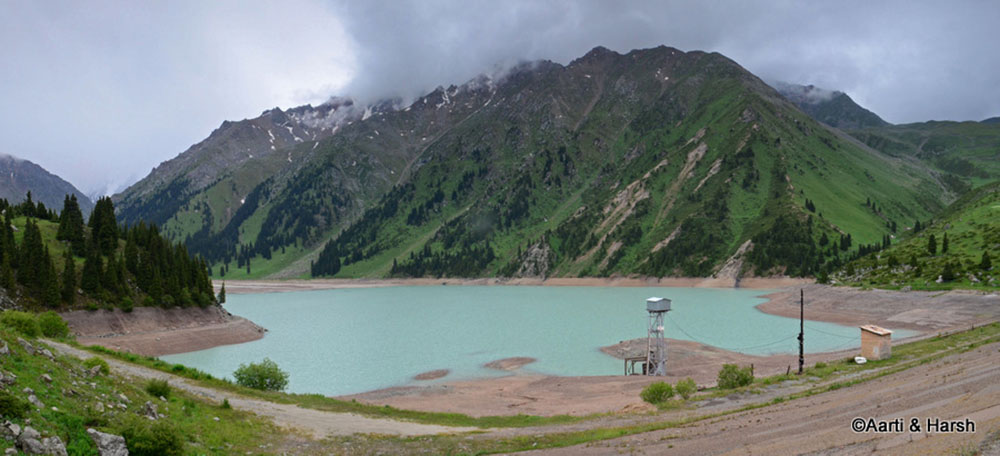 The clouds look menacing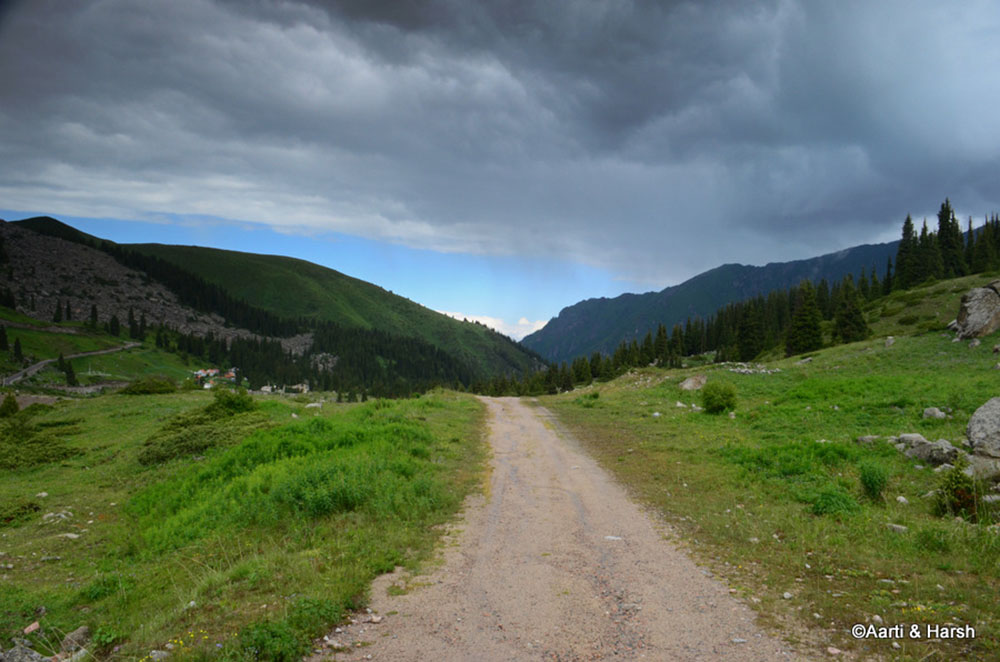 The living quarters of the 'observatory'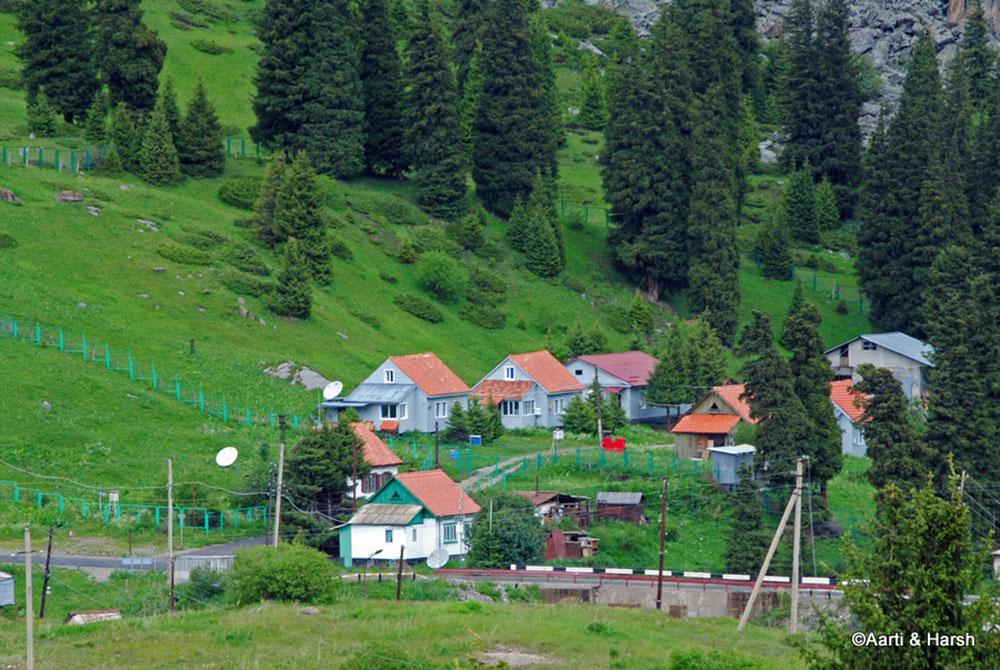 Madina leads the way on the hike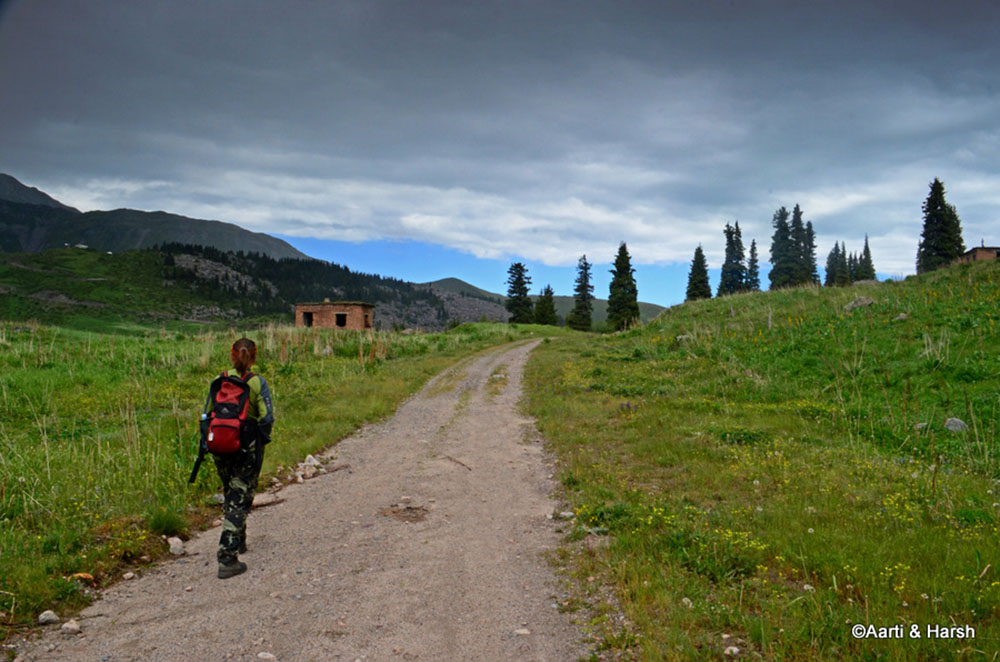 Marmots stop to say Helo
The roads towards Ozerny pass and further into Kyrgyzstan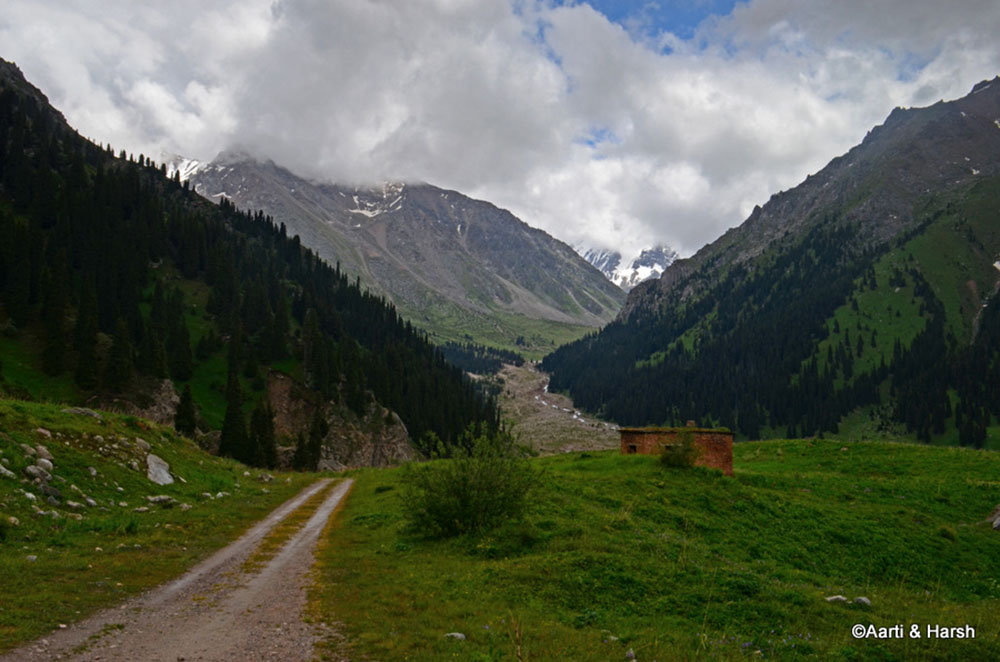 ​Observatory
It was still only 2 pm and we had loads of time to kill. We decided to go further up towards the observatory, crossing our fingers that we would be allowed to go ahead.
We reached a security barrier and the army personnel posted there stopped us for verification. It was time for us to take our passports out for verification and sing "Jimi jimi jimi, aaja aaja aaja". Let me explain.
Going back a few days, ever since we had come to Almaty, we were recognized as Indians by several locals. All of them seemed to have heard about our Mithun Da (Chakraborty). Some even sang a bit of "Jimi jimi jimi", an infamous song from the movie "Disco Dancer", for us.
So while I'd gotten used to the idea of the Kazakhs liking this song, I was still taken by surprise when the security guard at the barrier asked me to SING the song for him! The request did seem a bit odd, but in the context of the country, it was normal.
Nevertheless, I was taken aback and mentioned to the army personnel that if I were to sing, he would stop enjoying that song forever. We laughed as Madina translated my response to him and were allowed to proceed ahead. He requested us to be back in an hour at the most, to which we agreed.
The road climbed steeply towards the mountaintop which is located at 3400 m ASL. Just before the observatory, there was a barrier with no guards, which basically meant that we could go no further.
Lunch Time
Since there were no meadows around on which we could spread our lunch buffet that Madina had packed, we decided to lunch on the road itself. And what a lovely lunch it was! Madina had got all home-cooked food for us, ranging from sandwiches, slices of bread, salads, coffee, munchies to Nutella and chocolates.
There were candies too from around the region including Ukraine and Uzbekistan. It was fun to have lunch there, and Aarti and I immediately thought of buying such folding tables and chairs for our own picnic parties on our road trips back home.
The entire lunch spread was obviously difficult to polish off, but we did eat to our hearts' content. The temperature had dropped to about 5 degrees by now, and we had to pull out our jackets. It is a strange place, Almaty. Within a distance of 35 km, the temperature had dropped from the mid-30s to 5 degrees.
Almaty City
We packed up quickly as we could see a storm coming and were back inside the car just in the nick of time. It started pouring, and the temperature plummeted further. It didn't matter much to us inside the car, and we headed back to the city.
The next agenda was to buy a gas cylinder for our camping stove and to get some USD exchanged for SOM (Kyrgyz currency). The rupee was trading at about 1.2 or 1 SOM = 1.2 rupees. Since we were in the trusted hands of Madina, it was a good idea to get the logistics in place before we left the next day on our all-on-our-own Kyrgyz leg of the journey.
The climb from the lake to the observatory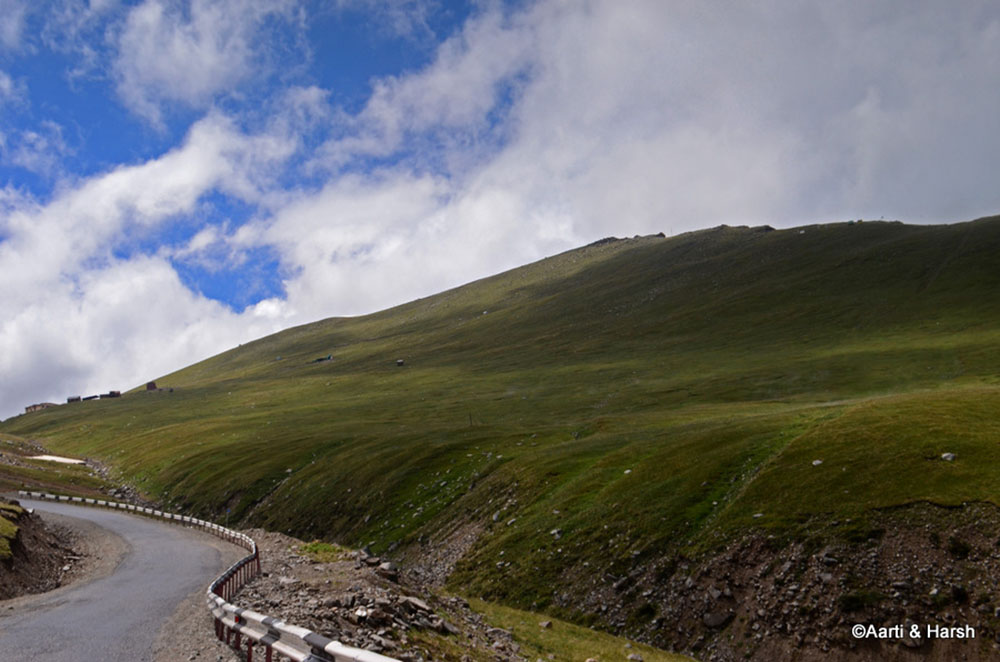 The clouds parted a bit for a short while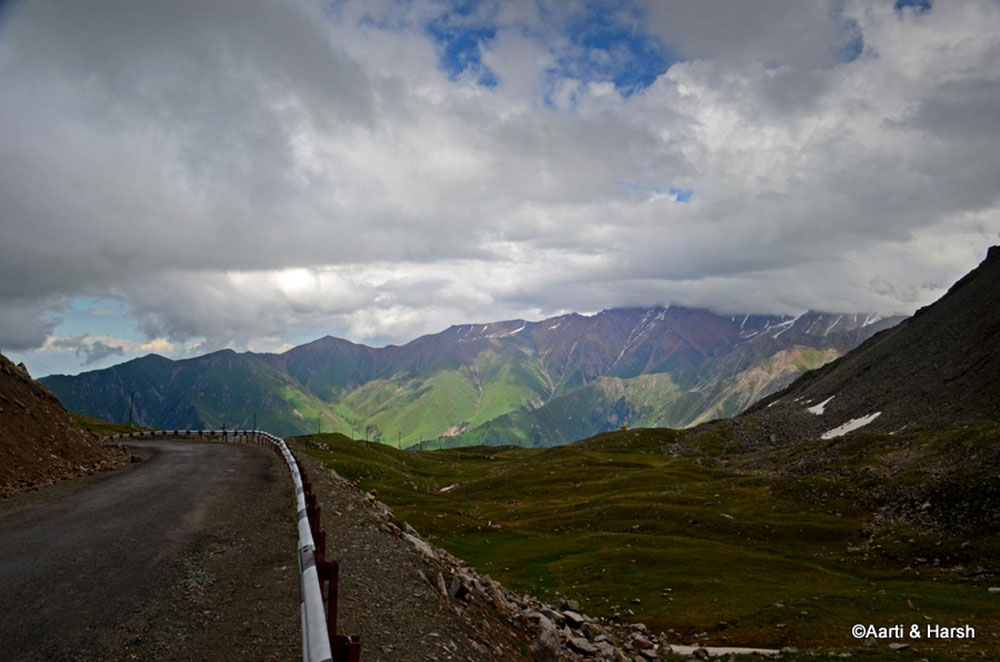 Post lunch it start raining cats and dogs, this was the guy who requested me to sing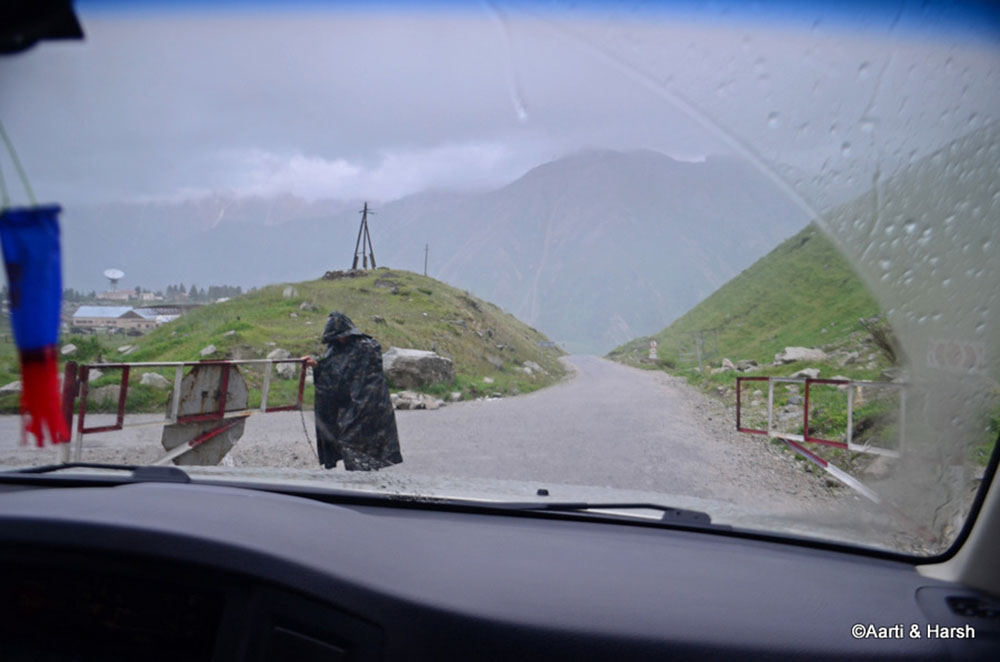 Back in downtown Almaty, back to 35°C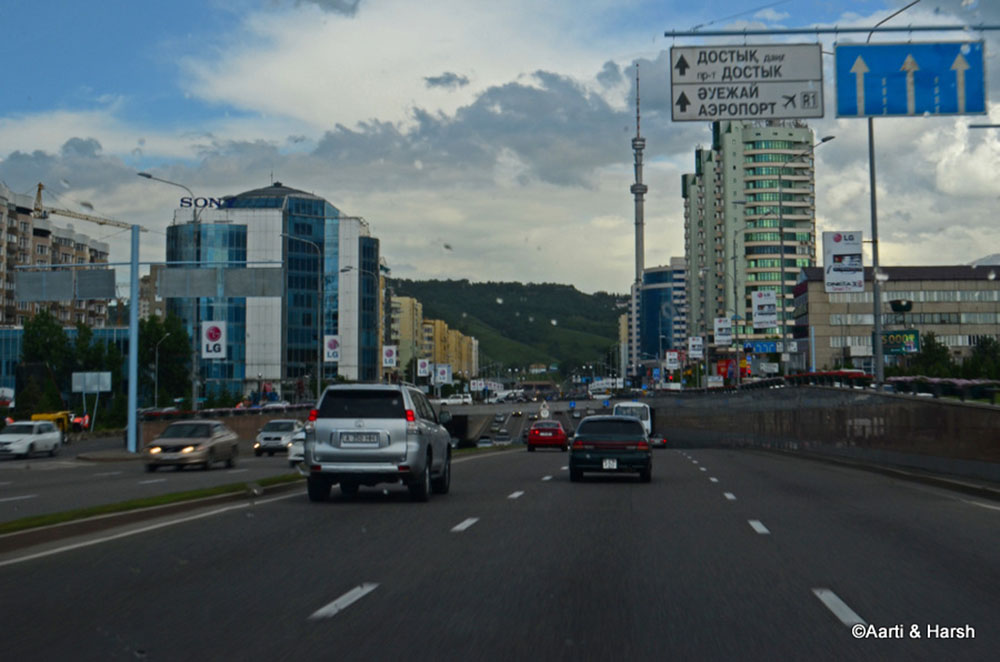 ​Currency Exchange
On the drive to and back from the lake, we had a long chat with her on life in Almaty in general. We figured out that probably the country is even more corrupt than India, and that the people are fed up with the pseudo-democracy in place.
Madina told us that the current President (a dictator basically) is a distant relative of hers, and recited anecdotes of how she sometimes uses her 'surname' to get things done. We also discussed a lot about India and life here in general. She was fun to interact with. It hardly felt as if she was a 'tour operator'.
She could relate to our travel style and told us about all the places she would want to visit. She is a major bird enthusiast and spoke at length about this as well.
We bought the cylinder at an adventure shop in the city and got the currency exchange done in the same complex as well. This time again the person we interacted with at the currency exchange counter was super rude. Probably ruder than the last lady who changed our Dollars for Tenge.
Madina was shocked by her behavior. Moreover, she could not, or would not, I don't know, speak a word of English. Should it not be mandatory for people employed at currency exchange counters to speak English? Ah well, we took our money and let the lady be rude to the next person in line.
Yurt Camp
Chores done, we headed back to the mountains, this time to Madina's Yurt Camp. It is a small campsite located in the same national park that we were in earlier in the day, but more towards the east of the lake.
The setting was beautiful – 6 yurts (4 to sleep, a kitchen yurt, and a dining yurt) surrounded by lush greenery with the sound of a stream flowing nearby.
A yurt is a large, portable tent with a wooden frame and covered using felt or sheep wool. On the inside, it is typically well decorated with carpets on the floor as well as on the walls. These carpets are locally called shyrdaks and are Kyrgyzstan's best-known handicraft.
Yurts are traditional tents used by nomads in the steppes of Central Asia, much like what Rebos are to Changpas in Ladakh. However, unlike Rebos, which are set up in a jiffy, Yurts take at least a day to assemble and one Yurt is typically priced at about $8000.
The car went all the way to the campsite, albeit on a tricky and narrow 4WD track. We were exhausted, primarily from the day before, and decided on taking a short nap.
Aarti crashed immediately, but I can never sleep in the afternoons, so I stepped out to take a walk around. I found 3 locals sitting and having a beer and decided to join them, and thus began the longest Russian conversation of my life.
Jimi Jimi, Aaja Aaja
After I introduced myself as an Indian, they immediately broke into "Jimi jimi jimi, aaja aaja aaja", and all of us had a hearty laugh. I'd downloaded an English to Russian dictionary on my phone, so I tried my best to converse using broken Russian. They on the other hand relied on signs and signals to communicate.
The conversation went on for nearly an hour. We discussed a range of topics, including their family background, children, lifestyle, and earnings. The questions of why we were still without a child after 6 years of marriage also came up. Oh yes, Kazakh people are warm, as warm as Indians, and can ask you the most personal questions.
They also offered me a stick of cigarette, although there was no tobacco but something more potent inside. I politely declined, of course.
Comrades from Kazakhstan, staying at the same Yurt camp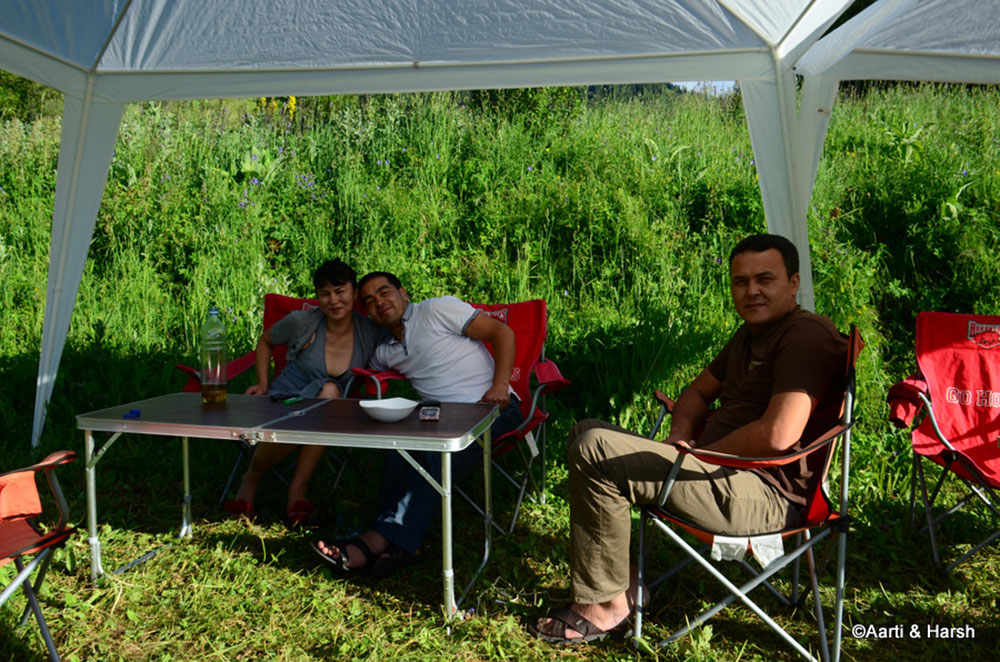 A lovely setting for the camping site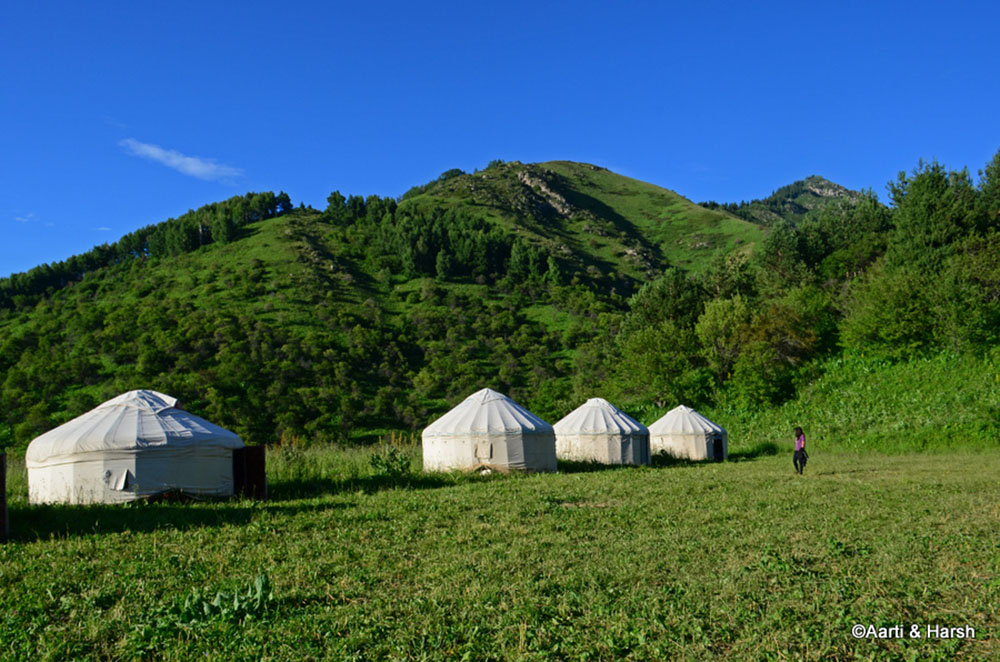 Madina's beast parked pretty next to the Yurt at the campsite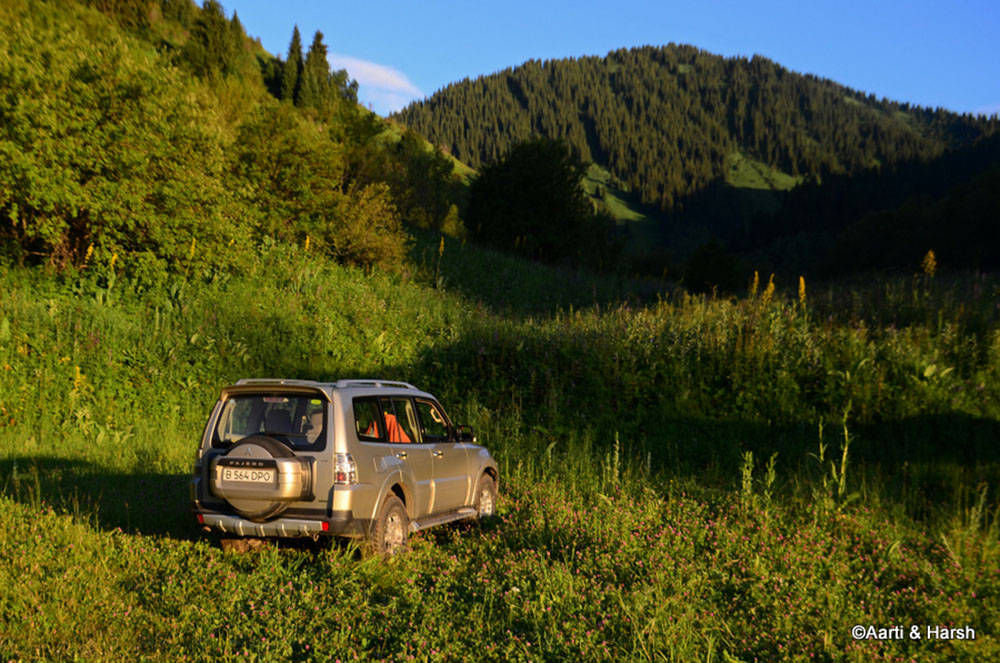 End of the Day​
After Aarti woke up, we went for a short stroll in the hills nearby. We came back to a wonderful dinner spread served in true Kazakh style with low seating and a long table. Tea was served the traditional way, in small quantities and without sugar or milk.
It is interesting to note here that they call tea 'chai' and sugar 'shakkhar'. For the main course, there was 'plov' which is nothing but our 'pulao' with meat, onions, and carrots. It is more of an Uzbeki dish than Kazakh and is served in the entire region.
Post dinner, the tripod came out, and after taking some shots, we called it a night. The next day we were to leave for Bishkek, the capital city of Kyrgyzstan, and begin our 'real' trip. Please click on the link above to continue reading the next part of the travelogue.
Big Almaty Lake – Conclusion
I hope the travelogue, pictures, and information above on sightseeing around Big Almaty Lake were of help. If you have any questions, please feel free to ask in the comments section below or at our Community Forum, and I will be happy to answer. You can also follow me on Instagram and chat with me live there or subscribe to my YouTube channel and ask a question there.