It was 8:45 pm by the clock, the sun has just set behind the mountains. The dial gauge read -2°C outside. Both of us were cold, wet, and shivering like a leaf. We were on a Kyrgyzstan trip from India and were wearing the only warm clothes we had got for the trip. The rarefied air was a bit difficult to breathe in.
The car had refused to start after multiple cranks, the engine was still warm, the rear tire was completely flat, the jack was broken and the flat tire had refused to come out. The nerves were still frayed an hour and a half after the vehicle had skid wildly on the gravelly, slushy track on which the tire had burst while the vehicle was doing 80kmph.
The wide plain nearby was filled with snow. It was impossible to camp, and our little stove was not working. It had been around three hours since we had seen any vehicle cross us – and we had little hope of finding one during the impending night ahead. There was no in-habitation for at least 20 km behind and 50 km ahead of us.
We had come looking for adventure in Central Asia, and it did not disappoint.
Kyrgyzstan Trip from India
This was our first-ever international trip abroad after 6 years of togetherness. A road trip in a land unknown, all alone, with a language unknown. Just the two of us, crazy enough to undertake such an adventure. To experience something new altogether, to make new friends, to discover a different way of living, and to enjoy our solitude.
The trip gave us a taste of all kinds of adventures – a continuously changing plan at the spur of the moment, a strenuous day hike through a canyon on a blazing hot day, roads that are just not fit to be called motor-able, being caught in a blizzard with a burst tire, camping in the middle of nowhere, coming close to the infamous Torugart pass to China, getting stuck in slush with all 4 tires dug in, a road which scared the living hell out of us and an SUV which could take it all in its stride.
The Travelers: Aarti & Harsh
The Machines: An Airbus, 2×2 legs, buses, taxis & a rented 4×4 Toyota Land Cruiser
The journey covered the two erstwhile Russian nations of Kazakhstan and Kyrgyzstan in 16 memorable days. A glimpse of the journey to be shared:
The route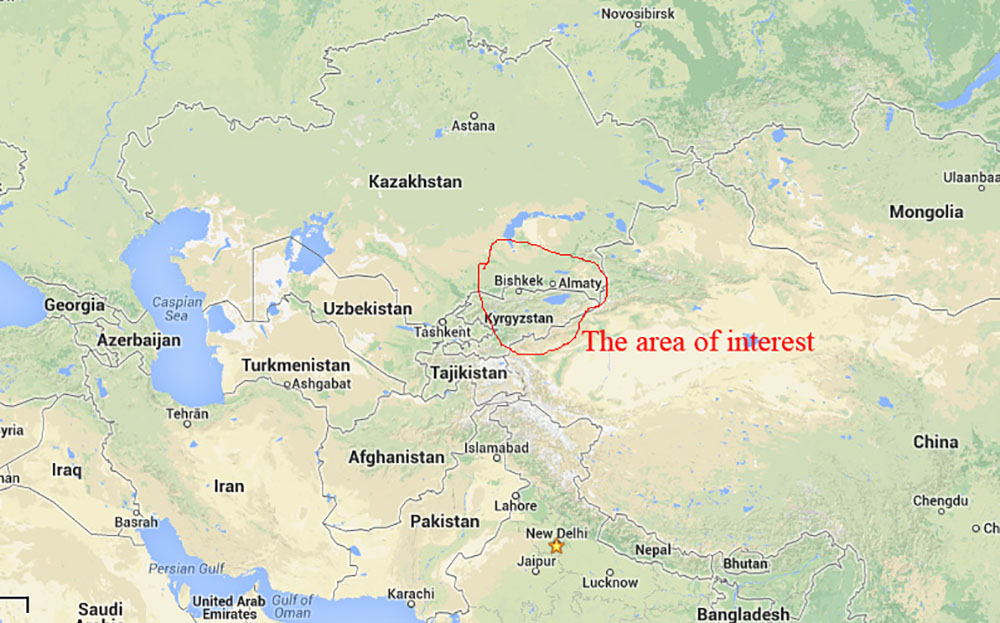 Our approximate route-map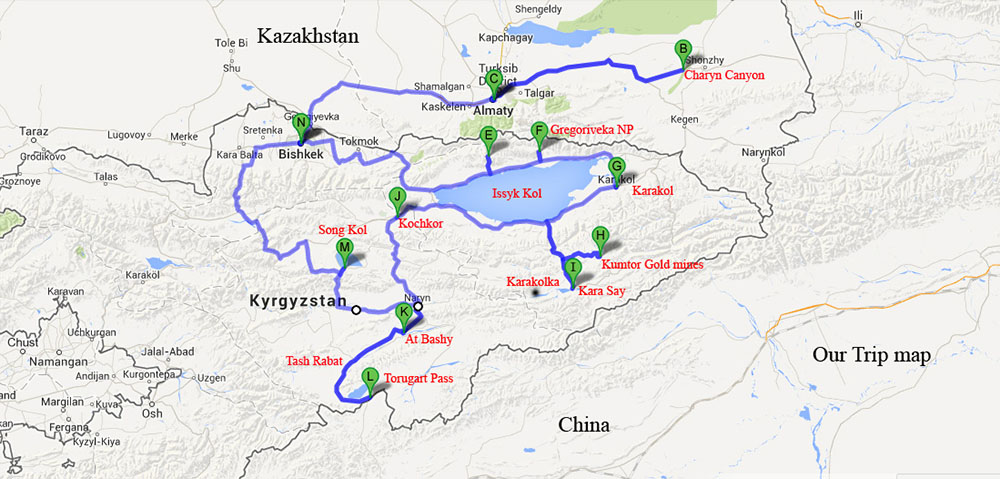 Itinerary
Our Kyrgyzstan trip from India finally was completed in the following manner.​
Delhi – Almaty (1650 km as the crow flies) – Day 1
A walk in Almaty (11 km) –  Day 2
Almaty – Charyn Canyon – Almaty (430 km by bus & 8km by foot) – Day 3
Almaty – Big Almaty lake – Yurt Camps near Almaty (110 km) – Day 4
Camp – Bus Stand in Almaty – Bishkek (240 km by taxi) – Day 5
Around Bishkek – Ala Archa National Park (40 km) – Day 6
Ala Archa NP – Bishkek – Tamchy (Issyk Kol) (250 km) – Day 7
Tamchy – Kok Airyk Pass – Cholpon Ata – Gregoriveka NP – Karakol (230 km) – Day 8
The mountains around Karakol (90 km) – Day 9
Karakol – Jeti Oguz – Kumtor Gold mines – Karakol (360 km) – Day 10
Karakol – Kara Sai (167 km) – Day 11
Kara Sai – Karakolka – Kara Sai – Kochokor (350 km) – Day 12
Kochkor – Naryn – At Bashy (300 km) – Day 13
At Bashy – Tash Rabat – Torugart Pass – Song Kol (450 km) – Day 14
A circumnavigation of Song Kol – Bishkek (400 km) – Day 15
Bishkek – Almaty (240 km by taxi) – Day 16
Almaty – Delhi (1650 km as the crow flies) – Day 17
The Prelude & Logistics
Before we start sharing the actual drive, it would only be fair on my part to throw some light on the long and painful process through which the logistics were eventually sorted out.
After all, the pre-trip logistics are what makes a 2 weeks' trip stretch to much more than that – and an after-trip blog extends it furthermore. The length and the pain can be felt if you chose to read a rather dull and long account of the logistics, or you can skip the bull, and start reading the meatier part here.
When To Go
This was the simplest decision of them all. Aarti's employment contract was ending by end of June so she was practically jobless for the two following weeks.
As for me, I had no seminar/conferences to attend during the first week of July and any unplanned activity could easily be rescheduled at a later stage. So, the trip date was precise and fixed almost 4 months in advance, between 29th June and 14th July.
Where To Go
We decided to go somewhere 'abroad' for our next big vacation, however deciding on which country to go to was the most difficult part. We evaluated many ideas such as a road trip in Europe – to one in the US, followed by the Trans-Siberian train from Moscow to Vladivostok and a road trip in Kazakhstan.
Given our dates, Europe was quickly pushed off the table. It would have been just too expensive during the peak summer vacations. All it took us to decide against it was to watch a movie on the Trans-Siberia rail.
Don't get me wrong, the trip would have been awesome but it would have been difficult for us to just sit in a train for 7 days at a stretch. Probably this would have to be undertaken when we develop that kind of patience and I guess this would come as we age.
That is how the idea of a Kazakhstan and Kyrgyzstan trip from India started to take shape.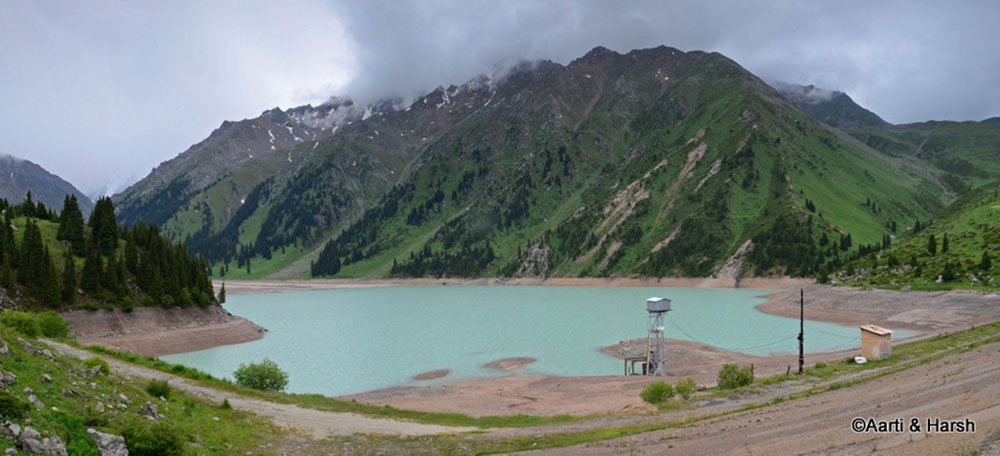 Kazakhstan & Kyrgyzstan
Kazakhstan seemed like an interesting option, the flights were cheap and it seemed like a vast country that was largely uninhabited. However, the possibility to do a west-coast US trip lured us away from Kazakhstan early on.
By mid-Feb, a lot of research was done on a west-coast US trip after getting inputs from friends and a solid itinerary was finalized thanks to none other than our KD Acharya. By the first week of March, we even vetted the plan with our proposed co-travelers when I was in New York City.
With both of us already in possession of a valid US visa, all that was needed to be done was to book tickets, hotels, car rentals, and just go. But somewhere fate interrupted. A conference, that Aarti had to organize, was tentatively scheduled sometime in July for which the dates could not be confirmed as early as March.
As a lot of you know might know, travel bookings to the US are purely market-driven. Hence, late reservations typically cost a bomb; especially if it is near the 4th of July weekend. Thus, we had to drop our US plan and immediately we began revisiting our Kazakhstan plan – a bit more seriously, this time.
Arranging for visas
A couple of weeks was all it took us to finalize our destination as primarily Kyrgyzstan with a bit of Kazakhstan. Being mountain lovers we had to choose Kyrgyzstan(KG) over Kazakhstan (KZ), especially during the summer months when temperatures in the plains of KZ soar to over 37°C.
Finalizing the destination was easy, however, arranging for a visa to visit these countries was another story. The arrival and departure had to be from Almaty in Kazakhstan as it had a direct 3 flight from Delhi, implying relatively cheaper return tickets to the tune of 22k INR per person.
Compared to this a flight to Bishkek would have been around 55k INR per person. So, to save on costs, we had to obtain a dual entry visa for KZ and a single entry for KG.
These countries have a Russian past and gained their independence back in 1991. However, the visa system is that of an era bygone.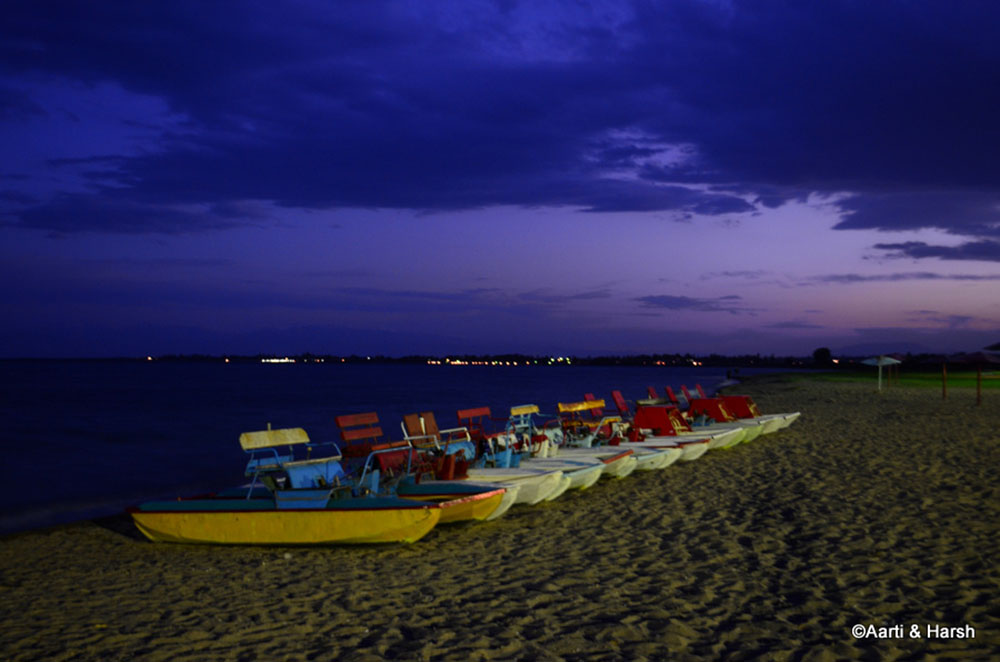 Travel Agencies
To obtain a visa for Kazakhstan and Kyrgyzstan trip from India, one has to get an invitation letter from a government-recognized travel agency of these countries.
They, in turn, charge a hefty amount for this invitation plus one needs to book 'something' through them for them to invite someone. This particular requirement is especially for non-EU and non-American tourists.
For a typical tourist, this constraint might not have been a bummer. For us, it was almost a deal-breaker. We wanted an itinerary with a no-set-fixed-English-breakfast schedule. We wanted it to be flexible like all our trips and wanted no taxis or buses. The flexibility of driving on our own is what we craved.
We wanted to try to communicate with locals without the convenience of a driver who could interpret. We wanted to take on the challenge of discovering a little-known country all on our own, at our own pace, and on our own terms.
Needless to say, travel agents do not like that. Heck, most travel agents we got in touch with could not even understand the English language let alone the concept of a trip we craved for.
Centra Asia Birding Ltd
After getting in touch with almost everyone we could find in KZ and KG, we were finally able to locate one such angel in Almaty, who was an up-and-coming tour operator. So Madina Dyussabaeva comes into the picture so does her agency 'Centra Asia Birding Ltd'.
She understood our needs, but more importantly our passion. She promised and later turned true to her promise; to deliver us invitation letters for both countries. She also promised to help us with arranging vehicles at both places. We in turn promised to book the services we required in KZ from her, which included accommodation & a rental vehicle.
Since she was based in KZ, the second step was now to search for a tour operator in KG who could invite us and at the same time give us a rental vehicle. We were already in the last week of April and we had to clues on the KG visa part! To turn matters to worse, Madina could not find a tour operator willing to give us an invitation without advance hotel bookings in KG.
Advantour
Thankfully, I had been in touch with a certain travel agency in Bishkek by the name of Advantour, in early March, but they had quoted an exorbitant price for the invitation letters for KZ.
I requested Madina, to get in touch with her and negotiate on our behalf. Thankfully Advantour agreed on Madina's price offer and promised to release our invitation letter with a rider that we had to book our rental vehicle through them. More on that later- but we agreed on their terms with a look at the prices on offer.
Visa Invitation Letters for Kazakhstan and Kyrgyzstan trip from India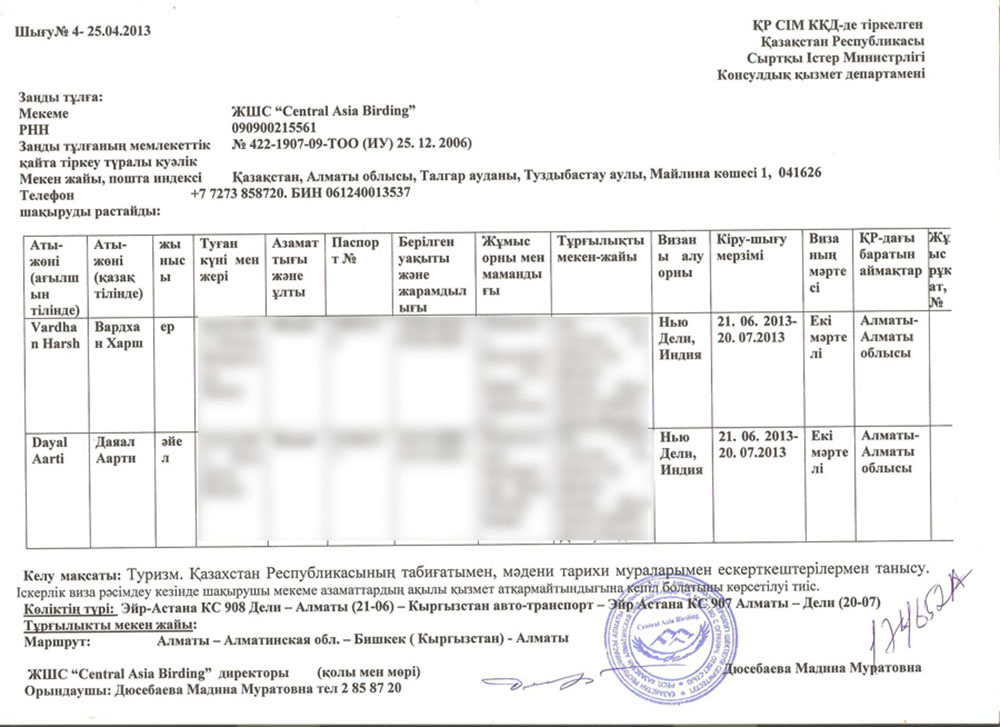 Kyrgyzstan Visa Invitation Letter
​Visa Application
The visa application at their embassies in Delhi was a cakewalk. In fact, I recall a funny incident here with the Kazakh embassy in Delhi.
We were in Vasant Vihar doing some household chores at a market there when we crossed the embassy of Kazakhstan. Knowing that we would have to come the next day to apply for our visa, we stopped by and asked the security guard about the embassy timings.
The reply was shocking: "Aap kabhi bhi aa jaaye, 10 baje ke baad, passport to humko hi lena hai". (You can come here at any time after 10 am and I will take the passport from you).
Now in any normal situation, one would expect to give one's passport to an embassy official. So the statement was a bit unnerving and we considered it as a joke. The next day, true to his word, the security guard was found in a tin shed garage at the back of the embassy. He was collecting everyone's passport in broad daylight!
It was a weird procedure, but hey whatever works. The Kyrgyzstan embassy was much more sophisticated though and much emptier. KZ is visited by many Indians especially ONGC officials given the company's interests in the oil industry there. The KG embassy guys have hardly any work to do with few tourists or business travelers headed towards Bishkek.
Money Transfer
When it came to payments, Madina was more used to a Western Union money transfer from her international customers. However, it is virtually impossible to send money out of India via that route. I asked her if she can somehow charge via PayPal or charge my credit card for our Kazakhstan and Kyrgyzstan trip from India.
The response was negative. The only other route known to me was a wire transfer. But as many would know doing an international wire transfer in India is not a piece of cake; with many banks mixing up between an IBAN no., swift codes, and account no. easily. It took me almost 3 weeks to get the transfer across to her after one failed attempt.
An amount of 280 USD was transferred, of which only 250 reached her. The rest was accepted as transaction charges by the bank. A hefty sum to pay for a stupid wire transfer. With money in her account, her suspicion that I might be a non-serious tourist was lifted. More so when I sent her a copy of our non-cancellable Air Astana flight from Delhi to Almaty.
We mutually agreed to undertake cash currency transfer from here onwards to save on wire transfer charges. This worked well for her as well, as, like India, KZ & KG businesses appreciate cash business over bank-account-business – thereby saving on taxes they are supposed to pay to the government.
Arranging for Transportation
We had requested Madina to arrange a car rental for us for the days we were in KZ. The rental rates that she turned up were actually not that bad and in the range of 6,500 Tenge to 20,000 Tenge (2.5k – 8k INR) per day. The vehicles were Subaru Imprezza, Pajero, and Montero and the quotation included insurance.
However, these came with a pre-condition of only being used within a 50km radius of Almaty, which was a deal-breaker. Even after getting in touch with a lot of car rental companies in KZ, I was unable to get a deal where-in I could use the rental vehicle far away in the countryside.
So we had to settle for taxis, buses, and other modes of conveyance during our KZ leg of the trip. This also led to the shortening of the KZ leg, but more on that later.
It was quite surprising to have found a car rental company in Bishkek, KG, relatively easily. Advantour sent us a quotation. The cheapest car (Lexus RX300 – 2001 model) was priced at $115 a day. The most expensive (Lexus GX470 – 2004 model) was at $140 a day for a period of 11-15 days.
The other cars that lay between that range were Pajeros, Landcruisers, Toyota 4 Runners & Prados.
Toyota Landcruiser
​This was quite a hefty sum to pay for a car rental. But they did not have cheaper cars to rent out. I can understand now, why they don't rent out cheaper cars. It would be apparent to you as well as the log proceeds. We initially decided to take the cheapest car on the lot. Then we thought about it more and went for a Toyota Landcruiser (TLC) instead.
The logic was simple. We would never be able to buy a TLC in our lifetime. So why not enjoy driving one, even for a few days, and Kazakhstan and Kyrgyzstan trip from India in a TLC?
The additional cost would have been $10 a day, a price worth paying for a TLC over a Pajero. The flipside was that it was a 2001 model. But the travel agent assured me of a good condition vehicle; a promise that they delivered upon in true style.
On a side note, the TLC was quoted at $150 a day for 5-10 days and $125 a day for 11-15. We had initially planned for 10 days in KG. Looking at the quote, we extended it by one day to actually help reduce our rental cost by $125 in total and even get us an extra day. That was a tad stupid on the car rental company pricing policy.
So with a rental rate of $125 a day, with a limited mileage of 250kms a day and an additional charge of $0.35 per km we were all set with our car. To add to that, they had asked for a $1000 refundable deposit in case of damages, fair enough I'd say. Please click on the link above to continue reading the next part of the travelogue.
Conclusion
I hope the information above on planning a Kazakhstan and Kyrgyzstan trip from India was of help. If you have any questions, please feel free to ask in the comments section below or at our Community Forum, and I will be happy to answer. You can also follow me on Instagram and chat with me live there or subscribe to my YouTube channel and ask a question there.