After a good night's sleep in the yurt, we got up around 7 am, got ready, and were at the breakfast table at 8. The plan for today was to travel from Kazakhstan to Kyrgystan, from Almaty to Bishkek by Car. So far, our journey had pretty much gone as planned and we were both having times of our lives.
Journey So Far:
Madina had again laid out a lavish spread for us – pancakes, porridge, eggs, tea, sausages, different kinds of cheese, Nutella, and several other delicious things. We ate to our heart's content as we knew that we would get a late lunch.
Even though we had effectively only spent a day with Madina, we felt sad while saying our thank yous and goodbyes. She is a very warm and friendly person, and we wished we could have spent more time with her. Well anyway, we did make a new friend, and we were glad about that.
Day 5: Almaty to Bishkek by Car
We left the campsite around 9:15 am. Madina drove us to the point in Almaty where long-distance taxis stand. There, she found a taxi for us till Bishkek for KZT 10,000 (INR 4000).
That was okay for us, but we asked her to ask the cabbie if he would lower the price if we took one more person with us. To this, he said yes, and found a guy who also wanted to go to Bishkek. Thus, we ended us closing the deal at KZT 7500 (INR 3000), which was a pretty sweet deal.
All ready to load the luggage in Madina's Pajero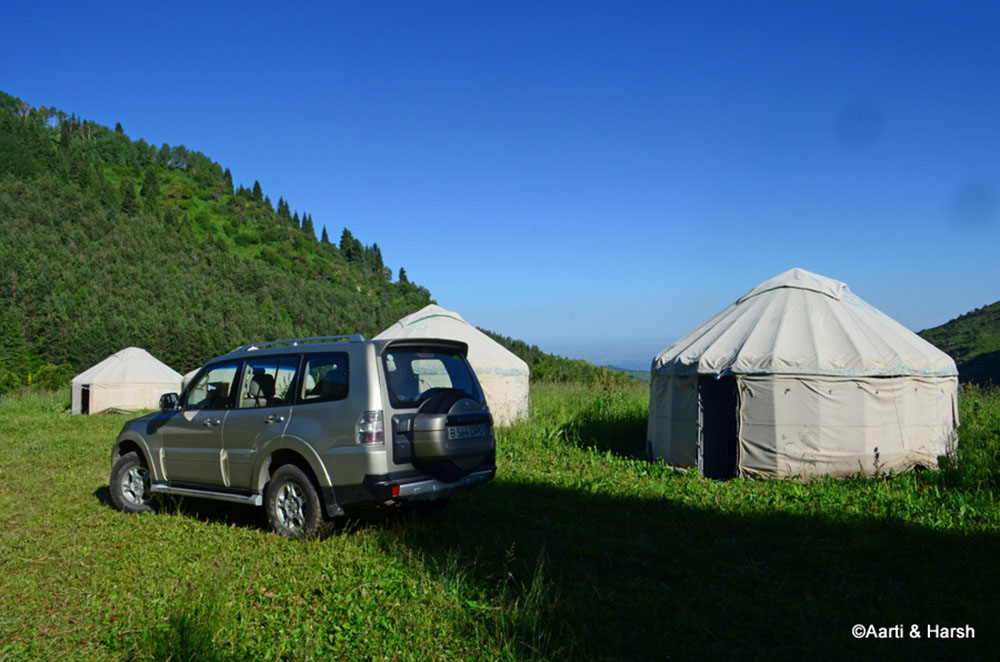 ​An overland border crossing
We left the taxi stand around 10:45 am in a rundown Audi which had neither conditioning (that's what the Kazakhs call air conditioning) nor would its rear windows open. The cabbie was grumpy and kept mumbling to himself, and our co-passenger went off to sleep as soon as the drive began.
So started our journey from Almaty to Bishkek by car and we settled in for a hot, uncomfortable 240 km long drive. There are hardly any villages or towns as one goes west from Almaty, nothing but vast emptiness for miles at a stretch.
The road was fantastic and the aged Audi was doing 160 kmph without breaking a sweat, only to slow down occasionally for speed guns. The distance took us barely 2.5 hrs to cover and before we knew it we were standing in front of our first overland border crossing.
The procedure to cross over was actually pretty simple. One has to leave one's taxi and walk with all their luggage into the customs area of Kazakhstan. If you are traveling with non-trolley suitcases, do not worry. There are many porters who would gladly ferry your luggage for you.
The process was exactly as it happens in airports. You hand over your passport and the immigration stamp to the officer. He takes a customary glance, asks a few customary questions, and off one goes towards the Kyrgyz customs. On the other side, the tourist-friendly country had a separate counter for foreigners making the process even quicker.
Welcome to Kyrgystan
Once outside the Kyrgyz part of the customs, one is greeted by many taxi drivers jibbering in Russian, Kyrgyz and broken English and clamoring for one's attention.
We thankfully met a very helpful guy, Bayestan, who negotiated with them on our behalf and gave very clear instructions to the taxi guy to drop us at the guest house at which we were booked at a pre-negotiated rate. He managed to bring down the fare from 1000 SOM (1200 INR) to 500 SOM for the 25km ride to Bishkek.
Sitting at the back of the taxi, moving towards Bishkek
Approaching the Kyrgyz border, the vast plains open up
On the Kazakhstan side of the border

Chui river, which forms the natural boundary between Kazakh and Kyrgyz for many kilometers
​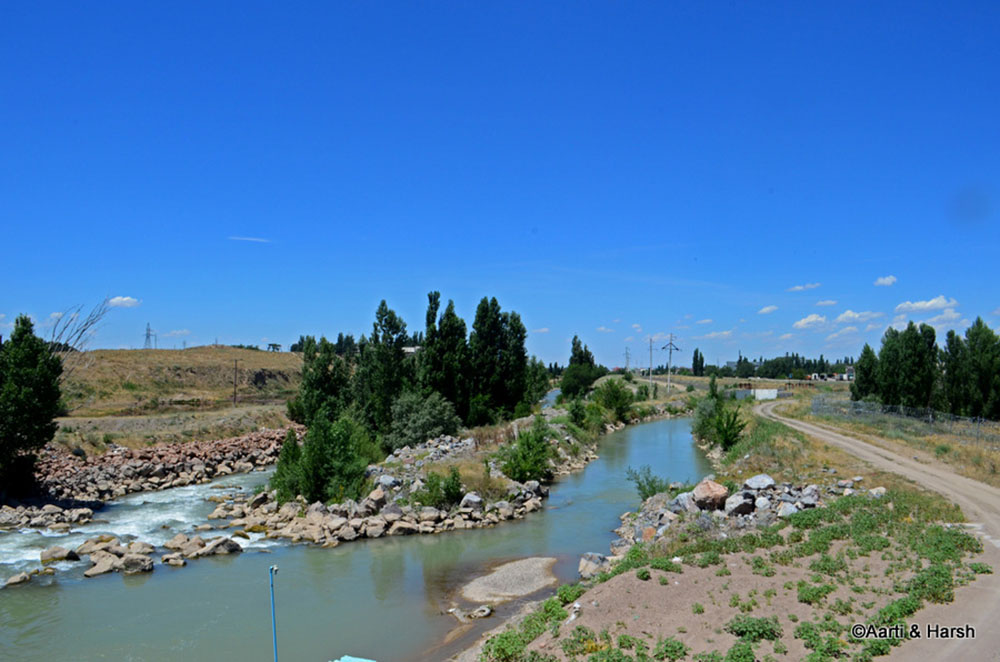 Crocus Guest House
Aarti had booked us at the Crocus Guest House which, as usual, was located a little away from the center. The approach to the guest house was scary as it seemed to be in a very shady part of town. It was only later that we realized that all residential areas in Kyrgyzstan wore the same disheveled look, much unlike Almaty.
We had half a mind of running away since there was no advance payment done. All our negativity and apprehensions were shooed away when we reached the guest house. The room was impeccably clean and so was the bathroom. The air conditioner was already switched on so that we could enter into a comfortable room.
Every minute detail was well taken care of. After a quick refreshing shower, we sat down with our hostess, Zoya, for a cup of coffee. She had 5 rooms to rent out on the first floor, while she lives with her family on the ground floor.
She was happy to see Indians as guests at her place and mentioned that we were the second group of Indians she had hosted this year. The first group of two boys was on their biking trip from Bishkek to London. Gentlemen named Gagandeep & Kumar.
We later googled Gagan and found his blog. It is people like these who inspire us to do something crazier every day. After finishing off our coffee, Zoya arranged a taxi for us to go to the center of town. It was relatively cheap at 100 SOM (INR 120) for about 7 km.
Tourist Registration in Bishkek
The first objective was to meet up with the Advantour fellows to confirm all bookings in person. We met up with Marat, our contact person there, and he assured us that everything was in order and that the car would be ready by the next morning for us to pick up. The border permits were ready for which we paid $80 in cash.
The car rental company was located near the center and went by the name of Evi Auto Center. I guess if we had approached them directly, the rental might have been cheaper.
If one is staying in any of these countries for more than 4 days, they have to get themselves registered with the immigration police within 96 hours of their arrival. Their office timings are between 10 am to 5 pm and of course, they do not work on weekends.
At Bishkek, Marat had promised to get this done for us for a charge of 25 USD per person. We paid Marat for that as well and deposited our passports with him so that he could get us registered.
We kept copies of our passports just in case we needed them. Marat assured us that we would get our passports back the next afternoon with the registration stamp. At Almaty, the hotel (Sarai Shik) had charged us 3200 INR per person for the same task.
Ala-Too Square
It was already 5:00 pm now, and we had forgotten all about lunch. After a quick bite at a nondescript restaurant, we decided to visit a few souvenir shops to kill some time in an air-conditioned environment.
A couple of hours were well spent at a coffee shop and some souvenir shops and by 7:30 pm the sun had gone down a bit and it was comfortable to walk around again. Our next destination was Bishkek's central square, the Ala-Too square.
The square is in front of a history museum where a change of guard happens every hour. One can see snow-clad mountains too on the south side from there. We spent the sunset there, observing locals and clicking pictures.
There were many who were out for a general stroll and there were others who had come out with their kids on bicycles and prams. Again, we were requested for more photo-ops to which we succumbed.
Beautiful Bishkek
All souvenirs bought. No more shopping tension on the trip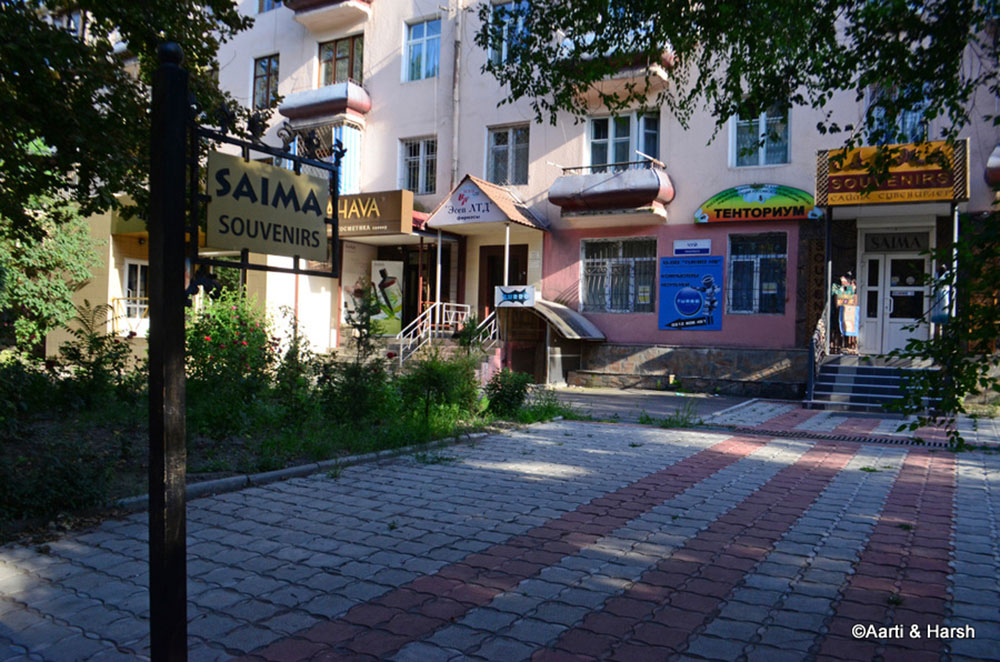 Well a bit more shopping won't hurt anyone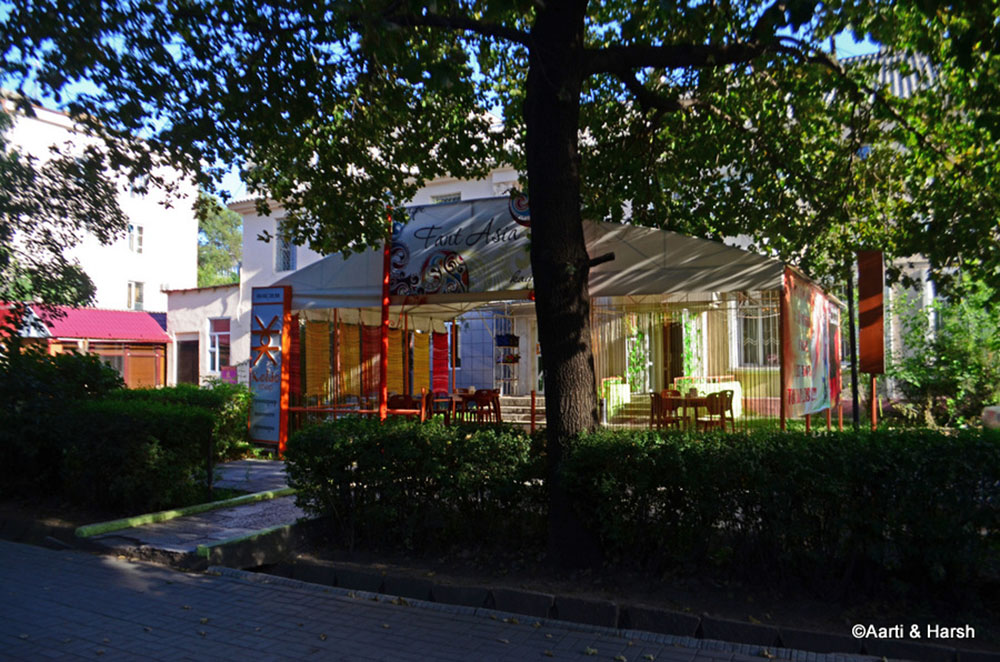 The Kyrgyz Parliament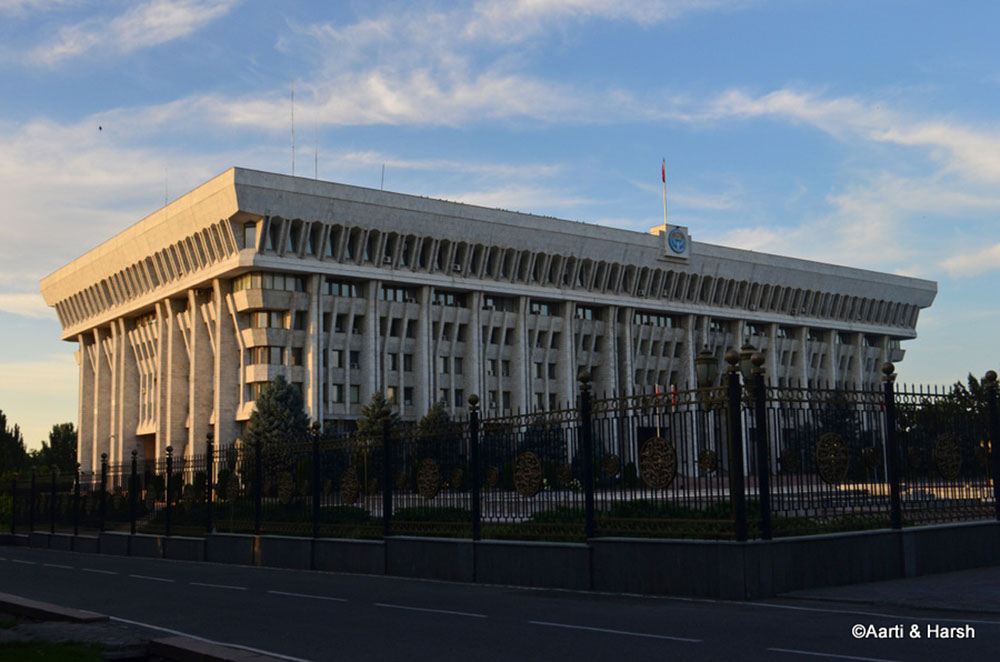 A monument near Ala-Too square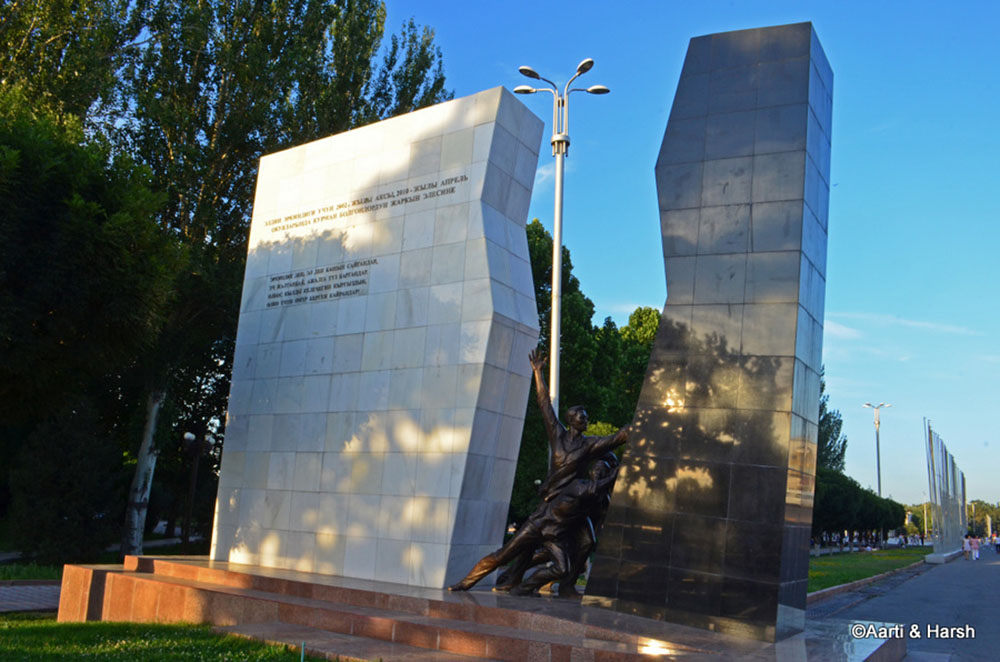 Manas, a very revered mythological character. His statute can be found in every corner of the country.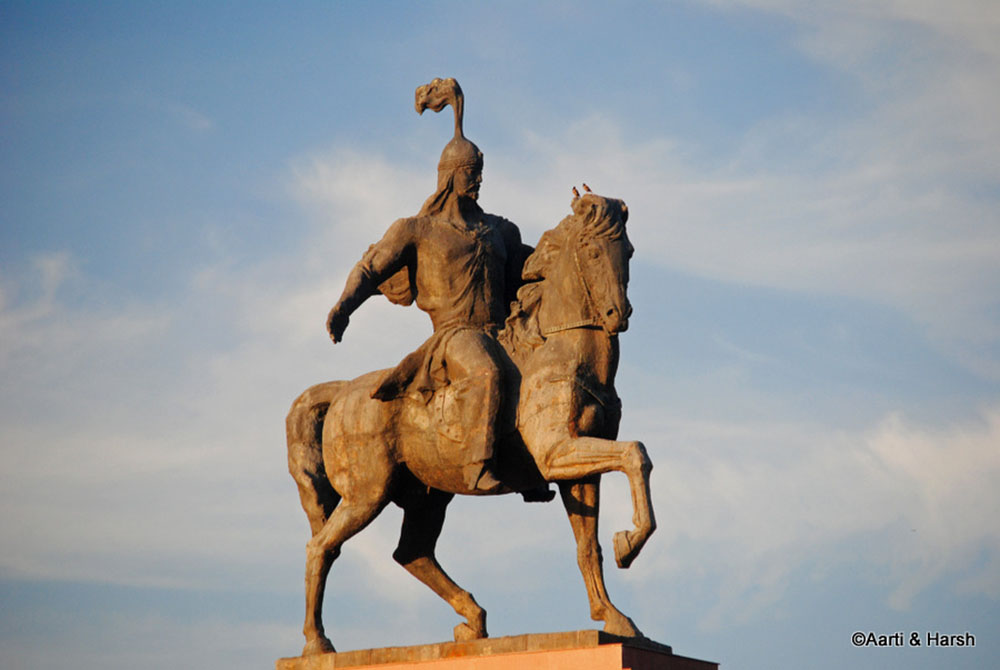 People gather around the museum much as they gather around India Gate in the evening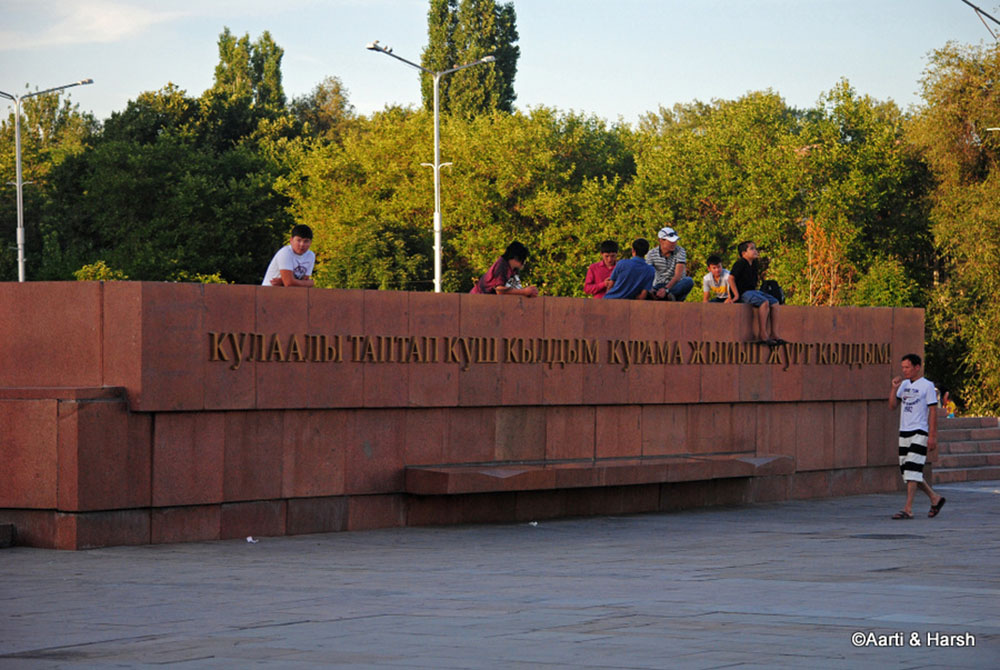 The Museum at Ala-Too square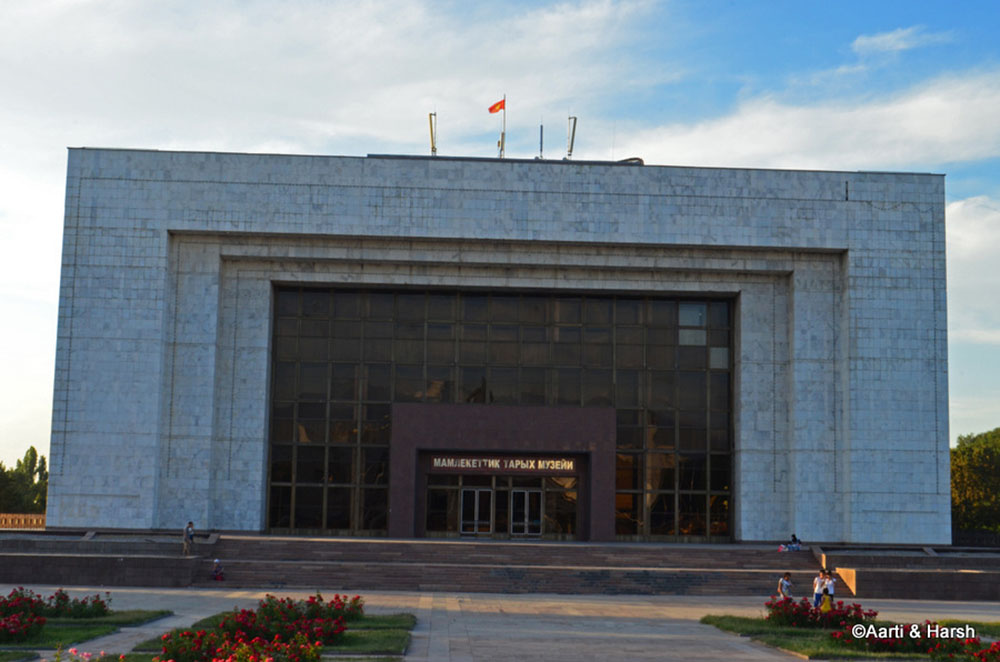 A portrait of Manas, taking on the Ala-Too range south of Bishkek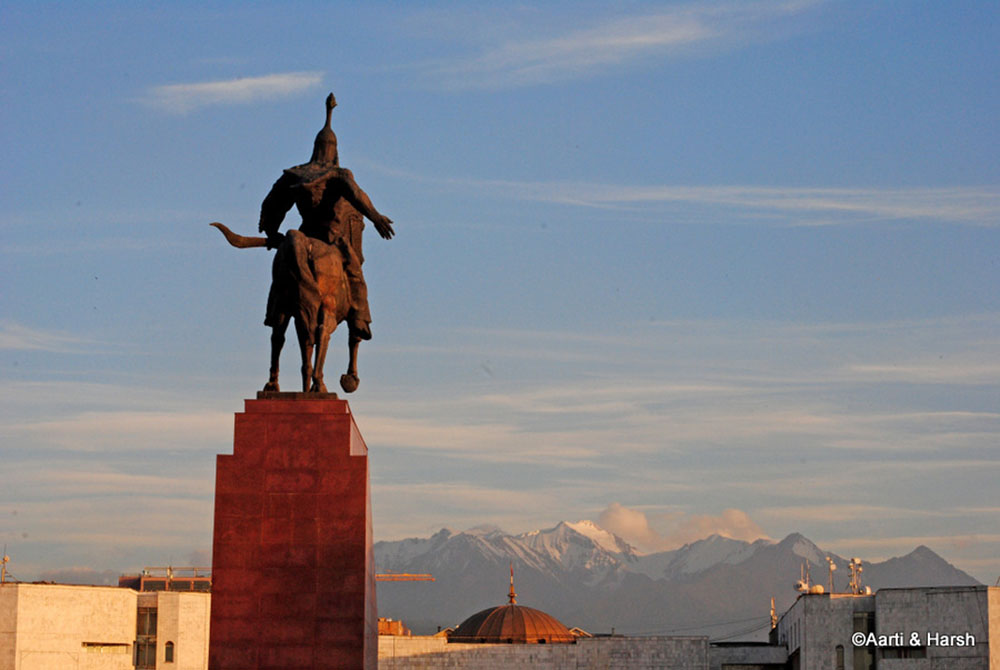 Sibling love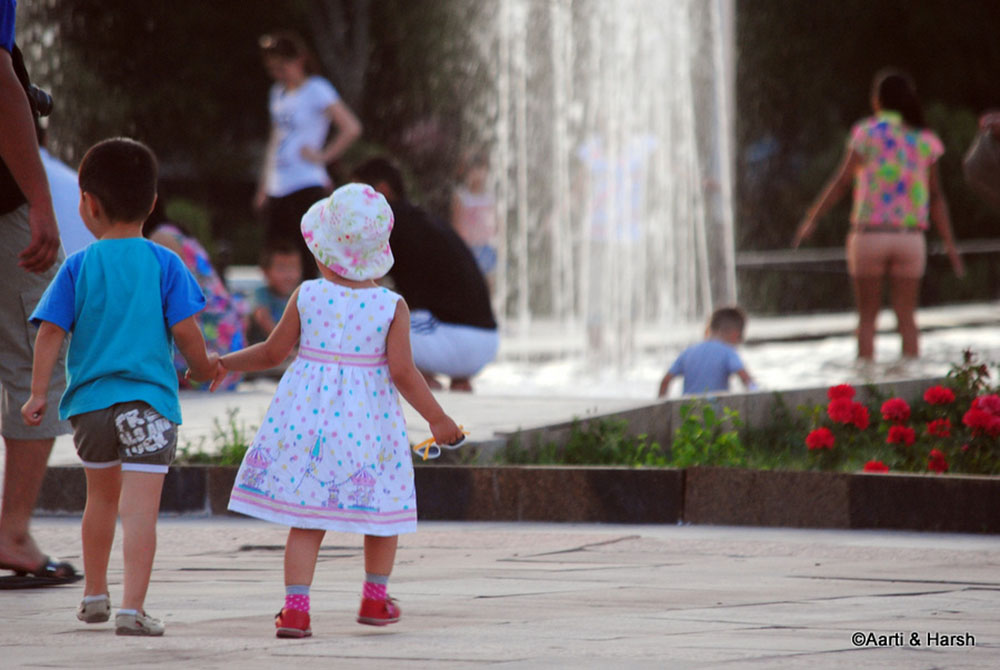 Change of Guard
​We had had a late lunch and then a snack at the coffee shop, so we decided to skip dinner. We caught a taxi from the central square for Crocus and crashed as soon as we reached our room. We were all ready and excited to begin our road trip the next day. Little did we know that fate had other plans in store for us.
The next, we ended up exploring Ala Archa National Park. This was not part of our initial plans and was decided upon our arrival in Bishkek. Please click on the link above to continue reading the next part of the travelogue.
Almaty to Bishkek by Car – Conclusion
I hope the travelogue, pictures, and information above on traveling from Almaty to Bishkek by Car were of help. If you have any questions, please feel free to ask in the comments section below or at our Community Forum, and I will be happy to answer. You can also follow me on Instagram and chat with me live there or subscribe to my YouTube channel and ask a question there.