I am an early riser. In Chitkul also, I somehow managed to get up early when everyone was sleeping and even Chitkul village was in sleep mode. The plan was to spend the day in the village itself and then drive from Chitkul to Nako the next day. Hence, we were all very relaxed which I think was also very necessary after the long journey that we made from Mumbai to Chitkul
Please click on the link below to read the previous part of the travelogue.
Journey So Far:
I switched on my vehicle to check up the temperature and it seemed that there was enough justification for others not getting up and venturing out so early. It was 0 degrees celsius outside.
Day 6 – Sightseeing in Chitkul Village
We could not go to the banks of Baspa last evening since we reached late. So the first thing I did was rush towards the banks of Baspa. The sky was partly cloudy and therefore Baspa was not as sparkling as I had fancied. I was a bit disappointed.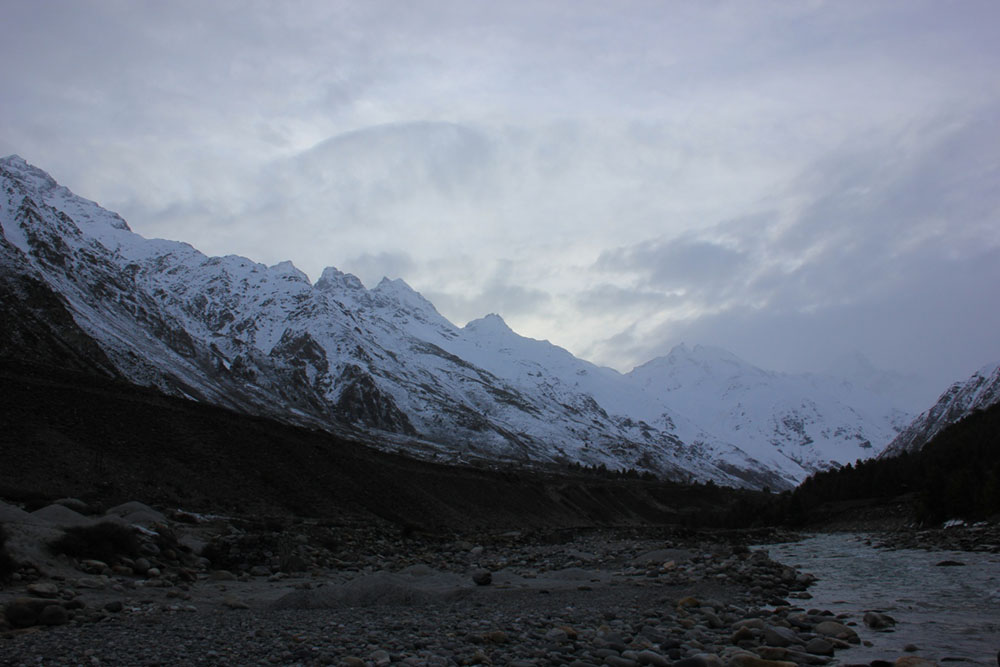 After spending some time on the banks of Baspa, I came back to the hotel, had tea, and then we started for ITBP camp at Nagasthi – myself, Dad, Sister, and Brother-in-Law.
Nagasthi ITBP Camp
The road was not even but there was no significant change in height so it was a comfortable walk. By that time, clouds disappeared from the sky and everything was looking very bright.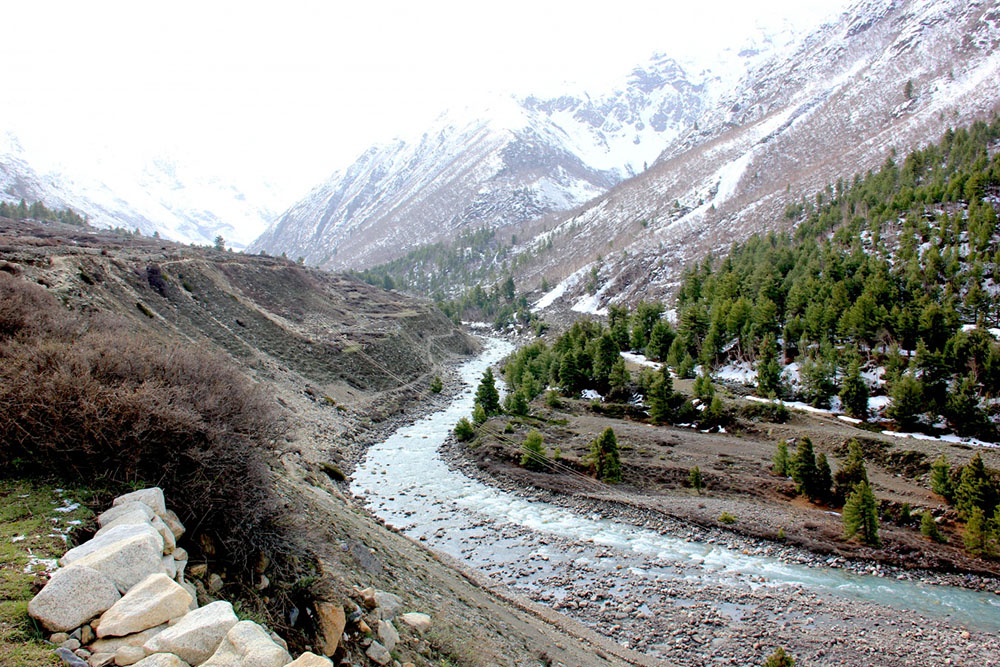 We came back to Chitkul around 10.30 AM, had our breakfast, and went for a walk in the Chitkul village. For more details on the places to see in the village, please take a look at Sightseeing in Chitkul & Things to Do.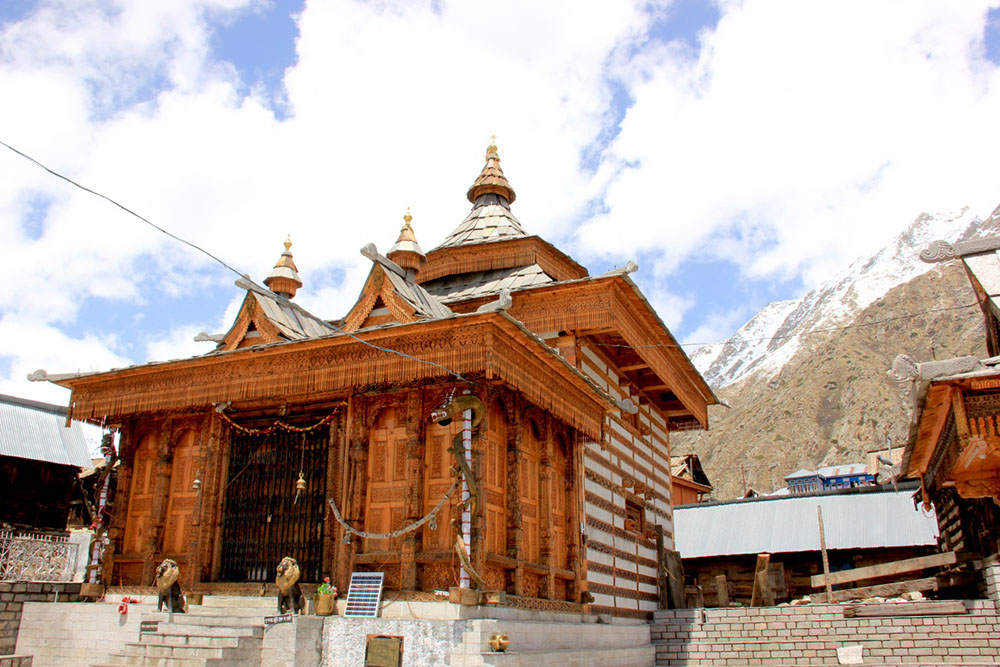 We came back to the hotel from the village around 11.30 am. Our plan was to go to the banks of Baspa after lunch since everyone had not gone in the morning.
While we were having our lunch, our driver told us to hurry up because the weather has changed all of a sudden and snowfall might start anytime. He was right. We immediately went to the banks of Baspa.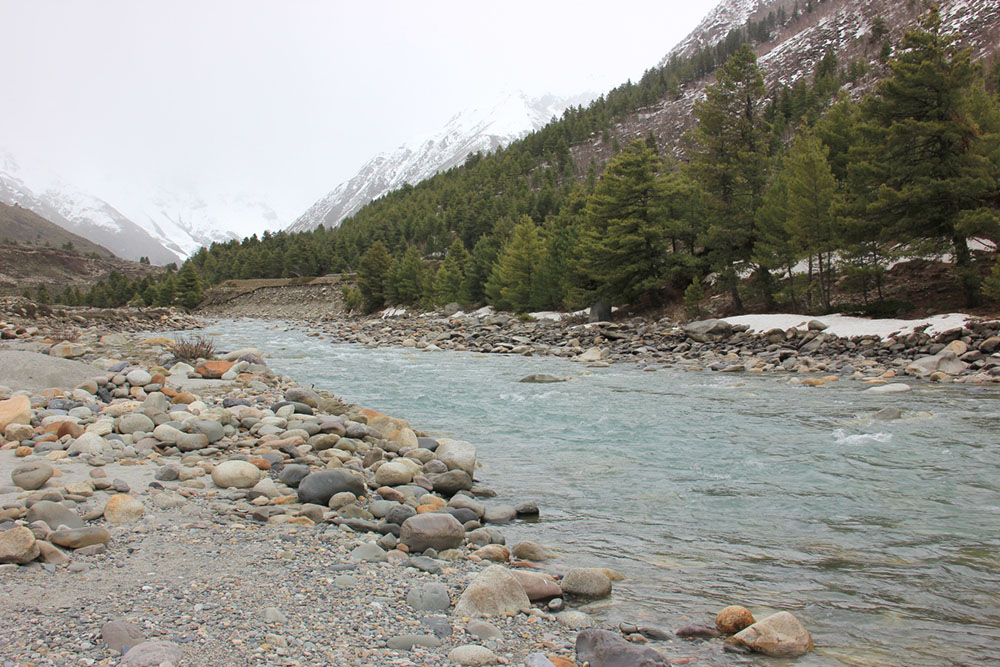 Snowfall in Chitkul
After 10-15 minutes, snowfall started. We hurried back to the hotel. By the time we reached our hotel, the intensity of snowfall had increased but we were loving it.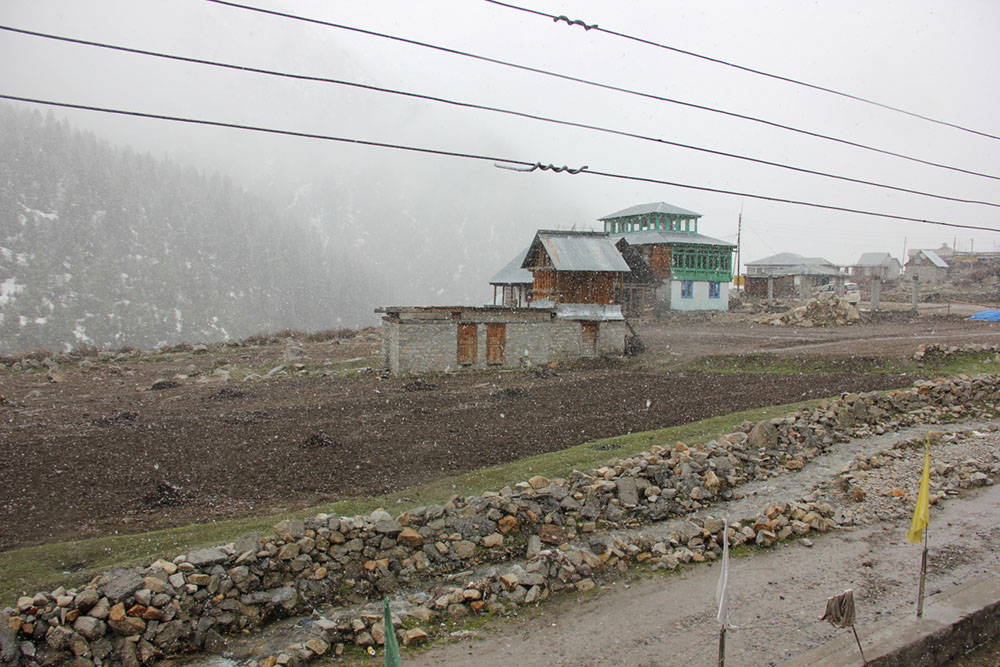 After 30-45 minutes, snowfall stopped. But the weather remained cloudy and the sun played hide and seek game with us for rest of the day. We also decided not to venture out and conserve our energy for next day's long haul to Nako.
Day 7 – Chitkul to Nako
Our plan for the day was to reach Nako. We had also planned to take a detour between Spillow and Pooh for Ropa Valley.
The condition of the road which we encountered between Karcham and Sangla while coming to Chitkul, had played havoc on our psyche. We were really worried about the stretch between Sangla and Karcham.
So it was decided to I would start from Chitkul Village latest by 7.30 am so that I reach Karcham before traffic from the opposite direction built up. The other car would follow us leisurely since it was being driven by a local driver.
After getting up, I immediately got ready and came out around 7.00 am while others were getting ready. It was a sunny morning. There were no clouds to obstruct the rays of morning sun and the snow-covered mountains were looking amazingly beautiful with deep blue sky at the backdrop.
All of a sudden, it came to my mind why not go to the banks of Baspa. I think nature looks most beautiful in the early morning or late afternoon when the sun is at low.
The previous morning, the sky was a bit cloudy so I did not find Bapsa as sparkling as I imagined. But I was in a bit dilemma because starting off at 7.30 am was sacrosanct to us and I had not enough time. However, finally, I decided to give a quick round to the banks of Baspa and literally ran.
And the effort was justified.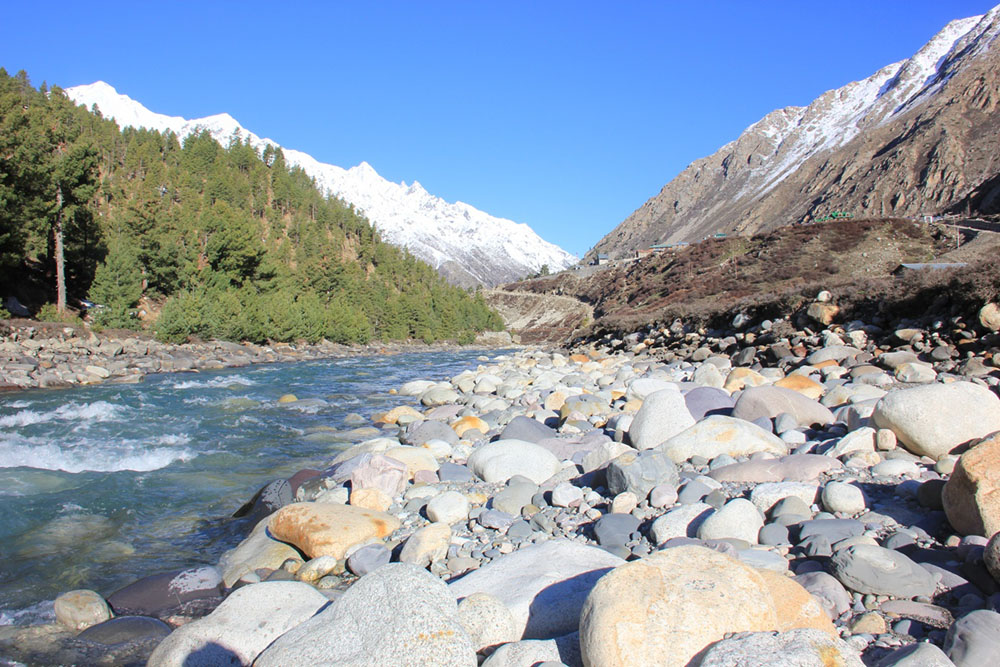 Kalpa & Chitkul
Kalpa and Chitkul are two crowns of Kinnaur. We stayed at Kalpa on our return leg. Both the places are amazingly beautiful. But personally, I liked Chitkul more.
Kalpa is like a beautiful young lady who is adored and cajoled by all and sundry. Whereas Chitkul is like someone who is a bit older, about to cross her prime, a bit aloof and secluded, but still very dignified and aristocratic. Kalpa is there to be seen and Chitkul is there to be felt.
Chitkul is not a place for fun. It is a place for introspection. You can spend hours after hours on the bank of Baspa with no one around. Nobody in the world can steal those precious moments from your life provided you do not carry a BSNL SIM card.
You will realize how insignificant we and our deeds, pride, vanity, and pathos are in front of this vastness of Mother Nature. It will absorb all the deeds and misdeeds, done by you and done at you. It will absolve you from all your baggage and send you back to the juggernaut of daily life with your batteries fully charged.
I have to go back to that place again. When? I really do not know.
After spending 5-10 minutes at the banks of Baspa, I came back to the hotel doing a brisk walk. I was out of my breath and had to sit for 5 minutes to regain it. Finally, we started at 7.45 pm having tea only.
At that early morning, breakfast was not available. But we did not mind that. Reaching Karcham as early as possible was the top priority. The idea was to reach Karcham safely first and then to decide about other lesser important things like breakfast!!
Also Read: Places to visit in Chail & Things to Do
Chitkul to Sangla
We had no plan to stop in between. But we were forced to. The surrounding greenery, the snow-covered mountains, the blue sky were sending us irresistible invitations to spend some more time there.
The soft sunshine of the morning made the surrounding more mesmerizing. Unknowingly but obligingly, we were applying brakes, getting down, standing for a few minutes, and trying to soak the indescribable beauty with all our senses.
Since we were going to Nako directly and not going to Reckong Peo, our driver told us to get diesel filled up from the oil station at Sangla. So we stopped there for about 10 minutes around 8.45 am. While the oil station operator was busy filling up diesel, I got happily busy electronically recording the memory of this beautiful place.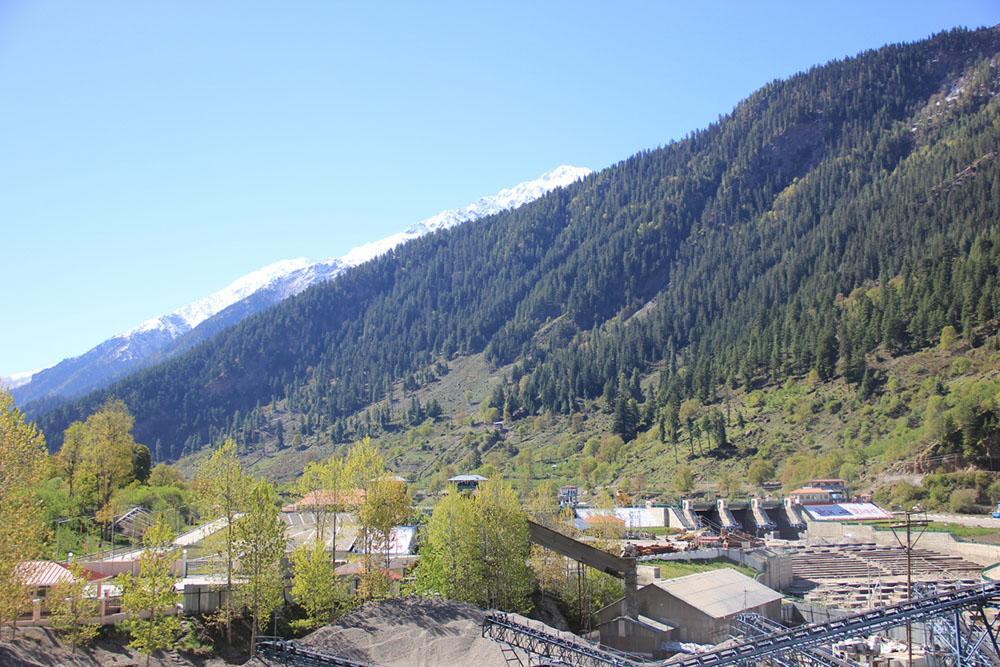 Sangla to Karcham
We found that we were over apprehensive. It was raining havoc and the road was muddy and slushy while we were going to Sangal and Chitkul.
Also Read: How to Plan a Trip to Narkanda
This time, it was a bright sunny day, the road has dried up and the driving was easy. I had to cross four-five vehicles coming from opposite directions including a bus of Himachal State transport and did that quite easily. It gave me immense confidence for the upcoming Spiti leg.
Finally, we reached Rakcham at 9.40 and crossed Baspa, came from its right bank to the left one, and started waiting for the other vehicle. The other vehicle was taking some time to reach.
We used that time for some photography. Again, the cell phones became active. So all the necessary phone calls were made, all SMS, WhatsApp messages, emails were checked and responded to.
The other car reached at 10.10 am. We crossed Sutlej and took the right turn for Spiti. The change in topography became immediately visible. Our search for getting lost in the mystic barren land of Spiti valley started.
Karcham to Powari
From Karcham, Sutlej again became our companion and continued to remain so up to Khab bridge. When we started from Karcham, we were at the right bank of Sutlej but immediately crossed the river and came to the left bank. We again came back to the right bank before Powari.
We were fasting since morning. Initially, it was by design, and later, it was by default. Our idea was to reach Karcham as early as possible and then have breakfast in the very first eatery which we would come across.
But that very first eatery continued to remain elusive and when the driver of our other vehicle did not stop even at Powari my heart sank but I continued to follow him as I had been doing since Karcham.
However, immediately after crossing Powari, we had to take a halt. The reason was not very delightful. Some boulders casually fell on the road and BRO was clearing that.
Also Read: How to Plan a Trip to Sarahan
Powari to Hulling
During that time I enquired the driver about how long it would take to reach the next eatery. His answer was as evasive as it could be. So all the biscuits, bhujiyas, cakes which we had been carrying from Mumbai, finally started proving their worth. Since hunger suppresses your finer faculties, we were reluctantly using our camera.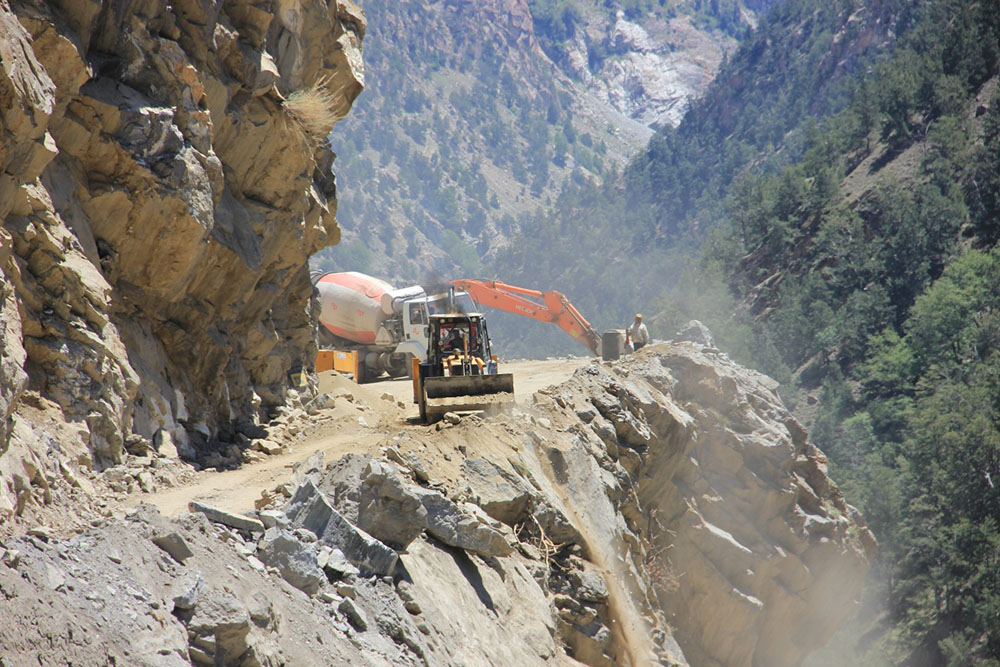 Fortunately, we did not have to wait there for long. The road was clear within the next 5-10 minutes. So we restarted our off-roading.
The road from Karcham up to Hulling was in bad condition with a large part being 'kachha'. But the worst stretch was between Powari and Akpa. It would give you a feeling of boating on a not so tranquil water body. The only difference was that instead of getting drenched by water splash, we were being layered by dust.
But we were not complaining too much about the bumpy drive because at most of the places the road was wide enough to feel comfortable and the depth of Sutlej was rarely menacing.
Safe driving was more important to us than smooth driving. Though our lives were not at risk in that stretch, the lives of the vehicles were certainly at. But that is given in that terrain and therefore, we did not mind.
Also Read: How to Plan a Trip to Sangla Valley
Hulling to Spillow
The structures/compositions of hills were changing quite frequently. At some places, hills were made of hard rocks, most probably of Granite as per my knowledge or lack of that of Geology, and therefore stable.
At other places, hills were made of loosely held pebbles and therefore prone to landslide. I think that because of this type of train, the flow of Sutlej is muddy and is not as transparent as the flow of Beas is.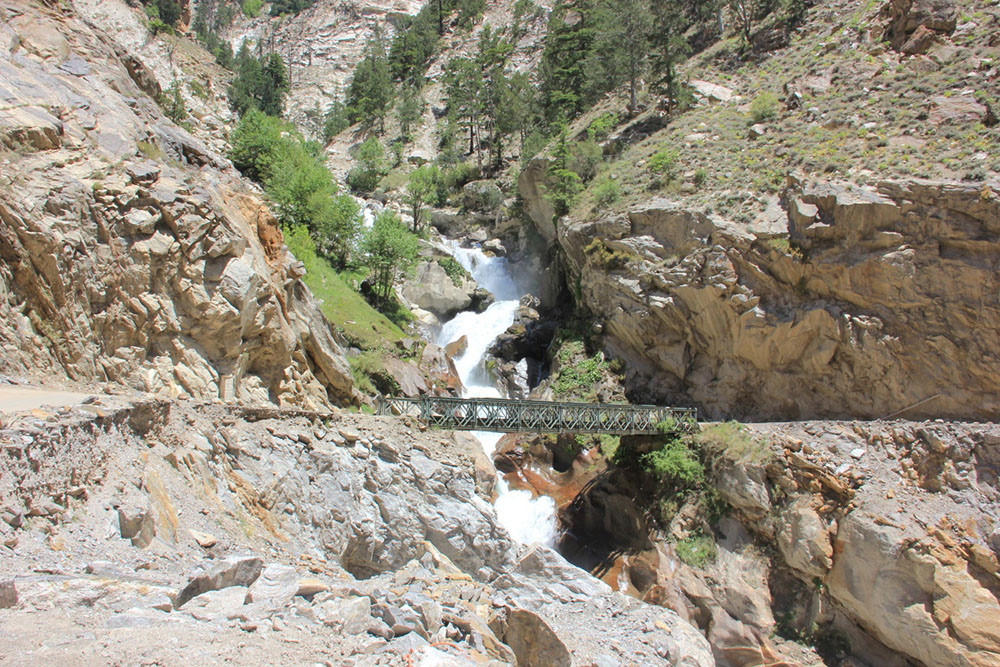 We took our second break after some time. The reason was exactly the same. But here more and bigger boulders decided to descend on the road and therefore our waiting time was longer. We waited there for almost half an hour.
It is said that every wait is rewarded commensurately. Exactly the same happened to us. The moment BRO opened the road, we crossed that stretch, and immediately after that, our driver stopped the car. I also stopped and asked him the reason.
Also Read: When is the Best time to Visit Chitkul
He pointed out to a hutment a few steps uphill. That was a Dhaba. We literally ran to have our brunch just before noon. It was a simple menu consisting of Rice, Roti, Dal, and Rajma. But at that time, we found that as delicious as dishes of any posh restaurant in Mumbai.
After lunch, we again crossed Sutlej and came back to its left bank. We reached Akpa and crossed Akpa bridge at 12.15 pm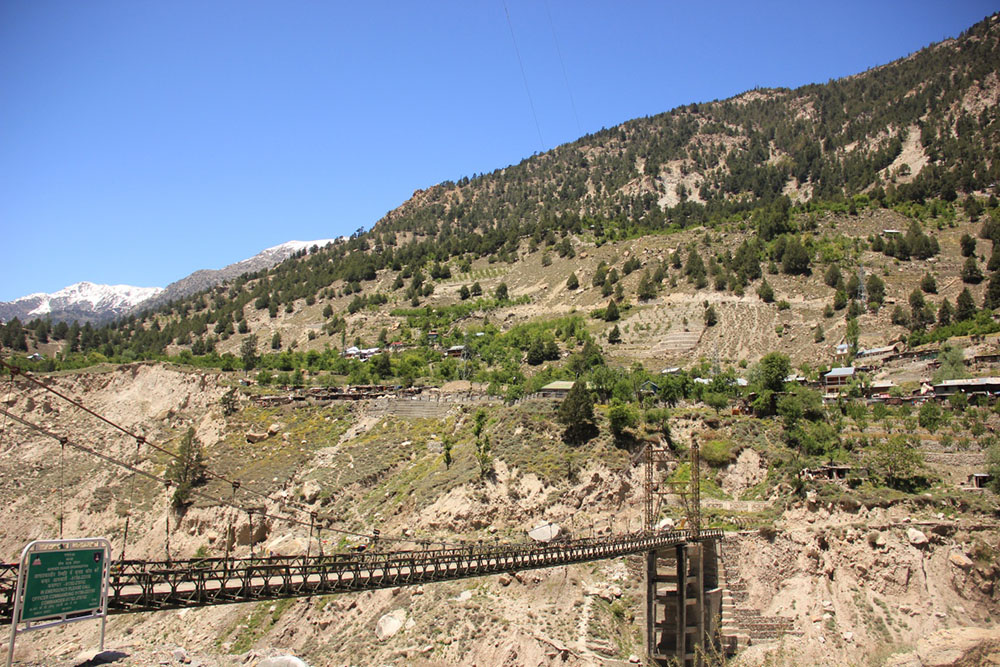 We reached Spillow at 1.25 pm.
Spillow to Ropa Valley
Since Karcham, the battle between green and brown was on for taking the larger share of the landscape. After Pillow, it seemed that green had finally succumbed to the relentless onslaught by brown and brown became the only color of choice.
There were various shades of brown – brownish brown, blackish brown, yellowish-brown. Mother Nature worked ages after ages to create these various shades of brown.
We reached the meeting point of Ropa river and Sutlej around 2 pm. After crossing the Ropa river, we took a left turn towards Ropa Valley.
The road to Ropa valley was a narrow one. However, it had a smoother surface than that of Shimla Kaurik road. So the ride was not a bumpy ride. We had to stop at one place for clearing of road. But overall, it was a comfortable drive.
At this stretch, Ropa River became our companion. The road was on the left bank of Ropa River. Ropa River was flowing through a gorge – deep but not menacingly deep. The mountains were rockier in nature. Brown got a blackish tinge. Wind also made a mark on the rocks. And yes, Green was still forbidden.
After some time, the narrow riverbed opened up to a wide valley – Ropa Valley. And green made a comeback in style.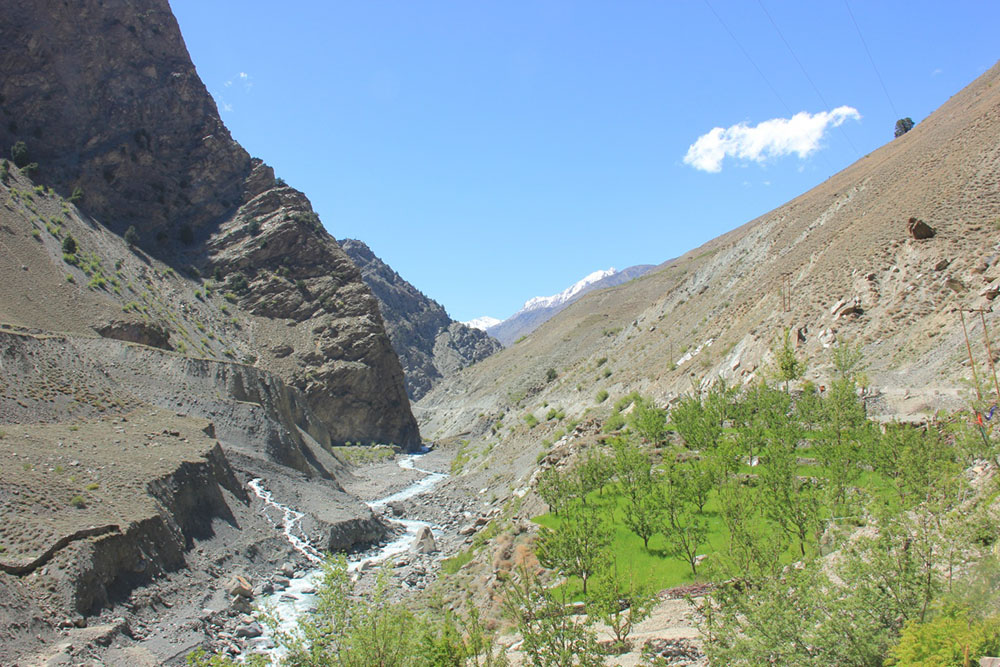 Ropa Valley to Dubling
We drove till the end of the Ropa Valley and reached there at 2.45 pm. The road was not exactly at the valley level. It was a slight uphill. On our way, we crossed 2-3 villages. From the main road, you have to take a left turn and go downhill to reach those villages. Because of the paucity of time, we could not go to those villages. I wish we had.
After visiting Ropa Valley, we came back to the Shimla Kaurik road at 3.25 and continued towards Puh.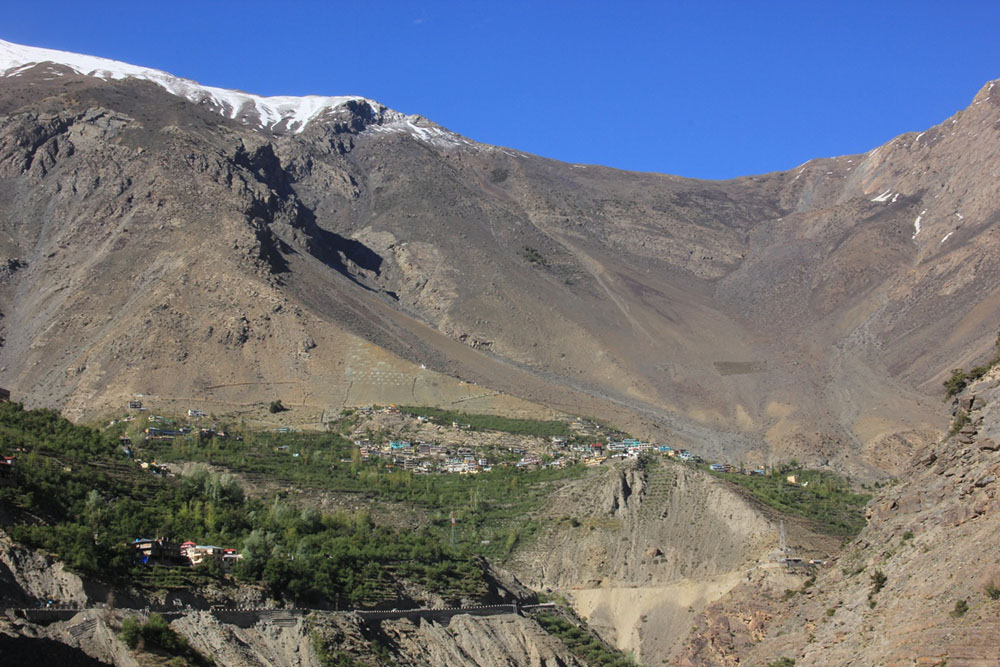 At Puh, the road passes through army camps. While crossing, we saw some jawans. We stopped and enquired them about the process/approvals required to go to Shipki La. Unfortunately, nobody could give us clear guidance.
We reached Dubling at 4.25 pm. After crossing the bridge, we stopped for a tea break. Along with tea, we got a bonus in form of Mutton Momos.
There also we asked some people about Shipki La. Their answers were also equally confusing. Some told that road was closed and BRO was not allowing it. Some told us that we had to go to Namgia first and from there we had to obtain approval.
But nobody was sure whether approval would be given at all. Overall, it was not clear who was the approving authority and from where the same can be obtained.
Also Read: Kinnaur Valley in Winters – How to Plan your Trip
Dubling to Khab Bridge
We started from Dubling with Sutlej at our left. The road was considerably better. After a while, we notice the diversion for Namgia. But considering that it was already past 4.30 pm and there was no certainty whether permission would be given, we decided to continue straight. After some time, we reached the famous Khab bridge.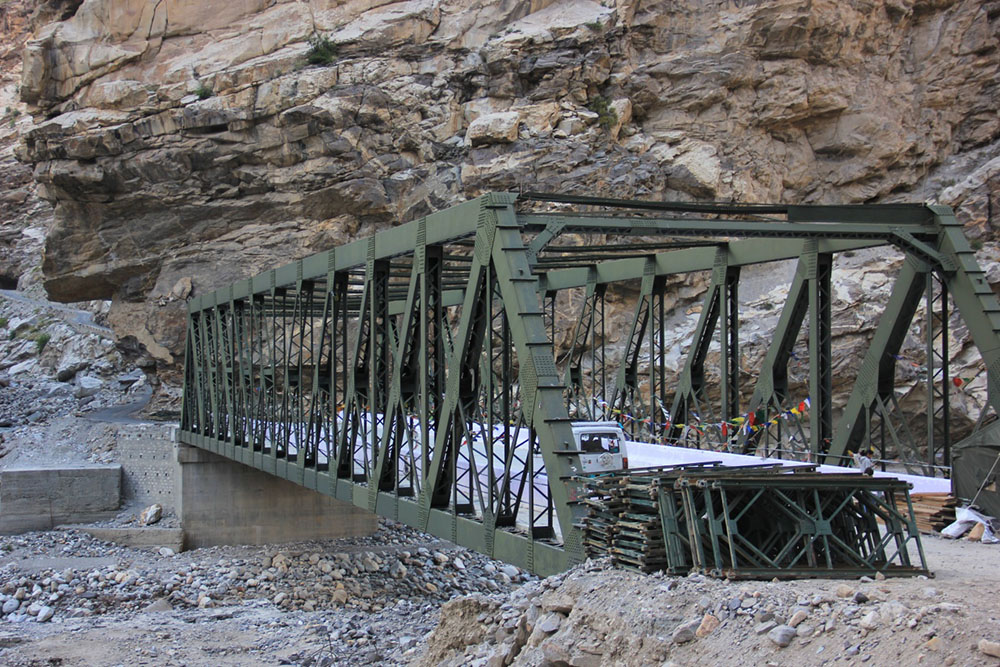 From Khab Bridge, there is a diversion at the right-hand side presumably for Shipki La. The road was not that good but drivable. There was a camp just beside the Khab bridge and there were some construction workers. We checked with them also. But they were as knowledgeable as we were. So we decided to skip Shipki La.
Now I realize, with hindsight, that it was not possible to gather all information upfront for those off-beat destinations. You have to just go on, take your chance with the hope that you will end up reaching your desired destination. But given our team composition, we were not in a position to become that adventurous.
To some extent, the reluctance of our driver to make an attempt for Shipki La also forced us to take that decision. In the later part of the trip, the reluctance grew and we were forced to skip some places.
Also Read: How to Plan a Trip to Pin Valley
Khab Bridge to Nako
So we said goodbye to Sutlej and started for Nako along the bank of Spiti river which became our companion for the next few days.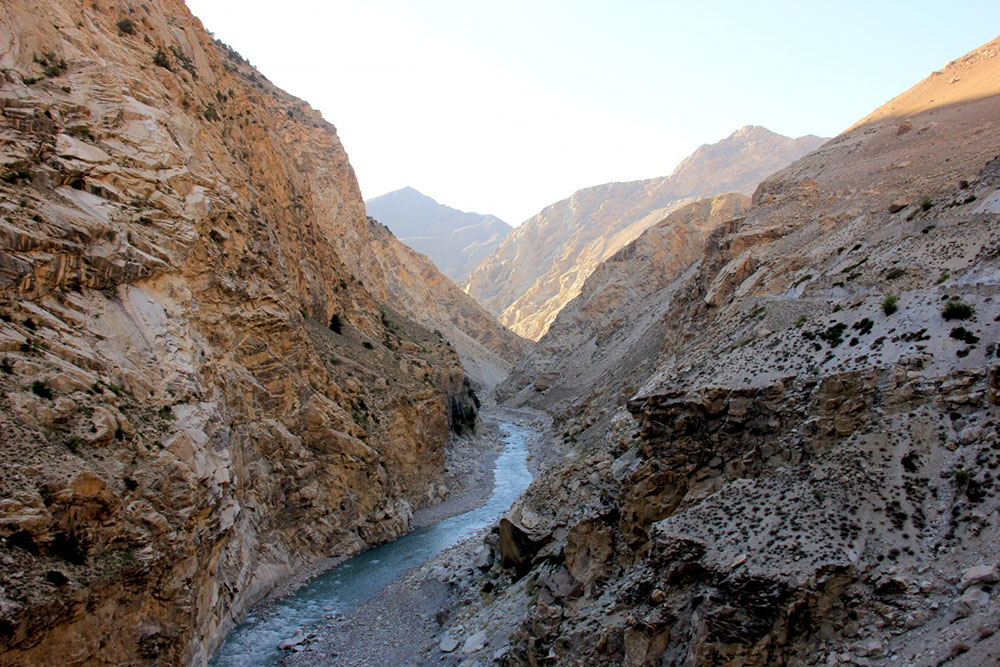 The road was fantastic. It was narrow but well tarred. After some time the steep climb started. Initially, it was a straight climb followed by one after another hairpin bends. It was the time to go up, up, and up; be as closer as possible to the sky. We were crossing "loops of Kah".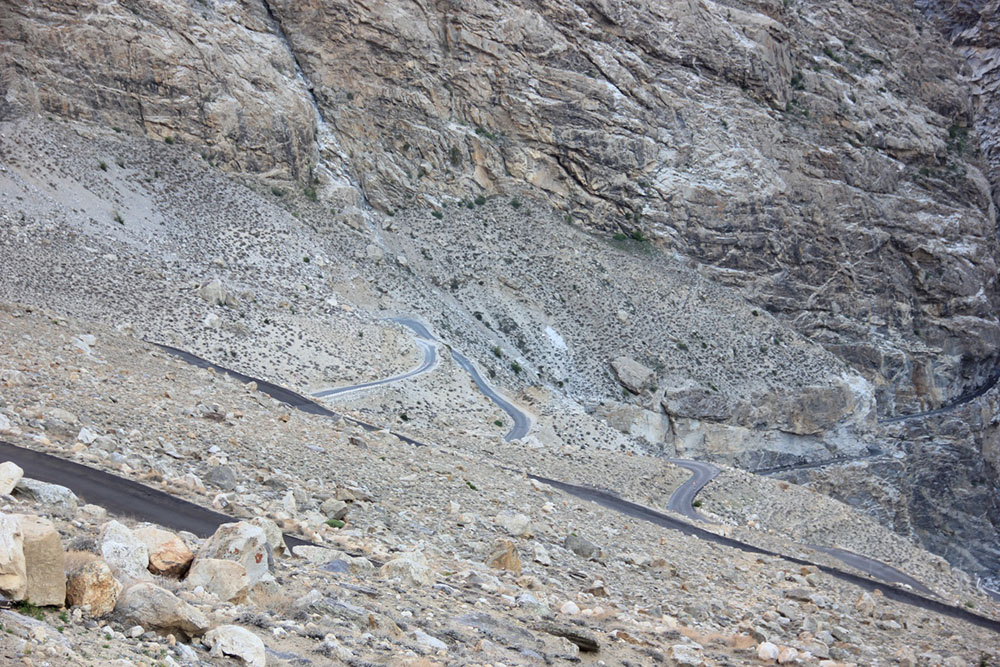 The Spiti River went out of our sight very quickly. The downhill seemed to have no end. The condition was perfect for an indefinite free fall because there was absolutely nothing to hold you back. Forget trees, even bushes were forbidden to grow in that part of the world. We were experiencing an eerie feeling.
At the upper end of the loop, I was facing a problem because of the sunlight. It was late afternoon. Because of that, whenever, the direction of the vehicle was towards the west, sunlight was hitting eyes directly making it almost impossible to see. The thick layer of dust on the front glass aggravated the problem. So I was forced to drive very slowly.
After crossing the loop, the road became horizontal and we reached Kah village, a green oasis set against the backdrop of the desolate landscape, around 5.25 pm.
Also Read: How to Plan a Trip to Nako Village
Nako Village
We did not stop at Kah and continued our journey. After some time, Nako became visible. It brought a sigh of relief. The journey for the day finally was coming to an end. We stooped at a Dhaba just before Nako for tea, coffee, snacks, and clicks.
After 10-15 minutes, we started for the final few kms of the day. Just before entering Nako, the road bifurcated. The left fork went towards Yanthang. I guess that was the old road. The right fork went towards Nako village. We reached Nako village at 6.30 pm.
First, we went to the hotel Rio Pugiyal. But its hot water system was yet to be functional. So we went to the hotel Lovon and it was a good choice. The rooms were quite cozy.
Though the rack rate was Rs. 900/room, since it was the beginning of the season, they charged only Rs. 600/room. We took 3 rooms on the first floor – one room road facing and two rooms valley facing. From the valley-facing room, we were getting an excellent view of the Himalayan/Trans Himalayan mountain range.
After checking in, we quickly had some tea and coffee and went to Nako Lake. It was almost dark. The lake was barely visible. We spent around 5-10 minutes and came back to the hotel.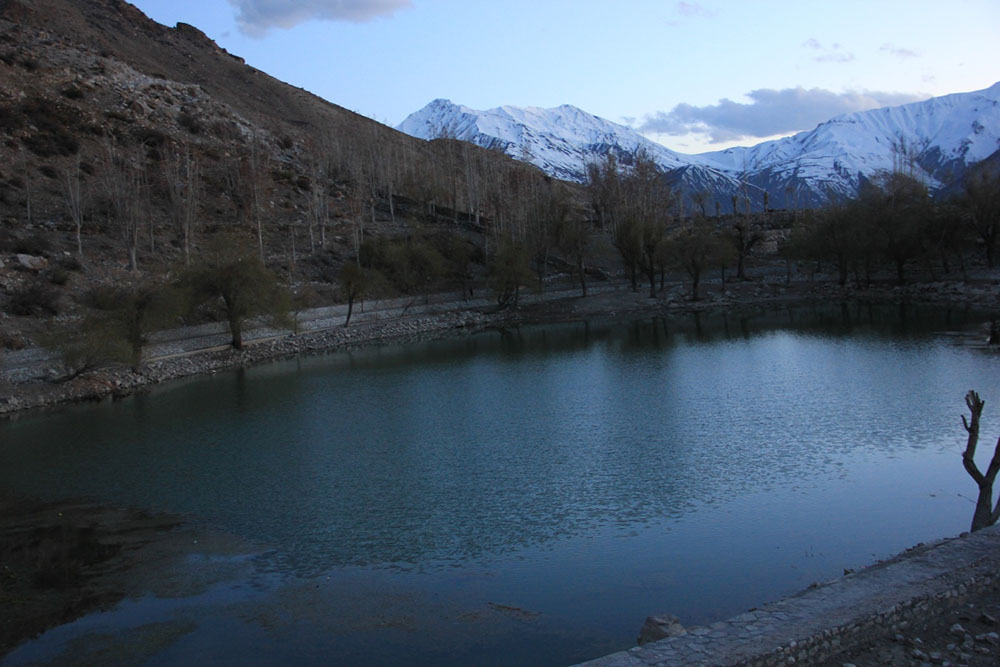 As evening descended, the temperature started falling. The chilling wind started to blow. So it became difficult to stay outside. We had an early dinner and retired to the bed with a tired body but refreshed mind.
Journey Ahead:
The plan for tomorrow was … Please click on the link above to continue reading the next part of the travelogue.
Shimla to Chitkul – Conclusion
I hope the travelogue, pictures, and information on Chitkul to Nako drive were of help. If you have any questions, please feel free to ask in the comments section below or at our Community Forum, and I will be happy to answer. You can also follow me on Instagram and chat with me live there or subscribe to my YouTube channel and ask a question there.