On the third day, we covered a distance of 410 km, slightly higher than the initial estimate of google Maps. The destinations for the next couple of days were the beautiful villages of Sarahan and Chitkul in Kinnaur Valley. We were going to be driving from Shimla to Chitkul via Sarahan and I was very excited about it.
Please click on the link below to read the previous part of the travelogue.
My parents were coming by Kalka Mail, which was supposed to reach by Kalka at 4.30 a.m. Accordingly, the alarm was set up on the mobile. But I got up on my own at 3.30 a.m.
There was a strange sensation in my mind. A few hours more, then I would drive on the Himalayas which I was dreaming of for a long. I think it was the excitement of the trip that got me out of the bed so early.
I went downstairs for a smoke. When I came back to our floor, found that my brother-in-law had also got up. We called parents only to find out that the train was running late by half an hour.
We went to the station to pick up our parents at 5 a.m. By 7.30 am, our driver arrived with his Tata Sumo. After having a heavy breakfast, we started around 8.00 am.
Day 4: Parwanoo – Chail – Shimla – Narkanda – Rampur – Jeori – Sarahan
I know we were not exactly starting from Shimla but this is the same route that goes to Chitkul from Shimla. We were starting from Parwanoo. Our destination for the day was Sarahan and for that, we would have to drive up to Shimla first and then continue to Sarahan from there.
The plan was to have the first stop at Chail, have lunch at Narkanda, have snacks/tea at Rampur, and reach sarahan before evening.
When we started from Parwanoo, it was quite sunny. Initially, my car was in front and the second car was coming behind us. I was not conversant of the road and wrongly took the detour for Barog at Kumarhatti. Though we immediately realized it but based on the assurance of the driver of the hired car that this road would also meet the road for Shimla, we continued.
Though this made our travel time a bit longer, we did not repent it. We found Barog quite nice and beautiful and enjoyed its scenic beauty from the car without stopping.
We took a right turn for Chail after crossing Solan. The road became very narrow but it was well maintained. On both sides of the road, tall trees were kissing the sky and in between them, there were small plants with colorful flowers.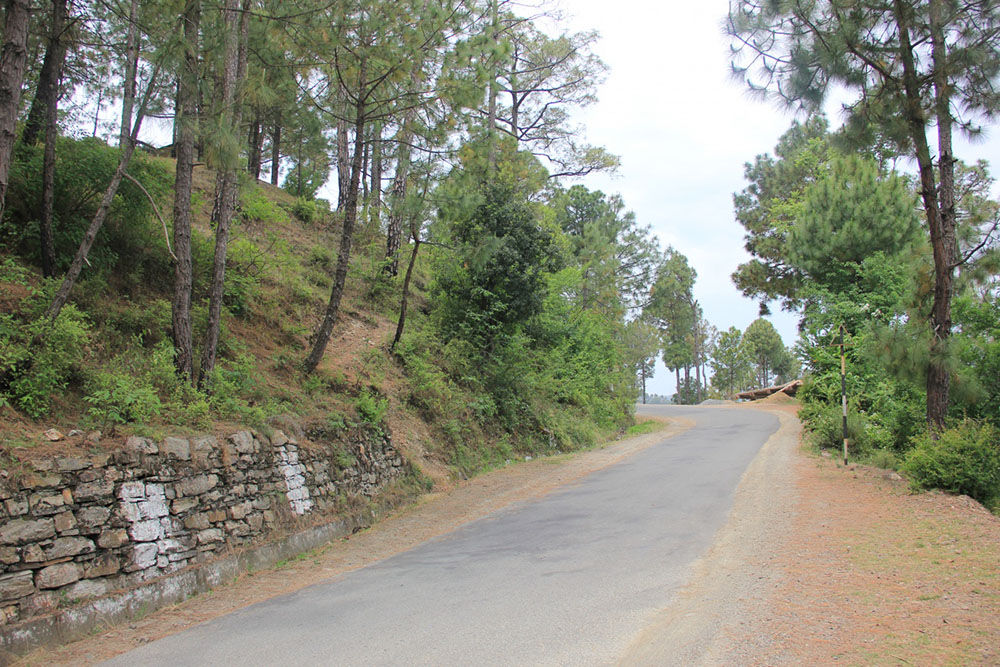 My knowledge of flora, or lack of it, was not enough to identify those plants. But I do not repent for that. What's there in the name.? It was a festival of green and the city eyes, tired of seeing concrete jungle, were enjoying it.
Chail
We reached Chail Palace around 11.45 a.m and entered after buying tickets for Rs 100. Whenever you go to some area, you have to visit some places so that once you come back, you can tell all and sundry that you have visited such and such place.
Also Read: Places to visit in Chail & Things to Do
In my personal opinion, Chail Palace falls in that category. You need to visit Chail Palace only to tell others that you have visited Chail palace.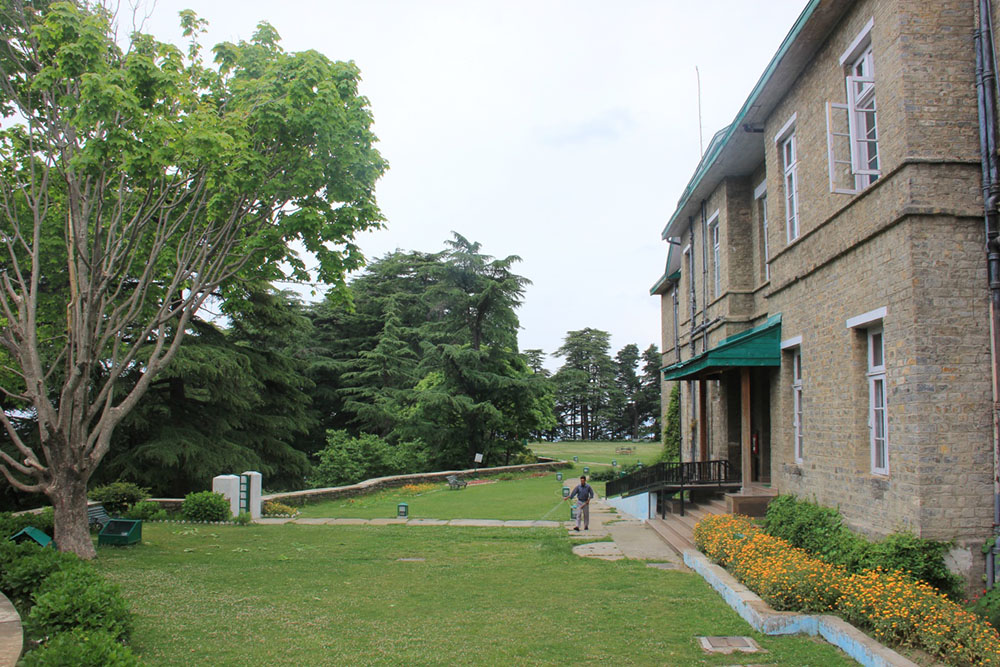 We started from Chail palace around 12.15 p.m. By that time the weather had changed. 'Surya' Dev had taken a pre-matured retirement for the day and 'Varun' Dev had taken control of the proceedings and he greeted us with raindrops while we reached Kufri near Shimla at around 1 pm.
Kufri – Fagu – Theog – Narkanda
Then we crossed Fagu and decided to have lunch at a roadside Dhaba because it would take time to reach Narkanada. It was a quick lunch consisting of Rice, Roti, Dal, and Rajma. While we were taking our lunch break, the camera was put into action.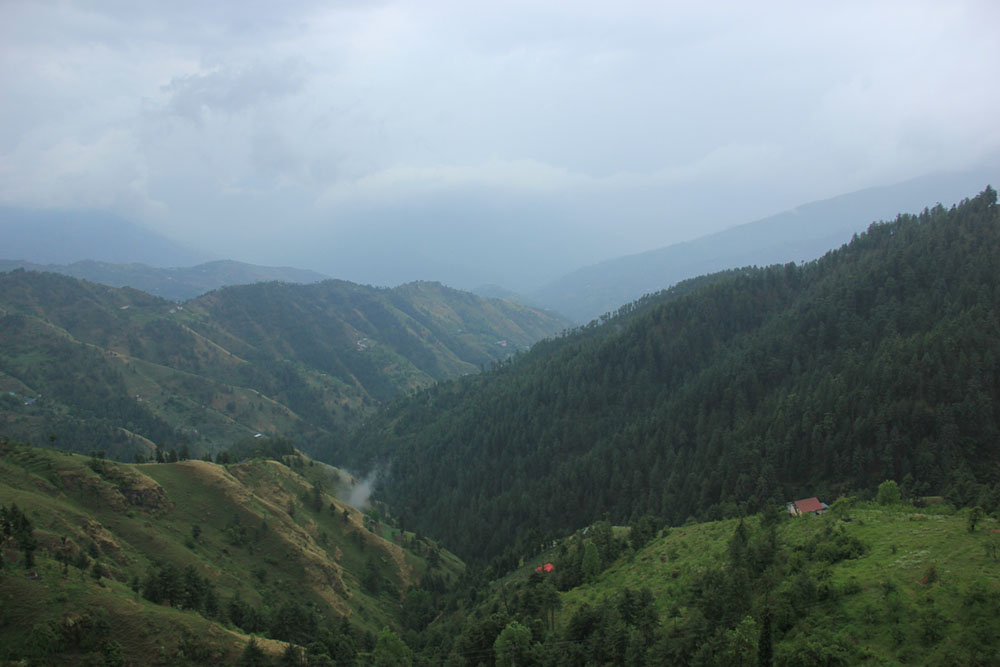 We crossed Theog around 1.30 pm and by that time rain had got momentum and driving became a bit challenging. The bad road condition worsened the matter (at the time of returning, we found that a lot of repairs had been done and the road was far better). The sensor of the car was updating us about another development. The temperature was falling sharply.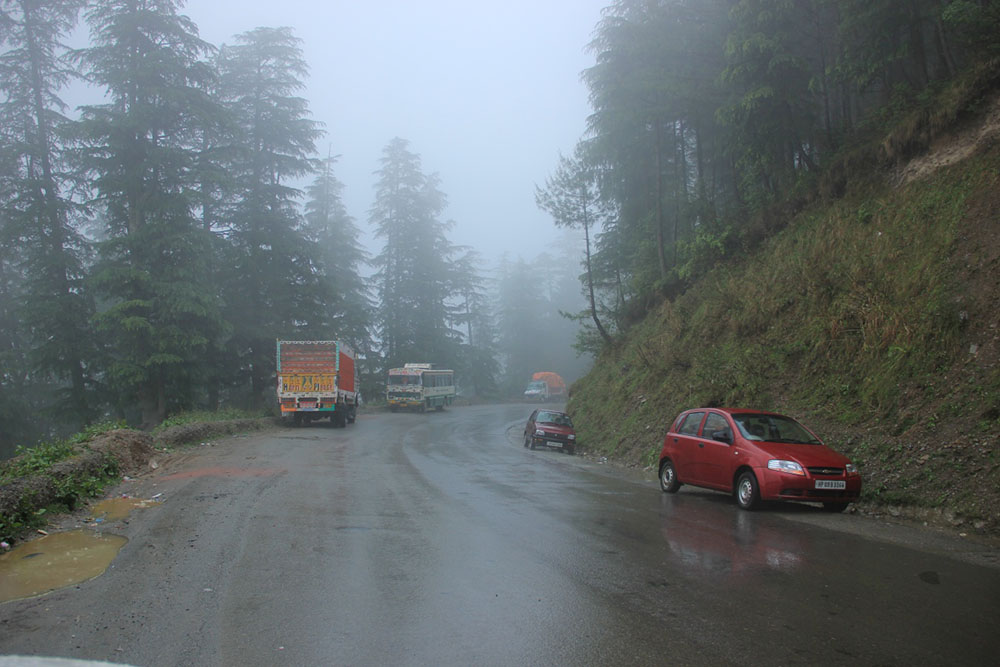 We reached Narkanda around 3.15 pm and then the outside temperature happened to be 6°C. After Narkanda, the descent for Sutlej Valley started. The road condition improved considerably and the rain also started subsiding. Since life became a bit easier, it was time to do some photography.
Also Read: How to Plan a Trip to Narkanda
The rain stopped completely by the time we crossed Kumarsen. Then we crossed Sanj and got the full view of Sutlej for the first time on the trip.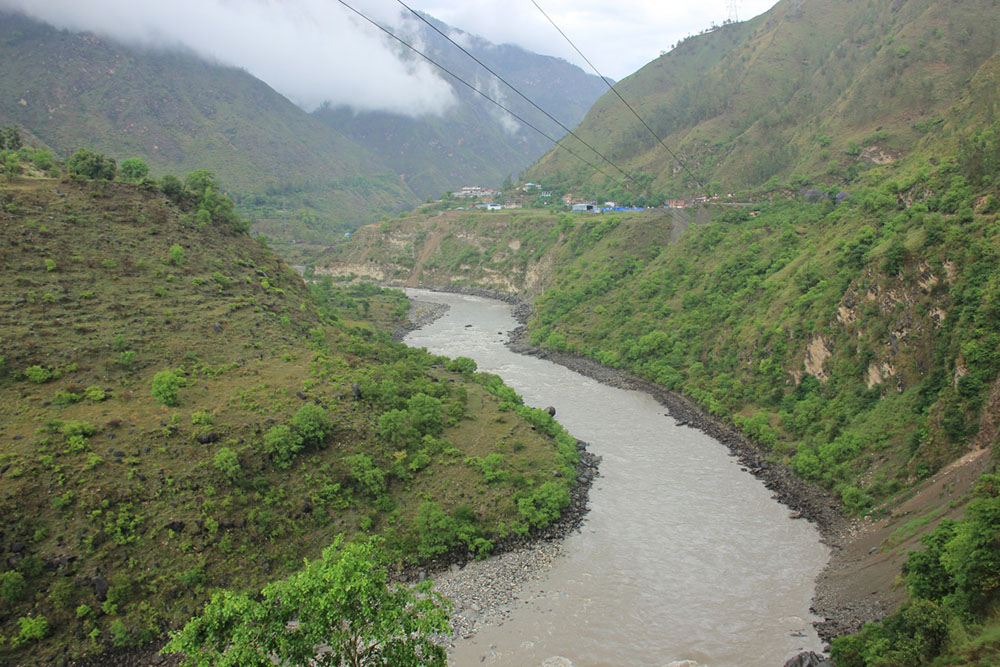 We crossed Rampur around 6 pm but did not stop there because parking is an issue. We stopped at a small tea stall after Rampur to have tea. Since we were taking a break, the camera had to work
I guess by that time Varun Dev became quite fond of us and by the time we started the engine of our cars for the last time of the day, his affectionate droplets started falling on us.
Sarahan
We had pre-booked our booking at the Bhimakali temple at Sarahan. From Jeori, we took the right turn for Sarahan. It was raining quite heavily and we were trying to make the best use of twilight. Since it was already quite late, the temple guesthouse gave us a call to enquire whether we were coming.
Also Read: How to Plan a Trip to Sarahan
Finally, we reached Sarahan at 7.30 pm. It was raining, it was cold and it was dark. The sensor of the car let us know that the outside temperature was 6°C. We braced this change of temperature from 45°C to 6°C in just 30 hours. We did not have any choice.
The total distance covered was 254 km
Day 5: Sarahan – Karcham – Sangla – Rakcham – Chitkul
I got up around 6.30 am and immediately came out of the room whether it was raining. No, it was not raining but the sky was completely covered by clouds.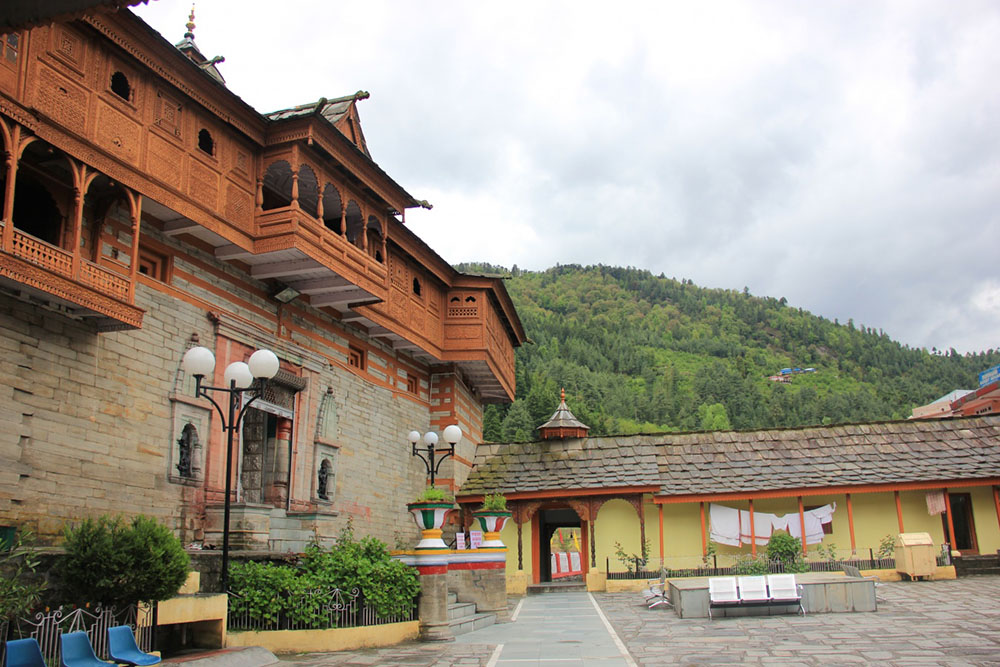 It was really cold and tea was an absolute necessity. But the temple canteen provides tea only at 7.30 am. So we ventured out. We got a couple of snacks and a tea stall open. The rest of the market was in sleep mode.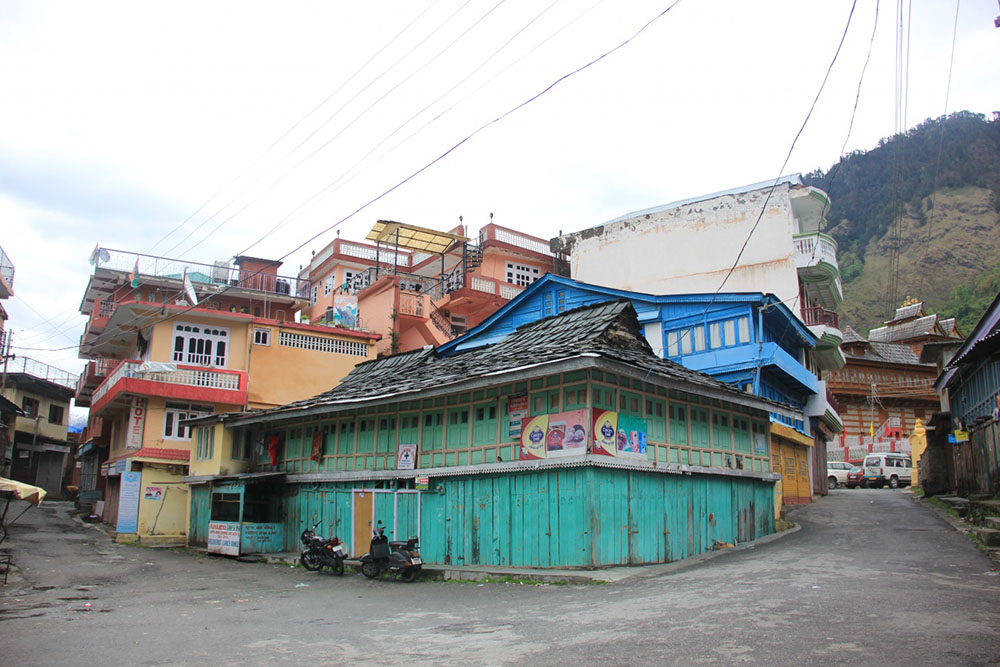 Then we went for a walk along the backside road which goes to the football ground and clicked a few photographs of the Bhimakali Temple, Sarahan village, and Bushahr palace. For more details on what you can see in Sarahan, please take a look at Places to Visit in Sarahan & Things to Do.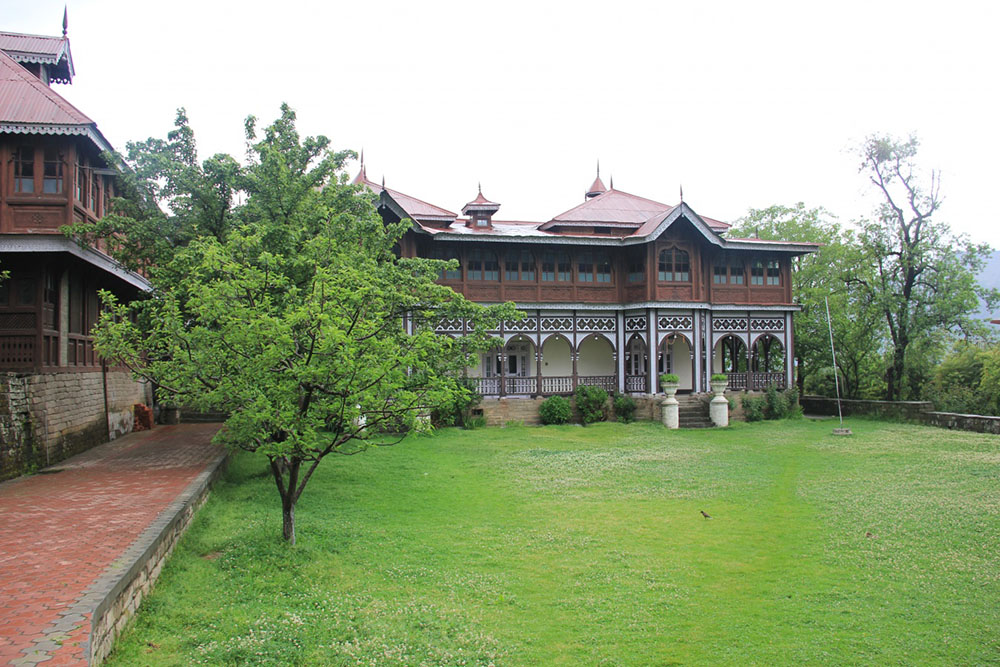 By the time we came back to the guest house, it had started drizzling.
Our destination for the day was Chitkul and therefore, there was no hurry. We started around 10.30 am after having a heavy breakfast at the temple canteen. At that time, it was raining quite hard.
Jeori – Tapri – Karcham – Sangla
The rain started subsiding after Jeori and it stopped gradually. But we could not afford to relax.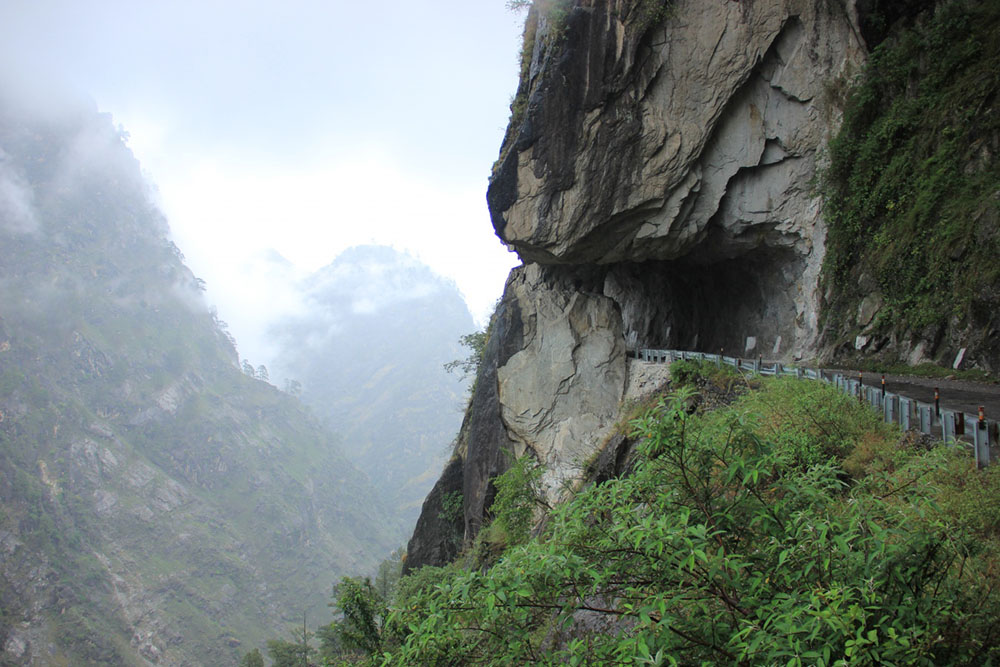 The road was in good condition till 5-6 km before Tapri. Then it essentially became a kaccha road. We crossed Cholling Bridge around 1.30 pm and reach Karcham around 1.45 pm. When we were approaching Karcham, it started to rain again.
From Karcham, we took the right turn for Sangla and then went through the most difficult driving experience of my life. It was raining cats and dogs. The road was narrow and slushy. Baspa was flowing deep down below on the right-hand side.
Also Read: How to Plan a Trip to Sangla Valley
I was experiencing perceptible lateral movements of the wheels despite driving a 4WD vehicle. On the entire Shimla to Chitkul route, only on this stretch, while driving, I was asking myself whether my decision of self-drive was the right one.
On this stretch, most of the photographs were taken by my wife from the moving vehicle since I was keen to cross this stretch as soon as possible. Luckily, we faced very limited traffic from the opposite direction.
Finally, we reached rain-drenched Sangla around 3 pm.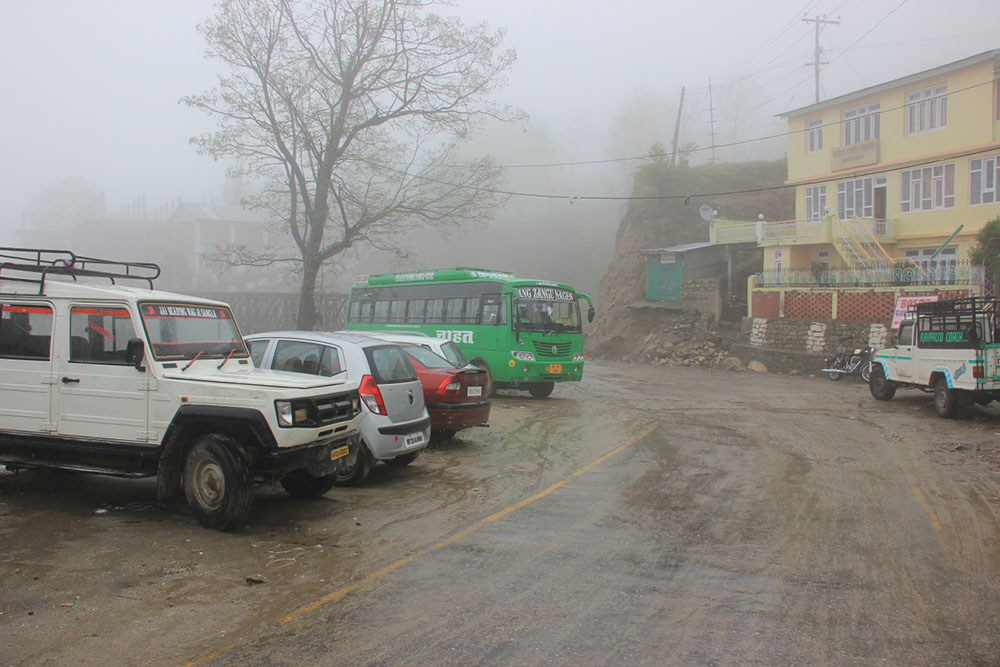 After the nerve-wracking drive, we are looking for a sumptuous meal and therefore ordered chicken. The chicken curry was good. But it cost us almost an hour.
While we were having lunch at Sangla, the rain was continuing with the same intensity. Somebody commented that there might be snowfall at Chitkul. So my Brother-in-Law and I were thinking about what to do. Finally, we decided to proceed up to Rakcham and then decide, depending upon the situation.
Rakcham – Chitkul
We started from Sangla around 4 pm. Then the rain started to recede. We saw a glimpse of Sun after crossing a few kilometers after Sangla. When we were about to reach Rakcham, all of a sudden, out of the blue, 'Surya' dev appeared in the sky with all guns blazing, and our surroundings immediately transformed into a magical world.
Also Read: When is the Best time to Visit Chitkul
This probably is the most beautiful stretch on Shimla to Chitkul route. I do not have enough command of the queen's language to describe the unbelievable beauty of nature. Neither I am audacious enough to attempt. Therefore, let the camera do the talking.
We reached Chitkul around 5.30 pm, bringing an end to our drive from Shimla to Chitkul. By the time we settled down, the evening has descended on Chitkul village.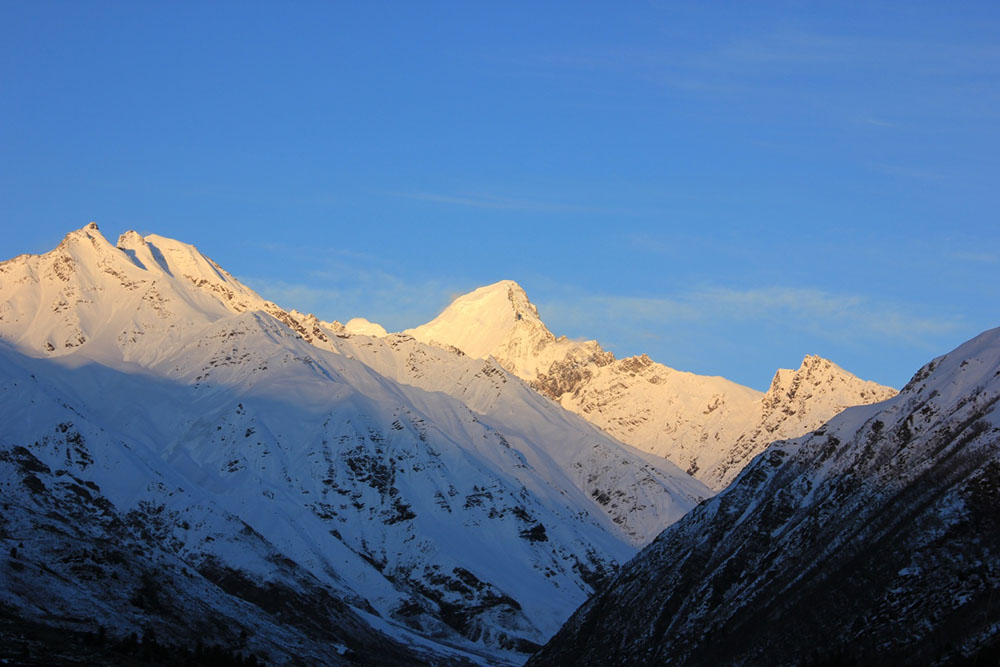 The wind was picking up and the temperature was falling and we took shelter in our rooms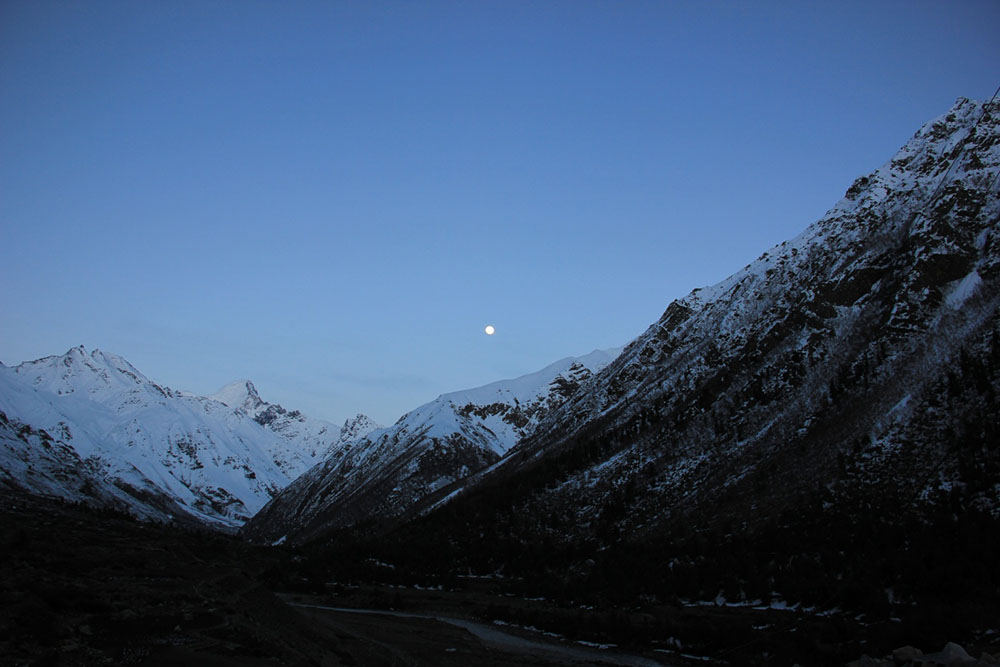 After having 2 pegs of Old Monk, I came out of the room braving the cold. I was surrounded by snow-covered mountains from all sides, the next day was Buddh Purnima and it was a clear sky. While trying to experience this unreal beauty with all my senses, I realized the gravity of the mistake I committed by forgetting to carry my tripod.
The next destination on our itinerary was the beautiful village of Nako. We were going to skip Kalpa since we planned to cover it on our way back from Kaza. Please click on the link above to continue reading the next part of the travelogue.
Shimla to Chitkul – Conclusion
I hope the travelogue, pictures, and information on Shimla to Chitkul drive were of help. If you have any questions, please feel free to ask in the comments section below or at our Community Forum, and I will be happy to answer. You can also follow me on Instagram and chat with me live there or subscribe to my YouTube channel and ask a question there.