So finally, it happened. I have been planning for a Mumbai to Spiti Valley trip for the last 3 years. I made itineraries a number of times but for one reason or another, could not do it earlier. But this time, it has been done.
It was an 8-member team with an age group ranging from 10 to 72. We had two cars, one driven by me from Mumbai and another hired from Kalka, passed through 5 states, driving more than 4800 km in 17 days and the mission has been accomplished.
At times, weather god was not kind to us. That made our trip very challenging at places, forced us to skip one or two places, made our lives difficult especially for the kids and the elder ones.
Also read: How to Plan a Trip to Spiti Valley – A Complete Travel Guide
But when I look back at the trip, I feel that we were really lucky that in a single trip, we got bright sunny days, overcast mornings, heavy rains, chilly windy nights with the temperature hovering around freezing points, snowfall, and even dust storms (near Rohtak while returning back).
Mumbai to Spiti Valley Road Trip
We were an 8-member team – me, my wife and daughter; my sister, brother-in-law, and niece; and my parents. My daughter was the youngest of the group (10 years old) and my dad was the eldest (72 years).
The plan was that starting from Mumbai on 9th May, we would reach Kalka on 11th May and my parents, sister, brother-in-law, and niece would join us there. We would drive our car from Mumbai to Spiti Valley, and from Kalka, we will avail another hired car.
Here I would like to mention a few words of caution about hired vehicles. Till the time you are on the regular route, the drivers are very helpful. But the moment you want to take a detour, go to a place, not on the main route and not so touristy, you will face resistance.
The standard reasons are "Vo jagah dekhne ke layak nahi hai", "Rasta bahut kharab hai, phans jayenge". I really do not know how correct those reasons were, but the fact is that the apprehensions of our driver influenced us also especially my parents and we had to skip two-three places.
Day 1 – Mumbai to Ratnapur
So finally, the D-Day arrived. I could not sleep more than 5 hours in excitement, got up by 5 am. Since it was a 17 days trip, it took some time to do some last minutes packing and other things. Finally, we started at 7.30 am from Malad East for our Mumbai to Spiti Valley road trip.
Mumbai sky was a bit overcast and the traffic on the Western Express highway was yet to build up. We reached Dahisar check-naka within 15 minutes since there was very little traffic in the morning. After that, we breezed past the Kasmira flyover.
Vashai Creek
We hit the first traffic jam at Vashai creek. The bridge for Ahmedabad-bound traffic is closed for repair. So only one bridge, which is for Mumbai bound traffic is operational.
As a result, Mumbai bound traffic and Ahmedabad bound traffic are crossing the Vashai creek alternatively. It took 20 minutes to cross the Vashai creek. From there, it is a smooth ride till the Kahniwade check post. We reached there around 8.30 am but again faced a traffic jam. It took almost 10 minutes to get out of that.
There were a considerable number of trucks and heavy vehicles on the road. And I believe that, in India, most of the truck drivers have a right-wing mindset and that's why they always take the rightmost lane.
So, I was forced to do lane changes a number of times to get past them. It is really painful to swerve continuously especially at the last leg of NH8 in Maharashtra because that was a Ghat section.
Also Read: Food to Try in Spiti Valley – What to Eat in Spiti
Vapi – Surat – Bharuch
We entered Gujarat around 9 am and the road condition considerably improved. Now it was a 6-lane road and the surface was pretty smooth.
The left-most lane is the ideal lane to drive and overtake because of the right-wing truck drivers. But you also need to remain alert while driving on the left-most lane because that lane is also used by the locals for driving in the opposite direction.
We reached Vapi around 10.15 am and took a breakfast break at McDonald's. Earlier, I drove twice on this route – one to Kumbhalgarh last December and another to Udaipur in 2012 and we had our breakfast at the same place.
We started from there at 10.45 am. After crossing Surat, we again faced clogging in 3-4 places on account of road repair work. We had planned to have lunch either at Vadodara or Ahmedabad. But because of these unanticipated delays on account of road repairing work, the plan got changed.
We had a lunch break at a roadside hotel Foodland at Dhamdod village. It was 1.15 pm. After lunch, we started again at 1.45 pm.
Post Bharuch, traffic density has come down considerably. And the road was also much better. In my opinion, the Bharuch-Vadodara section of the road is as good as the Vadodara-Ahmedabad expressway, if not better.
Another observation is that the stretch maintained by L&T is in better condition than that of the section maintained by IRB. We started touching 120 km/hr frequently.
Vadodara – Himmat Nagar
We crossed Vadodara without any fuss and touched the Ahmedabad-Vadodara expressway. The last time I took this route, Google Maps advised me to take the Anand exit and join the NH8 somewhere near Himmat Nagar.
As per the direction given in the google map, Last time I ignored that and this time also did the same thing. Any experienced member may tell us whether this is a shorter rote compared to the regular one via Sardar Patel Ring Road.
We took another tea break at the food court adjacent to the reliance Petrol pump and touched Sardar Patel Ring Road around 4.30 pm without facing any traffic jams. After leaving the Sardar Patel ring road, the first 6-7 km is a single lane. Therefore, you cannot drive fast. Then after again road becomes a 4-lane highway. We crossed Himmat Nagar.
After Himmat Nagar the road is very scenic and I believe the most scenic portion of the NH8 up to Udaipur. There are a lot of trees and plants on both sides of the road as well as on the boulevard. Surprisingly, it is quite green. There are some white-colored and pink-colored flowers which made it more beautiful. We decided to do some photography.
Ratnapur
We reached Ratanpur at 6.45 pm. It's at the border of Gujarat and Rajasthan. We booked for RTDC motel, at Ratanpur. We could have booked someplace at Udaipur but my plan was not to drive more than 650 km per day. I was going to be driving continuously for the next 4 days. So the idea was not to overstretch it in a single day.
Also Read: Shopping in Spiti Valley – What to Buy in Spiti Valley
The motel is basically at the Gujarat-Rajasthan border. The moment you cross the border and entered Rajasthan; it will be on your left-hand side. We actually missed it and went 500 meters ahead. Later, when we asked a traffic policeman, he gave us the directions. We then did a bit of wrong-lane driving and reached the motel.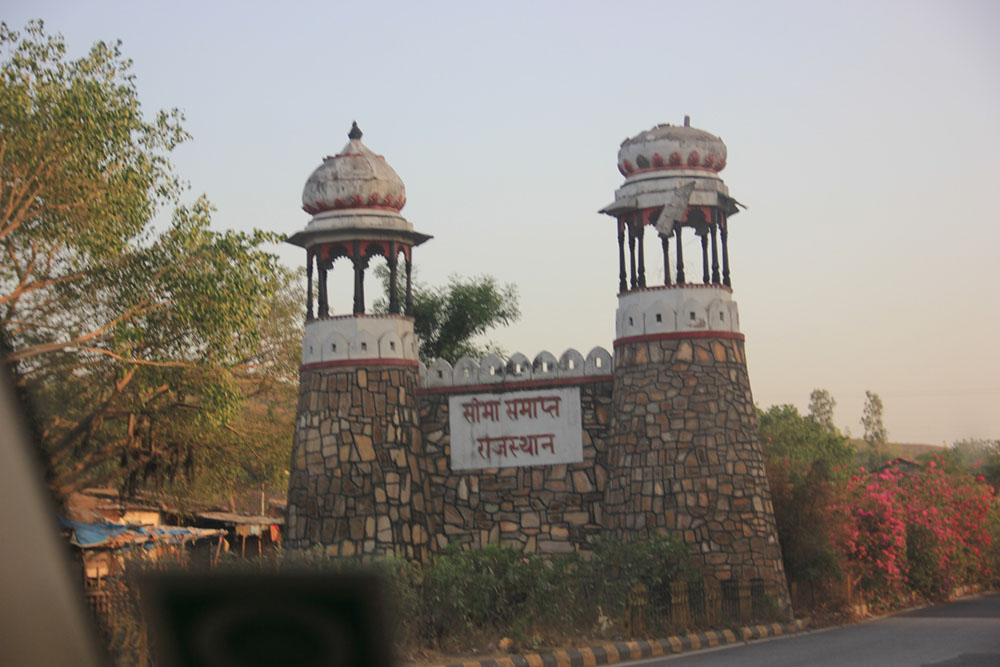 We started at 7.30 am and reached at 6.45 pm – a total travel time of 11 hrs 15minutes. Driving time was around 10 hours. We covered a distance of 644 km.
The motel was not well maintained. When we entered, we found that we were the only guest. After some time two families came in a car. We thought they would also stay there. Later realized that they came from a nearby area in Gujarat just to have some beers because Gujarat is a dry state.
However, the staff was quite helpful and to some extent made up for the sorry state of the motel. We had an early dinner and retired for the day. The first day of our Mumbai to Spiti Valley road trip came to an end.
Day 2 – Ratnapur to Behror
The plan for the day was to reach Behror and stay in the RTDC Behror. As per Google Maps, the distance was approximately 670 km. Assuming that the roads of Rajasthan would be great, we decided to start at ease.
After getting up in the morning, I walked around the motel for some time and did some clicking. There was a cool breeze blowing. The temperature was yet to soar. Humidity was not high. Overall, it was a pleasant morning.
The lawn of RTDC Ratanpur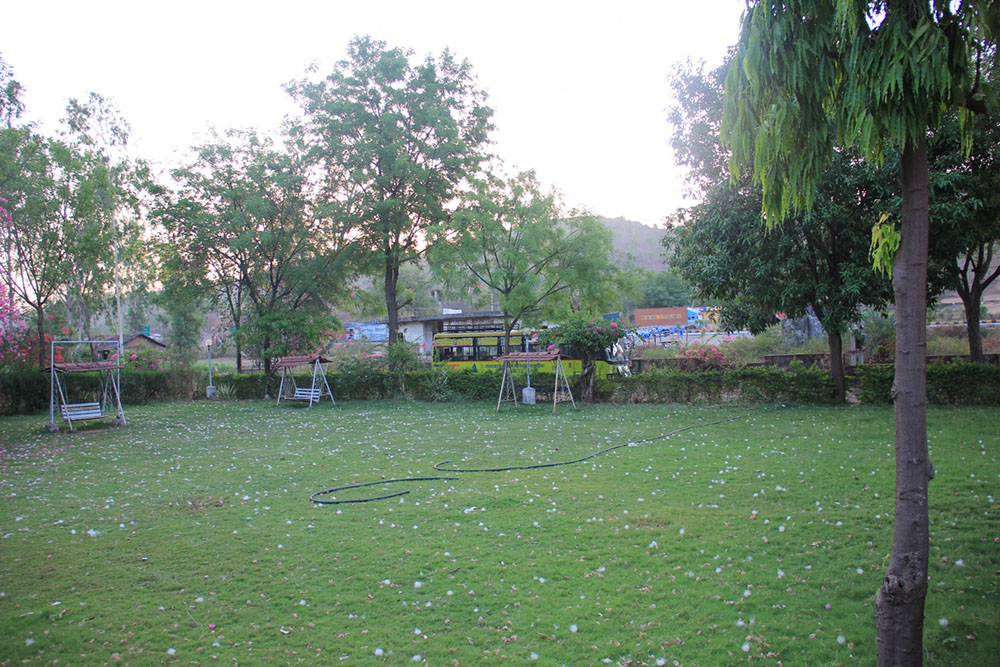 RTDC Ratanpur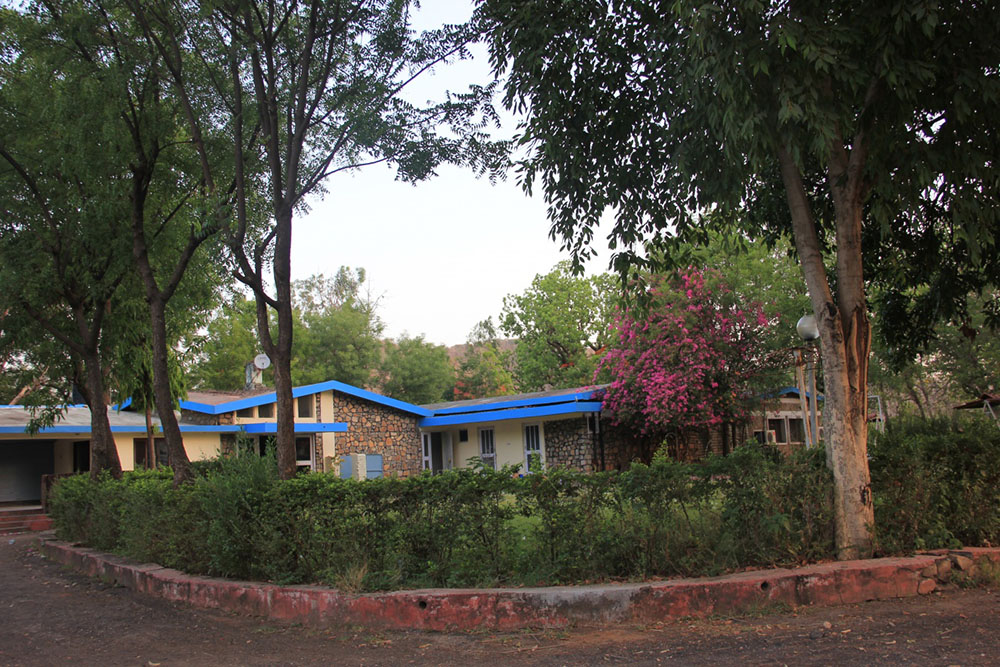 Udaipur 
We started around 10. 30 am and reached Udaipur around 12.15 am. In the first junction, google Maps advised us to take a left turn to NH 927A and I obliged and thus entered Udaipur City.
Went about 7 km and then took right turn from Surajpole Chowk. After 2 km, we came to another junction, crossed it, and moved ahead onto NH 76. I think that the road which met this junction from the right side is NH8 and had we not left NH8, we would have directly reached this junction.
It took around 30 minutes to do this in and out from Udaipur including some 5 minutes break to purchase some fruits. Then it was non-stop driving.
Also Read: Mobile Network in Spiti Valley and Data Connectivity
Chittaurgarh
Near Chittaurgarh, we left NH 76 and joined NH 79/79A. Earlier, I drove up to Chittaurgarh, so once we left NH 76 for NH 79/79A, it was completely new territory for me. We stopped at a food court at a place called Soniana on NH 79 for lunch.
The food court is adjacent to a petrol pump (most probably IOC) on the left-hand side when you are going to Jaipur. That's the first time we stepped out of the vehicle and felt the heat of the 'heat'. Though the indicator of the vehicle was constantly showing more than 40°C consistently, the AC of the vehicle did not let us realize the effect of the same.
The moment we stepped out of the vehicle, we felt a sot of a burning session which was the combined impact of the temperature and dry weather, I guess. We rushed into the food court, had our launch, and started from there around 3.15 pm, and continued on NH79/79A.
The density of trucks and other heavy vehicles on NH79/79A was quite high compared to that on NH 76 and that reduced our average speed considerably.
Kishangarh
We reached Kishangarh toll plaza on the GVK Jaipur expressway around 5.15 pm. After crossing Kishangarh toll plaza, we took a tea break for 10 minutes and reached the junction of Jaipur bypass around 6 pm. We were around 120 km away from Behror and were confident to reach our destination by 8 pm.
And then the nightmare started. At the junction, though there is a flyover for Ajmer bound traffic, there is no flyover for Delhi bound traffic. On top of that, the main road was closed at several places for ongoing flyover construction so we had to take the service lane.
The narrow service lane, city-bound traffic, and the innumerable number of trucks threw our travel time estimation haywire. It took almost one hour to come out of the clog and by the time when we were on wide and smooth Delhi-Ajmer expressway evening has started descending.
We thought that our ordeal had come to an end and ride till Behror would be a smooth one but later realized that ignorance is not always bliss. After crossing, Manoharpur toll plaza at 8 pm, we had to go through the most disgusting (not challenging) driving experience of the entire trip.
The so-called expressway is full of diversions on account of ongoing flyover work. All the truck drivers were in 'drive as you like' mode and busy in a racing competition with a speed limit of 40 km/hr.
The outside was quite dark and we had not an iota of idea of this part of the world. We started following Google Maps blindly. This time it did not let us down and helped us to reach safely at Behror RTDC safely at 9.30 pm.
Also Read: How to get an Inner Line Permit for Spiti Valley
Behror
It was pre-booked. After checking in, we immediately proceeded to the cafeteria for dinner. Behror RTDC does not have its own dining setup. There is an adjacent cafeteria managed by RTDC which is also open to outsiders.
There is no room service and you have to go there for having food. Only morning tea is served in the room. Post dinner, I picked up a bottle of beer. I guess I deserved that and fortunately, my wife and daughter also thought so.
We were dead tired at the end of the day. The only relieving thought was that the next day's distance to be covered was only 400 km and we would be at foothills at the end of the next day. With that, we retired for the day.
I did not do any photography during the day except in the morning at Ratanpur. My wife took some running shots while we were approaching Udaipur.
While looking back, I think I should have taken some photos of the Udaipur-Jaipur stretch – some memories of this dry land. I will not call it barren. After traveling from Mumbai to Spiti Valley by road, Spiti has redefined my definition of barren.
Day 3 – Behror to Parwanoo
On the second day of traveling from Mumbai to Spiti Valley, we had covered 670 km. Compared to that, on the third day, we had to cover approximately 390 km to reach our destination Parwanoo. Therefore, there was no hurry. In addition, I had some work to finish on my professional front. So, we started around 12.30 pm after a heavy brunch.
Rewari
I did not have a clear idea about how to get onto Delhi-Ambala-Kalka Road from Behror, so we started following google Maps blindly. Initially, we went around 23 km towards Delhi. Then, as per the direction of Google map, took a left turn to a state road at Shahjahanpur, from below the flyover.
The road was in poor condition for the first 1-1.5 km. Then we entered Haryana and the road condition significantly improved. This road led us to Rewari. In this Shahjahanpur-Rewari stretch, we did some photography.
At Rewari, we perpendicularly crossed NH 71 B and then got onto NH71 and proceeded towards Rohtak. The road was excellent. However, you have to remain alert to face this type of situation.
Rohtak – Karnal
Just before entering Rohtak, the toll road came to end and it became a single lane. We reached Rohtak town around 2 pm. There, the Google Map stopped working all of a sudden. We asked a couple of locals and with their help, continued our journey towards Panipat. Got onto GT Road at Panipat and continued our journey.
We reached Karnal around 3.45 pm and took the first beak of the day. There is a food court on the right-hand side of the GT Road while you go towards Chandigarh/Kalka which houses Subway. We took a break of 30 minutes for food and refreshment and started from there around 4.15.
After going for around 8 km, we took a right turn from the GT road for SH 7 as per the instructions of Google Map. Then we drove on the state highways through the interiors of Haryana for approximately 90 minutes and again came back to GT road near Ambala.
With hindsight, I know that we should not have left GT Road at all and that diversion cost us at least 30 minutes. The positive outcome was that we got a glimpse of green Haryana.
Panchkula – Pinjore – Parwanoo
From there, it was a smooth ride till Panchkula. We faced some traffic jams below the Panchkula flyover. From there we took a right turn for the Shimla-bound Road and then got to see the great Himalaya for the first time in the trip.
Though evening started descending and it was getting dark, the ranges of the Himalayas were distinctly visible and it gave us a feeling of joy, ecstasy, satisfaction which is beyond our ability to express.
I had come to this place in early 2009. Though the memory of that trip was not quite live, I felt that the place has undergone a sea of change. We took a left turn from Pinjore, I guess, and finally reached our destination Hotel Windsmoor at Parwanoo around 8.15 pm. We had pre-booked accommodation there.
Also read: How to Handle Acute Mountain Sickness in Spiti Valley
Hotel Windsmoor
My sister, brother-in-law, and niece reached the hotel around 9.30 pm. They came from Ranchi to New Delhi by air and from New Delhi to Kalka by Shatabdi. We called up the driver of the hired Sumo to tell him to come to the hotel at 8.30 pm, had dinner and that was the end of the day.
Parents will arrive from Kolkata the next day morning via Kalka Mail and then the main journey will commence. Till now, it was just a build-up.
On the third day, we covered a distance of 410 km, slightly higher than the initial estimate of google Maps. The destination for the next day was Sarahan in Kinnaur Valley. Please click on the link above to continue reading the next part of the travelogue.
Mumbai to Spiti Valley Road Trip – Conclusion
I hope the travelogue, pictures, and information on Mumbai to Spiti Valley by road were of help. If you have any questions, please feel free to ask in the comments section below or at our Community Forum, and I will be happy to answer. You can also follow me on Instagram and chat with me live there or subscribe to my YouTube channel and ask a question there.