This post is in continuation with a previous one and a part of my Spiti Valley Travelogue. We traveled from Delhi to Kaza in 6 days, with stops at Narkanda, Sarahan, Chitkul, Kalpa, and Nako on the way. We stayed in Kaza on Day 7 and used the day to explore the town and the villages around it. First half of our day was spent in exploring the villages of Kibber, Chicham, Gette and Tashigang. We then rode down to the Manali Kaza Highway and paid a visit at the Key Monastery.  After that, we rode up to the villages of Langza to Hikkim and Komic and spent our rest of the day visiting all of them one by one.
Details of our second half of the 7th day are provided in this article. If you want to read the previous parts of the travelogue, please click on the link below.
Journey so Far: Kaza to Key Monastery to Kibber to Chicham to Tashigang
By the time we left Key Monastery, we were both a little tired and very hungry. The night before was a very restless one and neither of us could get proper sleep. We were both up since 5 AM and the only food we got was at the little restaurant in Kibber in the morning.
We looked for a place where we could get something to eat but there was none. The only option was to go back all the way to Kaza and then come back again to ride up to Langza which neither of us was in favor of. So we decided to continue toward Langza, Hikkim, and Komik and see if we could find a place to eat there.
Key Monastery to Langza
The three villages of Langza, Hikkim, and Komic are placed in a circuit like a manner. It means that you can either start from Langza and come back down after visiting Komic; or you can first go to Hikkim and Komic and come back down via Langza. Take a look at the map below to know what I mean.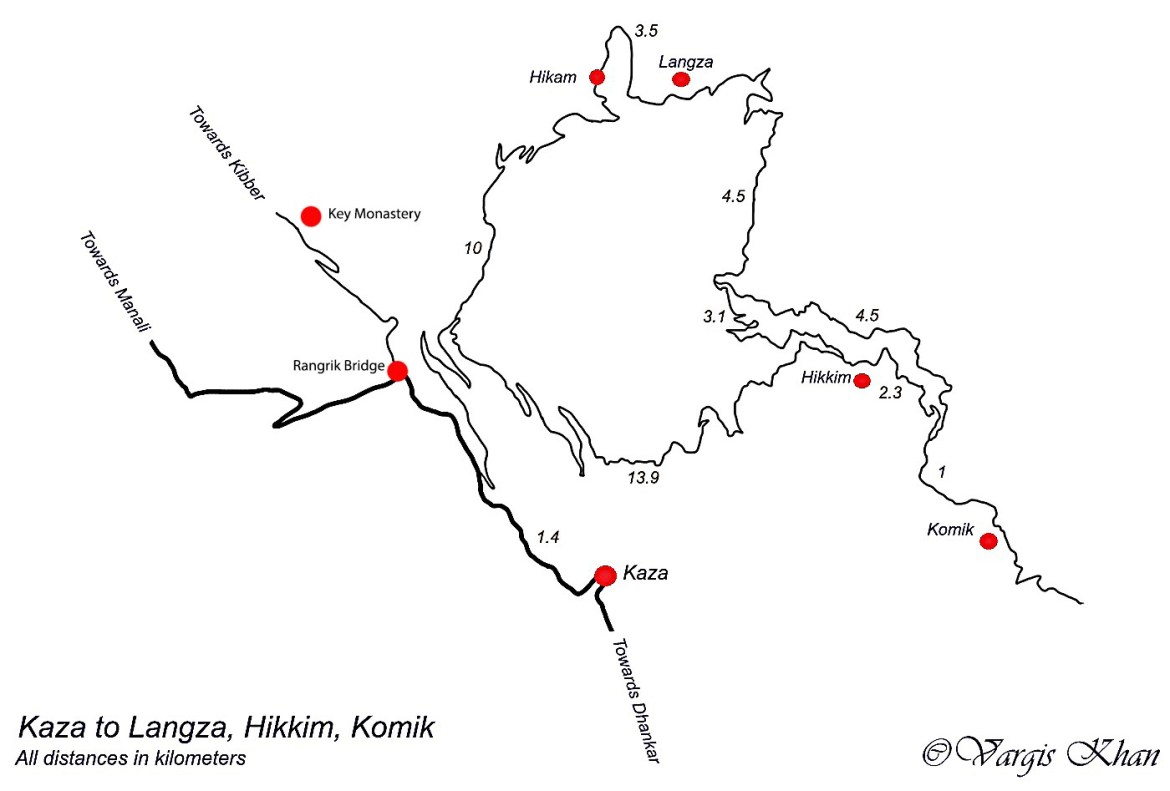 This is something that I learned only later on when I started to blog and created this map. At that time, I had no idea about this. Back then, we just went where the road took us.
From Key Monastery, we started to ride back towards Kaza, crossed the Rangrik Bridge and turned left on the road that goes up towards these villages.
The ride immediately turns steep and the vistas turn dramatically. The point where this road bifurcates is about 1.5 kilometers out of Kaza. It is a narrow road and easy to miss so you may want to ask some locals if you weren't sure.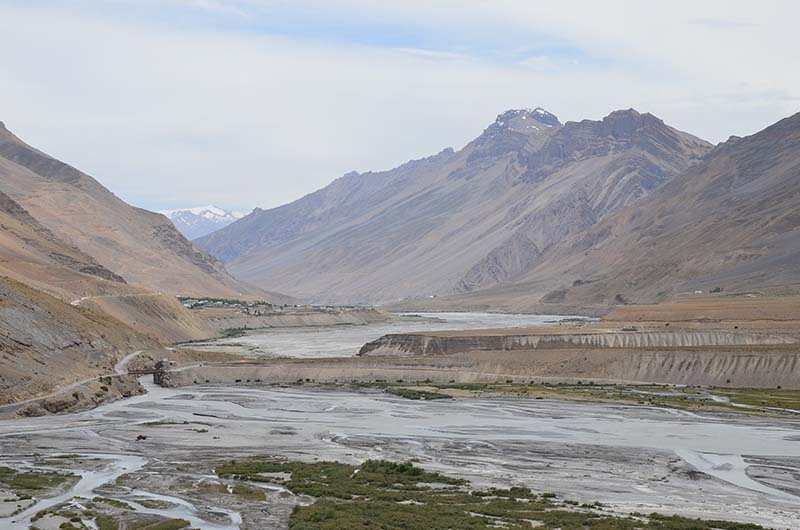 We rode for about 4 kilometers and reached a point where the road to our right was going towards Komic and the road straight was going to Langza. We had no idea about which way to go so we took the best possible guess, keep riding straight.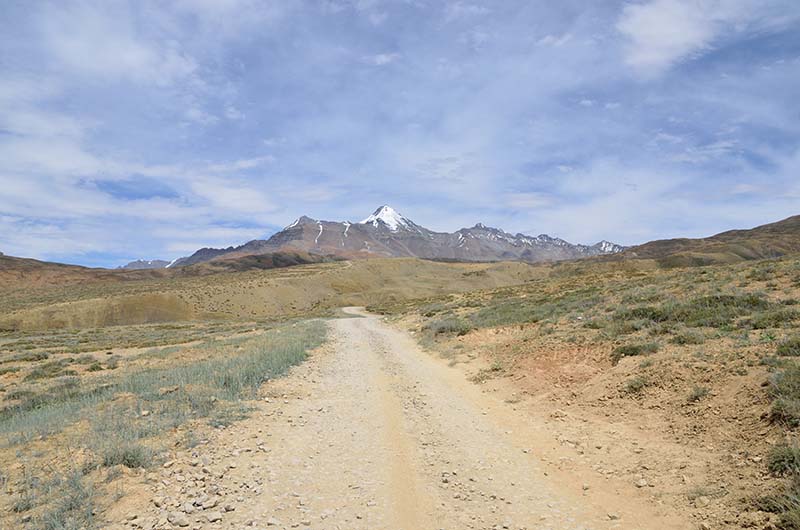 10 kilometers later, we had arrived at Langza Village.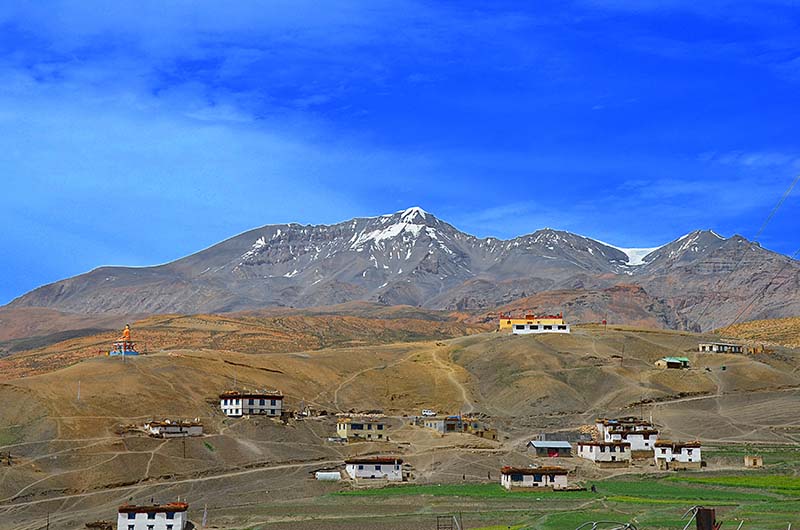 Langza
Langza is commonly referred to as the "Fossil Village" and sometimes also as the "highest village in the world". While the claim of the highest village is not correct, the term Fossil Village suits this tiny hamlet. Langza and its nearby areas are full of marine fossils; one of the many things that villagers proudly show off to the tourists and even sell.
The village is divided into two parts, Langza Yongma, the lower village, and Langza Gongma, the upper village. It is really a tiny village, a cluster of a few houses, home to about 150 people. Other than the marine fossils, another thing that the village is famous for a grand Golden colored Buddha statue that sits at the top of a small hill overlooking the entire village and the surrounding valley, known as Langza Buddha Statue. See the image above.
Behind the Buddha statue is the village monastery (the yellow building). It is believed to be over 500 years old and is definitely worth a visit. The village also offers a great view of Chau Chau Kang Nilda peak, also known as 'Guan Nelda peak'. At an elevation of 6,303 meters (20,679 ft), it is one of the highest mountains in the region.  The village predominantly follows Tibetan Buddhism. To know more, please read How to Plan a Trip to Langza Village.
Langza to Hikkim
We spent some time at the village, saw the statue, visited the monastery and then decided to move on. The problem was that we were unsure about where to go from here. I thought that maybe we will have to backtrack 10 kilometers and then take the road towards Komic. Fortunately, we struck up a conversation with a local before moving on and he pointed us to the second road that goes directly to Hikkim.
Thanking him, we started from Langza to Hikkim. The views just kept getting better at every turn. I was really amazed at the contrast and the amount of greenery we saw here. There were patches of green everywhere amidst the barren brown of the mountains of Spiti.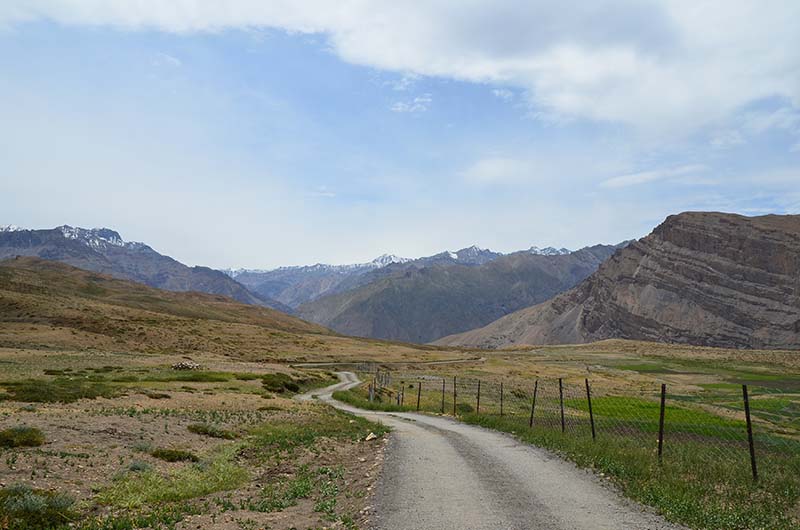 Our breaks were way too often and we were having a lot of fun. It was just the two of us as far as the eye went. We climbed up and down the mountains, ran on the green patches and really enjoyed our time in the lap of the Himalayas. For a little while, we even forgot that we were starving and had not eaten anything since morning.
The distance between Langza to Hikkim is only about 8 kilometers but it took us close to 45 minutes to complete. Finally, we arrived at Hikkim.
Hikkim
Like Langza, Hikkim too is just a tiny village, a group of a handful of houses. But what really makes this village famous is the local post office.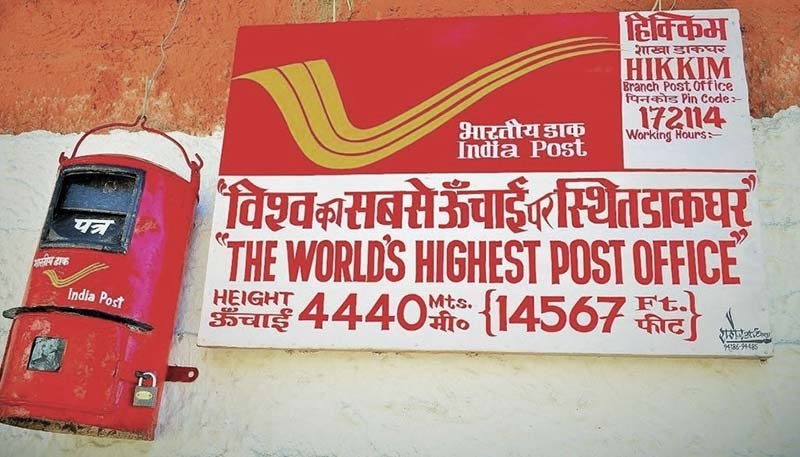 Claimed to be the 'World's highest post office' and Situated at an altitude of 14,400 ft, it was inaugurated on November 5, 1983. It covers a total of 7 nearby villages and only remains operational for about 6 months a year. During the winter season, the post office is forced to shut down due to heavy snowfall.
A lot of people come to Hikkim Village and send postcards back home from here, as a souvenir of their trip. There is also a small monastery in the village, located at the far end overlooking the entire village.
This entire belt is famous for marine fossils so you can find plenty of those in Hikkim village as well.
Another fun thing to know is that Hikkim was also once the world's highest polling station and was recorded in the Limca Book of Records as such. This is a record that Hikkim held for a long time and lost it recently to the village of Tashigang, located only a few kilometers away. For more details, please read How to Plan a Trip to Hikkim Village.
Hikkim to Komic
We spent some time at the post office and after that, it was time to move towards our next destination, Komic Village. It was slightly past 3 PM and we still haven't eaten anything.
By now, we were both regretting that we did not carry some snacks or food with us when we started from Kaza. We asked around in Hikkim but there was no place where we could get anything to eat. A villager offered us some water and with our throats soaked, we moved on to Komic Village
The distance between Hikkim and Komic is not that great, just about 3 kilometers. After a short ride of about 15 minutes, we were both standing in Komic Village.
Komic Village
Komic is also known as Kaumik, Comic or Komik Village. The name of the village literally means "Eye of the Snow Cock". It is famous as being the 'World's highest village connected with a motorable road' which is not really correct. It is located at a distance of 19 kilometers from Kaza and is probably best known for its monastery.
Komic Monastery is also known as Tangyud Monastery. It is built like a fortified castle and is one of the highest altitude gompas in the world. One of the attractions of the monastery is a stuffed Leopard that hangs from its roofs on one of the rooms. Please note that ladies are not allowed inside the main prayer sections of the monastery.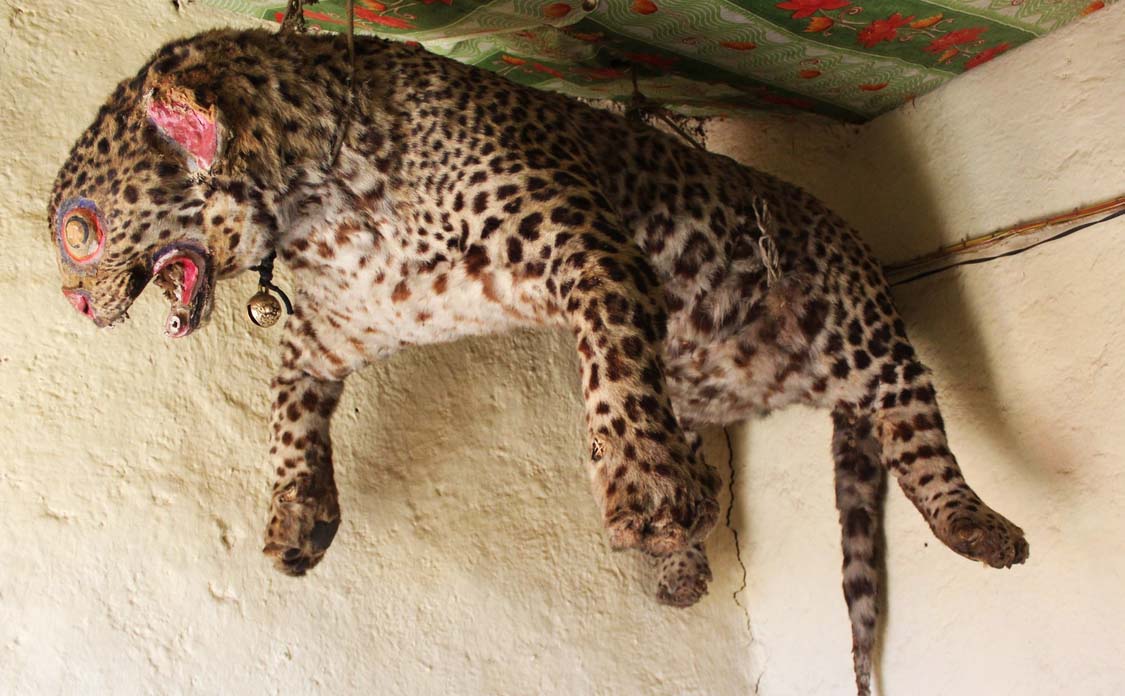 Komic, like the other villages nearby in this area, is rich in fossils. Langza is commonly known as the fossil village but you can very easily find those in Komic as well, provided that you know what you were looking for. To know more, please read How to Plan a visit to Komic Village.
Tangyud Monastery
It was around 4 pm when we were walking around in Komic and we were both terribly hungry. There is now a small restaurant in Komic but this travelogue is about a decade old and at that time, there was nothing over there. Tourism was still not a big thing in these villages at that time so there were no arrangements for accommodation or food anywhere.
We reached the monastery but found it to be closed as all the monks were gone to visit Kaza that day. Only one monk was there in the monastery and we asked him if we could get something to eat here.
To my surprise, he immediately acknowledged our request. He first served us tea totally free and then cooked Maggie for us. We only paid for 2 packets of Maggie, 20 bucks, which he went and bought from the village but did not charge us a penny more.
He told us that there wasn't any food available as the monastery was closed today or else he would have served us proper food.
Also Read: How to Plan a Trip to Kaza
Komic to Kaza
Now the big question was about what to do next. By the time we finished eating at the monastery, it was almost 5 PM. There were two more villages on our agenda, Demul, and Lhalung Village but I knew that a visit to both the places was not possible anymore. We were riding around for almost 11 hours now and other than being short on time, we were both also terribly tired.
So we decided to leave Demul and Lhalung for a visit another time and decided to head back to Kaza. Touched by the humanity of the monk and with our bellies full, we started on our way back to Kaza and reached there by 6 PM.
The homestay that we were staying in did not serve any food so we had to step out again a little later to have dinner in a nearby restaurant. By 8 in the evening, we were back in our hotel room and decided to go to sleep. The plan for the next day was to head to the beautiful Chandratal Lake.
Journey Ahead: A Bike trip to Chandratal from Kaza
Komic to Demul
I visited Demul during my Spiti Ride the next year which I will write about in another article. But let me post a little information about how you can go to Demul Village from Komic in case you want to travel on this route.
Demul is located at a distance of about 25 kilometers from Komic and both the villages are connected with a narrow dirt road. Take a look at the image below. See the road turning right in the image below, with a board next to it? That is the one connecting Komic to Demul. That board reads "Komic Demul Sampark Marg".
This entire stretch is a dirt road but is not too badly broken. It will take you anywhere between 60 to 75 minutes to cover the distance between the two villages.
There are two things that make Demul stand out and worthy of a visit. The first one is their unique homestay system and second is its highest vantage point.
Demul
Out here, you are not allowed to pick a place to stay on your own and even the villagers cannot make that decision. Let me explain.
For example, let us assume that you arrived in Demul and wanted to stay overnight. You will be brought to a village elder who is the coordinator of the homestay system in the village. He will look through his records and then will allocate you to a homestay. That is where you will have to stay and do not have the option of saying No or picking another one.
Why this system? It is actually good if you think about it. This way, everyone gets to play host to tourists. This kills any negative competition among the villagers and everyone gets an equal share of income from tourism. This way, everyone in the village prospers.
If you wanted to stay for more than one day, you will have to change your accommodation on Day 2 and will stay with a different person. No villager is allowed to have tourists for more than a day in a row. Interesting, isn't it?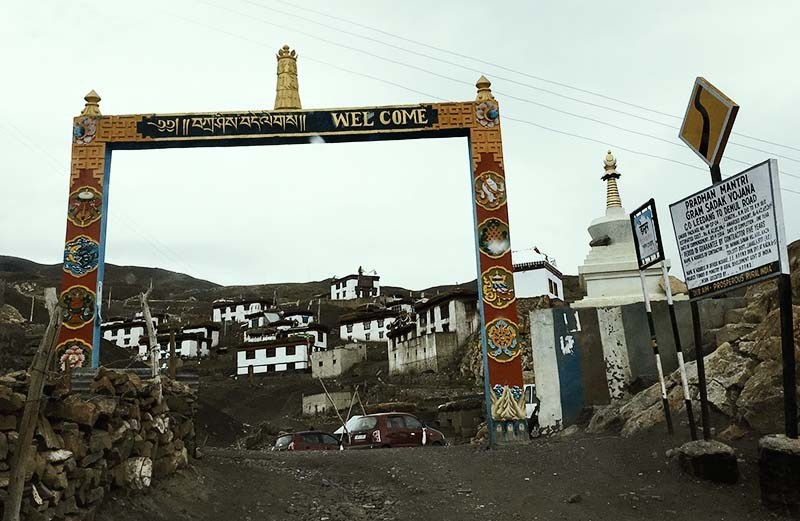 Another tourist attraction in Demul is the Balari Top, also known as Palari Top. It is a vantage point, from where you can get an incredible panoramic view of the entire Spiti Valley. To get there though, you will have to trek about 3 hours. The ascent is gradual but the long walk can be taxing if you are not into trekking. It is an entire day trip and you will have to stay in Demul for a day to visit Balari Top.
There is also a small but beautiful temple in the village that I will recommend visiting. For more information, please read How to Plan a Trip to Demul Village.
Demul to Lhalung
Another village that can be explored while you were on this route is Lhalung. It was on my plans for this day but since we ran out of time, we had to return to Kaza. I visited both Demul and Lhalung the next year but if you want to visit them along with Komic, then below is how you can do it.
I am assuming that from Komic, you arrived in Demul. Now from Demul, there is actually no direct road to Lhalung. There is a beautiful trek route that villagers use, walking across a small river and gorge. If you were up for walking, I will highly recommend taking this trek route. It will take you a couple of hours at most but do not attempt this on your own. Pay a local some amount and ask him to accompany you from Demul to Lhalung.
But if you were driving, then you will have to drive back 18 kilometers to the Shimla Kaza highway. From there, you will start driving about 5 kilometers towards Tabo. A little after Attargo Bridge, you will notice a road to your left going uphill. This is the one you will take to reach Lhalung Village.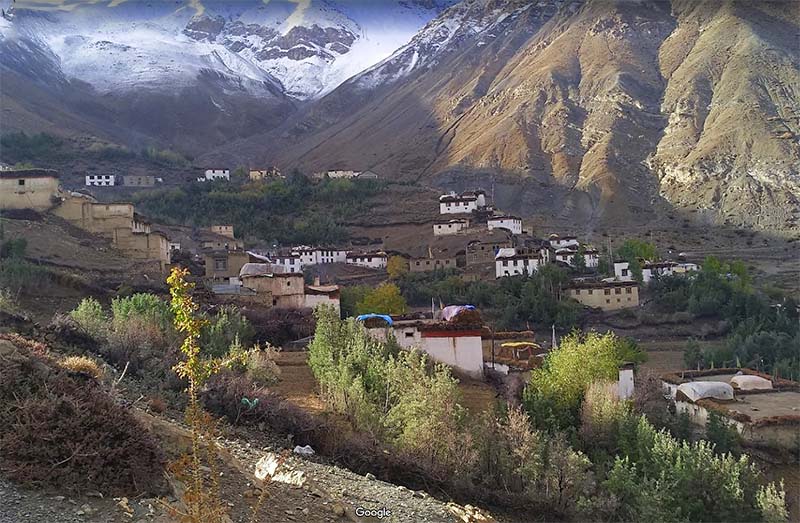 Lhalung
Lhalung is best known for two things; its stunning location and the monastery. Lhalung actually means the 'land of the Gods'. The village is surrounded by the Tangmar Mountain on one side and the river Lingti on the other. Tangmar is considered as The supreme God by the villagers. It is said that he turns red when angry, blue when hurt and yellow when pleased.
The monastery here is also known as the "Golden Temple". It is believed that a long time ago, in order to please God Tangmar, the villagers decided to build a temple, a gompa. Rinchen Zangpo was the village guru and was asked by the villagers to select a holy site for the temple. Rinchen gave the villagers a few twigs of Seabuckthorn tree and told them to plant those at different sites of the village.
The next day, one of the twigs bore a new green leaf. That place was considered as suitable and a sacred location for the monastery. The villagers decided to start the work of the temple as soon as possible but miraculously; a monastery appeared there on its own the next day and exists till date in the same spot, along with the tree.
People believe that the tree is blessed and it never dies. The Lhalung monastery is also known as the Golden Pagoda because the interiors are gilded with gold. For more information, please read How to Plan a Trip to Lhalung Village and Monastery.
Conclusion
And that is pretty much it for this day's journey. The next day, we moved on to Chandratal from Kaza and you can continue reading the travelogue at Kaza to Kunzum Pass to Chandratal – The Lake of the Moon. I hope the information above was of help. If you have any questions, or need any other details, please feel free to ask in the comments section below, or at our Community Forum, and I will be glad to answer.