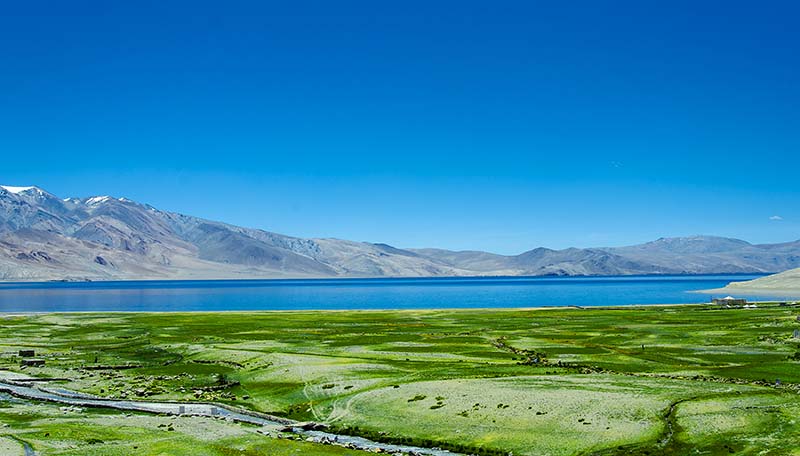 In this article, I will provide some information on choices of accommodation at Tso Moriri and at places along the route. The reason why I mentioned route as well is that there are different roads that you can take to get to Tso Moriri; details on which I will further explain in this article.
Tso Moriri is one of the two gems of a lake of Ladakh; the other being Pangong Tso. This lake is a remarkable beauty in itself. It's deep blue presenting a feast for the eyes; under the blue of a pollution-free sky. Surrounded by green fields and against the majestic grey of surrounding barren hills, it presents a feast for the eyes. It is one place which in my opinion must find a place in the itineraries of every person visiting Ladakh.
Leh to Tso Moriri Routes
There are three different routes that you can take to reach Tso Moriri. The first one is from Leh to Karzok via Chumathang. The second one is from Leh via Tso Kar and More Plains. The third route is via Pangong and Chushul.
Leh – Upshi – Chumathang – Mahe – Sumdo – Karzok (Tso Moriri). Shortest Route
Leh – Upshi – Rumtse – Tanglang La – Debring – Tso Kar – Polo Kongka La – Sumdo – Karzok
Leh – Pangong Tso – Chushul – Mahe – Sumdo – Karzok
Traveling by the first route, you can easily reach Karzok from Leh in 6-7 hours and can also make it a day trip; reaching Leh back by evening. By the second route, it will take you about 7-8 hours, and is best to stay at Karzok for the night; returning to Leh the next day.
The third route is the longest and it is best to do it in 3-4 days. You should reach Pangong from Leh on day 1, go to Hanle on Day 2, reach Karzok on the third and return to Leh on the fourth day.
Please note that Inner Line Permit is required in order to visit Tso Moriri. This permit can either be applied for online or you can get it in person from DM office Leh. Please take a look at How to Obtain Inner Line Permit for Ladakh for more details on how you can procure the permit and what the related charges are.
Acute Mountain Sickness
Tso Moriri and its nearby areas are at one of the highest altitudes in Ladakh. It is one of the places where you are most likely to suffer from high altitude sickness. It is best to include Tso Moriri in your itinerary after you have spent a few days in Ladakh; or have visited areas like Nubra valley first.
Some people try to cover Tso Moriri while going on their way to Leh from Manali. I would strongly advise against attempting so. The first reason is of Inner Line Permit for which you will anyways have to go to Leh first. If somehow you managed to get the permits beforehand, before you started for Leh, you will suffer AMS during your stay at Karzok.
For more details on what acute mountain sickness is, what its symptoms are, and how you can tackle it better, please read How to Handle Acute Mountain Sickness in Ladakh.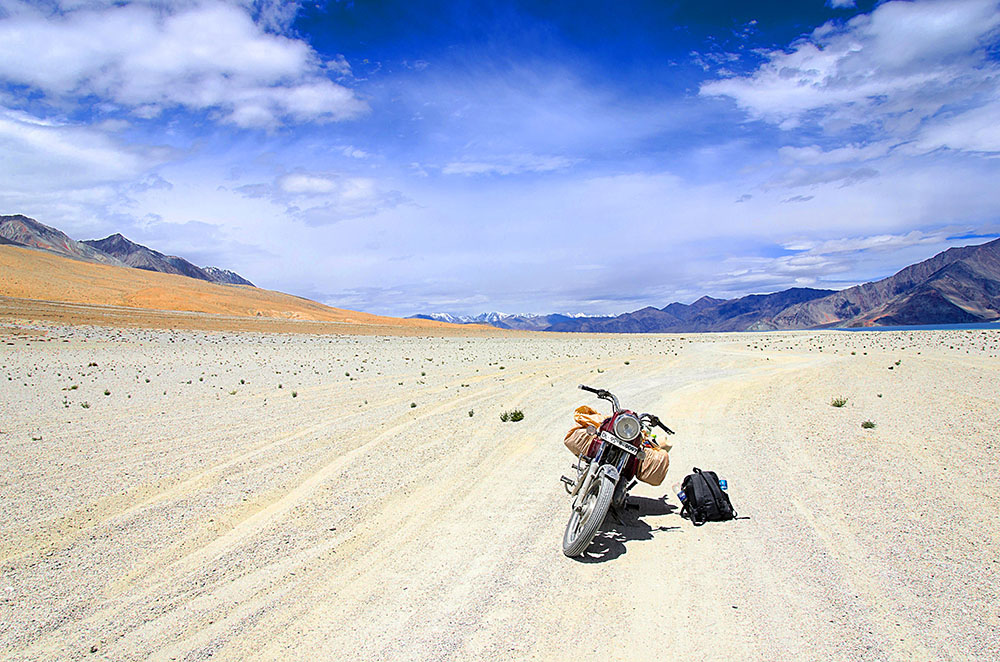 Accommodation at Tso Moriri Lake
Below are details on accommodation choices at Karzok, the village located right next to Tso Moriri Lake. I will further provide information on stay options en route in the article.
Hotels at Tso Moriri
Karzok is a very small village and there are no big luxurious hotels here. The choice of stay is pretty much limited to a handful of guest houses, campsites, and Homestays. Hotel Tso Moriri and Lake View Hotel are two good hotels in Karzok.
The hotels are pretty decent and comfortable and are good enough to stay at for a couple of days. As tourism in Ladakh increases, the quality of these hotels improves and the fares increase.
Guest House Near Tso Moriri
A guest house is your best choice of stay for accommodation. To be honest, it is hard to differentiate between a hotel and a guest house here. They are pretty much the same deal and can fall under the same umbrella.
Though not luxurious, they are all very comfortable, neat and spacious. Prices too will not be that steep and you can easily get a guest house between Rs. 1000 – Rs. 1500. During the peak tourist season, it can even get higher than this these days.
Lake views Guest Gouse, Mentok Guest House, and Crane Guest House are three that I have heard good feedback on.
Also read: How to Plan a Trip to Leh Ladakh
Tso Moriri Homestay
A homestay at Tso Moriri is the best choice for a homely and cost-effective stay. There are multiple options available and you can easily manage to stay for the night for between Rs. 500 to Rs. 1000 including meals. Goose Homestay is probably the one that I have received the most positive feedback on. Definitely, a great place to stay.
Camp Sites at Tso Moriri
There are several campsites at Karzok that you can choose from. It may not be a great if you are on a limited budget though as it is the costliest form of accommodation at Tso Moriri.
Tso Moriri Camp and Resort, Nomadic Life Camp, The Norling Camp, and Golden Mark camps are to name a few. Their charges however may be out of budget for a lot of people but bargain hard and these people tend to slash down marginally from what they originally quote.
Self Camping at Tso Moriri
If you are carrying your own gear then yes, you can definitely camp at Tso Moriri. However, do keep in mind that Tso Moriri falls under wetland reserve; which means that camping too close to the lake or at its banks is forbidden by the law.
You must camp at a distance. The better way around this would be to speak to a local villager or an existing campsite and pay them off to give you a good spot to camp.
In exchange for the money, they will also let you use their washrooms which is a great option. Take a look at Camping in Ladakh: Preparations and Precautions below for a few other tips on self camping in Ladakh.
The above was in terms of staying at the Karzok. Mentioned below is information on accommodation available on the three different routes leading to the lake.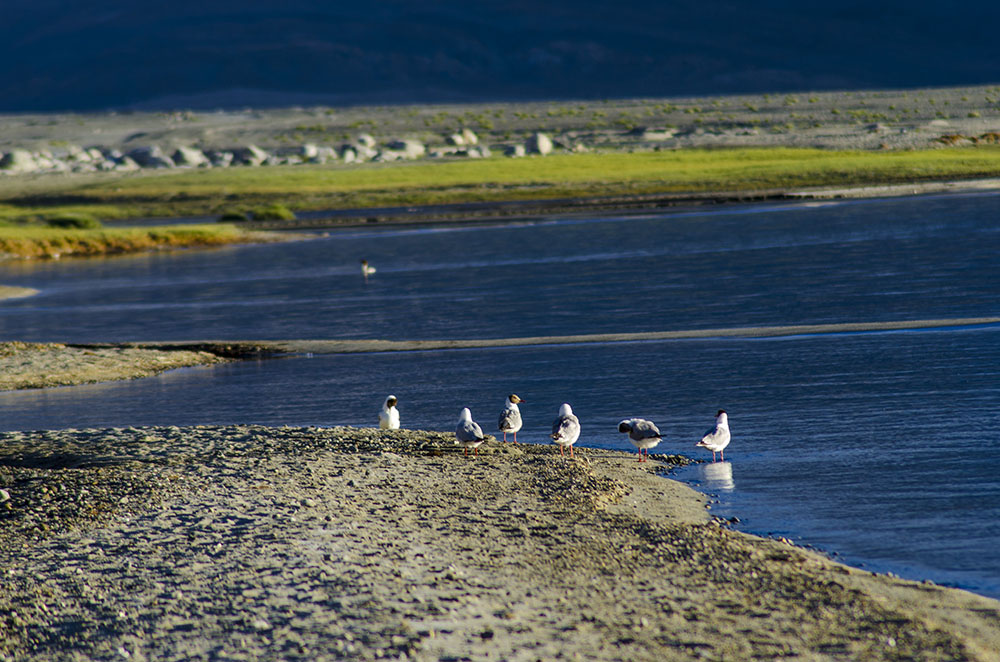 Leh to Karzok Direct Route via Chumathang
If you are taking the Karu, Upshi, Kumdok, Chumathang, Kere route to reach Karzok, then the last available hotel is at Upshi and then at Chumathang. There is just one very basic hotel at Chumathang.
However, reaching Karzok in a day from Leh is very easy. If you started early, you can easily be at Karzok way before sunset hence there is really no point in breaking the journey in between. If you however would like to stay on the way, then Chumathang is a great choice.
It also goes by the name of Hot Spring Resort. As the name suggests, there is a hot water spring near the hotel.
Tso Kar to Tso Moriri
If you are visiting Karzok while going to Leh or coming from Leh via Tanglang La and Moore plains; the last accommodation available would be at Tso Kar in form of a Chadar tent.
There is another Chadar tent at Debring (the bifurcation where you take the turn towards Tso Kar) but it's not permanent. Chances are that you may find it there and you may not. Once you have crossed Tso Kar, there are no more hotels, guest houses, or tents until Karzok.
Pangong Tso to Tso Moriri
If you are continuing to Tso Moriri from Pangong via Changthang valley, then you need at least 2 days to complete this journey. It can be done in 1 day as well but then you will just be rushing through the journey which is not recommended. You will be tired, exhausted, will have to ride continuously with very few breaks
There are also chances are that you will end up riding even after dark which can be very dangerous as there are no roads in this region, just unpaved dirt tracks. The entire route is of great scenic beauty and you should take the journey slow while taking plenty of sightseeing/photography breaks.
Accommodation is available only at Chushul and Hanle on the way; in the form of paying guests and one guest house in Hanle by the name of Sonam Guest House (also called Padma Homestay). In recent years, a couple of more guest houses have come up but Sonam Guest House remains to be the most famous one.
An ideal way to complete this journey would be to reach Hanle from Pangong on Day 1, spend the night there and continue to Tso Moriri on Day 2. There is no place to stay at any other village [Loma, Nyoma, Mahe, Sumdo] on the route.
There are government rest houses in these villages but it really depends on your luck. You may or may not find the caretaker at the guest house and he may or may not let you stay. Another option is to talk to the villagers and request to let you stay as a paying guest for the night.
Conclusion
I hope this information on accommodation at Tso Moriri was helpful. If you have any further questions, please feel free to ask in the comments section below or at our Community Forum and I would be glad to answer. If you know of any other hotel or guest house at any of the places mentioned below, please do share the information in order to help others.