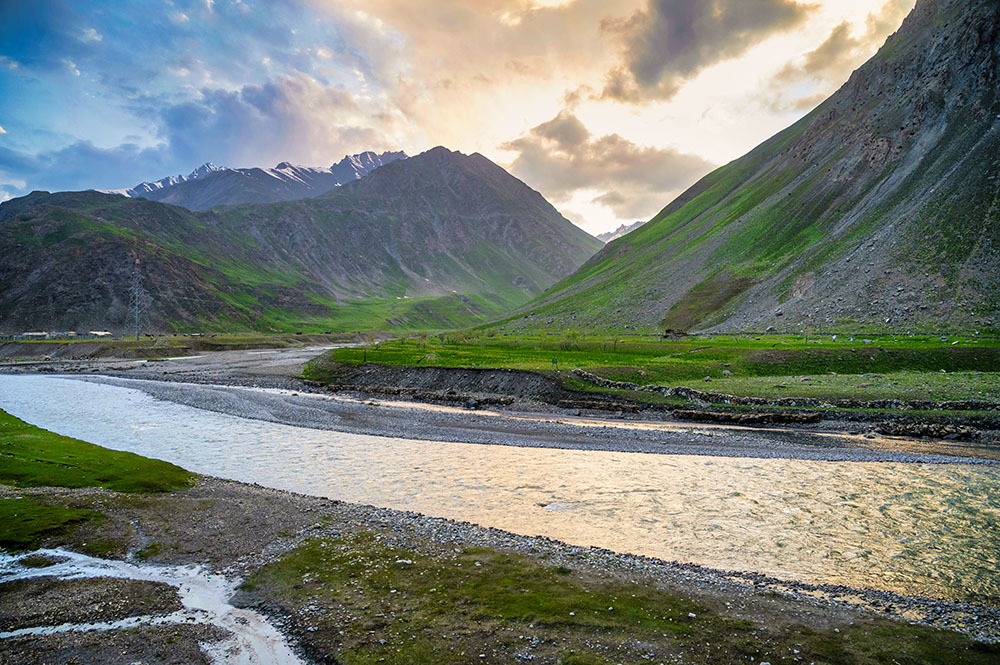 When traveling from Sonamarg to Zojila Pass, there are three things that you should keep in mind. The first is the timing of the pass, and the second is the condition of the road ahead. The most important of all however is the weather. I planned my journey for the day keeping all three in mind but still, things did not quite turn out as I wanted them to.
In all my years of traveling, this was the 9th time I was going to cross Zojila. I knew the route, the road, the traffic, and pretty much all that there is to know about it. So did it make me feel confident about the journey ahead? Quite the contrary. It was making me even more nervous.
Journey So Far:
This was the 8th day of our trip. We arrived in Sonamarg the day before and stayed for the night in Hotel Barzman.
The rain that drenched us on the Thajiwas Glacier trek on the evening of Day 7 continued throughout the night. I woke up a few times in the night to the sound of the rain banging on the roof and the windows of the hotel.
In those moments, all that I could think of was whether or not my car was Ok and will the road across Zojila Pass remain open the next day. Why? Read on to find out more.
Sonamarg to Zojila Pass
Before I move on with the travelogue, let me provide a few details on the route from Sonamarg to Zojila Pass and Kargil. The name Zoji La literally means the "mountain pass of blizzards" and quite rightly so.
It is the most difficult stretch on the entire Srinagar Leh highway and it is because of Zoji La that the Leh route remains closed during the winter season.
The pass sits at an altitude of 3,528 meters (11,575 ft) and is a popular tourist attraction. You can find snow at the top of the pass even during the months of summer due to which a lot of people visiting Sonamarg also take a trip to Zoji La Pass.
In all my years of traveling, I have been on numerous passes. But one pass that still makes me a little nervous while crossing is Zojila. I think it is because of the fact that other than being a high-altitude pass, it is also a very crowded road that sees heavy traffic.
During the time when the pass is open, the road remains busy with tourist vehicles, trucks, buses, and ongoing construction work. I think this also is the reason that among all the high passes that I know of, Zojila sees the highest number of accidents and fatalities.
You can see a video of our journey on this day at the link below.
Sonmarg to Zojila Pass Distance
The distance between Sonamarg and Zojila Pass is 24 kilometers. But because of the bad road conditions and the heavy traffic, this journey can easily take you up to 2 hours to complete or even more sometimes. In ideal conditions, the travel time is about 60 minutes.
Sonmarg to Zojila Pass Taxi Fare
If you were in Sonamarg and wanted to visit Zojila, you can rent a taxi from the town itself. The easier would be to just talk to your hotel owner and have him arrange a cab for you.
The standard rates are Rs. 5000 for a return journey to Zojila from Sonamarg. In the peak tourist season, however, these rates can go up to Rs. 10000.
For more details, please take a look at Taxi Rates in Sonamarg.
Sonamarg to Zojila Pass Bus
There is no bus service between Sonamarg and Zojila Pass. For public transport, your best bet would be to board the daily Srinagar Leh bus and get down at the top of the pass.
If that did not work, you will have to look for a shared cab going towards either Dras, Kargil, or Leh.
But in all of these options, you will get dropped at the top of the pass and will have to look for another mode of transport to come back to Sonamarg. This will again be a shared cab traveling to Sonamarg or you can also hitchhike.
Sonamarg to Zojila Pass Bus Ticket Price
The fare per person will be anywhere between Rs. 50 to Rs. 300 per person, depending on whether you boarded the bus, or a shared cab and also the time of your travel.
Sonamarg to Zojila Pass Booking Online
There is no online booking available for either a bus, a shared cab, or even a private cab. You will have to find a mode of transport on the spot and negotiate the price.
Also Read:  How to Plan a Trip to Leh Ladakh – A Complete Travel Guide
Sonamarg to Zojila Pass by Road
Now coming back to the travelogue, my alarm went off sharp at 5 am. I wanted to reach Kargil early today so that we would have enough time to get our car checked in the evening.
To do that, we will have to avoid the traffic at Zojila Pass so that we could keep our travel time as less as possible. Hence, an early start was necessary.
It wasn't a peaceful or relaxed morning, to be honest. There were a lot of things on my mind about our journey for the day and after that. But first things first. I needed to check the car to ensure that it didn't develop any further problems at night.
I stepped out of the room and walked over to where the car was parked. With a prayer in my heart and keeping my fingers crossed, I turned the ignition on.
The engine roared to life. I checked the lights, and indicators, and all the electricals seemed to be working fine, except for the music system.
The problem from yesterday persisted. Even with the ignition turned off and the keys out, the music system still remained on. It wasn't getting turned off unless I pressed the power button on the music system itself. So the plan to reach Kargil and get the car checked remained on.
All our luggage was already in the car as we did not take it out completely the night before. So all that was needed now was to freshen up, get some tea and be on your way. By 6.30 am, we were both driving out of the gates of Hotel Barzman.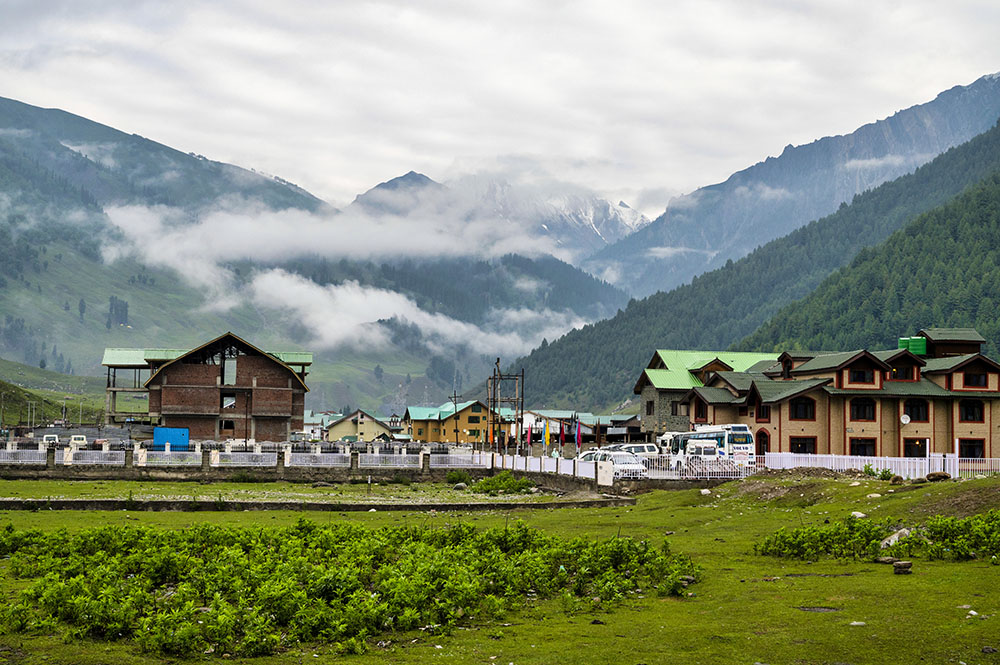 Zojila Check Post
We could not go far though. We drove for about 2 kilometers and arrived at the Zojila check post to find it closed. All the cars were being sent back to Sonamarg and there was no exact answer on when will the road open.
We asked the cops posted and they gave conflicting answers. Some said 8 am while a couple of others said 10 am. A few workers posted there said the road will not open at all today.
Not sure what to do, we decided to wait at the check post only. It was 7 am and I was hoping that the road will get open by 8. It did not happen though.
For the next 3 hours, we waited at the check post, watching the traffic get heavier by the minute. The line of cars and trucks waiting to cross over kept getting longer and longer.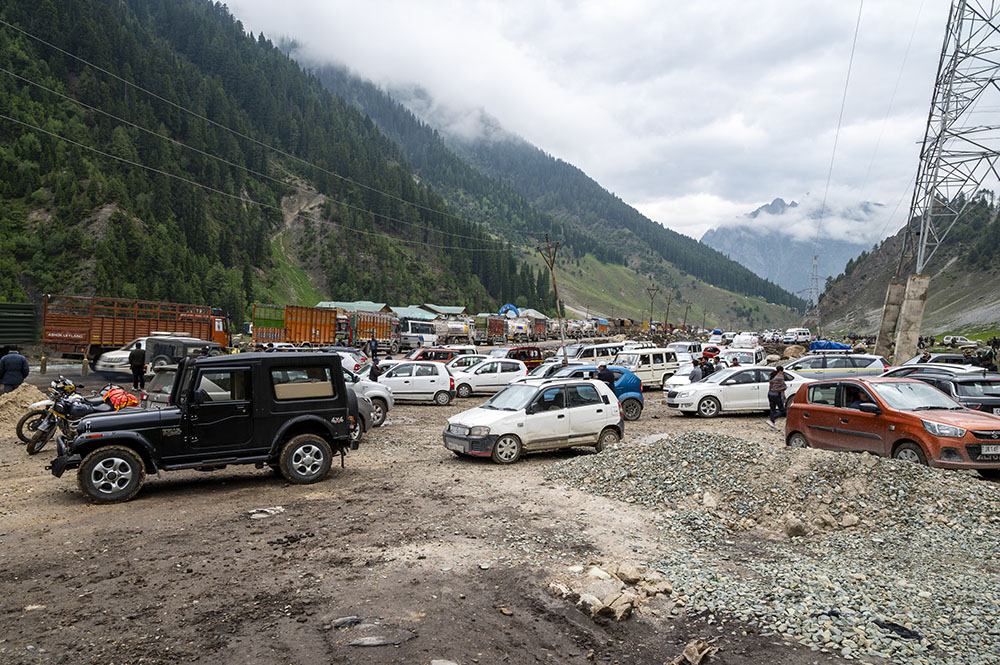 Everyone posted there was getting restless. People started arguing with cops and some even tried to sneak through when they weren't looking.
Finally, at 10.10 am, the barrier was lifted and we were allowed to move on.
Also Read: How to Plan a Trip to Kashmir – A Complete Travel Guide
Baltal
Once again, we could not drive for long. In the next 30 minutes, we covered around 8 kilometers and arrived at Baltal to find another closed check post.
None of the vehicles, including the bikes, were allowed to go any further. We parked our car and walked over to the cops to find out more.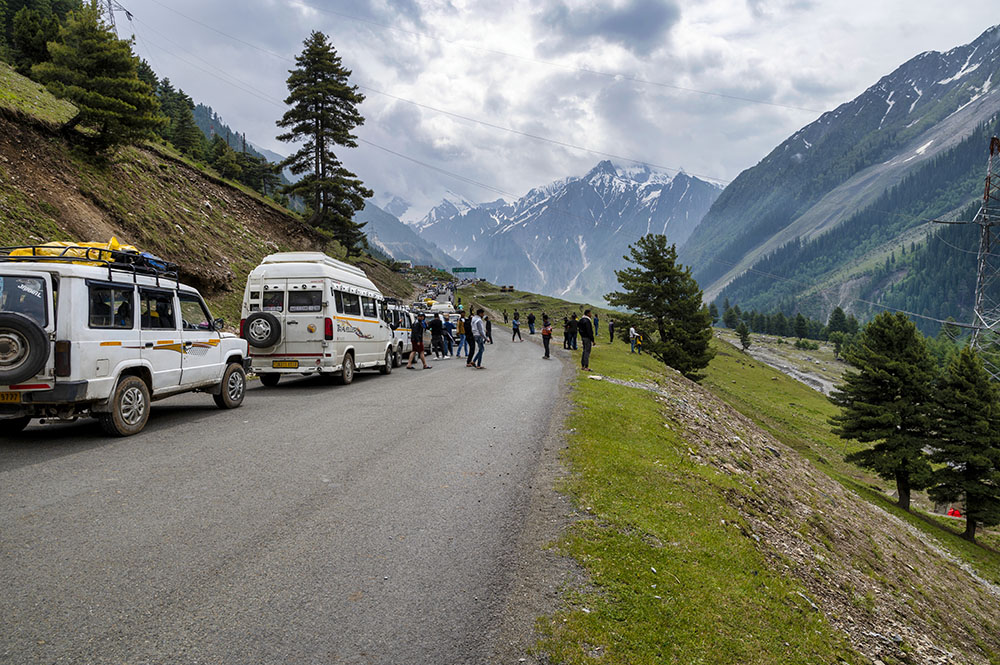 What happened was that the heavy rain the night before resulted in landslides at a couple of places near the top of the pass. Maintenance work to clear the road was underway but no one knew how long it will take to complete.
What followed was a long wait of 6 hours. Our car remained parked at the same spot and we did not even move an inch. It was 6 hours of standing at the same spot, feeling hungry, and sleepy with nothing else to do.
We just walked around, talked to other people waiting, played with a few kids, and had Maggie for lunch from a nearby Dhaba.
The only saving grace was that the views around us were good and the weather was pleasant. Other than that, it was really frustrating standing at the same spot waiting for the road to open.
Finally, at 4.30 pm, we were allowed to cross Baltal and allowed move on. We started from our hotel in Sonamarg at 6.30 am and had only moved 10 kilometers in 10 hours.
Also Read: How to Plan a Trip to Doodhpathri in Kashmir
The Problem & The Fix
Since morning, we kept the music system turned off as I did not want further electrical problems. While we were waiting, Lavish thought to check if the problem was still there. He turned the music system on and a miracle happened.
It somehow got fixed on its own. The stereo was now getting turned on and off with the movement of the ignition key, like the rest of the electricals in the car.
This confirmed my suspicion and also left us confused. Now I knew for sure that the problem was related to the rainwater.
All the water from the rain yesterday was somehow causing a short circuit inside. Because of this, the music system remained on even after the ignition was turned off. Now since it was all dry, the problem got fixed on its own.
The confusion was about what to do next. Should we take the risk and move on to Zanskar tomorrow or should we get the car checked first?
After a lot of thinking and discussion, we decided to go with the first option. We had no idea how long it was going to take us to reach Kargil today but I guessed that we weren't going to get there before dark.
So there was absolutely no time to get the car checked today. If we wanted to go to a mechanic, we will have to do it tomorrow and delay the trip by a day.
So we decided to take the risk and move on to Padum the next day. We were anyway going to circle back to Kargil from Padum via Lingshed and the Batalik road.
If the car showed any signs of stress while we were in Zanskar, we can always get it checked after we return to Kargil.
Zojila Pass to Kargil Distance
The distance between Zojila Pass and Kargil is about 100 kilometers. From the top, you drive down to Zero Point and first reach Dras, covering 40 kilometers.
Dras to Kargil then is another 60 kilometers. The condition of the road however on this entire stretch is very good, except for a few kilometers near Zojila Top.
Our initial plan was to skip Kargil entirely and head straight to Suru Valley. From Dras, I intended to turn towards Umba La Pass and then drive down to Suru Valley to stay in Panikhar for the night.
But that plan was trashed and we changed our destination to Kargil because of the problem with the car which by now had magically disappeared.
This in a way worked in our favor. Because of the traffic jam, there was no way that we could have gone to Panikhar, and anyway would have had to reach Kargil.
But now, at least we had this peace of mind that our stay there was confirmed. I had already booked a room in Hotel Rangyul while we were in Sonamarg yesterday and the plan was being changed.
If we had not booked the hotel because of the car problem, finding accommodation there would have become another and bigger problem.
There were already a lot of tourists in Kargil and Ladakh at that time and everyone that was stuck in the Baltal traffic jam was heading toward Kargil now.
With so many tourists approaching, all the hotels in Kargil were bound to get full by evening. But at least our stay was confirmed and I knew I did not need to worry about that.
Crossing Over into Ladakh
We moved on from Baltal, crossed Zojila Pass, and reached Zero Point by 6.30 pm. We took a short break there and started driving down.
Shortly after, we crossed the check post where Kashmir ends and the territory of Ladakh begins. We made our entries at the post, drove for another couple of hours, crossed Dras, and reached Kargil War Memorial.
Surprisingly, it was already 9 pm but the war memorial was still open for tourists for another 15 minutes. At first, we thought to go in but then decided to skip as it was getting late and we still had to travel another 50 kilometers.
The long day and all the waiting hours were starting to take their toll. All that we wanted to do at that time was to reach Kargil and find a bed to crash on.
We clicked a few pictures of the war memorial from the gate, paid respect, and moved on toward our final destination for the day.
Kargil was fast asleep and in the dark when we got there after a drive of another 90 minutes. We drove through the market and reached Hotel Rangyul at 10.30 pm.
We had a quick dinner and retired to our room by 11 pm. The plan for tomorrow was to continue our journey to Zanskar Valley. Please click on the link above to continue reading the next part of the travelogue.
Sonamarg to Zojila Pass to Kargil – Conclusion
I hope the travelogue, pictures, and details on traveling from Sonamarg to Zojila Pass and Kargil were of help. If you have any questions, you can contact me on Instagram and I will be happy to answer. You can also consider subscribing to my YouTube channel and asking a question there.