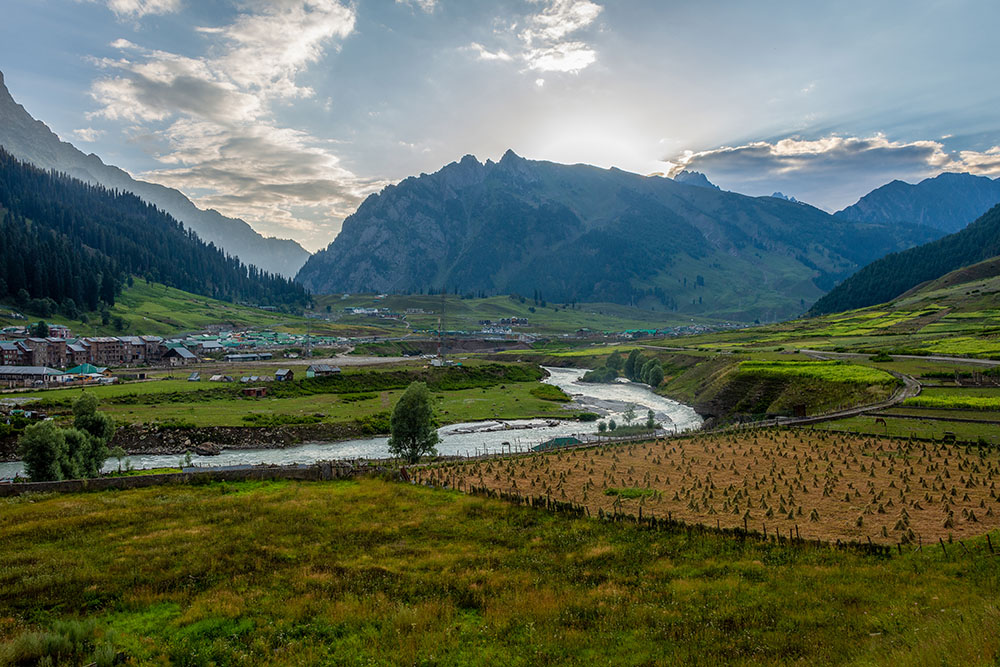 Sonamarg is one of the four most visited destinations of Kashmir, the other three being Srinagar, Gulmarg, and Pahalgam. The place is easily accessible, remains open for most of the year, has plenty of hotels, offers amazing views, and is perfect for all kinds of trips. How can you plan your trip to Sonamarg is what I will be providing details on in this article.
Sonamarg is located on the Srinagar Leh highway at a distance of about 75 kilometers from Srinagar. The road remains open between April to November and gets closed in the winter season. 2 Days is an ideal time for visiting Sonamarg but if you were short on time, you can easily make it a day trip as well.
Public transport is also easily available. There is a daily bus between Srinagar and Sonamarg and other than that, shared cabs also travel on the route regularly.
For accommodation, there is a wide range of hotels to choose from, both for budget travelers as well as someone looking for a luxury stay. Read on to find out more.
For all other details on Kashmir like mobile connectivity, public transport, taxi services, and several other tips, please take a look at How to Plan a Trip to Kashmir – A Complete Travel Guide.
For getting the best hotel rates, and taxi charges, and to organize your trip to Kashmir, you can speak with Kunal @ 9910 402 252. Give him my reference and you will surely get a discounted rate.
Below is a video that I shot in Sonamarg during my recent winter trip. You can also consider checking out this video for more details.
About Sonamarg
The word Sonamarg (also spelled as Sonmarg) literally means a meadow of gold. It is named such because the peaks surrounding the town start to appear golden, due to the light of the setting sun, as in the picture below.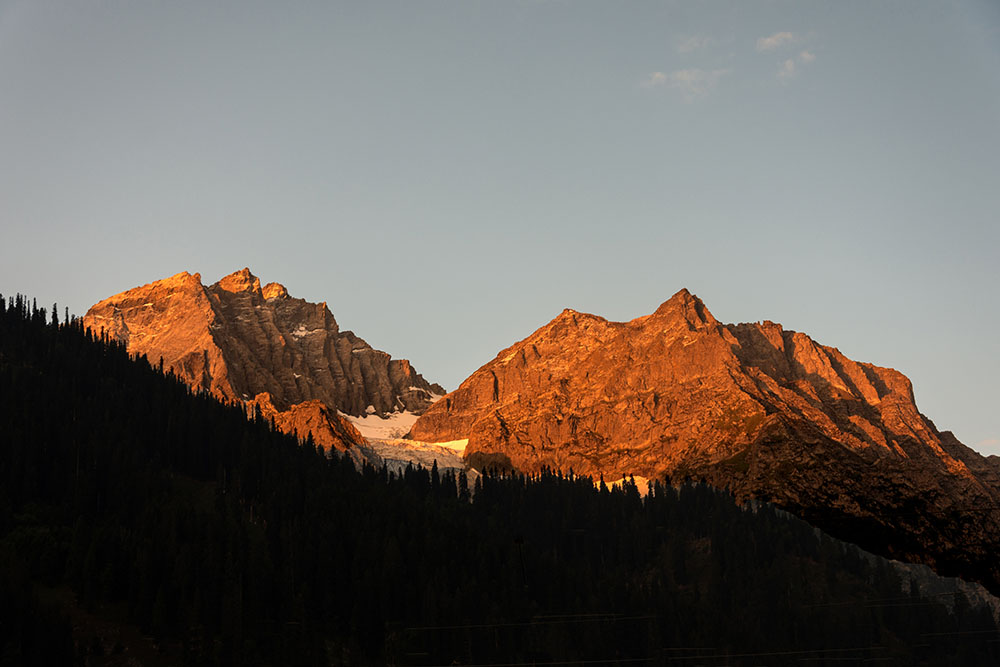 Sonamarg is not really a large place. You hardly need to drive about 2 kilometers to get from one end of the village to another. It is located at an altitude of 2,730 meters (8,960 ft) and gives rise to the 'Three Sisters'— a group of rivers (the Lidder, Sind, and Neelum) that run parallel to each other and serve as tributaries for the Jhelum River.
Sonamarg has no permanent settlement because it remains inaccessible during the winter season. All the hotels shut down sometime in November and do not reopen until March.
Some locals however do stay back and remain in Sonamarg for all 12 months. There are talks about keeping it open for the entire year and the work to maintain the road connectivity even in the winter season is underway.
How to Reach Sonamarg
In order to get to Sonamarg, you will first have to reach Srinagar. You can also approach from Leh and Kargil's side but that is of course a much longer route.
Srinagar is one of the major cities of India and a well-known tourist destination. So getting there should not be a problem. You can either reach by road or catch a flight. For more details on Srinagar, take a look at How to Plan a trip to Srinagar.
How to reach Sonamarg from Srinagar
Once you have arrived in Srinagar, you can reach Sonamarg either by your own vehicle, rent a private taxi, or use public transport. Sonamarg is connected with Srinagar by a tarred road that remains in good condition for the most part of it.
By Car / Bike
If you are traveling in your car or by your motorcycle (or you could also rent a bike in Srinagar) the journey from Srinagar to Sonamarg will take about 3 hours at most. The route will be as mentioned below.
Srinagar – Nagbal – Ganderbal – Wayul – Wayul Bridge – Hari Pora – Kangan – Gund – Sonamarg
This entire stretch is basically divided into two parts – the stretch between Srinagar and Wayul Bridge and then the rest of the route to Sonamarg.
Until Wayul Bridge (which is really a very narrow but short bridge), the road is single-lane, narrow, and heavily crowded. You will come across a lot of two-way traffic on it which will really limit your speed. It is just about 25 kilometers in distance but can easily take well over an hour.
Once you cross Wayul Bridge, the road turns into a broad highway, and the rest of the 50 kilometers until Sonamarg is a smooth drive. The scenery will also change drastically after you cross Kangan and you will really enjoy the drive.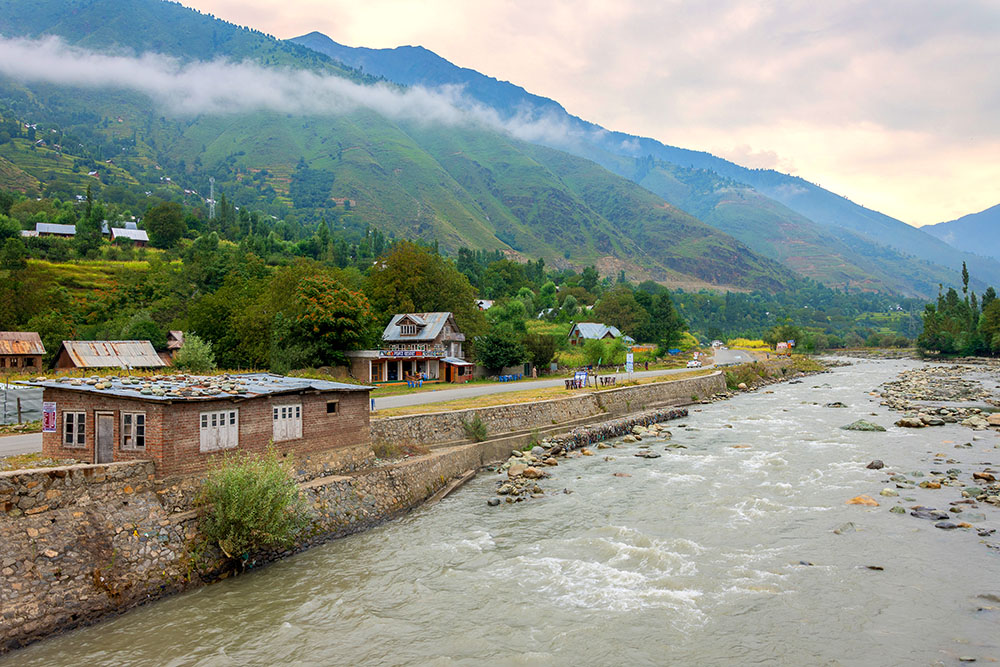 I will recommend starting a little early from Srinagar so that you can cross the Ganderbal stretch before the traffic built up. But even if you started a little late, the entire journey to Sonamarg will not take more than 3 hours.
Alternate Route
There is another route that passes through Sumbal and joins this same road after Wayul Bridge. But that route is almost 95 kilometers in distance and does very little in terms of avoiding traffic. You will still have to make your way through heavy traffic until Sumbal and the travel time also increases to over 4 hours.
My recommendation will be that you stick to the Ganderbal route. Wherever you were staying in Srinagar, make your way to Dal Lake, Shalimar Bagh, and follow the road from there. If you weren't sure of the way, turn on Google Maps and it will guide you properly.
Srinagar to Sonamarg Bus
There is a daily bus available between Srinagar and Sonamarg. This service remains available from May to September (or October, depending on the weather). The bus starts from either Batmaloo or Parimpora in Srinagar.
Also Read: Places to Visit in Gulmarg & Things to Do
Srinagar to Sonamarg Bus Timings
This bus starts from Srinagar (Batlamaloo or Parimpora) at around 8 in the morning and reaches Sonamarg about 5-6 hours later. It takes a lot of breaks in between, stops at almost every village and that is why the travel time is higher.
Srinagar to Sonamarg Bus Fare
The fare of this bus is Rs. 150 per person.
Srinagar to Sonmarg Shared Taxi
The frequency of the bus between the two places is not that great. There is mostly one bus in the day or at most two. Hence, a better way to travel will be by shared cabs. But for this, you will have to break the journey into two parts.
You will first board a shared cab for Kangan from Srinagar. The cabs are available from either Hazratbal or Jahangir Chowk in Srinagar.
Once you get to Kangan, you will then have to find another cab for Sonamarg. These cabs are easily available in both Srinagar and Kangan and travel throughout the day.
Srinagar to Sonamarg Taxi
The best way to travel, if you weren't traveling by your own vehicle, is definitely to hire a private cab. This makes the journey more comfortable and you can also take plenty of breaks in between for sightseeing.
Finding a private taxi will be very easy in Srinagar. You can just talk to your hotel owner and they will arrange one for you. Or you can call any of the contacts I have provided on the Contact Me Page and see if they can offer you a good deal.
Srinagar to Sonamarg Taxi Fare
For shared cabs, your total fare for Soanamrg will be around Rs. 190. If you rented a private cab, you will pay between Rs. 2000 to Rs. 3000 for a day, depending on your negotiation skills, the tourist season, and the type of cab you rent.
For more details, please take a look at Taxi Rates in Kashmir.
How to reach Srinagar from Sonamarg
For your return journey, the same options that I mentioned above remain open. There is a daily bus available from Sonamarg to Batlamaloo or Parimpora from Srinagar that you can board.
If not the bus, you can look for a shared cab from Sonamarg to Kangan and then Kangan to Hazratbal or Jahangir Chowk in Srinagar. If you were driving on your own, the return route will also remain the same.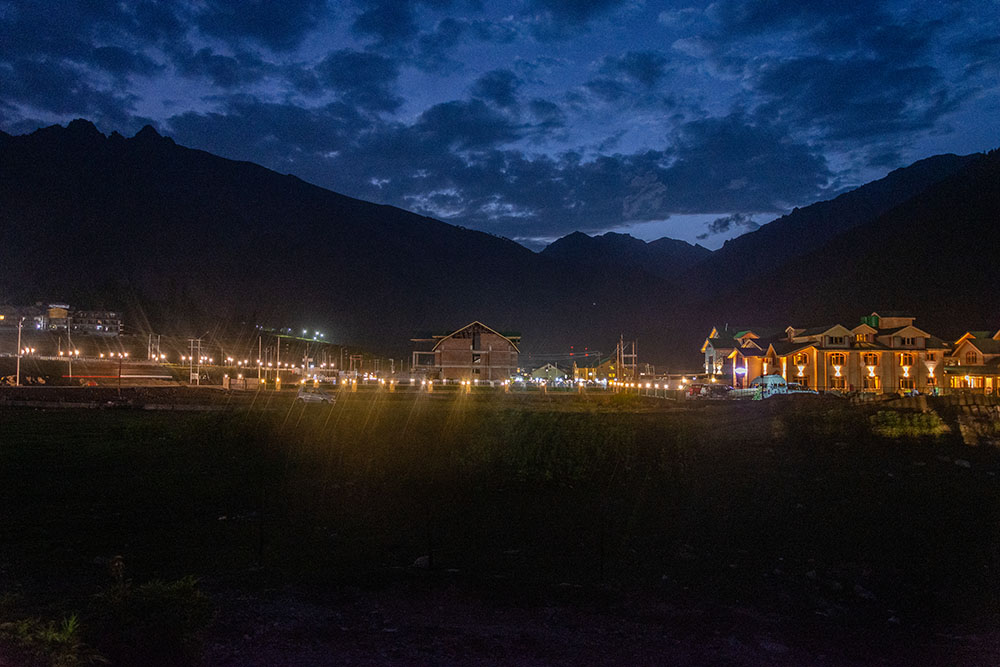 Where to Stay in Sonamarg
Now that you have reached Sonamarg, let us talk about your options for accommodation. Sonamarg has a wide range of hotels, both for people looking for budget accommodation or for someone with no budget constraints.
Best Place to Stay in Sonamarg
Sonamarg actually starts with hotel buildings on both sides of the road. As you enter the town, you will notice hotels spread over the entire valley and can pick the one that suits you the best.
The hotels at the start of the town are a bit on the deluxe and luxury side. In these hotels, you can expect the fare to be anywhere between Rs. 2000 to Rs. 5000 or even higher. If budget was not a problem, look for a hotel at the beginning of the town as the views from here are the best.
Best Hotel in Sonamarg
If I am to suggest a name, I will recommend Hotel Barzman. It is my preferred place to stay whenever I am in Sonamarg. The hotel is spread over a large area, offers great views, rooms are large and spacious and the service is good.
You can read a detailed review of the hotel at Hotel Barzman – A Great place to stay in Sonamarg or can also watch the video below on my YouTube Channel.
It is run by a gentleman called Mohsin and his number is 7889837274. Give him my reference and you will definitely get a discounted price.
Budget Hotels in Sonmarg
If you were looking for budgeted accommodation, go all the way to Sonamarg market. Do not look for a hotel at the beginning of the town. In the market area, you will notice several restaurants with boards reading 'Rooms Available.
Out there, you can get a room for as low as Rs. 600-800 per night, or even lower, depending on your negotiation skills.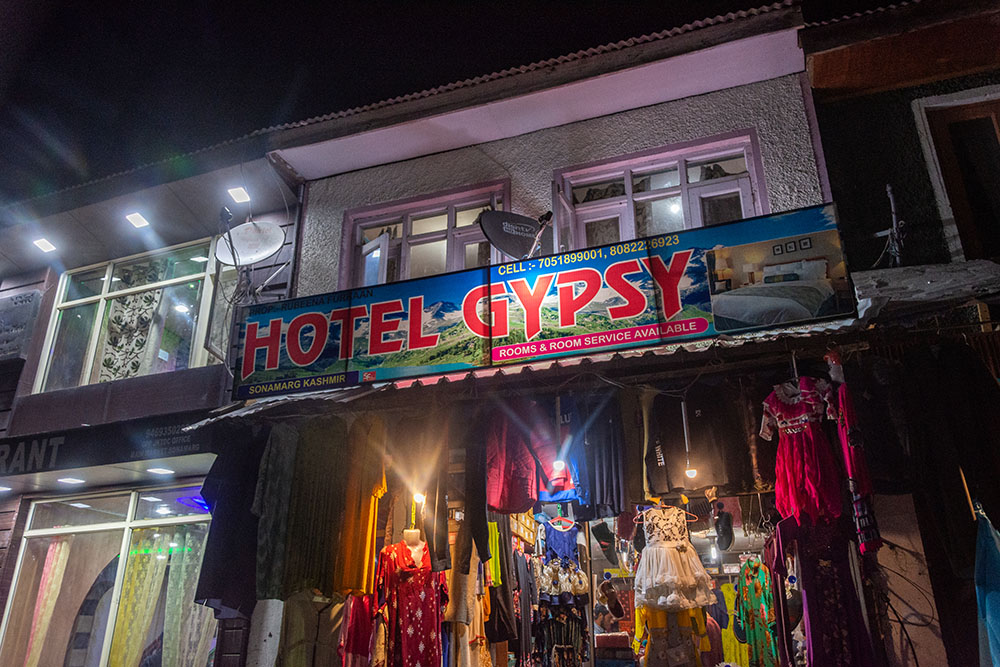 What to see in Sonamarg
What is there to see in Sonamarg? Well, the first answer to that question will definitely be the natural beauty of the place. The location of the entire town is impeccable and you are sure to fall in love with the views it offers.
I actually wrote an entire article detailing all the tourist places you can see here. You can read it at Places to Visit in Sonamarg & Things to Do. But for a brief overview, mentioned below is a list of tourist attractions in Sonamarg and its nearby areas.
Thajiwas Glacier
Thajiwas Glacier is by far the biggest tourist attraction of Sonamarg. Contrary to common belief, you do not go all the way to the glacier. Rather, you actually trek about 3 kilometers from Sonamarg to a place called snow point. From there, you get a clear view of the glacier and can also indulge in activities like sledding.
The trek is not difficult at all and is a walk of about 90 minutes to 2 hours from Sonamarg to snow point. You can either walk on your own or can even rent a pony for the same.
The standard rate of pony is between Rs. 700 to Rs. 1500 in the tourist season and between Rs. 500 to Rs. 800 in the off-season. How much you will pay will entirely depend on how well you were able to negotiate.
To read about this trek in detail, please read How to Plan your Trek from Sonamarg to Thajiwas Glacier or watch the video of the trek below.
Zojila Pass
Next in line would be the well-known Zoji La Pass. It is at an altitude of 11,575 ft and located at a distance of 25 kilometers from Sonamarg.
Why would you want to go to the pass? There are two reasons for it. One is that the views from the top are simply amazing. The second reason is that the drive itself is quite adventurous and will have your heart jumping to your throat at several places.
Cabs can also be rented in Sonamarg to visit Zojila. To read more, please take a look at How to Plan your Trip from Sonamarg to Zoji La Pass.
Also Read: Zojila Pass – Status, Timings & Road Conditions
Zero Point
Zero-point is actually a spot about 2 kilometers from Zoji la Top. From Sonamarg, you drive to the top of the pass and then drive another 2 kilometers towards Dras to reach a spot where there are a lot of Dhabas.
I am not sure why they named it Zero Point but you can get something to eat and drink there, click some photos, and get a view of the other side of the pass before starting to drive back to Sonamarg.
How to reach Zero Point Sonmarg?
Taxis are available in Sonamarg itself for a day trip to Zojila Pass and Zero Point. These taxis usually charge about 4-5k for a day trip. Speak to your hotel owner and they may be able to arrange a cab for you at a lower price. You can also take a look at the video below for the Zojila Pass drive and snow point.
Sarbal
Sarbal is a small village about 2 kilometers from Sonamarg market. It is a small charming village located in the forest and you should visit here just for the views and experience the local life in the villages of Kashmir.
Table Top
This place is about 2-3 hours of a trek away from Sonamarg. The trek is actually a little difficult and steep because you literally climb up the face of a mountain.
It is called Table Top because it is a flat piece of land on the slope of the hill. From there, you get an amazing view of Sonamarg, Thajiwas Glacier, Sind River, and the entire valley, especially at Sunset.
That pretty much is it. Sonamarg is really a small town and there are not many other places to visit here. You can also drive to the other side of the river and get a superb view, like in the first picture of this article.
There are several other lakes around Sonamrg like Tarsar Marsar, Vishansar, and Kishansar but they are all located deep inside the forests and will require you to trek for a few days.
To know more in detail, please take a look at Places to Visit in Sonamarg & Things to Do or you can also take a look at the video below.
Things to Do in Sonamarg
You can follow the link above to read about this as well in detail but for a brief overview, mentioned below are the tourist activities you can enjoy in Sonamarg.
Trekking
This one goes without saying. Sonamarg is really a haven for people interested in trekking. There are short treks like Thajiwas and Table Top as well as several others that will need you to walk in the forests for several days.
Pony Ride
Hire a pony and ride it to the Thajiwas Glacier. It is definitely a lot of fun.
Sledding
What is sledding? The activity is basically you sitting on a wooden sled and riding it down on the snow. It remains available for all 12 months, even in summer. There are several places near Thajiwas Glacier where snow remains for all 12 months in small patches and serves as sledding spots.
Skiing
This of course happens only in the winter season for a few weeks as soon as Sonamarg opens. There is plenty of snow left by the end of March and early April and you can enjoy skiing in the valley near Thajiwas Glacier trek.
When is the Best Time to Visit Sonamarg
The best time to visit Sonamarg is the months of April, May, and September. But it will also depend on a few other factors. For a more detailed version of this information, please take a look at When is the Best Time to Visit Sonamarg or you can see the video I provided a link to above.
Sonamarg remains open from late March to November and closed in the winter season. There is work ongoing to keep it open for all 12 months but that will still be a couple of years before it happens. For now, you can only visit Sonamarg from late March to late October or early November.
When should you go will entirely depend on what kind of trip you were looking forward to. If you want to see snow, then you should go as soon as it opens, in March or early April.
For visiting with family, I will recommend going in May, June, and September. If you wanted a budget trip, try visiting in October. For photography, August and September will be the best time to go.
For a honeymoon, April will be best. If you want to go trekking, May and June is the greatest time.
Weather in Sonamarg
Sonamarg has a sub-tropical climate which means that winters here are very cold but summers are pleasantly warm. It snows here heavily from December to March and that is why the roads get blocked.
The temperature at this time drops several degrees below zero and the entire town gets deserted after even the locals move out.
Sonamarg continues to receive snow until early April. In the months of May to June, it mostly remains pleasant and dry during the day. I witnessed snowfall in Sonamarg in late April as well. So yes, the weather here can change suddenly at any time.
Monsoon arrives by late June and it rains heavily in this region throughout July and August, until early September. It starts to get cold again in late September and by mid-October, it can snow anytime in Sonamarg. The weather remains to be very cold until March next year.
Also Read: Clothes to Pack for Kashmir Trip
Clothes to Pack
This will majorly depend on which month you are traveling in but a windproof jacket is a must at all times. If you were traveling early in the season, then you must bring heavy woolen clothes to protect you from the cold.
The same rule applies to visiting in October or early November. Temperatures at this time can dip to zero and it can get extremely cold at night.
You should pack some thermals, woolens, gloves, caps, warm socks and a good jacket for this time. Your jacket should also include a hoodie that can protect your neck, head, ears, and face. A muffler too can come in very handy.
For the summer season, your regular cotton clothes and a jacket will do the job. Days remain pleasantly warm in Sonamarg during summer and you will actually be walking around just wearing a T-Shirt. Evenings and nights will still be very cold though so a jacket is a must in all months.
If you were traveling during monsoon, then pack clothes that can dry fast, polyester for example. Keep a pair of rubber sandals handy for walking or riding around in the rain; like Crocs for example.
If you were traveling in a car then keeping an Umbrella with the rest of your luggage can prove to be a good idea.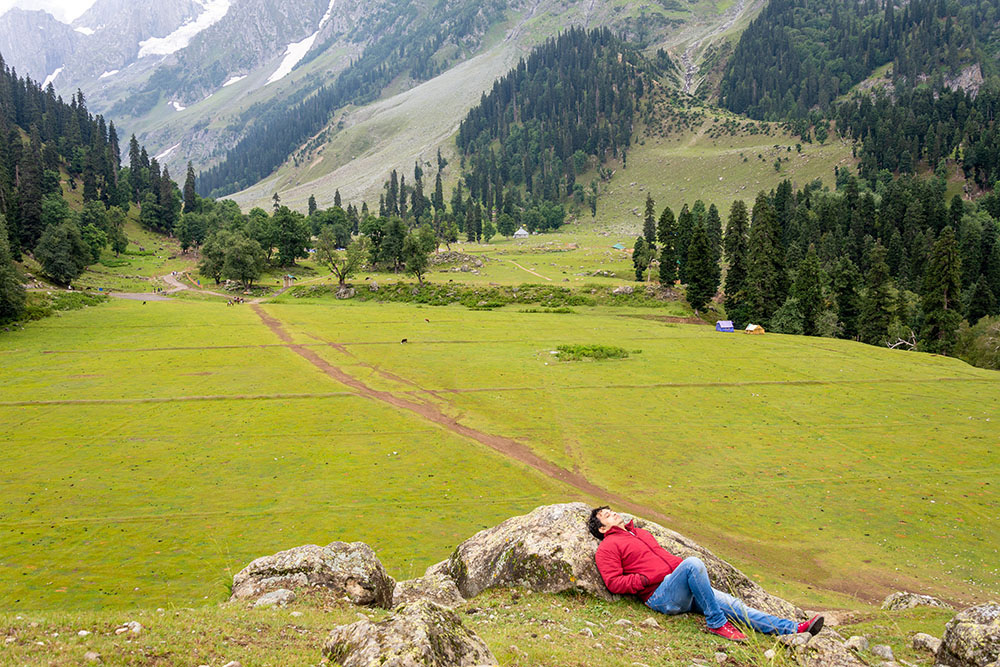 Srinagar to Sonamarg itinerary
Last but not least, let me also talk about the itinerary that you can follow to visit Sonamarg from Srinagar. My recommendation will be that you spend at least one night in Sonamarg to better enjoy the place and visit its tourist attractions.
Day 1: Sringar to Sonamarg
Start early from Srinagar, possibly by 7 am, and you will reach Sonamarg by 9 AM. Take a break, get something to eat, and continue to Zojila Pass and snow point.
It will take you another 3-4 hours and you should be able to get back to Sonamarg by late afternoon. Check into a hotel and spend the evening just relaxing, walking by the river or you can also pay a short visit to Sarbal Village.
Day 2: Trek to Thajiwas Glacier & Return to Srinagar
Leave your hotel by 8 am and trek to Thajiwas Glacier snow point. Irrespective of whether you walked or hired a pony, the entire trek will take about 3-4 hours.
Return to Sonamarg by noon, check out of the hotel, have lunch, and return to Srinagar.
Srinagar to Sonmarg Day Trip
A day trip to Sonmarg from Srinagar can also be easily made but you will have to then leave either Thajiwas Glacier out of the itinerary or Zoji La Pass.
Start by 7 or 8 am from Srinagar and arrive in Sonamarg by 9 or 10 am. Now you will have to choose what you want to do. You can either continue driving straight to Zoji La Pass and snow point or you can trek to Thajiwas Glacier.
Irrespective of what you pick, it will be a 3-4 hours affair. Have lunch in Sonamarg, spend some time in the town market, go down to the river, and start your return journey to Srinagar. You will be able to get back to the city by 5 pm easily to see the sunset at Dal Lake.
Mobile Network & Data Connectivity
All cellular companies have coverage in Sonamarg. No matter which network you are on, your phone will be working fine here. The reception will be strong and voice clarity satisfactory.
Data connectivity also will be good and you will have 4G. Most of the hotels here have wifi facilities with an average data speed of around 10 MBPS.
During the COVID situation when everyone was working from home, I actually did work from Sonamarg for a few days and was able to do so without any problem at all.
For more details on this, please take a look at Mobile Network in Kashmir & Data Connectivity.
Shopping in Sonamarg
There isn't much to buy here. Sonamarg has a small market but it is just a few shops selling day-to-day items. If you want to buy souvenirs from Kashmir, you should try the market in Srinagar and not Sonamarg.
While you are sightseeing and even in your hotel, a lot of sellers will approach you selling shawls and pashmina, etc. They will claim it to be the original item and will call themselves 'an artist' selling at a much lower price than the showroom.
In my opinion, do not fall for that. You will just be scammed. These people are really persuasive and hard to get rid of but just say no and look for a reliable shop in Srinagar for your shopping.
Also Read: Food to Try in Kashmir – What to Eat
What & Where to Eat
The market in Sonamarg is lined with numerous restaurants. You will have plenty of options to choose from, both vegetarian and non-vegetarian.
If you are a non-vegetarian, you will really love the food here. There is a small restaurant there called Lolabi. Try the Kashmiri Wazwan there. I have eaten at different restaurants in Sonamarg but the food at Lolabi tasted the best.
If you are vegetarian, there are a few vegetarian-only restaurants as well. You will come across several boards reading 'Shudh Vaishno Dhaba'. You will be disappointed though. Vegetarian food here is really below average and is not going to taste that good.
Do keep in mind that the food in Sonamarg is a little on the expensive side. No matter what or where you eat, the prices will seem a bit steep but that is the case with almost every restaurant here.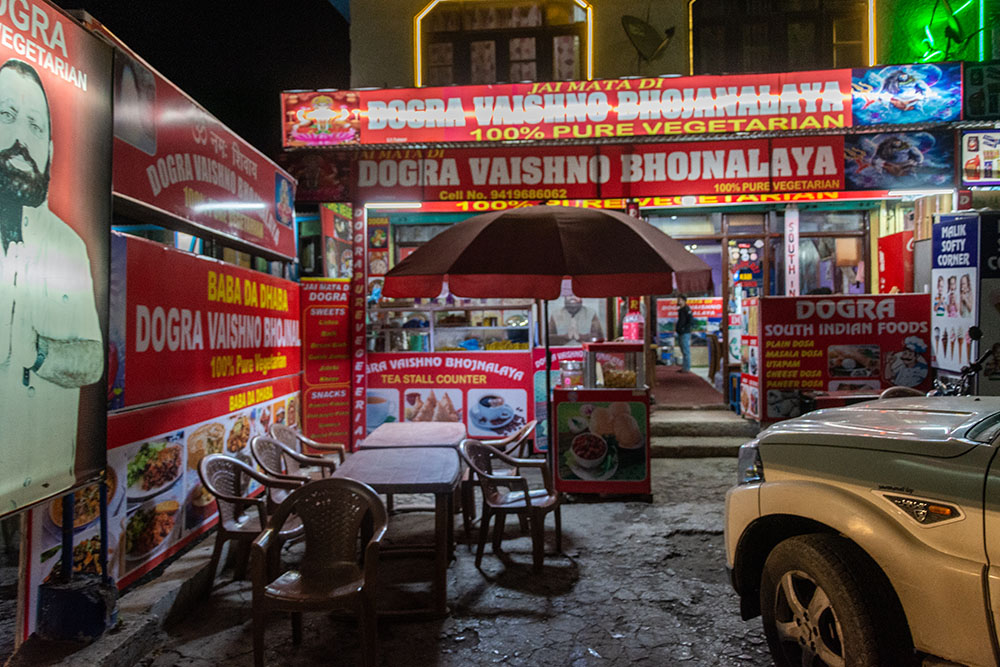 Other Facilities
Mentioned below is information on other facilities available in Sonamarg.
ATM / Banks
There is a branch of J&K bank in Sonamarg and it has an ATM as well. I have withdrawn cash from this ATM a few times while traveling to either Sonamarg or Ladakh and have always found it functional.
To be on the safer side though, I will recommend bringing enough cash from Srinagar city itself.
The hotels in Sonamarg all accept cards and UPI payments as well but the same cannot be said about the restaurants and the shops. Some may accept while others may not.
Mechanics / Petrol Pump
The nearest petrol pump is in Gagangeer, at a distance of about 10 kilometers from Sonamarg. Between Srinagar and Sonamarg, there are several petrol pumps but there is none in Sonamarg itself.
There are no mechanics as well here. The nearest help, for a minor repair, is available in Kangan. For something major, you will have to look for a mechanic in Srinagar only.
Medical Facilities
There is a Primary health center in Sonamarg and dispensaries as well. But for any serious medical condition, you will have to rush back to Srinagar.
Also Read: Places to Visit in Pahalgam & Things to Do
Srinagar to Sonmarg Road Condition
The road between Sonamarg and Srinagar is smooth sailing all the way. The only difficult part is between Srinagar and Wayul Bridge.
It is not so because the road is bad but because it is a little narrow, passes through markets and has heavy traffic. So your speed on this stretch will be a little slow. But after Wayul Bridge, the road turns into a broad well-tarred highway and the drive gets easier.
Sonamarg Altitude
Sonamarg is located at an elevation of 2,730 meters (8957 ft).
Best Vehicle for Sonamarg
There is really no best vehicle as such. The locals here drive around in Maruti Alto as well. All that is needed is that your car or motorcycle is well maintained and capable of climbing up the mountain roads.
Get your vehicle checked (serviced if required) and you will be OK. If you were going to ride a smaller-engine bike, my recommendation would be that you ride solo and as light as possible if you also want to ride up to the top of Zojila Pass.
Sonamarg in Winter
Sonamarg remains closed in the winter season after the road gets blocked by the snow. You will not be able to reach Sonamarg between December and March. The farthest you can go is Gagangir but will have to turn back from there.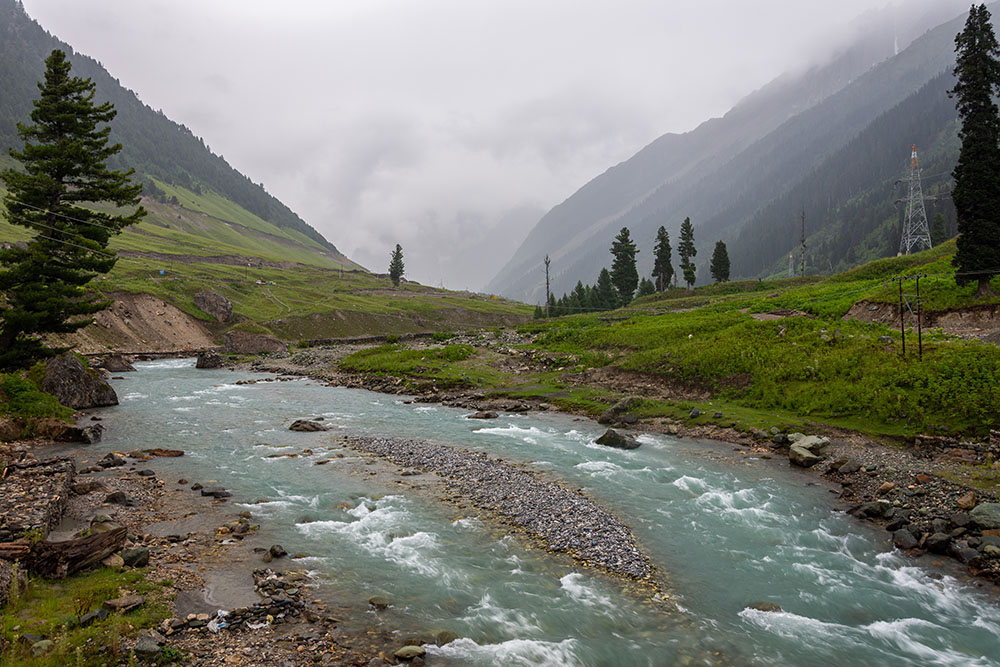 FAQs
Below are some frequently asked questions about Sonamarg.
Why Sonamarg is called a meadow of gold?
Sonamarg is known as a meadow of gold because the top of the mountains around the town starts to appear golden during the hours of sunrise and sunset.
How to reach Sonamarg from Delhi?
To reach Sonamarg from Delhi, you will first have to reach Srinagar by either road or flight. From Srinagar, you can travel to Sonamarg by road in either a bus, a shared cab, or a private taxi.
How far is Sonamarg from Srinagar?
Sonamarg is at a distance of 79 kilometers from Srinagar, depending on where you start from in Srinagar.
How to reach Sonamarg from Mumbai?
To reach Sonamarg from Mumbai, you will first have to reach Srinagar by either road or flight. From Srinagar, you can travel to Sonamarg by road in either a bus, a shared cab, or a private taxi.
Is Sonamarg Safe?
Sonamarg is one of the most visited destinations in Kashmir and a safe place.
Best Way to reach Sonamarg from Srinagar
The best way to reach Sonamarg from Srinagar is by a private taxi, if within budget, or a shared taxi if you were looking for a budget-friendly mode of travel.
Sonamarg is also Known As
The name Sonamarg literally means a meadow of gold. It is spelled both as Sonamarg and Sonmarg but it is the same place.
Word of Caution about Pony Owners
The pony owners in this area are a real nuisance. They literally harass tourists and will do their best to trick money out of you. Be very careful while dealing with them.
Why do I say that? It is because the pony owners or the so-called 'ghode-walas' think they have a monopoly on this route. If anyone wants to go that way, he must hire them for the purpose, or shouldn't be allowed. This is the very reason why they got that road shut down because then no one would hire them otherwise.
They will ask you and keep asking you even if you have already said no a hundred times. They literally start to harass tourists. There have been instances when the arguments even got physical when they demanded more later than what was agreed upon initially.
The nuisance of these pony owners actually is prevalent all over Kashmir, especially in places like Gulmarg, Sonamarg, and Pahalgam, which receive thousands of tourists each year.
I agree that these are poor villagers with limited means of survival but that does not give them a right to harass and trick tourists out of their money. Over time, they have turned more into 'scammers of Kashmir' than hard-working individuals.
They will just tail you and keep asking irrespective of how many times you say no. It is the same for the pony owners and the guys who take tourists for sled rides. If you stopped, they will stop with you and just keep staring at your face.
Watch Your Step
Because of these ghode-walas, there is horse dung and its smell is almost everywhere. Watch your step or you may just end up stepping in it. There is little you can do to escape the smell other than just cover your nose.
Wildlife in the Area
The area around Sonamarg is known as Bear Valley. There is a considerable population of bears in the surrounding forest. Sighting a bear every now and then is nothing new for the locals. There have been Bear sightings early in the morning and in the late evening. See the video below.
Please do not venture out alone in the forest, especially early in the morning or late at night. For the Thajiwas glacier trek, a safe time to start is after 8 AM and not before that.
Do not Litter
As you can see in the video above, this bear came down looking for food and was going through the trash behind one of the dhabas. You can also see the amount of trash lying around that will definitely attract wildlife.
This poses a risk both to the wildlife and the tourists. Please do not litter and dispose of your garbage sensibly. Surprisingly, authorities seem to take no action in this regard.
There is not even a single dustbin anywhere in Sonamarg. So as responsible tourists, it will really become your responsibility to not throw trash around just about anywhere.
Conclusion
I hope the information above on planning a trip to Sonamarg was of help. If you have any questions, you can contact me on Instagram and I will be happy to answer. You can also consider subscribing to my YouTube channel and asking a question there.