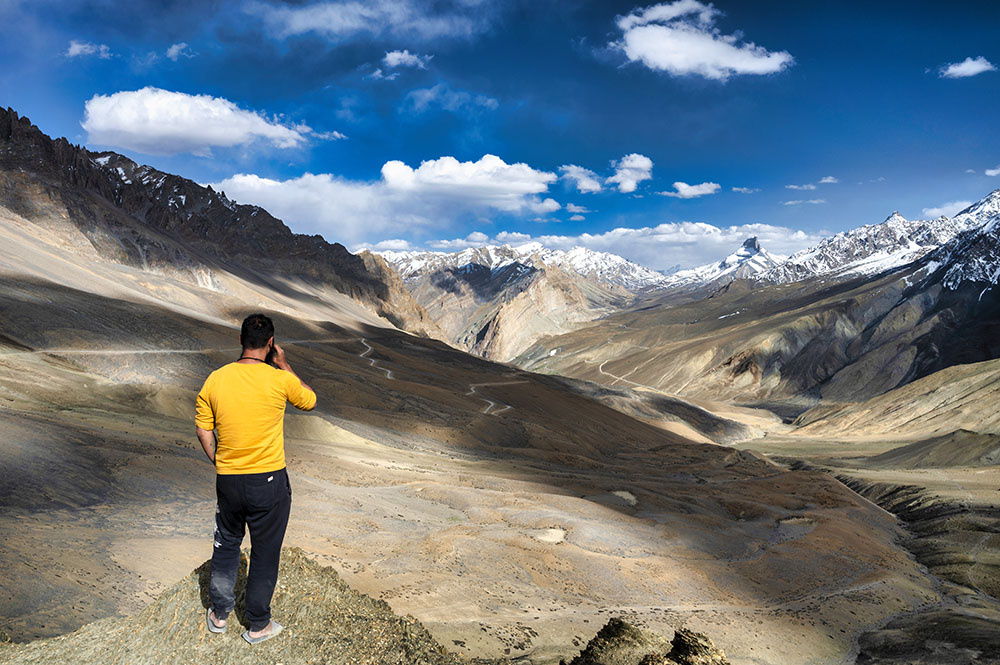 The road from Padum to Leh via Lingshed is one of the most adventurous ones that I have ever been on. The thrill and excitement of traveling on this road for the first time is something that I will never forget.
It is a route that will take you through a region so remote that for the most part of it, you will be all on your own. Through a narrow gorge, on roads barely wide enough for one car, climbs so steep that your vehicle will stall – you complete a journey that will get your heart pumping and will remain etched in the memory for life.
In short, if adventure is what you seek, this is the road that you should be on.
I recently completed this journey myself and in the article below, I will provide a complete travel guide on how you can travel from Padum to Leh via Lingshed and Lamayuru.
Please note that the route between Padum to Lamayuru still doesn't exist on Maps. I have traveled between these two places more than once and the distances I am mentioning below are as per my car's odometer.
If after reading the article, you have any questions, you can contact me on Instagram or YouTube for further information. I will also provide a link to the videos of this route that I have posted on YouTube.
Padum to Leh via Lingshed
This journey from Padum to Leh via Lingshed can be divided into two parts – Padum to Lamayuru and Lamayuru to Leh.
From Padum, you first travel via Zangla, Lingshed, and Wanla, cross two high-altitude passes on the way, and exit on the Srinagar Leh highway near Lamayuru. From there, it is a straight run to Leh via Khalsi and Nimmu.
Most of the road between Padum to Lamayuru is a dirt road still under construction but the one between Lamayuru and Leh is a smooth tarred highway.
Also Read: How to Plan a Trip to Leh Ladakh – A Complete Travel Guide
Distance & Travel Time
The total distance from Padum to Leh via Lingshed is 320 kilometers approximately which ideally makes it a 2 days journey with a night halt at either Lamayuru or Khalsi.
You can try to complete it in one day as well but it will take you anywhere from 13 to 16 hours at least, depending on the road, your speed, and breaks.
To keep it limited to one day, the journey would have to be started from Padum by 6 in the morning and you will still reach Leh after dark, sometime around 9 or 10 pm. You will also have to rush through the journey and will miss all the fun and the sightseeing on the way.
Hence, I strongly urge you to keep at least 2 days to travel from Padum to Leh via Lingshed. You can also view the video of my own trip at the link below which will give you an idea of the road conditions.
Part 1
Part 2
Padum to Lamayuru
Let us now talk about the two parts of this journey one by one. I will first explain the route from Padum to Lamayuru and then the one from Lamayuru to Leh.
Padum to Lamayuru road came into existence only a few years ago but has already been attracting a lot of adventure seekers.
It is a part of the Leh-Zanskar highway that is still under construction and will connect Padum with Nimmu once completed.
The distance between Padum and Lamayuru is approximately 210 kilometers. Of this, only about 50 kilometers are tarred and the remaining is a dirt road.
The travel time can be anywhere between 8 to 10 hours depending on your speed and breaks. This journey can be broken down into 7 parts.
Padum to Zangla – 35 kms
Zangla to to Lingshed – 39 kms
Lingshed to Singe La  – 38 kms
Singe La to Photoksar – 26 kms
Photoksar to Sirsir La – 12 kms
Sirsir La to Wanla – 39 kms
Wanla to Lamayuru – 17 kms
Padum to Zangla
Zangla is a small village located at a distance of 32 kilometers from Padum. It is best known for an ancient fort, known as Zangla Palace, which is also one of the prime attractions of Zanskar Valley.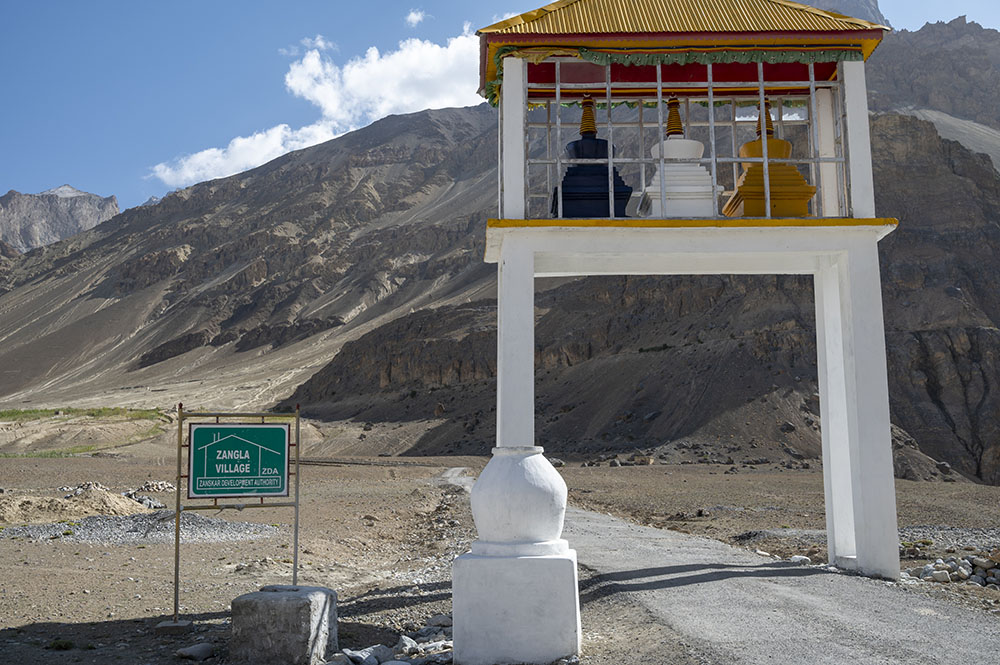 I will recommend starting from Padum as early as you can, possibly by 7 am. This should give you enough time for sightseeing and you will not have to rush through the journey anywhere.
The road from Padum to Zangla is in excellent condition and it will take you 30 to 45 minutes to complete. The views on this route are also very scenic and will have you applying brakes at several places.
If interested, you can take a short break and visit the Zangla Palace on the way. The road to the village bifurcates from the main highway to your right, about 30 kilometers from Padum.
Another village that you will cross on the village is Stongde, known for its monastery located on a hillock. It is also worth a visit and offers a stunning view of the valley around.
Please keep in mind that visiting either Stongde Gompa or Zangla Palace will take you at least an hour each. So plan your travel and day accordingly.
Shortly after the village, you will arrive at the Zangla Check post where all tourists are required to register themselves before moving on.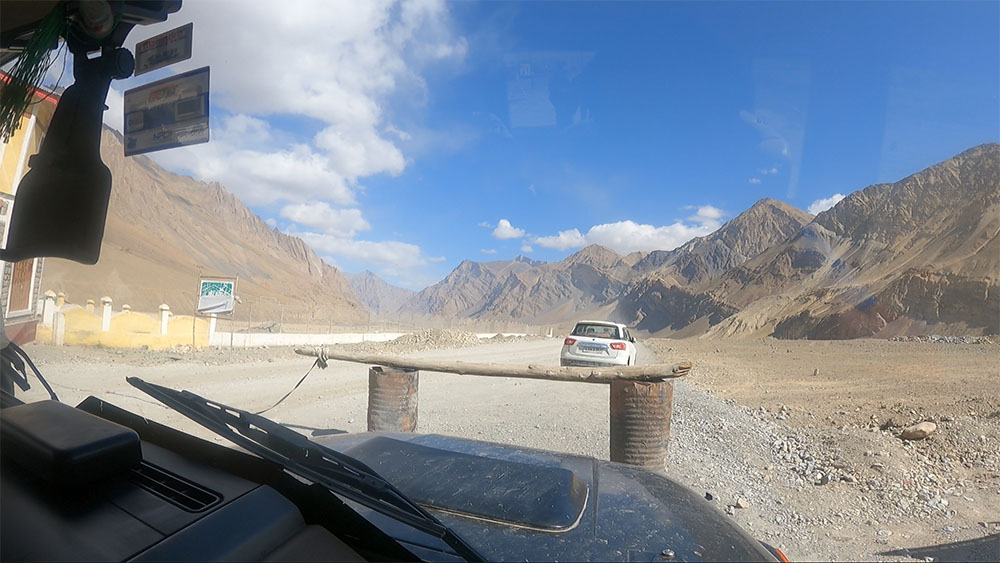 Zangla to Lingshed Diversion
The good road will last for about 6-7 kilometers more after the check post. After that, the tar vanishes, and your affair with the bad road begins.
What makes this part of the journey adventurous and difficult is not the condition of the road but rather its width. You will be traveling right next to the Zanskar river and the road here is barely wide enough for one car.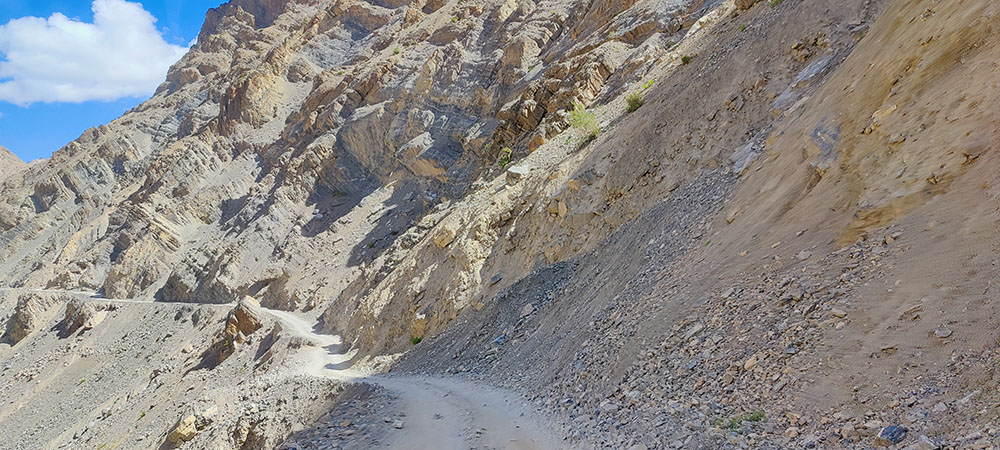 If you run into another vehicle coming from the opposite direction, there is no other choice but to reverse until you find a wide enough spot to cross.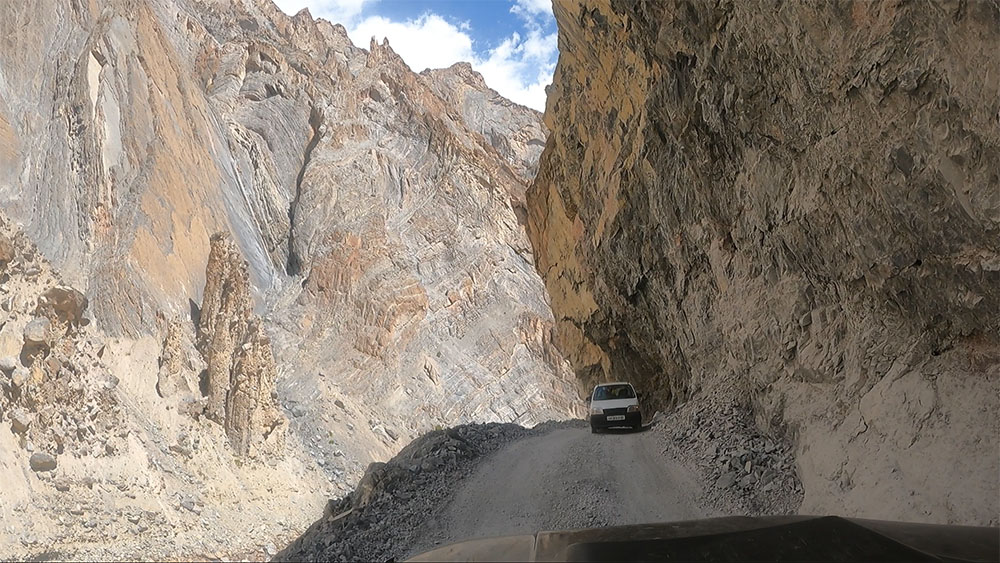 The road gets a little bumpy in a few places. You will cross two bridges on the way – Kilima Bridge and Shamsher Singh Bridge.
Until Shamsher Singh Bridge, you will be traveling a little higher than the river. But once you cross the Shamsher Bridge and get on the other side, you will be almost at the same level as the water.
If the water level was high or the road was damaged, sometimes the water from the river can be on the road itself. But the chances of that happening are quite less.
You will finally reach this spot.
From here, you will have to take a left turn. The road straight ahead is the one that will eventually connect Nimmu in Ladakh to Padum. But it is under construction for now and it will be a couple of years before it is completed.
Keep an eye out for this spot. There are markers on the stone advising you to take a left. If you go straight, you will eventually reach the end of the road and will have to backtrack.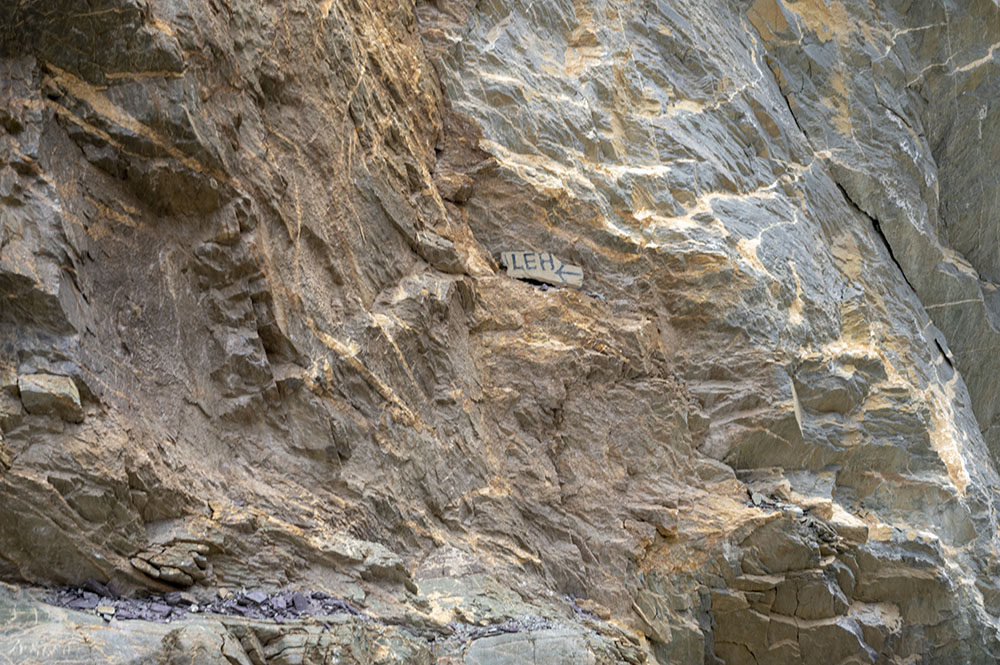 Lingshed Diversion to Lingshed
There are two things that you will notice once you turn left. The first is that the road will turn super dusty. I am not sure why but there is just so much dust on this stretch of the road.
The second thing is that you will slowly start gaining altitude. Until now, from Padum to the diversion point, the road would either be straight or downhill. There will be inclines at a few places but nothing too steep.
But after the diversion, the road starts to gain altitude. For the first 5 or 6 kilometers, it will be a gradual incline but after that, all of a sudden, you will find yourself driving up a set of loops so steep that it will get your heart pumping.
This is the most difficult part of this route. The road here is narrow, steep, and dusty, and suddenly gains tremendous altitude with a lot of twists and turns in between.
The incline is so steep that even my Thar remained in the first gear only. This is where most of the cars and bikes on this route stall.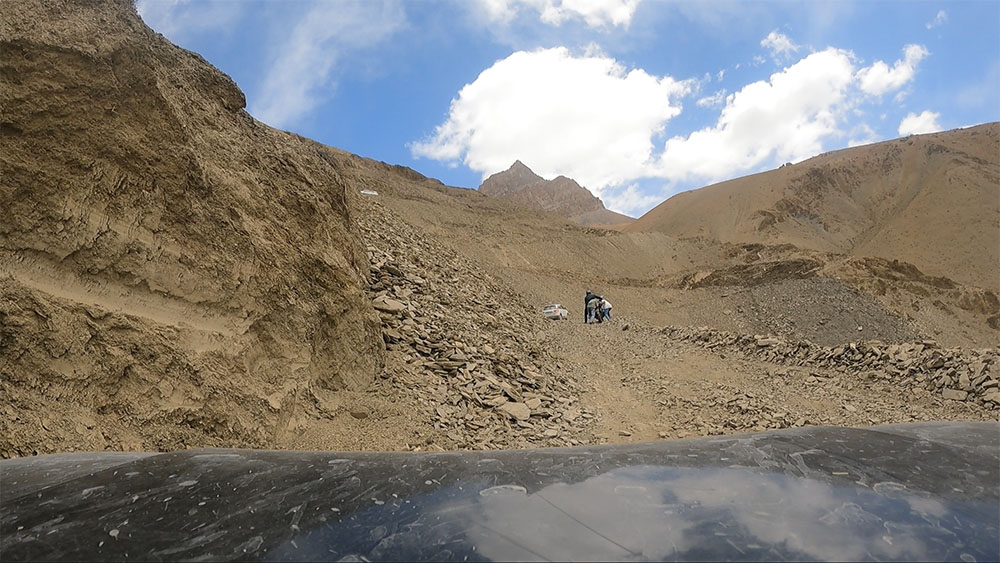 Trust me when I say this, your heart will jump to your mouth in a few places. You will realize the true meaning of offroading and driving up a mountain on this stretch.
But the good part is that once you are past this stretch, nothing else on this route would challenge you anymore. Finally, after a super adventurous and bumpy drive, you will reach this bifurcation.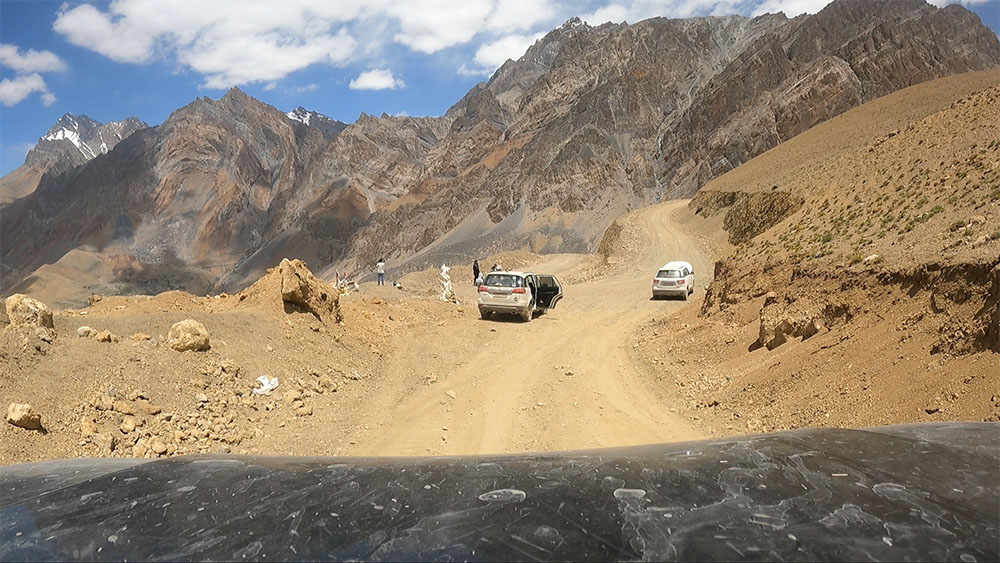 The road going downhill to the left will take you to Lingshed Village. But you need to take the one to your right unless you are planning on visiting Lingshed.
Lingshed to Singe La
That is right. Lingshed village does not actually fall on the route. You reach this spot and continue to Singe La, bypassing the village entirely.
This is Lingshed village down there on the slopes of the mountain.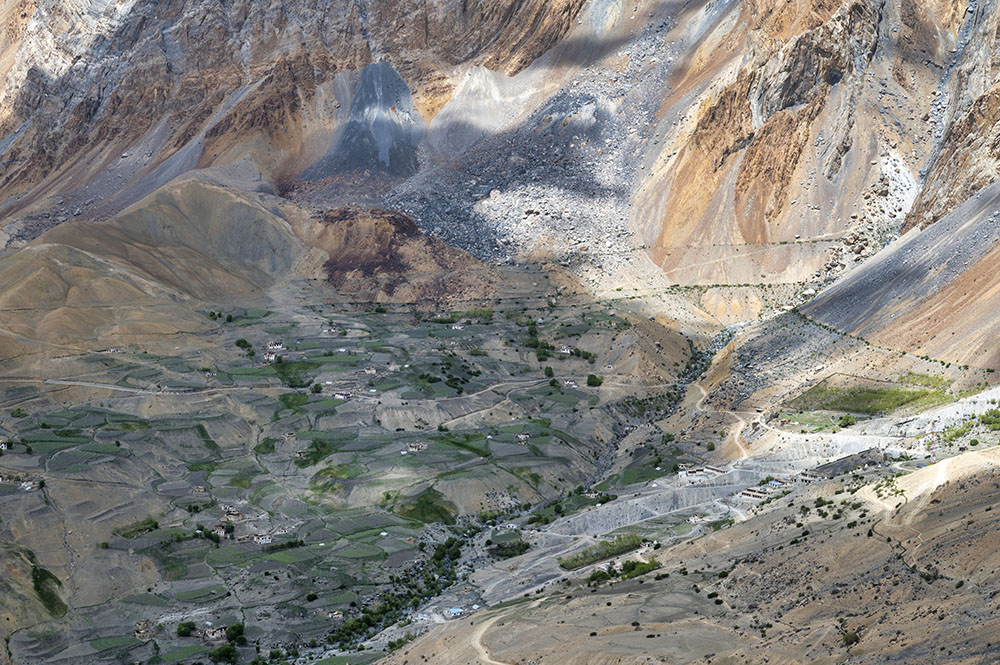 There is nothing to see in Lingshed as such, except for a monastery. But if you still want to visit it, you can take the road to your left, drive downhill, see the village, and then come back to this spot.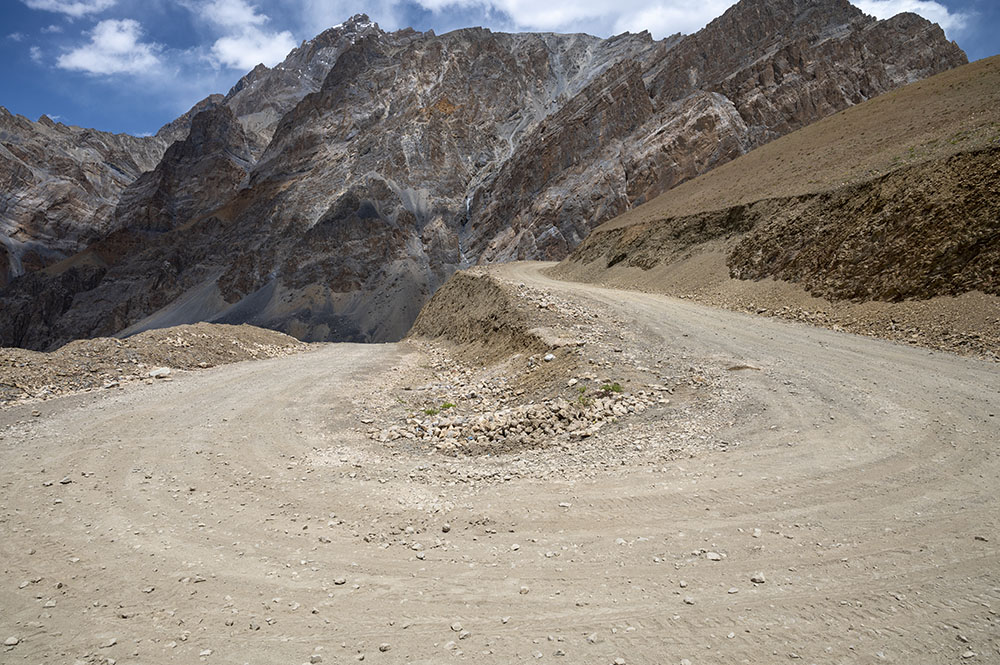 Accommodation is available in Lingshed in the form of homestays, in case you wish to spend a night here.
Once you turn right, the road will go up for about a kilometer. After that, it is a downhill drive for the next 5 or 6 kilometers to this spot.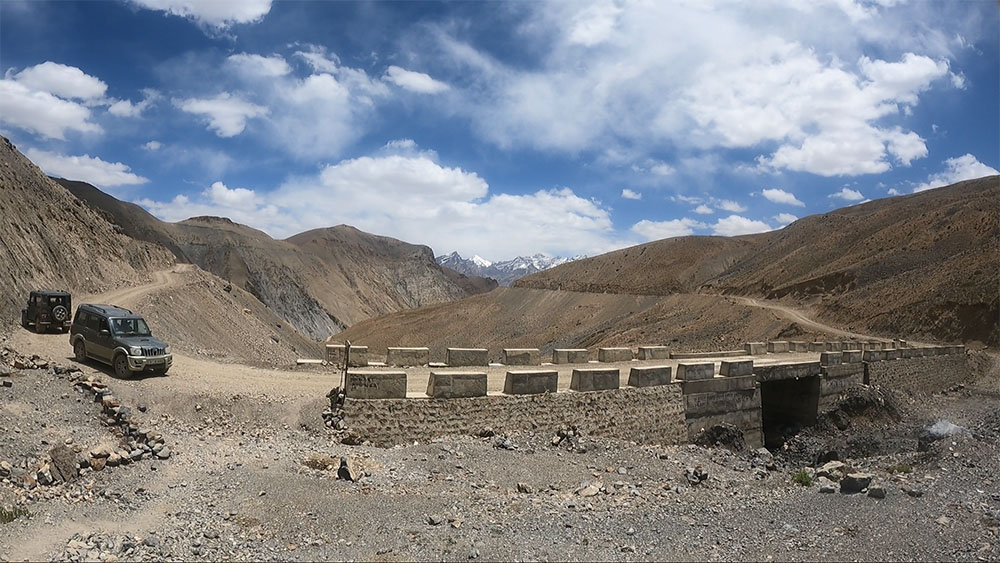 The village here is known as Skumpata, to your right. There is this small shack right next to the road where you can get something to eat. It is a good spot for a break.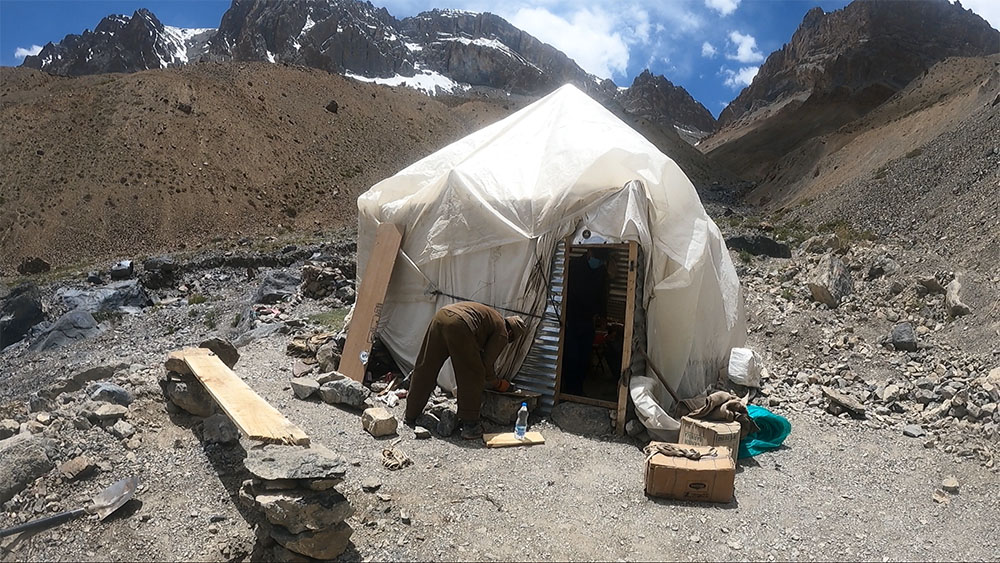 From here, you will once again be driving uphill for about an hour and a half. The climb will once again be steep on a narrow road with a lot of twists and turns in between.
The view will also get better. As you gain altitude, you will start coming across patches of snow on the sides of the road. The mountains around will be all snow-capped and will look stunning.
It is this landscape that makes this journey entirely worth it. After what would seem like a lifetime of offroading, you will finally reach the top of the Singe La Pass.
Singe La to Photoksar
The altitude of the Singe La Pass is 16,590 ft. It is not the highest but the climb to this pass definitely makes it one of the toughest.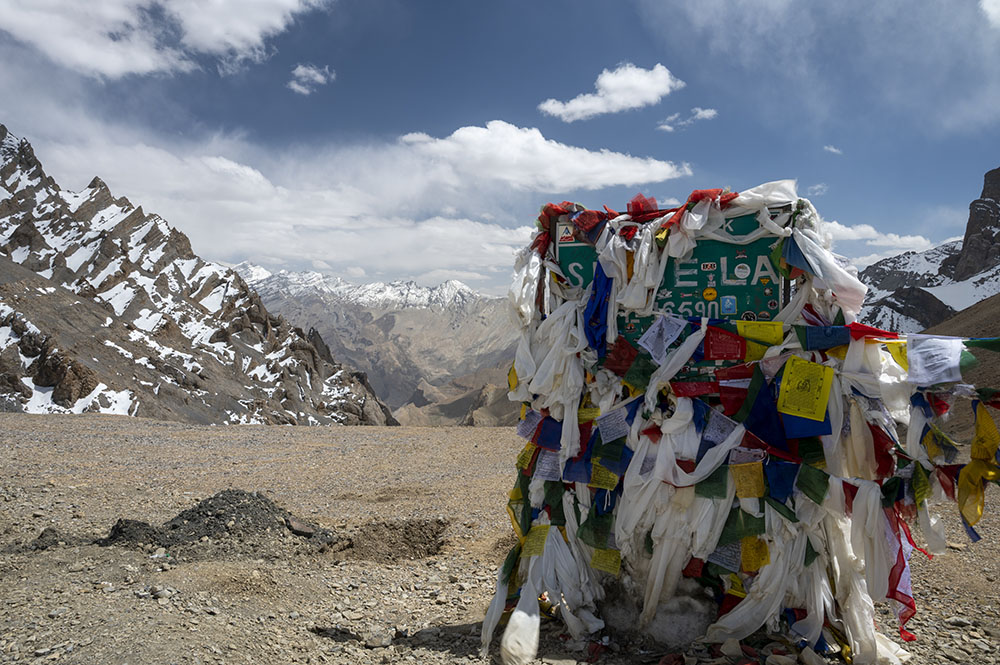 But in the end, when you stand up there gazing upon the mountains, the view just makes it worth all the pain. Be ready to be mesmerized is all I can say.
From Singe La, you will drive down for a few kilometers and reach a spot where you will cross a small bridge. The road climbs up immediately after the bridge. You will think that you are now driving up the Sirsir La Pass but you would be wrong.
The road after the bridge goes up for a while but then it becomes downhill again after a few kilometers. The condition of the road gets better slightly. It will still be a broken dirt road but not as bad as what you had already been on.
After driving downhill for a few kilometers, you will reach the small village of Photoksar.
Photoksar to Sirsir La
There are a few shacks of road construction works and a small dhaba in Photoksar. Take a break at the dhaba, and get something to eat and drink if you want to.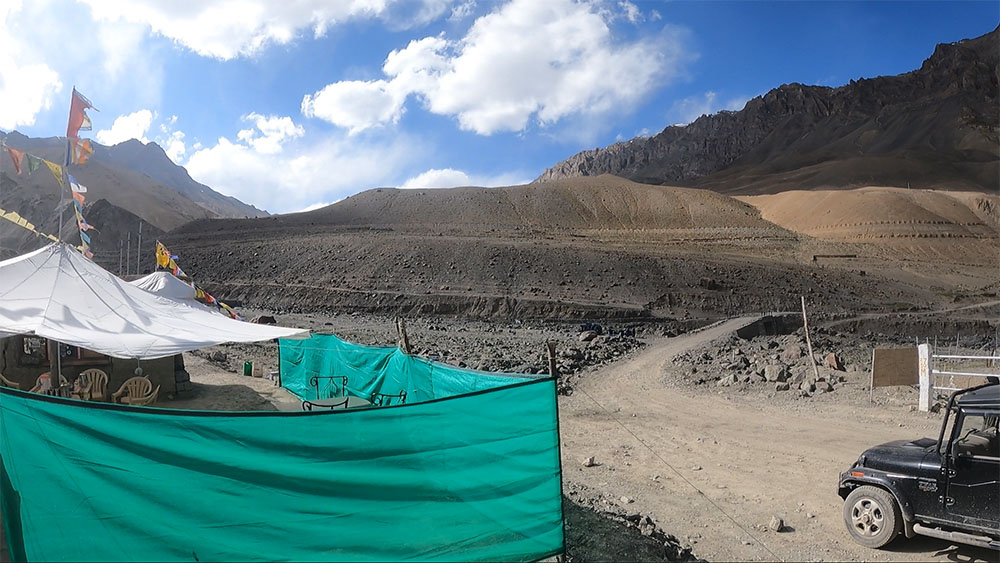 Immediately after Photoskar, the climb for Sirsir La begins. It is an uphill drive of about 12 kilometers but is comparatively much easier than Singe La. As I mentioned previously in the post, after Singe La, everything else will just seem easier on this route.
Sirsir La is at an altitude of 15,700 ft. Take a break, click some pictures and start driving down on the other end of the pass. If you are traveling in June, you may still find snow walls next to the road at Sirsir La.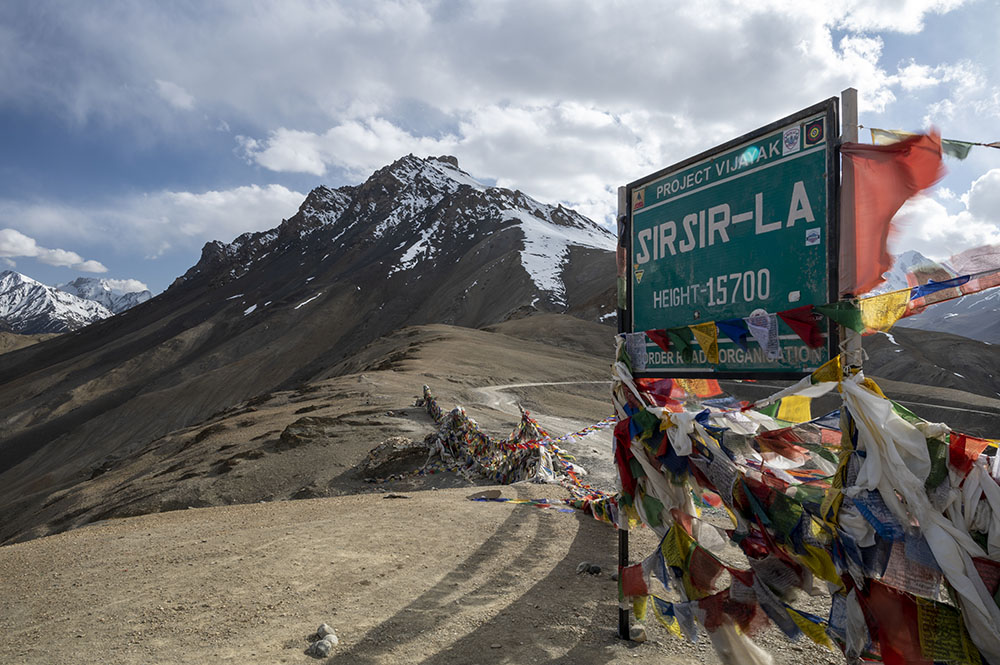 Sirsir La to Wanla
After Sirsir La, it is a downhill drive all the way. You will cross a small bridge after 6 kilometers and continue on your way to Hanupatta village.
The drive will once again become a bit dusty on this stretch. This is also a shooting stone area so be very careful about where you stop.
Hanupatta is located at a distance of about 18 kilometers from Sirsir La top. It is just another small village and there is nothing worth mentioning here.
A few kilometers after Hanupatta, you will enter one of the most scenic locations on this route. The road will pass through a narrow gorge. You will be driving right next to a water stream with tall mountains on both sides.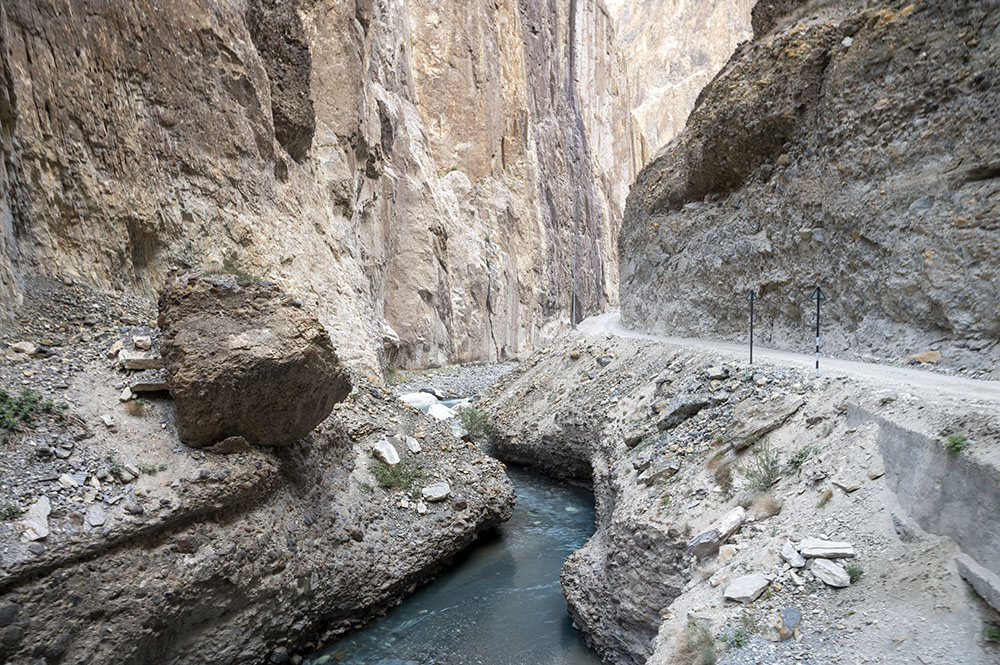 You will cross a small bridge on the stream and finally find what you have been missing so far in this journey – a road.
The drive after this is a smooth one. You will cross Fanjila village on the way and reach the village of Wanla. If you have some time and wish to, you can pay a visit to the Wanla Gompa.
Wanla to Lamayuru / Khalsi
Continue driving and a few kilometers later, you will exit on the Srinagar Leh highway, after this stone gate.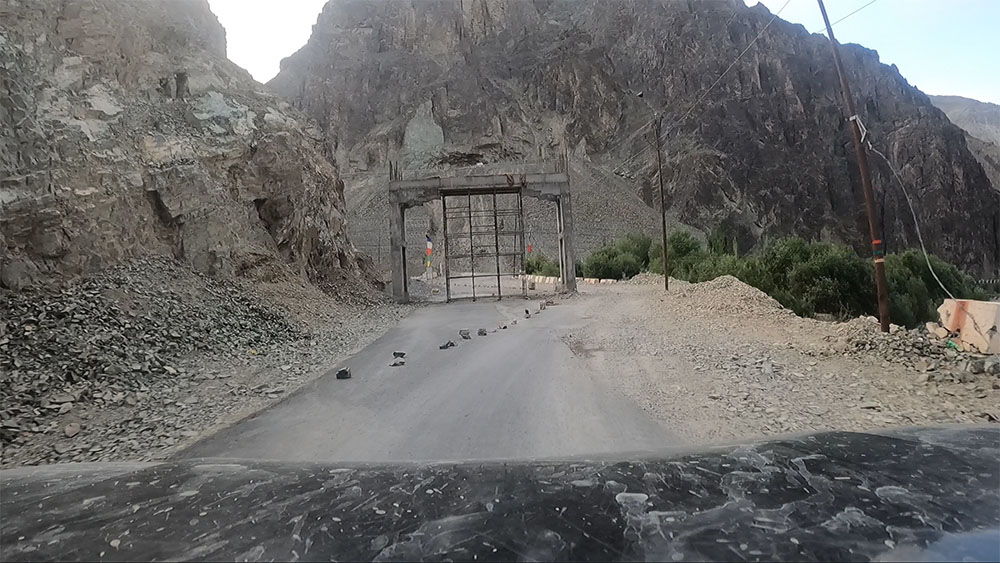 Now you have two choices. You can either turn left to Lamayuru which is about 8 kilometers from this point or turn right for Khalsi at 12 kilometers.
This is where the adventurous part of the journey ends.
As I mentioned previously, this is really a journey that should be completed in 2 days. You must not rush through to reach Leh by evening. If you do that, you will just miss all the fun and the sightseeing spots on the way.
My recommendation will be that you turn left here and stay in Lamayuru for the night. The next day, pay a visit to the Lamayuru Monastery, see Lamayuru Moonland and then continue to Leh. This will give you ample time to see all the tourist places.
Lamayuru to Leh
Now let us take a look at the second part of this journey – Lamayuru to Leh. This can be completed easily in 5 to 6 hours with plenty of breaks and sightseeing on the way.
If you were however continuing straight to Leh after coming to Padum, this journey will take you at least 3 to 4 hours because you will have to rush to get to Leh as soon as possible.
Lamayuru to Khalsi
Assuming that you stayed for the night in Lamayuru, the first place that you should visit is the Lamayuru monastery. It is a very peaceful place to spend some time and also offers a great view of Lamayuru town and the surrounding areas.
Check out of the hotel in the morning and start on your way to Leh. Right outside the town, to your right, you will see a peculiar formation in the mountains known as Lamayuru Moonland.
It is really a sight to behold. The mountains here just look so strange and are said to resemble the landscape on the moon. This is why it is known as Lamayuru Moonland.
If you did not stay for the night in Lamayuru and went straight to Khalsi, you would have skipped both of these places.
Khalsi is about 20 kilometers from Lamayuru. The road is super smooth and you should get there in no time. Take a break in Khalsi if you want to and continue to Leh.
Right after the Khalsi town is a petrol pump where you may want to get a tankful done. After this, the next petrol pump is in Leh.
Also Read: Fuel Availability in Leh Ladakh – How to Manage
Khalsi to Leh
The distance between Khalsi and Leh is a total of 100 kilometers approximately. The road on this stretch is in excellent condition and a pleasure to drive on.
Some of the tourist attractions that you will see on this stretch are Basgo Plains, Indus and Zanskar River Confluence, Gurudwara Patthar Sahib, and Magnetic Hill.
If Alchi and Likir monasteries were a part of your itinerary, you can cover both these places before reaching Leh. From the main highway, you will have to turn on the respective roads leading to these villages, see the monasteries, and return.
This is also the reason why I mentioned that the journey from Padum to Leh via Lingshed should be done in 2 days. If you attempt to complete it in a single day, you will have to skip all these tourist places because you will just be rushing for the most part of it.
Padum to Leh Road
Below is a breakdown of this route in terms of the road condition.
Padum to Zangla – Excellent
Zangla to Lingshed – Very bad
Lingshed to Singe La – Very bad
Singe La to Sirsir La – Very bad
Sirsir La to Hanupatta – Very bad
Hanupatta to Wanla – Average
Wanla to Lamayuru / Khalsi – Excellent
Lamayuru / Khalsi to Leh – Excellent
Is the route Safe to Travel On?
This is one of the most frequent questions I get asked about this route. It is safe to travel on as long as you have good driving skills, have been on the mountains before, know how to handle steep inclines, and is a car that is capable of this journey.
Best Vehicle
This brings us to the next question. Which vehicle is best for this route?
If we talk about cars, a 4×4 SUV will be the best. If not, then any SUV with good ground clearance will be the next best option.
But with that being said, I have seen people completing this route even in cars like Swift and Brezza. So yes, it can be done but you should have excellent driving skills for that. You must know how to handle the bad roads, twists and turns, and most of all, the steep inclines.
If we talk about motorcycles, the bigger the engine, the easier the journey will be. A Royal Enfield 350CC or higher will be the best choice. But you can also bring smaller engine bikes like a Pulsar.
The only thing you should keep in mind is that it would be best to ride on this route solo. Do not bring a pillion. If there were two people on the bike, it is bound to stall at a few places and you will have to get down to push it up.
Also Read: Which is the Bes Car for Leh Ladakh Trip
Best Time to Travel
The best time to travel from Padum to Leh via Lingshed would be any time between May to September. This is when this route is open. Before May, you will not even be able to reach Padum as all the roads leading to Zanskar will remain closed.
You may plan the journey in April, depending on the weather and how fast the roads were opened in that respective year. But a safer time to plan the journey will be between May to September.
Do not also plan for October because it would start to snow by that time. Traveling that late in the season would mean that you risk getting stranded on the route due to a snowfall or road closure.
Also Read: When is the Best time to Visit Leh Ladakh
Phone Connectivity
Jio has the best network in Zanskar Valley as well as on the route from Padum to Lamayuru. It may not remain connected all the time but you will get a reception whenever you are closer to the small villages en route.
Both Jio and Airtel work well between Lamayuru and Leh. BSNL also has a reception in these areas but the network is intermittent and reception bad. Voice quality with BSNL may not be that good.
Also Read: Mobile Network in Ladakh & Data Connectivity
Accommodation Choices
There are no hotels or guest houses between Padum and Lamayuru. But the option of homestays is available in villages like Zangla, Lingshed, Skumpata, Fanjila, and Wanla.
Between Lamayuru and Leh, there are several hotels in Lamayuru, Khalsi, Nimmu, and almost everywhere where there is a human settlement.
Padum to Leh Public Transport
There is no public transport available between Padum and Lamayuru. You will have to either travel by your own vehicle or rent a private taxi from Padum.
There is a daily bus on the Lamayuru to Leh route. Shared cabs are also available in plenty.
Also Read: How I Traveled to Leh Ladakh by Public Transport
Petrol Pumps / Mechanics
There is a petrol pump in Padum and one in Khalsi. Mechanics are only available in either Padum, Lamayuru, or Khalsi.
Padum to Leh via Lingshed – Conclusion
I believe that is it. This should cover the majority of the information that you need to get in order to plan a trip from Padum to Leh via Lingshed.  If you have any questions you can contact me on Instagram or you can subscribe to my YouTube channel and ask a question there.
This error message is only visible to WordPress admins
Error: No feed found.
Please go to the Instagram Feed settings page to create a feed.