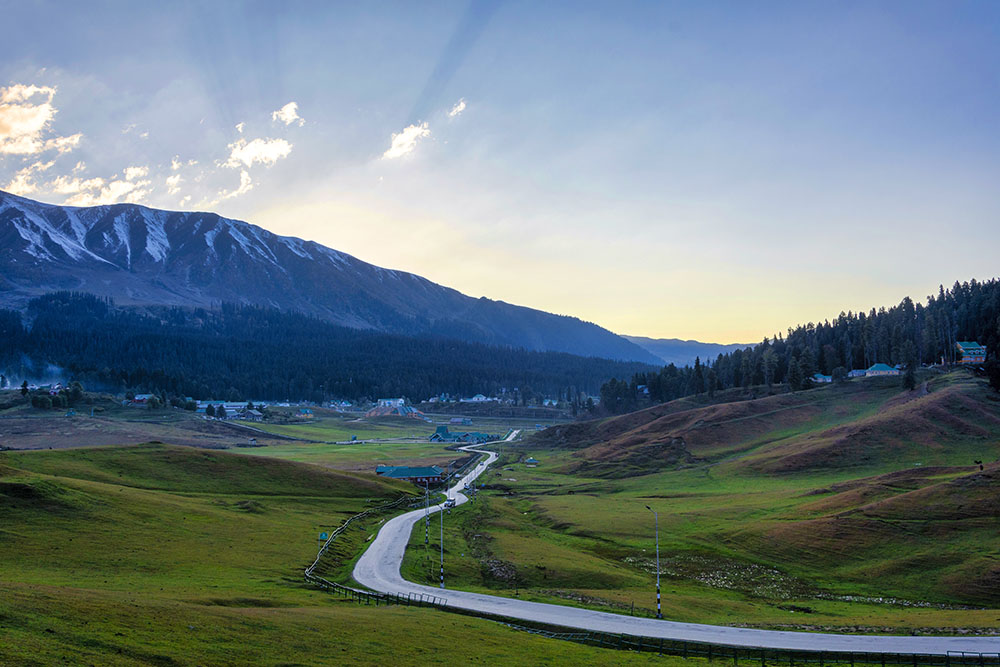 Our plan for a Srinagar to Gulmarg one day trip was actually a last-minute decision. It was our last week in Srinagar and we were supposed to head back to Delhi over the weekend. A grand trip that covered almost all of the tourist attractions in Kashmir was coming to an end.
But before we went back home, we wanted one last drive in the beautiful valleys of Kashmir. Gulmarg was the nearest place that we could reach without having to drive too long. Hence, a one day trip to Gulmarg from Srinagar was finalized for Wednesday.
The plan was to start as early as possible from Srinagar to avoid the traffic and have breakfast in Gulmarg only. We would then spend the entire day in Gulmarg and return by evening.
Journey So Far:
We were in Gulmarg only a few weeks ago and I had already been there a couple of times before that as well. This was going to be my 4th trip to Gulmarg overall and I had already seen everything that there was to see. Still, the beauty of the place is such that I was still excited to be there one more time.
Srinagar to Gulmarg One Day Trip
Before I move on with the travelogue, let me provide some details on how you can day trip to Gulmarg from Srinagar. Is it doable? Yes, it is. More than half of the tourists actually visit Gulmarg on a day trip only.
You can also take a look at the following video of Gulmarg that I shot during one of my winter trips. You can see how beautiful the place looks after the snowfall.
Will you be able to visit all of the tourist places in Gulmarg? The answer to that is again a yes. Gulmarg is not that big to be very honest. The entire town is settled around a meadow that also serves as the golf course in summer and ski ground in winter.
So in a total of around 2-3 hours at most, you can just walk around the golf course and see all that there is to see in Gulmarg. If you wanted to go for a Gondola ride, add a couple of hours for that. So in a total of about 6 hours, your trip to Gulmarg will be completed.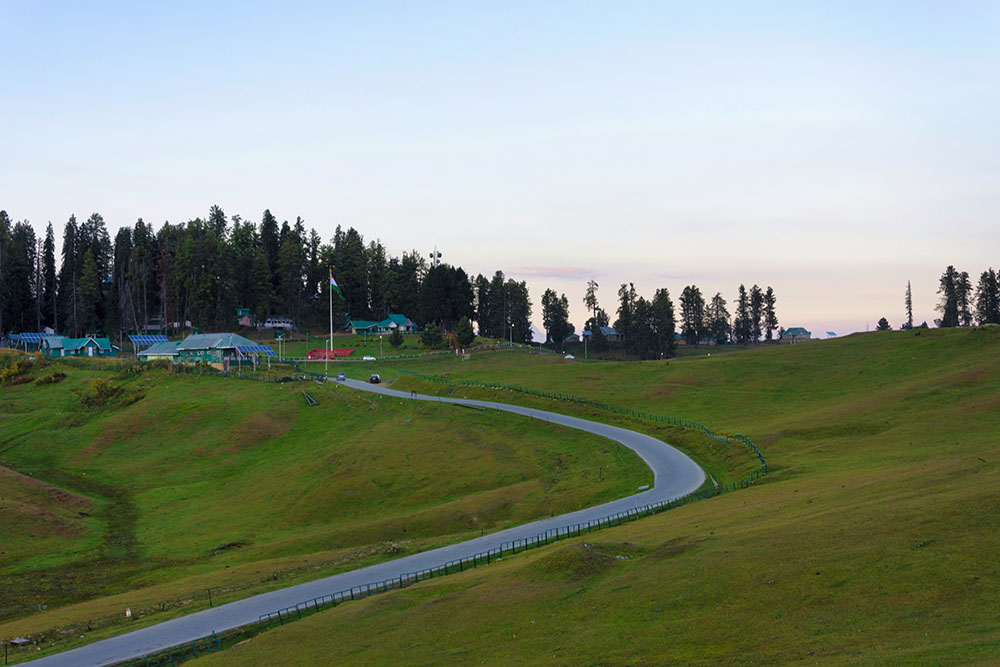 How to Reach Gulmarg for a Day Trip
But this can only be done if you were traveling by either your own vehicle or a private taxi. There is no direct bus or shared cab from Srinagar to Gulmarg. You will have to break your journey into 2 to 3 parts.
From Parimpora or Batmaloo in Srinagar, you will first have to board a bus or shared cab for Magam. From Magam, you will then board a second bus or shared cab for Tangmarg. After you reach Tangmarg, go to the bus stand and board a bus for Gulmarg.
Traveling this way, it will be a bit of a hassle to reach Gulmarg and a lot of your time will be spent traveling. Do not get me wrong, you can still plan a day trip but the time you spend in Gulmarg will be very less compared to the time you will spend to reach there and then travel back to Srinagar.
So the best way is to either hire a private taxi or rent a bike in Srinagar. A bike will cost anywhere between Rs. 1500 to Rs. 2000 for a day. A private taxi also will cost between Rs. 2000 to Rs. 2500 for a day trip.
If you want to travel by public transport, your total fare for the day will be around Rs. 300 per person.
How to Plan a Day Trip to Gulmarg from Srinagar
If you were traveling by your own vehicle or a private taxi, below is how you should plan your day trip to Gulmarg.
Start early from Srinagar, possibly by 7 am. You will avoid traffic and will get to Gulmarg in about 90 minutes easily. Have your breakfast in Gulmarg and go for the Gondola ride first.
The reason why I recommend Gondola first is to make sure you avoid the tourist rush. Sometimes, if there were a lot of tourists around, it can take over an hour to wait in the queue.
The gondola ride starts between 9 am to 10 am. Be there before 9 am and you will easily finish your visit to Phases 1 and 2 by noon.
Come back to Gulmarg, rest for a while, and have your lunch. For the next hour or 2, visit the Maharani temple, St. Mary's Church, and Strawberry Valley. All these places are located within the Gulmarg Golf course within a short distance from each other.
You will finish your sightseeing in 2 hours at most. You can hire a pony as well if you do not want to walk around.
Start on your way back to Srinagar by 4 am and you will reach your hotel by 6 pm. If you had another hour to spare, you can also go for a drive towards Bota Pathri.
By Public Transport
Planning a day trip by public transport will be a little difficult. You will not be able to start early because you may not find a bus or shared cab before 8 am. By buses and shared cabs, you will reach Gulmarg sometime between 11 am and noon.
You can walk around the golf course, see Maharani temple, and St. Mary's church, and start on your way back by 3 pm. You will not be able to include a Gondola ride unless you were traveling in the offseason and there was no tourist rush at all.
Also Read: How to Plan a Trip to Kashmir – A Complete Travel Guide
Srinagar to Gulmarg
Coming back to the travelogue, we started from our hotel at 7 am and reached Gulmarg by 8.30 am. We were there so early that even the dhabas were just starting to open.
The next hour was spent at one of the dhabas having breakfast and getting something to eat. Once that was done, we were now confused about what to do next. We had all been to Gulmarg before and there was no place left to visit anymore.
On top of it, the moment the sun came up on our heads, it started to turn really hot. I was actually surprised by it because it was the month of October and I was not expecting Gulmarg to be that hot during the day.
Nonetheless, we pondered our options and mutually decided to spend the day in Gulmarg only. The only activity that we were interested in was playing golf and nothing else really.
We went to Hotel Green Park. It was the same hotel that we had stayed in during our previous visit. Thankfully, they had rooms available and we checked in.
Playing Golf in Gulmarg
The rest of the day was spent just sitting in front of the hotel in shade, enjoying the views and chit-chatting. At around 4 pm, when the weather cooled down a bit, we went to the golf course.
None of us knew how to play golf but it was fun nonetheless. I think we were there for over an hour having fun. It is not that costly either and I will highly recommend indulging in a game of golf while you were in Gulmarg.
After golf, we took a drive to Strawberry Valley to see the sunset from there.
We returned to our hotel after it got dark, had dinner, did some more chit-chatting, and called it a day.
Thursday
The plan for today was to return to Srinagar. There was no need to hurry so the morning was a relaxed one. We walked around for a bit, had a late breakfast, and started from our hotel by 10 am.
The return journey took longer because there was already a lot of traffic on the roads. We reached back our hotel after 1 pm I think and logged into our office laptops.
We were all feeling a little sad after returning from Gulmarg, to be honest. Our trip lasted way longer than we anticipated and we actually ended up visiting Gulmarg and Sonamarg twice during the same trip.
We were scheduled to go back to Jammu on Saturday and Delhi on Sunday. This left us just with one more day in Srinagar, Friday, which we spent buying souvenirs for family and friends.
We bought dry fruits, saffron, Kashmiri spices (as instructed by family), handicraft gift items, shawls, woolens, and a lot many other things.
Was the trip fun? Yes, it definitely was. The worst part of this trip I think was the return journey only because we were all feeling sad. We left Kashmir with heavy hearts. Please click on the link above to continue reading the last part of this travelogue.
Srinagar to Gulmarg One Day Trip – Conclusion
I hope the travelogue, pictures, and information on planning a Srinagar to Gulmarg one day trip were of help. If you have any questions, you can contact me on Instagram and I will be happy to answer. You can also consider subscribing to my YouTube channel and asking a question there.
This error message is only visible to WordPress admins
Error: No feed found.
Please go to the Instagram Feed settings page to create a feed.