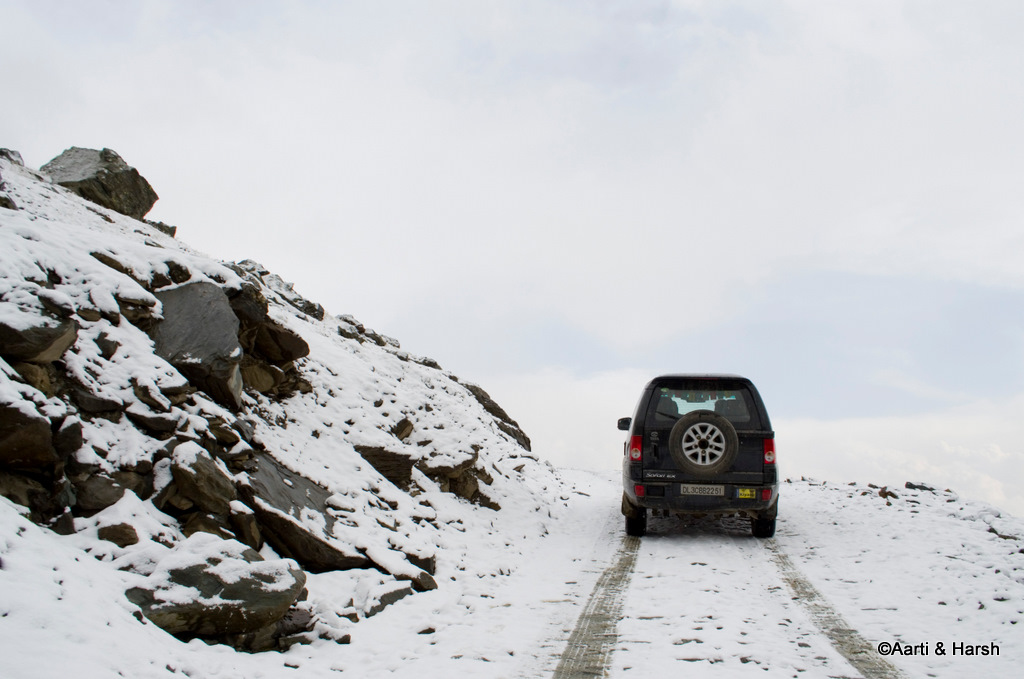 A Sach pass road trip had been on the cards for a long time before it went on to become a reality. Finally, after planning and canceling a few times, we finalized a short trip crossing Sach pass and visiting the Lower Lahaul valleys of Pangi and Miyar. The idea was to drive from Delhi to Khajjiar and Kalatop and continue to Udaipur, Killar, Pangi Valley, Miyar Valley from there.
The only logistical issue remained a wedding ceremony that had to be attended the night before our scheduled departure date, which obviously was worked out.
Also Read: How to Plan your Trip to Sach Pass – Himachal
The broad plan was to spend one night each at Chamba, Killar, and Udaipur and two nights at Manali. Sach Pass is not for the faint-hearted for sure, especially those who plan to climb it from the Killar side. It is a far more treacherous climb as compared to the ascent from the Chamba side. A particular stretch on the Killar side, where I had to back Kiyang up an incline, really got my adrenaline pumping.
The Pangi and Miyar valleys are among the few valleys left in Himachal which are motor-able and yet very less frequented by tourists. Needless to say, both are beautiful, Miyar more so because it is tucked away.
Sach Pass Road Trip
The high points of the trip were our experience of the season's first snowfall over Sach which caught us by surprise and a morning stroll in Miyar valley.
The Travelers: Aarti & Harsh
The vehicle: Kiyang (Tata Safari 4×4)
Day 1: Delhi to Khajjiar and Kalatop Forest Rest House
We normally begin our drive early morning from Delhi at about 4 am on day one of any trip. This time around, things were a bit different. A close friend was getting married a day earlier and I had to attend the ceremony.
It was difficult not to drink during the Baraat. But keeping in mind that I had to drive all night immediately after the wedding ceremony, that is a price I had to pay. Alcohol would have eased me into dancing like a lunatic on the streets of Delhi on a relatively hot October evening, but dance (like a lunatic) I did nevertheless.
The ceremony and the function were over by 12 am and Aarti had arrived at the venue to pick me up by then. So there I was, dressed in a suit and a tie with my formal shoes on, driving towards Sach pass. This was the strangest beginning of a trip so far in my life.
Delhi to Sach Pass Route
Anyway, the late-night Delhi traffic was dying. We managed to reach Murthal pretty quickly and I took the opportunity to change immediately into something more comfortable and appropriate. Aarti was all set to take the back seat and sleep while I drove the rest of the night. I had loaded some of my kind of music and plugged it into my earphones and a sweet night drive began.
It was only when I reached Ambala did I realize that I had not planned the route towards Sach pass at all. The plan was indeed to reach Sach pass from Chamba, but I had no clue on the optimum route to be taken to reach Chamba.
Not knowing what to do, and with Aarti sleeping soundly in the back, I decided to take the Banur route towards Ropar and then instead of turning towards Manali, move straight towards Nangal. In hindsight, the ideal route would have been to move towards Pathankot and then head into the hills towards Chamba. It might have been a bit longer, but definitely would've taken us less time.
By about 7 am I was completely zonked out. It had been more than 24 hours since I was awake; that too after quite a tiring day at work and not to mention the wedding. I began to feel the strain of exhaustion in my eyes and I could feel them droop. With Aarti still dozing off soundly at the back, I had no other option but to stop and try my luck with the last cup of black coffee left in the thermos Aarti had gotten along, and a cigarette.
Also Read: Sach Pass Status – Sach Pass Road Updates & News
Chamba
Thankfully, Aarti woke up relatively fresh a while later to take on the wheels. She resumed the drive, after a brief discussion on the route further up. I slouched in the back of the car and slept like a log. It was only by 10:30 that I finally woke up and found Aarti driving us in Kangra valley.
A brief breakfast stop at a nondescript village later, we were off towards the general direction of Chamba. There are two routes to Chamba. The longer one stays at lower altitudes, passes through Dalhousie, and has a broader road. The shorter route climbs the hill on which Kalatop is situated on a narrow winding road.
We took the shorter one, which was quite pretty but steep and scary at times with speeding buses coming at us at blind corners. I wonder if Sandra (Bullock) was driving those damn buses.
Khajjiar
We reached Khajjiar at about 1:30 pm. The famous meadow teeming with people who had gone there to make merry. It would look beautiful when empty we thought. After that, we proceeded further towards Kalatop, in hope that we might find a room at the forest rest house there.
It is so sad that the few meadows get so much attention that it ends up spoiling the beauty of the place. The same has sadly happened to Gulmarg and Sonamarg as well.
It does take a good 45 minutes to reach the top from Khajjiar. It is a gentle climb all the way with the last 4 km on a dirt track through a thick Deodar forest.
The entry to the forest is maintained by the forest officials who charge Rs. 300 for any vehicle to enter. We paid the fee, hoping that we might get a room at the FRH, and if not, we planned to just enjoy the vistas and head back to find a room at Khajjiar.
Also Read: Delhi to Sach Pass Bike Ride – Dalhousie and Sach Pass
Kalatop Forest Rest House
Upon reaching the top, and speaking with the caretaker, we were in luck! There was one room that was not booked for the night and he mentioned that we could have it. The rest house itself is splendid being a colonial-style wooden cottage with huge rooms.
It has a sprawling lawn in front of the two cottages and it boasts of being engulfed in the aroma of pines and deodar trees. I'm sure the panoramic view of the Himalayas from the FRH must also be excellent, but we were unlucky as the clouds blocked our views of the peaks in the distance.
The FRH's idyllic setting is perfect for those who would wish for a quiet holiday tucked away in the forest, reading books, walking, and enjoying the bounties of nature. We too dream of such lazy holidays. But those vacations will have to wait until we are a bit old. Well, that ain't gonna happen anytime soon.
After a long drive and a hectic day with little sleep during the night, it was time to crash for a power nap after a quick lunch of Maggi.
The evening was spent loitering around in the lawns and in the canteen they have in their compound; clicking some photographs in the dying light of the day. A long hectic day ended contrastingly in the serene environs of the Kalatop rest house. The next day would be all about conquering Sach pass.
Forest Rest House at Kalatop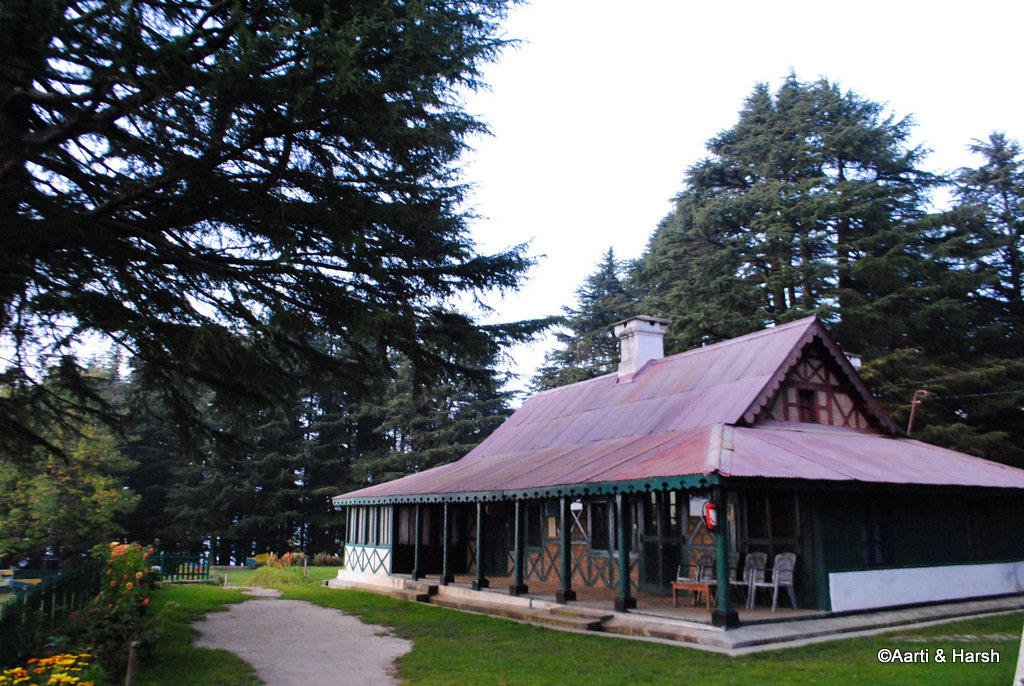 Day 2: Kalatop to Killar
Killar was a long way away so it was imperative that we begin early. So we did, left the cottage at 7 am, and began tumbling down towards Khajjiar. The meadows looked lovely early in the day with no one around. It would have been the perfect setting for breakfast, but unfortunately, none of the shops had opened.
Khajjiar was completely empty that early in the morning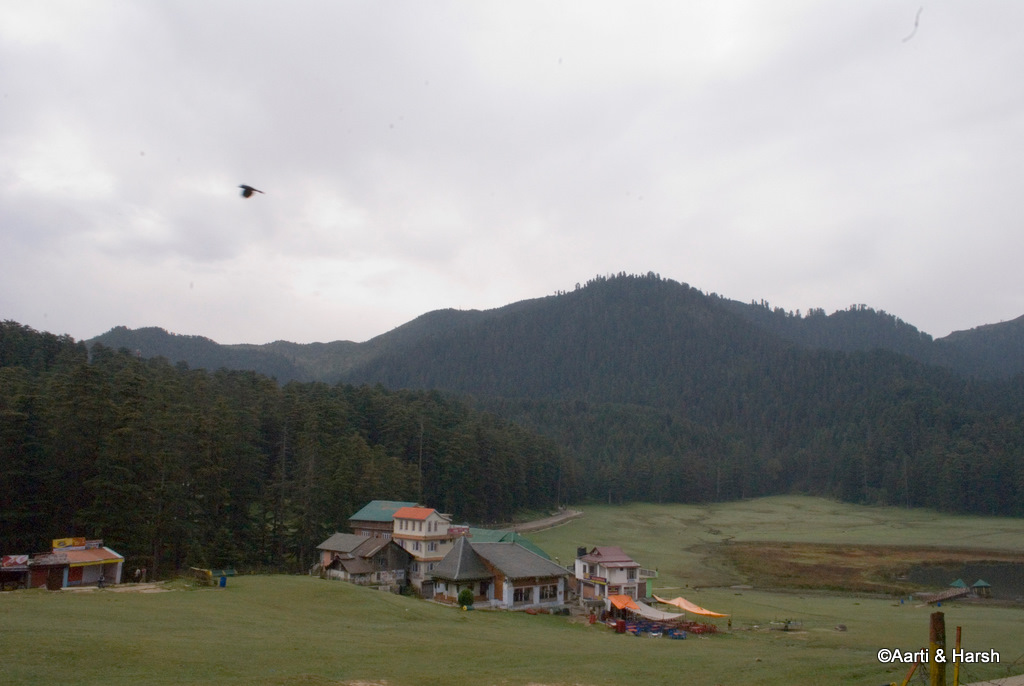 Chamba to Sach Pass Road
​We marched on towards Chamba, refueling quickly at its outskirts and moving forward towards Tissa. A greasy breakfast of fried paranthas and 'Aaloo Tarkari' in a nondescript village was the only break we took before the narrow climb towards Sach pass began.
The Muslim population in the passing villages was increasing markedly and their attire and looks were quite similar to that of the gaddi people one finds in the Kashmir valley. One could sense the proximity of Kashmir to the valley we were in.
The climb towards Satrundi reminded us of the Chanshal pass climb. It was similar in its flora, dirt track, and moderate grade incline. There were few people to be seen on the climb as well. Aarti and I exchanged our seats just before the Satrundi check-post since she was the only driver in the car holding a valid license.
Also Read: Killar Kishtwar Road – Sach Pass, Pangi Valley, Sinthan Top
I had misplaced mine a month back and was unable to find it. The road was blocked by a truck which was punctured and thus we were forced to take a lunch break of Maggi at the only Dhaba there. The sky which was overcast till now suddenly started to spew droplets of rain.
Looking up, we could see a shower of white over the mountain above us, right where Sach pass was situated! Our excitement was visible, we were about to witness the first snowfall of the season over Sach pass and the valley in general.
An assortment of houses in a "compact" village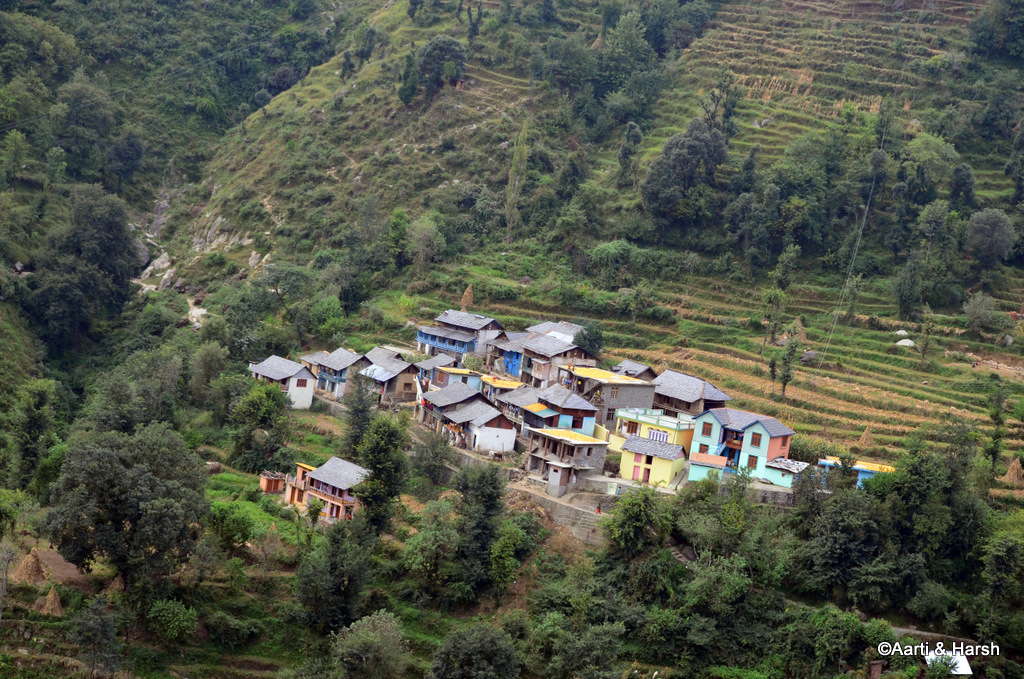 The climb passed through a field that looked lovely.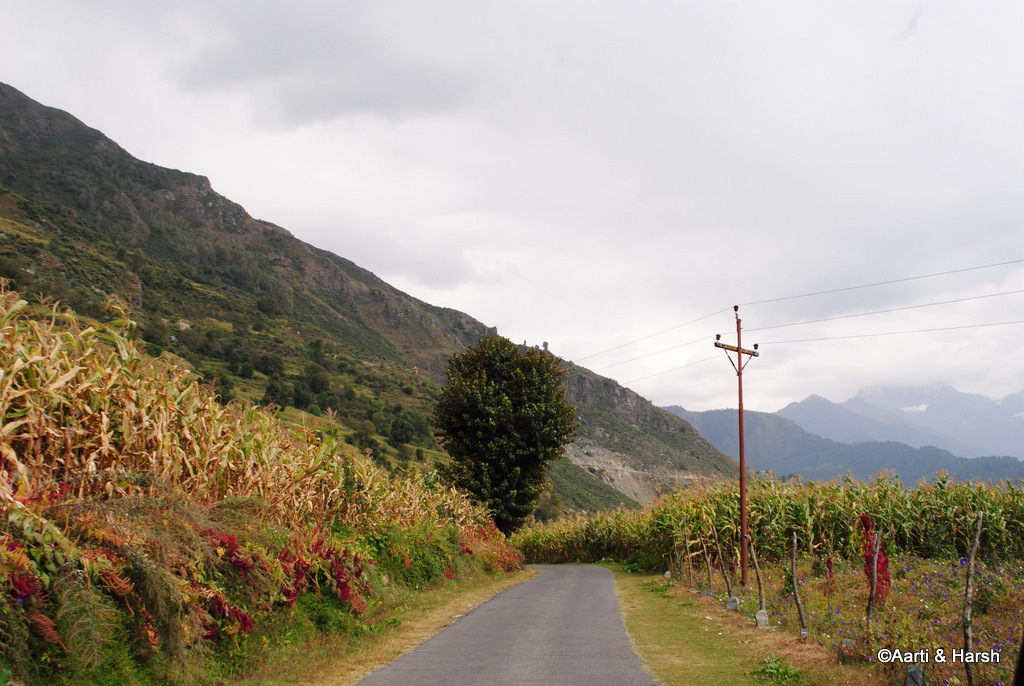 Satrundi to Sach Pass
It was about 2:30 by the time we were able to leave from Satrundi towards Sach pass; a good 7.5 hours after leaving from Kalatop earlier in the day. The official at the Satrundi check post had advised us not to proceed given this rough weather. He suggested it would be better to wait it out.
It was difficult for us to explain that this is what Kiyang had been waiting for! Skidding and sliding over a narrow climbing road towards Sach over fresh snowfall. I wouldn't blame him if he thought we were totally insane!
Knowing it was futile for him to convince us to stop proceeding ahead, he mentioned that two bikers have gone ahead and that we should help them if needed.
Also Read: Sach Pass to Spiti Valley – Adventure & Excitement
The fresh snowfall made the climb much more interesting than it would have been otherwise. The climb from Satrundi till Sach could be described as that between Marhi and Rohtang but much narrower, and a bit steeper. I would not personally call it a pretty climb but thanks to the fresh paint of white, it was a sight to behold.
The vehicles coming from Sach towards us were loaded and piled with white powdery snow. Kiyang too had begun to pile up some snow, but the fall was much heavier above.
I switched to the 4H mode for a short while just to be sure that unwanted slippages do not occur. Gradually as we moved up, the clouds started to clear and the worst snowfall was over. It eventually laid a very small coat of about 3 inches, but it was enough to make things around look prettier.
Snowfall begins after Satrundi Checkpost. A layer of white added just the charm in an otherwise brown surrounding.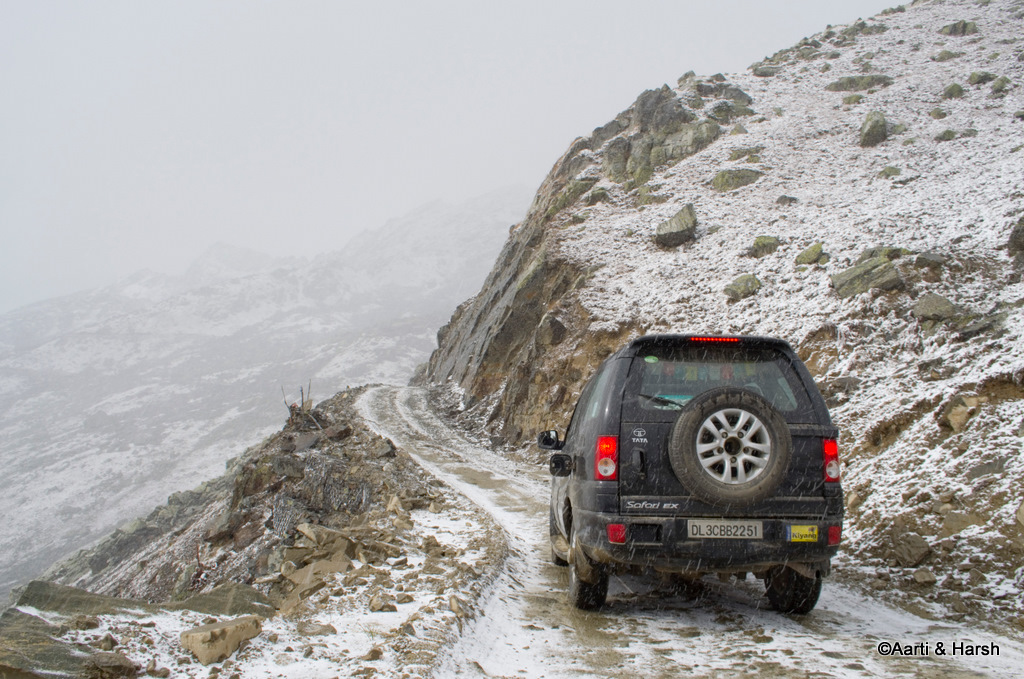 Sach Pass Top
​It must have taken us an hour to climb from Satrundi all the way to the top. The pass itself is narrower than what one typically expects from such high altitude passes. It had a storage/shelter kind of a structure and a temple just above.
There was a good 6 inches layer at the pass itself and there were two bikes parked just beneath the temple; a thunderbird and a pulsar. These bikers must be the ones that the check-post guy had mentioned. They might have stopped and took shelter and must be waiting for the snowstorm to pass by.
Also Read: Sach Pass and Spiti Circuit – Trip of a Lifetime
However, no one was around to respond. I went up and looked near the temple. The shelter/shade too was empty with not a soul in sight. I hollered a couple of times, shouting out. but no one replied.
My next assumption was that there must be some crazy guys, who had parked their bikes at the pass and were still left with the energy to climb further up towards some peak to experience snowfall. We were getting late to reach Killar ourselves and so we moved on.
The temple, the shelter, and the vehicle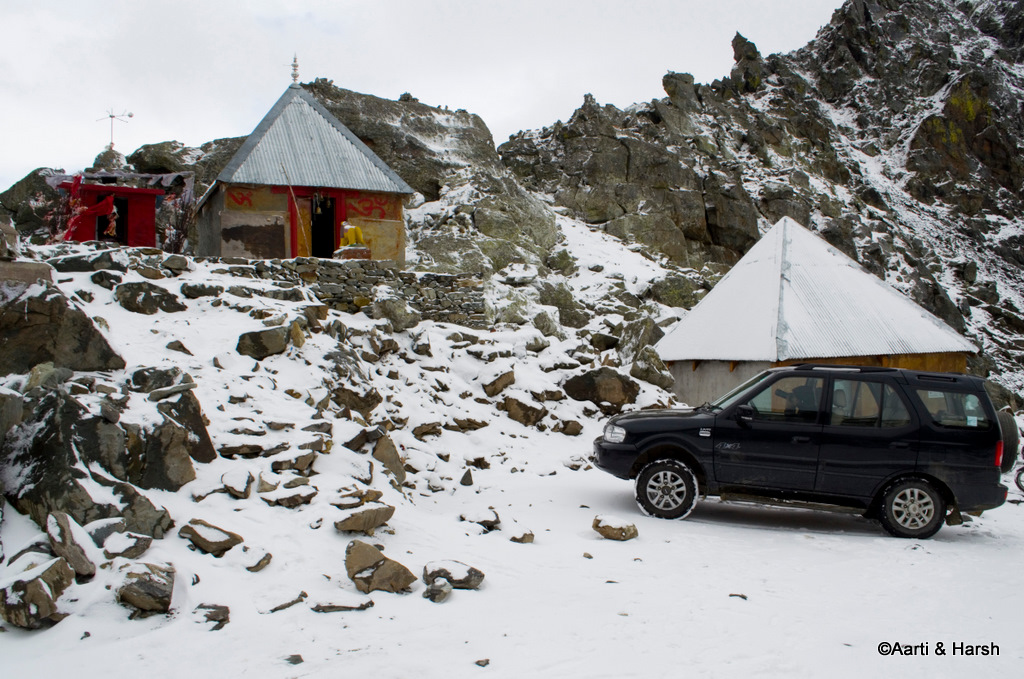 More vehicles parked near the pass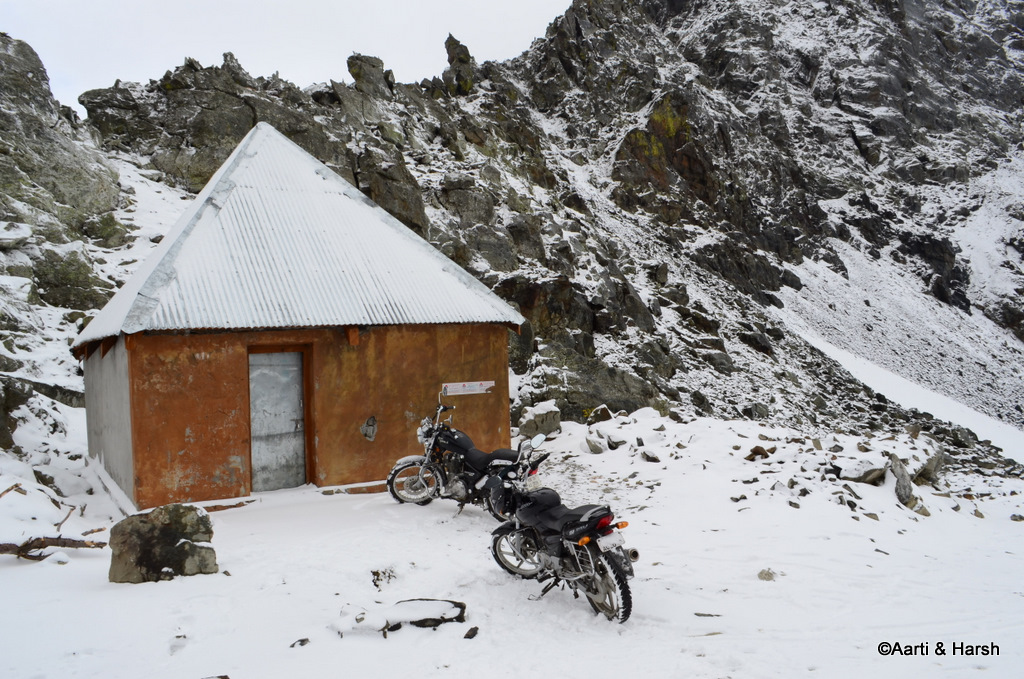 Sach Pass to Killar
We had hardly moved 100 m when we saw two figures with helmets walking towards us. It had to be those bikers and this is where we met Sachin for the first time. He was traveling with his cousin, Himanshu, towards Killar. Theirs was the most bizarre accident I'd ever heard in my life.
Sachin's cousin had somehow managed to lose the keys to his bike at the top of the Sach pass. To add to their woes, the freshly laden snow was making the bikes slip like crazy. This compelled Sachin to leave his bike on the pass as well. They'd planned to go down by taking a lift in a truck and haul the lost key bike onto a pickup the next day.
Sadly, the truck on which they'd taken lift was skidding wildly on the way down towards Killar, making them disembark immediately. Ours was the next vehicle they saw. Small world, isn't it? Anyway, we were glad to give them a lift.
The climb down from Sach towards Killar has to be more difficult by quite a margin as compared to the ascent we did. It was steep, it was narrow and it was a combination of loose gravel and mud.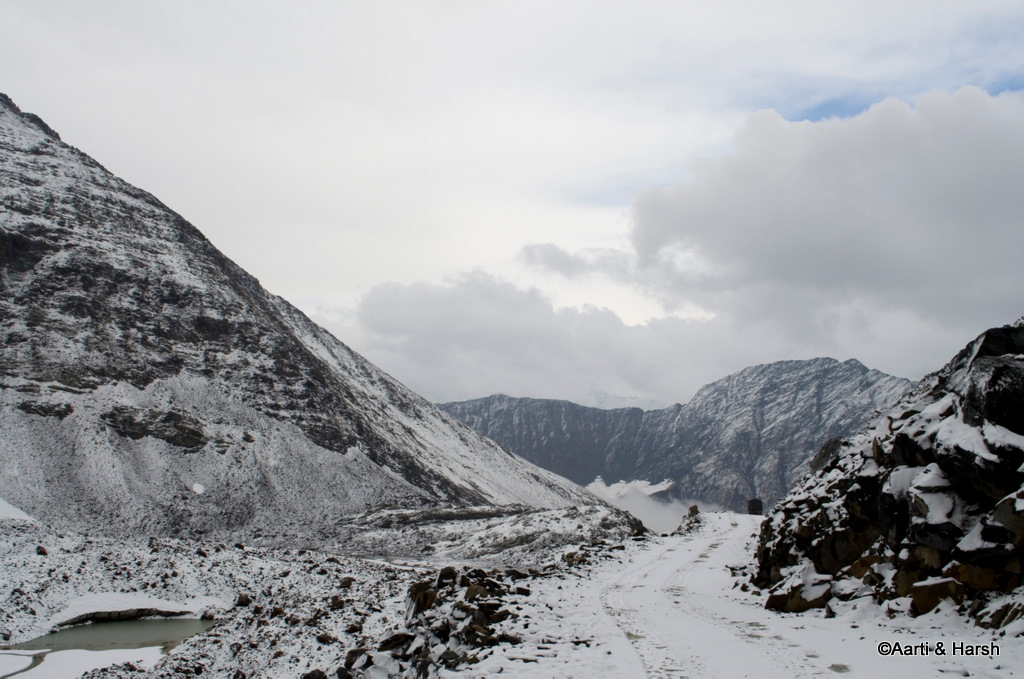 With a touch of fresh snow, the track was a bloody disaster, to put it mildly. Thanks to 4×4 mode we were cruising without breaking a sweat. The poor fully loaded trucks were having a hard time coping with these conditions though.
The descent is also more barren than the ascent. One can visibly take in the transition that happens from a green Chamba towards a barren Lahaul. These sudden transitions over the passes have never failed to amaze me, whether it be that at Rohtang or this one at Sach.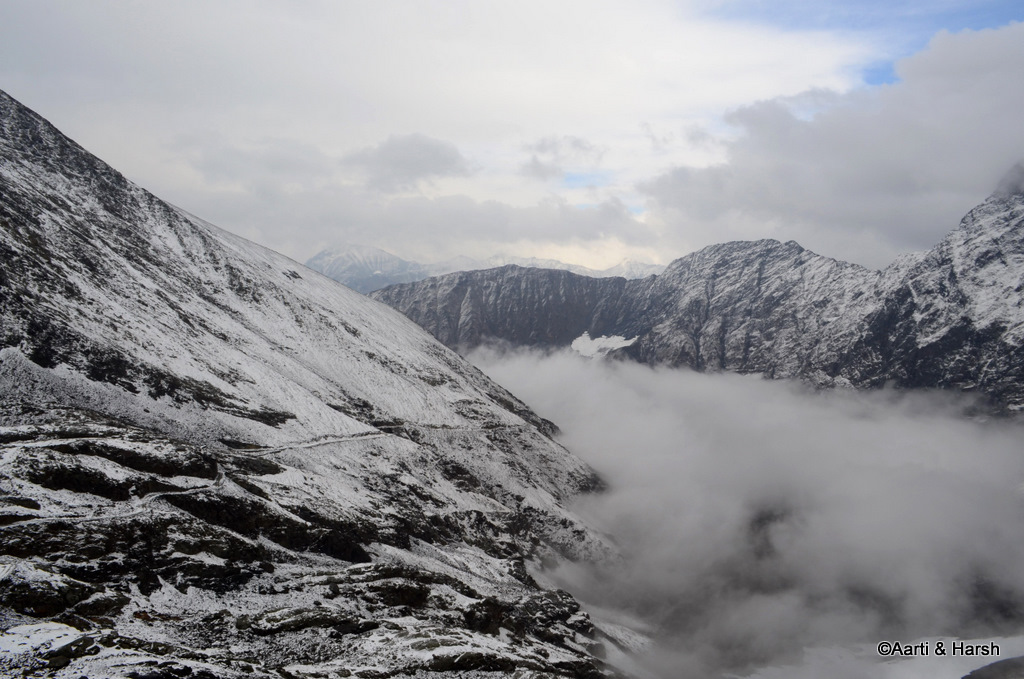 The Tough Drive
It took us a good 2.5 hours to get down from Sach all the way to the bridge over Chandrabhaga. The only bridge between Chamba and Lahaul, quite strategic if you ask me. Travel time was well spent taking in the vistas around us, negotiating a mixture of wet mud and gravel over steep inclines, and chatting.
Also Read: Sach Pass in October – The White Wonder
There have not been many occasions when fellow travelers have joined us in the cabin of Kiyang for a drive. More often than not, Kiyang finds on its back seat locals asking for lifts. So this was a different experience and a nice one at that. Himanshu was more or less quiet as he was yet to recover from the shock of the Sach pass and the bitter cold.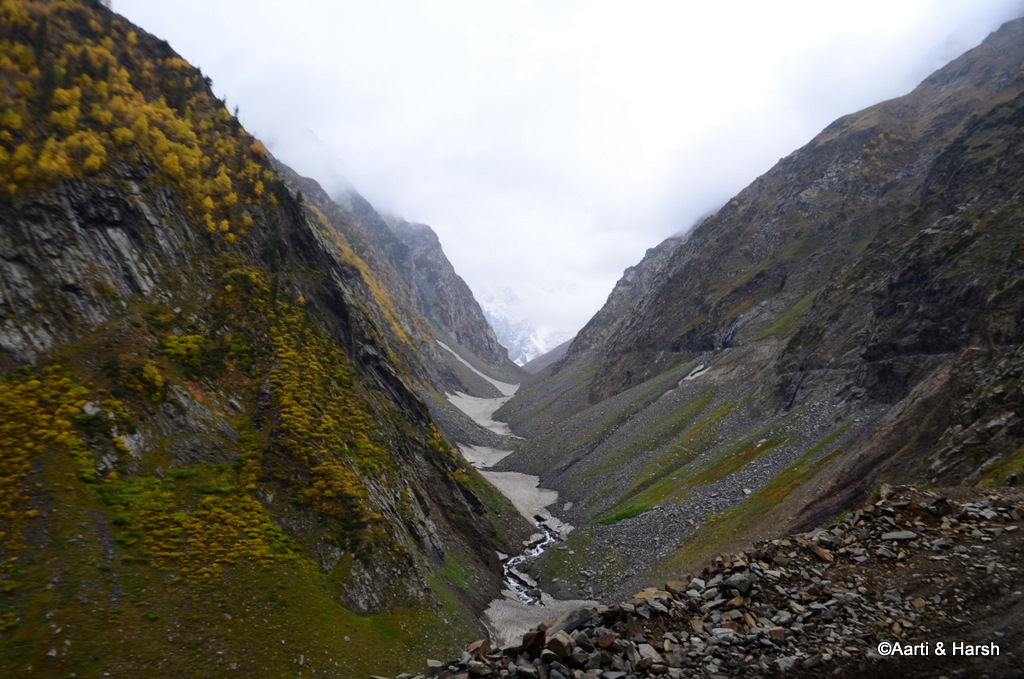 I don't think he was aware of the treacherous journey he was about to delve into. Sachin is one of the few travelers I envy in terms of dropping everything and going off on a holiday.
Also Read: Sach Pass and Spiti Valley – An Ideal Itinerary
It has been 4 months since our Sach pass trip and we've managed only a 4 day ride to Rishikesh and a weekend ride to Lansdowne whereas he has managed quite a few, the latest one being a skiing 2 weeks bloody vacation in Gulmarg. Sachin had shared with us that the primary reason for him to shift to Delhi was to travel more and I see him living up to the promise he had made to himself.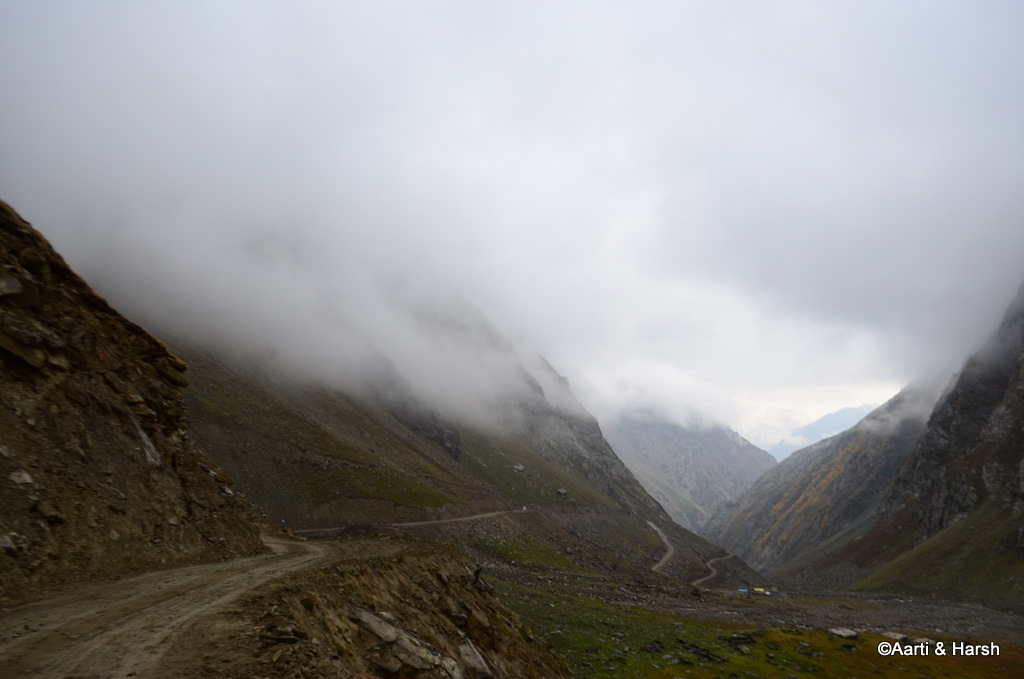 Killar
Our ordeal was not over yet, what we'd hope hoped for was to crash into a hotel as soon we touched Killar and rest. However, fate had decided to make us work hard in order to achieve that. It was 7:30 by the clock when we entered Killar, it was dark and it was raining cats and dogs. The village wore a deserted look already, but then most villages in the high Himalayas do sleep early.
It was pretty cold too, but thanks to the fully operational heater we were quite comfortable inside the car. Our first task was to search for a room and we headed straight in the direction of the PWD rest house.
Upon reaching there, we were informed by the caretaker that a senior minister of the HP govt was visiting the day after and he could not possibly give us two rooms. However, he had one room available.
Also Read: How to Prepare Your Sach Pass Itinerary
For Aarti and me, it was a plain and simple decision. Give the room to the two boys, as they had to fetch their bikes the next day and had to stay at Killar; while we move further ahead to Chery. However, Sachin would have none of it.
He insisted that we take the room and that he and his cousin would find accommodation at one of the hotels in the village. Sachin, if you are reading this, thanks to a lot buddy, we were too tired to drive off to Chery. Honestly.
End of Day
We quickly buzzed off to the village to grab some food, while Sachin searched for a hotel. All of the hotels were jam-packed with visitors from out of town in honor of the visiting dignitary.
We decided to plead with the PWD guy again after dinner. Plead he did, Sachin, and pleaded quite nicely. The next thing we know is that the caretaker had a change of heart and relented to give Sachin and his cousin a room for the night. It was well past 10 pm when we hit the sack. It had been a long day and a well-deserved sleep was in order.
Sach Pass Road Trip Best Time
The best time in my opinion for a road trip to Sach Pass is the months of the end of June, early July, and September. If these months weren't possible, then you can visit in August and early October but be prepared for either the monsoon or snow-covered roads.
Sach Pass Road Trip Duration
This will depend on where you were coming from. Starting from Delhi, a minimum of 5 days will be needed for a Sach Pass road trip. If you had more time in hand, you can use it to explore places like Dalhousie and Pangi Valley.
Sach Pass Road Trip Distance
The total distance you will cover on your Sach Pass road trip will be anywhere between 1500 to 2000 kilometers; depending on the areas you plan to visit and the route you take.
Sach Pass Road Trip – Conclusion
I hope the travelogue, pictures, and information on planning a Sach Pass road trip were of help. Please read Killar to Udaipur to Miyar Valley to Manali to Delhi to continue reading the next part of this travelogue as we explored Pangi Valley further before returning home via Manali. If you have any questions or need any other details, please feel free to ask in the comments section below or at our Community Forum, and I will be glad to answer.