I recently went on a Delhi to Sach Pass bike ride via Dalhousie and Khajjiar. This trip was in planning for a long time, though we were not able to decide the dates. Finally, we zeroed on this weekend to get away from our mundane office life. The destination was Dalhousie but I had plans to cover Sach Pass as well.
Every time I plan a trip that involves passing Chandigarh, I make sure to stop over at my relatives hence using Chandigarh as a base. I travel a day earlier to start the journey comfortably. Hence, we started on the evening of 7th September from Delhi for Chandigarh on my blackbird i.e. Avenger 220.
Delhi to Sach Pass Bike Ride
As soon as I announced that I will travel on my bike, the resentment from my mom started. Everyone rejected this idea but I was firm that either I will travel by bike or not travel at all. I just couldn't let the feeling of adventure go. Hence amidst the negative vibes from my family, I decided to travel on the long journey.
Day 1 – Delhi to Chandigarh
The exit from Delhi was quick and smooth. The weather was pleasant but with a hint of rain. We cruised through Panipat and Karnal stopping at Jhilmil Dhaba for a quick snack. However, the weather had something else in its mind. As we started our journey, I saw a fuzzy curtain like thing on the road ahead.
Also Read: How to Plan a Trip to Sach Pass
I immediately realized that it is raining ahead. Hence, I advised my wife to quickly cover our bag with rain cover. Although, we knew we will be wet. I was correct as we reached Kurukshetra, it was raining heavily. But, I didn't want to lose time.
Hence, I decided to move ahead. We were soaked in the rain but we managed to reach Zirakpur in time. I badly needed a coffee. So, I stopped at McDonald's for a quick coffee break. The warmness of the coffee did wonders and I was able to reach Chandigarh in time.
Day 2 – Chandigarh to Dalhousie
We started from Chandigarh at 6:00 am. The city was still sleeping and we were cruising at a nice speed. We took the route through Kurali bypass. I stopped to click beautiful sunrise and of course myself.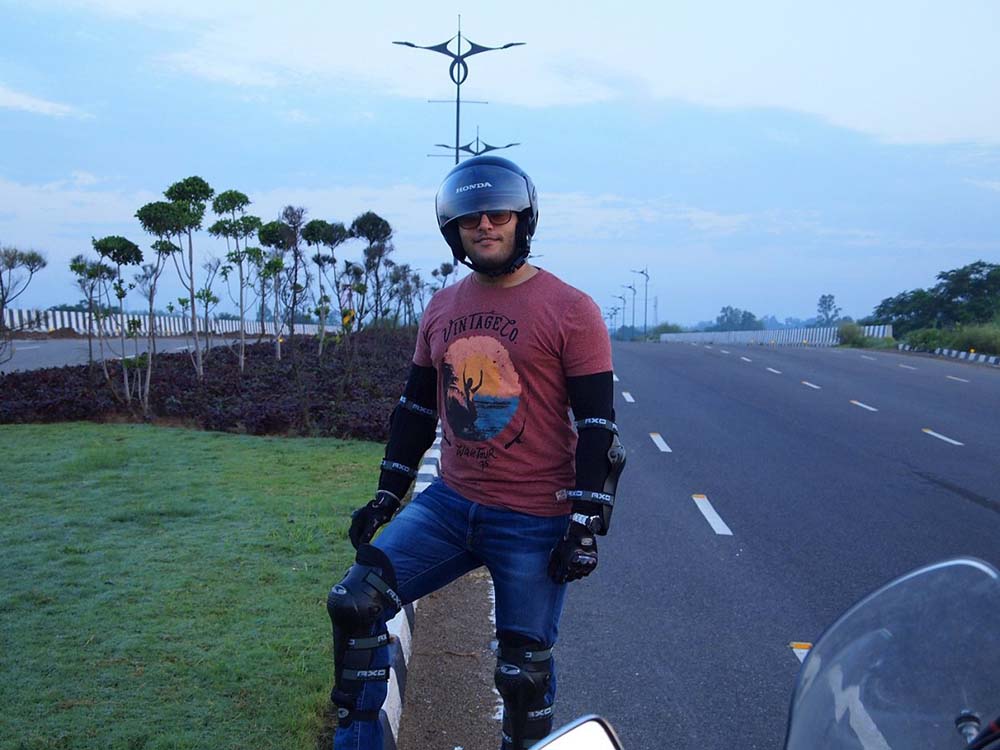 We quickly reached Anandpur Sahib at 7:30 am and stopped for a quick breakfast at a roadside hotel. Thereafter, I followed the google map and took every direction even though it directed us through lanes and other short cuts.
We took a small route which passed through a small village. The road was so green and narrow that I had to blow horn to warn incoming cow and buffaloes.
Soon, we reached a turn where the road led to the Pong dam. We had to register ourselves at the checkpoint. It was the starting point of hills and winding roads. We soon crossed Pong dam and I stopped for a quick click of the reservoir. My wife was in awe of the size of the reservoir and the vastness of the water body.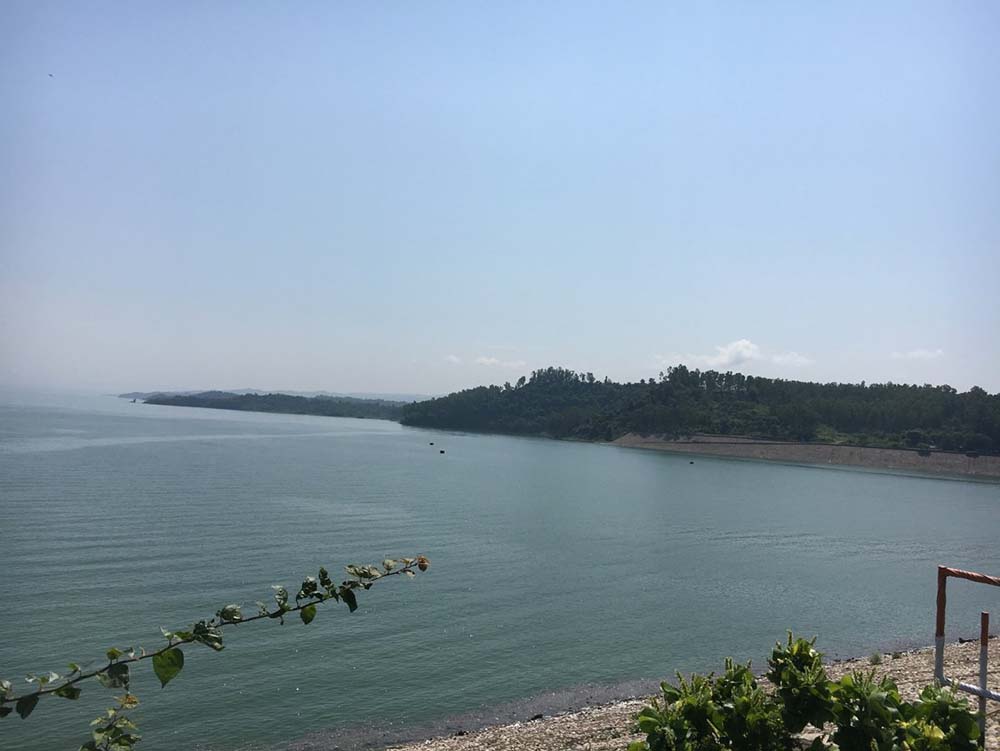 At the end of the road, the signboard indicated that we had entered Himachal. Thereafter, we cruised at a leisurely speed, stopping at regular intervals for short breaks from riding.
A bridge enroute to Dalhousie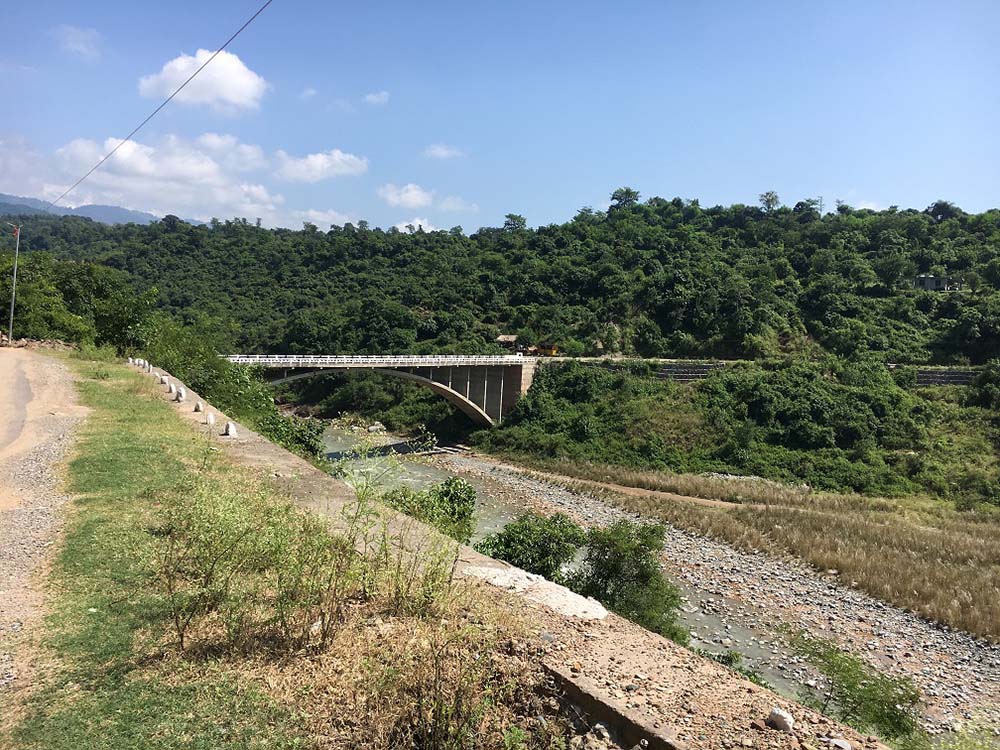 PWD Guest House
We reached Dalhousie at 3:00 pm. I got the feeling like I was in Kasauli. Maybe it was because of the army presence in both places. It was a pleasant drive till the town but we had to make an effort to locate PWD Guest House where our bookings were supposed to be done for the next 3 days.
After encountering the usual Indian response of "Aage hai" several times, we located the small board indicating PWD Guest House. It was written in pure Hindi. Maybe that's why I couldn't find it the first time. I made a mental note of always closely examine the boards written in Hindi.
Also Read: How to Plan a Trip to Dalhousie
Now the guest house was located uphill and it was a narrow alley. I was hesitant to push my bike on the slope but the caretaker assured me it will be fine. So, I accelerated on 1st gear only to find that the parking spot had a sharp turn. As expected, my bike stalled and started rolling back. He had to rush and push it from the back so that I could make the turn. I cursed him silently and parked it.
PWD Circuit House
We then moved to the room allocated only to find that it was booked for 1 day. My wife was furious and she made some calls. I happily settled in and quickly ordered tea. As we had the tea, we realized that our original booking was in the PWD Circuit house and not the guest house.
We both were dead tired with all the charades but we gathered some courage and quickly packed our stuff and moved out.
The biggest challenge was to push the bike out from the parking spot, make the turn again and get on the main street. I had to struggle again but eventually, we moved out. Suddenly, the care taken came running and asked "Sir Chai ke Rs.20 hue the". I felt like shouting but I controlled myself and handed him the money.
We came back to Subhash Chowk and asked for the directions and got the usual reply "Aage hai". This time I located the board written in Hindi as 'Lok Nirman Vibhaag Paridhi Grah i.e. PWD Circuit house.
It was also located on a height but at least the way was wide enough for SUVs. I happily climbed up the slope and parked my bike in the spacious parking. The Circuit house was quite big and cleaner than the rest house.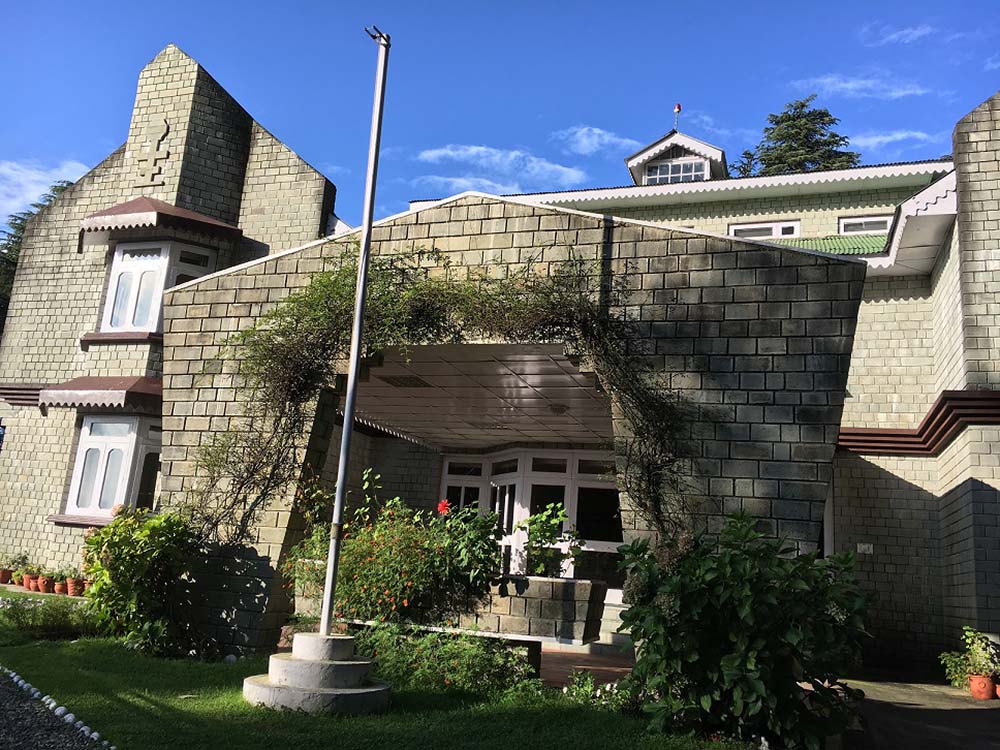 The caretaker was also more courteous and the room was amazing, fully carpeted, etc. We quickly got rid of our riding gear and collapsed on the bed. We rested for a while and made some plans for the evening.
Sightseeing in Dalhousie
There are only two places to visit in Dalhousie, Subhash Chowk, and Gandhi Chowk for a quick visit. If you were going to spend a few days in the town, there are several places that you can cover. Check out the list of tourist attractions at What to see in Dalhousie | Fun Things to do in Dalhousie.
There is a church at Subhash Chowk, St. Francis church which is almost 150 years old. We visited it and as we came down I spotted a small barn for some rabbits and ducks. I was very happy to spot them and clicked them merrily.
By this time, some fog was beginning to show in the valley and the trees surrounding the church.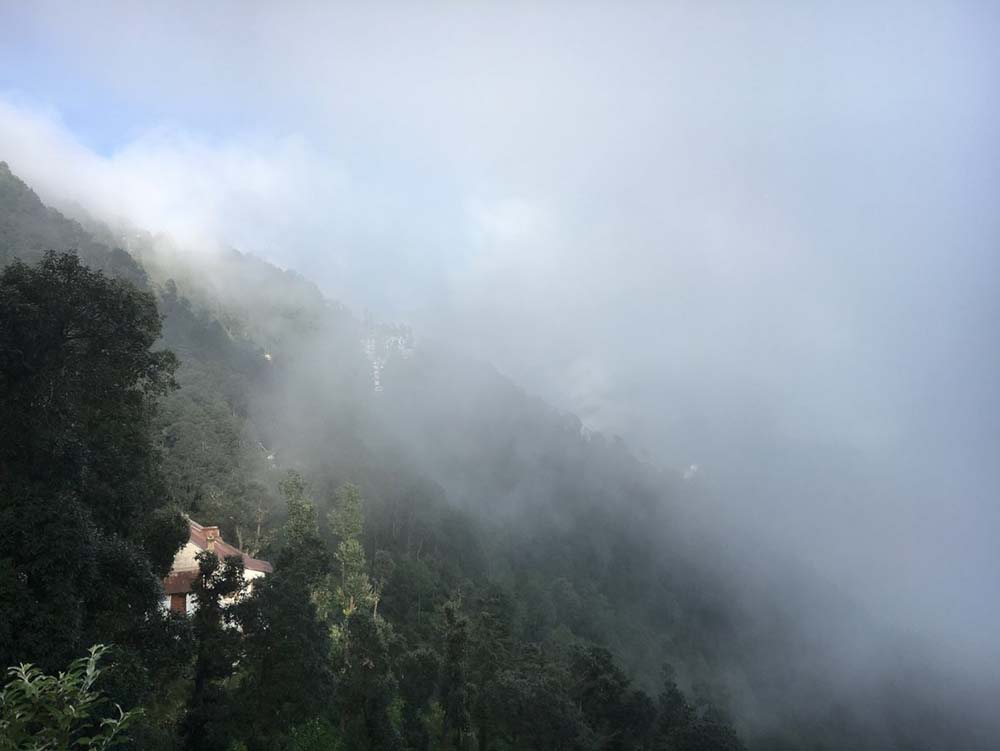 Gandhi Chowk has a small market which has some eateries and other shops. It becomes lively in the evening when people come out for an evening stroll. We decided to walk to it. It was a long walk of around 2 km but was fresh and green. It felt like a mountain trail and there was a nip in the air. I am not a big fan of walking long distances but I managed.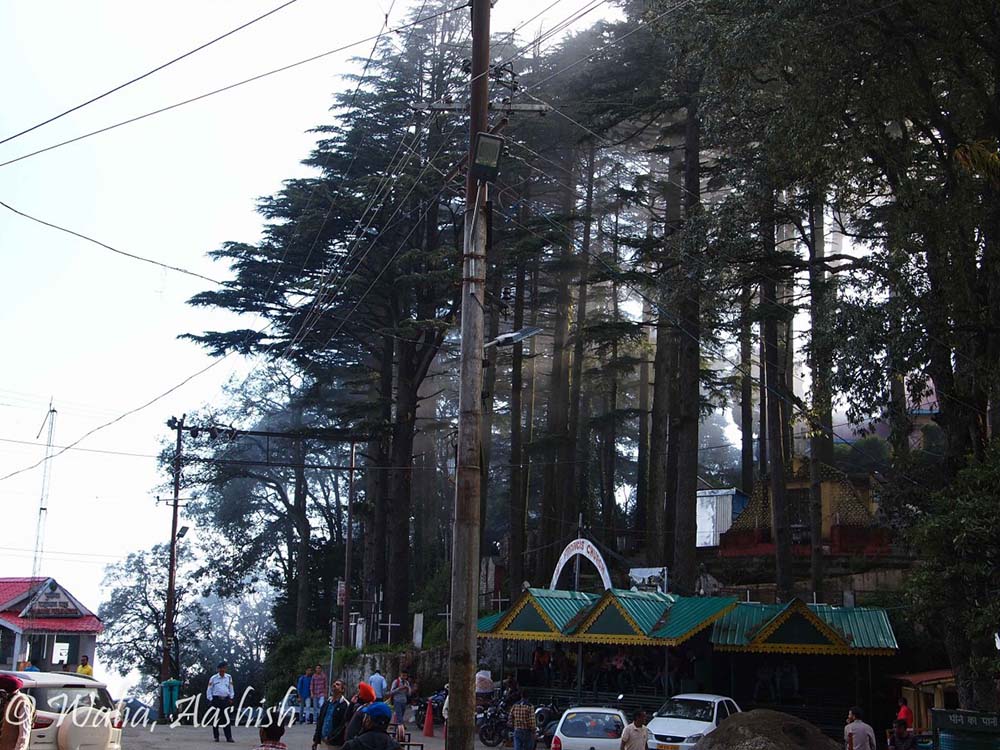 As we reached the market, we were hungry and a bit cold. I looked for a decent eatery and ordered some french fries to munch on as we explored the market. Lots of tourists had started pouring in but the place was devoid of any foreign tourists.
Dinner & Hotel
I looked for a restaurant to sit and enjoy coffee and something to eat but dropped the idea. We ordered Garlic bread and coffee from a food joint. The garlic bread was amazing and so was the coffee. It gave us the energy to walk back to our Circuit house.
We walked slowly, checking nature and observing people. The local residents had put on winter shawls and pull over. It seems the winter had started to show its impact on the sleepy town. We on the other hand were happy in our summer wear.
Also Read: Best Time to Visit Dalhousie | When to go to Dalhousie
We reached our room after an hour or so and decided to order an early dinner. The dinner was bland with plain daal and rice. I decided to call it a day as I was eyeing Sach pass as well for this trip.
I had to convince my wife for the trip and we decided to leave early if we want to come back to Dalhousie the same day. But in case we would be late, we decided to stay at Bairagarh for the night. I was quite excited about the next day's journey.
Day 3 – Dalhousie to Sach Pass and Back
I had decided to start early as I thought of returning the same day but I had plan B as well to stay at Bairagarh if it got dark. The caretaker had made it clear that he couldn't serve breakfast so early but tea was feasible.
We got up at 5 am and were ready by 6 am to leave the circuit house. As promised, the tea was served and we had some biscuits to sustain us till breakfast. There is nothing better than a morning tea.
My wife wanted to see Khajjiar so we decided to visit it as well en route. The ride to Khajjiar was excellent as the town was still sleeping and it was so quiet and empty. As we climbed up, we came across Dalhousie School which was built in layers. I felt like we drove through the school as students were jogging along the road downhill. It was magical.
With every turn, there was a new building for the school. The setting can't be more scenic, situated so far away from the hustle and bustle of the city, in the pristine nature. We rode further up the hills and the town was left behind. There were very good vantage points to see the city.
Also Read: Shimla Manali Dharamshala Dalhousie Trip Itinerary
Khajjiar
Soon, we entered a thick jungle where it was still dark in some patches. The birds were discussing morning matters in their own chirpy language. It was so peaceful. I stopped frequently to take it all in and clicked some pictures.
There was not a soul in sight and we felt cut off from the world. Soon we came across a temporary settlement of makeshift huts. I think it was day laborers' housing. It was perched on a clearing at the base of a hill.
We rode past it and I knew that Khajjiar is near as the valley had started opening up and there it was a vast, open green patch. It was really beautiful. The dewdrops from the night had increased the green contrast of the field. There was no one present as we were too early to arrive. I parked the bike and decided to explore it nonetheless.
All the small shops were closed and we were feeling hungry. Suddenly, I saw some movement and found one shop being opened. I quickly checked with the person if something is available. Maggi and tea were prepared in no time. We quickly finished our breakfast and clicked some pictures.
The lake was really dirty. Hence, we decided to skip that and continue our journey towards Sach pass. As we asked for the directions, we were advised to go via Chamba. It was a downhill trip to Chamba as it is at a much lower elevation than Khajjiar. We were at Chamba in no time. Here, I decided to fuel up for the rest of the journey.
Chamba
Chamba town visible from the road.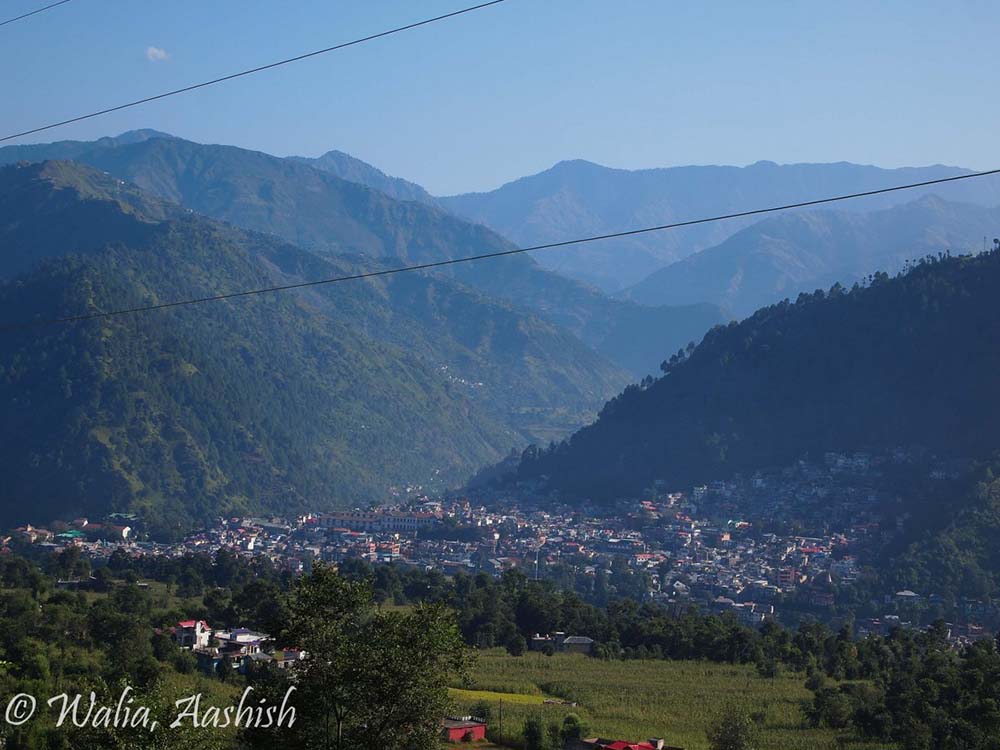 We continued alongside the river as we rode upwards in the hills. We encountered the morning rush of the town and our speed was reduced considerably. By now we were also hungry again as maggie and tea had no effect on our appetite. We decided to stop at a nearby dhaba somewhere before Tissa. Unfortunately, nothing was available except tea. I can't say no to tea. My motto is " Ruk jaate hai wahan, chai ban rahi ho jahan".
Also Read: How to Plan a Trip to Chamba
I was happy and had a quick snack of some biscuits. Meanwhile, my wife also stretched a bit as she was complaining of stiffness in the back due to the backpack. I decided to give a quick wash to my bike as well. Some children gathered around me and watched inquisitively as I washed my bike. It seems this was the bulkiest bike they had seen.
We rode further towards our destination. The valley had changed by now. The edges were rough and the turns were sharper. There were many small villages on the way. At one point, there was a waterfall falling with great sound on the road. It was really exciting to pass under that.
The Tough Roads
Suddenly I saw marks of a landslide that had destroyed some portion of the hill on the other side of the valley. It was huge and frightening. A bridge down in the valley was completely destroyed and the road leading to some housing settlement was just cut off.
I think this might have occurred during the monsoons. As we moved ahead, we encountered an actual landslide being cleared by the construction workers. The path was quite narrow to pass through and I had to ask my wife to get down so that I can ride the bike. The workers were cutting through the rocks to clear the way. My wife was a bit worried though.
On the way to Bairagarh, we crossed numerous bridges that linked different hills in the valley. With every bridge, we crossed into a new side of the valley. By this time, we were tired due to the trip. Soon, we saw a signboard for Bairagrah which was still about 10 km away.
Bairagarh
Slowly, we reached Bairagarh @ 12:30 pm and I decided to stop at the first hotel. The hotel's name was Chamunda Hotel. It also had rooms so I decided to stay there if we got late to return to Dalhousie. We ordered lunch there. I went to the balcony of the hotel and found the view of the valley quite beautiful.
We left the hotel at 1:00 pm to continue towards Sach pass. The police post at Satrundi is sort of midway between Sach Pass and Bairagarh. I decided to use it as a marker for the journey. The road quality got bad after Bairagarh as it was only boulders that were smothered by a road roller.
The vegetation had changed drastically though. It looked more and more like Kashmir valley. The facial features of the people we found on the way were more Kashmiri than Himachali. I stopped a few times to absorb the scenery and click some pictures.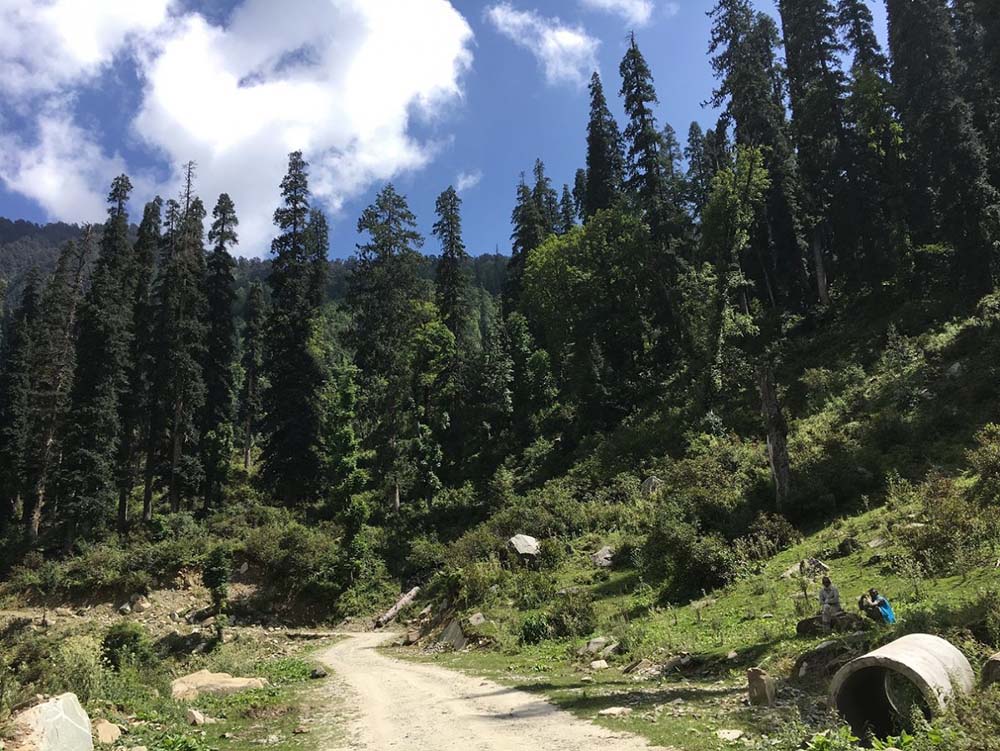 The Steep Climbs
Soon, the road deteriorated even more. At one point, there was a steep slope and my bike simply refused to go further. I had to ask my wife to get down but I was not able to control the bike even then. It started rolling down. I was revving the engine but it was not climbing.
A shepherd was just sitting on the edge of the road and enjoying the scene. My wife shouted to him to help instead of just sitting there. Promptly, he sprung into action and pushed the bike from the back, and finally, I was able to clear that slope.
Thereafter, at every such slope, my wife pushed the bike if it got stuck. It happened a few times at Sach Pass climb only. The water crossing was not much deep and we were able to cross them safely. I kept on checking the hills as well to see how far we needed to climb.
I jokingly pointed to a far top of the hill covered in snow and said to my wife that this is Sach pass. Little did I know that it was actually Sach pass and we had to climb to such heights.
Also Read: Sach Pass Road Status and Conditions
Satrundi Checkpost
Soon we could see the blue tents of the check post. We were excited as we finally saw some people. We hadn't encountered any person or vehicle coming in our direction. As we reached the post, we were asked to register and videography was done.
There we found one mini-truck coming from the other side. I asked the driver about road status. He said that we can do it and come back quickly. It wasn't far from that point. Although he warned us that the weather was turning bad at the top. I was nervous as I didn't have the extra jacket. I didn't realize that my wife was not even wearing shoes. By now it was too late to do anything about it.
Slowly we decided to move ahead. It was really a steep climb and it tested all my driving skills. We saw a helipad at some height above the police post. I made a note of it as a marker for the journey down. The road had now disappeared and it was only rocks and boulders arranged to look like a path.
Also Read: Sach Pass and Spiti Circuit – Trip of a Lifetime
The Final Push
At some time, I felt I was driving on rocky steps or stairs. It was more suited to walk than to drive. Now, we could see people coming down in SUVs and Sumos. We saw a lone bike coming down with a pillion. I was happy to see Delhi number on the bike. I showed a thumbs up.
At sharp bends and slopes, my wife acted as a navigator and we both used our skills to the best to avoid the big rocks. I think, the pillion rider loaded with a backpack made the journey more challenging but my blackbird was showing full power.
The landscape changed to rocks of all shapes and sizes. The visibility was reduced due to fog and clouds. My wife had understandably become tired and was irritated. She started complaining and so was I.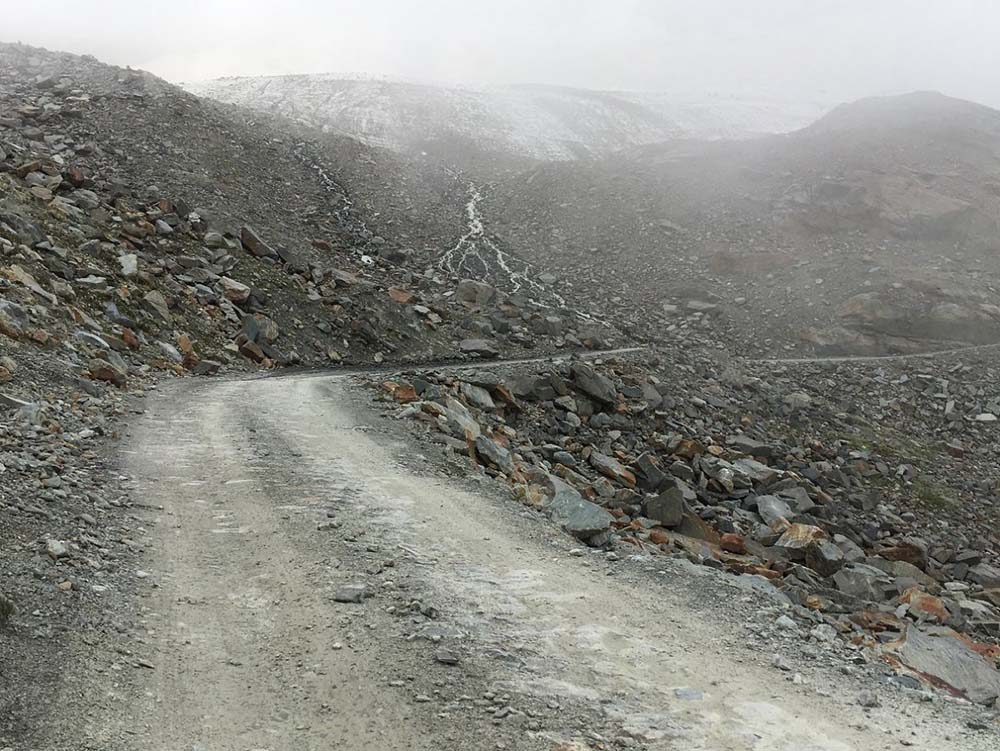 We finally saw two guys coming down on a bike. I asked him how far is the pass now. He smiled and said that it is hardly 1 km now. I noticed his mustache had some snow on it that made me nervous as well as excited about the road ahead. I thanked him and move ahead. As I was navigating a small water crossing, I lost balance and had my first fall.
Although I was able to escape, my bike fell on the path. I shouted in despair. As I mounted back on my bike, I spotted a small glacier. I asked my wife to check it but she was in no mood. I quietly checked it from my bike and move ahead. After another sharp bend, I saw the famous wall with Sach Pass written on it.
Also Read: When is the Best time to visit Sach Pass
Sach Pass
I was so happy to finally see it. The path was relatively smooth at the top. It was really windy and cold. I was shivering and so was my wife. I quickly decided to visit the temple and click a few pictures.
My wife was suddenly overwhelmed and just wanted to go back. I had to make her realized that we just reached one of the toughest passes, that too, in T-Shirt and sandals. I decided to explore the place a bit. It was so foggy that I couldn't see anything but suddenly due to the wind, the fog cleared and I could see the other side of the way on Killar side.
It was so beautiful. If I am right, it was Pangi valley. I could hear the howling sound of the wind. The water was flowing from glaciers and added to the sound of the wind. The valley was mixed of brown of the soil and green of the pastures.
The small stream of water glistened like silver in the sun. I could see the spiral roads going down to Killar from Sach pass but we were to travel back to Bairagarh.
I was so excited that I was at the crossing point of two valleys. As my wife complained more, I decided to turn back at 3:20 pm from Sach Pass. On the way down, we decided to stop at a point where some snow was still there.
Sach Pass to Bairagarh
The journey downwards was even more dangerous as the speed made it hard to navigate the rocks. As I navigated a sharp rock, I had my second fall of the trip. This time I went down with the bike. I was saved by the leg guards as I hit hard on the rock. I was a bit shocked.
My wife also had a fall but was quickly on her feet. She was fine and unhurt. We again found one shepherd sitting there. It was like somebody had placed these guys strategically. He came running and helped me in picking up the bike. The bike didn't even get a scratch, such is the built of this bike.
I asked him what was he doing there at such a godforsaken place. He said he is waiting for his sheep. The sheep have no problem navigating such harsh terrain. They were happily hopping around on the rocks. We slowly moved downhill. Soon, I could see the helipad. I knew we were close to the check post.
On reaching check post, videography was done again. We took a quick break of tea. It was around 4:30 pm. Slowly, we started our trip back to Bairagarh. This time, the speed was a bit higher due to the downslope. I clicking some pictures and gave a long look back at the top where Sach pass was hidden in the fog.
Water crossing on the way down. A small rainbow was visible in the water stream.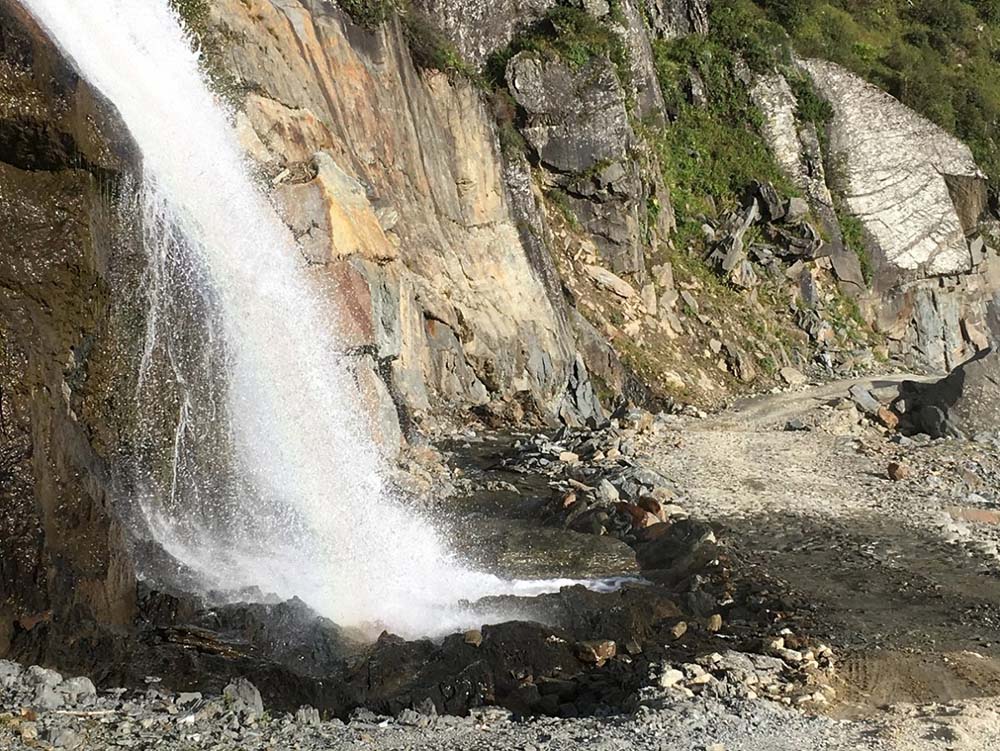 Bairagarh
To avoid any slip, I was riding more consciously. Suddenly, the green of the valley seemed even more green. I knew I was hallucinating as the valley slopes seemed to be converging. I called it out to my wife as well who freaked a bit. We decided to not look down at the valley and stick to the rock side of the road.
Finally, I saw the road clearing machinery and the road also widened a bit. We were at Bairagarh at last. I quickly checked in at Chamunda hotel. It was so tiring that I found it difficult to even remove my leg and elbow guards.
I ordered some sandwiches and tea. With every bite of the sandwich, I could feel energy levels going up. Our bag was so dirty by the dust that it had changed color.
I decided to take a stroll outside to see the surroundings. The Sach pass peak was visible and it was still shining due to the fading sun. The valley otherwise was in complete darkness.
As I checked with the manager about the early check out for the next day, I met 4 bikers who were coming from Chandigarh as well. They inquired about the road status of Sach Pass and if they needed extra jackets for the cold. I laughed as I had done the trip in one t-shirt only but advised them to wear their usual riding gear and be careful of the rocks and sharp turns.
They were going to Leh via Srinagar and hence wanted to go to Kishtwar via Killar. It was going to be a long trip for them. We ordered an early dinner and went to sleep as we wanted to leave by 6:00 am to reach Dalhousie as quickly as possible.
Delhi to Sach Pass Bike Ride – Conclusion
This was it. This was our bike ride from Delhi to Sach Pass on a Bajaj Avenger. The next day, we moved down to Dalhousie and spend another day and night exploring the quiet town before riding back home to Chandigarh and Delhi on the following days.
I hope the travelogue and pictures above were of help. If you have any questions or need any other details, please feel free to ask in the comments section below or at our Community Forum, and I will be glad to answer.