Recently I completed a solo ride on the Killar Kishtwar Road via Sach Pass, Sinthan Top, and Pangi Valley. This was my first such long ride and it was an awesome experience. Solo riding/traveling is to be experienced to understand how liberating it is. Fun, excitement, fear, pain – all made this a ride to remember.
The route was as mentioned below, covering a total distance of 872 kilometers.
Jammu – Pathankot – Dalhousie – Chamba – Bairagarh – Sach Pass – Killar – Cliffhanger Route – Gulabgarh – Kishtwar – Sinthan Pass – Daksum – Anantnag – Jammu
In this article, I will provide a detailed log of my ride on one of the most dangerous roads in our country.
Day 1 – Jammu to Bairagarh
Route: Jammu – Pathankot – Dalhousie – Chamba – Biragarh
Distance Covered: 303 kilometers
Jammu to Chamba
I left from Jammu early morning at 6:15 am and took the first tea stop after crossing Pathankot. The road till now was straight and without much traffic. Soon after crossing Pathankot, it turned into a complete ghat-section. Good road conditions and low traffic helped me maintain good speed and I covered a good distance.
I saw many small villages in the hills and houses in secluded areas. But this one made me stop. A lone house surrounded by greenery all around. The owner sure hates having people around. LOL.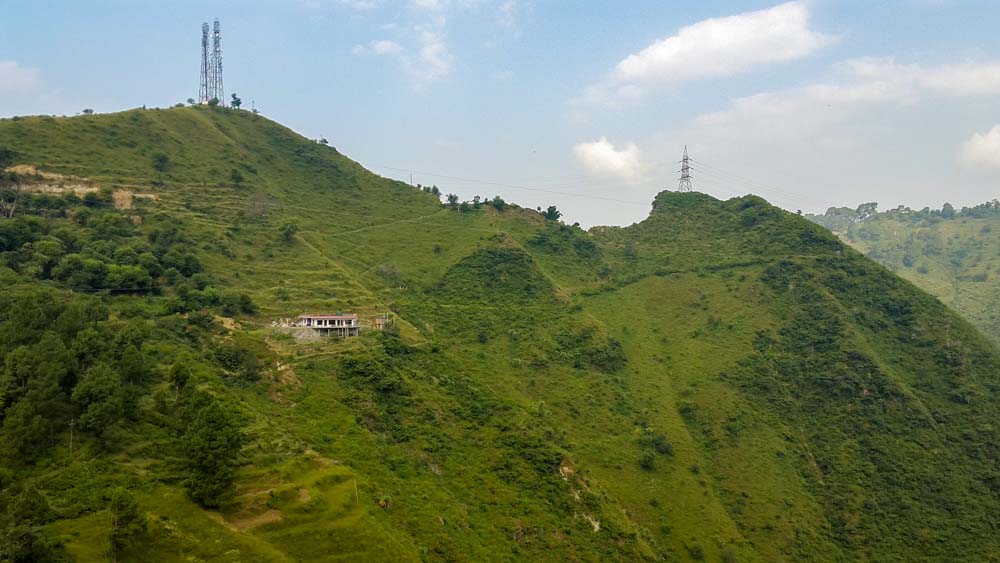 A couple of turns later stopped to click my beloved with this beautiful view.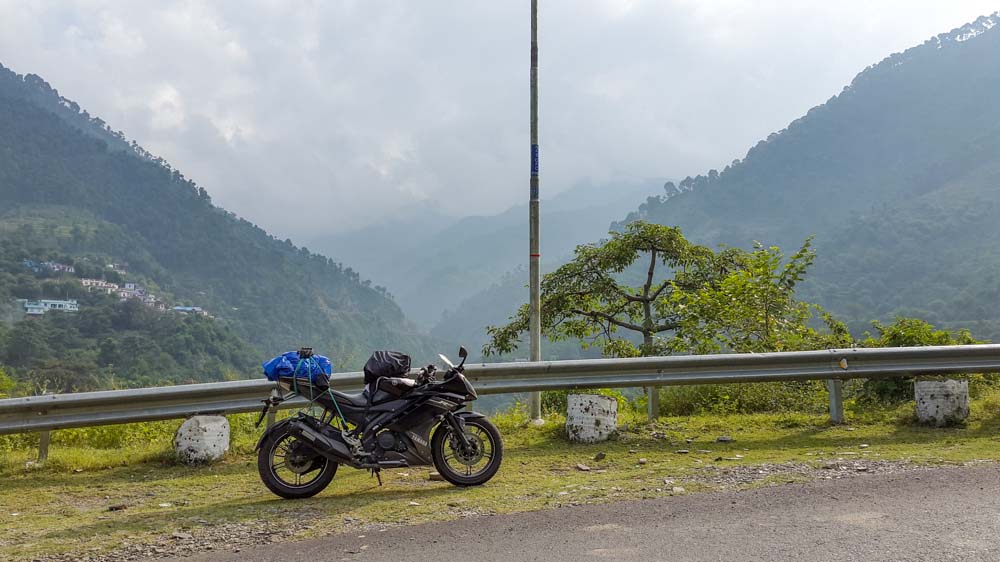 It was around 9:30 am and I stopped at this point for some homemade snacks. This view coupled with tasty snacks and beautiful weather, what else can one ask for.
I loved the colors in this village. Golden paddy fields with red rooftops and green surrounding.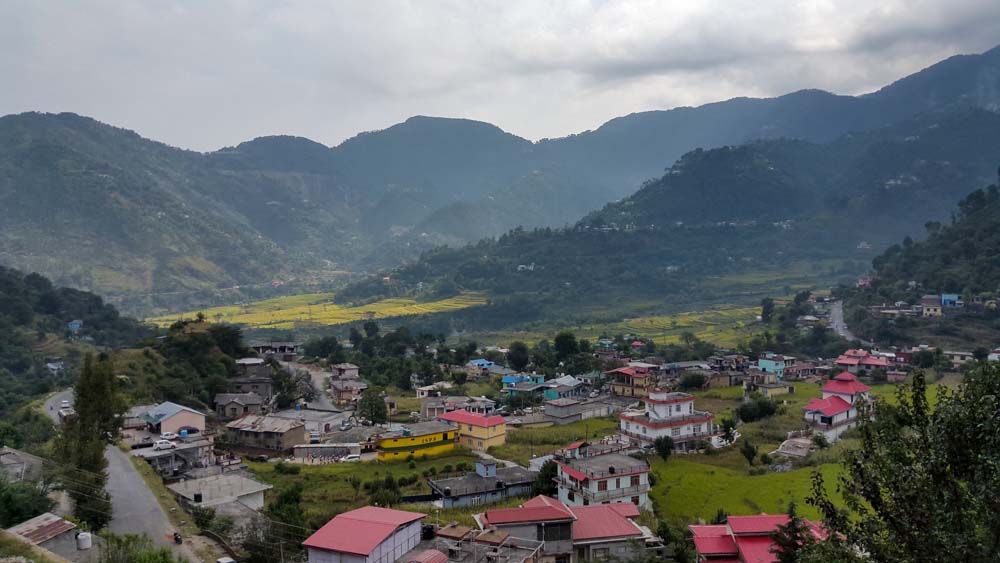 Riding further, I saw the Chamera dam from above. For those who want to see the dam from up close, there is a diversion road for that.
The blue water looks really beautiful.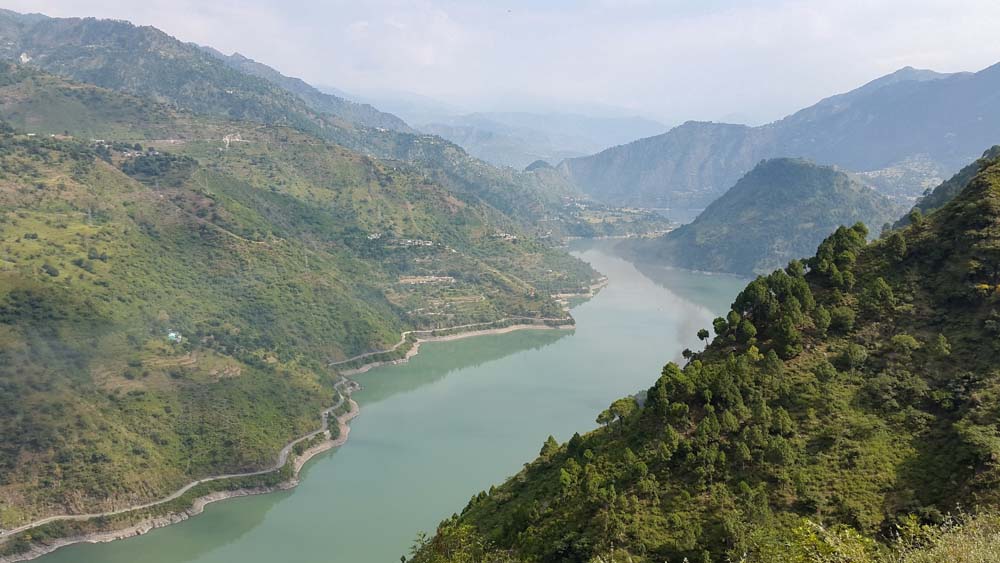 There was even lesser traffic after crossing Dalhousie, but one needs to be very alert as pickup trucks will come up every now and then and they aren't slow.
I had a couple of water breaks, but choose to not have a long till the road condition deteriorates. After Dalhousie, the road becomes more or less a single lane road. Road condition is good till Chamba with a few landslide spots.
On reaching Chamba, I took a wrong turn and I went towards some town. I asked a traffic police officer for directions and he was very helpful in explaining the directions to me.
Also Read: How to Plan a Trip to Dalhousie
Chamba to Bairagarh
When we reach Chamba, there is a Maruti showroom and for Biragarh, we have to take the left just before the showroom and cross a bridge. Road condition after this was a mix of good and bad roads. There are some really bad patches too. Small villages come and go and altitude goes on increasing. Views also start to change with lesser trees and more shrubs. Temperature also takes a dip.
There is a petrol pump before Biragarh. One can't miss it unless he's riding/driving with closed eyes.
A few km before Biragarh, there was this small waterfall and vehicles have to pass below it. Saw an opportunity to click my ride with the rainbow.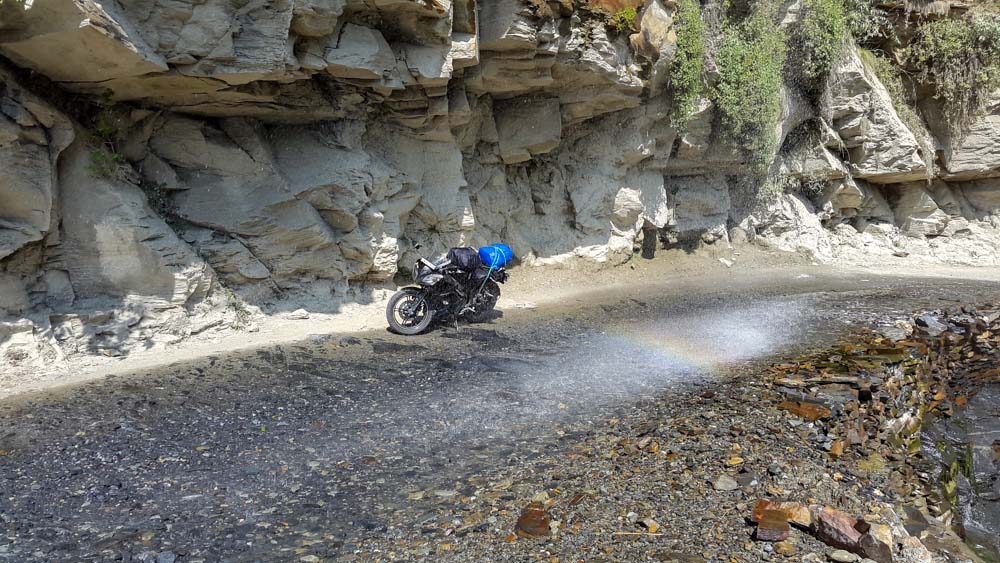 I reached Bairagarh at 3 pm and wanted to rest very badly.
Bairagarh
For stay, Biragarh has two options. There is a hotel named Chamunda Hotel. I checked the room and it was good. But he was asking for 1500 and then came down to 1200. But being on a budget, I wasn't going to pay 1200 for a night's stay.
I decided to check Mannat Homestay which is less of a homestay and more of a budget hotel. I got a room for 400 and for the price, it is good. It had a clean toilet but without a geyser. They also have their own kitchen/food shop and one can have tea/maggie/lunch/dinner.
I was extremely tired after riding for 303 km on R15. The last 100 km were on bumpy roads. I checked into my room, had tea, and slept for a couple of hours.
I woke up in the evening by noises coming from outside. There was some 6-7 Tata sumo with workers of a political party. They were boozing around the hotel.
I got up and asked for a maggie and a cup of tea and then roamed around the village. Took some photographs and then returned to my room. Dinner was a simple Rajma Chawal. For those who want chicken etc, there is a stall nearby.
Day 2 – Bairagarh to Gulabgarh
Route: Bairagarh – Sach Pass – Killar – Ishtiyari – Gulabgarh
Distance Covered: 120 km
I woke up at 6:15 am. Freshened up, packed my stuff, and started my journey for Sach Pass at 7:10 am. Immediately after the village, the tarred road ends, and an offroad type track starts which will soon have boulders and rocks all along.
Also Read: How to Plan a Trip to Sach Pass
I got blessed with awesome views right from the start. Clouds were playing their game over the mountains and I was stopping after every couple of turns for pictures. Since I didn't have any hard and fast deadlines, I took my time and enjoyed the ride.
A small waterfall on the roadside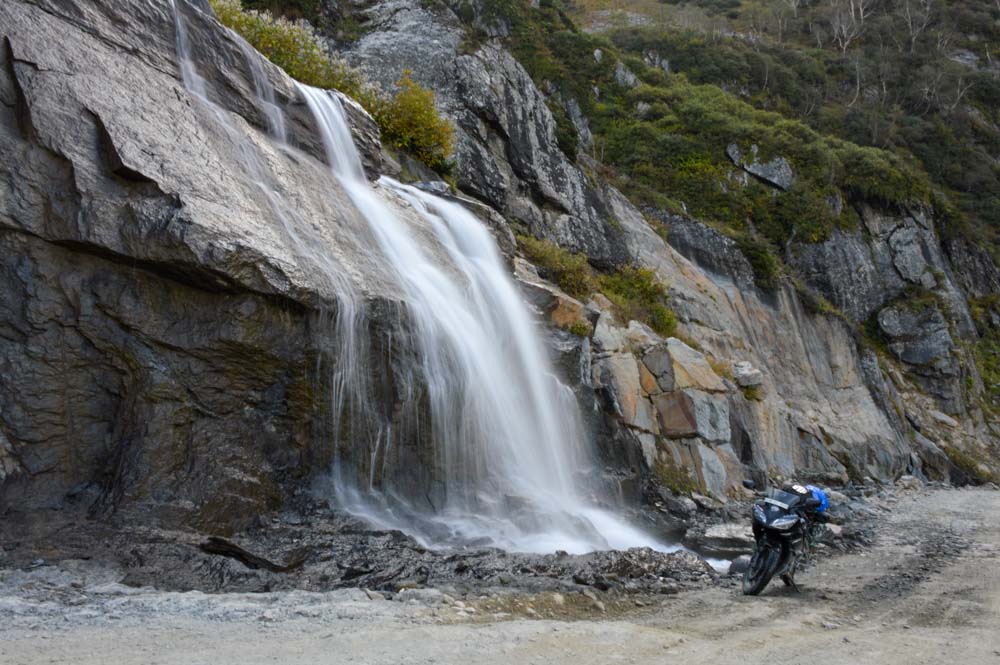 Satrundi Check Post
I reached the police check post at Satrundi, got videographed and my details noted down. Here, I met with two more riders from Ludhiana who were only going till Sach Pass and would return back. We had a little chat over tea and maggie.
I usually don't indulge in talking to people, but this time I wanted to interact with people I meet on the way. I spent around 15 mins at the check post and resumed my journey.
As I gained altitude, the road got worse but the views better. Riding a sports bike on such roads was an experience in itself, which got even better on the way down from the top.
The deteriorated track continues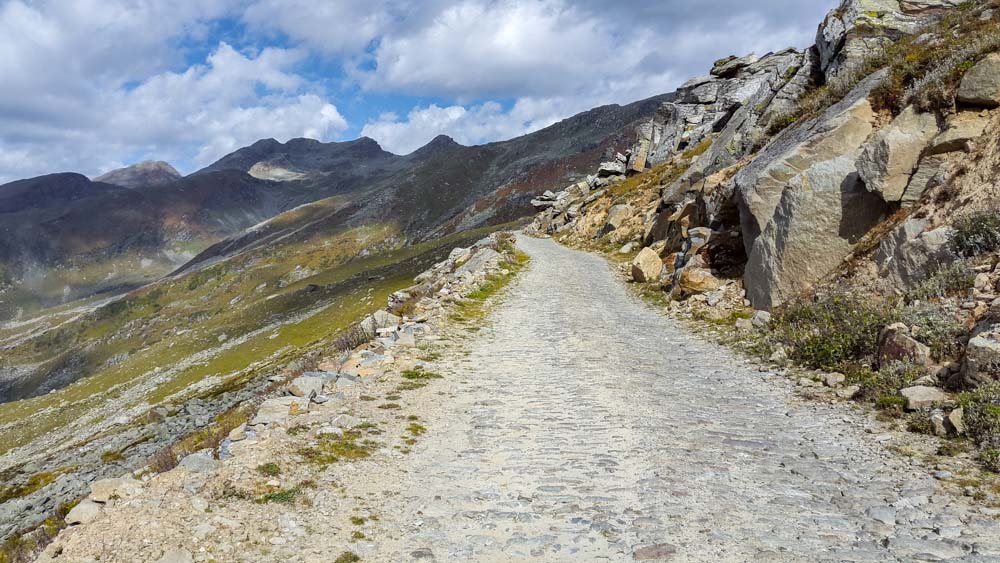 Sach Pass
I reached Sach Pass in about 3 hrs. There was an HRTC bus there and passengers were paying their respects at the temple. I too did the same and prayed for a safe passage down.
I asked a passenger to click my pic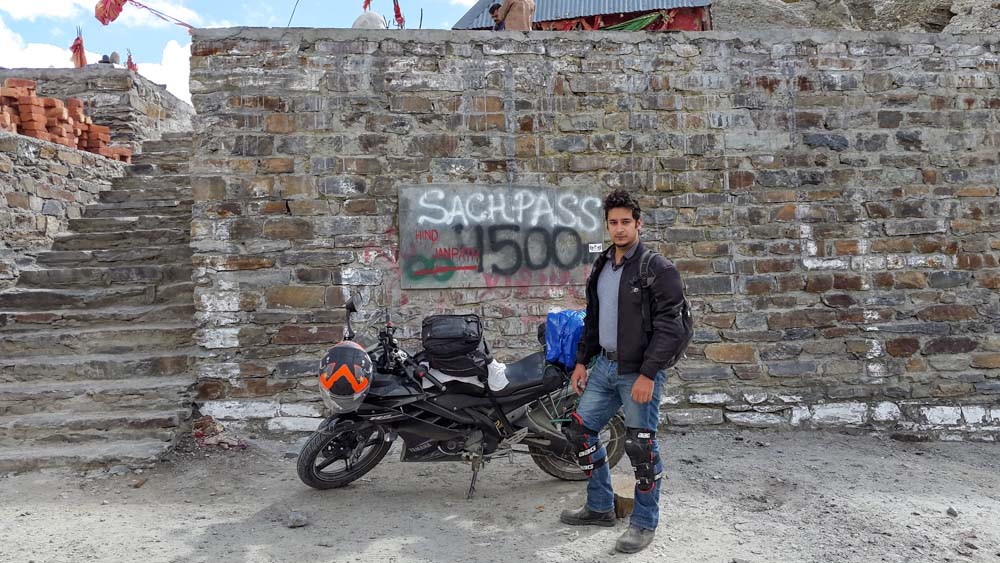 Whole temple compound at the top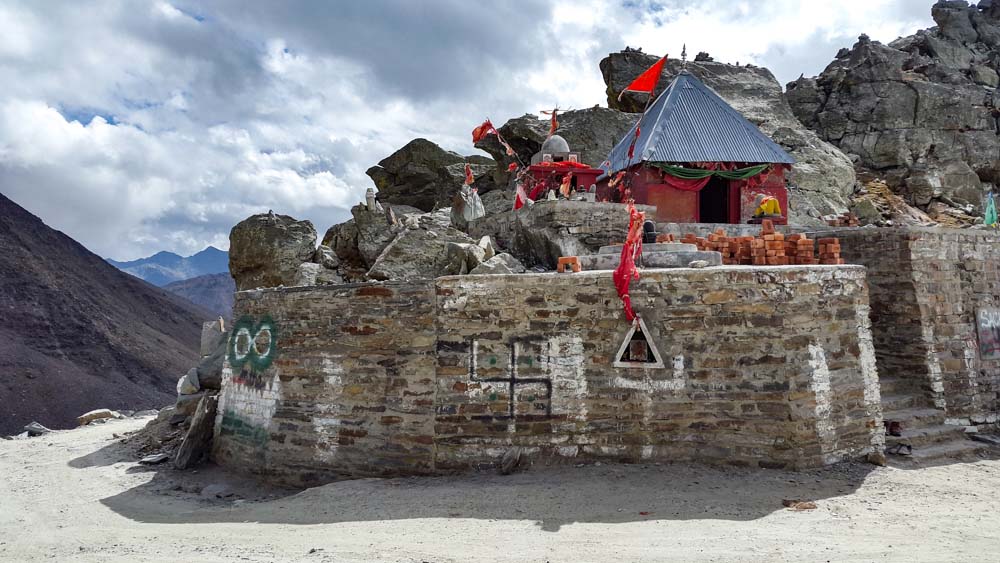 The bus left and the two riders reached soon after. I clicked pics with them and around the temple. It was chilly at the top but the views are too good. I stayed there for around 30 mins, chatted with the riders and after bidding goodbye, I left for on journey onwards.
Let me tell you guys, the journey down is way more difficult than coming up. Not only are the rocks and mud loose, but also the angle is too tight. At some turns, the rear wheel was sliding on its own on the loose mixture of mud and rocks. But R15 showed how good a handler it is. Even on such a track, I was in full control almost all the time and precise acceleration control and braking helped a lot.
Sach Pass to Killar
The views were changing after every few turns and I was not going to miss the chance to click to my heart's content. Though I used my mobile more than my DSLR camera, I feel for what I use the pics, they are good enough and help me capture more often. The best is to simply videograph it all, but I didn't have an action cam yet.
The beautiful landscape continued to amaze me after crossing the pass. Snow and a small water body besides the road.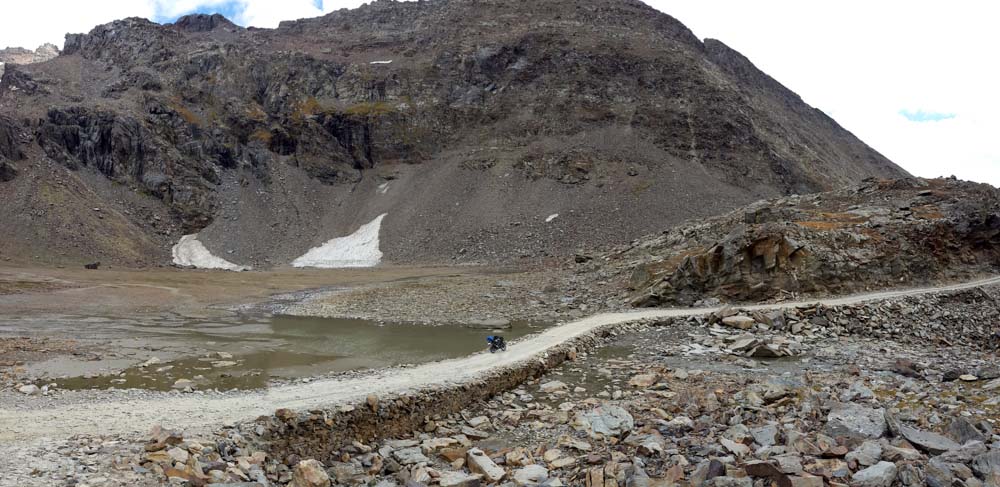 See how craftily the rocks have been cut

After about 2 hrs of riding, I come across a small patch of a plain area. My first big water crossing was encountered here. There was also a small food shack and I had my lunch there. I rested for 10 mins and resumed my ride. Again the downward road starts and it goes on for about 2 more hours. Some sections here were more difficult than what I had encountered.
First proper water crossing & I crossed with without any fuss. Water was half a foot deep.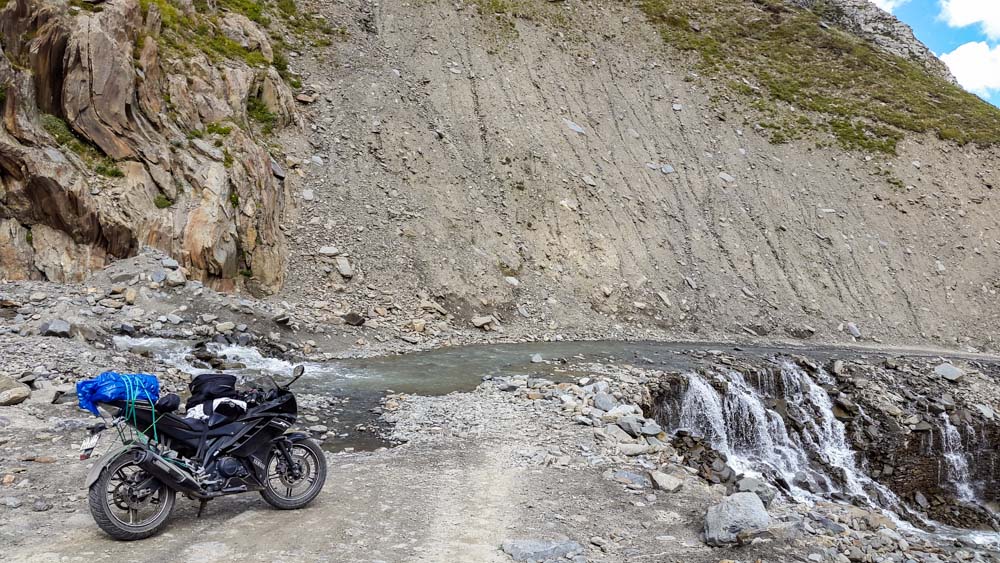 See how rapidly the road descends and a waterfall over the road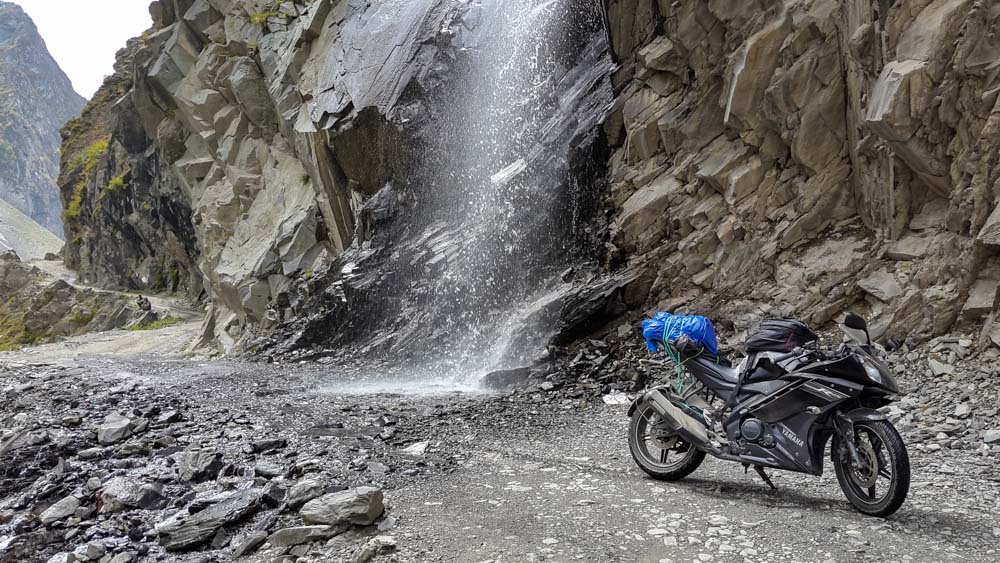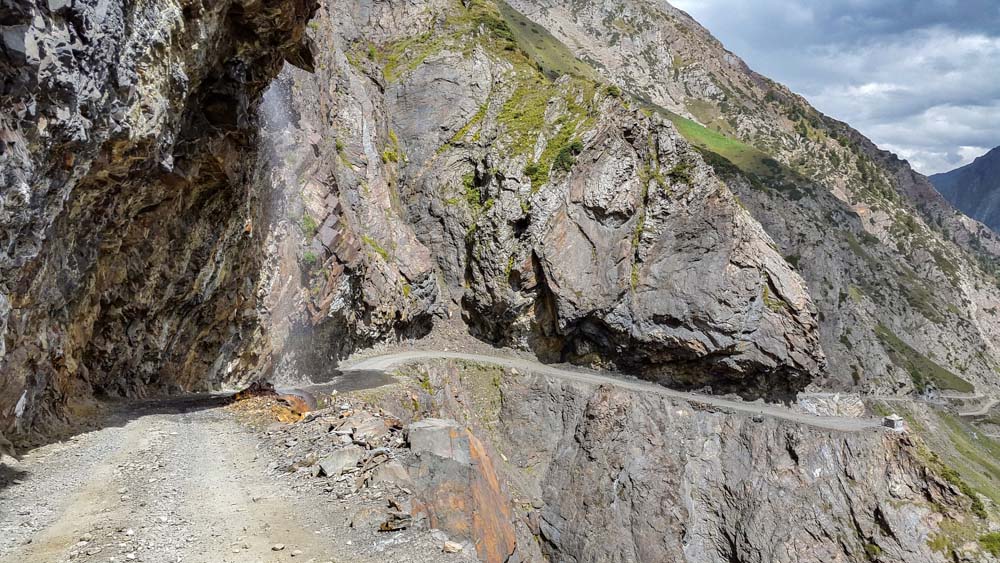 My initial goal was to stop at Killar and go towards J&K the next day. It was 2:10 pm when I was 4 km from Killar and I thought of covering the Cliffhanger hanger route and taking a halt at Gulabgarh. Gulabgarh is about 45-50 km from Killar. So I took a U-turn and started on the route for Gulabgarh.
Also Read: When is the Best time to visit Sach Pass
Killar to Gulabgarh
After turning for Gulabgarh from zero-point, a few km before Killar Kishtwar road. Befriend these bad roads or else they will haunt you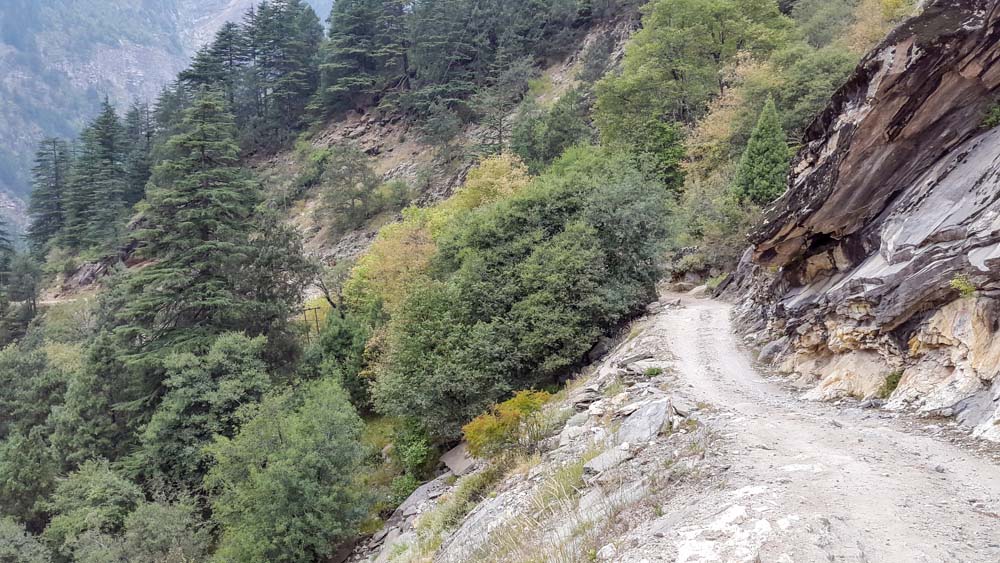 Road? where?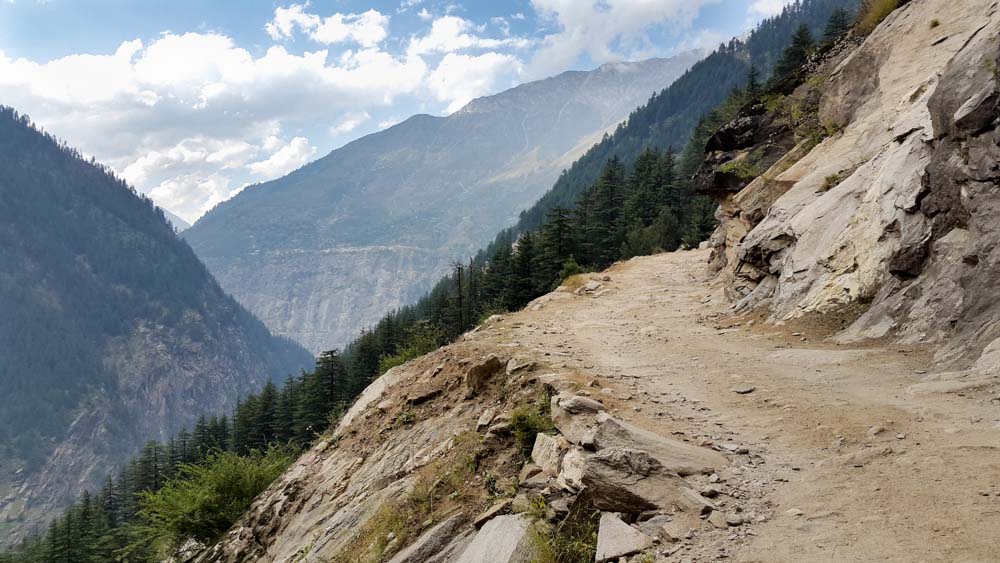 My details were noted down at Ishtiyari check post. I was also asked whether I was carrying any 'stuff'.
I had imagined that the road will be easier than before. Boy! Was I wrong? About a km from the post, I encountered the toughest section of my whole ride.
The incline was really high and the boulders were the biggest I have ever ridden on. I wanted to click but the bike would have slid down. Riding further, I didn't come across any person for almost an hour and it was kind of scary being in the jungle on such a nasty track on your first ever solo ride.
Also Read: Killar to Kishtwar Road Trip – A Ride on the Cliffhanger Route
The Cliffhanger
Soon enough, I got a glimpse of the famous road. From some points, most of the road line is visible and that gives an overwhelming feeling. When I had decided to do this section at Killar, I was dead tired, but now after looking at the route ahead, my body got a new lease of energy. Riding sure is magical.
Zig-Zag road onwards to Cliffhanger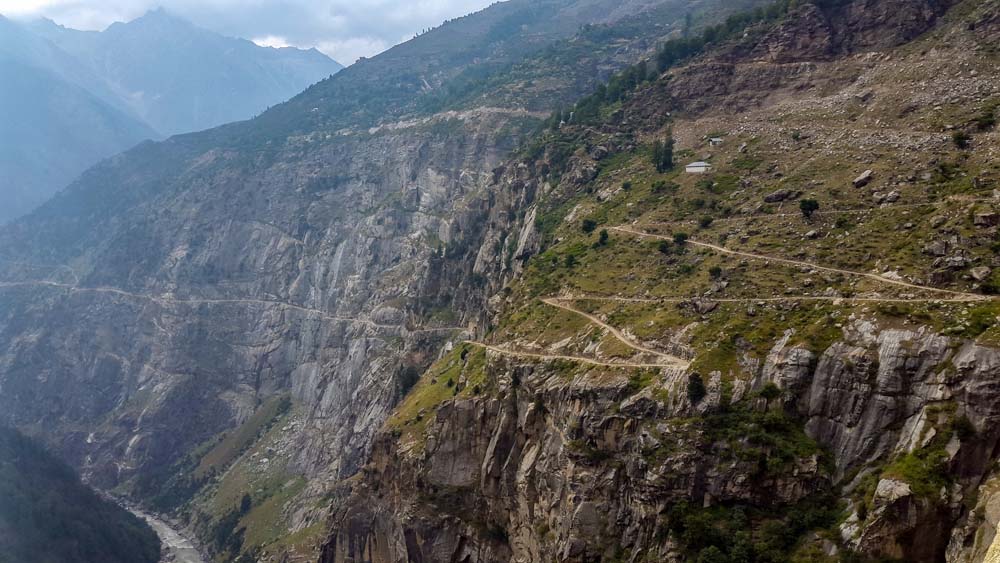 Beautiful small waterfalls on the road
Killar Kishtwar Road becoming narrower. R15 taking a breath before entering.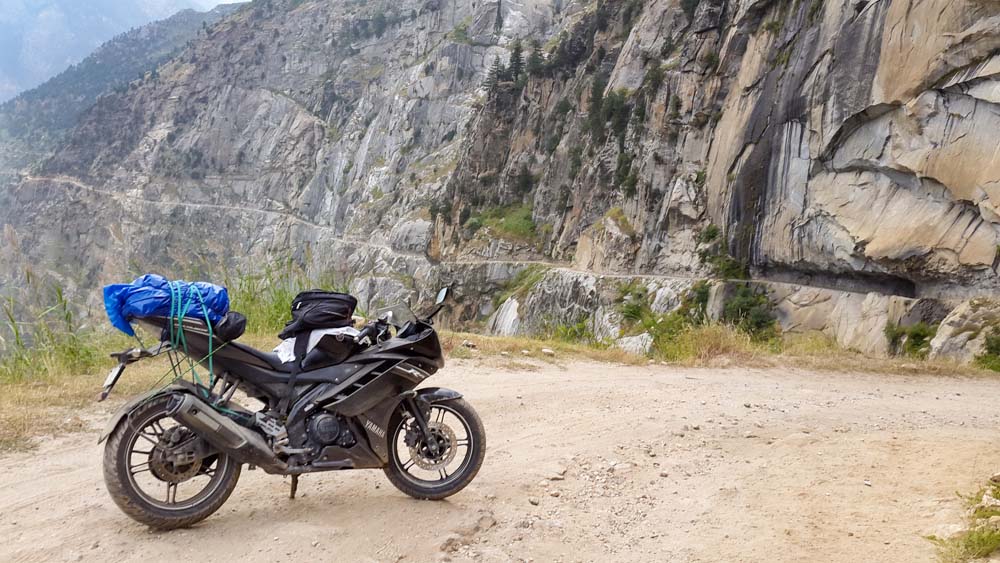 Full view of the Cliffhanger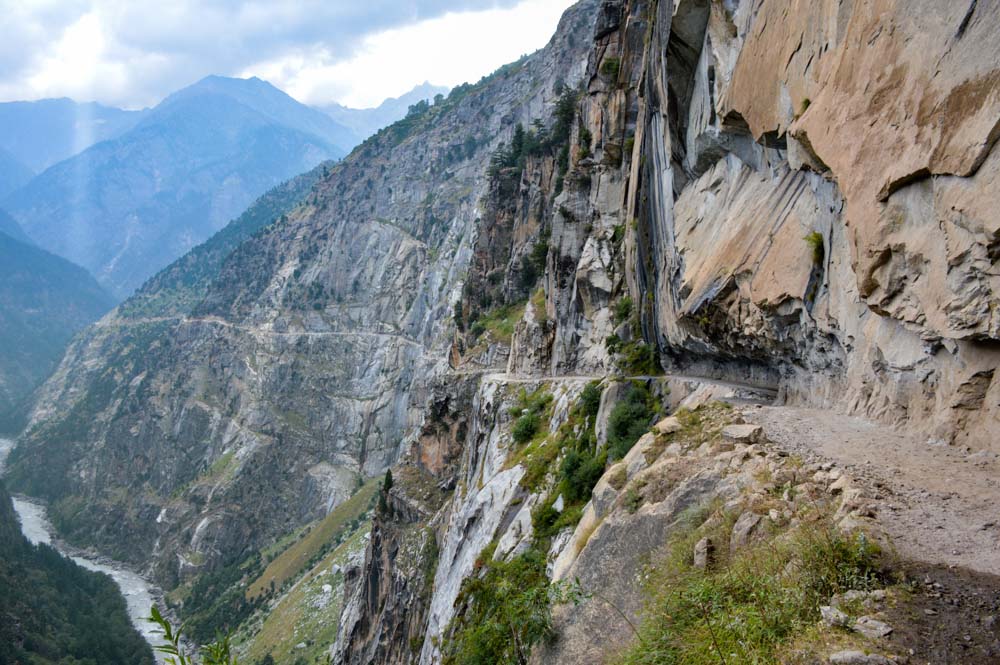 Inside the Killar Kishtwar road
Wind spraying the falling water upwards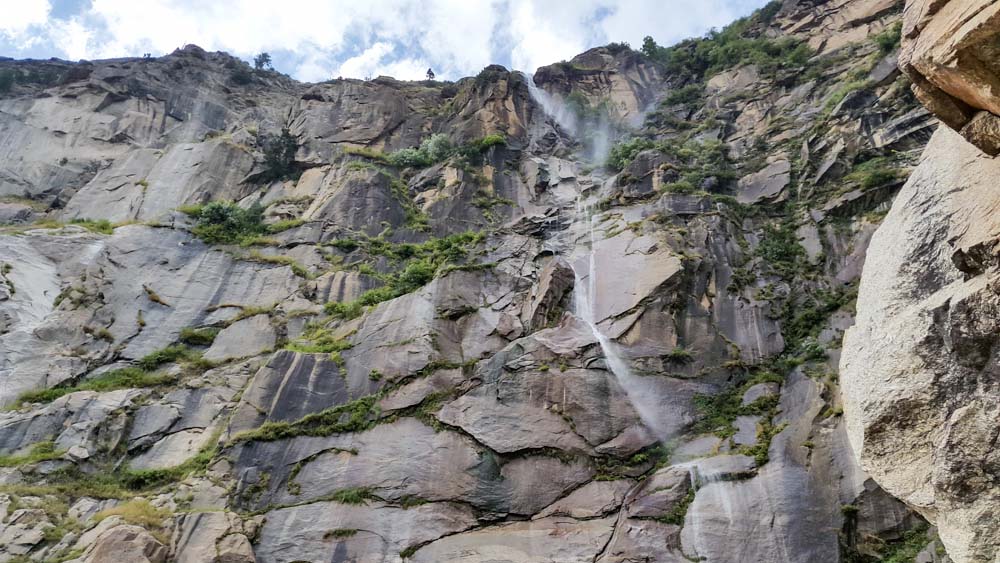 And sections like this were the hardest here. Narrow road becoming tougher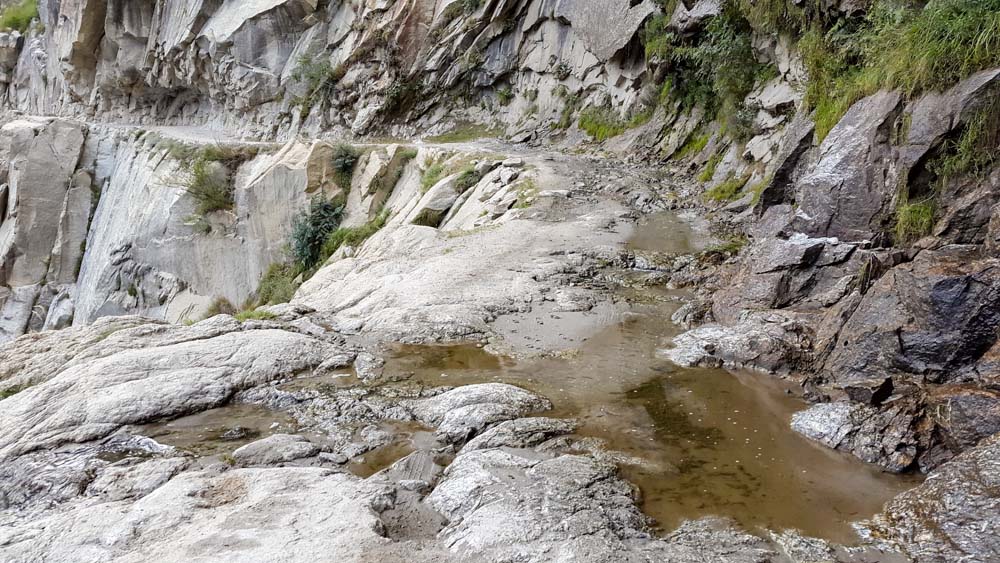 Finally, I reached Gulabgarh. That's the town beside the river below.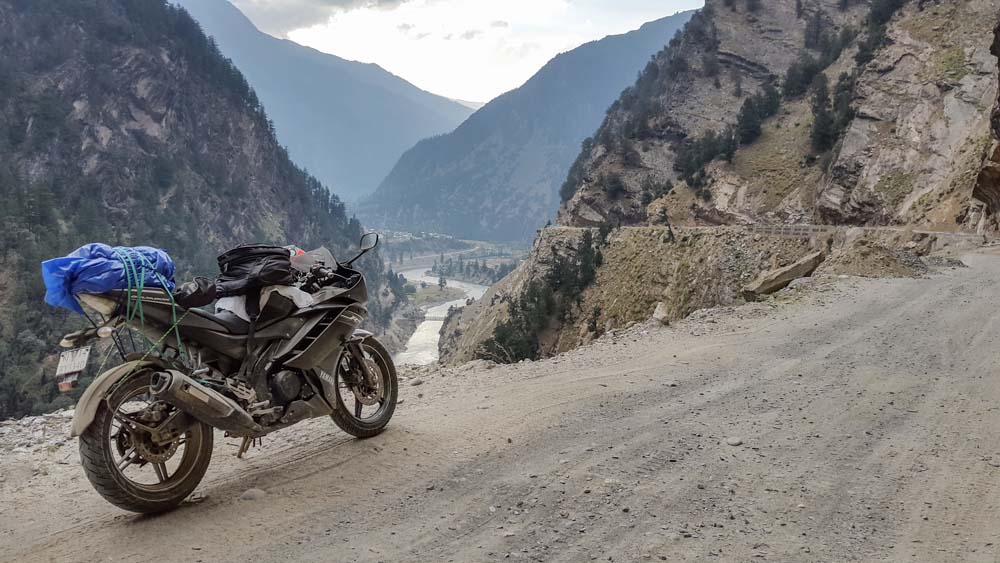 I reached Gulabgarh at 5:40 pm and saw a hotel just on the main road and got a room for Rs. 500. Just as I was unloading the bike, it started drizzling which will turn into a heavy downpour at night and the drizzling will continue till 11 am the next day. For a night's stay, the room was okay, don't expect much at such places.
For 120 km, it took me 10 hrs 35mins. My whole body ached and I had intense pain in my palms and wrist. Riding a sports bike isn't easy on such routes. I took a pain killer after dinner and slept early.
Also Read: Sach Pass and Spiti Circuit – Trip of a Lifetime
Day 3 – Gulabgarh to Anantnag
Route: Gulabgarh – Kishtwar – Sinthan Top – Daksum – Anantnag
Distance Covered: 219 km
This day was relatively easy than yesterday. I woke up at 6 am and saw that it was still drizzling. I freshened up and started loading my bike and left at 7.20 am. Rainwear was on. I really don't like riding in the rain.
Gulabgarh to Kishtwar
I didn't click many pics for the first few hours. Stopped at a roadside Dhaba and had tea with some snacks. At this place, 3-4 locals were sitting and when I went to sit, I was given so much respect and was asked about my ride and all. And while having tea, listening to their stories was an added bonus. One of the few hidden joys of riding solo is the rider connecting with others/locals instead of his own group.
The road from Gulabgarh to Kishtwar is 70 km approximately and is a mix of bad and Ok. I tanked up at Kishtwar and took the road for Sinthan Top which is the gateway to Kashmir valley from this side.
Also Read: Sach Pass in October – The White Wonder
Kishtwar to Sinthan Top
Kishtwar to Sinthan Top is 65 km approximately. The road is good for the most part and deteriorates completely some 25-30 km before the pass. The views are awesome on this route and will get better and better closer to the top.
A single village house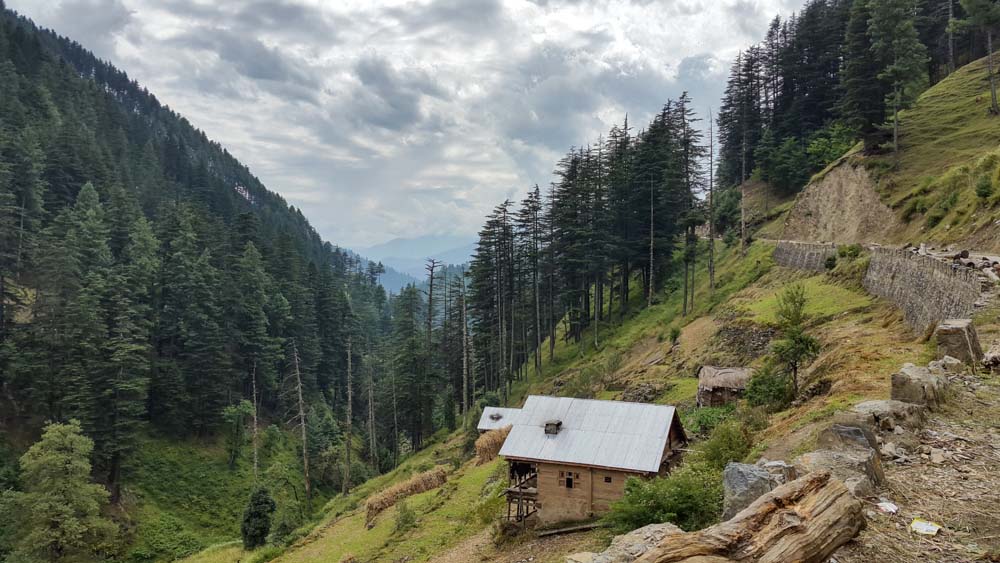 The road going towards the top. The way up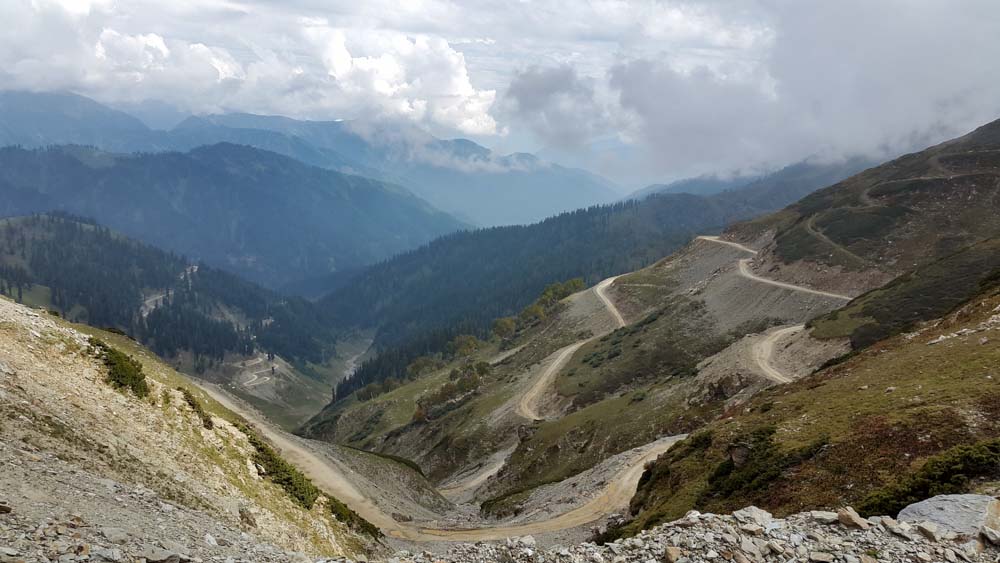 First view of the board at the top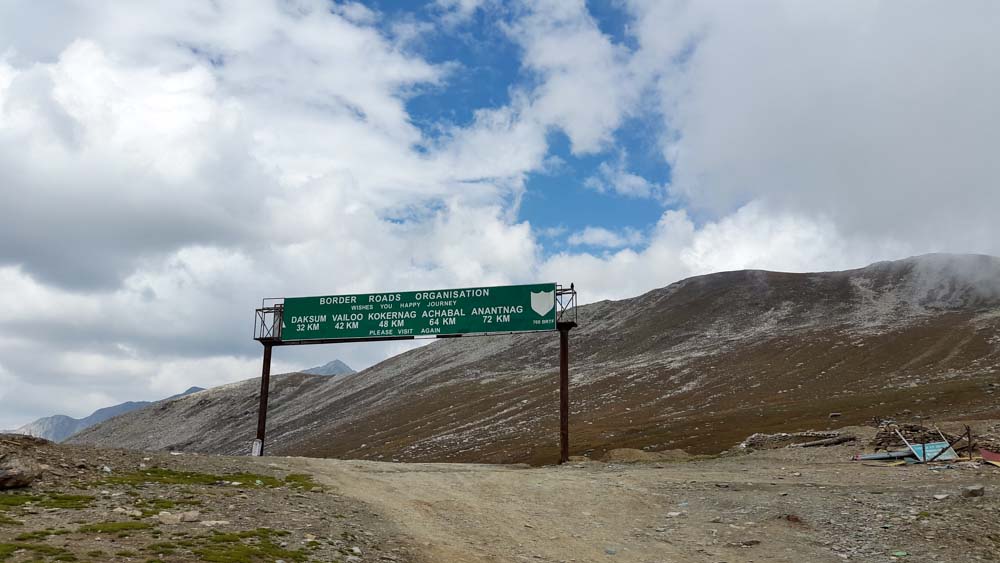 Sinthan Top
I was feeling hungry and thought to have something at the top. On reaching there, I was surprised to see no shack present and only 6 people there clicking pics, 3 youngsters on a bike and 3 adults in a car. The rest of the whole area was empty. I decided to ride up a hill for a better view and get some photographs.
View of the Top from a hilltop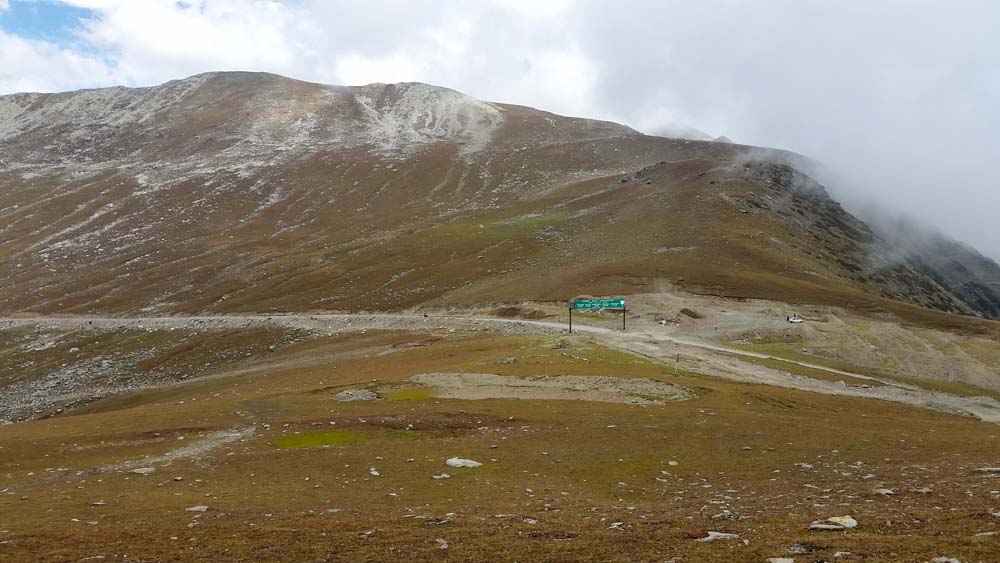 It is very windy up here, but the view was worth the cold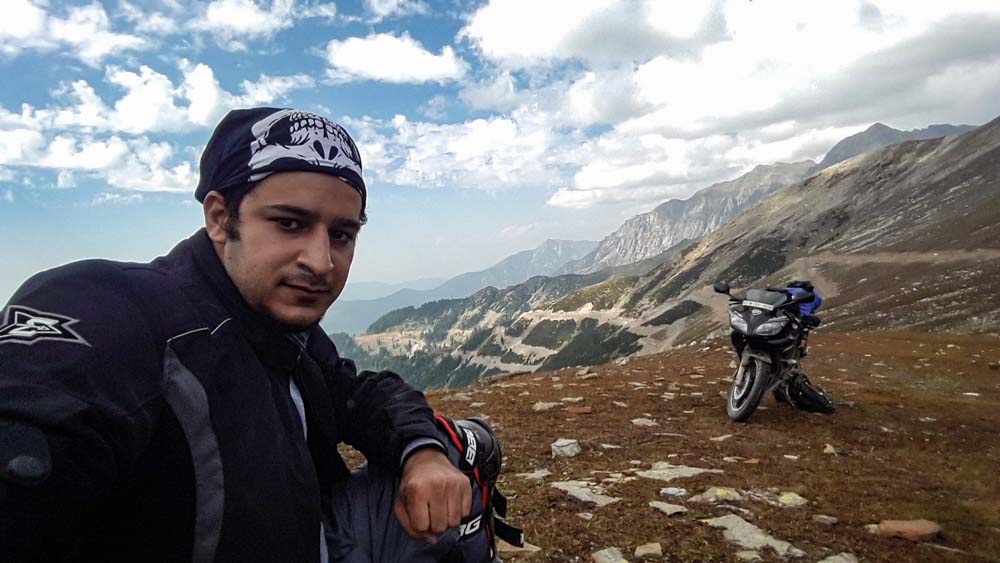 The road condition on either side of Board is like day and night. From the Kishtwar side, it is really bad whereas, towards Anantnag, it is fully tarred and awesome for speed runs.
I didn't click many pics after the pass as traffic will start to increase after Daksum and will increase rapidly after crossing Kokernag. I reached Anantnag at 4.30 pm
Day 4 – Anantnag to Jammu
This route is not good for riding these days. There is road construction going on and truck traffic is too much. I had more dust on my clothes in these 6 hrs than I had in the previous 3 days combined. I reached home in 6 hrs 10 mins.
Other Tips
Take a BSNL connection with you. You will not get any other network around the Gulabgarh side. Even in Bairagarh, the Airtel network was very weak.
Drink plenty of water. Believe me, you won't pee even after drinking 2lt water. :-#
Take chain lube. Dusty roads will take a toll on the chain and proper lubrication will help a lot in steam inclines.
Talk to locals regarding the route if you aren't sure. They will guide you to their level best.
Avoid riding/driving after dark.
Killar Kishtwar Road Trip – Conclusion
My Killar Kishtwar road trip turned out to be way more fun than I had imagined it to be. It was my first solo ride. So in that way as well, it holds a special place in my heart. I hope the travelogue, pictures, and information above were of help. If you have any questions about Killar Kishtwar road, please feel free to ask in the comments section below, or at our Community Forum, and I will be glad to answer.