This post is in continuation with a previous one and part of my Deoria Tal Travelogue. After spending a night at the Lake, we traveled from Deoria Tal to Rishikesh where we again stayed at a camp. It was a trip for a total of 4 days in which we covered trekking till Dugalbitta and camping at Deoria Tal and Rishikesh.
The original plan was to trek all the way till Tungnath but that did not materialize. Due to heavy snow on the road, we could only go as far as Dugalbitta and that too by foot. We had to leave our car near Makku Bend actually. Nonetheless, it was a fun trip indeed. Details of Day 3 of the journey are as mentioned in this article. To read the previous part of this travelogue, please click on the link below.
Journey So Far: Sari Village to Deoria Tal – An Awesome Trek
Night at Deoria Tal was an uncomfortable one. After a few hours of restless sleep, we all were up early in the morning; and were amazed by the surroundings which we did not see last night because we got here after dark. With a lake and forest on one side and the majestic Chaukhamba and Kedarnath peak on the other, it was a perfect setting; something that I had only seen in the movies before.
Day 3: Deoria Tal to Rishikesh
We did not sleep well the entire night because of multiple reasons. The first one was that we were actually sleeping on snow. So except for the flimsy layer of the tent and a rubber mat, there was nothing protecting our butts from freezing.
The second reason was that we were three people squeezed in a tent for 2. The third was that the ground underneath was uneven and there was no comfortable sleeping position that we could achieve. Last but not least was the sleeping bag that we were stuffed into which is actually inconvenient at an entirely another level.
But the sunrise next morning made all this pain worth it. It was one of the most beautiful mornings that I have witnessed in my entire life.
The Views around the Lake
We walked around enjoying the scenery for a couple of hours. After having our morning tea at the small dhaba near the campsite, it was time to start trekking down to Saari. And this is when I realized how steep the climb was at a couple of places.
Good thing we went up in the dark because that way we couldn't see the difficult path ahead, just kept climbing up. Otherwise, I knew that a couple of other people in the group would certainly have cribbed and cried about it all the way.
Also Read: Chopta Tungnath Chandrashila Deoria Tal Itinerary
Our campsite at the lake.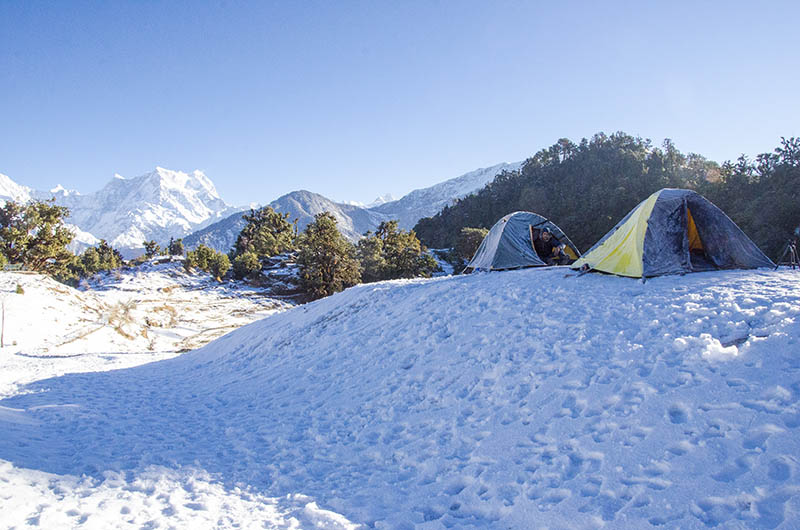 The Gang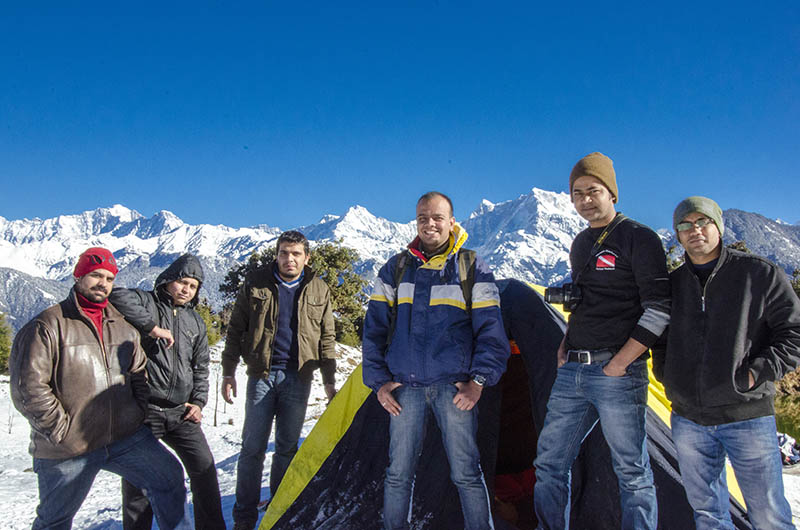 Walking Around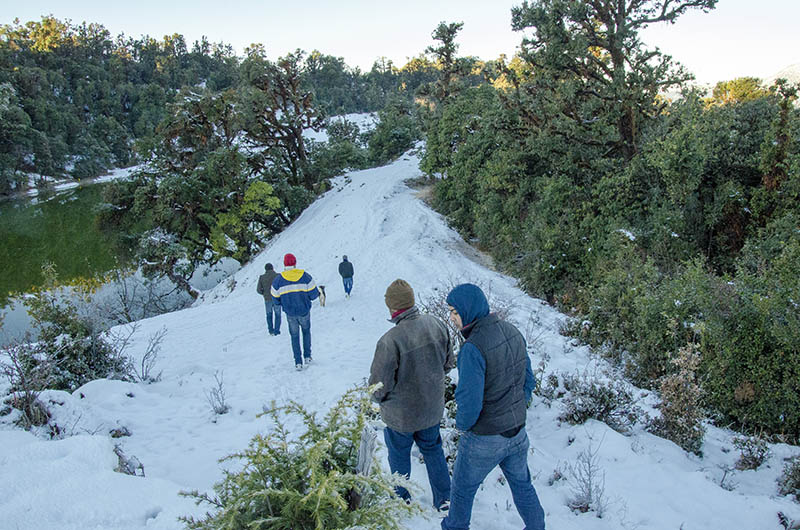 The Beautiful Reflections and View of Deoria Tal
Those houses down below is the Sari Village that we were trekking down to.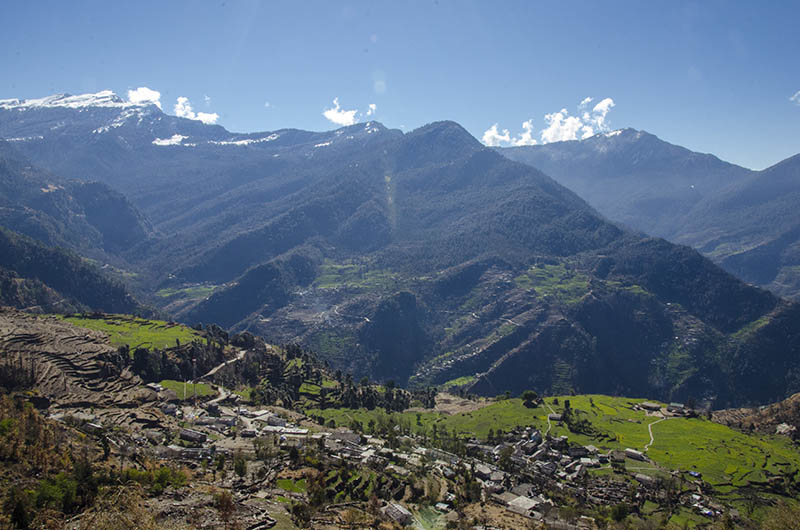 Sari Village to Rishikesh
Upon reaching Saari, the big question of "What now?" came up. While I was in favor of returning to Delhi the same day, Gunjit was against the idea of driving all the way back. After discussing for a while, the idea of staying at a camp in Rishikesh came up which is popularly known as 'White Sand Camping' or 'White Beach Camping'.
This got Shoaib very excited. Even though I tried explaining to him several times that it was just a campsite on the banks of the River Ganges; he still was very eager in camping at Rishikesh for the night and continue to Delhi tomorrow.
So now the situation was that some of us wanted to go to Delhi while some wanted to camp at Rishikesh. We tried voting but could not reach a unanimous decision. With the thought in mind that we will think about it when we reach Devprayag, the drive back home started. It was almost 1 PM by the time we left Sari after having lunch there.
Also Read: Chopta – A Comprehensive Travel Guide & Itinerary
The Scary Drive
Because of the restless night at Devprayag, Gunjit wanted to take a quick nap in the car. Shoaib took the responsibility of driving in his stead and moved on to the steering. What followed in the next couple of hours left all of us praying not to die today and Gunjit still not able to sleep even for a minute.
There were 2 close calls with other vehicles when we almost came an inch to meeting with an accident. With everyone sitting and holding onto something in the car, lots of oohs, aahs, and ouch, and Gunjit still wide awake, it was decided that perhaps it isn't the best idea to let Shoaib drive if we wanted to reach Delhi. And with that though, Gunjit took over the wheel again.
Campsite at Rishikesh
It was already 5 in the evening when we reached the hotel in Devprayag where we left all our luggage and my motorcycle parked. We checked out, took our luggage back, and even though still in favor of driving back to Delhi, I agreed to the idea of camping at Rishikesh for the night.
The biggest reason behind this was that the restless night in the tent at Deoria Tal was starting to take a toll on all of us, leaving us tired and sleepy already. Driving in that condition all the way back to Delhi was definitely not the wisest choice.
Gunjit got the contact details of a campsite from one of his friends and we were told 1000 bucks for a camp that can hold 3 people. We were a total of 6 people. So under the assumption that it would be 2000 for the group meaning around 350 per head, we agreed. The journey continued towards Rishikesh now with 4 of us in Gunjit's car and Sunny and Shoaib on my motorcycle.
Also Read: Tungnath Chandrashila Trek – How to Plan & Prepare
Sunset a little before Rishikesh.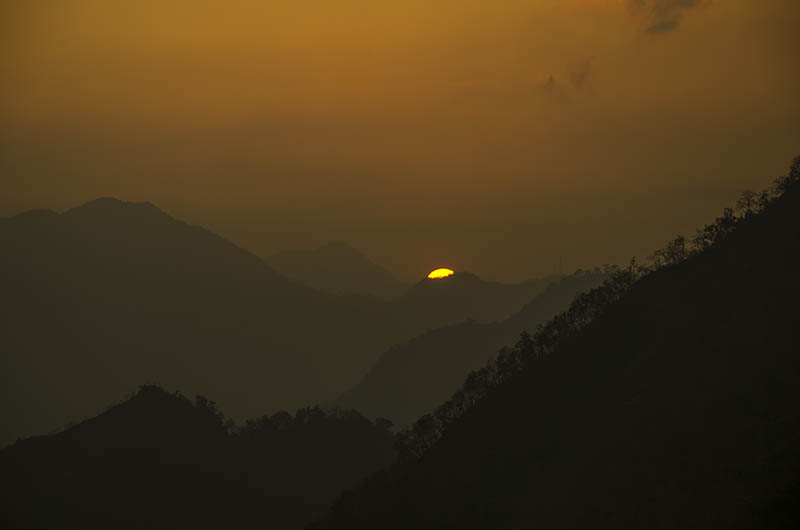 It was dark again when we reached the camping site at Rishikesh. The guys at the camp were awesome hosts and we were soon served with tea and pakodas. This made me wonder if it is really 350 per head for staying here. Or did we misinterpret 1000 per head for 1000 per camp? Rs. 350 per person including snacks, dinner, night stay, and then breakfast sounded too generous and good to be true.
Another Amazing Evening
However though, since we had already checked in and had pakodas, nothing could be done about it so I let the thought pass by for the moment. We all sat around the bonfire at the banks of the river Ganges and that's when we met Roopa. And by that, I mean the puppy that I am holding in the picture below.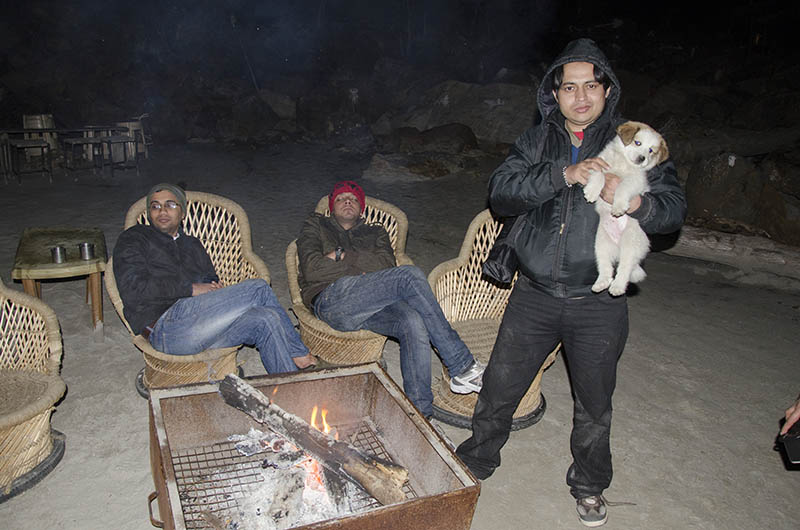 At first, we thought there were 3 or 4 puppies because it kept jumping and running around. But soon we realized that it was only 1 super active puppy which seemed to be all over the campsite and everywhere.
Going by the name, our initial impression was that its a female dog but after an unintentional look at an obvious place, we found out that it was, in fact, a male dog but still called Roopa. Nonetheless, Roopa kept us all in a playful mood and proved to be the cutest puppy I have ever seen.
Also Read: Best time to Visit Chopta, Uttarakhand
Pretty soon dinner was served and with our bellies full, it was time to call it day.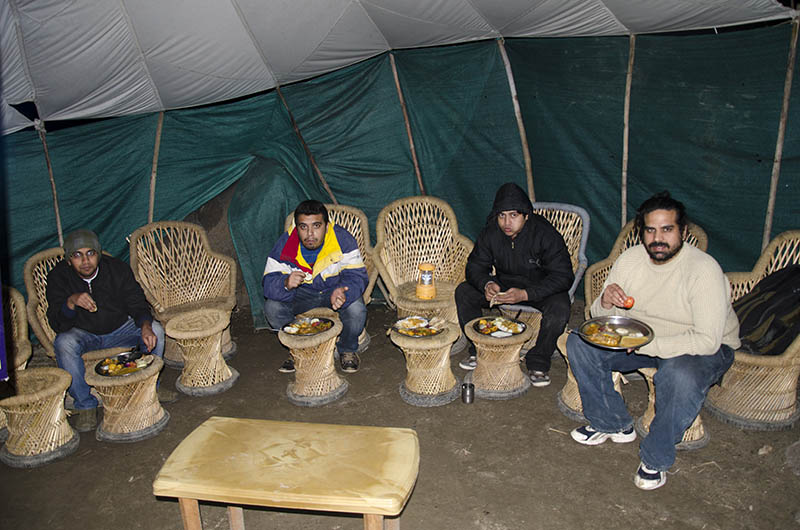 Night in Rishikesh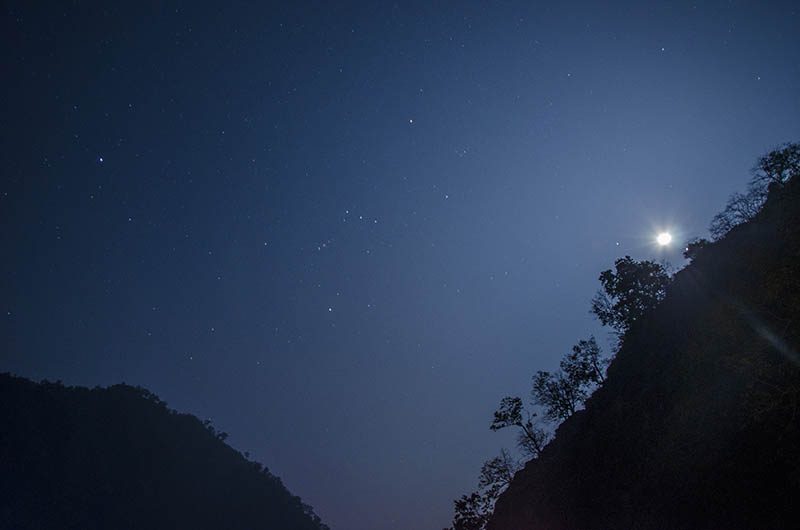 Please click on the link below to read the next part of this travelogue.
Before moving on though, let me provide some details on this day's journey that can be of help to everyone planning a trip to Deoria Tal.
Rishikesh to Deoria Tal
The total distance between Rishikesh and Deoria Tal is about 200 kilometers. The motorable road ends at Sari Village after which you will have to trek for 3 kilometers to get to the lake.
How to Reach Deoria Tal from Rishikesh
From Rishikesh, you can drive to Deoria Tal following the route below. The road is wide and good enough for both motorcycles and cars.
Rishikesh – (70 kms) – Devprayag – (34 kms) – Srinagar – (33 kms) – Rudraprayag – (19 kms) – Agastamuni – (10 kms) – Kund – (6 kms) – Ukhimath – (14 kms) – Sari Village – (3 kms) – Deoria Tal
If you were not traveling by your own vehicle, you can either board a Bus from Rishikesh or get a private taxi.
Rishikesh to Sari Village Bus
There is, unfortunately, no direct bus available from Rishikesh for Sari Village. You will have to break your journey in multiple parts and shuffle between buses and shared cabs to finally get to Sari. How can you do that is explained below.
Chopta is the biggest tourist attraction close to Deoria Tal. In fact, Deoria is considered as a tourist attraction at Chopta and a trip to both these places is combined togeter. So let me explain how you can get to Chopta by public transport and the same will apply for Deoria Tal as well.
Also Read: Tourist Attractions in Chopta that You Can't Miss
Rishikesh to Chopta Bus
From Rishikesh, finding a bus that can drop you at Kund will be easiest. Buses for Ukhimath are rare so do not rely on that. Just look for a bus for either Rudraprayag or Kund. If you started early in the morning, you should be able to get to Kund in by about 1 or 2 PM. Once you reach Kund, you will easily be able to find shared cabs (sumo) for Ukhimath from the Bus stand itself; and thereafter from Ukhimath to Chopta.
The same logic will apply for Sari Village as well. Once you reach Ukhimath, look for a shared cab that is going to Sari otherwise find the one going towards Chopta and talk to the driver. These cabs cover the entire region so he will either drop you at Sari and then go to Chopta; or drop you while he is coming back from Chopta.
Rishikesh to Chopta Bus Fare
This entire journey from Rishikesh to either Chopta or Sari by Bus and shared cabs will cost you about Rs. 400 approximately.
Rishikesh to Chopta Taxi
Private taxis are available from Rishikesh for both Chopta and Sari Village; both AC and Non AC. For larger groups, tempo travellers can be hired as well.
Rishikesh to Chopta Taxi Fare
Depending on which car you chose, total fare would be between Rs. 5,550 to Rs. 7,500 for a drop. If you were a group of 6 or more people, I would recommend that you rent a tempo traveler which will cost about Rs. 9,000.
Also Read: Kedarnath – The Holy Adobe of Mahadev
Rishikesh to Chopta Train
The nearest rail station is at Haridwar which is about 240 kilometers away from Chopta. Once you reach Haridwar, you will have to look for a mode of transport as I explained above.
Rishikesh to Chopta
If you were traveling by your own vehicle, Chopta is at  distance of 165 kilometers from Rishikesh. The motorable road will bring you all the way to Chopta itself but it may remain blocked during peak winter. In the months of January and February, it snows here quite a lot in which case, you will not be able to get any further than Dugalbitta by car or motorcycle. Even the trek route can get closed owing to heavy snow.
Conclusion
I hope the travelogue and information above was of help.  Please read Rishikesh to Delhi – The Journey Home to continue reading the last part of this travelogue. If you have any questions; or need any further details; please feel free to ask in the comments section below, or at our Community Forum; and I will be glad to answer.