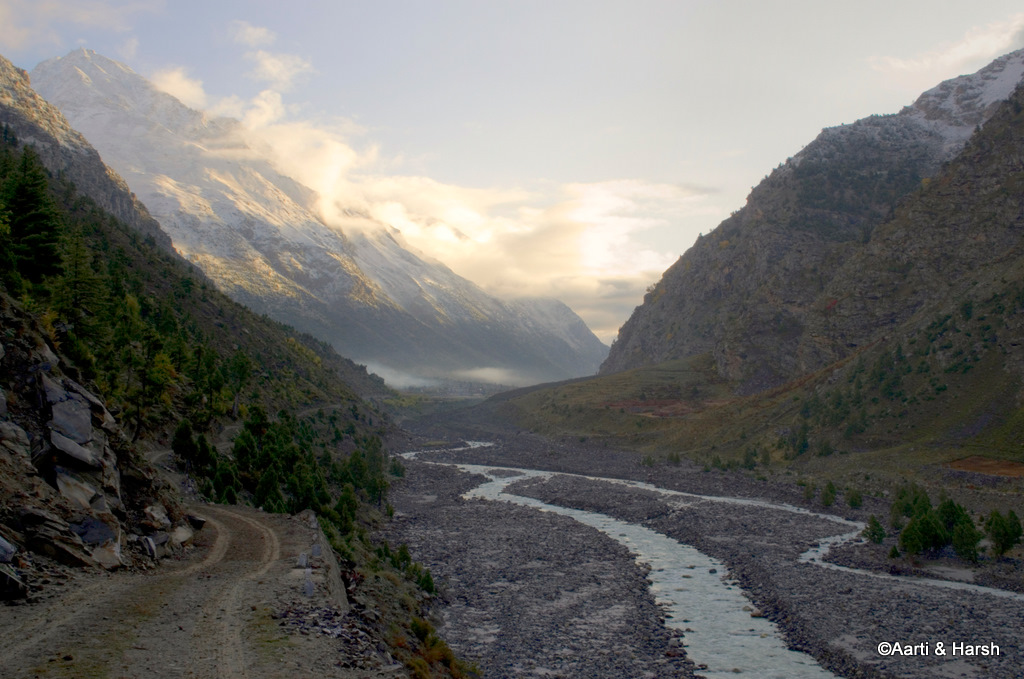 This article is in continuation of a previous one and a part of my road trip to Sach Pass and Pangi Valley. We traveled from Delhi to Killar via Sach Pass on Day 1 and 2 and then journeyed back to Delhi via Killar to Udaipur to Manali. Please click on the link below to read the previous part of this travelogue.
We couldn't have slept in late the next day. It was part of the deal with the caretaker that we would relinquish control over the room as soon as possible the next morning so that arrangements could be made for the 'honorable' dignitary. We were up and about by 8:30 and then went down to the market to have a quick but not very tasty breakfast of paranthas and omelets.
It was then time to bid adieu to Sachin and Himanshu and we wished them luck in fetching their bikes back. They had managed to hire a 4×4 Bolero pickup for the task for what seemed to be a reasonable amount of money. We said our goodbyes also to Killar and were off for our next destination, Udaipur.
Day 3: Killar to Udaipur (6 hours)
A quick word on the PWD rest house at Killar. It was simply awesome. The room was super clean and the bathroom too was spic and span. I mean I don't care about cleanliness too much, but getting a 'Code A' approval from Aarti at the first glance tells you something about the level of cleanliness.
In the morning, we also got to know that our room had the most wonderful view of the ranges beyond. The sky was clear and the morning soon made it all look even more heavenly. All this at a throwaway price of Rs. 200 a night!
The PWD rest house at Killar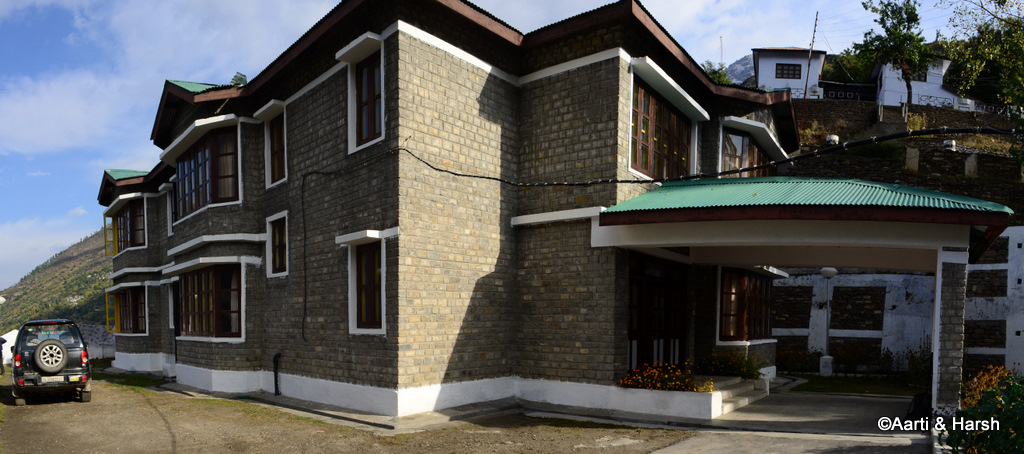 The view from the PWD rest house at Killar

The Bang & The Expert
The drive to Udaipur began with a bang, thankfully the bang was not from our Kiyang but a local taxi (Bolero) in front of us. The driver stopped the vehicle in the middle of the road, for apparently no reason. Got down. Examined the rear right tire with an eye of a marksman.
It looked fine to me, but somehow he was convinced that something was wrong. He went back in. Moved the vehicle just about an inch further. Got down and checked again. Came up with the conclusion that a certain nut was loose which would result in the rear axle letting go of the tire and everything else falling apart.
I was amazed at how swiftly he was able to diagnose that problem while driving the vehicle. I would've probably stopped 100 meters after such a catastrophe! With the problem figured out, he started looking for a solution as well. Thanks to BSNL and its mayajaal all around us in the rural areas, help was on its way for him. Being content with the fact that he will be taken care of by someone, we moved on.
Also Read: Delhi to Pabbar Valley – Chanshal Pass Road Trip
Killar to Udaipur Road Conditions
Thankfully there were no more 'bangs' for us as we ambled along. The road condition from Killar to Udaipur is horrible, to put it mildly. It is dusty, has loose rocks, ascends and descends randomly, and is of course bumpy. The vistas, although beautiful, are repetitive if you know what I mean. The valley is narrow and repeats itself one mountain after the other.
It took us about 5 hours to do the stretch (minus the lunch break at Tindi), but it felt a lot more than that. It reminded me of the Zanskar stretch a lot but was probably worse. At least in Zanskar, it was not loose gravel and sand and it is surely not repetitive.
Moving on towards Udaipur. Flowing streams, en route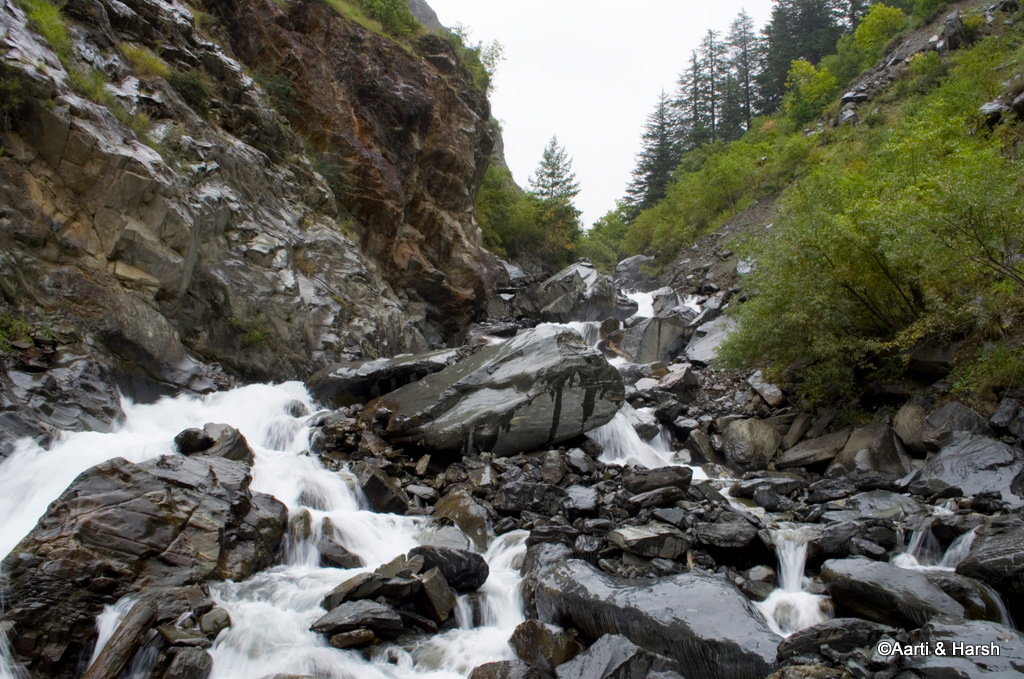 There's no tar on this route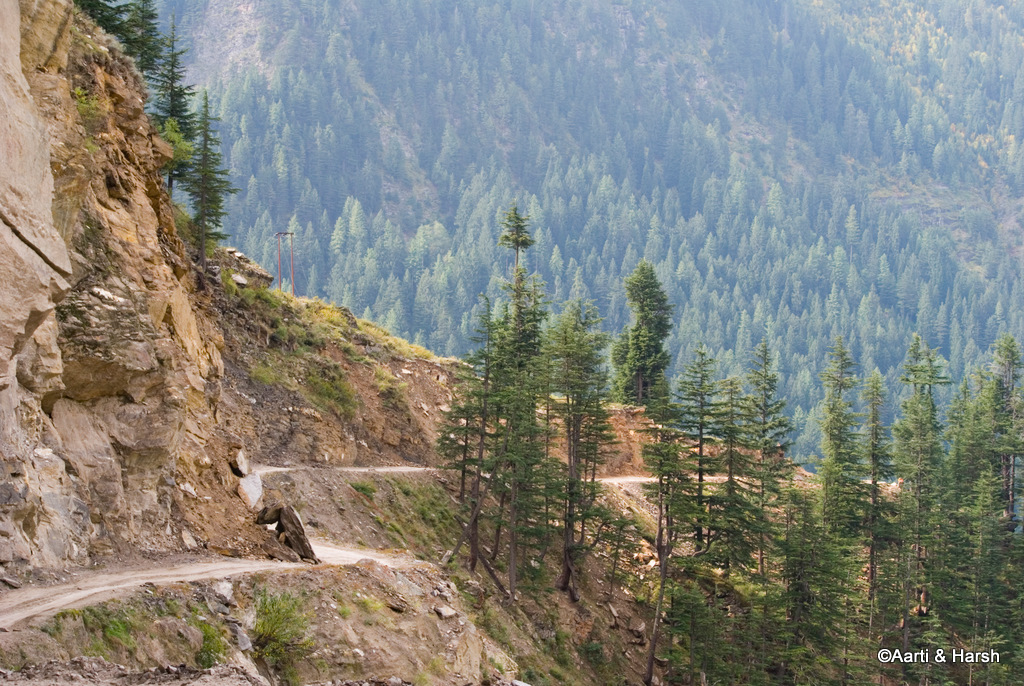 PWD Rest House – Udaipur
Being impressed by the facilities of the PWD rest house at Killar, we thought of giving the one at Udaipur a try. It was not as pretty as the one in Killar and not half as clean but it was clean enough for Aarti to compromise. The price, being Rs. 200 a night, is a steal though.
Also Read: Delhi to Jim Corbett Road Trip – An Exciting Adventure
I initially suspected that the money goes into the caretaker's pocket, but my suspicion was put to rest when I was made to sign for the room. Non-corrupt government employees at any level are surprising. Having secured a roof over our heads for the night, we pushed off in the direction of Trilokinath temple.
Crossing over Chandrabhaga to visit Trilokinath temple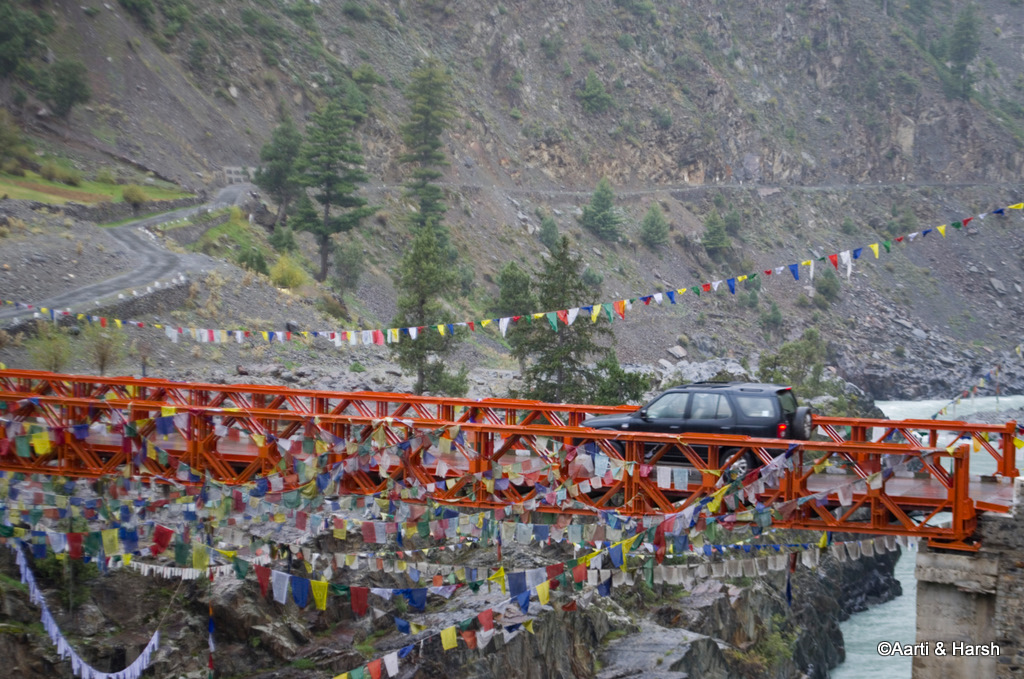 Freshly laid white paint over the mountains near Trilokinath
​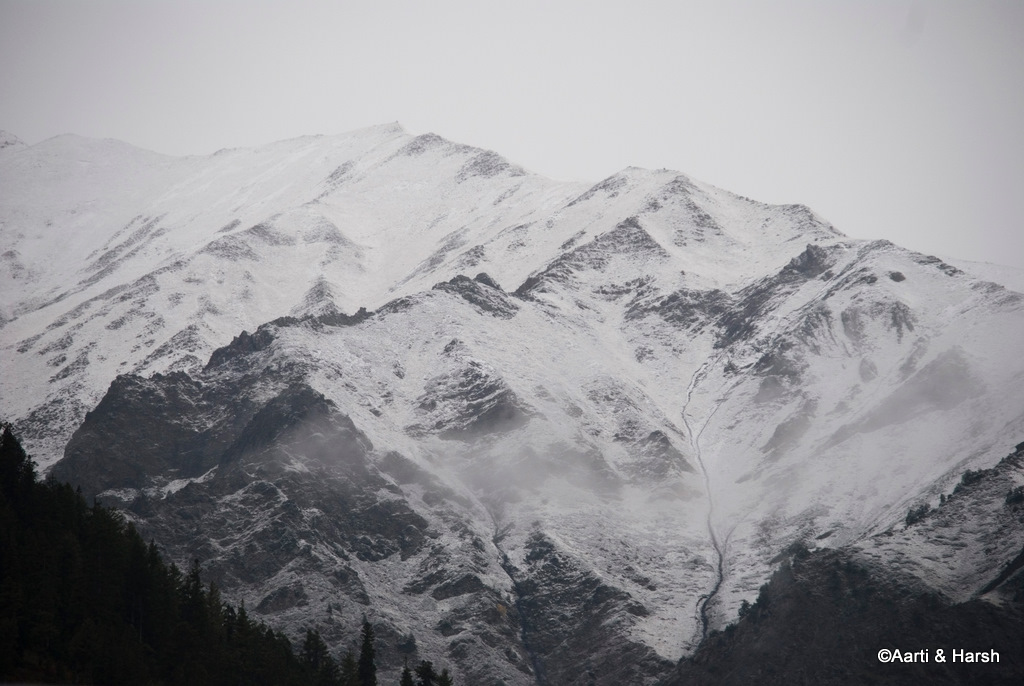 Trilokinath Temple
This is one of the few temples, maybe the only one, which is worshipped by both Buddhists and Hindus alike. One can find a very peculiar combination of religious artifacts at the temple.
For example, we saw a flag with 'Om' written on it tied alongside a prayer flag and a mani stone which had both Tibetan and Hindu inscriptions. Such religious bonhomie is a rare sight, maybe the rest of the country should learn from temples such as these. For more details on this temple, take a look at Trilokinath Temple in Lahaul Valley – Complete Travel Guide.
The village itself has nothing else to boast of. Being on the other side of the river, it does boast of views of peaks just above Udaipur. We were unlucky to have witnessed a cloudy evening though. It was still drizzling when we sat down for a cup of hot tea and Maggi at one of the dhabas in the village. It felt nice, warm, and fulfilling.
The "Aangan" at the Trilokinath temple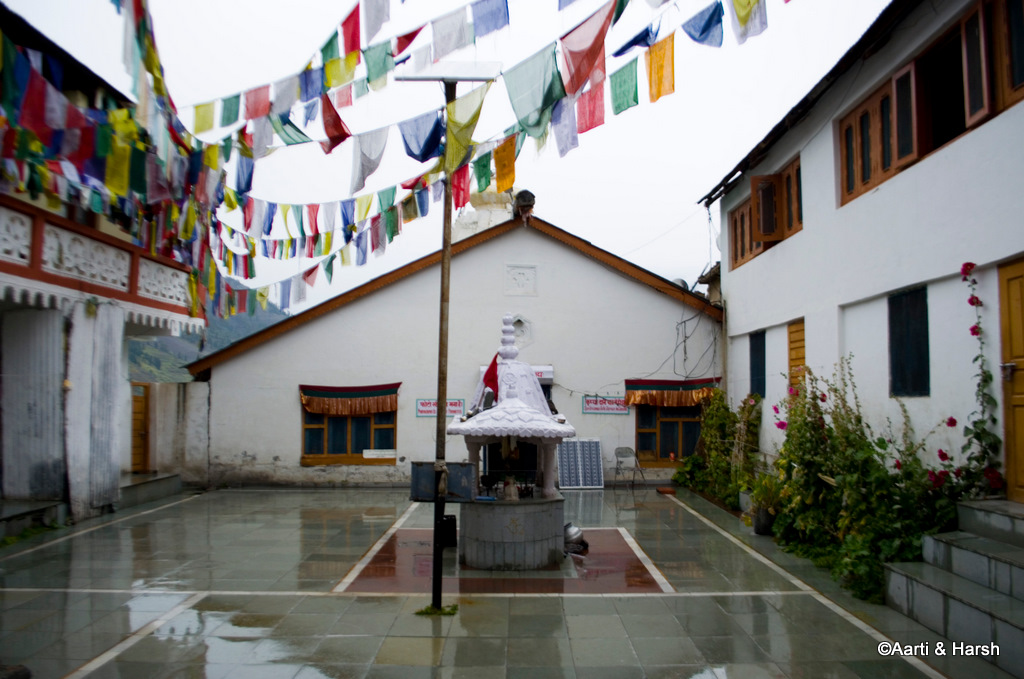 Walking in the bylanes of Triloknath village
​
With the sun setting, we rushed back to Udaipur for a quiet dinner at a local dhaba with some fine cognac to beat the cold. After thanking our hosts for the meal, we tucked ourselves in for an early evening. Miyar waited for us early the next day.
Killar to Udaipur Distance
The total distance between Killar and Udaipur is roughly around 78 kilometers that will take you about 3 hours to complete.
Day 4: Udaipur to Miyar valley to Manali (12 hours)
The Miyar valley is a lush green and wide valley north of Udaipur. The valley is low-lying and pretty famous in the trekking circuit. The motorable road is mostly level and ends at the village Shikito. People normally begin their trek at Udaipur taking 5 days to reach the Miyar glacier, walking all the way along the Miyar Nallah. For more details, please take a look at How to Plan a Trip to Miyar Valley.
The Nallah is pretty wide and is more of a river if you ask me. For lazy people like us, the motorable road is just the boon required though. We managed to witness the beauty of the valley without having to take the challenge of a trek.
We started early at 5:30 in the morning, having settled the dues with the caretaker at the guest house the night before. The road climbs northwards right in the middle of Udaipur town just after one crosses the Nallah that divides the town (after if you are coming from Manali, before otherwise).
It is a well-marked tarred road initially, frequented by buses that ferry locals to and fro from Udaipur. To begin with, the climb is gentle and it is only after the first village that the entire valley unfolds in front of your eyes. A wide valley with all kinds of trees and plenty of agricultural lands dotted with tiny hamlets is what awaited at Miyar.
Miyar Valley
The valley is surrounded by peaks, many of which are white all throughout the year. And to make the picture-perfect, a wide-raging river (Miyar Nallah) runs through it. What made the already lovely morning even better was the sight of smoke billowing out of every house in the settlements we crossed.
This is the ridge beyond which the Miyar valley opens up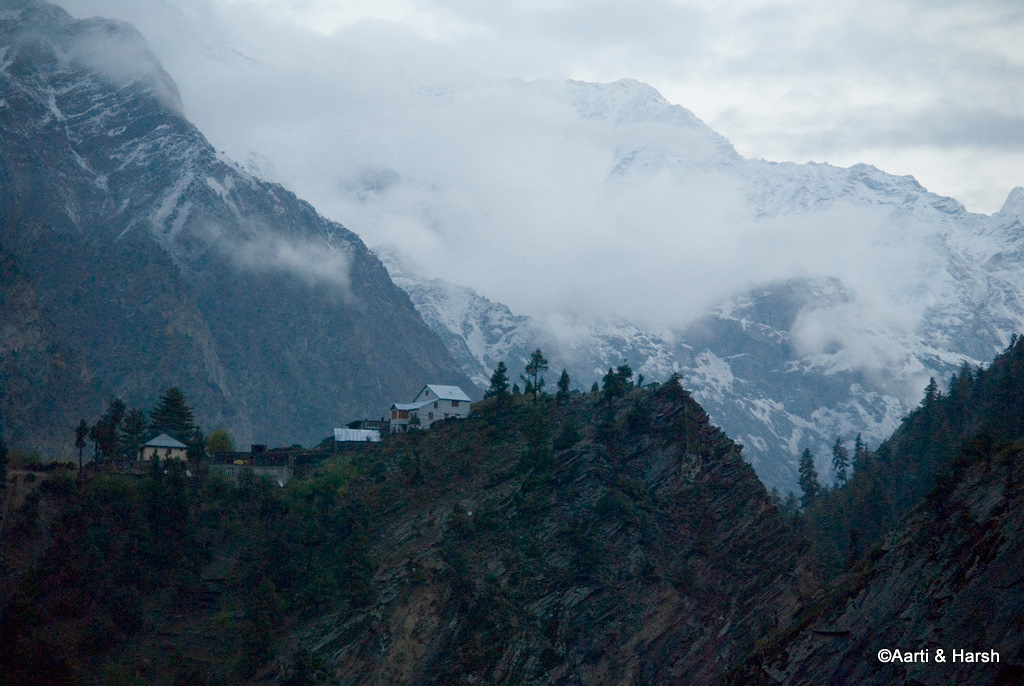 Miyar Nallah, or rather a river bisects the valley. Chimneys in all the houses are active now
​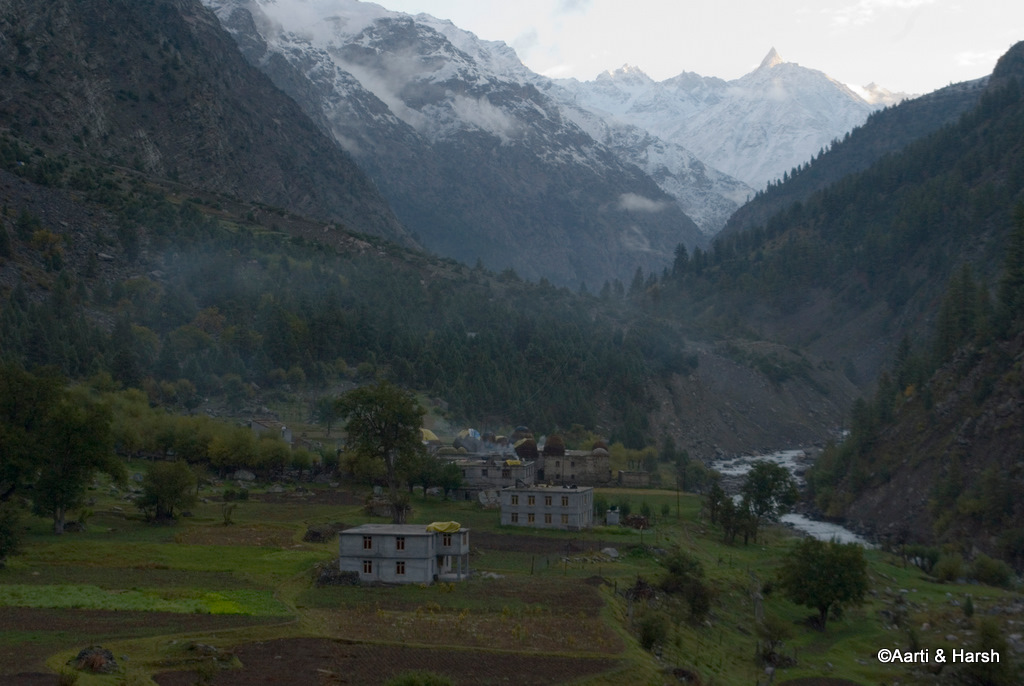 The track reminded us of the road between Sangla and Chitkul for some reason. It was like a walk in the park with domestic animals like horses and cows grazing here and there. Every villager we crossed was amused to see a Delhi number Safari plying on these village roads.
These are parts seldom visited by tourists, barring a few from the hiker community. They too are mostly westerners on their way to Zanskar. Yes, you read that right! From the point where the road ends, it is approximately a 4-day trek – 2 days up to Kang La and 2 days down to the Bardan monastery – to Zanskar.
From the Bardan monastery, frequent jeeps ply to Padum, the very heart of Zanskar valley. But they say the trek is quite arduous, as one has to cross the Miyar glacier en route. However, many say that the glacier is a destination by itself.
Return to Udaipur
We took a U-turn at the last village. The entire leg took us about 1.5 hours one way, and we were back in Udaipur around 9 am to enjoy a wonderful breakfast.
Kiyang crossing over a bridge.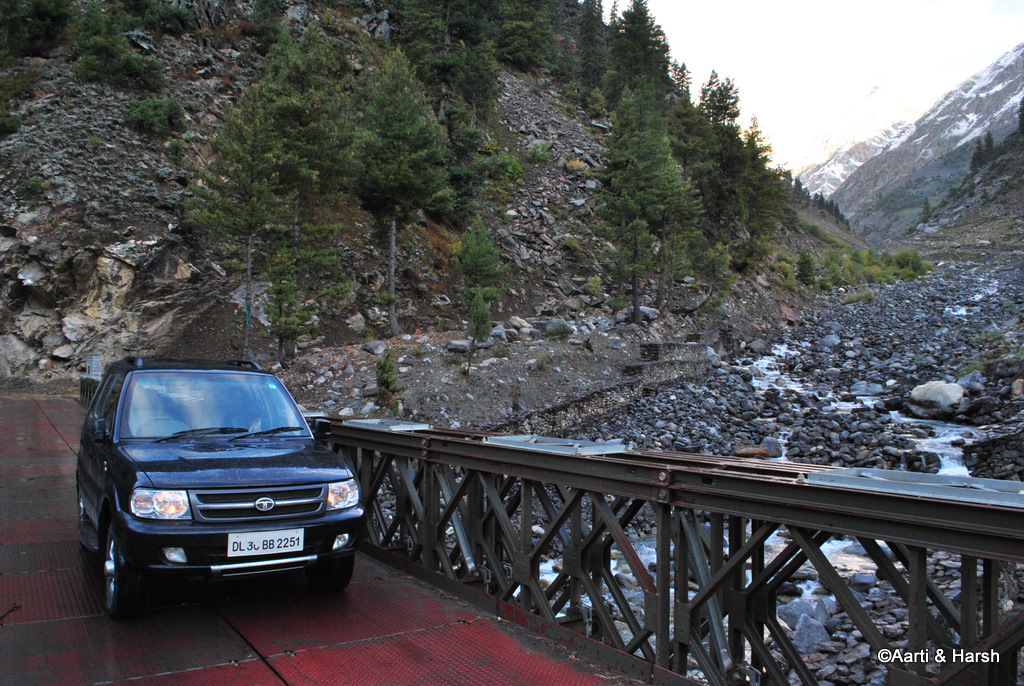 A bridge over Miyar Nallah to cross over to the other side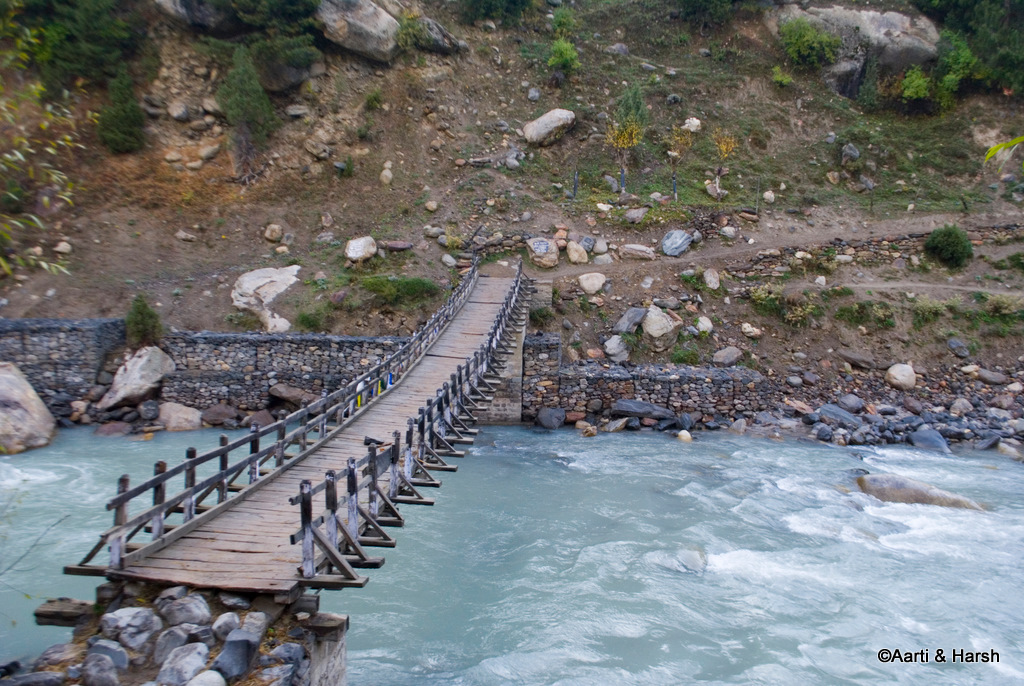 My attempt at an HDR shot of the beautiful valley, glowing in the morning sun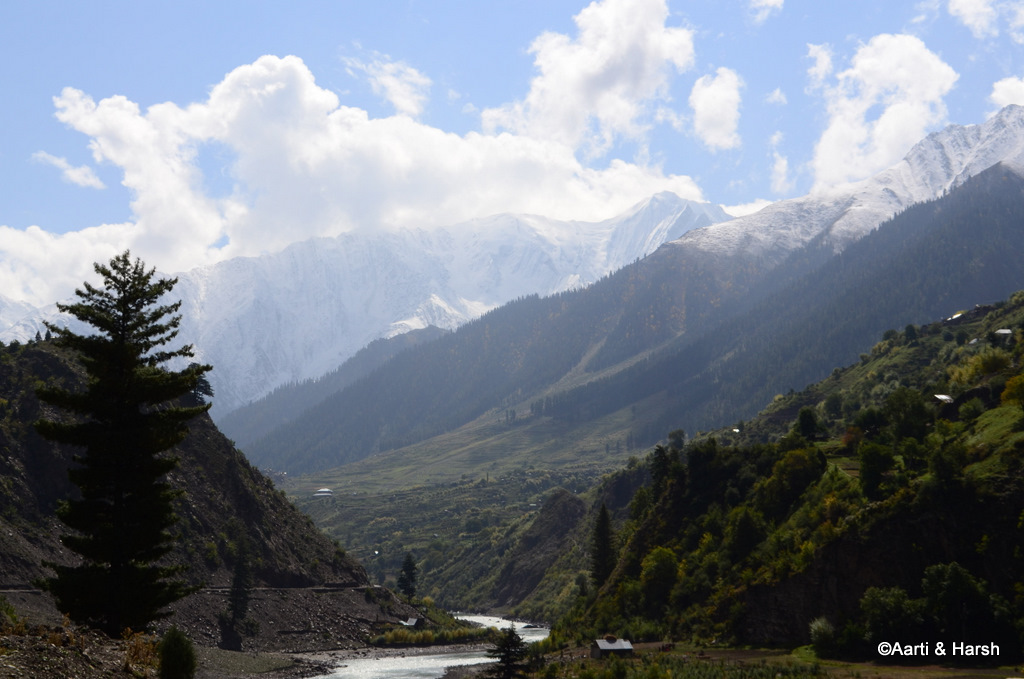 A longish breakfast saw us leave Udaipur by 10 am towards Manali. The road till Tandi would be trodden upon by us for the first time but beyond that, the track had been measured by us umpteen times.
We stopped at Tandi bridge for a brief moment, contemplating to run all the way to Leh. But our mind took over our heart and we chugged towards the refueling station at Tandi.
Also Read: Rann of Kutch Road Trip – A Drive Across the Rann of Kutch
We were tempted yet again to do a cannonball run to Leh at the station when we saw two lamas in a Qualis on their way to Leh. Again rationale took over, and we resumed our journey to Manali. How I wish that I could be carefree enough one day to let my heart take over in such matters.
On the way to Tandi, Chandrabhaga flow below
​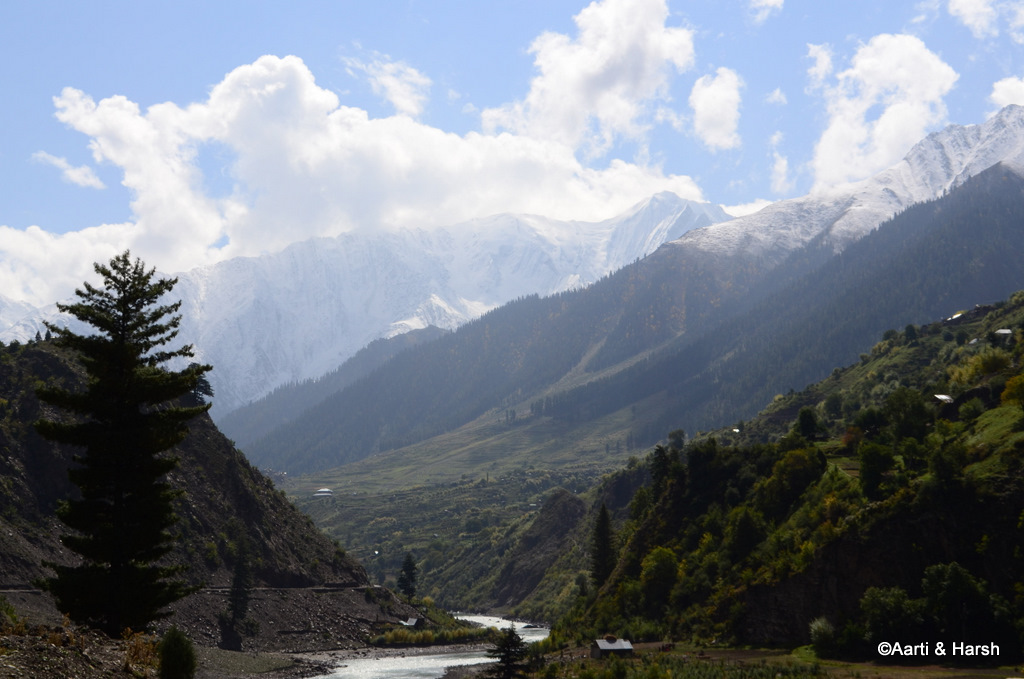 Kokhsar
We reached Kokhsar at about 3, just in time for a quick lunch of momos and mutton soup. We were about to leave when we met an old acquaintance, a smiling Himachali, who approached me and said hello. I too said hello being polite. He asked me if I remembered him. I was a bit embarrassed as I did not, but I still said a meek yes.
I guess he understood, so he began explaining that we had given him and a bunch of his friends a lift from Bharatpur till Sarchu a couple of months back. He had recognized me or the car or Aarti or maybe all of us!
We had a good laugh, after which he mentioned that he had just packed up his camp at Bharatpur because of early snowfall two days before. Fearing that he might be stuck if he shut shop any later, he had packed up and put up his equipment in a passing truck that was going to Manali.
His village was a few kilometers after Manali off the Manali-Kullu road. His wife, daughter, a conductor, the driver, and he himself were crunched in the cabin of the truck. He asked us if we could give a lift to his wife and daughter, mentioning that they were getting very tired in the packed truck.
Also Read: Trip to Chandratal Lake by Car – An Adventurous Drive
Manali
We, of course, agreed to his request, and the rest of the drive till Manali was spent chatting with the two women. It was quite an interesting chat and a long one at that till Manali, and we learned a lot about their life, livelihood, and hardships. Of course, we too shared our lives and our hardships, if I can use the word hardships to describe our lifestyle that is.
The colors before Sissu were amazing.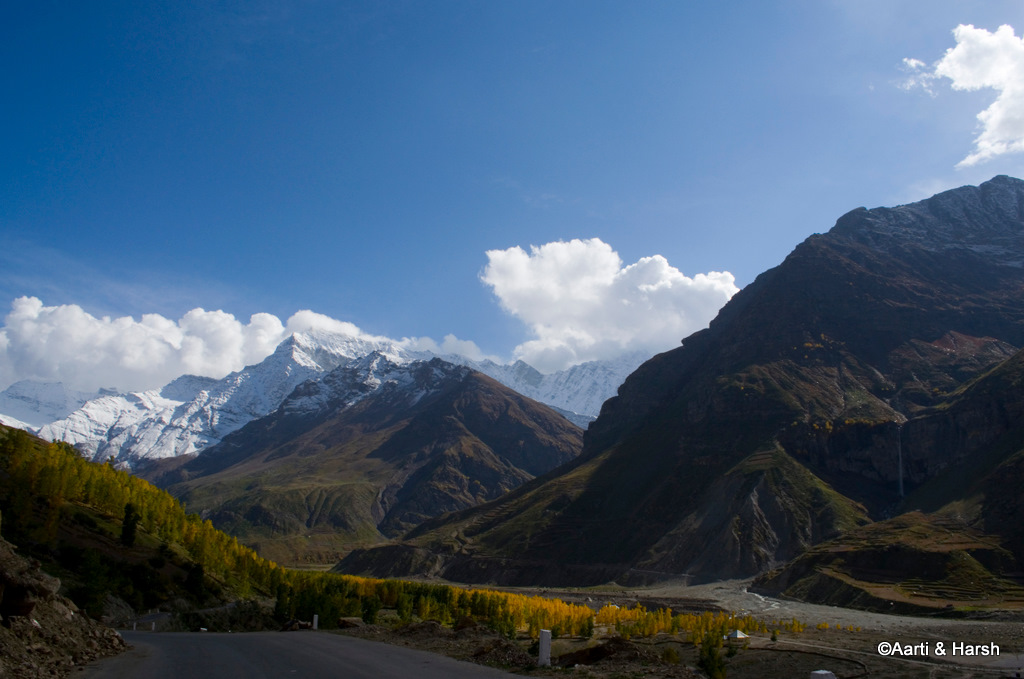 These are the colors just before fall.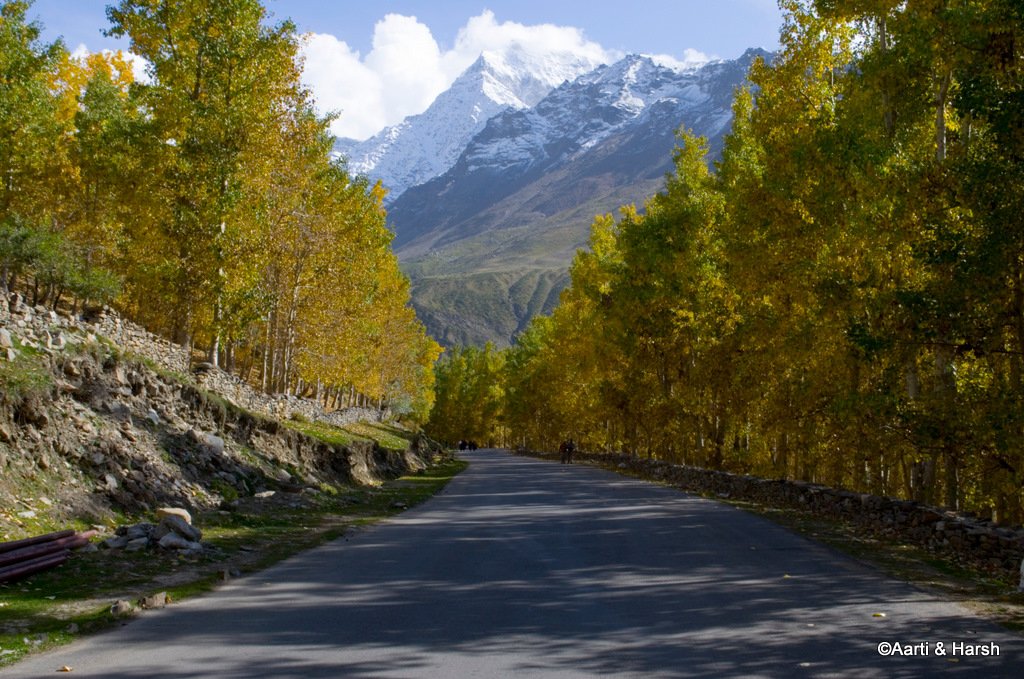 Before long we were standing at Manali, which now feels like a second home. Johnson's lodge had already been booked for the next two nights. I freshened up quickly and spent the evening with Roberta. Aarti too tagged along. After all, who would miss out on an opportunity of eating at Il Forno when staying at Manali!
Day 5 & 6 – Stay in Manali and return to Delhi
Day 5 was meant to be a relaxation day, just idling about Manali and gorging on some sumptuous food. It turned out to be exactly that. We woke up late, had a lazy breakfast of pancakes in our room, and ventured out around 12 to buy some stuff from the mall road. I had a conference call to attend in the evening (yes, work beckons everywhere!) and had forgotten my headset at home, so those also had to be bought.
Relaxing Manali
After an hour or so of shopping, we found ourselves yet again at Il Forno. We enjoyed a late lunch of pizza and coke. My conference call was at 6. By the time we finished lunch, it was already 3.30 or so, leaving us with little time to do anything. We decided to just drive to Solang Valley, hoping to get a glimpse of the tunnel work. But sadly we were stopped from going beyond Solang.
While Aarti read a new thriller she'd bought, I attended the conference call and got free only by 8 or so, after which we headed out for dinner. Wanting to try out a new place, we sauntered towards Old Manali. Once there, we found a cafe which looked nice, but on entering we found only foreigners in it, and all stoned.
There was no food available since the cafe was shutting down the next day for winter. We looked around and found another place – Pizza Olive – and what a lovely place it was! Awesome pizzas and lovely ambiance. This too was about to shut down in a day or two, and we were surprised to know that it had a branch in Goa which functions in the winter when it is peak season there and when the Manali outlet is closed. Smart huh?
That was pretty much the end of our short trip to Sach pass. The next day we just drove back to Delhi, a drive which we can now do with our eyes closed.
Killar to Udaipur to Manali to Delhi – Conclusion
I hope the travelogue, pictures, and information above on traveling from Killar to Udaipur to Manali while exploring Miyar Valley were of help. If you have any questions or need any other details, please feel free to ask in the comments section below, or at our Community Forum and I will be glad to answer.