This article is in continuation to a previous one and a part of my Northeast trip log. The post below talks about our journey from Pelling to Gangtok by road followed by visiting the local tourist attractions in Gangtok.
In the previous days, we visited Cherrapunji, Mawlynnong village, Sibsagar, Kaziranga National Park, Darjeeling, and also attended the famous Hornbill Festival of Nagaland in Kohima. It was a 2 week's long trip with my parents and our modes of travel were trains, buses, private taxis, and shared cabs.
To read the previous parts of the travelogue, please click on the links below.
Journey So Far: 
We had arrived in Pellin on Day 13 by noon and spent the second half of the day sightseeing. There were however a lot of places still left that we intended on visiting on Day 14, before starting our journey from Pelling to Gangtok.
Sightseeing in Pelling
The remaining half of Pelling tour started at 9 am. This time the driver was different and the vehicle, too, was different. It was a bit uncomfortable. The driver was too silent, exactly opposite to that of the day before. Anyway, these four points for the remaining half were covered.
Rimbi waterfalls
Rock garden (Rimbi)
Khanchendzonga waterfalls
Khecheopalri lake
Rimbi waterfalls
It is a small waterfall bang on the road. Nothing great about this one really and you won't miss much if you decided to skip it.
Rock garden
The most amazing garden. The Rimbi river and its colors are worth seeing. Notice the cows crossing the river.
Khanchendzonga Waterfalls
Even some 3 months after the monsoon ended, there was a huge force of water at these falls. The main falls are a bit more uphill. The ones that you see on the road are just a branch of it.
Khecheopalri Lake
A Lake that is considered sacred by Buddhists as well as Hindus. The lake water is blackish. En route, there are many small Buddhist temples & prayer wheels.
I have not narrated the story of the lake but you can read it here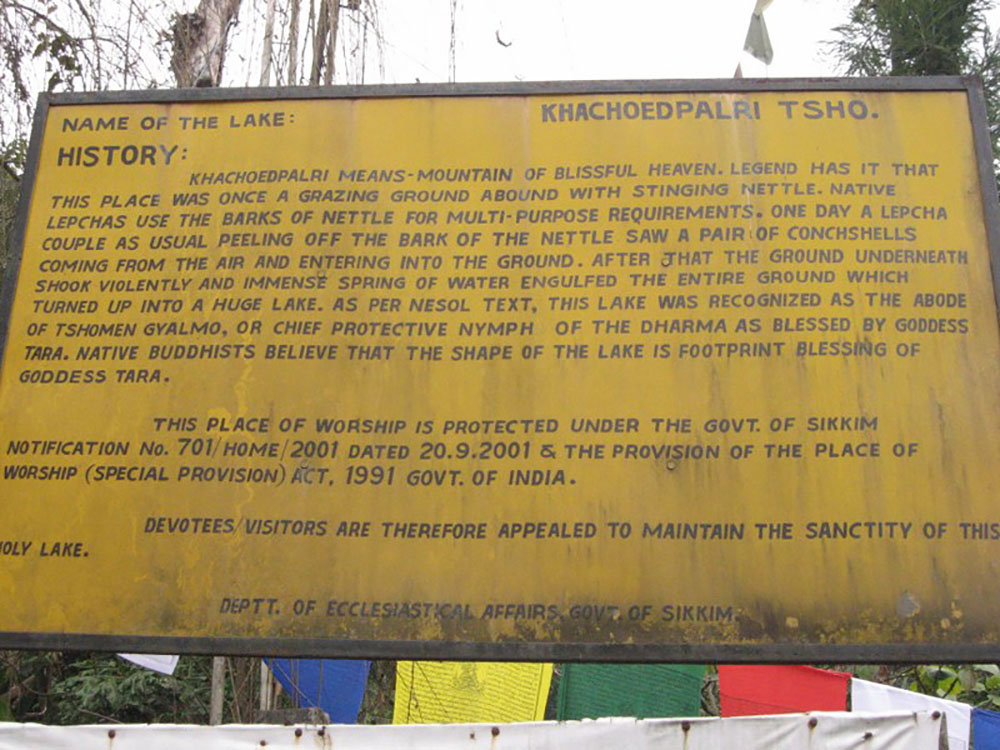 Pelling to Gangtok
By the time we returned, it was some 1.30 pm. We had a cool lunch of Momos again and then proceeded towards our (another) hired vehicle towards Gangtok.
Overall, Pelling is the most interesting hill station one should never miss. There are several other points and tours and treks starting from Pelling. Due to lack of time, we had to skip even the Rabdantse palace ruins and helipad (Sachaoling monastery) which are located quite close to Pelling.
Again, the driver too was a bit worried that he would have to drive late- night (after 6 pm means late night) and he may have to return if his boss orders.
The Pelling to Gangtok journey began at around 3.30 pm. The driver was a young fellow, calm and cool. Except for one tea break at Rabangla, there was non-stop driving.
We joined the main highway towards Gangtok (Singtam) at around 7 pm and were into Gangtok by 8 pm. The driver dropped at the (main) town jeep stand. Our Gangtok hotel- Hotel Tenancy- was located at a very small walk from the main stand.
The hotel is fairly good, but their restaurant (where we had dinner at night) is a bit odd, with just two large tables on the last floor. We had a light dinner and after watching a movie, we slept peacefully without any heater requirement.
Day 15: Gangtok City Tour
Today's tour began with the hotel person arranging a taxi for us. The 10 points included-
Cottage industry
Flower show (Orchidarium)
Hanuman Tok
Ganesh Tok and Cityview point
Tashi viewpoint
Ranka monastery
Banjakri waterfalls
Ropeway
Do Drup Chorten
Tibetology center
We missed the last one due to a lack of time.
Just as the previous two days, this day was cloudy and foggy too. So we could barely see Kanchenjunga at Gangtok.
View from the city hotel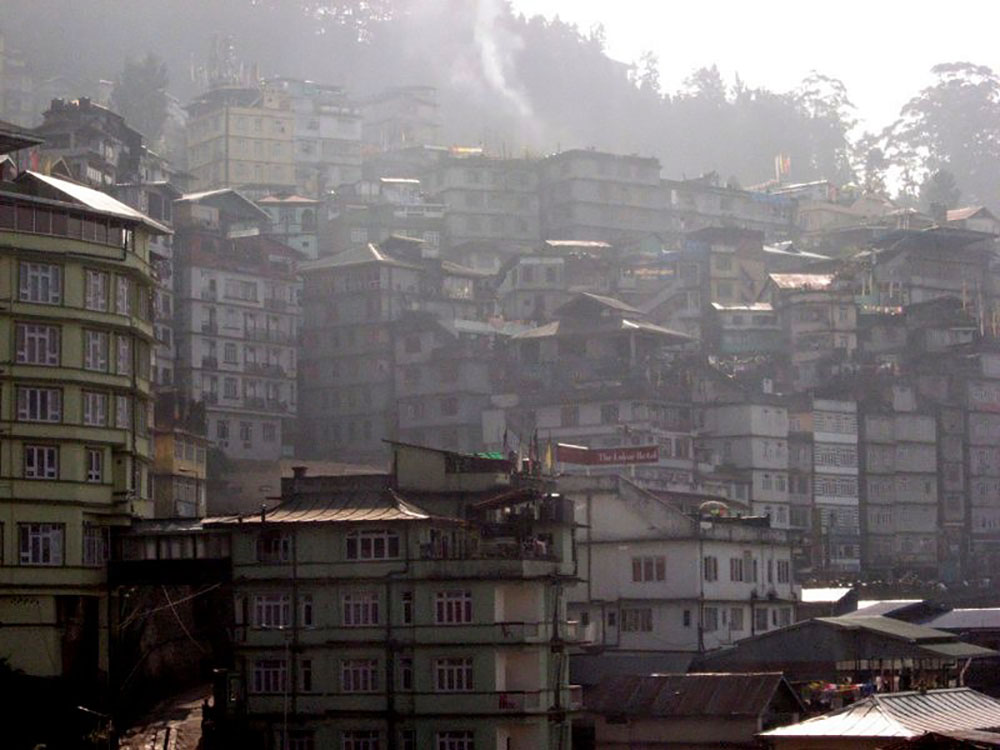 Cottage Industry & Orchidarium
The cottage industry is a one-stop-shop place for Sikkimese items. But I think that better items are available at Gandhi market.
Flower show (orchidarium) is Gangtok's best place never to miss! It houses a small park along with a large orchidarium, and we feel like clicking and clicking more and more. Very nicely constructed.
Hanuman & Ganesh Tok
We left for Hanuman Tok (on the way to Nathula, but within the city) at around 11 am. The road towards Hanuman Tok bifurcates leftwards from the main highway.
After a winding route of some 2 km, we enter the top hill. They had cold winds blowing. The atmosphere was very pleasant, and religious. A lot of army personnel were present at Hanuman Tok.
The approach and the mandir itself along with the idol are very impressive. This is another point one should never give a miss when in Gangtok.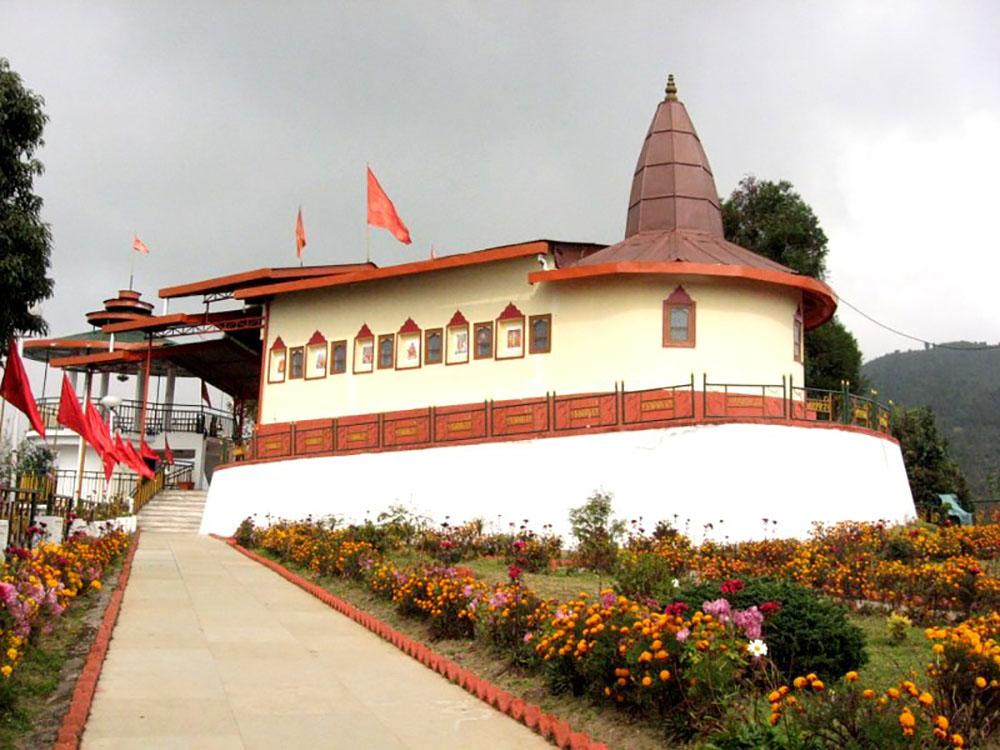 Ganesh Tok is Situated near the tri-junction of the road towards Nathula and north Sikkim (Yumthang, etc), it gives you impressive looks of the city. The mandir and the souvenir item-selling shop is awesome here. Also one can try the Tibetian costume makeups and photos here.
Gangtok city view from Ganesh Tok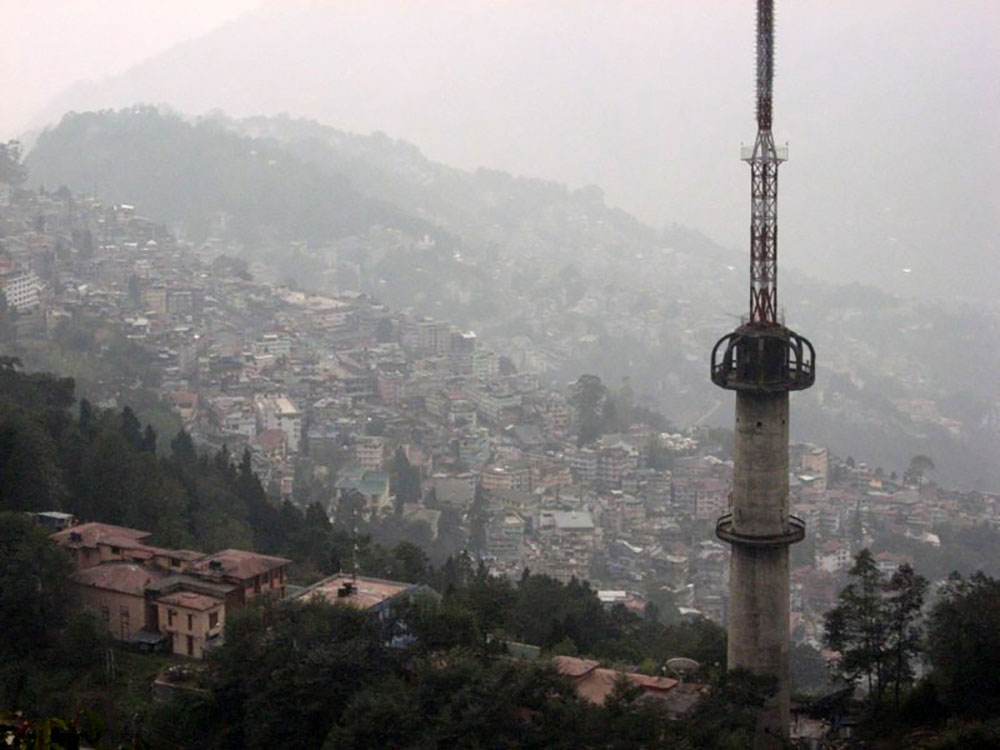 Tashi Viewpoint, Ranka Monastery & Banjakri Falls
Tashi viewpoint is situated a bit ahead. They say it gives awesome views of Kanchenjunga, however since it was foggy, there was nothing much to go on the top for the view. We wasted some time buying more and more souvenirs. Had lunch at a nearby restaurant, of Thukpas & momos.
Ranka Monastery is a quaint little monastery along with dormitories/hostels for travelers. Some monk from Bhutan was delivering his speech here. So it was a bit crowded.
The public was sitting on the ground, and in spite of such a large crowd, it was pin-drop silence everywhere. Also, there were some nice planted orchids in the monastery premises.
Banjakri waterfall was situated a bit far away, all together on a different mountain. It was maybe 10-14 km away from Ranka monastery. There was a theme park constructed. Photos of the waterfalls and theme park.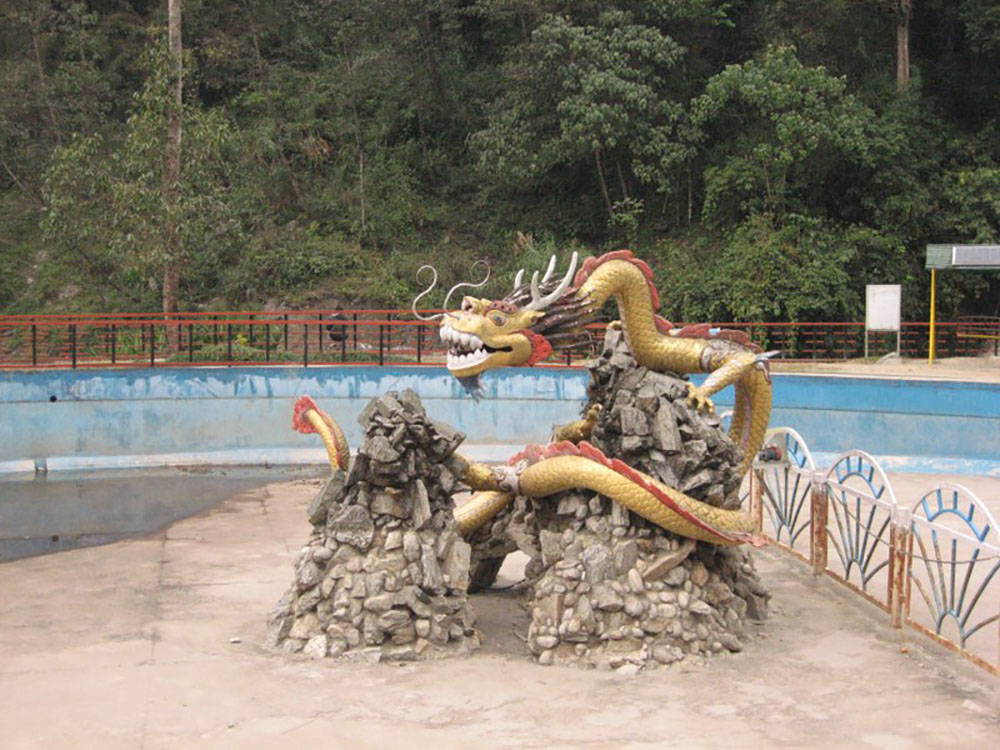 Ropeway & Do Drup Chorten
The ropeway is another Gangtok's city point that one should never miss, and this time (evening) is perfect to visit it. The entire Gangtok city, along with the Sikkim assembly, traffic and mountains are visible from the top. The ropeway stops midway at Gangtok's only Big Bazar.
Do Drup Chorten is a huge Chorten atop a local hill behind the ropeway. Also contains a monastery guest house. Tibetology center is nearby and we missed it due to a shortage of time (ends by 5 pm).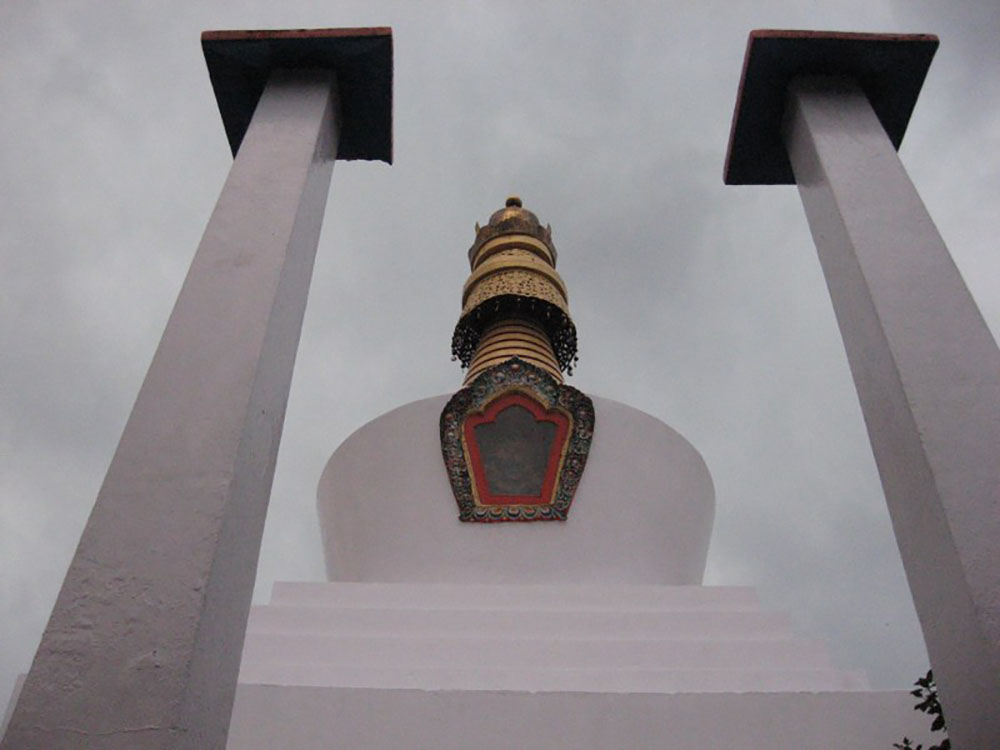 After this, there was shopping time. We left by around 6 pm from the hotel over the MG road for shopping. Got the documents (passport xerox & a photo) for Nathula and handed them over to the hotel receptionist. He arranged the tour for 3 of us at Rs 650/head).
Gangtok's MG road (more commonly known as Mall) is better than all other so-called MALLs of hill stations of India. Such a spic and span road (no vehicles, just like Shimla, Mussoorie, Manali, Darjeeling).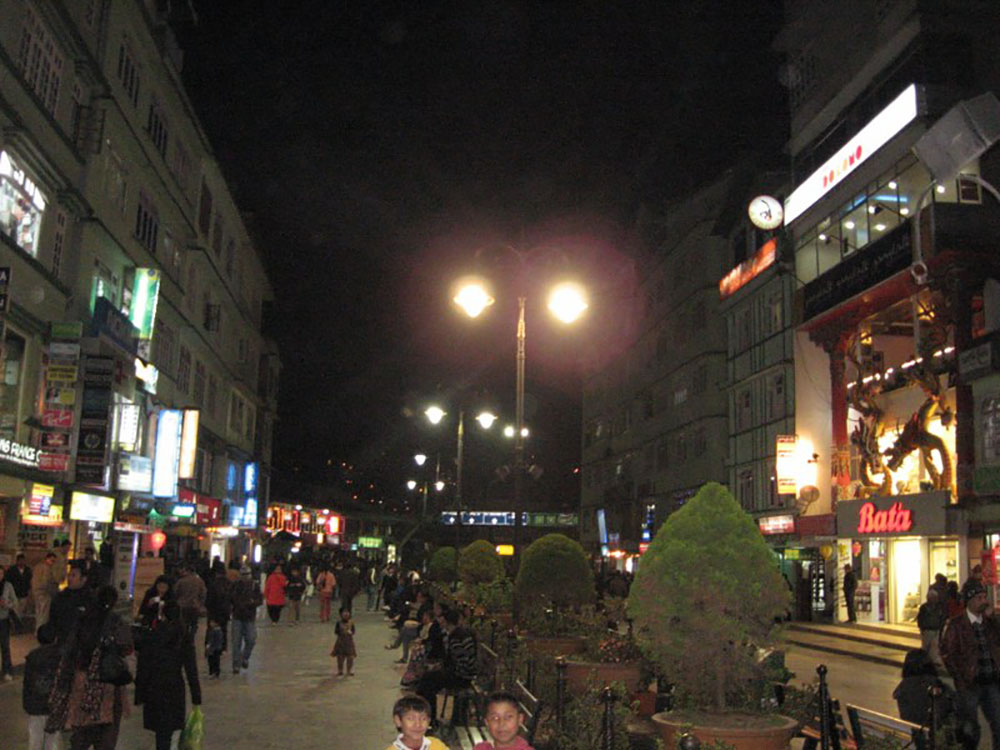 Don't forget shopping for woolens on MG road (towards the end steps). The better articles are available at the end of MG road (i.e. right side when you climb from the taxi stand).
We had dinner at Domino's pizzas at the old taxi stand here. And yes, it's great having a pizza during winter that too at Gangtok. Winter is something unusual for Mumbaiites, so all the fun of winter is a first-time for me.
Anyways slept early since it would be a difficult day tomorrow – at Nathula pass. Please click on the link above to continue reading the next part of the travelogue.
Pelling to Gangtok – Conclusion
I hope the travelogue, pictures, and information above on traveling from Pelling to Gangtok were of help. If you have any questions, please feel free to ask in the comments section below and I will be happy to answer. You can also follow me on Instagram and chat with me live there or subscribe to my YouTube channel and ask a question there.