This article is in continuation to a previous one and a part of my Northeast trip travelogue. The post below talks about our journey from Cherrapunji to Shillong and the day we spent sightseeing in Shillong. To read the previous parts of the travelogue, please click on the links below.
Journey So Far: 
My parents arrived from Mumbai to Guwahati on Day 1 and then on Day 2, we traveled from Guwahati to Cherrapunji by road. On Day 3, we went to Mawlynnong Village, which is known as the cleanest village not only in India but entire Asia. You can read about the first three days of the trip in the post linked above.
Day 4 – Cherrapunji to Shillong to Guwahati
Today's return journey also included the Shillong city tour points as planned. I was more worried about returning to Guwahati as early as possible after the driver feared me about traffic jams.
We had the night 10.30 train towards Nagaland. Anyways we left the hotel in Cherrapunji (and its playful black dog, and honest servant) by around 9 am, and reached Shillong by 10 am. On the way, we decided to visit the police museum, but it remains closed on Sunday.
Sightseeing in Shillong
Our first point was the Shillong peak. It is a winding 5 km long road with tolls which on reaching gives the view of the entire city right up to the Umiam lake.
Shillong Peak
On clearer days, the local shoppers said, one can notice Guwahati lights also from this point. Do not miss the chai here. It's of awesome quality.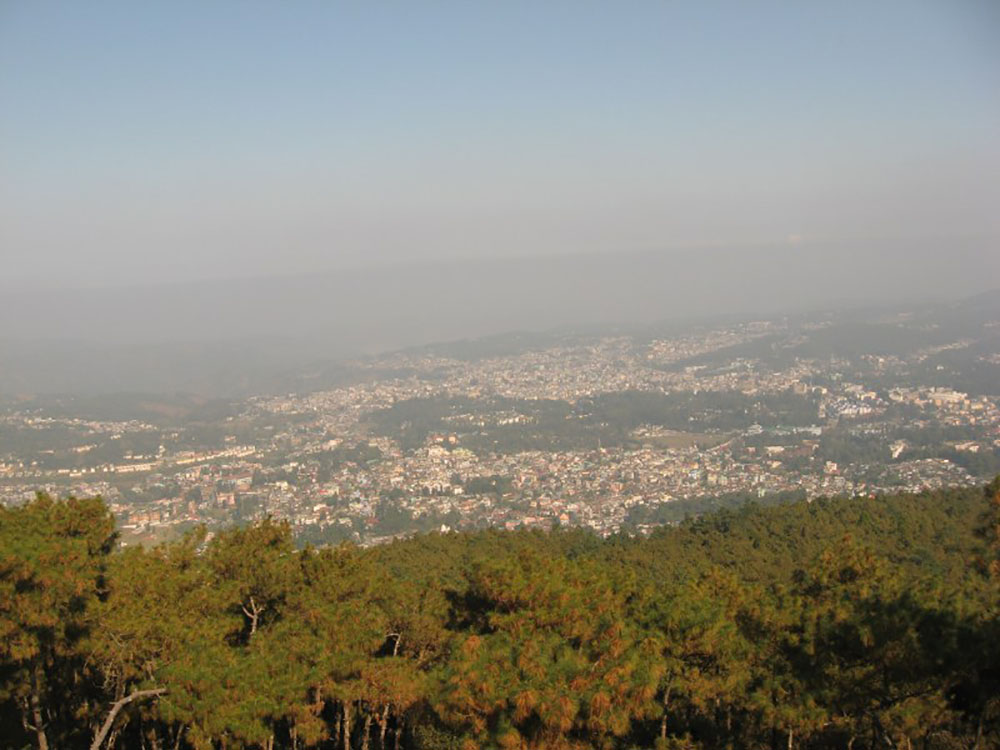 Rhino Museum
The next point was Rhino museum located bang on the main junction of Shillong- where roads bifurcate for Mizoram, Manipur, Tripura, and south Assam on one side and west Meghalaya on the other.
We had a quick visit to this one in less than 15 mins. It hosted the history of Khasi warriors and the history of Meghalaya during the British period.
View of vehicles from Rhino museum
Willamsen Sangma (State Museum)
Next came Willamsen Sangma (state museum) which that day also hosted some sales. It contained tribal costumes, way of life, ornaments, instruments, equipment, etc. prototype of Garo Khasi Jaintia and Naga tribes of Meghalaya.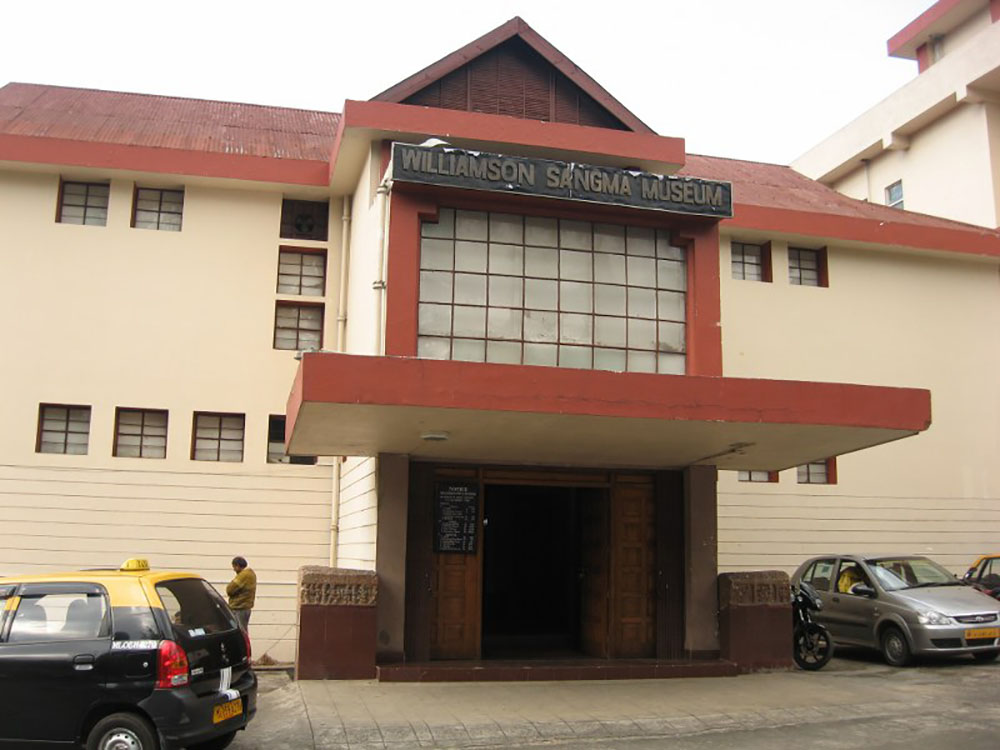 Wards Lake
The next point was Wards lake, perhaps the most romantic place for Meghalayan people. The tranquil waters with ducks, vivid colors of plants, leaves, flowers, and sunlight peeping on them, and add the charm of a white arch bridge on the top.
You spot several such vehicles which sport a M'LOSER impression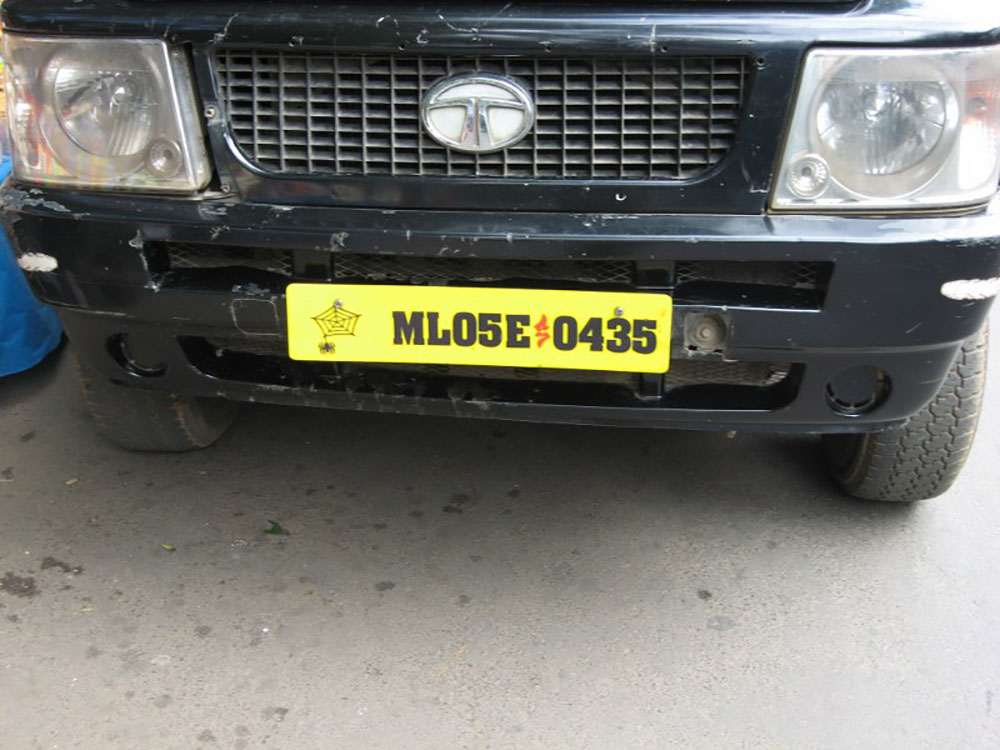 Don Bosco Museum
It was almost 12.30 by the time we left Wards lake. The next point was Don Bosco Museum. It is perhaps the largest museum I have ever seen. It has Seven Storeys, hosting traditions of eight North-East state's traditions.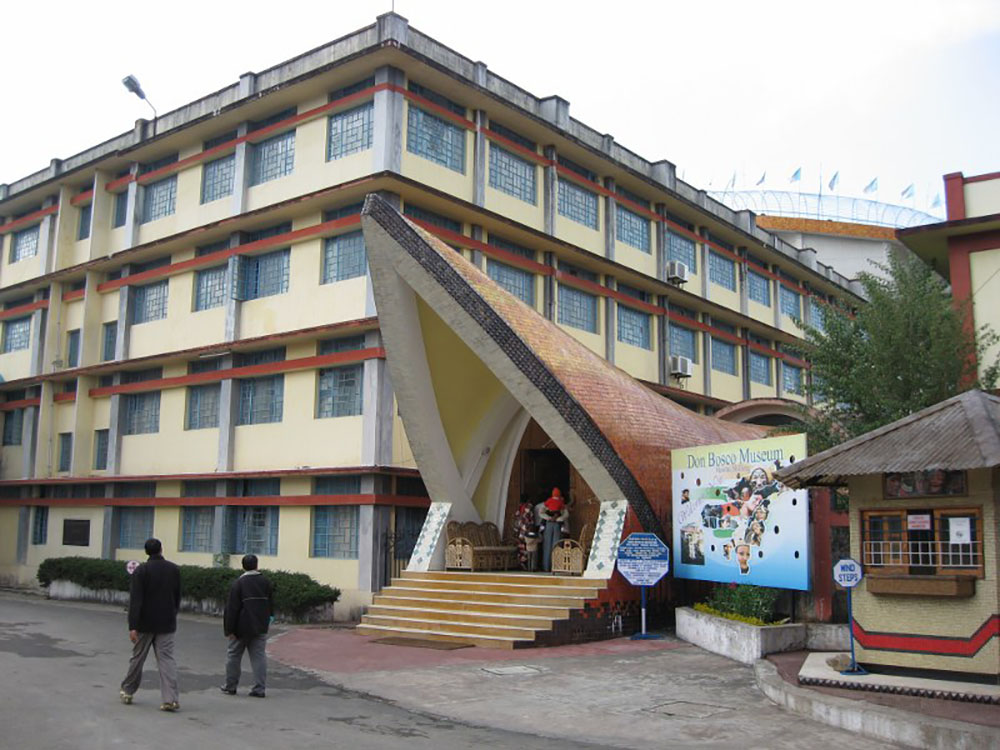 This is a private museum with the highest ever fees- Rs 160/person and Rs 100 as a camera fee. A person greeted us and explained that only one free photo is allowed- of elephant-skull-chair and of the log drum.
Finally, we succumbed to the excitement and paid the camera fees when he said that the museum is of 7 stories. The museum rooms have footstep-actuated lights.
To start with there are photographs, then ornaments, hunting equipment, fishing equipment, people faces and a huge POP model of 7 states maps, the spread of religion in the areas, and on the last floor, we have a 15 min documentary of the life & dances of the people.
Now after the last floor, there is a 180-degree skywalk that gives a view of the entire Shillong city.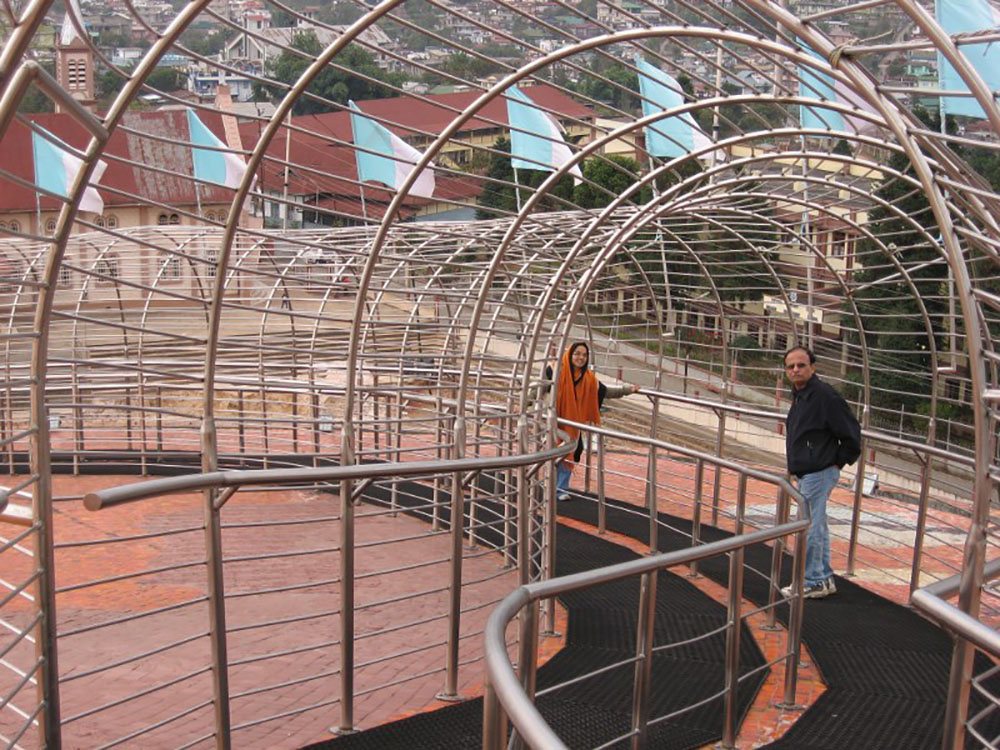 Shillong to Guwahati
By the time we returned, it was 2.30 pm. the driver was a bit fed up with us taking so long time. Anyways we bid adieu to Shillong city and it started raining. We ate food at a roadside dhaba just after leaving Shillong, at about 3 or 4 pm.
Then started the return journey. Traffic jams ensured we never reached Guwahati before 7.30 pm. Going through the long line of malls, KFC, Big bazaar, SBI, secretariat, hospitals of Guwahati, we finally reached the Railway station by 8.30 pm.
Interestingly, I started feeling warmer in the AC waiting room. My parents were surprised by the quality of the station. However, I was used to it and instead cursed it since no train ever arrived on time.
That day however our train- Ledo intercity express was to be departing bang on time. We had dinner at the south Indian snack stall and proceeded to our coach.
The train has two B1 and B2 coaches- one set goes to Jorhat and another set to Ledo. Watch before you sit. I was a tad asleep much before the train departed. Good night.
Tomorrow we were to reach the most awaited part of the journey – The Hornbill festival of Nagaland. Please click on the link above to continue reading the next part of the travelogue.
Cherrapunji to Mawlynnong – Conclusion
I hope the travelogue, pictures, and information on traveling from Cherrapunji to Shillong and sightseeing in Shillong were of help. If you have any questions, please feel free to ask in the comments section below and I will be happy to answer. You can also follow me on Instagram and chat with me live there or subscribe to my YouTube channel and ask a question there.