This article is in continuation to a previous one and a part of my Northeast trip travelogue. The post below talks about the 6th date of our trip that we spent sightseeing in Kohima. We arrived in Kohima the day before from Dimapur,  attending the famous Hornbill Festival of Nagaland, and spent the night at a lovely homestay-type hotel.
To read the previous parts of the travelogue, please click on the links below.
Journey So Far: 
Today's plan was to see local places in Kohima up to lunch then go to Dimapur and have a rest. We checked out of Mrs. Asenla's hotel at approximately 9.30 am.
Day 6- Sightseeing in Kohima & Return to Dimapur
As per the directions we got from Mrs. Asenla, we had to see three places in Kohima.
Science college (view of Kohima city)
Kohima state museum
Kohima World War II memorial
The church of Kohima was under repair so we decided not to visit it.
We contacted a taxi driver (old Omni fellows) written- 'city taxi only'. Earlier, no one was ready. Then some taxi driver got ready on negotiating at 500 bucks. He said the three locations are at three corners of the city.
So we started our city tour of Kohima. Below are some photos of the city, first during traveling and then from the Kohima science college.
Flags of 16 tribes of Nagaland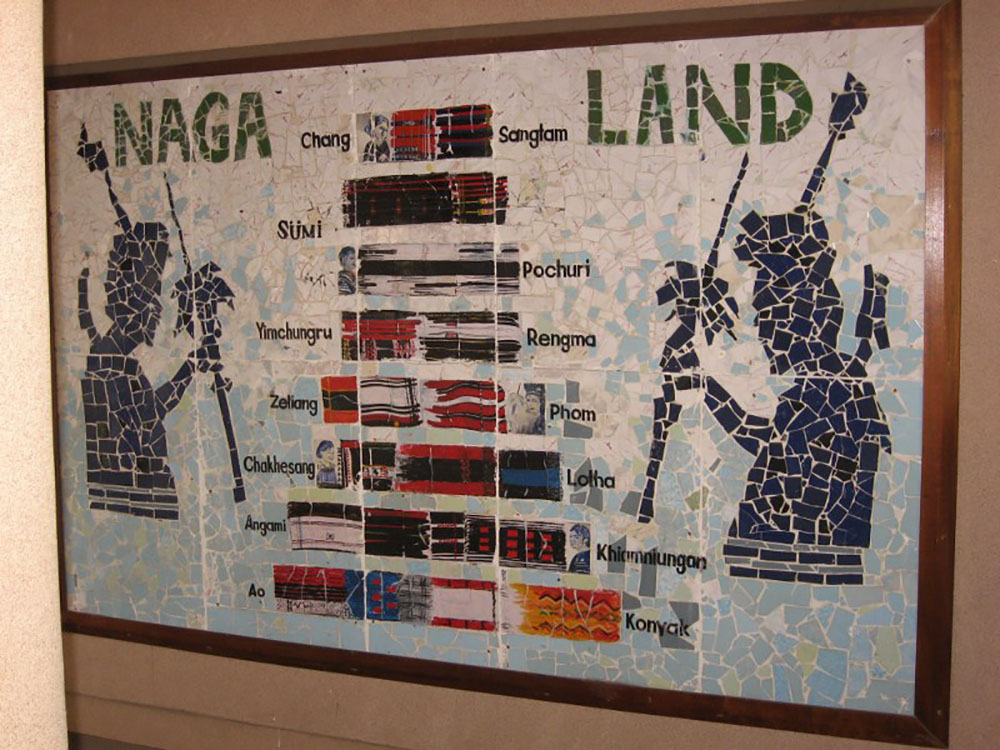 Moving onwards to Kohima World War II museum.
Kohima to Dimapur
We departed from the city after taking our luggage from the hotel at around 2 pm. We got a shared taxi (counter is exactly opp NST bus stand. The driver was pretty slow this time.
We reached Dimapur city at around 5 pm. We were searching for a train so we would have reached Sibsagar on the same day. However, there were trains at 9.30 and they would leave us in Sibsagar at an odd time.
So we instead decided to halt at Dimapur. I had noted the number of an ashram- Bharat Sevashram Sangh in Dimapur. It is in Dimapur (Assam). After a long search on foot, we reached the ashram by around 5.40 pm. The Swamiji welcomed us and we attended the evening aarti of Swami Pravananand Maharaj.
It was such a sudden change in everything when moving from Kohima to Dimapur. No hills, all temples unlike the churches giving the city a Haridwar type look. It was also not cold at all.  There was no need for a sweater even at the night. In fact, we required a fan. No problem with food as well. All typical Bengali food was available.
We slept early since we had to depart at 4 am the next day from Dimapur to Sibsagar. Please click on the link above to continue reading the next part of the travelogue.
Sightseeing in Kohima – Conclusion
I hope the travelogue, pictures, and information on sightseeing in Kohima City were of help. If you have any questions, please feel free to ask in the comments section below and I will be happy to answer. You can also follow me on Instagram and chat with me live there or subscribe to my YouTube channel and ask a question there.