This article is in continuation to a previous one and a part of my Northeast trip travelogue. The post below talks about the 7th date of our trip when we visited the tourist places in Sibsagar and the areas around it. In the previous days, we visited Cherrapunji, Mawlynnong village, and also attended the famous Hornbill Festival of Nagaland in Kohima.
To read the previous parts of the travelogue, please click on the links below.
Journey So Far: 
After a long day of sightseeing in Kohima, we arrived in Dimapur in the evening after 5. After an early dinner, we called it a day and slept early the day before since we had to leave at 4 am for Sibsagar.
Day 7- Visiting the Tourist Places in Sibsagar
I had planned to catch the same Intercity express which took us to Dimapur from Guwahati. Thus we had to leave the place (after Swamiji's blessings) by 3.45 am. We reached the station by 4.10 am and waited for the 4.15 am's intercity express to Ledo.
Dimapur to Sibsagar
I took the general ticket. The train was half hr late. It came chugging at 4.45 and the small journey of 4 hrs began soon in the smelly general compartment of Ledo intercity. People were playing Assamese songs and Assamese ringtones which I was used to listening to for the last 7-8 months but my parents found it new interesting.
The train went bang through tea gardens, some better than the New Jalpaiguri ones. The Assamese countryside is better than it is here (at Guwahati) and of course tons better than any other scene in Indian railways.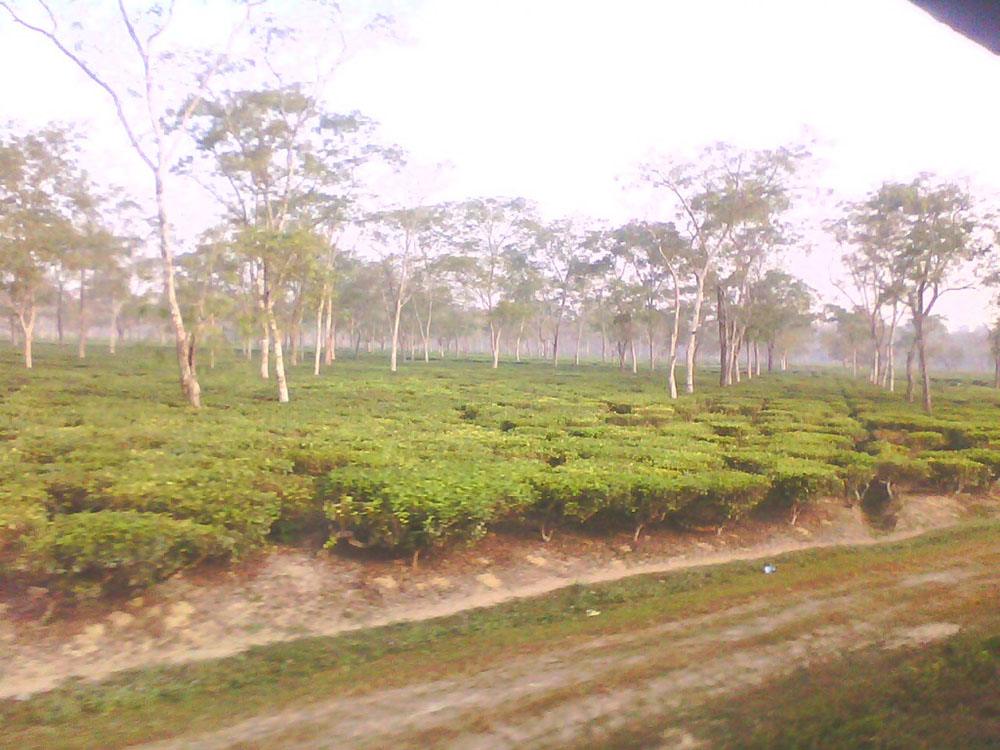 The station for Sibsagar is Simalugiri Junction. We arrived there arrived at 9 am and caught a shared jeep to our hotel – Hotel Siddharth located in the ONGC colony. The shared cab was the same, broken ones as found in Nagaland. The only difference was that out here, these were dark green.
When coming from Simaluguri Jn, it is some 1 kilometer before the main city. A nice hotel for a very decent price of 800 Rs after an early, sleepy journey.
Today's plan was to see Sibsagar city and see the sunset at Disangmukh – the place where Late Dr. Bhupen Hazarika's ashes were buried.
Tourist Places in Sibsagar
We hired a rickshaw for Rs 300 for the city sightseeing. The main locations are
Rang Ghar
Talatal Ghar
Three Temples – Shiva Dol, Vishnu Dol, Devi Dol
Tai museum
Disangmukh
As we started by rickshaw at Sibsagar, the first sight was an old drawbridge built by the British. The local pronunciation of the place sounds like Xivoxogor. Keep a Rosogulla in your mouth and speak Hindi to speak the local dialect here.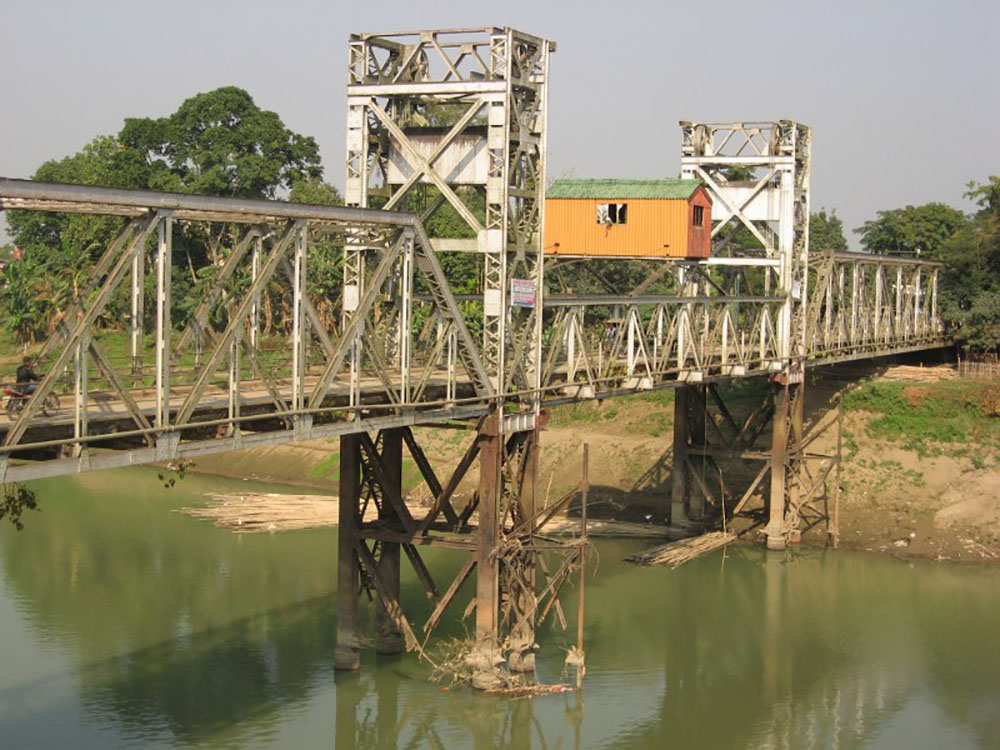 Talatal Ghar
Then comes the Talatal Ghar. It is an old palace built by the Ahom (Assam) kings when Sibsagar was their capital. It had the Kings and Queens seat also. Quite a magnificent palace, though now almost in ruins. Well maintained by Assam tourism.
Rang Ghar
Rang Ghar- one watching palace- was just opposite Talatal Ghar. Notice the 'inverted ship' shape of its dome. it was used as a watchtower by the Ahom rulers during bullfights.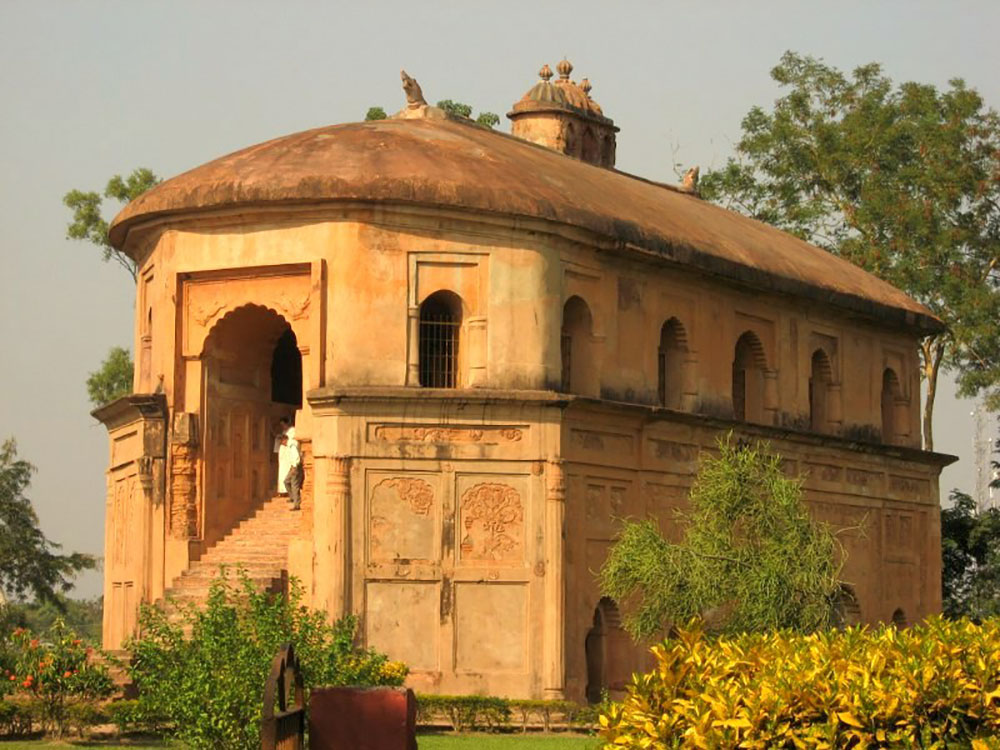 The Three Temples
The three mandirs- Shiv dol, Vishnu dol, Devi dol came later.
Shiv dol seems to be a huge temple. the rickshaw driver said it is Asia's largest temple with such a structure but I don't think so. I think there's a temple with a similar structure equally big at Orcha. The other two temples- Vishnu and Devi dol were also adjacent to shiva dol.
Tai museum
After this, we proceeded towards the museum but it was closed on that day, a Wednesday. There is no such board written, so even the rickshaw driver didn't know it, or pretended not to know it.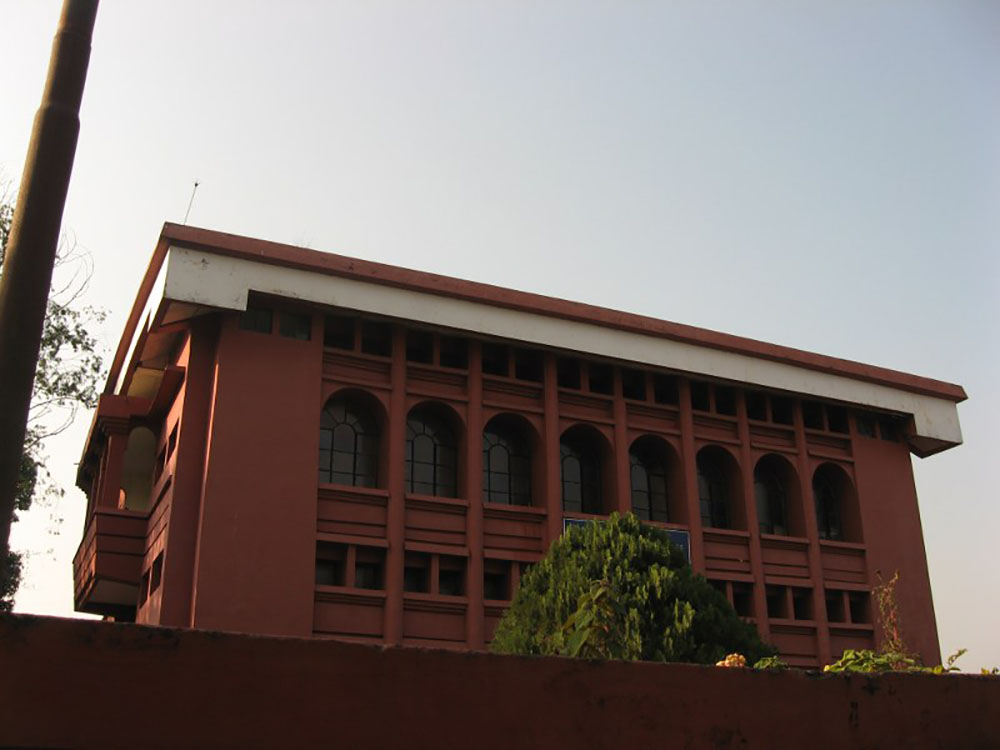 Finally, we asked the rickshaw driver to take us to Disangmukh but he refused and said the roads are bad. He left us at a place where share vehicles leave for Disang Mukh. We searched for a place for lunch but alas, we had no option but to eat the local BHAT or rice and curry and pickle. it was of better quality and hot.
Disangmukh
The 6-seater (Vikram as some people call it) started the 15-km journey and soon after some time, it became a very bumpy ride. By the time we reached Disang village, it was 3.30 pm. On reaching there, there was no sign of any river or anything.
There was no guidance from any persons also. I asked several people there. Finally, the owner of the Vikram (who owned several Vikrams doing Disang-Sibsagar-Disang journeys) insisted the driver to drive ahead to the place where Dr. Bhupen Hazarika's ashes were buried and where the Brahmaputra river is seen and the sun sinks in the mighty Brahmaputra.
He agreed for 150 more Rs (in addition to 45 Rs of sibsagar-disangmukh journey). The path started becoming narrower and narrower and the rickety Vikram vibrating horribly now even started twisting due to the bumps and its loose parts started falling down.
Anyway, we reached the last motorable point (some 5 km from Disangmukh town) and Lo- there was the mighty Brahmaputra- maybe 10 times as mighty as it is here – (in Guwahati). We saw the place of Dr. Hazarikas's buried ashes (some sand sculpture was made) and were amazed at the sunset.
Notice the artificial structures erected to protect erosion of banks during floods.
As we returned back, it was almost 7 pm (two hours past sunset). We returned to the hotel by two cycle-rickshaws, ordered a nice menu, and had a sound sleep after a busy day.
One thing about Sibsagars people- if you ask them one question, they would ask you ten questions before replying. But they are helping people. And had it not been the tiring Disang Mukh, the journey of Sibsagar would have been a waste.
The plan for tomorrow was to visit the Kaziranga National Park. Please click on the link above to continue reading the next part of the travelogue.
Tourist Places in Sibsagar – Conclusion
I hope the travelogue, pictures, and information on tourist places in Sibsagar were of help. If you have any questions, please feel free to ask in the comments section below and I will be happy to answer. You can also follow me on Instagram and chat with me live there or subscribe to my YouTube channel and ask a question there.