This article is in continuation to a previous one and a part of my Northeast trip travelogue. The post below talks about our day in Kohima attending the Hornbill Festival of Nagaland. It was our 5th day of the trip and we had already traveled to Cherrapunji and Mawlynnong village before arriving in Kohima.
To read the previous parts of the travelogue, please click on the links below.
Journey So Far: 
Our train reached Dimapur, the only railway station of Nagaland, bang on time at 4.15 am. Immediately we got a shared taxi for Rs 200/person (yellow-colored alto taxis) to Nagaland.
These taxis are a part of ANTA (All Nagaland Taxi Association). All the rates are fixed and even declared beforehand on the websites and in news.
How to Get Inner Line Permit for Nagaland
An inner line permit is needed for Indian tourists visiting Nagaland. My main intention was to visit the Hornbill festival and hence called my parents at this time. On their website, the hornbill festival has options for accommodation and EMail inquiry.
The person takes more amount for the ILP issuing (Rs 200/person) than taken at the Nagaland house. One can enter only once on issuing the ILP and cannot return to the state with the same ILP on exit.
If you are visiting more than one district, you can write "all" at the district of visit column in the Nagaland ILP form. Due to tourist peak season, all the good hotels were full (when enquired when I was in GHY) and some homestays were quoting very funny rates like Rs 3000 (with no guarantee of the attached toilet.
Finally, I got a homestay-type hotel, Imchen Guest House, on the Nagaland tourism website. The lady agreed to Rs 800/room. I thought the room would be one dark, damp dusty room. I asked whether I l get veg food in her hotel and she said it's better to eat outside. Note that I have slightly corrected some images from here on in Picassa.
Dimapur to Kohima
The journey from Dimapur started in an Alto, with the first 10 kms being a flat, straight road. Our speed often burst to 100 kmph with good Bollywood songs playing in the background. The road was uneven, though seems smooth.
It was still dark when the ghats started. Even in the winding portion, the driver did bursts of 60 or so. It was all winding roads for the next 36 hours of our stay. In some stretches the road is horrible.
With just one stop at Zubza for toilet- the place which is planned as a terminus for Indian railways in Nagaland- we reached Kohima taxi stand in 2 hrs (75 kms) where the fourth passenger disembarked. The driver took extra 100 Rs and dropped us at Minister hill where the hotel is located.
The lady (Mrs. Asenla) was pretty surprised that we arrived this early at her place (6.45 am). She made us stay in the guest room for a while. The rooms were not vacant yet as the check out time was 9 am.
Anyway, we readied ourselves with some minor problems like no hot water, etc. I found that the lady's husband was a civil engineer (as me) by profession and did his M.Tech from my college (VJTI, Mumbai). He was a retired fellow having served Nagaland PWD for a long time. We had a nice chat at the time the parents were getting ready.
Kohima to Kisama Village
Firstly, it was Nagaland, and finding vegetarian food is difficult here. On top of it, my parents were fasting (Ekadashi or upwaas). This meant most of our food today would be the one which we were carrying only- laddu, chiwda, biscuits, chikki, etc. We left the guest room and informed the lady to shift our luggage to our (actual) room.
The share taxi stand for Kisama village (place for hornbill) is located some 1 km downtown. We walked and reached the stand. The taxis are old rusty Omnis or sumos with no doors. They go further ahead up to Mao- The Nagaland- Manipur border.
They charge Rs 15/head and drop you on the main highway. It is the historic road where the Japanese army suffered a major setback and was a turning point for World War II and the British army.
The road is pretty good and when it's written "You are traveling on the historic World War II road- maintained by BRO- service of the nation" it feels more enthusiastic. From there it is a 10 min walk to the Kisama tourist village which hosts the Hornbill festival.
Hornbill Festival of Nagaland
It is a huge venue with two amphitheaters, a food plaza, a small museum, shops, large ground, and 16 huts representing 16 tribes of Nagaland. Here is the place where suddenly the entire buzz starts taking place.
I have the detailed schedule of what we watched that day. However, I will be unable to tell which dance is which, from the snaps. Below is the list of several dances performed by different tribes.
Folk dance (Sangtham tribe) we missed it
Log drum dance (Khiamniungan tribe)
Song of frustration (Ao tribe)
Drama looking for fortune (Yimchunger tribe)
Solo display (Chang tribe)
The rhythm of women (Phom tribe)
Warrior honor dance (Lotha tribe)
Child naming ceremony (Rengma tribe)
After lunch
Star dance (Zeliang tribe)- missed
Long song (Konyak tribe)- missed SADLY! (THE BEST show. never miss)
Dance by (Chakhensang) tribe
Prayer for sunshine (Kochury tribe)
Folk dance (Kachari tribe)
Folk drama (Angami tribe) (best)
Indigenous game (Dim Kuki tribe)
Different Tribes & Their Huts
Over to the 16 huts of 16 tribes. The local Hoho (chief) was present in each of the houses and was giving training (rehearsal) for students.
A food stall lady stopped us and asked for a taste of pork for lunch. We said sorry that we are fasting, and we are vegetarian, then she asked for tea/coffee.  It was really so kind of Naga people. Many were welcoming us, unlike the image someone had created for us to stay out of Nagaland bcoz of its people.
Meanwhile, she fed me the Naga sticky rice with Naga chutney. Both these items were pretty unusual. The sticky rice was so sticky that the entire thing came out of the bowl while eating. And the Naga chutney was so HOT.
I thought of it as our regular achaar and ate 1/4 tsp. I literally cried and the hot taste was felt right from the head to bottom! But still I enjoyed it.
The largest log drum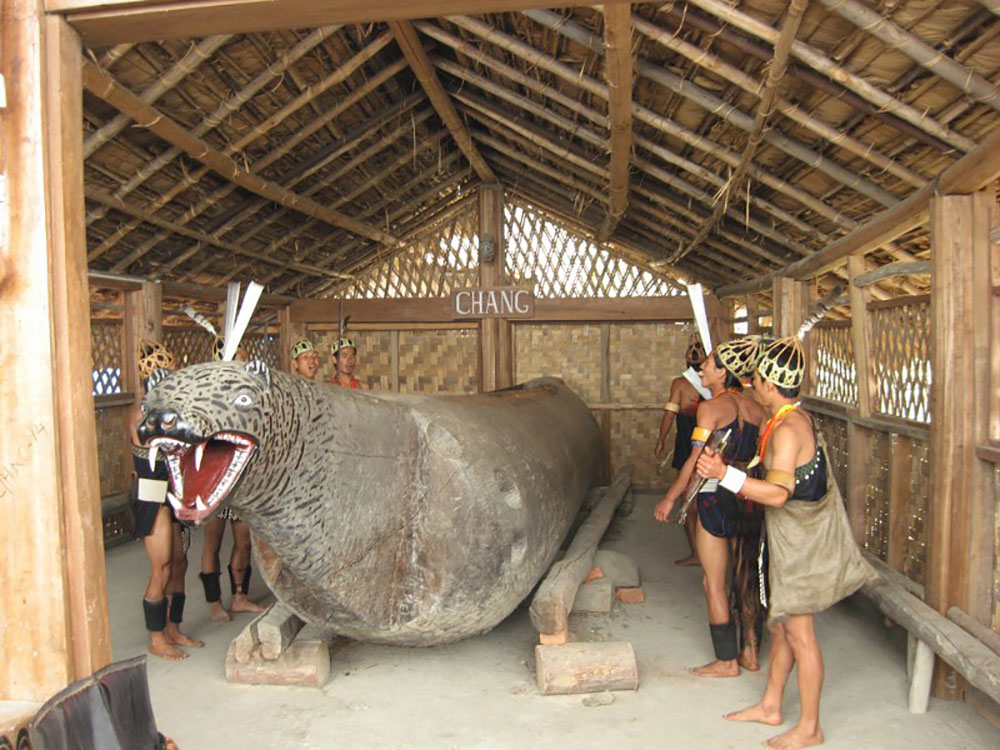 In action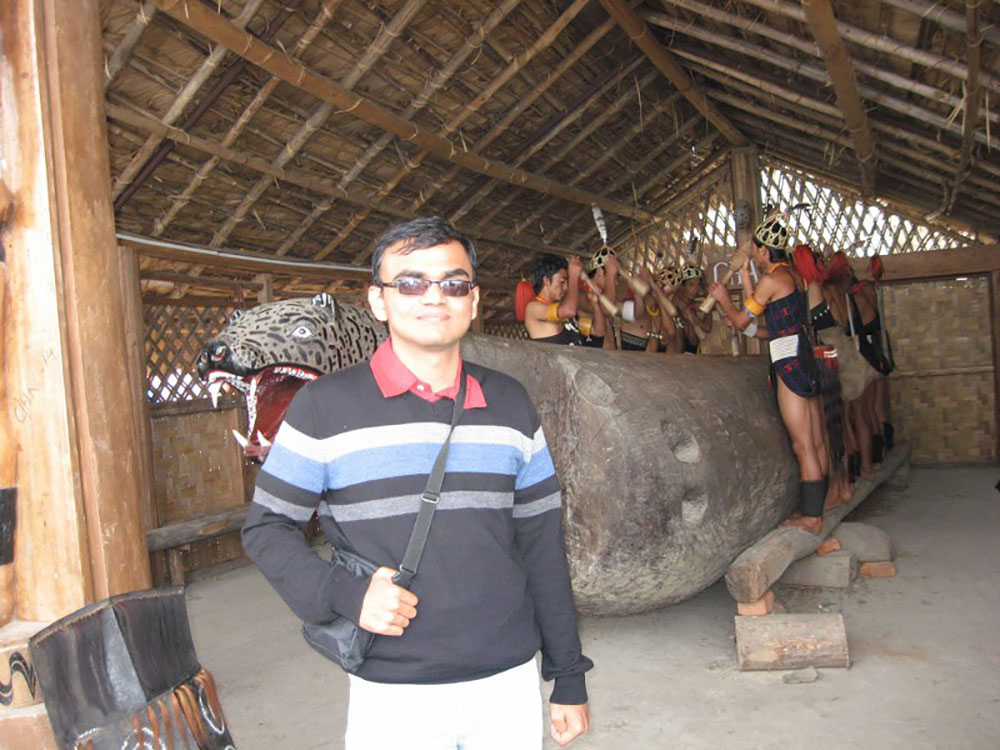 Konyak tribe leaving for their dance
The main entrance to the amphitheater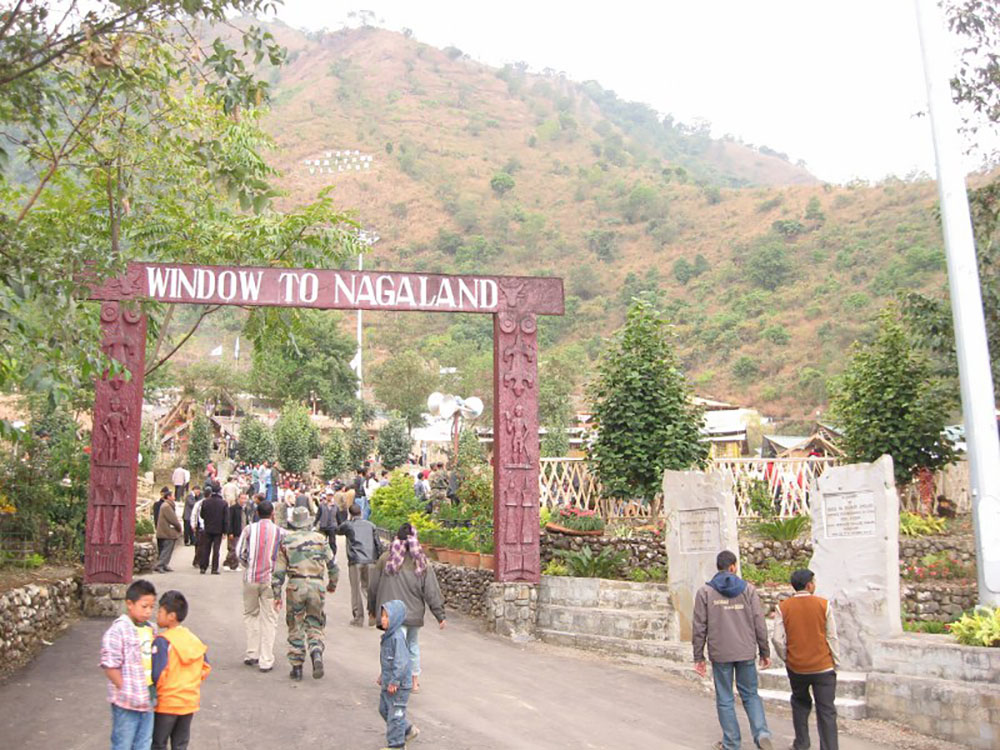 Post-lunch dances (we missed the Konyak dance)
Return to the Hotel
We caught a return taxi from the festival venue itself, thus double the cost. It's Hornbill so everything's costly here. We returned back to the city before a cold chill began.
We reached the hotel by 3 pm when it started becoming dark. The weather suddenly started becoming too cold. Mrs. Asenla said it's common here. I had a plain dinner of cooked leafy vegetables and some root vegetables with rice by 5.30 pm.
Yes, dinner at 5.30 pm is late by Nagaland standards. Naga people always eat only cooked food for meals. They believe that oil causes gastric problems.
I had plans of attending a concert in some other corner of the city. But with a strange feeling plus the cold becoming intense, I canceled it. Again there may be a problem if I do not get anything while returning. Anyways we hired a huge heater for just Rs 50/day. And went to sleep by 8 pm (sounds interesting, isn't it?)
The plan for the next day was to do some local sightseeing in Kohima city and return to Dimapur by evening. Please click on the link above to continue reading the next part of the traveling.
Hornbill Festival Nagaland – Conclusion
I hope the travelogue, information, and pictures of the Hornbill festival of Nagaland were of help. If you have any questions, please feel free to ask in the comments section below and I will be happy to answer. You can also follow me on Instagram and chat with me live there or subscribe to my YouTube channel and ask a question there.