This article is in continuation to a previous one and a part of my Northeast trip travelogue. The post below talks about our journey from Kaziranga to Guwahati to Darjeeling. In the previous days, we visited Cherrapunji, Mawlynnong village, Sibsagar, and also attended the famous Hornbill Festival of Nagaland in Kohima before arriving in Kaziranga National Park.
We went for 2 safaris in Kaziranga, once by Jeep and then an early morning Elephant Safari. To read the previous parts of the travelogue, please click on the links below.
Journey So Far: 
We boarded the night train for Kaziranga to Guwahati. The train started a lot late than its scheduled time and reached the Guwahati Station at 5 am. Though late by 45 mins, it was early for us. In a way, the late departure from Guwahati actually worked in our favor.
Day 10 – Kaziranga to Guwahati
Our journey from Kaziranga to Guwahati ended but outside no buses had started, though the life in the town had. Instead of waiting for the city bus for 45 minutes, we decided to catch an autorickshaw at 10 times the cost and proceed to my father's friend's place in Tarun Nagar.
We reached there only to wake up the watchman from sleep and open the door. Immediately my mom was busy washing the clothes and after a brief nap for some half-hour and after our morning chores, we proceeded towards the Kamakhya Mandir.
Since it was Sunday, there was a huge crowd. With my earlier experience (since I had visited the temple 3 times earlier), I decided to take a 100 Rs/person ticket to save some 3-4 hours. Still, the queue took some 4 hours. It was 1 pm by the time we came out of the temple, and 2.30 pm by the time we reached back home.
The zoo is almost within walking distance from the place we were staying at. Dad went with an uncle to his office for some chat and official work, whereas I and mom along with uncle's sweet kid proceeded towards the zoo.
It was getting dark and we had just half an hour to watch the animals. I was able to see one & two-horned Rhinos, Giraffe, Hippos from a very close distance (barely 3-4 feet). I had visited the zoo earlier in June.
Deer roam in the zoo like goats or cows and monkeys create nuisance similar to north India. We saw the animals till it was time that the authorities started whistling and shooing away people after it was dark. We returned to the house, had another nap, and rested (much needed).
Day 11 – Guwahati
My parents' eagerness was to see my college, room, hostel, etc. This was also one of the reasons why we traveled from Kaziranga to Guwahati. So I felt better leaving early since I had to sign on the muster (we have to take leave, we don't have vacations).
We left at 7.30 am, and reached the college by the usual citybus–> Malegaon–> Vikram–> IIT Guwahati combo which I have taken at least 50 times till now. There was heavy fog after Malegaon, and Saraighat bridge was fully foggy and barely visible though we were riding on it.
Then my parents came to my hostel (and in my room! I never knew that outsiders are allowed in my hostel). We saw the earlier photos, and our trains running status and to our astonishment, the return train (12345 Saraighat express) was 6 hours late.
Even though there would be 2 hrs turnout time at Guwahati, still the train won't leave before 3 pm (scheduled departure is 12.45 pm). We enquired uncle (since 139 showed on-time departure) and thru some contact, he informed us that it will depart at 4 pm (meaning reaching NJP at midnight instead of 8 pm).
This also meant more time for us at the campus, walking through the fresh flowery lawns- something unique for any college. We returned by ferry after having lunch at the hostel and reached my uncle's office by 3 pm. On the way, I confirmed that the train will depart at 4 pm, and was standing there.
Guwahati to New Jalpaiguri
We left for the station just 15 mins earlier and the train (12346 Saraighat express) departed at sharp 4 pm- some 3.15 hrs late. It though picked up and reached NJP by 10.45 pm.
Coming out in the cold, some brave people were asking about Darjeeling? (not allowed after evening). We said "hotel" and one fellow came running and showed us some hotel. It was more of a tourist booking agency that had a huge fleet of vehicles and tour plans.
The manager was telling us his tour plans and I said that we would discuss it tomorrow, we are feeling sleepy, show the rooms.
The room for Rs 300 was a dingy room with the bed for 3 covering 80% of the room, having a small window and a common toilet – perhaps the world's smallest toilet I have ever seen. It ended as soon as it has begun.
Anyway, we wanted it for a 6 hr sleep and were to depart to Darjeeling by share taxi by 6-7 am the next day.
Day 12- New Jalpaiguri to Darjeeling
A visit to Darjeeling was my parent's long-awaited dream since 1985 or so. But I felt Darjeeling as just any other crowded hill station of India (Manali, Ranikhet, Shimla, Patnitop, or the likes).
New Jalpaiguri to Darjeeling Shared Taxi Fare
The day started by paying 300 Rs to the hotel owner and leaving by the share taxis to Darjeeling. Some words on share taxi/jeeps:
You would get plenty of connectivity to anywhere from Gangtok
The connectivity from NJP to Darjeeling is fairly good.
Connectivity to anywhere else is a bit poor, and you may have to hire your own vehicle, which charges as much as 10 times more.
We started at 6 at NJP, after a brief chai, we proceeded towards the Darjeeling jeep stand. Since we were the first ones in that jeep (the very first jeep of the day had just left), we had to wait for some half hr. Finally left NJP at 6.45. Crossed narrow bylanes of NJP, crossed the Mahananda river, and entered the large Siliguri town.
Finally, we took the right turn at Darjiling Mor towards Darjeeling. The road was comfortably straight and the narrow gauge toy train tracks were accompanying us till fairly large distance.
All over there were some tall trees (I can't remember the names) parallel to the highway. Then the driver took a 'shortcut' left turn through some army base camp. We passed thru several speed breakers and very soon the ghat section started when the army section ended.
The ghat road was very narrow- twisting turning roads. Something equivalent to the Rohtang-Gramphoo road of Himachal. I remember a place called Pankhabari en route.
Kurseong
Anyway, we stopped at a mid-stop town of Kurseong where this road joined the main road. It seemed the main road (called Hill-cart road) follows the rail line throughout its way.
At Kurseong, it was quite early and life hadn't started due to the chilling climate there. It seemed as if Darjeeling had started from Kurseong itself! So much growth and a developed town!
All the time we had rail tracks following us. And the traffic jam started at Sonada itself. Proceeded slowly but steadily and went from Darjeeling station over to the main town junction.
From there, we went to our pre-booked hotel, Hotel Mohit, which was quite a short walking distance downhill. It was 10 am when we reached Hotel Mohit.
Darjeeling City Tour
Immediately I told them about the city tour and they suggested us the 'Mix' tour and sunrise tour for the next day. We agreed. We freshened ourselves and left by 11.45 after breakfast by hiring a private cab.
All the points were covered quickly (less than 4 hours). Not much to write about, since it is just a regular hill-city tour.
Japanese Temple and Peace Pagoda
Ava Art Gallery
Just on the road of Ava art gallery, I managed to spot the Darjeeling toy train in action. It was a school train- as someone said.
The train had just reached Darjeeling station when we left.
We had lunch at a food point opposite our hotel. It was awesome. I would recommend anyone to have one meal here. The lady prepares awesome food.
Darjeeling Zoo
This is one point that people shouldn't miss in Darjeeling. There are very unique animals- including ones like Red Panda and several birds too. I spotted Himalayan Monal for the first time here, rather than in H.P.
Tea Garden
It offers just a view of a small hillock of tea plants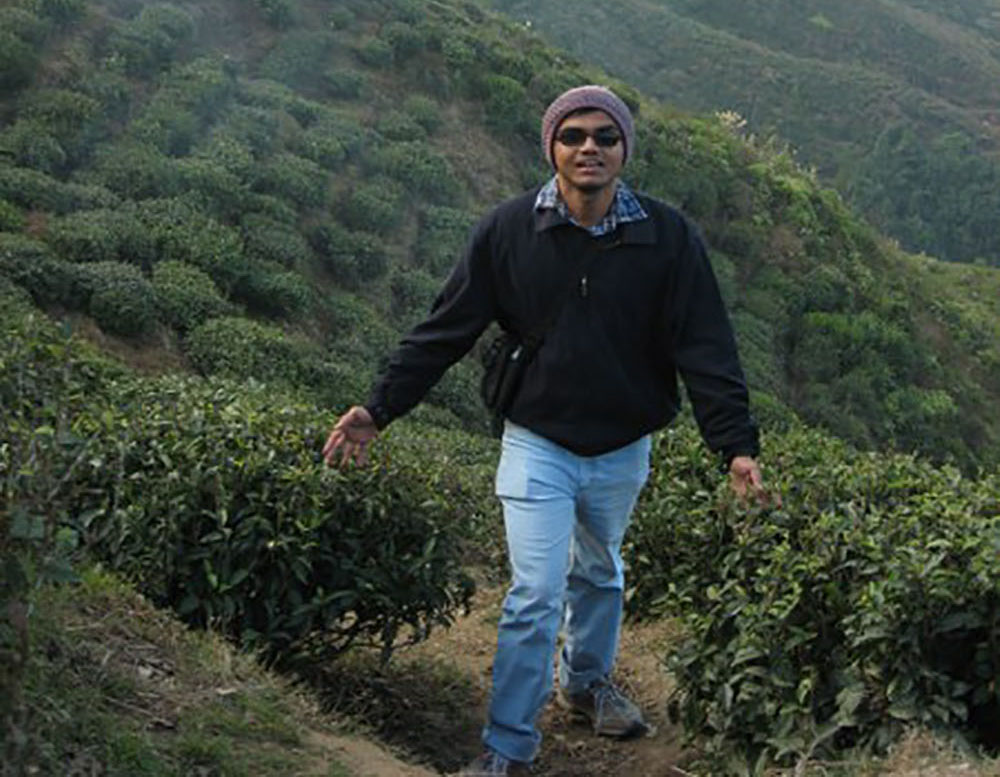 Tenzing Gombu Rock
They take Rs. 50 and they make us climb a steep patch of some 50 ft or so by rock climbing.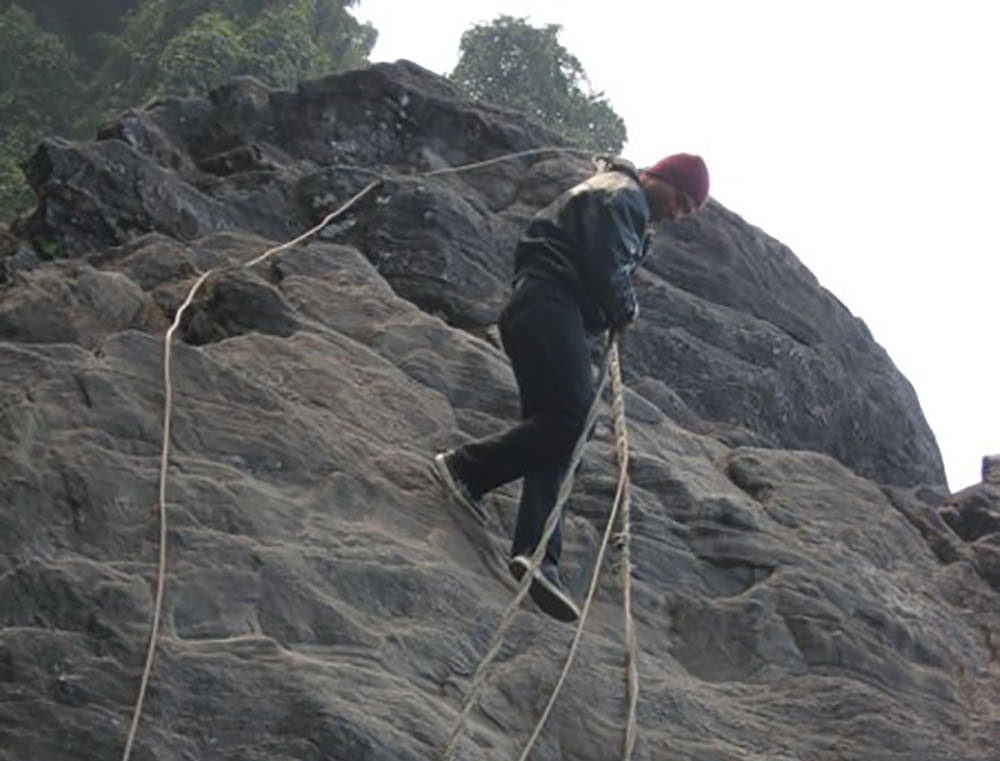 The driver left us at the main chowk, and we did some shopping like sweaters, etc. We met a fellow on the road asking for hiring a vehicle and we asked about "Pelling drop'? The person (Sherpa) had his own vehicle (whiteboard) so it was the cheapest drop (Rs 1900) for us to Pelling. Beat this, anyone?
We had dinner at our hotel, the most horrible one- don't try. Noodles were half cooked, the soup was too hot and some problems in some other foods also.
Some more pics of the town
Seriously saying, Darjeeling is a one-time visit place. There's nothing much to see. It's famous since British times, the reason why it's more famous. But Gangtok was much better when I analyzed later.
Journey Ahead: Sightseeing in Darjeeling & Road Trip to Pelling
Anyway, we slept early since the next day we had to wake for the sunrise. Please click on the link above to continue reading the next part of the travelogue.
It was chilling cold in the hotel room, too. The heater was included in room rent, as also the extra mattress. Since it was so-called off-season (dec) we later got a small discount.
Kaziranga to Guwahati to Darjeeling – Conclusion
I hope the travelogue, pictures, and information on traveling from Kaziranga to Guwahati to Darjeeling were of help. If you have any questions, please feel free to ask in the comments section below and I will be happy to answer. You can also follow me on Instagram and chat with me live there or subscribe to my YouTube channel and ask a question there.