This article is in continuation to a previous one and a part of my Northeast trip travelogue. The post below talks about our journey from Darjeeling to Pelling by road. In the previous days, we visited Cherrapunji, Mawlynnong village, Sibsagar, Kaziranga National Park, and also attended the famous Hornbill Festival of Nagaland in Kohima.
We then traveled from Kaziranga to Guwahati and then moved on to Darjeeling by road. To read the previous parts of the travelogue, please click on the links below.
Journey So Far: 
We had asked the hotel personnel to give a wake-up call the day before. But instead, the situation ended up with us waking up the hotel personnel. It was a sunrise 3 point tour that should never be missed when one is in Darjeeling.
We woke up at 4 am, bang in the middle of a chilly night, thankfully not much chilly in the room due to the heater. Outside it was something like 0 or minus 1 Deg C. It was the coldest morning for us.
We left at around 4.45 am when the car was ready. After traversing the old and sleepy (and unclean) Hill cart road, we finally took a left turn towards the sunrise point. The ride would be some half-hour long.
Sunrise Point Darjeeling
There was a huge, huge queue of vehicles waiting at the ticket counter. I don't understand why one should buy a ticket for watching the sun! There were 3 types of tickets and we took a type-2 (one level below the best) ticket.
Upon reaching the top, there was huge chaos of people shivering in the freezing cold (minus 1). Old ladies selling "kaapi-kaapi-kaapi" in flasks roaming everywhere. Three Chais per person and we reached the observatory top (as per our ticket).
We waited and waited on one side, and I clicked some shots.
Meanwhile, Kanchenjunga mountain tried showing itself on the other side.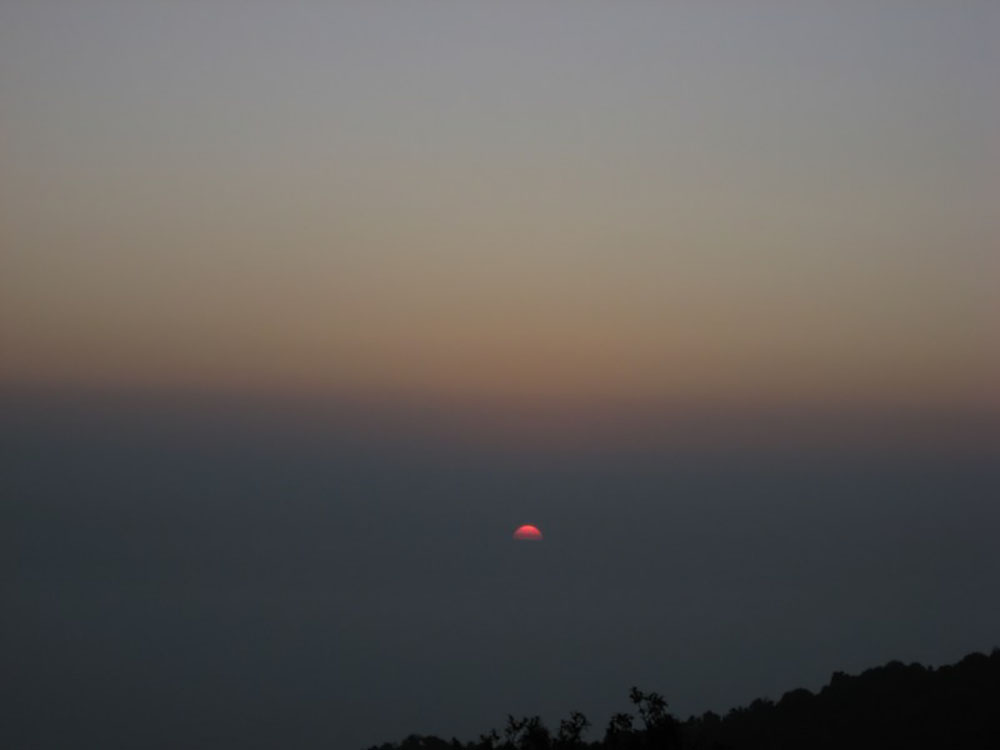 It was almost 6.20 am. This was quite late by Guwahati standards so we decided to leave since there wouldn't be any more visibility now.
We even left and went quite some steps down. Then I got some enlightenment and instead of walking in a pool of cars (no people leaving with us), I decided better to wait for some time.
When we were going back, we saw people celebrating and shouting as if India has won some match. Yes, seeing on the other side, the sun had risen! We were so lucky to see a sunrise in December. Pics speak more now.
We left by around 7 am towards the next point- Ghoom monastery. A small monastery, smaller than Shey or Thicksey. It may be equivalent to Bodhkarbo monastery on Kargil-leh road.
Next was the Batasia loop. There were sweater sellers bang on the loop-tracks. The rails were supporting their sweater stalls.
As a bonus, we also visited the Dhir Dham temple on the way near the railway station.
Darjeeling to Pelling
We were back by 9.15-9.30 am. Immediately we got the call of a sherpa to leave. Yes, we said. After a brief quarrel with the hotel receptionist, (which even sherpa observed) we started our journey from Darjeeling to Pelling in his car.
It was a fantastic, well-maintained car written "press" on one side and "sherpa" on the other .
"Jo ho gaya so ho gaya, ab aage ka din socho, aap ki yatra bahot shubh hogi" he said.
There was everything in his car with a fan, books, cassettes, CD, and a proper first aid kit overflowing with the most recent medicines! Everything fitted in a single Santro!
"I try to give the most comfort to the passengers". But his driving was a bit rash.
"Kya karein chhote saab, rasta hi aesa hai"
When I began to sleep- "sona mat, nahin to vomiting hoga, sona hai to ye pills lelo fir so jao".
It was a longish nonstop ride to some village (after crossing a bridge).
"Main road madhey traffic ahey isliye mee shortcut gheto" he spoke broken in our native language Marathi.
We had some tea and snacks here.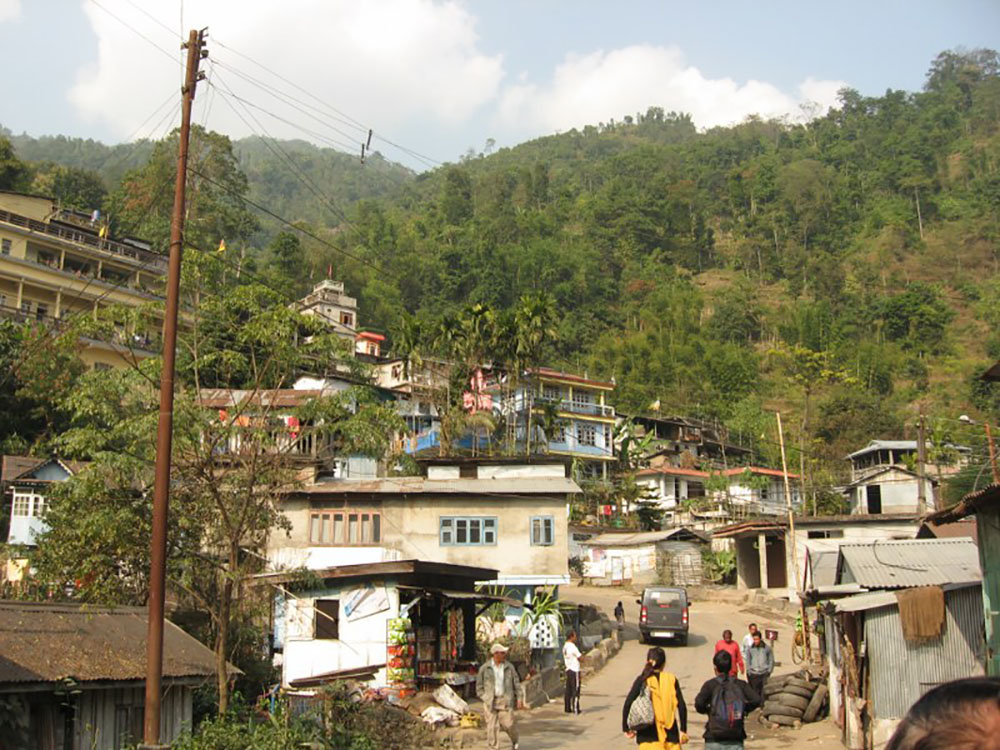 There were two more shortcuts he took; which marked the entry of Sikkim state. We were greeted with coal mines, huge trucks, and bad roads- the first impression of Sikkim. There were two tunnels, and then two more. The sherpa greeted every security personnel he met on the way.
We crossed Legship, then Geyzing- the main town near Pelling (dist HQ). As if the shortcuts hadn't ended- the sherpa took a shortcut from Geyzing to Pelling also, and we reached Pelling town in less than 10 mins from Geyzing!
Fortunately, we didn't have to search our hotel in Lower Pelling (Hotel Garuda Pelling) Bang on the lower-Pelling junction.
Sightseeing in Pelling
We still had plenty of daylight left after our journey from Darjeeling to Pelling. It was my parents' fast so they didn't have anything for eating.
I had a nice lunch. The weather was a bit cold and cloudy. The young receptionist made arrangements for our sightseeing in the afternoon. Following were the points covered-
1. Changay falls
2. Singshore bridge
3. Dentam village and cheese factory
4. Pemagyatse monastery
The hired driver was a very talkative one, talking about almost everything with us. Pelling roads seemed very pleasant rides. Several houses dotted the road and each house had flower gardens ahead of it. The first impression of Sikkim (mines, dust, ugly roads) changed immediately.
Tourist Places in Pelling
First was the Changay waterfall.
Then- Singshore bridge- the best of the lot! Here we could see man-made and natural wonders at one go! The bridge was so high that it took 7-8 seconds for a pebble to fall to the bottom.
Photos speak more
Next was Dentam village. It is a small town near Pelling, famous for its cheese factory producing godda cheese. Photos of flowers at the driver's relative's place and the factory.
Finally, it was dark by the time we visited the monastery. The driver targeted the Singshore bridge since we would have missed a lot had we not seen this bridge. The monastery was closed.
The driver also showed us hotel Elgin- one hell of a luxurious hotel – 4 star but quite cheaper (9-10k/room ). Christmas preparations were on the way.
The day ended by returning to our hotel and having a nice veggie dinner (momo, Thukpa, veg soup & chapati-sabzI) & marking the end of parents' fast.
The hotel is very nice and I would recommend anyone visiting here to stay in this hotel itself. However, you can save a bit of money by booking through a travel agency situated diagonally opposite this hotel, and a bit uphill (towards Geyzing).
The plan for tomorrow was to first spend some time in Pelling, visiting the rest of the tourist places, and then travel to Gangtok. Please click on the link above to continue reading the next part of the travelogue.
Darjeeling to Pelling – Conclusion
I hope the travelogue and pictures of our trip from Darjeeling to Pelling were of help.  If you have any questions, please feel free to ask in the comments section below and I will be happy to answer. You can also follow me on Instagram and chat with me live there or subscribe to my YouTube channel and ask a question there.