This article is in continuation to a previous one and a part of my Northeast trip travelogue. The post below talks about our Jeep Safari in Kaziranga National Park on the 8th date of the trip. In the previous days, we visited Cherrapunji, Mawlynnong village, Sibsagar, and also attended the famous Hornbill Festival of Nagaland in Kohima.
To read the previous parts of the travelogue, please click on the links below.
Journey So Far: 
Today's plan was to travel from Sibsagar to Kaziranga National park. We were to reach the resort at Kaziranga by lunch, then proceed for an afternoon safari in the central range.
Day 8 – Jeep Safari in Kaziranga National Park
The Sibsagar – Jorhat – Kaziranga journey had to be made by bus. We left our hotel by cycle-rickshaw and reached the Sibsagar ASTC bus stand by 8.15 am. The itinerary was to first reach Jorhat and then board a bus for Kaziranga from there.
We found an office-peoples bus at 8.30 am going towards Jorhat. The ride was fantastic through non-ending tea fields. En route, we crossed a place called Gaurisagar which is famous for the ruins of Axom kingdom. We were not interested in it so continued straight to Jorhat.
The bus reached Jorhat by around 10.30 am. Jorhat bus station was astonishingly beautiful. No one could ever think that a bus station tucked in this corner of the country could be this beautiful!
A person asked us before alighting from the earlier bus as to where would we go. Then he took our luggage and kept it in the back of another bus. A tip of Rs 10 per passenger for that person (from the conductor) was later recovered from us.
Note that all the buses running in Assam are mostly private buses with a license of ASTC – Assam state transport corporation. Anyway, the journey was going like a Punjab-like feeling due to closely spaced townships (like Punjab) (of refineries) and tea estates.
Outside, lush green paddy and tea fields were dotted with small villages. Then sudden townships with huge boards every time welcoming us.
The largest (and last of them) is Bokakhat- some 15 km before the central range of Kaziranga. After Bokakhat, the eastern entrance of Agartoli appears, and the Mathoni tea estate passes by, followed by the place where we had to depart- Kohora.
Kaziranga National Park Entrance Gates
For a newbie, some information- Kaziranga has four gates of the entrance.
Kohora (Central) Range
Bagorijuri (Western) Range
Agartoli (Eastern) Range
Burpahar (Ghoraketi) (northern) Range
Our resort- Bon Habi Resort was located at Kohora or Central range. It was just after the actual Kaziranga village. This was the costliest stay in our entire tour. However, the resort itself is nice and pleasant to boast of. It seems perhaps the best resort of Kaziranga.
Several ministers of Assam also had visited this resort and stayed there in different visits and planted some saplings. The resort has some 10-12 houses with one or two rooms in each house spread over a large lawn with some rubber trees. Each house is named after some village in Kaziranga. We were given a room in 'Mihimukh' house.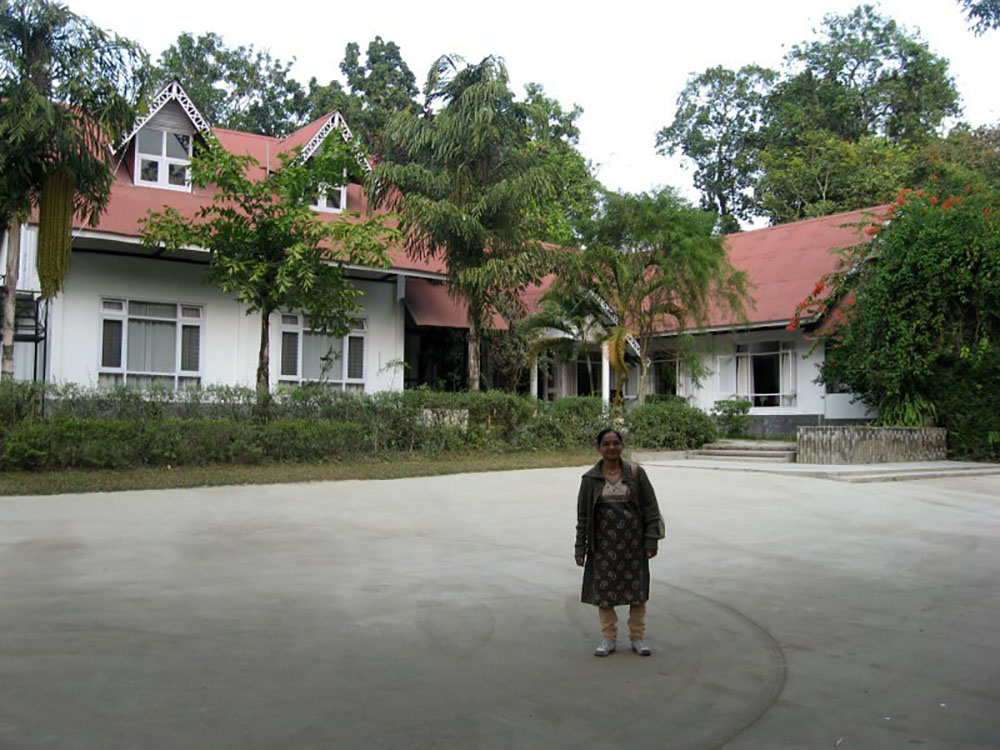 We had a great lunch of Roti, Paneer sabzee and biryani- the first paneer sabzee in our tour. Felt good after eating the usual food instead of the peculiar bhat, bhat & more bhat (rice) in previous places.
Jeep Safari in Kaziranga
At 2.30 pm, we left for the jeep safari arranged by the hotel itself (privately for us). The jeep was pretty comfy, nothing much about them. Upon reaching the main central range, we saw herds and herds of trained elephants.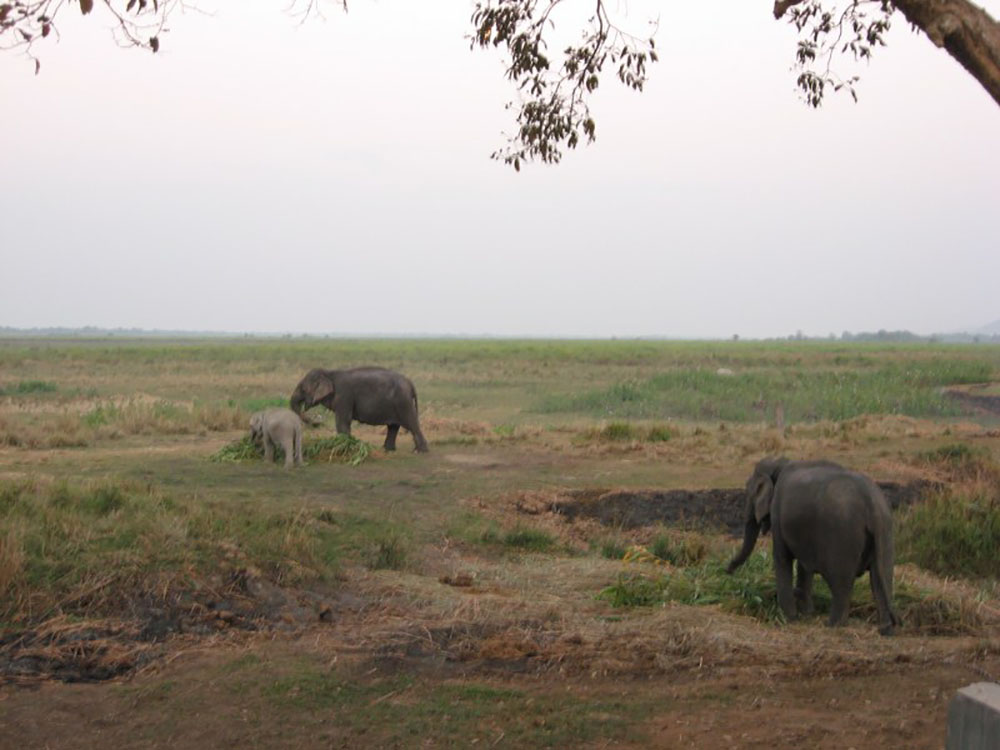 Notice a rhino as a white spot in the middle right of the photo. I didn't notice it while clicking the pic.
In Kaziranga, these 5 mammals are predominant
Rhinoceros
Elephant
Bengal tiger
Deer
Wild buffalo
Apart from that, several birds are predominant (including some 5-6 varieties of cranes and kingfisher) and some pythons too. However, nothing of them is to be seen. I informed my parents about this so that they wouldn't be disappointed later. Some shots of the ride.
Animals in Kaziranga National Park
The driver-cum-guide was showing several animals. It would have been better had we carried binoculars. But a dark spot being restless and moving continuously was an elephant, whereas a white (or fresh grey) peck not moving at all was a rhino. There were several of them.
After completing a round tour, we were taken to the watchtower where we could see some elephants returning towards their dwellings of huge grass, after drinking water.
Perhaps it was the first time I saw a wild elephant (meaning present with both the tusks) grazing merrily and moving, swinging its trunk as long as it could. Then an elephant family was seen (with kids) and then another family!
The range guard on the tower advised everyone to remain calm so they could see more animals. He reported the sight of a Bengal tiger just half an hour earlier. It is their common way to attract more and more tourists.
The sun was starting to set as we proceeded towards the resort, and we had a nice dinner and chats, and slept early.
The next day, we had to get up early since we had got the 5 to 6 am slot for the elephant safari. Please click on the link above to continue reading the next part of the travelogue.
Conclusion
I hope the travelogue, pictures, and information on Jeep Safari in Kaziranga National Park were of help. If you have any questions, please feel free to ask in the comments section below and I will be happy to answer. You can also follow me on Instagram and chat with me live there or subscribe to my YouTube channel and ask a question there.