This article is in continuation to a previous one and a part of my Northeast trip log. The post below talks about our journey from Gangtok to Nathula Pass. In the previous days, we visited Cherrapunji, Mawlynnong village, Sibsagar, Kaziranga National Park, Darjeeling, and also attended the famous Hornbill Festival of Nagaland in Kohima.
It was a 2 week's long trip with my parents and our modes of travel were trains, buses, private taxis, and shared cabs. To read the previous parts of the travelogue, you can click on the links below.
Journey So Far: 
The most awaited day had arrived. At first, I was skeptical about Gangtok to Nathula Pass in winter because of snowfall and roadblocks. I thought it would be like Rohtang pass, closed in winters. But then I came to know that it is maintained throughout the year, like Khardung La in Ladakh.
Today we were to travel some 110 km covering Gangtok to Nathula Pass, Baba Harbhajan temple, and Chango lake. Gangtok to Nathula is 52 km. Chango lake falls on the way, and Harbhajan mandir bifurcates from the highway 4 km before the border.
Day 16 – Gangtok to Nathula Pass
We were supposed to be ready by 6 am. We were ready by 6 – 6.15 but had to wait for a while, first in the hotel and then in the stand (inside the 10 seater jeep).
The 10 seats were a bit uncomfortable, and we were given the option of two middle +1 front seats or 1 back seat and 2 front seats. We readily accepted the latter. It was me & mom at the front throughout.
Our documents were checked first at the old taxi stand, then at another stand northwards within the city, some 1.5 km away. Another checkpoint came just after the bifurcation to Hanuman Tok, maybe some 8 km from the city. It wasted our three hours (it's usual) and we started the journey by 9 am.
The road was relatively empty. But the dreadful news of an accident of 10 people being killed in a jeep accident in north Sikkim (2 weeks back) had all of us fear. The driver was calm and good enough and seemed to be interested in driving (only) and didn't talk at all with us.
Imagine his foolishness when he forgot to fill his tank at the start of the day and was asking for diesel from every vehicle that passed by, thus wasting another hour. This was when he covered 20 km and returning was not possible.
Gangtok to Nathula Pass Road
The road to Nathula is being widened and the condition is similar to the Manali-Rohtang road.
There were some tunnels being constructed on the way. One was as long as 8 km, and it would accommodate future rail lines, as told by some person at the stall. We waited at an intermediate stall cluster- from where Nathula was 28 km.
People were advised to eat chewing gum for reducing motion sickness. quite useful, I thought. The weather was suddenly turning too cold and very unusual. It was very cloudy and foggy before we left that place (around 11.30 am).
It was a steady ride from that place. Chango lake fell en route, but the driver didn't stop, said we would watch it later. Anyway, we took pics of the lake then itself (when the vehicle was in motion). The lake was a bit frozen.
Note that we were very much on land & not traveling in an airplane
Nathula Pass
The last 8-10 km are very nicely prepared and it gives the feel that you are entering some other land. The houses of the trading village of China "Sherbathang" (6 km before Nathula) were prepared in a fancy fashion similar to the towns of Khajjiar-Dalhousie. It was closed since trade closes on 1st October.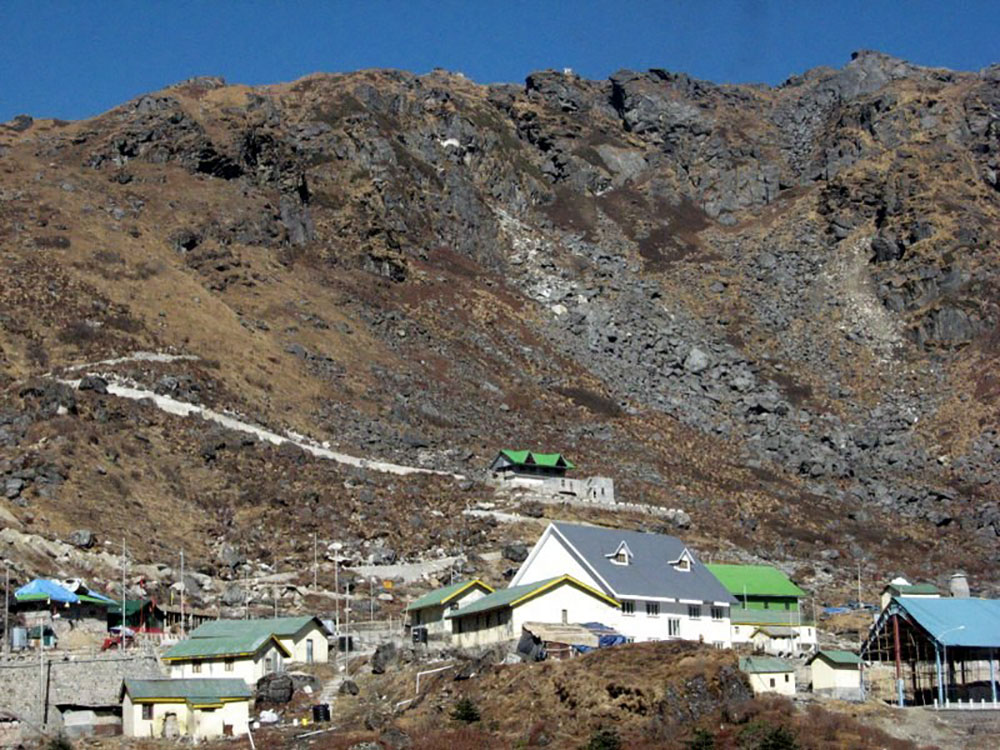 The twin frozen lakes of Nathula passed by and in no time we were bang at Nathula.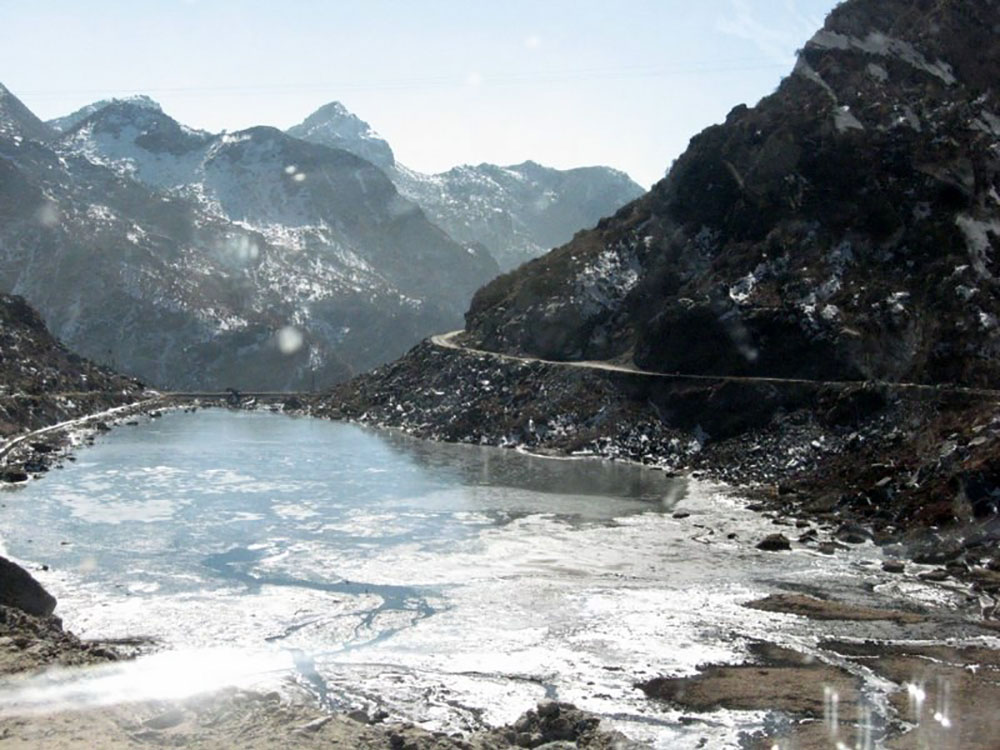 The driver gave us the time to return- 2.30 pm.
Nathu La and the war memorial
The Indian soldiers were very friendly with the tourists. Their Chinese counterparts, however, did not even look at the Indian side. I had heard of people exchanging cigars from Chinese soldiers however they were showing heavy attitude as if Indians had no value in this world. They had constructed a wall throughout the pass similar to their great wall.
The Chinese side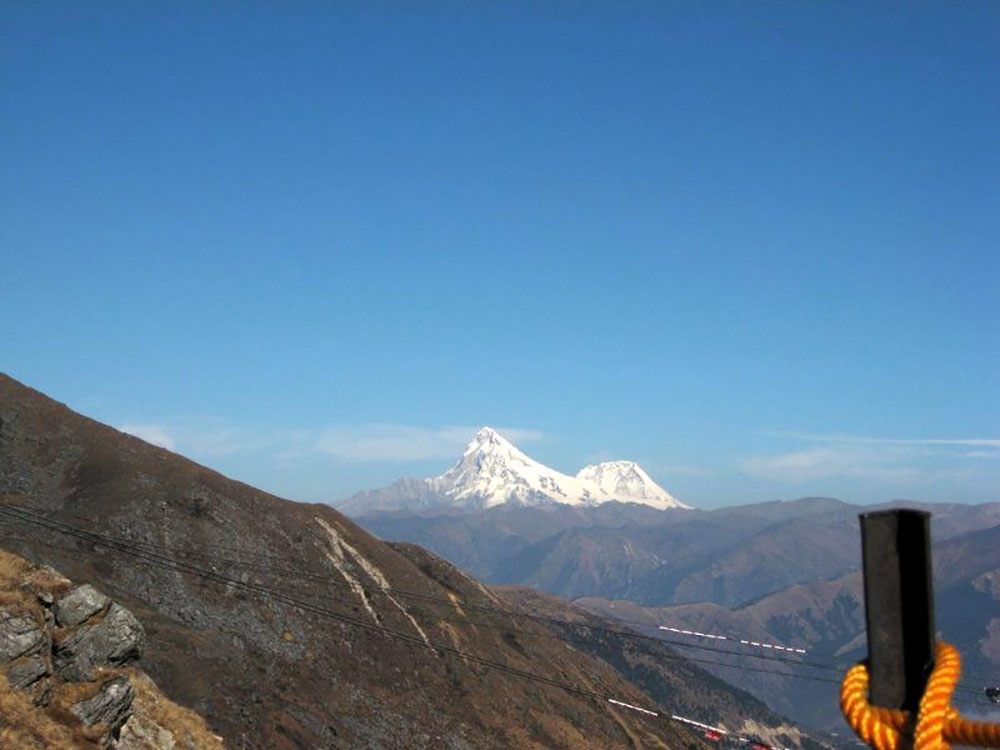 China welcomes you to Nathula with its "great wall"
We took snaps of the border post, Indian and Chinese sides, and some fun at the border.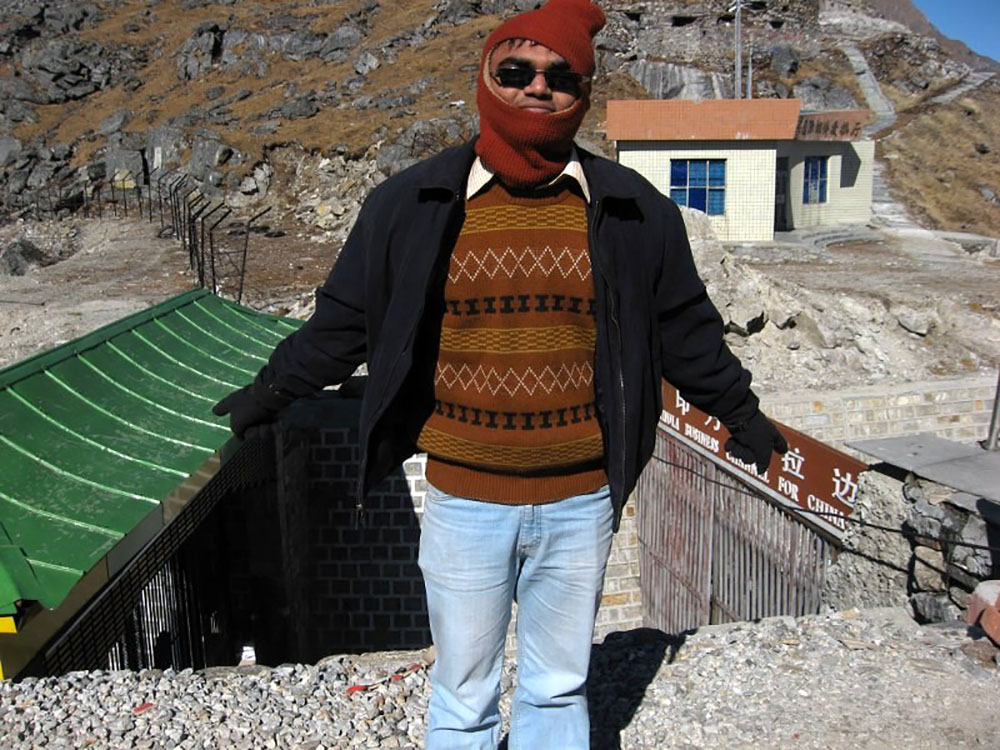 Anyways we had our lunch of plain Maggi at cafe-14k (located at 14000 ft above MSL). We roamed a while, took snaps and it was time to bid adieu to this place. That day won't be far when I might actually cross over to china from this place (with authority, of course) if possible.
Baba Harbhajan Mandir
The next stop was Baba Harbhajan mandir. This was a memorial built for Baba Harbhajan- A 1962 soldier, who drowned in a glacier while he was leading the mules during the Indo-China war.
It is said that the soul of Baba still exists and guards the borders. It is said that Baba is still on duty and every day his boots are polished in the morning and clothes are ironed and by evening they are seen to be soiled and the clothes crumpled.
The memorial is built in a temple fashion and it is given due respect by all the army personnel visiting this area.
It was just near to freezing in this part. The temperature was dropping very fast. We sat in the car and then the next point- Chango lake- was visited in very heavy fog. Yaks were available which were giving the place a Hidimba-like feeling.
A fight between two yaks led one of them hit my mother and led to an ankle injury (hopefully that dint intensify later).
Nathula Pass to Gangtok
Then the return journey was the biggest nightmare and everyone was so eager to reach Gangtok at the earliest! Reason? Slush + dense fog + cold. Imagine all three at a single place! that lead to a situation like this.
Finally, we reached Gangtok by 6 pm at the upper stand (driver dint leave at the lower stand) and we came walking instead. We had a nice dinner at a famous MG road restaurant (Dad's birthday as per the shaka calendar) and had a sound sleep after segregating my and my parents' luggage.
Day 17 – Gangtok to Mumbai/Guwahati
I had my train, Rajdhani express at 10.45 am from New Jalpaiguri. My parents had their flight from Bagdogra at 12.45 pm.
A distance of 125 km to be covered on a Kullu-Chandigarh type highway. It was a fingers-crossed situation for me. Anyway, all 3 of us boarded the first bus leaving Gangtok city taxi/bus stand (5 am).
The driver said he has to return from Siliguri at 10.30 am. So we quickly put on our luggage and the journey began. The entire road was a descent, and the journey seemed very much like Himachal Parivahan doing Kullu-Chandigarh.
It was a pleasant journey and the driver stopped in between for a toilet cum breakfast halt at Rangpo- the terminus of Sikkim railways now under construction. Rangpo was crossed at around 8-8.30.
I was still having my fingers crossed. Very soon Bengal started and a huge influx of tea workers made the environment worse. So much that the cleaner sprayed room freshener in the bus.
The journey became a little better with Sikkimese songs. We crossed Sevak- the closest rail station of Sikkim- at 9.45 am, still 1 hr and 28 km to go to Siliguri. 10 more km ahead in city traffic for New Jalpaiguri. Sevak is the Swarghat counterpart of West Bengal.
End of a Trip
The driver ensured that we reached Siliguri at 10.15 am. I bid adieu to my parents in hurry and got a shared rickshaw to NJP- is the place is better called. My parents meanwhile took a private rickshaw to Bagdogra costing them quite a lot.
I reached NJP at 10.42 am- just three minutes before my train's arrival; and bingo- my train was late by 1 hr 40 mins. This turned further to 2 hrs 45 mins and the train came at 1.30 pm. It's Rajdhani, after all, so why worry? Had a sumptuous meal followed by ice cream, then a brief sleep, then snacks, then tea.
The train reached New Bongaigaon at the time of Guwahati. i.e. 150 kms late. For my luck, it halted at Agthori- the railhead of IIT Guwahati- for a crossing. I quickly hopped down in the dark (7.30 pm) and reached my hostel by 8 pm.
Meanwhile, my parents were having a tough time at the Mumbai airport finding their luggage. They took 1 hr or perhaps more to get their luggage. Finally, they reached home by 10.30 pm.
So that ended our journey! 17 days, and a lot of the northeast getting covered. Now remained only Tripura, Manipur, Mizoram & Arunachal.
Conclusion
I hope the travelogue and pictures above of our trip from Gangtok to Nathula Pass were of help. If you have any questions, please feel free to ask in the comments section below and I will be happy to answer. You can also follow me on Instagram and chat with me live there or subscribe to my YouTube channel and ask a question there.