Our last long drive was in March to Tarkarli. So, we were getting a bit restive for our next long drive. But my daughter is a student of 10th standard ICSE and was preparing for her Board Examination. Therefore, any longish road trip is out of the question. We were looking for a road trip for not more than 3-4 days' duration. Finally, we decided to go for a Mumbai to Mahabaleshwar road trip at the time of the Ganpati festival.
Since this would be our 4th visit to Mahabaleshwar in the last 15 years, the idea was to make Mahabaleshwar base and to visit Kaas plateau and Koyna Wildlife Sanctuary. However, our plan got changed completely because of some unforeseen events and we spent our entire time in Mahabaleshwar only.
Mumbai to Mahabaleshwar Road Trip
It was raining incessantly in Mumbai or rather in entire Maharashtra for the last 8-10 days prior to our date of journey, 9th September. So, I was trying to get the weather update of Mahabaleshwar. Whatever limited information was available on the internet made it clear Mahabaleshwar was experiencing a heavy downpour.
Our plan was to start in the afternoon after the daughter returning from school. So, in all probability, we would enter Mahabaleshwar at night. That was making me a bit worried. Driving in hills in the dark in the rainy season is risky and challenging.
To make things tighter, a problem cropped up with my vehicle just two days before the trip. The brake, though working properly, started emanating some sound whenever was getting applied. So, I had to take the vehicle to the service center.
The service center examined the vehicle and told that the rear brake discs have to be replaced. They did not have the spare. The next day was Sunday. They told me that they would deliver the vehicle to my residence by 1 pm on Monday, the date of the journey. So, our starting time became more tentative.
I was desperately hoping rather praying the rain to subside a bit on the date of our journey. But that was not the case to be. The weather condition remained the same and a heavy downpour started at 11 am.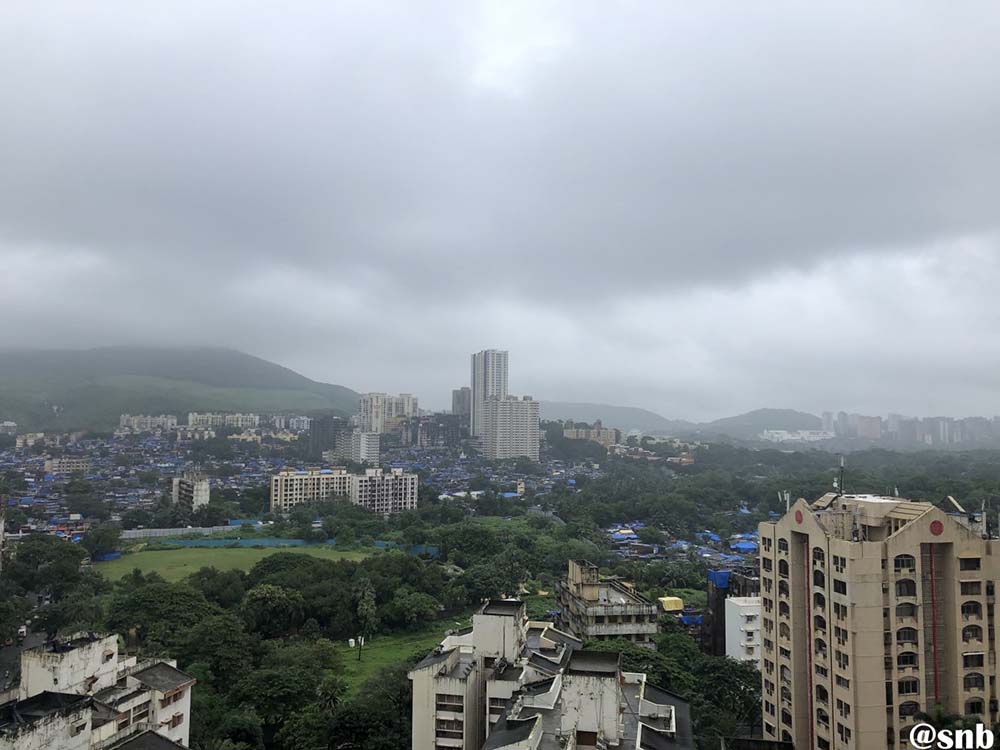 After multiple follow-ups, the vehicle finally got delivered around 2.30 pm, a good ninety minutes beyond the promised time of delivery. We started for Mahabaleshwar around 3 pm from Goregaon East.
Also Read: Buddhaban Trek – Recovery Trek to Kutla and Buddhaban
Day 1 – Mumbai to Mahabaleshwar
Getting out of Mumbai at any time of the day other than early morning is always an issue. This day also was not different. It took us around 60-75 minutes to reach Powai. Initially, we took Aarey Colony road and got stuck in a humongous traffic jam immediately after entering Aarey Colony.
Then as per the advice of Google Map, we took a right turn to get onto JVLR. But after making some progress, we got stuck on that road too. Fortunately, at the point where we got stuck, another road branched out towards Aarey Colony road. We took that road and got onto Aarey Colony road. Then onwards, the journey was relatively smooth up to Powai except for some clogging just before entering Powai.
From Powai, our original plan was to go to Airoli and then to take Thane-Belapur-Panvel road. However, Google Maps advised following the Ghatkopar-Mankhurd-Vashi route. We obliged Google Maps and with hindsight, I think that was the right decision. We reached Vashi around 5 pm without much problem.
The Brakes
By that time, I discovered the biggest problem which we continued to encounter throughout the trip. It seemed that the service center did not do a problem job and the brake-related problem, instead of getting addresses, had aggravated actually.
The brake was taking time to respond and the vehicle was taking time to come to a dead stop. It was already well past 4 pm. Identifying a reliable service center and getting the brake rectified there meant a complete change of our schedule. So, I started driving a bit slowly maintaining a safe distance from the vehicle in front. The idea was to drive slowly and to reach the destination safely at whatever time it might take.
We touched Mumbai-Pune Expressway at 5.15 pm. Traffic was reduced significantly. Driving became a bit easier. At that time, there was no rain which helped the cause. I was maintaining a speed of 80kms/hr. The rain-soaked, green surrounding was looking beautiful. We were enjoying the drive. There was some tension at the back of my mind about the impending night drive on the hills in rain without a properly functioning brake.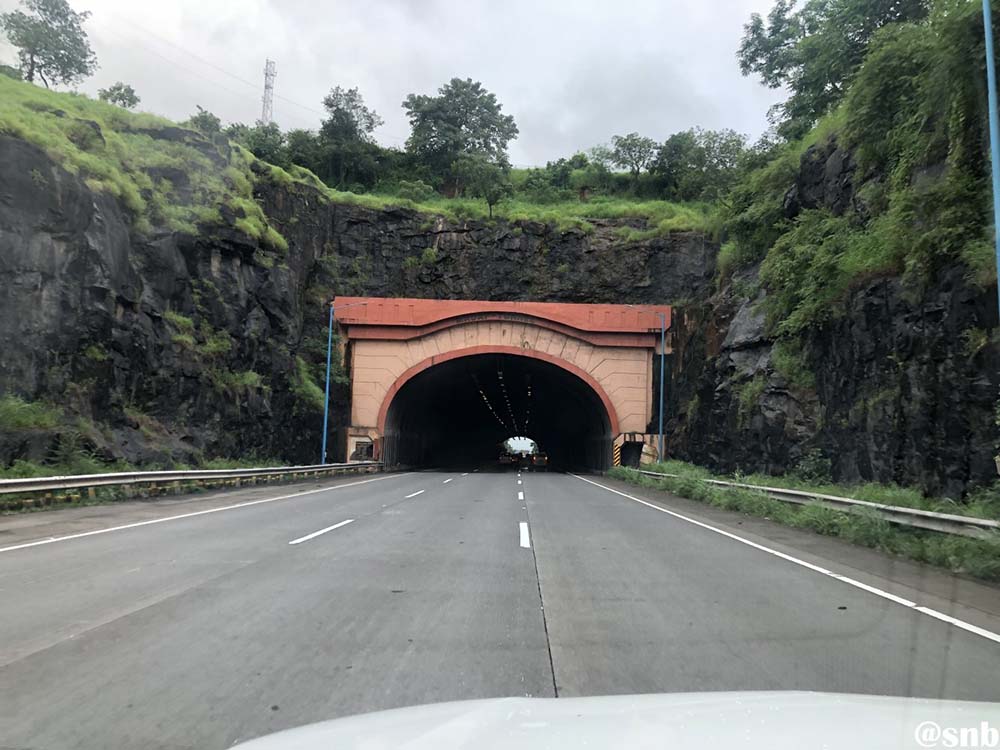 We reached Khalapur toll plaza at 5.45 pm and took a short coffee break at the food court immediately after the toll plaza. We resumed our journey at 6 pm. The ascent for Lonavala started and so did the rain.
The rain intensified after Lonavala. The evening was approaching. Darkness was visible. The sky was a hostage of the clouds. The hills and valley at both sides of the road were enveloped by various shades of green. The journey became the destination. It was a magical dusk.
Also Read: Delhi to Narkanda – A Journey to Remember
Pune
By the time we reached Pune, it was completely dark. The rain had stopped. Till Hinjewadi flyover, driving was not an issue. Things became a bit trickier after that on account of heavy traffic. I was driving at a snail's pace in order to maintain a safe distance from the vehicle in front.
Meanwhile, I gave a call to the service center fellow and gave him a piece of my mind. The ordeal continued till Kothrud. After Kothrud, traffic got reduced. My job became a bit easier. We crossed Khedshivpur toll plaza around 8.20 pm.
After Khedshivpur toll plaza, there was absolutely no traffic. The road surface was smooth. So, I started putting pressure on the accelerator. From my earlier experiences of driving on this stretch of NH48, I had known that there would be diversions at some places because of ongoing flyover construction work.
That knowledge helped me to stay vigilant and to manage those diversions without much difficulty. Around 9.15 pm, we reached Surur. We left NH48 there and took the right turn for Wai.
There we took a small break and had some snacks which we were carrying. By that time, I realized that the brake was working better when it was being applied alone and not in conjunction with the clutch.
Surur-Wai road was a single lane road. However, it was quite wide. The road surface was reasonably smooth. It was well past 9 pm. The road was more or less empty. I was comfortably driving at 30/40 km/hr speed.
Panchgani
After covering around 10 km, we reached Wai and started climbing Pasrani Ghat. It was curvy but not too curvy. The road surface continued to remain trustworthy. The gradient of the road was acting as a natural brake.
As we were approaching Panchgani, the light from the valley deep down at the right side of the road was fading away. And the drizzle made a comeback. We reached Panchgani at around 10.30 pm. The town was in deep sleep by then.
By that time, we had started receiving calls from parents as well as in-laws. We were supposed to give them a call after reaching Mahabaleshwar. We were expected to reach by 9.30 pm. So, they were getting worried. We told them that we got delayed on account of bad roads, traffic, rain, and fog. We did not mention the issue of brake malfunctioning because that would make them more worried.
After Panchgani, the driving condition became considerably challenging. Drizzle took shape of rain. Clouds descended on the road with open arms to welcome us and thus caused poor visibility. The wind was blowing gusty. The smooth road gave away to a road dotted with potholes, rather craters.
We reached the entry toll collection point for Mahabaleshwar around 11 pm. There was no one to collect the entry toll on a windy and rainy night. Soon after, we crossed Venna Lake and then reached the T-junction of Panchgani-Mahabaleshwar road and Satara-Mahabaleshwar-Pratapgad road. We took a left turn from there.
Also Read: Road Trip to Zanskar and Ladakh – Exploring Offbeat Ladakh
Mahabaleshwar
We book our accommodation at Club Mahindra Sherwood which was on Mahabaleshwar-Satara road. The condition of the road worsened further. Later we realized that this road stretch was the worst in the entire Mahabaleshwar. The fog became denser. The headlight of the vehicle was reflecting from the fog.
Visibility was not more than a few meters. What were there on both sides of the road even were not clear to us. We were blindly following Google Maps.
After somehow driving for around 3 km in that trying condition, Google Map advised us to take the right turn for Club Mahindra Sherwood. There was no signboard or indicator. We were not being able to make out what was there in front of us sitting inside the vehicle. So, I got down from the vehicle and went a few steps forward.
It was a kachcha road. We had visited Club Mahindra Sherwood almost five years back. From that experience, I could make out that this kachcha road was indeed the approach way for Club Mahindra Sherwood. Finally, we reached our destination at 11.15 pm.
We quickly finished our entry formalities. They allocated a room which was at the outer periphery of the resort. We parked our vehicle in the nearby parking lot. Few other vehicles were parked there. One of the resort staff started transferring luggage from the vehicle to the room.
While wife and daughter immediately went to the room to save themselves from the savage rain and wind, I kept standing alone in that enigmatic parking lot for few minutes to feel the rain, to feel the wind, and to feel the fog. I was experiencing a different Mahabaleshwar.
We drove 286 km on that day. By the time we went to sleep, technically it was the next day.
Day 2 – Sightseeing in Mahabaleshwar
I got up around 7.30 am. The weather was as it was expected to be. It was raining. But it was not that foggy that time.
Our plan for the day was to go to Kaas Plateau. But given the brake-related issue of the vehicle and weather, I was not sure whether to undertake that trip. So, I decided not to disturb the sleep of my wife and daughter. The idea was, once they got up, we would take a call depending upon the situation.
I spent a couple of hours sitting in the verandah with a few cups of tea enjoying the rain and the wind. The wife and daughter got up around 9.30 am. By that time weather has become foggier.
So, we decided not to go to Kaas Plateau. Instead of that, we planned for a few nearby attractions. The idea was to shorten the driving time and spending more time in the resort and enjoying the weather.
We finally went out at 1.15 pm. The destination was the Lingmala waterfall.
Lingmala Waterfall
The Mahabaleshwar-Satara road was full of potholes/craters. It could have been hardly called a road. It was wrapped by a thick cover of fog.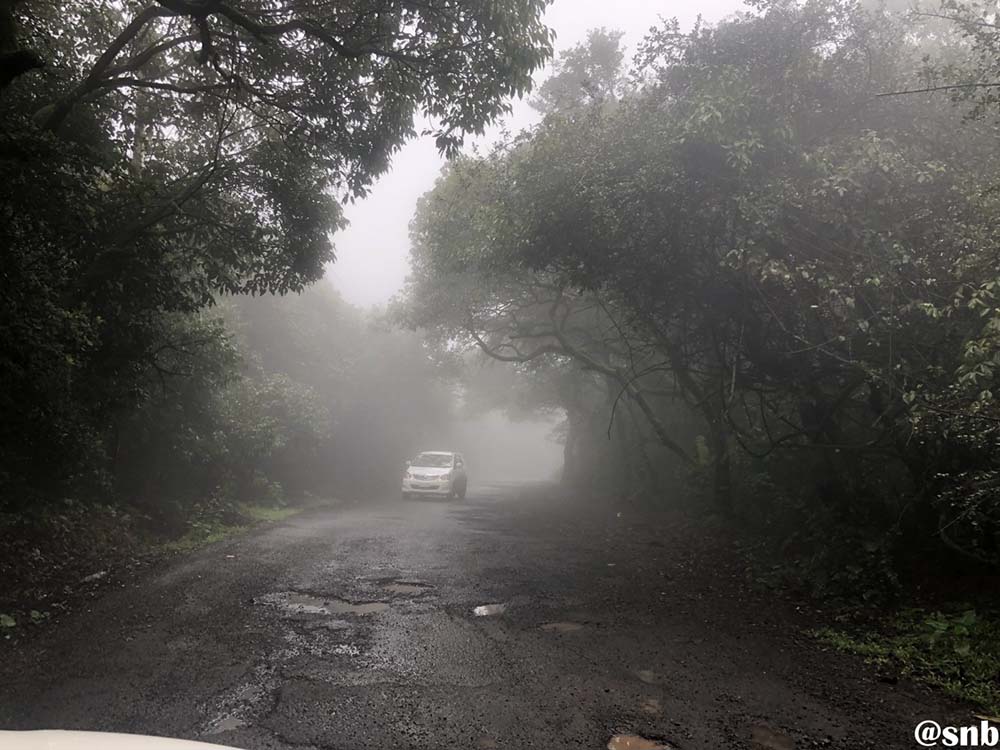 After going a few kilometers, we left Mahabaleshwar-Satara road and took a left turn for the Lingmala waterfall. It is easy to identify the turn because there was a signboard on Mahabaleshwar-Satara road showing the direction. The road was narrow but the surface condition was quite good. There was thick vegetation on both sides of the road.
This road actually connects Mahabaleshwar-Satara road and Panchgani-Mahabaleshwar road like a third arm of a triangle.
Yesterday, while we were coming to Mahabaleshwar, Google Maps advised taking this road. Had we taken this road, our distance would have been shorter by a few kilometers. However, we had decided not to take this road and stuck to the main road. This road was through the woods and therefore did not have any street light.
There WAS no habitation along this road, no vehicles used to pass through this road at night. There would have been no one to help us had we taken this and subsequently faced any problem.
Also Read: Kashmir Bike Trip – Bike Ride in Kashmir
The Entry Gate
Lingmala waterfall was not exactly on this road. There was an entry gate on the road for the waterfall. One has to park the vehicle near that entry gate and then has to walk a bit to see the waterfall. For visiting the waterfall, one has to buy a ticket at the entry gate which costs Rs. 20/- per person.
There was no designated parking zone adjacent to the entry gate. But the road was quite wide near the gate and offered enough parking space for the visiting vehicles. We parked our car on the opposite side of the road, bought the tickets and started walking to the waterfall. It was 2 pm by then.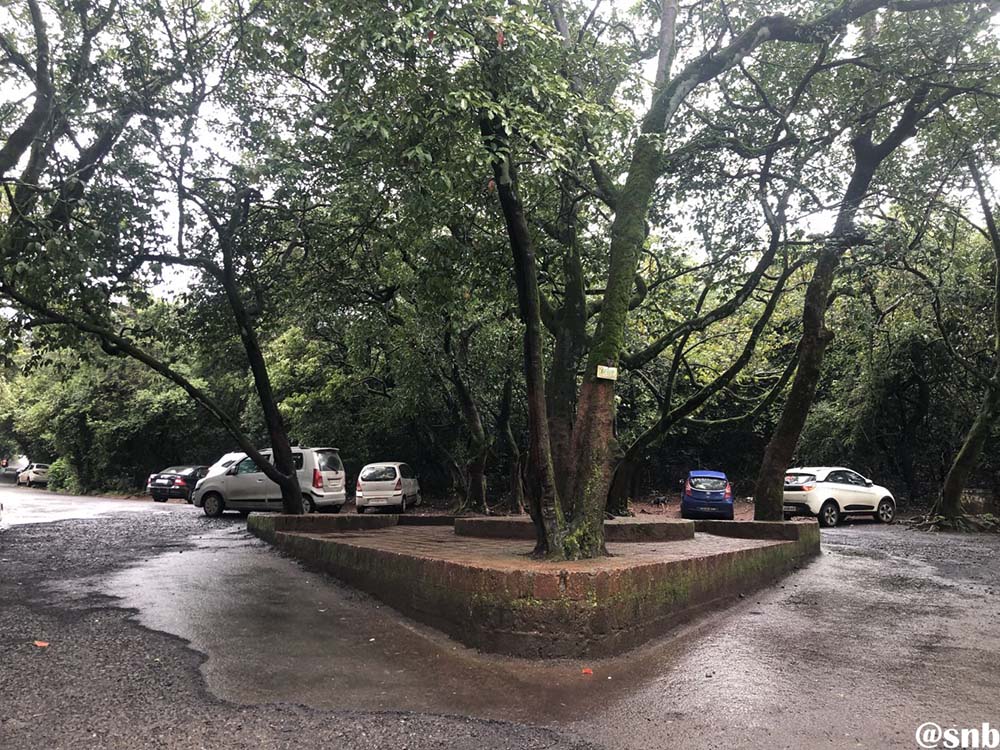 Initially, it was a downward walk. The walking track was well-paved.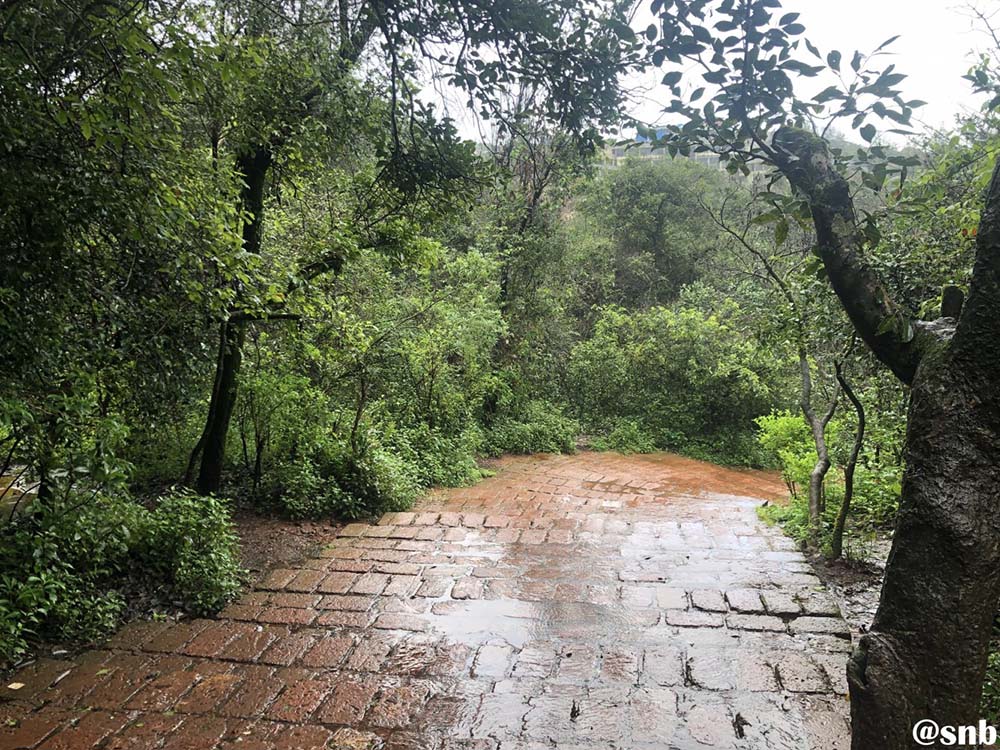 After around 5 minutes of a walk, we reached near a stream. It was decently wide but shallow. Waterflow appeared to be forceful. There was a narrow bridge on the stream. There were paved walking paths on both sides of the water stream in a forward direction.
We were a bit confused about whether to remain on the same side of the stream and cross it. There was a tea-seller there. We asked him about which track to take. He told us that the track on the other side of the stream would lead to the viewpoint for the main waterfall. The track on the same side of the stream would lead to a smaller waterfall.
Also Read: Road Trip to Mcleodganj and Dharamshala on a Weekend
The Main Waterfall
We decided to go for the viewpoint of the main fall first. So, after taking a few photos of the bridge and the stream, we crossed the bridge and continued our walk.
Initially, the track was horizontal along the bank of the stream. Then gradual ascent started and the stream disappeared from our sight gradually.
On our right-hand side, there was a steep hill.  On the left-hand side, there was a deep gorge. Multiple water streams were coming down from the hill on the other side of the gorge like silver ribbons. At multiple points of our walking path water was flowing across the path. Vegetation all around was fully blossomed. Hills on both the side were completely green. Mother nature was at her very best. We were living the moment.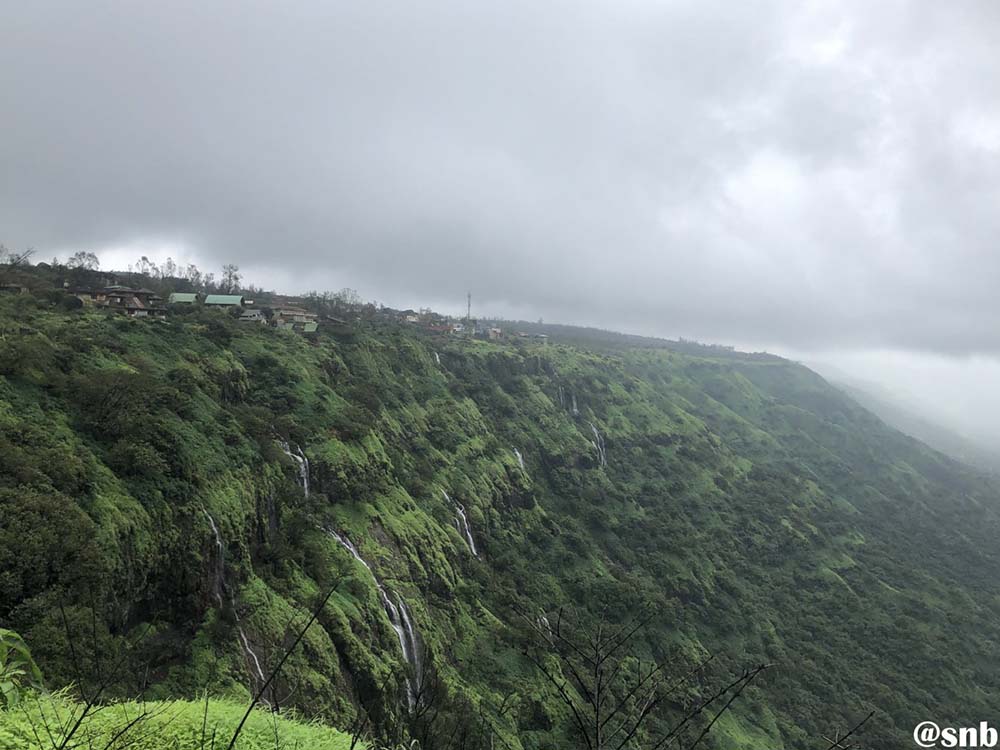 After walking for around 15 minutes, we reached the viewpoint. It was an uphill walk but not too steep and therefore enjoyable especially in that weather.
From the viewpoint, Lingmala waterfall was looking magnificent. It was a three-stage waterfall with an overall height of 500 ft. Because of heavy downpour in the Mahabaleshwar area in the last two months, the waterfall was at its gushing best.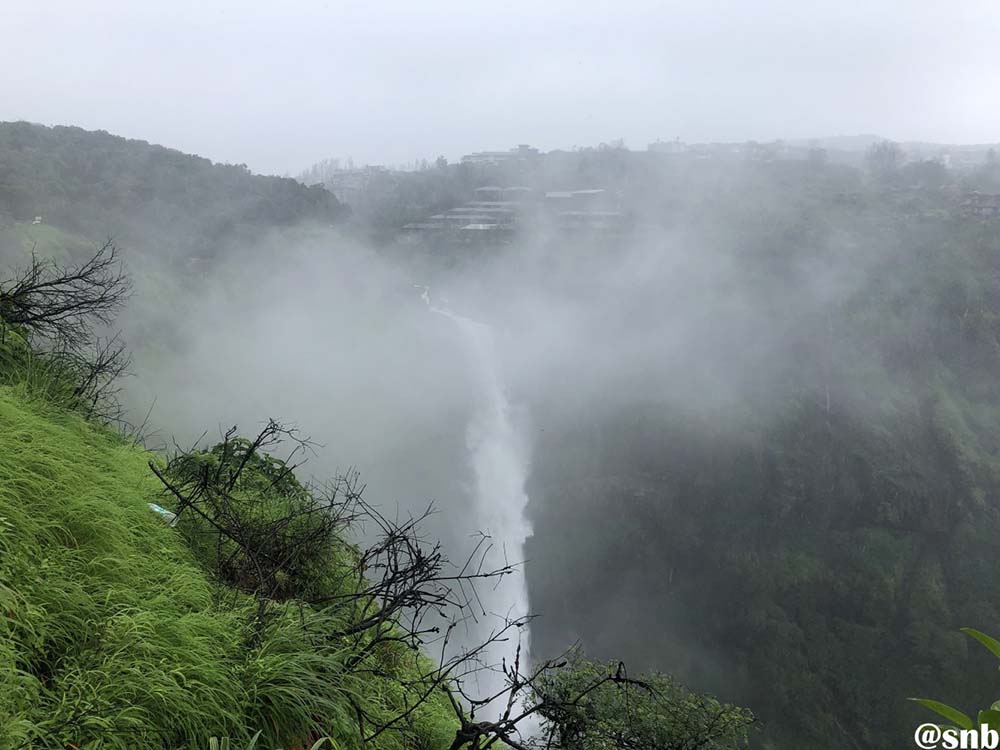 From the viewpoint, Venna valley was also visible albeit. It was a bit hazy because of cloud covers.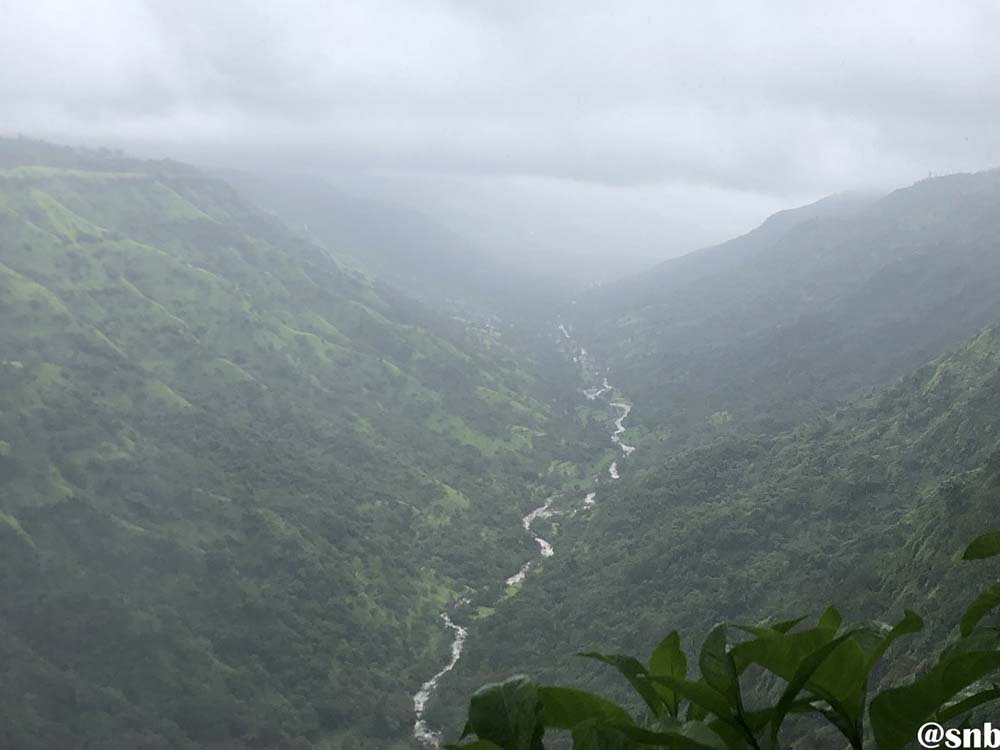 The Second Watefall
We were there for around 10 minutes. By that time, the rain started. The valley as well as the waterfall went behind the cloud. So, we started our return. With hindsight, I think that we were at the viewpoint in the nick of the time.
We came back to that bridge again and then took the walking trail along the other bank of the stream. After a walk for 2 minutes, we found a waterfall that is short in height but quite wide and gushing. A big water pool has been formed at the bottom of the waterfall. This is the point of origin of the Venna river.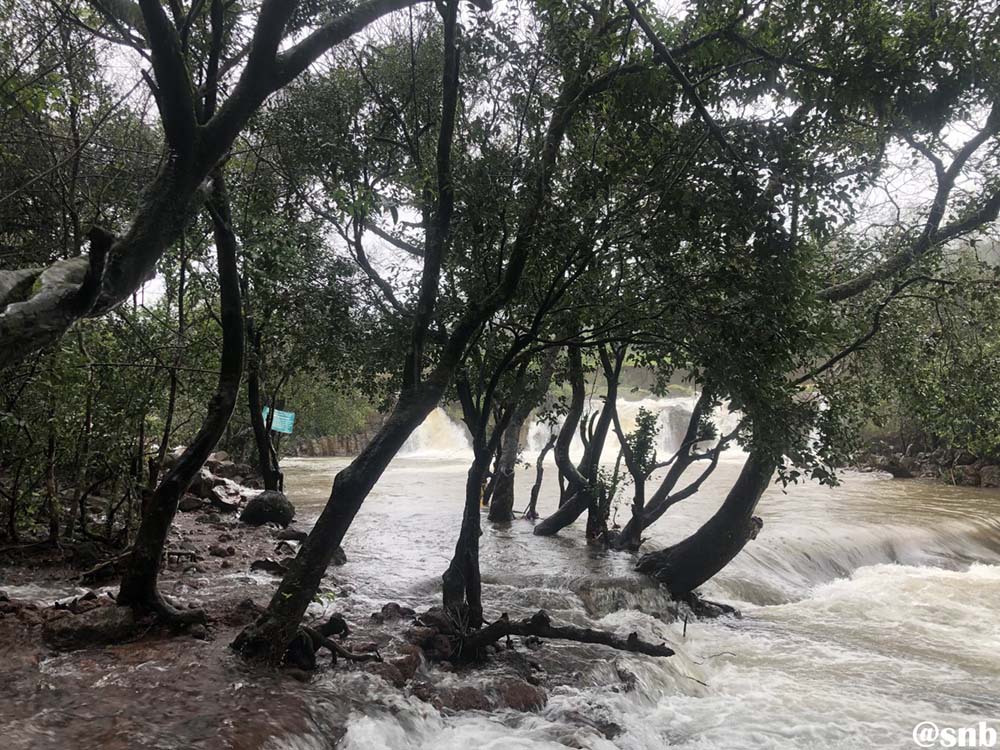 Venna river is a tributary of the Krishna river. Starting from Mahabaleshwar, it meets the Krishna river at Sangam Mauli located in the eastern part of Satara city.
The authorities have erected wire mesh along with the pool in order to ensure no daredevil venture into the pool. The current there would be quite strong I guess. In fact, the walking trail has gone further forward but wire mesh has been erected on that path so that nobody can go further.
Later, I saw some photos on the internet showing people in the pool. Probably, post-monsoon, when the force of water comes down, people are allowed to access the pool.
After spending some time there, we started walking back.
Also Read: Bike Trip to Dharamshala and Mcleodganj
Smoke in the Stream
We came back to that bridge in a few minutes. By that time, we were quite drenched. Because of the wind, we were finding the weather chillier than what it actually was. A cup of hot tea/coffee was a must in that condition. The tea seller was still there. We took three cups of tea from him. Each cup of tea cost Rs. 20. The size of the cups was on the smaller side. But given the weather, the price was well justified.
On inquiry, he told us that the waterfall, as well as Venna river, got fed by Venna lake post-monsoon. Typically, till March, water flow continues. After that waterfall and the river dry up and thirstily wait for the advent of monsoon.
While having tea, the child within me woke up all of a sudden. I decided to go down to the stream. My wife was vehemently opposing the idea. My daughter was tacitly supporting and encouraging me. She couldn't take an explicit opposite stand of her mom for obvious reason.
The current of the stream was reasonably strong. However, I stayed within my limitation and did not venture beyond ankle-deep water. With age, the body has lost its flexibility. I was not sure whether I would be able to maintain balance if I ventured deep. I stood in the ankle-deep ice-cold water for a few minutes, had a smoke, took some photographs, and got photographed.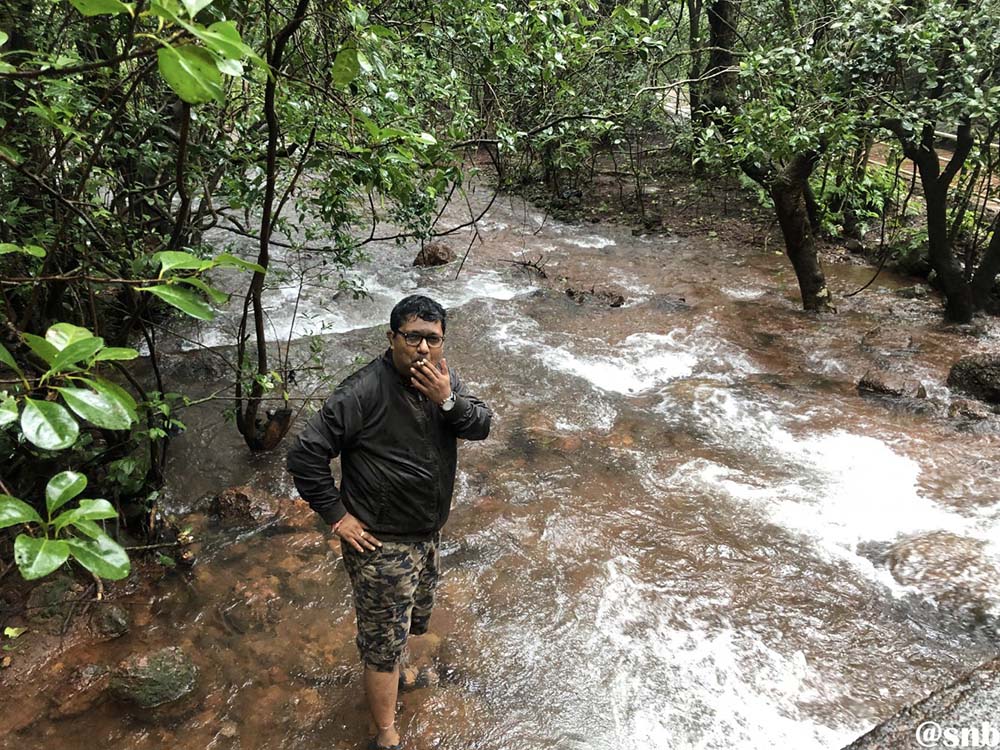 By the time we came back to the entry gate, it was 3 pm and we were feeling quite hungry. After getting into the vehicle, the first thing we did was to make as dry as possible using the towels. Then we searched for the restaurant "Little Italy" in Google Map about which I read some good reviews on Trip Advisor.
Garden Ice Cream
Google Maps managed to locate it. However, it could not convincingly guide us on whether we were required to come back to Mahabaleshwar-Satara road or we should move forward towards Mahabaleshwar-Panchgani road. We decided to move ahead towards Mahabaleshwar-Panchgani road.
After a few minutes, we realized that we were going in the opposite direction. By that time, the road has become quite narrow and it was not possible to reverse the vehicle. So, we continued towards Mahabaleshwar-Panchgani road.
After driving for 10 minutes, we hit Mahabaleshwar-Panchgani road and took a left turn towards Mahabaleshwar. After some time, we saw the restaurant "Garden Ice Cream" on the left side of the road. The restaurant also got good reviews on trip advisor. So, we decided to give it a shot parked our vehicle there.
From the outside, we could not see any visitor inside and therefore became doubtful about the availability of food at that time of the day. Then a waiter came out. He told me that food was available.
The restaurant was quite spacious. It was neat and clean too. The sitting area was divided into two sections. Since there was no crowd, it was up to us where to sit. We chose a table in the outer section. In the inner section, there were few elderly local gentlemen, probably the owner and his friends and acquaintances. They were sitting around an oven and were taking the warmth of burning coal in a chilling afternoon.
We ordered Corn Pakoda, Chicken, and Plain Rice. The service was reasonably fast. The taste was quite good especially that of Corn Pakoda. We enjoyed our lunch thoroughly.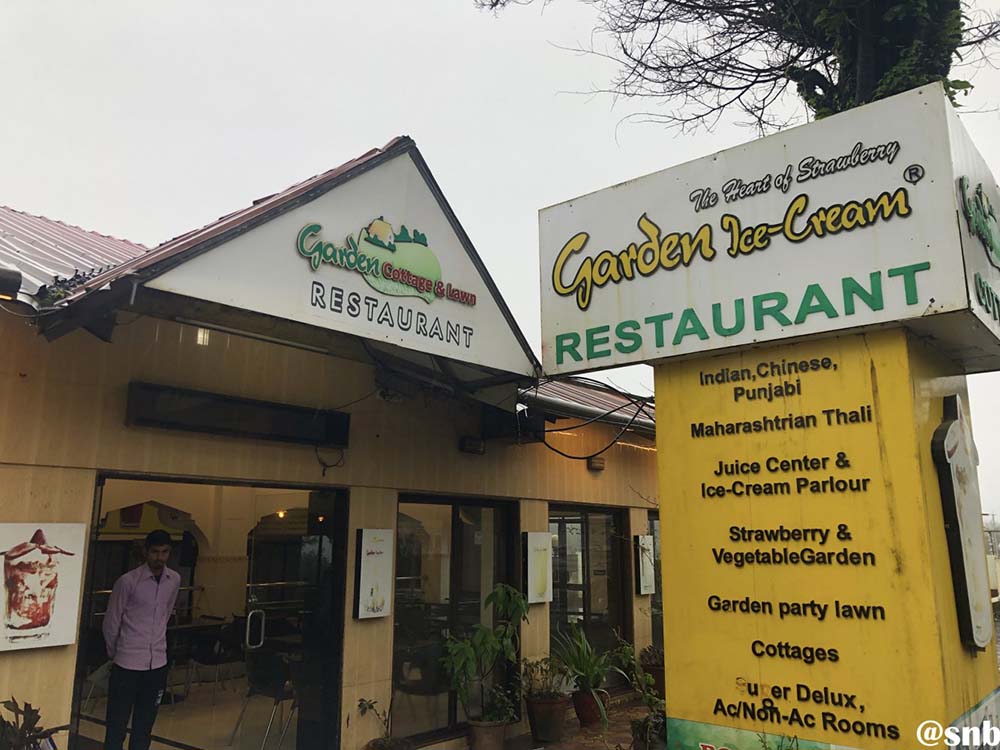 Since our dresses were wet, we decided to head back to our hotel straightway from there.
Venna Lake
Today the entry toll collection point was manned and we paid Rs 170 as entry tax. It would remain valid for 10 days.
Then we reached the Venna lake. Venna Lake used to be a favorite spot in all our last visits. My wife and daughter used to enjoy boating and horse riding there. However, this time, both of them refused to get down from the vehicle on account of inclement weather. I got down alone to take some photos of the lake.
Venna lake was looking completely different from what it used to be during our previous visits. The water level was touching the rim. The color of the water was muddy. The bank on the other side of the lake was not visible because of clouds. At a distance, cloud and water had merged to form a singular texture.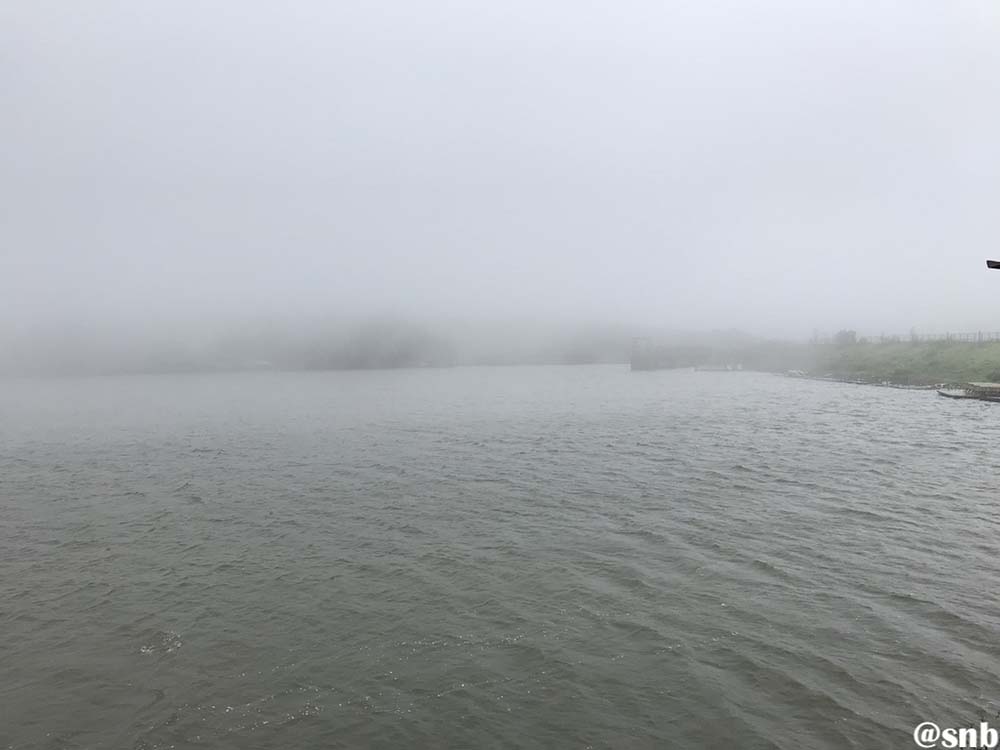 We came back to Club Mahindra Sherwood around 5.30 pm. We spent the evening drinking coffee, followed by a few pegs of Vodka and dinner. Sitting inside the room, we could hear the sound of gushing wind outside. I came out occasionally for smokes and realized that the Rain God was yet to be exhausted.
Day 3 – Sightseeing in Mahabaleshwar
This morning was no different from that of the previous day. It was raining. It was misty.
This day also, we decided not to go too far. Instead, we planned to go to the Mahabaleshwar temple at Old Mahabaleshwar and also visit some nearby viewpoints that we had been to during our earlier trips. We knew that the viewpoints would be sans of any view because of clouds. Still, we planned to go because we wanted just to drive.
We started around 12.15 pm. The first destination was Elphinstone Point. The distance was 15 km. We took one hour to cover the distance. We did not mind that. In fact, we would have been happier had it took longer.
The last 10 km of the drive was through woods. The road was smooth barring few stretches. There was hardly any vehicle on the road. It was completely engulfed in the clouds. At some places, visibility was almost zero. There were intermittent drizzles. We were exclusively enjoying the beauty of the Mahabaleshwar monsoon.
Also Read: Road Trip to Kinnaur – Kalpa – Chitkul – Sarahan – Theog
Elphinstone Point
After reaching the Elphinstone point, we parked our vehicle at the designated parking lot. The parking lot was quite big. Only a handful of vehicles were there.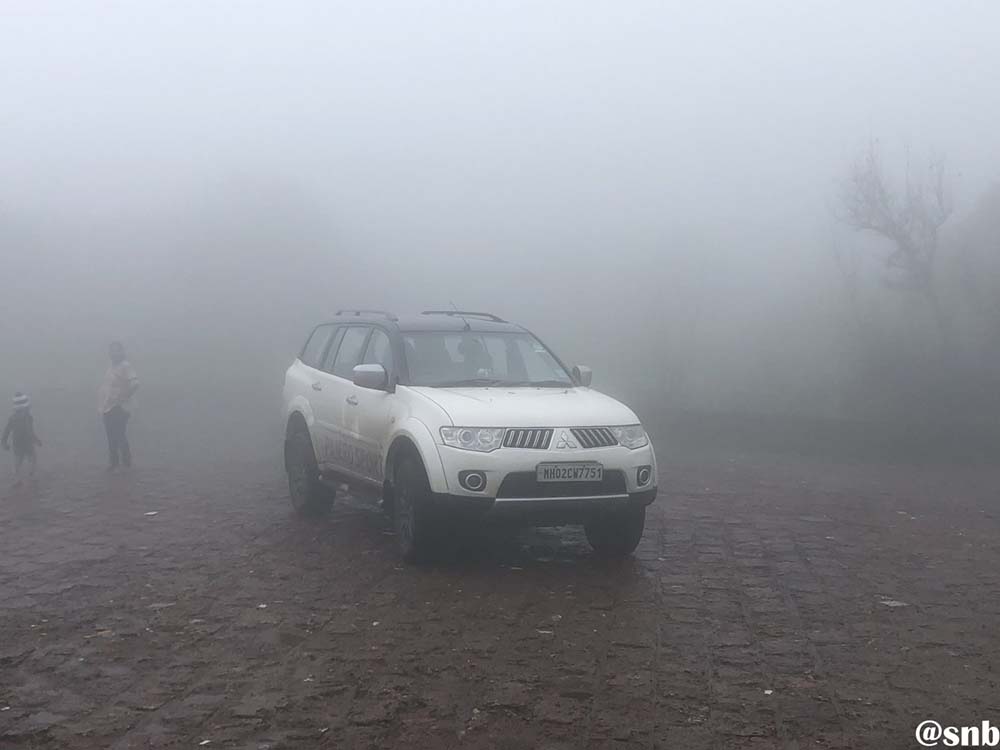 The actual viewpoint is a short walk from the parking lot.
By the time we reached the viewpoint, other visitors left and we were the only human beings from there. The Elphinstone point was discovered in 1830 by Dr. James Murray. On a clear day, it offers the views of Koyana valley on the left, Savitri valley on the right, and Pratapgad Fort in front.
Also Read: Family Trip to Ladakh – Fun, Adventure and Much More
But this day was different. What we saw was an impregnable silver-colored cloud all around. What was there beneath the cloud is a matter of imagination. Being engulfed in the cloud, we were soaking the feeling of solitude.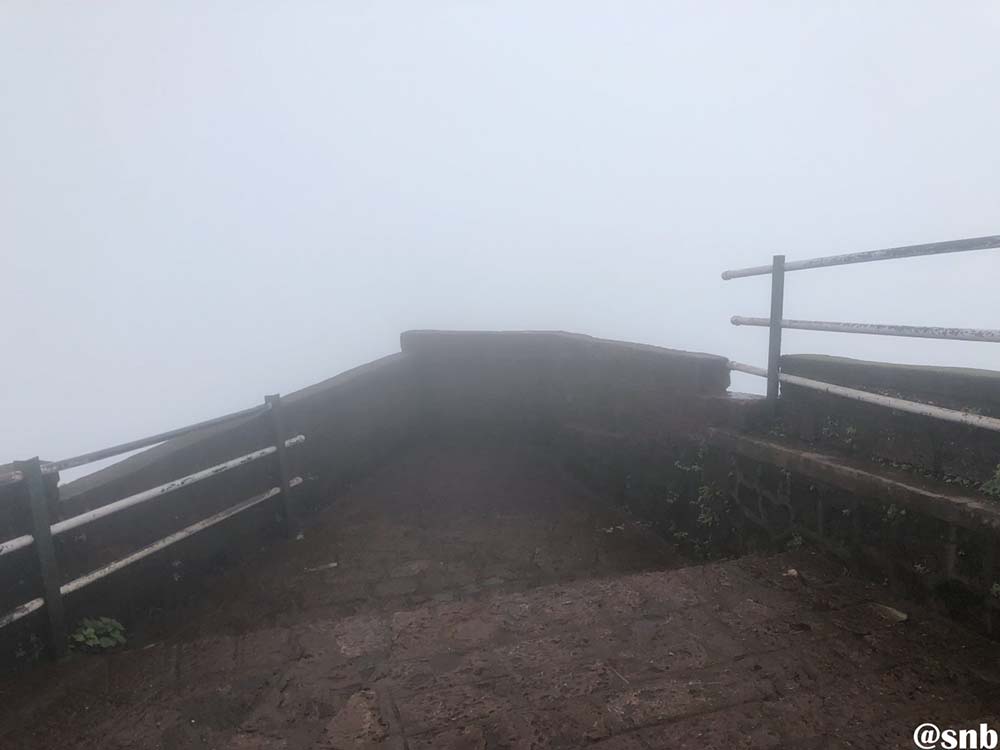 Marjorie viewpoint
From Elphinstone point, we started for Arthur's seat. On the way, we took a momentary stoppage at Marjorie viewpoint which is not really is not a major viewpoint. The road has touched the edge of the flat hilltop here so one can see the valley below. That's why it has become a viewpoint.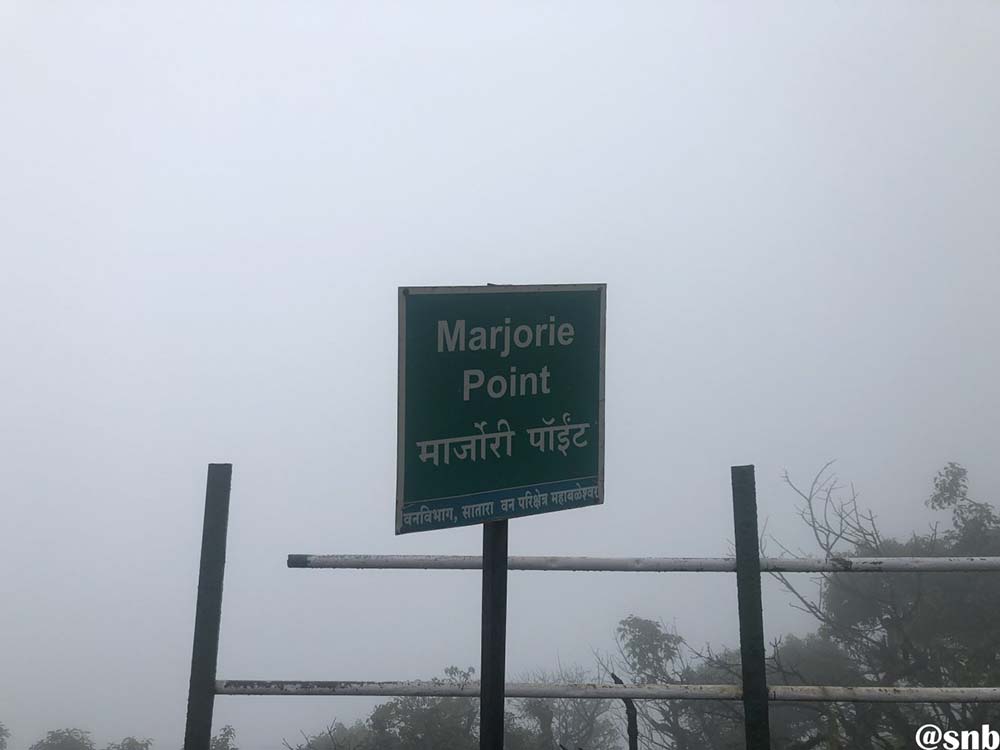 Savitri Point
We took one more stop at Savitri Point before reaching Arthur's seat. This viewpoint also has a big parking lot. When we reached there, one more vehicle was standing there. The viewpoint is across the road. On a clear day, it offers a view of the Savitri River.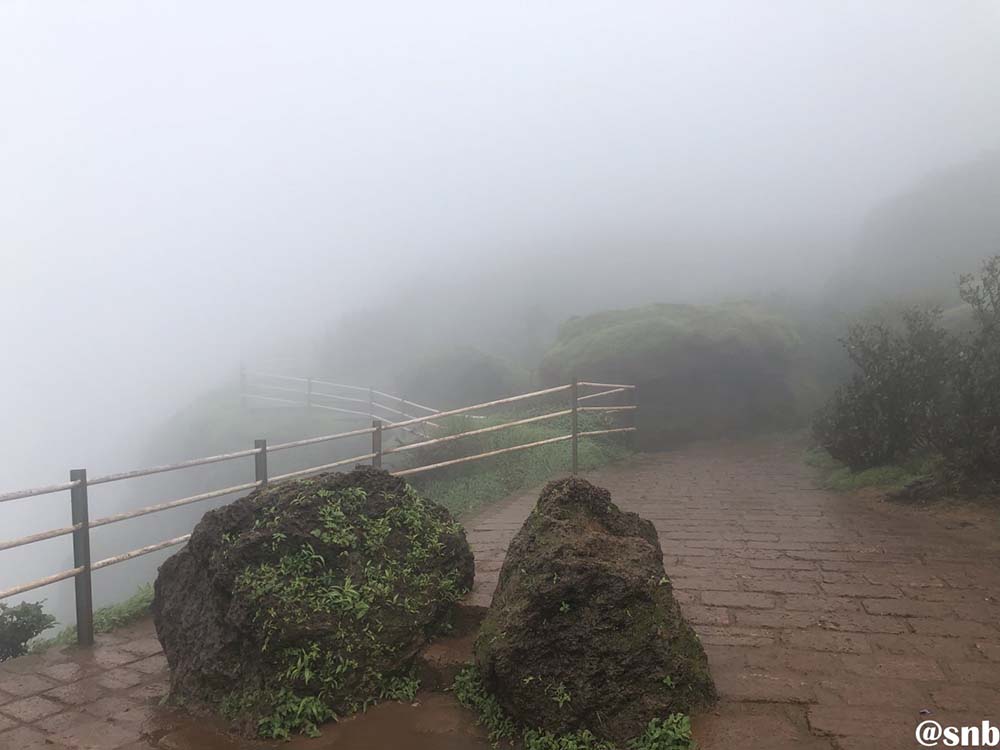 We reached Arthur's seat around 2 pm. This place was relatively crowded compared to other viewpoints. 7-8 vehicles were standing there. Here also, one has to walk down from the parking lot to reach the viewpoint. There were 3-4 polythene sheltered stalls at the parking lot where corn, Maggi, tea, and coffee were available.
When we walked a few steps after parking the vehicle, we saw a monkey taking a special interest in our vehicle. Initially, it peeped inside the vehicle and then got itself stationed on top of the vehicle. The posture was a philosophical one so to say. I guess the monkey did a barter arrangement with us. Since we came to see their habitat, in return, he was keen to peep into our world.
From a distance, I checked whether all the windows were properly shut. Being sure about that, we crossed the parking lot and started walking down towards the viewpoints.
There were five viewpoints connected by a kilometer long walking trail, Arthur Seat being at the end. Essentially all the viewpoints offer more or less the same view but do have some different context/background. The walking trail was well paved and with adequate protection.
Also Read: Morni Hills and Tikkar Taal – A Perfect Weekend Getaway
Hunting Point
The first one was Hunting point. This point used to be used by the British officers for hunting.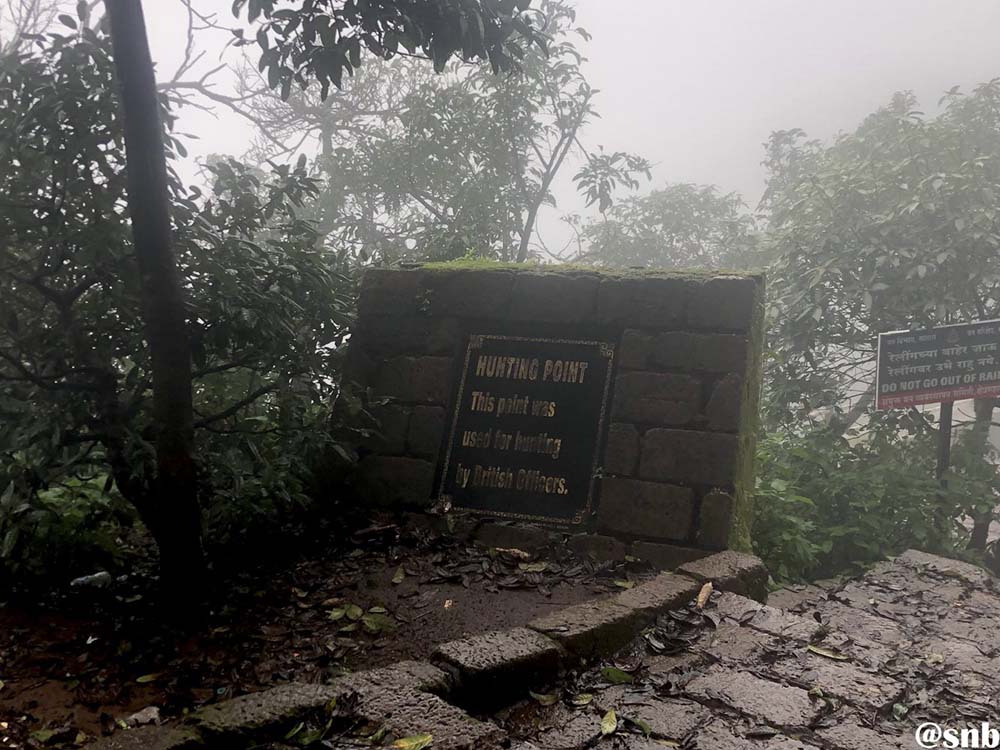 Echo Point
The second one was the Echo point. As per the description given there, if someone shouts from there into the valley enough loudly, he/she can hear an echo of that. On a windy and chilling day, we were not at all keen to do that experiment.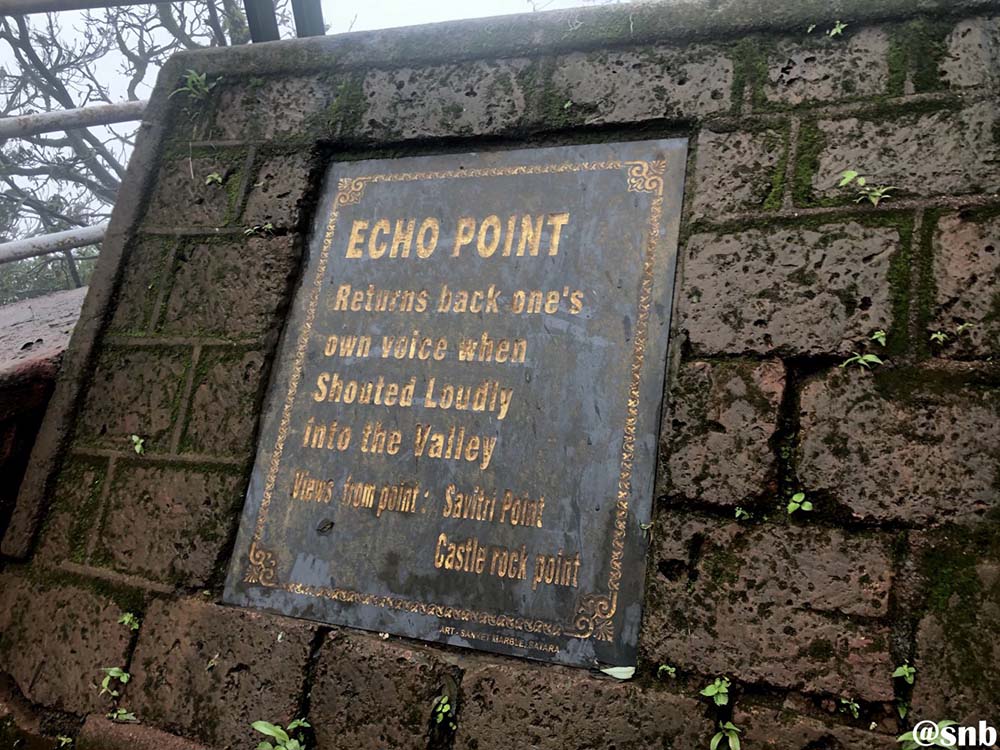 Malcolm Point
Malcom point was the third point. On a clear day, one can see Arthur seat, Torana Garh fort, Pratap Garh fort, and Savitri Valley. But that day, it was offering the view of vast emptiness.
While we were at Malcom point, it started drizzling all of a sudden. We kept our umbrellas in the vehicle. So, there was a dilemma about whether to continue for Arthur's seat or returning back to the parking lot. Fortunately, there was a tea and food stall near Malcom point with adequate polythene cover.
We took shelter under that and ordered corn masala and tea. The fellow running the shop was a local person staying near Mahabaleshwar temple. We found the corn masala very tasty, maybe because of his preparation style or because of the weather. And piping hot tea always tastes good in wet weather until and unless somebody is exceptionally bad in making it.
By the time, we finished corn masala and tea, the drizzle had stopped.
Also Read: Solo Trek to Everest Base Camp – Blog and Travel Guide
Tiger Spring Point
So, we moved on to the next point – Tiger Spring Point. There is a water hole which acts as a source of natural water. Apparently, in past, wild animals used to drink water from this water hole and that led to the naming of this point.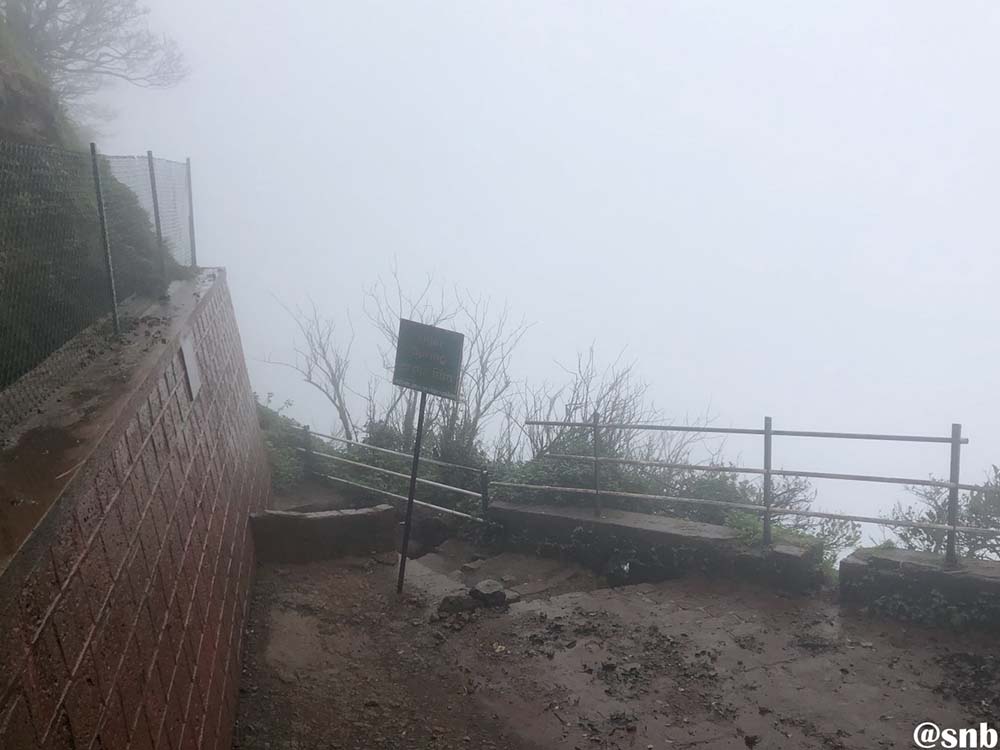 Arthur Seat
From there, we went to the final destination of this walking trail – Arthur Seat. There were some other tea and food stalls between Tiger Spring Point and Arthur Seat. I had come here earlier. It offers a breathtaking view of the valley below and Savitri valley on a clear day. But that day, it itself was engulfed in clouds.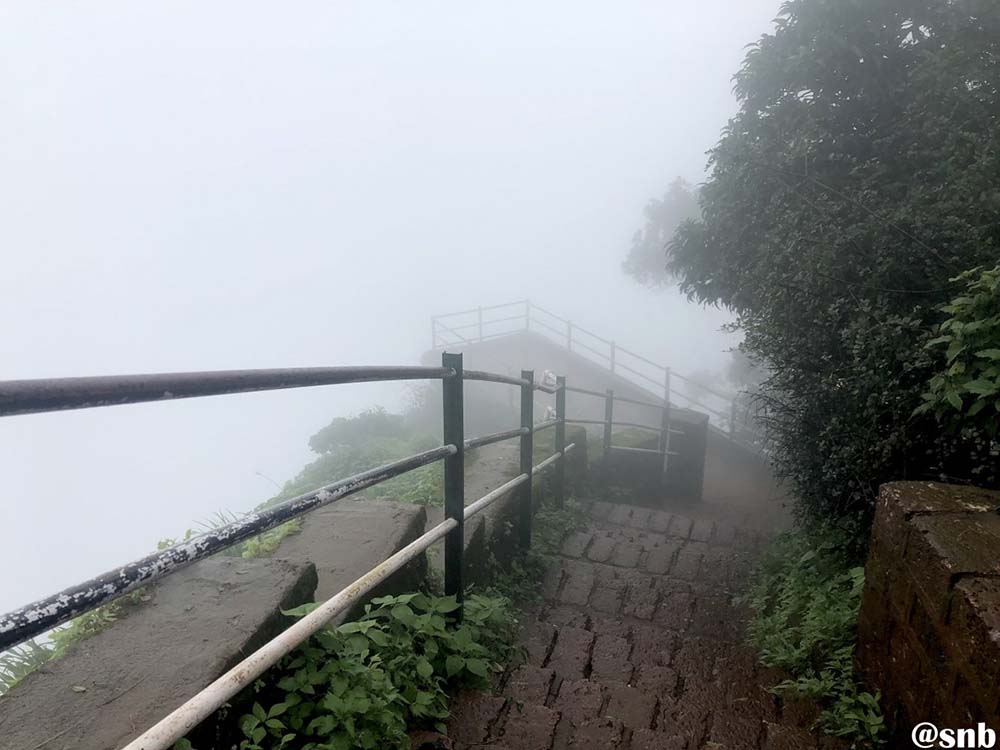 Sir Arthur, a British official, lost his wife and son to the Savitri river. He used to sit here and stare at the Savitri river. That's why this viewpoint is called Arthur Seat.
We came back to the Parking lot at 2.55 pm and started for our next destination – Mahabaleshwar temple.
Mahabaleshwar Temple
We came to Mahabaleshwar for the first time in 2003 and visited the Mahabaleshwar temple then. After that, we came here twice but did not go to the temple. This time we decided to go there, maybe because we are getting older or to keep us aligned with the prevailing socio-political environment of the country.
We reached the Mahabaleshwar temple complex around 3.15 pm and parked our vehicle on a road nearby to the temple. There was a designated parking lot too. Later, we realized that we did a mistake by not parking it at the parking lot because we faced great difficulty to reverse the vehicle on the narrow road.
It was a short walk for the temple complex from where we parked our vehicle.
There were three temples in the temple complex, Mahabaleshwar temple, Atibaleshwar temple, and Panchaganga temple. All the temples are connected with each other through a cemented path. On both sides of that walkway, there were small shops. However, most of the shops were closed when we were there.
Also Read: Deoria Tal Chandrashila Trek – Travel Guide, Blog & Itinerary
Mahabaleshwar Temple History
We first went to the Mahabaleshwar temple.
This temple was built in 1215 AD as per historical records in the Hemadpanti style. The temple houses Shiva's bed, Damru, and Trishul which date back to approximately 300 years. It is believed that every morning, the bedsheet is found crumpled indicating Shiva's presence at night within the temple.
The temple also housed the idol of Lord Vishnu.
By the time we finished our visit to the Mahabaleshwar temple, it had already started raining heavily. We took shelter under the corrugated tin shed beside the exit point and were waiting for the rain to subside. While waiting there I saw a banner depicting the mythological context of the Mahabaleshwar temple.
Mythology
The reference of the God Mahabaleshwar is available in the 1st and 2nd chapter of 'Skand Puran'. The story of God Mahabaleshwar refers to a period when the world was just created. At that time, there were two demons – Atibal and Mahabal who used to trouble everyone a lot and it became difficult for others to survive.
So, Lord Bramha, Lord Vishnu, and Lord Shiva decided to kill those two demons. Lord Vishnu defeated and killed Atibal. But Mahabal could not be killed because he was earlier given a blessing that nobody could kill him and he would die of his own will. So Brahma called Mahamaya, who allure him of love and enticed him to death.
He agreed but prayed that Gods should stay at that place by their names so that those two demons become immortal. He died and thus Shiv stayed there in the form of Mahabaleshwar, Vishnu as Atibaleshwar, and Brahma as Koteshwar. The name of the city is also said to be derived from Mahabal.
Unfortunately, I could not take any photo of the Mahabaleshwar temple. I was not getting a clear view from the front side because of shops and polythene covers. Neither, I could go to the rear side because that was an open area and it was raining.
Also Read: Haunted Bungalow in Bonacaud – The End of a Search
Atibaleshwar Temple
After some time, the rain subsided a bit though did not stop completely. Since we were getting late, we started walking towards the Atibaleswar temple using the shades of the shops as protection.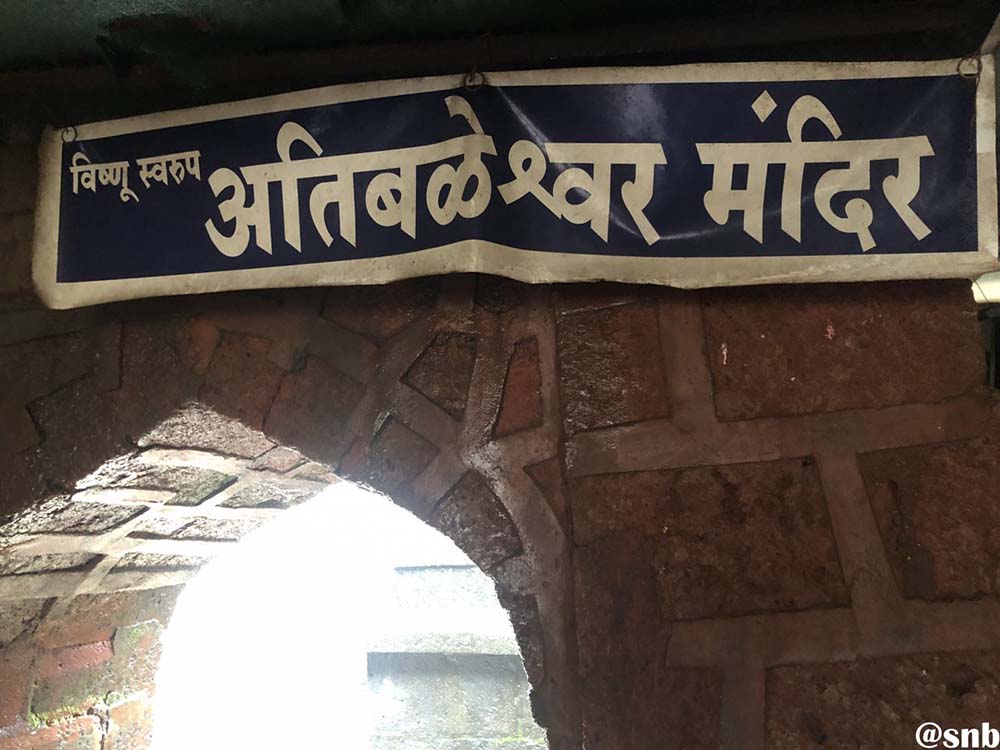 This is a small Shiva temple which is often overlooked by most tourists who visit the temple complex at Old Mahabaleshwar. As we walked up to the Panchganga Temple, from Mahabaleshwar temple, the Atibaleshwar temple was on the left-hand side. There was a narrow passageway between the wayside shops and then there was a large Nandi bull at the entrance to this temple.
Also Read: Pin Parvati Trek – A Spellbinding Experience
Panchganga Temple
From there, we went to the Panchganga temple.
inside the temple, there are two small tanks. The second one is at a slight elevation to the first one. Those tanks are continuously getting filled up by water flowing out from the mouth of a statue of a cow. It is said that this temple is at the confluence of five rivers, Krishna, Venna, Savitri, Koyna, and Gayatri and all the rivers come out from the mouth of a statue of a cow (Gomukh). That's why this temple is called the Panchganga temple.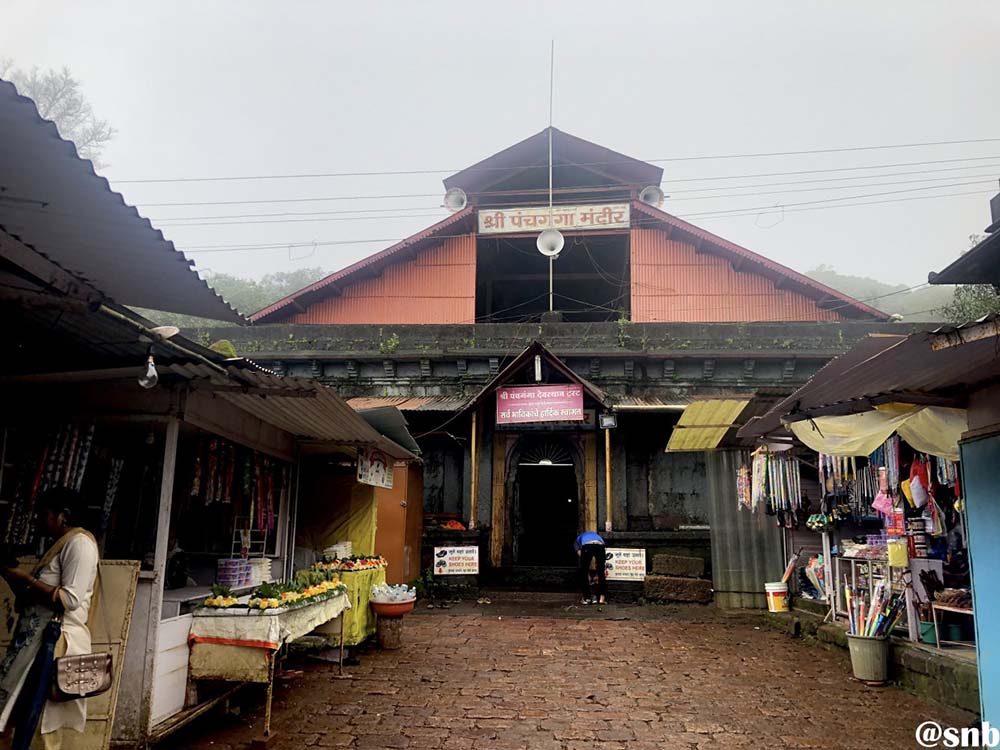 The temple was constructed by Raja Singhandeo, the Yadava ruler of Devgiri in the 13th Century. In the 16th and 17th Centuries, Raja Chandarao More of Jaoli and the Maratha ruler Shivaji improved upon its structure on a large scale.
The temple is dedicated to Lord Krishna and has a beautiful idol of him. The legend behind the temple is closely linked to Savitri's curse on the Trimurtis, Brahma, Vishnu, and Shiva, who flow here as Koyna, Krishna, and Venna rivers. It is a major religious site and is thronged by devotees throughout the year.
We completed our visit to the temple complex at around 4 pm.
That was the last destination of the day. Till that time, we had not had anything after breakfast. So, our next destination was a restaurant. We planned to go to the Saayali restaurant.
Also Read: Rani Sui Lake Trek | Sour Tal Trek – Fun and Adventure
Return to the Hotel
We reached there around 4.35 pm and found the restaurant closed. In the same complex, there was another restaurant called "The Sizzler Palace". We went there.
It was completely empty. Waiters were having a nap. On inquiry, they told us only Chinese dishes were available. We ordered Chilly Paneer, Veg Crispy, Crispy Chicken Honey Chilly.
Since they were taking time to serve the food, I went to the adjacent wine shop "Treacher & Co." It had a good collection. Price was at the same level as that of Mumbai.
In the same complex, there was a hotel named "Hotel Shreyas". It seems that "Hotel Shreyas", the two restaurants namely "Saayali Restaurant" and "The Sizzler Palace", the wine shop shop "Treacher & Co." are part of the same group. There was one more small shop in the same complex selling cold drinks, water, namkins, "boiled eggs" and "ice". Food arrived after 15 minutes. It was quite tasty.
We started from there for Club Mahindra around 5.25 pm. In the evening, we ordered some Pakodas and enjoyed that with coffee and Vodka. We had an early dinner as we were intending to start early for Mumbai the next day.
Day 4 – Mahabaleshwar to Mumbai
Given the condition of the brake, we intended to start early for Mumbai. I got up really early. However, somehow, we could not manage to start before 9.25 am. During our 3-days stay at Club Mahindra Sherwood, we did not spend any time to see the property. So, before leaving, I took a few photos.
The road was, as usual, completely enveloped by fog. Just before Venna lake, we took a minute-long stop just to capture the green surroundings in our lens. Our plan was to have breakfast at "Garden Ice Cream". We reached there around 9.45 am. That day also it was empty. We ordered for Corn Pakoda and Alu Paratha.
They took quite some time to serve the food. Corn Pakoda did not taste as good as on the previous occasion. Finally, we started there around 10. 35 am. While leaving, we saw one family entering there for breakfast. In all probability, they were staying in the adjacent hotel being run by the same management.
As we were progressing towards Panchgani from Mahabaleshwar, road conditions improved. Rain took shape of intermittent drizzles. The cloud cover on the road disappeared. And it was a riot of green in every direction.
We crossed Panchgani around 11.10 am. After Panchgani, the weather became relatively clear. Though it was cloudy, glimpses of sun-ray were available. The valley down below became visible. The road surface was absolutely smooth. We were driving at a leisurely pace, by design or by default and wherever width of road permitted, we let the other vehicles overtaking us.
Also Read: Road Trip to Bhutan – Journey of a Lifetime 
Back on the Highway
We reached Wai at around 11.35 am. There, I decided to take a smoke break and parked the vehicle at the side of the road. Immediately, a convoy of 12-15 vehicles consisting of cars, buses, and trucks passed. The good-hearted fellows could not overtake my slow-moving vehicle because of the hilly road but never bothered me. I silently thanked them from the bottom of my heart.
After around 5-10 minutes' break, we resumed our journey. We reached Surur around 12-noon, got onto NH48, and took the left turn towards Pune. The sky was cloudy but there was no rain. It was pleasant weather.
Though there was almost zero traffic on the road, I was maintaining a speed below 80 km/hr. After driving for some time, I realized that the brake has started working properly. By the time, we reached Pune, the brake as perfect as it ought to be.
Later, after reaching home, I sent the vehicle to the service center again and enquired about this peculiar behavior of the brake. The mechanic told that new brake shoes take around 500 km drive to adjust properly. As per them, it is better not to go for a long driving without completing a 500 km city drive after replacement. I wish they would have said to me this earlier.
Our next stop was at Woodstock Foodmall after Talegaon Toll Plaza. We reached there around 2.15 pm. There we found rain again after Panchgani.
After having lunch tried and tested McDonald's, we resumed our return journey. As we were approaching Lonavala, the rain became more intense.  We crossed Lonavala at 2.50 pm.
Also Read: Bike Trip to Darjeeling in Winter – A Ride to Remember
Mumbai
We were at Kahalapur toll plaza at 3.10 pm and crossed Vashi toll plaza at 3.50 pm. Then as expected, we navigated through Mumbai traffic for 2 hours and reached our home at Goregaon around quarter to 6 pm. Thus our short Mumbai to Mahabaleshwar road trip came to the end.
When we started our trip, we had a plan in our mind. But the trip unfolded in a different way. It did not go as per the plan. But we are not repenting for that. There is a saying "Man proposes and God disposes". God might have decided not to let us go to Kaas plateau and Koyna Wildlife Sanctuary so that we could enjoy Mahabaleshwar rain to the fullest extent.
In a way, I guess, this is the fundamental characteristic of any road trip. You must have a plan but at the same time, you should not be too fussy about that. You ought to be flexible and have the ability to go with the proceedings and enjoy that. So, did we. In the end, it turned out to be a fully satisfying trip in spite of all hiccups.
Mumbai to Mahabaleshwar Road Trip – Conclusion
I hope the travelogue and information above on Mumbai to Mahabaleshwar Road trip was of help. If you have any questions, please feel free to ask in the comments section below or at our Community Forum and I will be glad to answer.