Buddhaban Trek is mostly considered as an easy one among all the treks in Parvati Valley. I completed this trek some time ago and below is a detailed log of my journey. What makes this trek special is that I attempted it after recovering from a serious injury that confined me to a wheelchair and in my home for months.
Last year on 16 August 2017, I met a serious accident that left me with a broken tibia bone of my left leg. The injury was so much that doctors had to operate and provide support of a titanium rod throughout my leg and fix it with screws. I was given one year to start walking normally, two years to begin running, and maybe in Three Years, Trekking.
I started walking in Four months, Cycling in Sixth, Climbing in Seven, Long walks in Nine, and after An year and Two Months, here I am back to trekking.
Buddhaban Trek
What could break you only makes you stronger. There are moments in life that happen in a fraction of seconds and you are never the same afterward. Here is my story.
Last year, I planned a short monsoon trek to Parashar Lake and wander around old Manali on the 15th August holiday. I had my leave for 14th August approved to make it a long weekend trip. It was August 11, 2017, when I heard the news of a possible landslide in Mandi district of Himachal.
It reminded me of the tragedy of Kedarnath that I skipped by a hair. I had my rucksack packed, tent wrapped, food and medicines kept handy and tickets booked. All I could do was cancel the tickets and sit duck over the weekend.
Also Read: Treks in Parvati Valley – A COMPLETE Travel Guide
The Dreadful Day
The day could be described as a perfect example of chaos theory's Butterfly effect, where even one thing had happened where it was supposed to be, things could have been different. Better or worse, only sand of time will tell. I woke up at my usual 10 AM, saw my flatmate still getting ready for his office, and using the only washroom in our flat.
I gingerly scolded him for being late again and telling him how it disturbed my morning routine, and put water in the coffee machine, only to get an immediate power-cut. No coffee, no morning; that's how it is.
Power came back at 10:30 AM and coffee came to the carafe at 10:35 AM. I finished it by 10:45 and put on the morning playlist to help me keep track of time. By 11:30 AM I was ready for office, unlike my usual 11:15 AM, and went to iron my clothes. And BAM! Another power-cut.
It was so irritating that I decided to skip the office altogether, and lay down the bed. Then I saw an ironed shirt hanging on the rope. I thought of the work I had in the office and wore it quickly. It was already 12:00 and I was late by exactly 15 Minutes. Everything after that was dashed forward by exactly 15 minutes.
I left my flat at 12:00, crossed the road at 12:05, stopped at the red light at 12:10, and reached near HCL Sector 58 at 12:15. Here, there is a cut between the roads for vehicles coming from the right to join the left lane. There was an e-Rickshaw on the extreme right which had a huge iron gate loaded on it and had no way to take the wrong U-turn.
The Injury
I slowed my bike to take one pothole and a mountain of speed breaker, and in a fraction of a second, the e-Rickshaw suddenly veered it's left and lost control since it's not designed for carrying such loads. I had no way to stop or turn sideways due to the broken metal road divider on my right.
It banged direct on my left leg, and it had some sort of knife-like mudguard which first pierced through my leg, then came out, leaving nearly six inches long deep cut in my leg. It also shattered my Tibia bone in the process. I had a blackout and when it went away, I was lying on road, people were making videos, and my leg was oozing blood like a tap had been opened.
I gathered up myself and realized my leg must be broken and somehow called Fortis Hospital. They sent over an ambulance and I was rushed to the hospital. It's strange that people were making videos with phones which could have been used to call the ambulance.
Days after the accident were haunting. I have a condition that doesn't let any painkiller or sedatives work on me, so I have to bear the pain. The injury was assessed and I was informed that my bone had been shattered into multiple pieces and they have to rebuild and join it again and provide support of titanium rod and screws to keep it together.
I stayed in the hospital for about one and a half weeks, and upon discharge, doctors told me one of the most heartbreaking things.
The Heartbreaking News
The excessive blood-loss and intensity of impact had damaged the structure of my bone to too much extent and I had to be wheelchair-bound for mobility for at least six months. After six months I would be able to stand by giving half weight and using a walker.
From six months onwards, I will slowly be able to walk with help of the walker. After one year, I will be able to walk without the support of a walker and might need the help of a walking stick. After intensive physiotherapy and exercise, I will be able to start running, and if everything is fine, I will be able to trek again in Three to Four years.
I went through the pain every moment from the day after, lived through the hell. I had my spirits nearly broken and after three months, I was ready to give up.
Also Read: How to Plan a Trip to Malana Village
The Recovery
Then one day, I decided to prove everyone wrong, and do the foolish mistake of standing before six months. I left the wheelchair, and put my feet on the ground. I felt a surge through my spine as soon as I put the feet on the cold floor.
My heart was racing and fear engulfed my mind. I put the feet down completely and stood with quarter weight on my left leg. The night after was even more painful and I regretted my decision. But with God's grace, I made the slow progress, and in two months, with lots of exercises and excruciating pain. I started walking in four Months and even joined the office back. It was tough and I could do nothing but make the pain my motivation.
I bought a cycle and started light cycling in six months and I could see my leg's strength regaining. Within a month I was able to climb a floor worth of stairs. By end of eight months, I was walking at least 3 kilometers each day and slowly increasing the number of floors I could climb.
 I hadn't traveled anywhere since last year and could only wait for gathering up the courage and strength to get somewhere. I knew I will feel liberated only in Himachal and that too at someplace where there won't be the usual crop of shouting -selfie-addict tourists.
Back on my Feet
I finally decided to test myself and forget the pain I had for a year and the suffering I had to go through. I looked up the places and found a small village called Kutla near Tosh and Buddhaban Trek and checked the travelogues to learn about the place.
It seemed an easy trek and had only a small stretch of steep uphill path. The weather was pleasant. But the best part was most people stay in Tosh or Kasol and don't even go beyond there since they get 'high' enough in Tosh already. After a bit of thinking, I decided on attempting the Buddhaban Trek alone.
I booked my tickets for HRTC bus and looked for my trekking gear. The rucksack I packed last year, was still packed the same and put on the loft by my flatmates, and there everything was still packed neatly. I threw out the medicines and food since it was expired, and cleared up the bag.
I recently got another rucksack Forclaz50 from Quechua. It has an internal Tent Pocket and Front loading zipper. I put everything into the new one and put the fresh food items for the trek. The next day was spent working and waiting anxiously for D-Day.
Also Read: Pin Parvati Trek – A Spellbinding Experience
Recovery Trek to Buddhaban and Kutla in Parvati Valley
Delhi ISBT felt the same and brought back the memories of my Kareri Lake trek. There were herds of young people who had rucksacks and backpacks indicating they are heading to enjoy their long weekend gateways.
My rucksack was about 17 kgs and I could lift it easily with no signs of stress on my leg. I still wanted to sit and wait for the bus I had to take at 7:00 PM.
Delhi to Bhuntar
The bus arrived on time, and I boarded and sat on my seat. Like every time, there was a couple who wanted to switch seats since they booked last minute, which I politely declined. I booked a window seat because I wanted a window seat, can't switch it for anyone. Maybe for someone my parent's age or person with an infant, but not for anyone else.
I had a bus till Bhunter and on my way, I learned that the same bus goes till Kasol from where I can take another bus or board a taxi till Barshini or even Tosh! So I took another ticket from Bhunter to Kasol.
Kasol
The bus was running a little late and reached Kasol at around 12:30 PM. I had been sitting for more than 15 hours and really needed to stretch my legs. I found a cab going till Tosh and decided to take it up. One can choose to take a cab to Barshini and start the trek from there itself. I didn't want to push myself much so I took the expensive option.
Also Read: How to Plan a Trip to Kasol
Tosh
Tosh is a beautiful, scenic, and hippie village for the "high" spirited people to ease down their life and lose their consciousness in bottles of alcohol. I could see people losing their minds and mostly being psychologically uplifted on the way and that made me wonder if I chose the wrong place.
Also Read: How to Plan a Trip to Tosh
But once I left the Tosh village, it was all calm. The snowcapped mountains could be seen and fresh air worked like charm. Every once in a while, there were locals coming from the other side, but none were moving towards Kutla.
View from Tosh Taxi Stand. The place makes me sing Phir Se Ud Chala Song.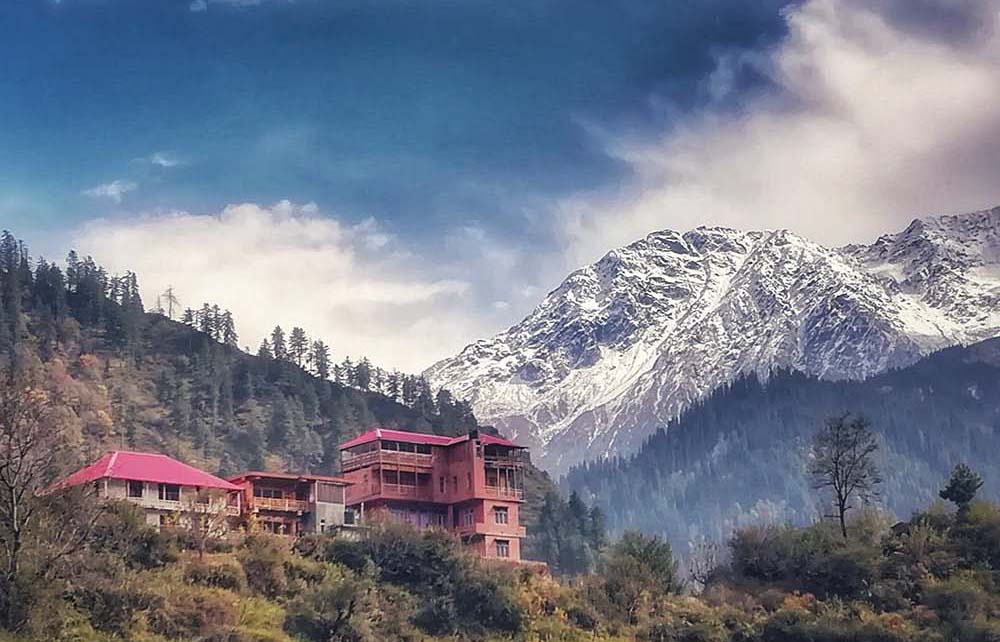 Tosh Taxi Stand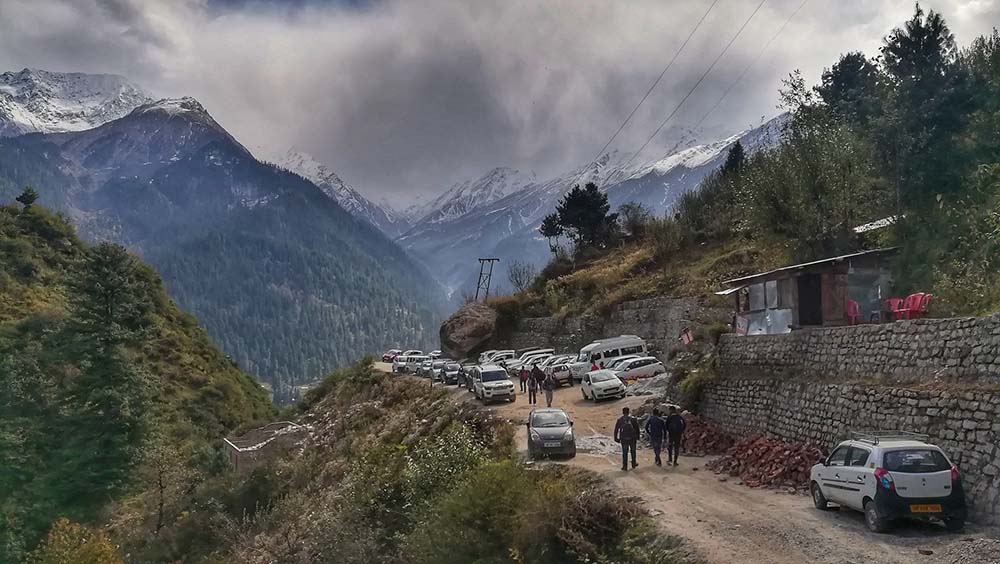 Tosh Village from the other side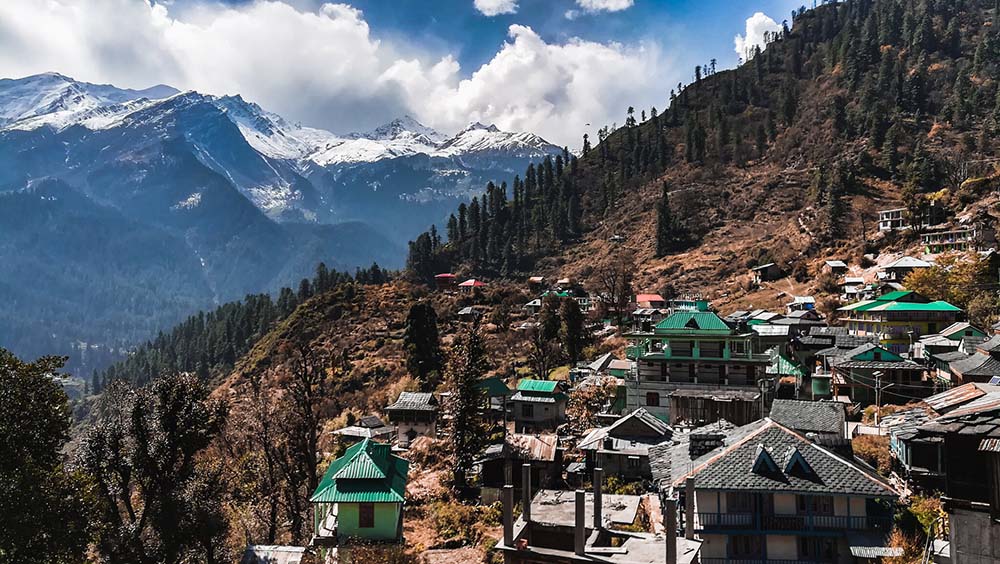 On the way to Kutla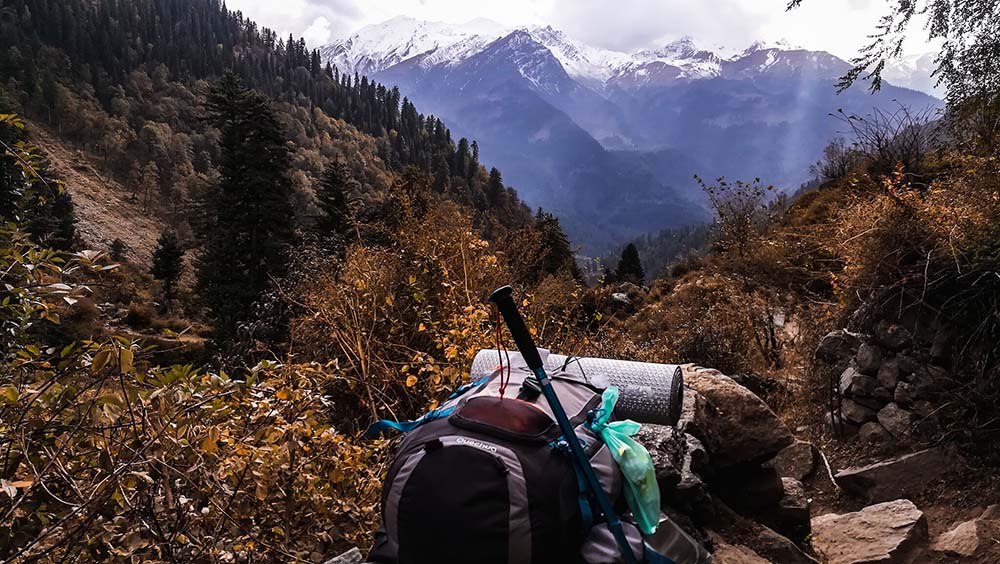 Waterfall Cafe
After an hour or so, I reached the waterfall café. At this spot, several cafés have been put together on the way to the waterfall of Tosh River. You can sit with your feet in freezing water and enjoy tea and Maggie and other stuff. I sat there for a while and had tea.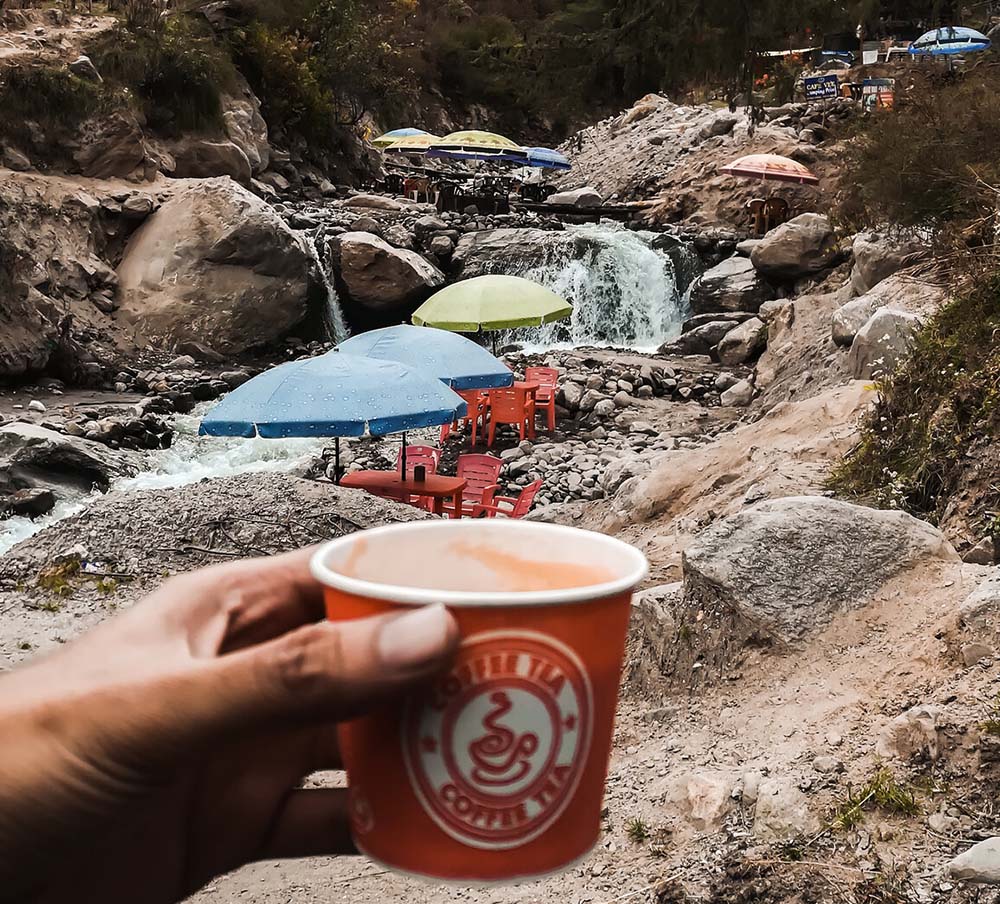 My leg started to show signs of stress and as a backup plan, I even decided on a camping spot nearby. The café owner told me that from here, the trek is just uphill and has steep and dusty patches which would be difficult with the heavy rucksack. People only do a day hike to the place and don't stay there at night.
I rested for a while and moved up. On the way, it started raining and it was a hailstorm. I found shelter beneath a bunch of trees where a group of four people was already sitting. I learned they were from Chennai and came all the way to have their first trek here. One of their members was having pain due to a pulled hamstring during exercise.
I asked if he needed any help, but he just wanted to rest for a bit. I pulled out my poncho and covered my bag with rain cover and left the place. The rain stopped very soon and it was getting colder.
Kutla Village
The climb up was tough for my tired body and I would take more breaks than usual, but still, I didn't want to stop. The path turned really muddy and full of slippery muck that was making it hard to stay the course.
Having a hiking pole helped a lot and I kept my foot firm to avoid any twisted ankle. Having screws close to the ankle makes a simple twist to the ankle a gut-wrenching experience. After about an hour, I saw a small cottage on the top and it marked the entrance of Kutla. I sat there and heaved a sigh of relief.
Also Read: Budget Trip to Kasol – How to Reduce Kasol Trip Cost
Shiva's Peace Cafe
I went to the first cottage that came and asked for some tea. The place is named Shiva's Peace Point and is run by an old man and his grandchildren who stay there till winters allow it to be inhabitable. After some time, the group I met also arrived at the place.
They actually had contacted the place before leaving and had the stay planned in the rooms available. There was just one room available and they were ready to adjust in the same to spend the night.
The charge was Rs. 800 – 1200 for the room. The cottage is built with a wood frame and stone walls, which is the authentic architecture of the area.
Shiva's Peace Cafe
Since it felt like it would rain in the night, I asked if I can pitch my tent inside the fence and stay there. The owner told me a charge of Rs. 200 and agreed. I could have stayed outside, but I felt it's better to stay around since the weather could take any turn in the mountains. They had Maggie and bread-omelet for quick bites and Dal-Chawal for dinner. I brought aloo-paratha from Tashi Café in Tosh, so I was covered for the food.
Getting there was nothing short of an accomplishment for me and I felt proud of myself, but still, I had halfway to Buddhaban camping ground, where I planned to go the next day.
I pitched my tent and settled for the night. It was hailstorm all night and the temperature dropped to as low as -5 and I could feel my 5* C rated sleeping bag being insufficient. I put up another layer of a fleece jacket and woolen socks to keep myself warm.
Buddhaban Trek Day
The next morning I woke up around 6 AM and sat under the sun till I could. It felt really good and rejuvenating after such a long time. This part of solo travel makes me go back again and again to such endeavors.
Being around the mountains, under the fragrance of pine trees, with the sound of small rivers traversing through the narrow paths, and absolutely no one to bother you with senseless chitter-chatter.
It was around 8 AM when I saw people walking around and making their ways towards Tosh village. I went back to the cottage and asked for some tea and packed my tent for the way up. They didn't have any paratha and I don't eat eggs. So I had to do with trusted Parle-G to get the energy.
Mornings Be like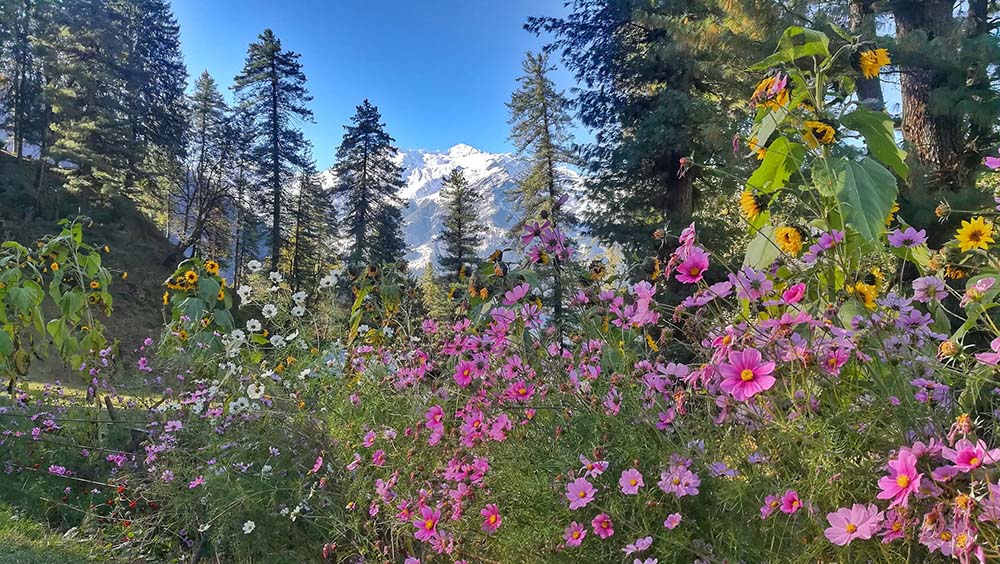 Start of the Trek to Buddhaban
I asked the way up to Buddhaban Trek and took the beaten path towards the Buddhaban camping site. The place is true to the sense where the destination doesn't matter but the journey makes it worthwhile.
The camping site itself is nothing out of the ordinary and pretty average for the Himalayan camping experience, but the path leading to it makes it really enjoyable.
There was no one except a few ponies and serenity around the place. I found a place where I could pitch my tent safely and stay the night. I stayed around, making time-lapse, general videos, writing random thoughts, and just doing anything that could stop time. Yes, I finally reached the end of Buddhaban Trek and it felt like an accomplishment.
Around evening, an Australian traveler came over and asked me if I am staying the night and on confirming, pitched his tent next to mine.
Also Read: Parvati Valley – A Complete Travel Guide
Camping at Buddhaban
We chatted for a while, shared a meal and experiences of life until it started raining back. We both went inside the tents and wished a good night. Later at night, it was freezing cold when he asked me if I had any spare woolen or jacket, I hadn't.
I only had one pocket windcheater, which was not sufficient for him. Then suddenly he realized he had a stove and I had instant soup packets. We put water on the stove and had the most amazing soup in the world at a place where all you could feel was cold winds and hear the sound of the Tosh River making its way through the valley.
Towards Buddhaban
Buddhaban Camping Ground
Return to Kutla Village
The next morning, we had coffee together and he left after a while. I had a bus from Bhunter at 8:30 PM. So I had a lot of time. I soaked in the synergy of the place until I could and started hiking towards Kutla.
I made a quick stop at Shiva's Peace point and had Maggie and tea. Then all the way back to Tosh, where I could see lots of people making noise at the waterfall café. The way back was much easier and I was sitting at Tashi's café by 11:30 AM and having one of the best masala chai with Aloo-Parathe.
Also Read: Parvati Valley Trip Itinerary – The Best Way to Plan your Trip
I just sat there till 12:30 PM talking to Tashi and several travelers who stayed. I observed that most Indian tourists were just sitting and smoking, while foreigners were just relaxing and experiencing more of their surroundings.
Tashi's Cafe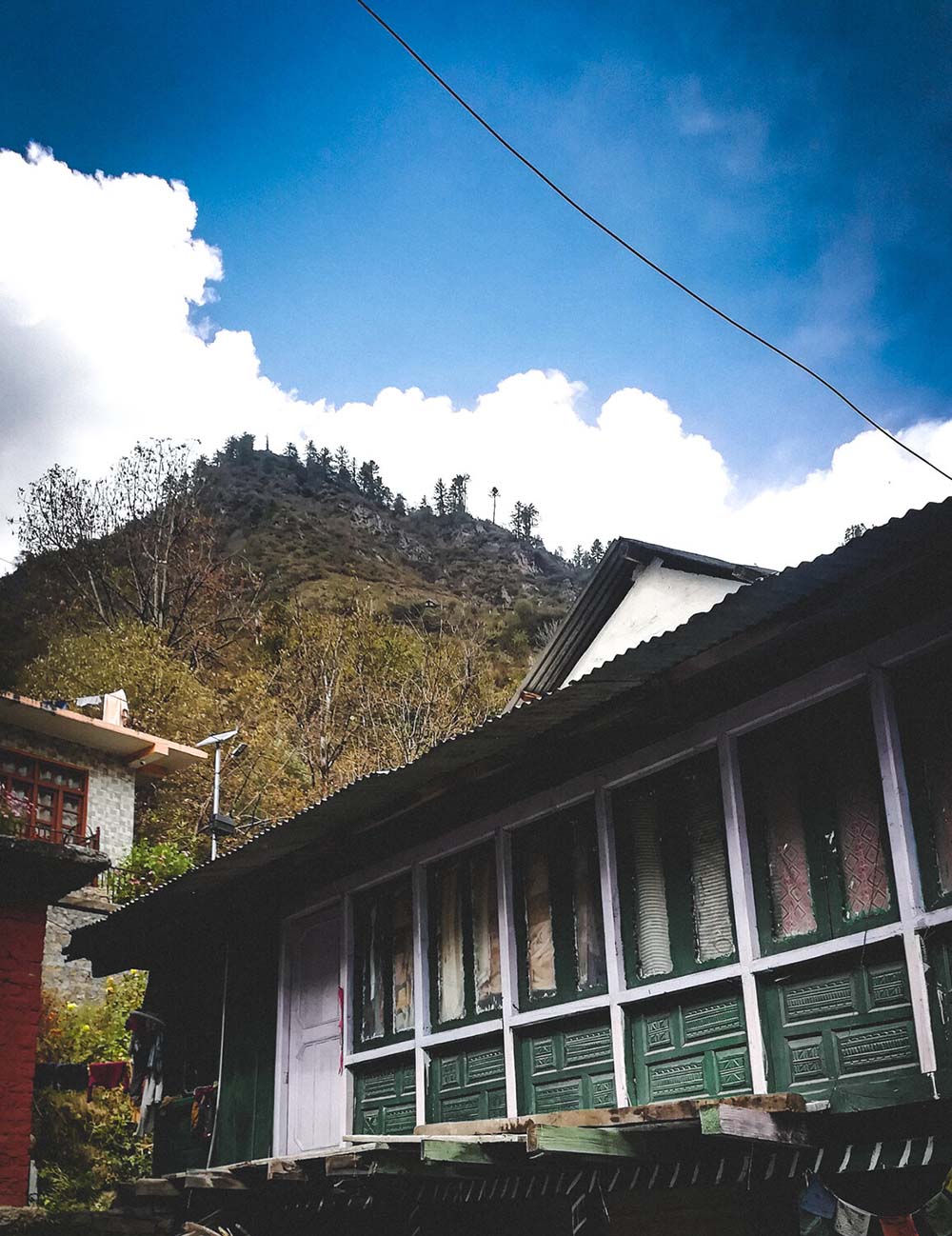 Back to Delhi
From Tosh, I boarded a taxi which took me to Barshini and there I boarded a Bus at 1:30 PM which took me to Bhunter via Kasol and Manikarn. By 6 PM, I was having Samosa and Chai at Bhunter.
The bus was supposed to be arriving near the Flight View Hotel where lots of people were waiting for their bus and had lots of fruit shops. I too bought half kgs of apples and found a place to sit a little away from the crowd. The bus arrived on time and all I had to do was, just sit the entire night until morning. This marked an end to my Buddhaban trek. It may be an easy trek but to me, it was nothing short of achievement at that time.
Every time I go on such trips, it's always sad to get back to polluted Delhi/NCR, but there is nothing else I can do. It was the trip I needed to recover my body, mind, and soul, and a successful one for that matter.
Also Read: Darma Valley Trek – How to BEST Plan your Trip
Buddhaban Trek Cost and Other Details
Bus and Taxi
Delhi to Bhunter – Rs. 629 HRTC Ordinary Bus
Bhunter to Kasol – Rs. 56 HRTC Ordinary Bus
Kasol to Tosh taxi – Rs. 900
Tosh to Barshaini – Rs. 300
Barshaini to Bhunter Bus – Rs. 90 HRTC Ordinary Bus
Bhunter to Delhi Volvo – Rs. 1300
Stay: Rs. 200 for staying in Shiva's peace café perimeter. I camped at Buddhaban and returned to Delhi.
Food and Misc: Rs. 600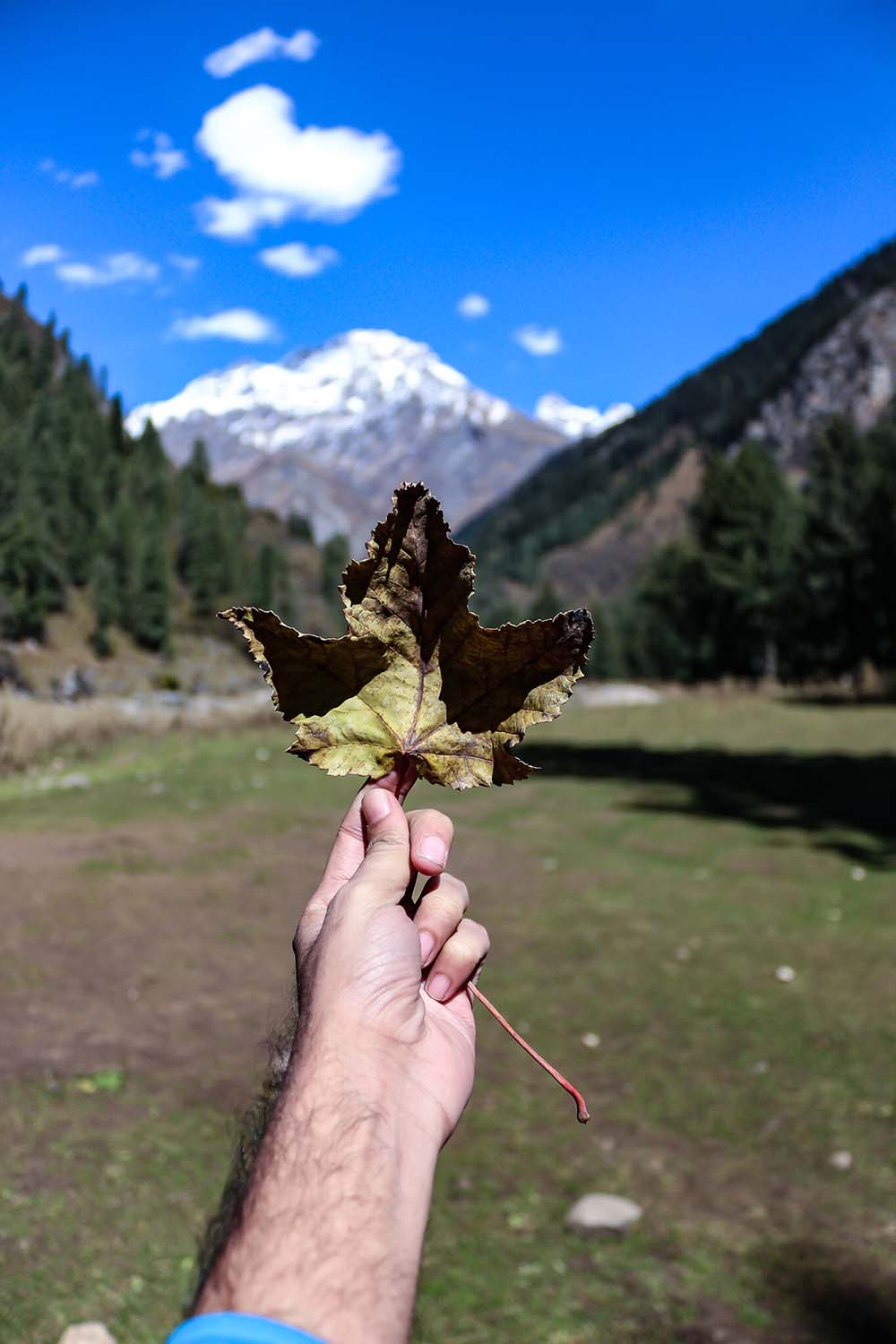 Buddhaban Trek – Conclusion
I hope the travelogue and information on Buddhaban Trek were of help. If you have any questions or need any other details, please feel free to ask in the comments section below or at our Community Forum, and I will be glad to answer.