Me, along with a bunch of friends (you can find them in my other articles as well), decided to bunk our internship and go on a bike trip to Dharamshala and Mcleodganj. Though we were on a tight budget, we still managed to squeeze the most fun out of this trip. In this article, I will provide a detailed log of our ride, and talk about some other necessary details about traveling to Dharamshala and Mcleodganj.
About Dharamshala
Dharamshala is one place that is accessible by most and is jaw-droppingly beautiful. Good food, good people and great vistas, it has everything. This small city in district Kangra is surrounded by beautiful Cedar forests. It lies at an elevation of 1457 meters from sea level and is at the edge of the Himalayas. This travel guide will give you a fair idea of the place before you plan your trip.
Also Read: Dharamshala Mcleodganj Trip – How to Plan & What to See
How to Reach Dharamshala?
I will be talking about bikes later in the article; but before that, let us first talk about different modes of transport available for reaching Dharamshala. Taking that Delhi is a starting point for many, I'll show the ways from there. Both Dharamshala and Mcleodganj considered as the very heart of Tibetan Buddhism in Indian and hence, are very well connected with nearby cities.
Dharamshala by Bus
There are a total of five AC seater buses from ISBT Kashmiri Gate to Dharamshala.
AC Deluxe (HRTC)
Boarding from – ISBT Kashmiri Gate
Boarding to – ISBT Dharamshala
Bus Timings – 08:30 AM to 10:30 PM
Total Duration – About 11 Hours
Total Distance – About 500 KMs
Fare – INR 1400
Booking – HRTC Official
There are a total of six Non-AC seater buses from ISBT Kashmiri Gate to Dharamshala.
Non AC (HRTC)
Boarding from – ISBT Kashmiri Gate
Boarding to – ISBT Dharamshala
Bus Timings – 06:30 AM to 11:05 PM
Total Duration – About 12 Hours
Total Distance – About 500 KMs
Fare – Average INR 750
Booking – HRTC Official
Dharamshala by Train
There are very few trains that halt at Pathankot. Pathankot is the nearest railway station to Dharamshala. it is 90 kilometers from Dharamshala and takes about 3 and a half hours to cover the distance by bus.
Boarding from – Delhi, Delhi S Rohilla
Boarding to – Pathankot
Train Timings – 08:20 AM to 11:15 PM
Total Duration – About 11 Hours
Total Distance – About 460 kilometers
Fare – Varies by Class
Booking – IRCTC
From Pathankot, you can take an ordinary bus to Dharamshala. There are a total of five buses and the fare ranges from INR 154 to INR 165. The first and the last bus leave at 5 AM and 10:35 am respectively.
Dharamshala by Air
Air India and Spice Jet are operating in this region. Gaggal is the airport in Kangra District where you'd land. It is 18 KMs from Dharamshala and can be covered in under an hour.
Boarding from – Delhi
Boarding to – Gaggal
Flight Timings – 06:30 AM to 02:30 PM
Total Duration – About 1.5 Hours
Fare – INR 4000 (Economy). Travel on Thursday for the cheapest flight.
Bike Trip to Dharamshala
Below is a detailed log of our trip along with some pictures. I hope you will like the write-up.
Day 1: Jalandhar to Kangra
Since Siddharth had made up his mind to attend the first half of the lecture, we decided to leave our campus after lunch. But that did not work out very well because Punjabi people know how to make lunch which would fulfill your soul. And to digest that kind of lunch one would need to walk 10 kilometers.
Navigating out of the city was pretty easy and you could start riding the ghat section after Hamirpur.
We were all new to riding the ghats but one of us was super low on confidence. It's evident that we did not take our parents' permission to bunk our internship's lectures and ride to Dharamshala.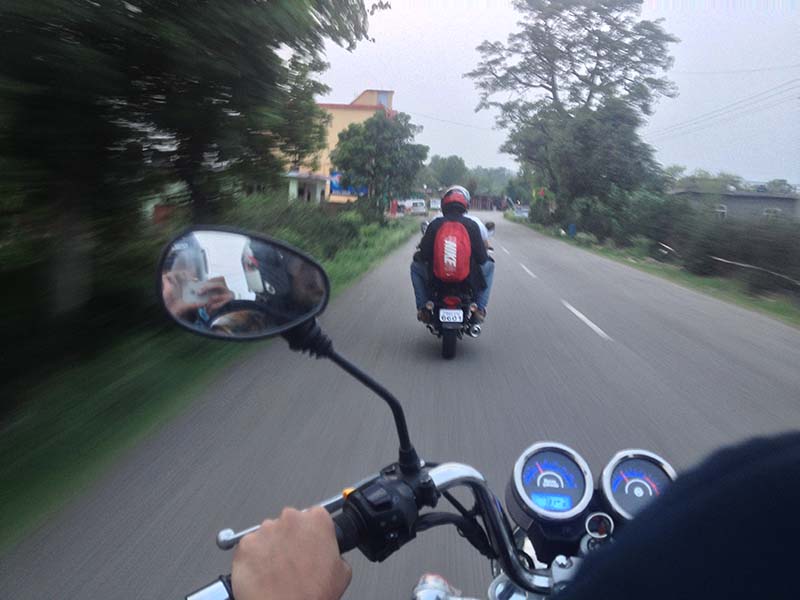 Nishant wanted to get back to his home in one piece and he decided not to cross 30 km per hour. He clearly was holding us back. Siddharth being his riding partner (he is 6'1" and weighs anywhere around a quintal), insisted on letting him drive for the Ghat section. I don't know if Siddharth ever sat on the back seat for the rest of the trip!
We rode with multiple stops for filling fuel and refueling our bellies. It was getting darker and more difficult to see the oncoming traffic as the motorcycle rental agency had gifted us with some supreme quality helmets which had terrible visors. It was getting more difficult to see and so we decided to make a stop at Kangra for the first night.
The great thing about that was that Kangra had some awesome street food lined up for us; and equally difficult was to eat there since we were not the only ones who were hungry like wolves. We had the best Rara chicken in a restaurant nearby and ended the day at our hotels' comfortable beds.
Day 2: Explore Kangra
Before leaving Jalandhar we had made a pact that we would spend as much time as it would take to explore the place completely (unless we run out of money first). So, we began searching for a place to have an overwhelming breakfast. The hotel's breakfast was too expensive to afford and so we decided to ride to the Kangra Fort; as a little birdy told us that there were some fantastic food joints near the fort. I would not call them food joints per se; they were more like small shacks with heart-warming people to serve you fantastic food. We ordered 'Aalu ka paratha' accompanied by chai and it turned out to be absolutely delicious.
The lady who had served us the breakfast was gracious enough to point us to the ticket counter for the Kangra Fort. I think it was the first time that it did not bother me to pay for the ticket; since I could already see that the fortress was very well maintained and clean. We took our own sweet time to walk around the whole fortress and click some stupid funny pictures.
The fort infused a feeling that how puny we are in this big world. It is situated at a substantial height and has only one entrance. So, from the other end of the fort, you could actually see the whole Kangra valley.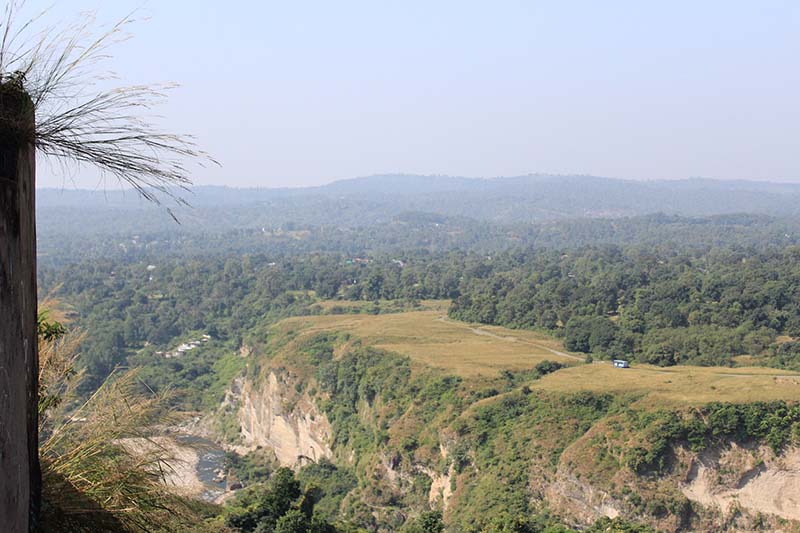 After 4 hours of chit-chats, posing for the camera, and walking around the whole fort, we decided to spend some time at the river that flows beneath the Fort. It was clean, it was quiet and it was mesmerizing.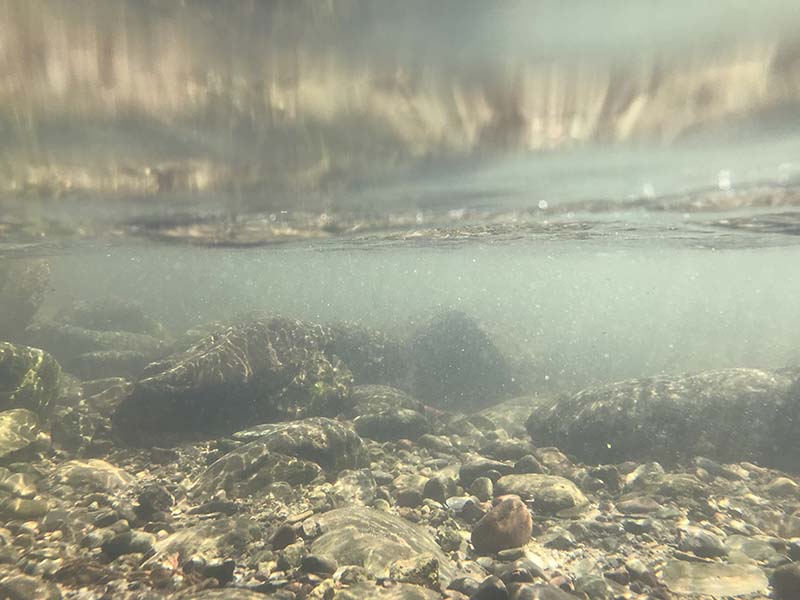 Palampur
For lunch, we took the road back to the town and had some Thukpa and momos at Ammy's restaurant. The restaurateur pointed us in the direction of Palampur as we had decided to ride around that small town in the vicinity of Dharamshala. At this point in time, Vishwaraj, who has some influential friends managed to book a Government guest house near Palampur.
At this time, I got an idea of wearing a face buff from Royal Enfield. There was no dealership around and so we had to ride to the town. The roads shrunk to one lane, keeping its unblemished texture.
We got awestruck when our eyes captured the mighty Dhauladhar range peeking at us from the curtain of thick clouds. Trivial Face buff from Royal Enfield was bought and we started riding back to our guest house. It had already begun to get dark and the temperature starting to drop.
Fools that we were, it never bothered us to wear some warm clothing. The temperature kept falling. We couldn't ride above 20 km per hour till the time we saw a billboard saying, 'Beware of Black Bear'. That was pretty motivating and forced us to pick pace. Quickly, with our running noses, we reached our guest house.
I could feel the tension and death gaze everyone give me at the dinner table. This is how the second day ended.
Also Read: Best time to Visit Mcleodganj and Dharamshala
Day 3 – Dharamshala and Mcleodganj
In the morning we rode out to Dal Lake. The traffic was really low and the air was fresh. After parking our motorcycles, we spotted a small restaurant where we had our breakfast and we filled our bellies.
We just sat around the lake for an hour. After soaking in the freshness we decided to absorb some more of that and took the road to Naddi village. It has some gorgeous viewpoints. We spotted one and rested for a while in front of the Dhauladhar range. We even followed some small trails and found them all to be equally breathtaking.
After a while, we left for the main square where we would have our lunch and leave for the secretariat. The secretariat was really flocked with tourists and still, it managed to be a quiet place.
Also Read: Trekking and Camping in Mcleodganj & Dharamshala
Bhagsu Nag waterfall was next on our list. We parked our bikes at the parking lot and reached Bhagsu Nag Temple on foot.
After 15 minutes of a climb, we reach the waterfall. The experience got even more pleasant when we had chai and pakodas at a small restaurant nearby. We then traced the way back to our bikes.
The world's highest cricket stadium was waiting for us next. The stadium has a chain of Dhauladhar ranges in the background. It was really mesmerizing to see such well-planned architecture at such altitude.

We almost covered all the hotspots around Dharamshala and Mcleodganj. Now it was time for us to ride back to our guesthouse where we ended this trip and returned to Jalandhar the next morning.
Also, we had spent all our savings, so we could not go to Triund this time. Typical broke college students, eh?
Where to stay in Dharamshala and Mcleodganj
Listed below is some information about where you can stay in Dharamshala and Mcleodganj during your trip.
Hostels – "I'll pay with peanuts"
Hostels have been a choice for many budget travelers for a long time. It is also a good place to mingle with like-minded people. There are many good hostels in Dharamshala that can be booked in advance from hostelworld. The price range varies from season to season. You can expect a bunk bed anywhere between INR 350 to INR 600 for a night.
Hotels – "I'll pay in cash"
There are many good hotels which would not leave a big hole in your pocket. My personal favorite is the Hotel King Castle. It is at a great location away from the crowd. You can have a great view of the Dhauladhar range from here. There are many more 3-star hotels in Dharamshala. Google is your friend. The price range would be INR 1400 to INR 3500 for a night for a room.
Also Read: Monasteries in Mcleodganj and Dharamshala
Luxury Hotels – "I'll pay with my credit card"
While many enjoy backpacking trips and travel on a shoe-string budget, there are people who spend a considerable amount of money on their stays. If you someone who likes to laze around in big-luxury hotel rooms, there are properties that will fulfill your desire. One of the popular ones is Moksha by Fortune Hotels. It has a lot to offer. You have a swimming pool, yoga center, great restaurant, and it has a jaw-dropping view. The hotel is located in Mcleodganj and can easily be driven to.
Camping
Camping is fairly popular among nature enthusiasts. There are a few sites where you can pitch your tent and enjoy the serenity. Though keep in mind that you got to ask for permission from the land-owner (if any) to avoid any consequences. Follow the basic rules of camping and enjoy to the fullest.
What and where to eat in Dharamshala?
Dharamshala is known to shelter many Tibetans. So, naturally, people cook authentic Tibetan food here that you can feast on. If you do not like to experiment with your taste buds, there are many Punjabi Dhabas and restaurants that offer good North Indian food. Some offer South Indian cuisine, too, but the region mainly has North Indian and Tibetan cuisine.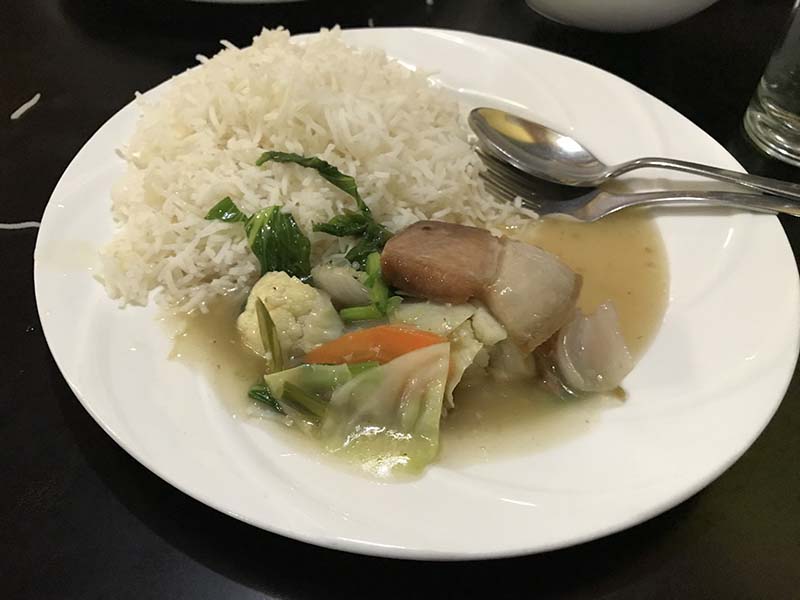 I have had a great time eating at Tibet Kitchen. It is a pretty cramped place, but the food is really tasteful. They have Bhutanese, Tibetan, North Indian, and South Indian cuisine on their menu.
For a quick bite, you can explore the cafes. Some of the famous ones are Illiterati, and Common Grounds (Food is fairly priced unlike Illiterati). Both these cafes offer a good variety of Tibetan dishes and of course, they make Momos, too!
Even if you wander on the streets, you can find a lot of food stalls. They have some magical foods for you. Many can be spotted making steamed Momos and Thukpa. You know Momos, so I'll go on and tell you what Thukpa is. It is a traditional soup made with noodles, freshly cut vegetables, and meat. It is inclined towards spicy and will make you comfortably warm in extreme winters. So, do not forget to try Thukpa when you visit Dharamshala.
Also Read: Places to visit in Mcleodganj and Things to Do
Places to visit in and around Dharamshala
Listed below is a list of tourist attractions in and around Dharamshala, Mcleodganj, and Kangra.
Tea Gardens in Palampur
Spread over a thousand hectares, the tea gardens of Palampur are wildly famous for their high-quality tea. Often called heaven for the tea lovers, these tea gardens were started by Dr. Jameson, who was the Superintendent of Botanical Gardens, North-West Frontier Province back in the 1800s.
'Kangra Tea' is one which is so great that 90% of its yield gets exported out of the country. If you want to see the whole process of plucking, picking, and processing, you should visit Palampur Co-operative Tea Factory Limited which is very near to Palampur. You can reach Palampur Tea Garden from Dharamshala by taking a local bus or hiring a cab. The distance is about 35 kilometers and will take 40-50 minutes.
Naddi Village
Some people travel to take time out from their daily chores and just sit back and relax. If you belong to this category, then Naddi should be on your list. Located at 7152 feet from sea level, Naddi is a 3-kilometer walk from Mcleodganj. This place is so mesmerizing that you would want to stay here for as long as you could. Fresh air, green hills, blue sky, and beautiful vistas are what Naddi is all about. You can just stand at any viewpoint and let your mind soak in the beauty.
Naddi has an annual 3-month fair from April onward. And fairs in Himachal Pradesh are always a bit different from the rest of the country. If you happen to be there around that time of the year, do visit this place.
Mcleodganj
Inhabiting a fair amount of Tibetans and helping them preserve their culture has been a thing in Mcleodganj. Mcleodganj is the place where you can find Tibetan handicrafts like Thangkasa, carpets, garments, crockery, and other souvenirs. Mcleodganj abodes Tsuglagkhang or Tsuglag Khang, the Dalai Lama's temple. It has many cafes where you can have a taste of Tibetan cuisines, too. You can also do shopping at Mcleod Market. Shopping for things like jackets, souvenirs and eateries can easily make you kill time here.
Triund
A large grassland for animals to graze and make their shepherds happy, Triund, is situated at 9328 feet from the sea level. It is a beginner-friendly trek of 10 kilometers one-way. The trek is well laid but rocky for the most part. A memorable road goes up to Galu Devi temple and from there you walk 6 kilometers to the top.
The trail is accompanied by Deodar forest and one can hear the stream flowing nearby the whole trail. A popular way of doing this trek is going up via Dharamkot and coming down via Bhagsunag waterfall.
This place has been a tourist attraction for a long time; and due to excessive littering, the government has recently banned overnight camping there. There are a few cafes en-route which are still operating including the Snowline Café. So, take your camping gear and plan a trip to Triund as it is totally worth it. Ask the officials where you could camp and they'll be happy to help. Mcleodganj from the top can also be seen well lit.
After the ban, people prefer a day hike to the top and race back down till sundown. It is a good idea since camping facilities have been abolished at Triund.
Also Read: Mcleodganj – A Comprehensive Travel Guide and Itinerary
Bhagsunag Falls
While coming back from or going to Triund, Bhagsunag falls is the one to look out for. The waterfall is located at a distance of 2 kilometers from Mcleodganj and can be reached by taking a short stroll. It is famous among the tourists for its water spring and the Shiv Temple nearby. The waterfall is hardly 20 meters high and is surrounded by trees. One can easily take a dip into the waterfall and have some Chai and Pakodas at the nearby café afterward.
St. John in the Wilderness Church
Surrounded by lush green forest, hence 'in the wilderness', St. John is famous for its Belgian stained-glass windows. It lies on the way to Mcleodganj when you are coming from Dharamshala. It was built in 1852 as a place of worship for the British soldiers posted here.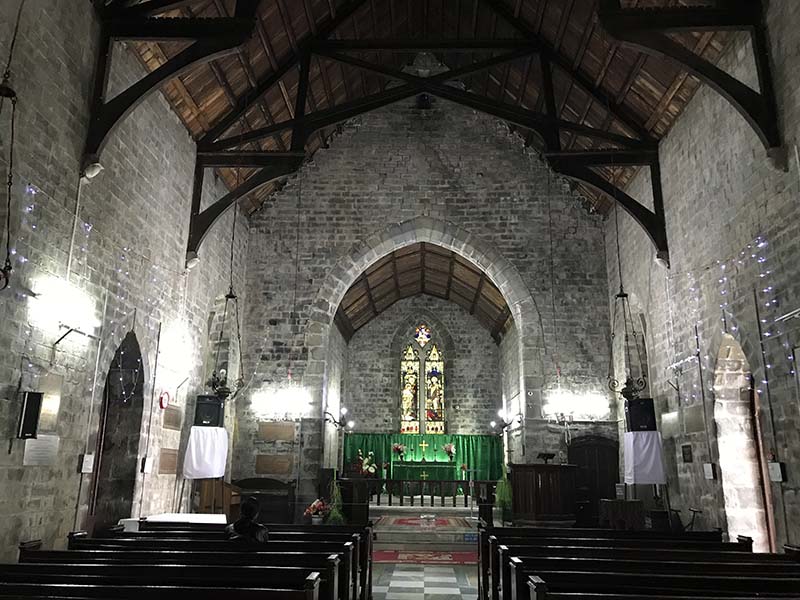 You can also see a lot of memorial stones of the ones who passed away here. The most interesting one is of Lord Elgin, the viceroy of India from 1862-1863.
When the earthquake almost shattered every building in the district, the church did not get harmed much. The only major loss was the bell which broke down. After a while, it was cast again by Mears and Stainbank and brought back all the way from England.
Kangra Fort
Built on a steep rock dominating the valley, Kangra Fort is located 20 kilometers from Dharamshala. The fort is known to be standing since the ancient times of Mahabharata. It is also the oldest fort in the Himalayas and probably the oldest in India as well. Due to being so old and greeted by the 7.8 magnitude 1905 earthquake, the fort has been damaged severely. It is now controlled by the government of Himachal Pradesh.
Near the fort is a museum run by the Royal Family of Kangra. It provides an audio guide for the fort and has a small cafeteria.
The Fort is well connected with transportation from Dharamshala.
Dal Lake
The greenish lake surrounded by Deodar trees has gained popularity over time. It is best enjoyed by just lazing around. You could easily spend an hour or so just sitting at a bench and soaking in the beauty.
It is mostly visited by tourists in September when a fair is organized by the Gaddi tribe which marks the presence of Lord Shiva.
One can drive all the way to the lake and park their vehicle in the parking lot. There are small cafes, too, in case you make a mind for a Kadak Chai!
Also Read: Triund and Snowline Trek Mcleodganj
Can we go to Dharamshala Cricket Stadium?
Yes, you can. There are no restrictions whatsoever to visit the place. The place is worth a visit as it is among the highest sports facilities in the world.
Staying at Dharamshala or Mcleodganj?
It depends on what mood you are in. If you want a calm and serene stay, make a night halt at Dharamshala. On the other hand, if you can afford the hustle-bustle of a typical tourist place, go stay at Mcleodganj.
Best time to visit Dharamshala
If you love exploring the places you visit, then from February to mid-June would be perfect for you to visit Dharamshala. In the given time, you can enjoy the place as it won't be extreme weather and you can enjoy all kinds of activities, too. The temperature would range from 9 °C to 21 °C in the spring and 21 °C to 34 °C in the summers.
Cost of Trip to Dharamshala
Below is the breakdown of the cost incurred during our trip.
Bike rental: TB 350 – 1000*3 = 3000
Bike rental: Avenger 220 – 800*3 = 2400
Fuel: (TB 350) Total Distance – 550 km, fuel efficiency – 36 km per liter, cost of petrol ~ 72/L. This gives a rough total of Rs. 1100/-
Fuel: (Avenger 220) Total Distance – 550 km, fuel efficiency – 32 km per liter, the cost of petrol ~ 72/L. This gives a rough total of Rs. 1250/-
Stays: We paid only at Kangra, the guest house was free, courtesy of Vishwaraj. We paid 1500 for the room at Kangra. Though, rooms at Dharamshala or Mcleodganj would have cost us about the same. So, considering not all people have friends like Vishwaraj, the total for stays would be around 1500*3 = 4500. So, per person, it was 2250.
Meals: Momo, Thukpa, and Aloo ka parantha set us back 1000/day. For three days, it would be 3000.
The total for TB 350 – 9350 (On double sharing)
The total for Avenger 220 – 8900 (On double sharing)
Bike trip to Dharamshala and Mcleodganj – Conclusion
I hope the travelogue and information above on a bike trip to Dharamshala and Mcleodganj was of help. If you have any questions or need any other details, please feel free to ask in the comments section below; or at our Community Forum; and I will be glad to answer.