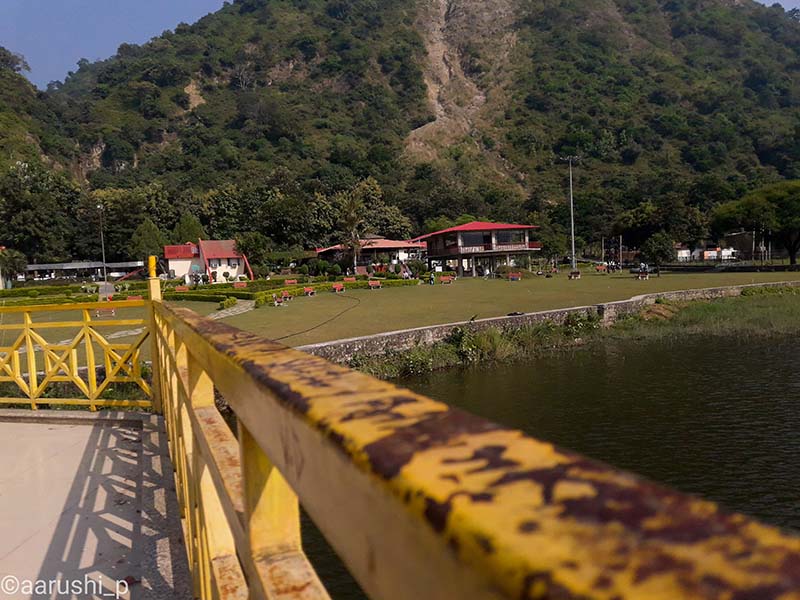 Have you ever felt the need to get away from the continuous madness of the rat race of life? Where you would just sit and relax amidst nature with few close friends and family enjoying the view and life or engaging in crystal clear sky for stargazing? If you have and have stumbled upon this post, then you are in for a treat because I have just the right destination for you; Morni Hills, a hidden gem of Haryana, and a perfect weekend getaway.
About Morni Hills
Morni is a small village located in the bosom of the Shivalik Hills of the Himalayas. It is an ideal weekend getaway near the cities of Chandigarh, Panchkula, and even Delhi. The serene atmosphere and breathtaking views might just make this spot one of your favorites. It's a perfect combination of history and mountain-like scenery. If you happen to enjoy your peace of mind in the middle of utter nature, this is the place to be.
And guess what? It is extremely budget-friendly too.
The village is said to be named so after a queen who once ruled the area two thousand years back. She was a just and noble ruler of her Queendom.
This place caters to crowds of various age groups, be it a picnic with kids and elderly members of the family; or chilling and vibing with your college gang.
Where is Morni Hills
The village of Morni lies on the mountainside, at an altitude of 1220 meters. It is at a distance of 250 kilometers from Delhi and 45 kilometers from Chandigarh.
How to reach Morni Hills
Morni is very well connected by road and easy to access. Depending on their convenience and preference, one can take their personal vehicle, use public transport, or hire a cab to get to this location.
It is located at a distance of 45 kilometers from Chandigarh and 35 kilometers from Panchkula, which takes about a little more than an hour of travel.
Morni Hills Bus Timings and Fare
Haryana roadways provide good connectivity with buses running at a frequent rate on the route. To travel by bus, one has to catch it from the Panchkula bus stand and the ticket fare is around Rs. 30 person; which is extremely cheap when compared to personal cabs. You can check the bus timetable online and can call the bus stand to confirm the availability of the bus.
By Taxi
You can also take a cab to the desired location, which might be a little heavy on the pocket as they usually charge somewhere around Rs. 2000 for a one-way journey. If you let the cab go, you will have no other option but to return by bus.
Also Read: Parvati Valley Trip Itinerary – The Best Way to Plan your Trip
Best Time to Visit Morni Hills
An ideal time to visit Morni hills would be the winter season, between September to March. The weather during the summer season can be a bit harsh and monsoon comes with troubled roads.  In winter, one can enjoy the sun's warmth relaxing by the lakeside.
Where to stay
There are several OYO Inns and resorts near and around the location which you can get at a discounted price.
Tikkar Taal Tourist Complex that is managed by the Haryana Tourism has a resort just overlooking the lake, which costs around Rs. 2000 for a standard and Rs. 400 per bed in a dormitory.
About 8kms from the lake, there is a Mountain Quail Tourist Complex which offers great hospitality in comparison to other lodges. Per night stay here costs around Rs. 2000 for a standard room and Rs. 3000 for a superior room.
Since ours was a budget trip, these places were be kept last in our list of places to stay.
I visited this place along with my friends in November 2019 and had a chance of staying at Anglers Paradise Resort. I absolutely fell in love with this place. One room cost us around Rs. 900  or Rs. 1500 including the meals. The rooms were a bit small but adequately furnished and the caretaker was an amazing cook. The best part of the resort is the view it offers!
We could see the entire lake from this property. It was barely 1.5 kilometers of a walk from the lake itself. The manager was gracious enough to prepare whatever we asked him to; which were mainly maggie, aaloo/paneer parantha topped with a dollop of Amul butter, and of course, a steaming cup of CHAI!
Another attribute I fell in love with, was the night sky. Imagine a full moon, clear sky with twinkling stars and a massive lake surrounded by hills in front of you. Endearing, isn't it?
My friends and I spent the whole night sitting under the sky, marveling at the beautiful view, playing guitars and singing.
Breakfast with a view!!!!!!!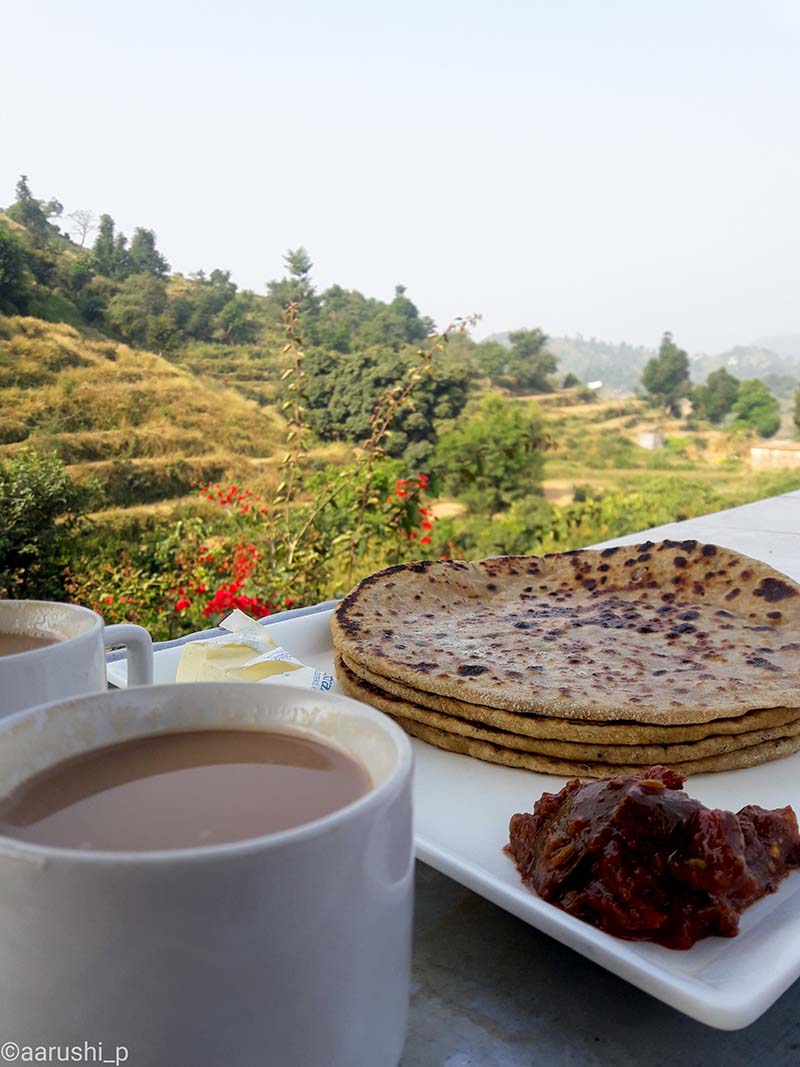 Tikkar Taal: a magnificent lake
Tikkar Taal, the king of our blog is an absolutely stunning man-made water body, surrounded by hills and a great expanse of lush greenery. These carpets of green are generally used for picnic spots by many tourists.
Don't forget to check out the resort run by Haryana Tourism, which is just beside the lake. For me, it was a stop to stock up on snacks and freshen up a bit as it had a decent washroom facility.
The adjoining restaurant offers fairly good food choices. One can easily gobble on Kadhai Paneer, Butter Naan, and Dal Makhni; prices of which were the same as everywhere else.
A group of 5 people can easily enjoy their meal under Rs. 800.
This place also offers a boating facility. So for those people who enjoy being surrounded by water bodies, can rent a boat for 30 minutes for Rs. 300 to Rs. 600, depending on the kind of boat you are taking.
Small canopy shed over the Taal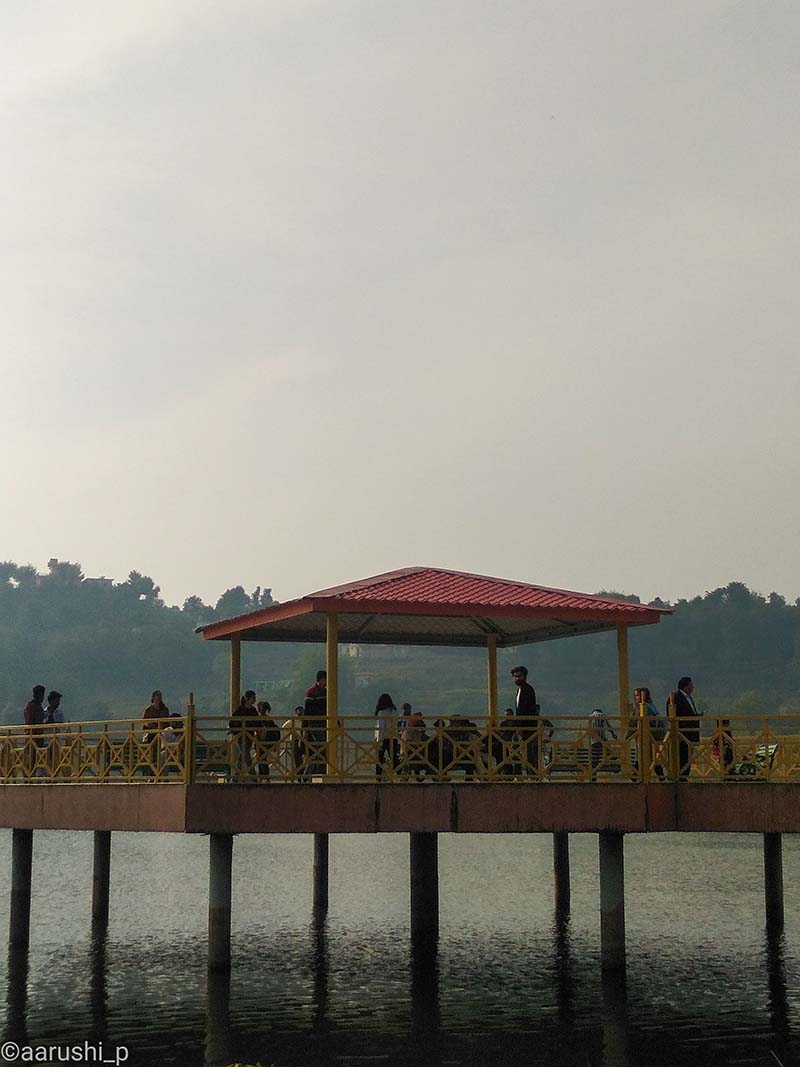 Boating scenes on the lake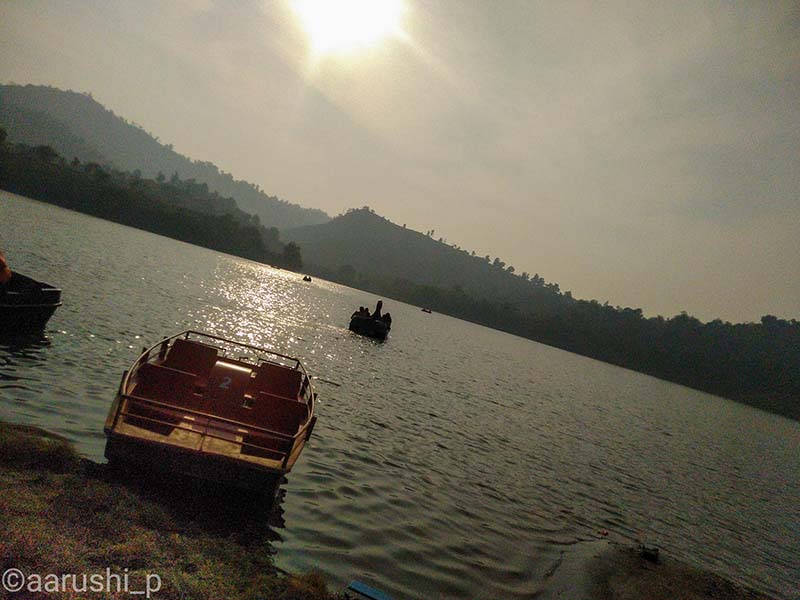 Morni Fort
Before you get to marvel at the serenity of Tikkar Taal, appreciating Morni Fort is also a great idea. This fort was built somewhere in the 17th century and was extensively renovated in 2009 for tourism.
It is open for 7 days a week from 9 am to 5 pm without any entry fee. Photography and Videography are strictly prohibited inside the fort building, but the peace and knowledge that this place offers are worth missing out on a few clicks.
After the renovation, all the new installations, covering many environmental and societal issues, were made keeping in mind that they should send out some positivity in the society.
Morni Fort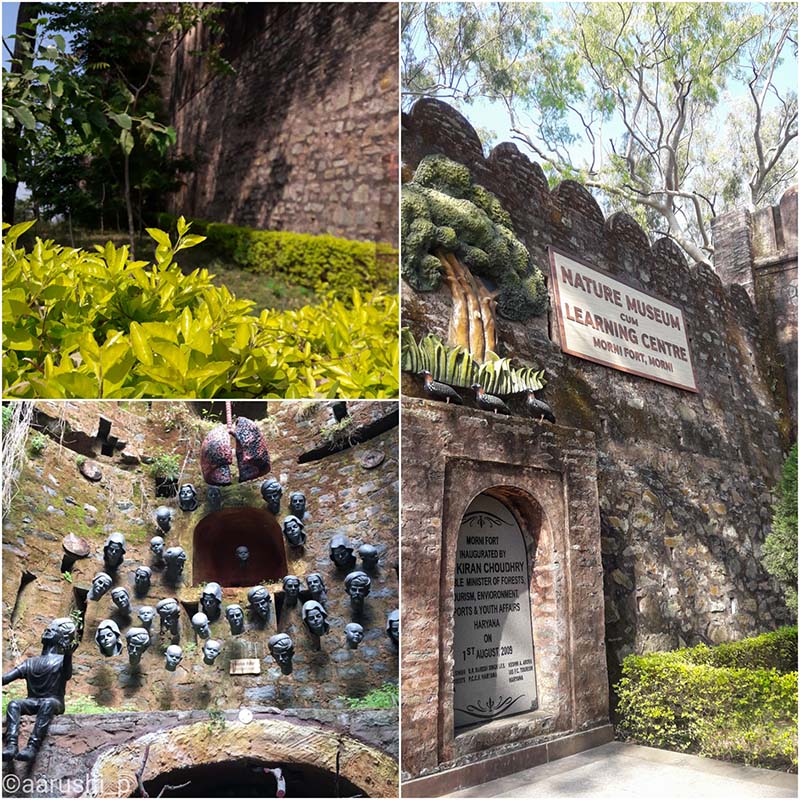 Adventure Park: Bring out the Child in You
The original name of the park is 'Hosh & Josh, Hills n Thrills, Adventure Park'. It was set up in 2004 to attract tourists. It offers various outdoor activities like a spiders web, river crossing, Burma bridge, rock climbing, etc. Though the efforts made in architecture were impeccable, still this place could not gather much of an adult crowd and later was locally stamped as a place where only kids would enjoy.
Also Read: Best Places to Visit in Malana Village – What to do in Malana
If you are planning to visit Morni Hills anytime soon with your kids, don't forget to visit this park, who knows, even you might have fun. There isn't any entry fee, just a parking fee of ₹50 for your vehicle.
The entrance of the Adventure Park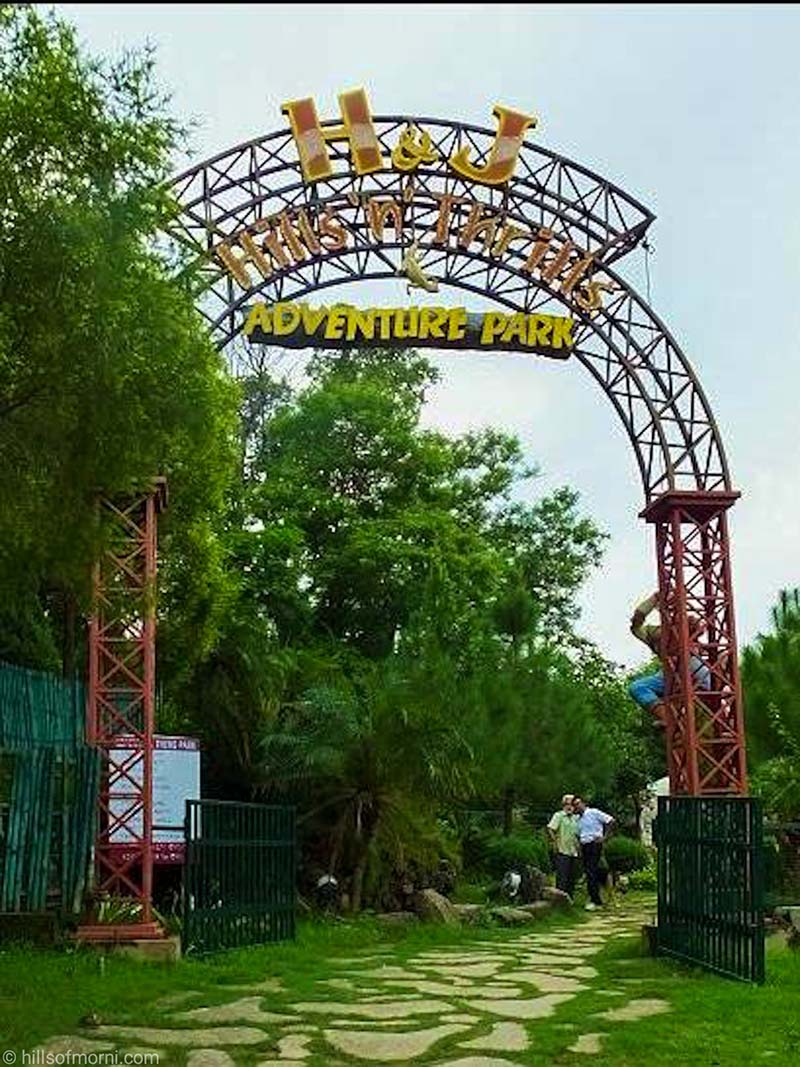 Other Tips
Keep the cash handy, as the ATMs are difficult to spot and online payments have their own network issues.
None of the mobile service networks work efficiently in this region, except for Jio Networks, which works staggeringly well.
I would advise you to plan your traveling in the daytime only. After the sun goes down, the place goes eerily quiet and empty due to the lack of streetlights.
It might be a smart move to carry your own supplies as all the tourist places have sky-high prices and very few shops.
Also if you are using any transport other than the public transport, please make sure that you have the exact location and good network connection because we were stranded for a while but a truck driver was helpful enough to give us a ride to our desired destination. Funny, right?
View from the back of a truck.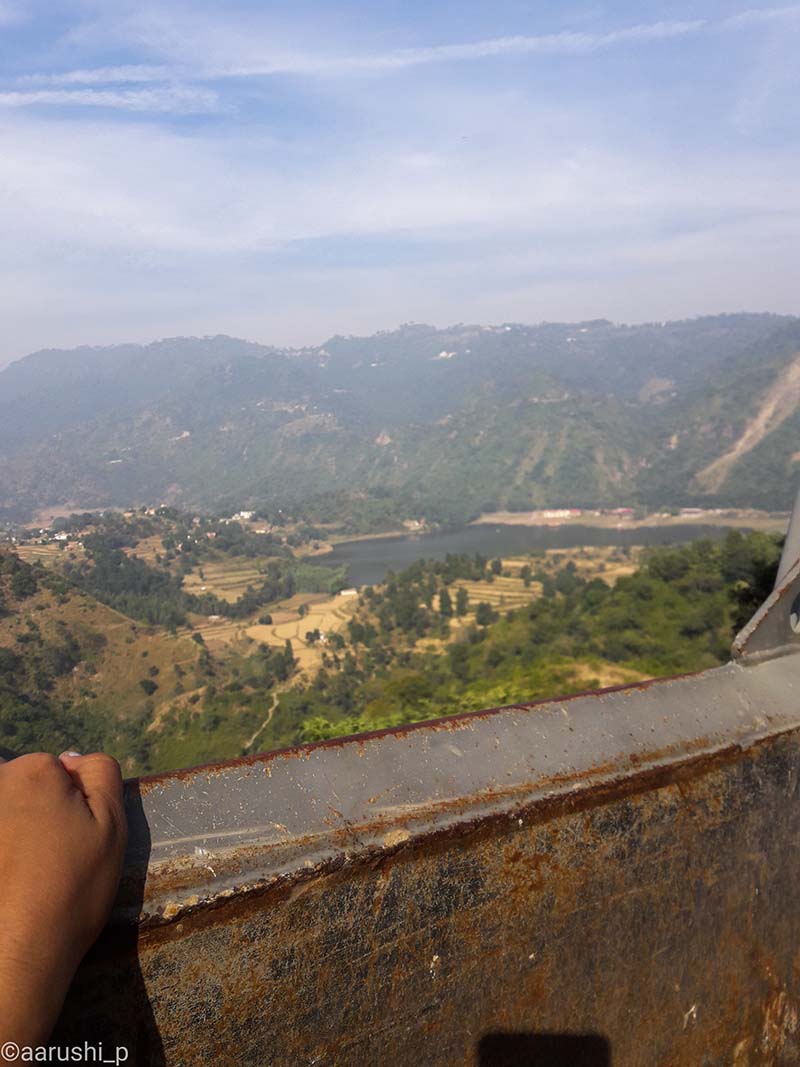 One of the major issues that authorities in hill stations face is that of littering. It's our duty as tourists to maintain the integrity of our travel destination. Please be cautious of the trash you bring with you and make sure that you either dispose of it properly or take it back with you.
Sunset at the Lake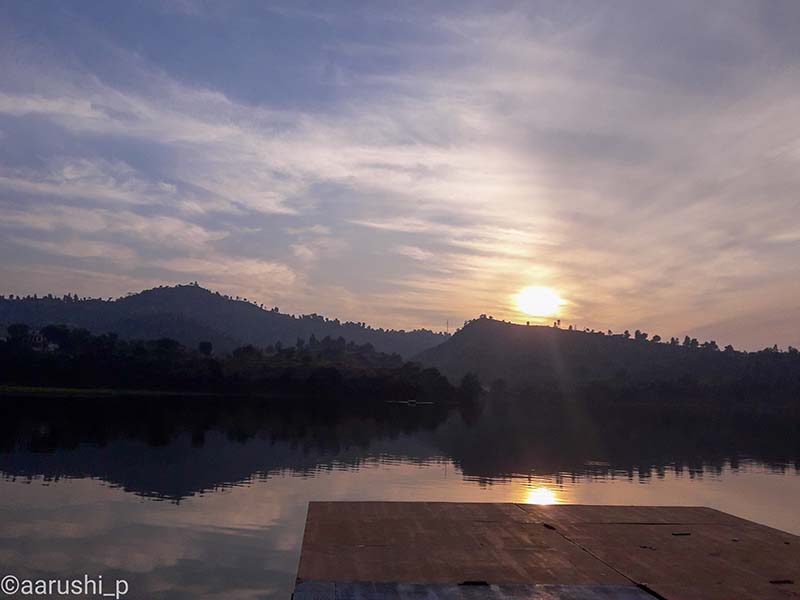 Conclusion
Every journey is different and every expedition comes with exciting stories of its own. Here lays, the insight of my experience of visiting this beautiful destination and I do believe that it's worth visiting.
I hope the information and details above on Morni Hill and Tikkar Taal were helpful. Go seek, what you aspire. If you have any further questions or need any other details, please feel free to ask in the comments section below, or at our Community Forum, and I will be glad to answer.