In this post, I will share details of my solo trek to Everest Base camp and Kala Patthar Trek which I did in the months of December and January. In the end, it turned out to be one of the best treks I have done in my entire life.
If you are into hiking, have done a few other high altitude treks, and want to take things up a notch, trekking to Everest base camp will well serve the purpose. Hopefully, my travelogue below can help you plan your trip better. If you have any questions, feel free to ask in the comments section at the bottom of this page.
Solo Trek to Everest Base Camp
Around the months of November and December, I started my solo EBC trek plan. The first step was to consult the most experienced, free-of-cost consultant, Google. As you can imagine there are tons of blogs and YouTube videos on EBC.
Browsing through a few, I got the required information. Trust me, after reading and watching, I was transported there already. Thanks to all the bloggers and you-tubers for providing this information and efforts they put in to help people like me.
How to Prepare for Mt Everest Base Camp Trek
As per my research, this is all that one needs for the trek. For a more detailed version of this information, please take a look at How to Prepare for Everest Base Camp Trek.
Typical Trek Duration is 2 weeks. This includes 8 days for Lukla to EBC and 3 days from EBC to Lukla.
1-2 days will be needed to fly in/out from Lukla to Kathmandu; assuming that weather and health are on your side.
Guide and porters are highly recommended
The trail is well marked. But as you get closer to EBC, the quality of the path deteriorates
The trail remains open all year long.
The best season to travel is from March to May and September to Mid November.
Very few trekkers attempt it between December and February.
It is difficult to find accommodation during peak season if you are going solo; unless you are trekking with a group/guide/potter.
Kathmandu-Lukla flight has a 10 kg check-in weight allowance. It is a small plane so no scope of extra payment.
No conclusive answer on the fitness level required for this trek. Basic good fitness would be okay, you do not need to be a marathon runner. Acclimatization is important.
And with the above information, I planned my trip
The start date of the trip was 27th December from India. I did not have a set return date and left it depending on how the trip would unfold.
To enhance the adventure of this trek, I decided to go solo, without a porter or a guide.
Everest Base Camp Trek Itinerary Solo
To be honest, I did not completely finalize my itinerary since I was keeping the return date open. But for the trek, I did have the dates and destinations planned. In the end, this is how my itinerary came out to be.
Also Read: What to Pack for Everest Base Camp Trek
Day 1- Delhi to Kathmandu
I boarded a morning flight, from Delhi to Kathmandu which landed in Kathmandu at 1 pm.
I booked a hotel in the Thamel area via Airbnb. The hotel was reasonable for Rs. 1000 /night. Thamel is a good place for food, buying trekking equipment, and any other last-minute purchases. I bought here some necessary items that I was missing.
A SIM card for Rs, 320 with 30 days validity, and 1 GB data. Call rates were Rs. 3/min for India.
Water purifying tablets for Rs. 350. It was a pouch of 50 tablets for 50 liters of water.
In the evening, I walked around the street of Thamel to get the feel of the place. It was not very different from Indian cities.
My flight to Lukla was at 7 am so I retired a little early.
In Kathmandu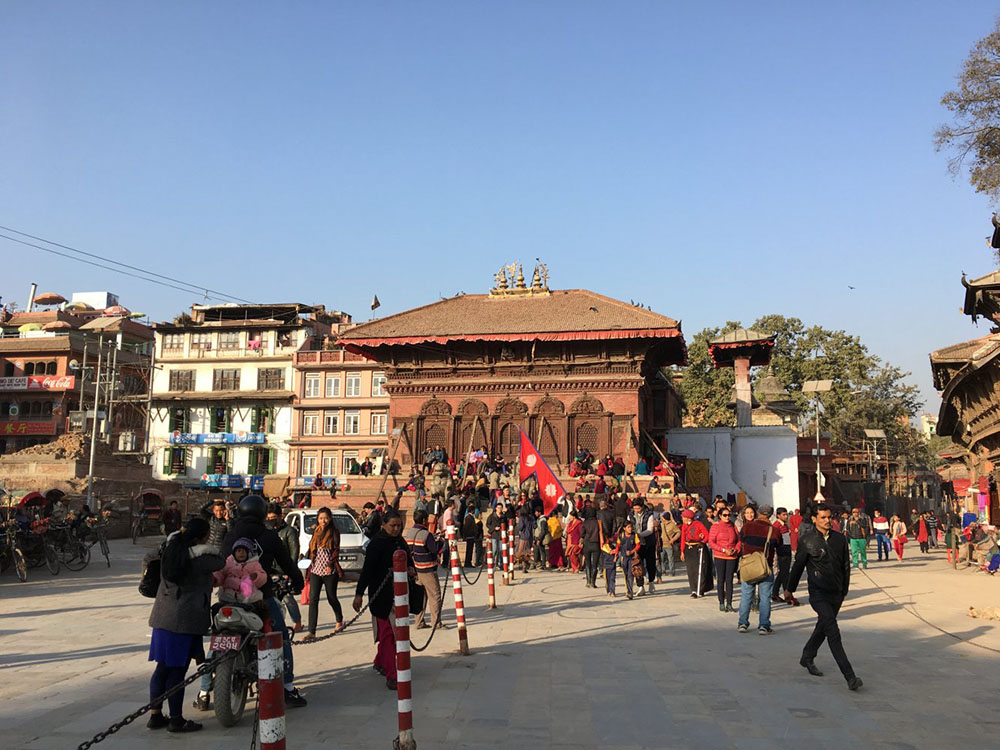 Day 2 – Kathmandu to Namche Bazaar
The plan for today was to catch a flight from Kathmandu to Lukla and then trek to Namche Bazaar. The excitement was high but I was also a little nervous knowing that there will not be many people on the trail and I was attempting it solo.
Kathmandu to Lukla
The flight to Lukla is an adventure in itself. Depending on the weather conditions in Lukla, the flight could be delayed or canceled at any time. So I was keeping my fingers crossed anyway.
To my good luck, it was a sunny morning in Kathmandu. It got my hopes high of reaching Lukla the same day.
Also Read: Best Time for Everest Base Camp Trek
I chose Yeti Airlines. Each plane carries 10 persons and each person is allowed 10kg. The flight was an experience of its own; both exciting and a bit scary. I was sitting right next to two pilots.
It is a unique experience to fly on these planes. The landing at Lukla Airport (2800 meters) is one of the most dangerous landings in the world. The very skilled pilot (as you would hope) is flying literarily sitting next to you. In other words, the EBC adventure starts as soon as you board the flight to Lukla.
My flight was on time. After 35 minutes of air, we landed at Lukla around 9:30 am. It was a beautiful sunny day and I collected my luggage.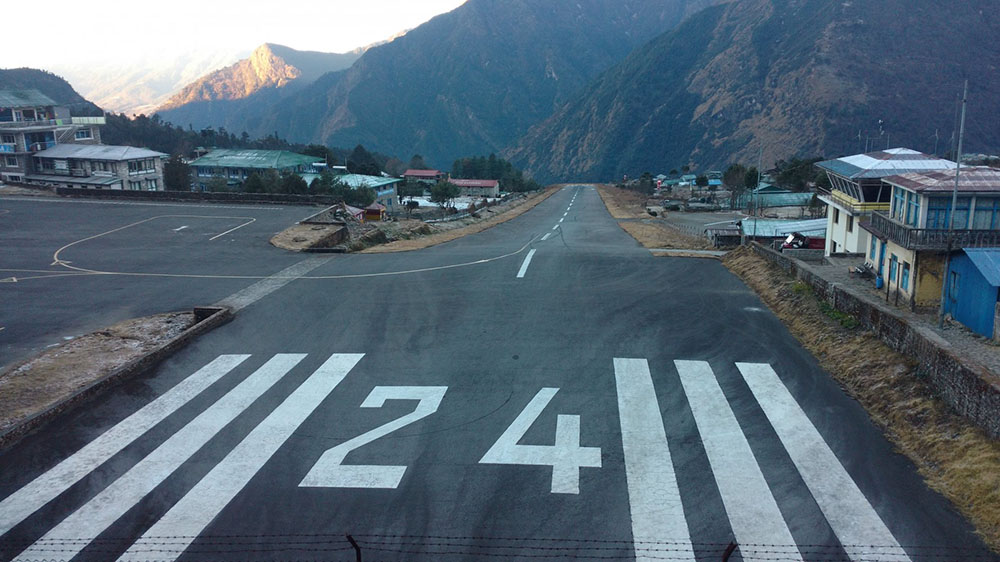 Lukla to Phakding
At Lukla, I got my permit and I immediately started walking to Namche Bazaar after a cup of tea. This was officially the start of my solo trek to Everest base camp.
I was carrying a backpack of 10-11kg. Other items only included a 1 kg Camera and a 1 kg refillable water bottle. So a total of total 12-13 kg of total weight.
Today's trekking plan was to go as far as possible and stay before it gets dark.
The trek was easy at the beginning as I moved from Lukla to Phakding. It was all 6-7 km of downhill walking, from 2850 meters to 2550 meters. It was a beautiful walk with numerous carved scripts, beautiful small villages, teahouses, rivers, and mountains.
At Phakding, after 2hours of trekking, I refilled my water bottles. It was around 12 pm and I was excited to go ahead. I planned to stop at the next available tea-house for a break.
After Phakding, it was all uphill. Though I was tired, the beautiful views of villages, peaks, and prayer carving on stones along the river made me forget all about my fatigue and kept me charged.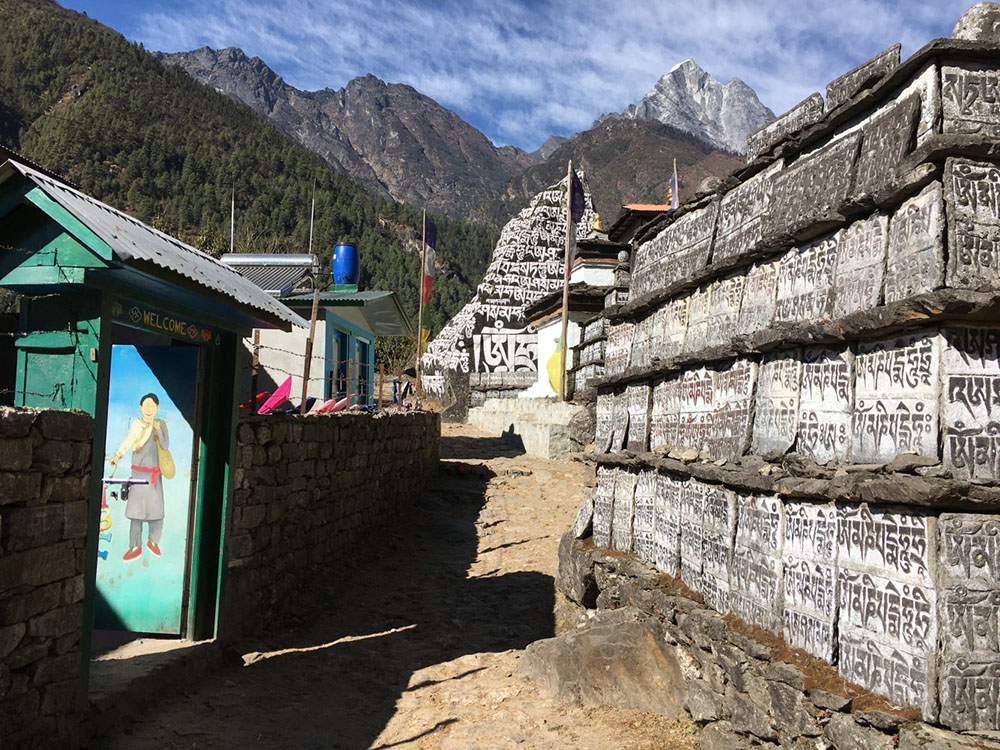 Phakding to Namche Bazaar
At around 2 pm, I reached Monjo (2850 mt) and got my ticket for Sagarmatha National park. Till this point, I was in reasonably good shape and targeted to reach Namche Bazar (~3500 mt) which was a 6 km and 4 hours long trek.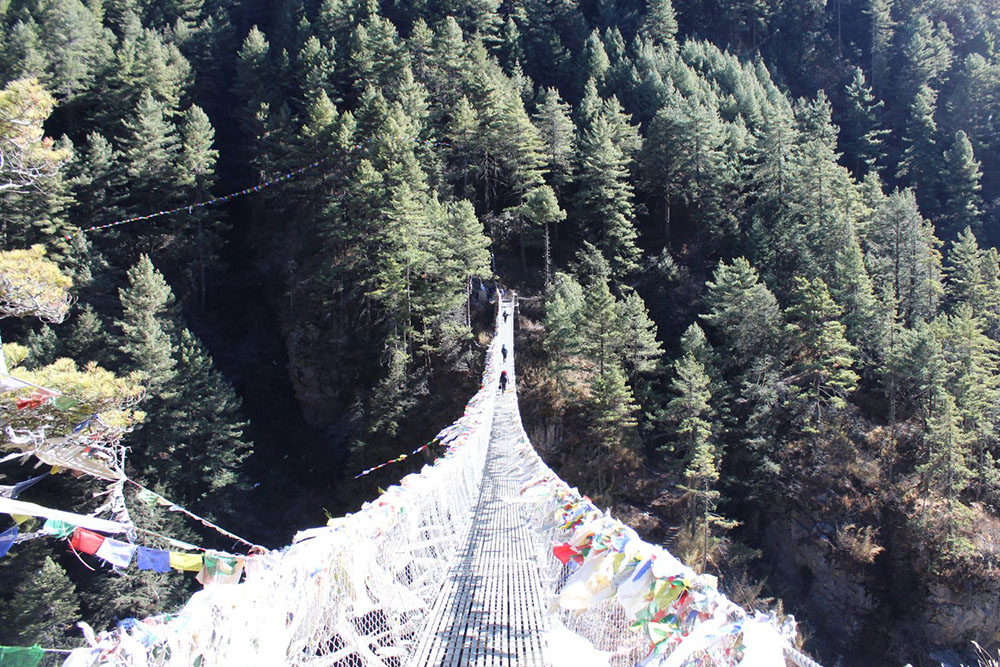 After trekking for about an hour, I had the first glimpse of Mount Everest. It was simply beautiful. As I was getting closer to Namche, the climb kept getting steeper, 10%, and 15% incline at some places.
This climb is called Namche steps. It was difficult with a 12kg backpack which felt like 20 kg at that time. The reduced oxygen levels at that height and the cold weather made things even more difficult.
At 4:45 pm, I finally reached Namche Bazaar. Only a few places were open. I stayed at the Kamal hotel. I was one of only two guests staying there that night.
Also Read: Deoria Tal Chandrashila Trek – Travel Guide, Blog & Itinerary
Bukhari (non-electric, wood/dung fueled heater) in the hotel's restaurant was keeping that place warm and cozy. I went to bed around 9 pm after dinner which was Rice-Dal-vegetables.
I had a wonderful day with beautiful views. A glimpse of Mt. Everest & rarely seen Himalayan deer, steep climb to Namche, 18 km trek, 2850 meters to 3450 meters incline made it all worth it in the end.
I wasn't sure what my plan was going to be for the next day. Should I stay in Namche for acclimatization or move forward, I didn't know. I thought to decide it in the morning and went to sleep.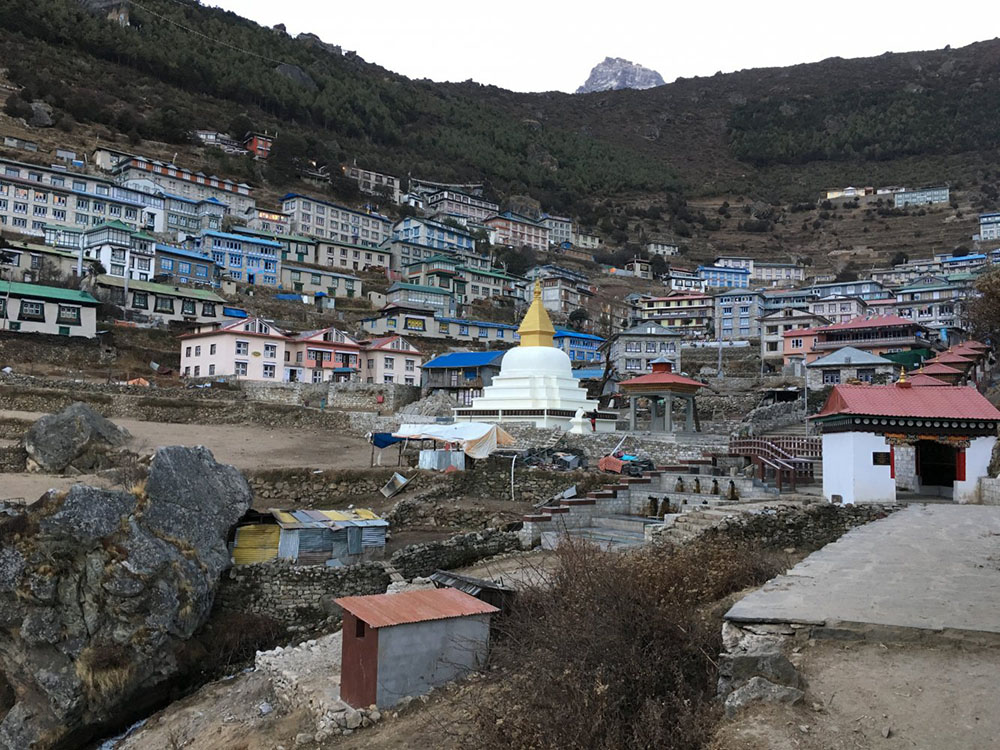 Day 3 – Namche Bazaar to Shomare / Somare / Soumare
I slept well and woke up around 6:30 am. I was feeling good with no sign of AMS (Acute Mountain Sickness). At around 7:30, it was blue skies with bright sun and I was feeling fresh. Within a few seconds, I decided to continue my trek to the next destination.
A lot of people stay at either Kathmandu, Lukla, or Namche Bazaar for acclimatization before pushing to the base camp. For more details, please take a look at Altitude Sickness on Everest Base Camp Trek for more details. . But since I did not feel any symptoms of AMS or fatigue, I decided to move on.
I had Tibetan bread with jam, butter, and tea for breakfast. It was cold outside at -4°C but the sun was giving enough warmth.
I started the trek around 9 am.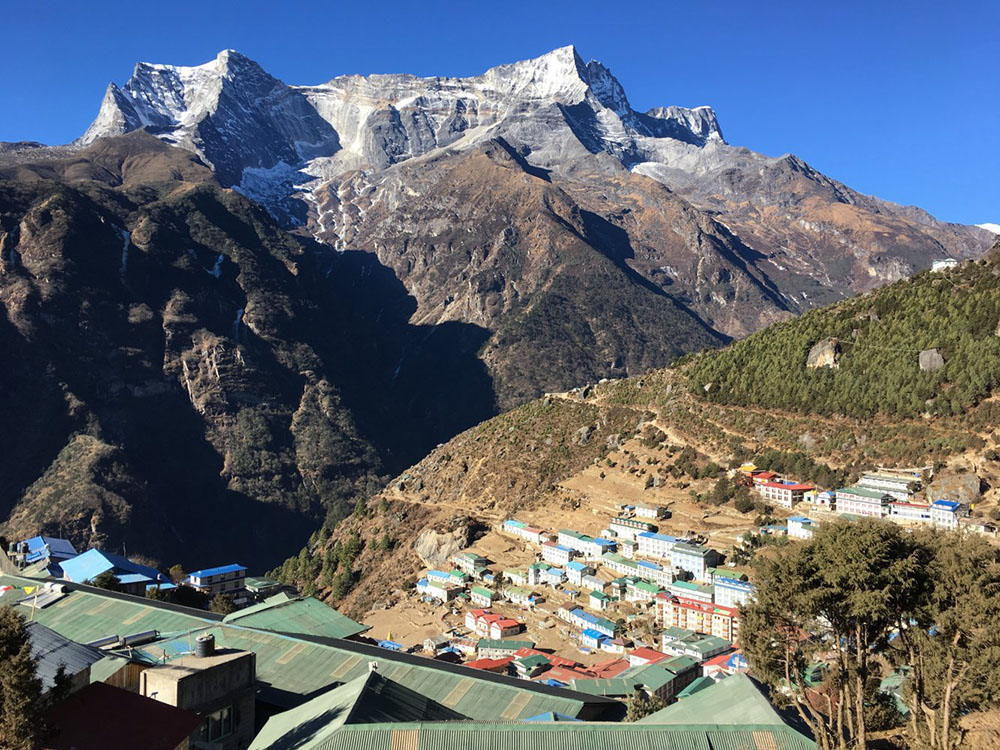 Namche Bazaar to Tengboche
I was waiting for another glimpse of Everest and there it was after 30-45 min of trekking. It was a wonderful view of the Everest and Tengboche Monastery.
Visually, you can make out that Tengboche Monastery is at a similar height from where I was standing. Then I realized that the trail is going down (400 mt ) to a river crossing and then up (~600mt) to the Monastery and that looked tough.
Also Read: Treks in Parvati Valley – A COMPLETE Travel Guide
On the way, there were several nice cafés (Tea-Houses) serving good coffee and Italian foods. It was a steep walk going downhill towards the river ( Dudh Koshi) crossing and then all the way up. The trek condition was not good. It had deep steps, bad stoned patches, and loose dust. I could imagine the problem in rain/ heat and crossing yak/horse during the season.
Around Midday, I reached Tengboche. It is a scenic place with a view of Everest, Nuptse, Ama Dablam.
Tengboche to Shomare
After resting & having lunch, I was back on the trail. It was beautiful amidst trees and alongside the river ( Imja Khola). I planned to stay at any available tea house after 4 pm before it was dark.
By 4 pm, I reached Shomare and started to look for a place to stay. This place is also spelled as Somare or Sumare. I looked around but nearly all teahouses were closed. I noticed an activity at a tea house but they had packed all stuff to close for winter.
It was not a good situation, it was getting dark and cold and I was not sure if I will be able to find anything beyond Shomare before it got dark.
Finally, I got a bed and food at Tashi Lodge. I had a cup of tea in front of Bukhari before it was dark.
I enjoyed my dinner and went to bed at around 8 pm. It was another good day that ended at Shomare (4100mt). It was 16 km trek today with 1300 mt ascent and 830 mt decent.
The next destination was to be decided in the morning.
Also Read: Kheerganga Trek – A COMPLETE Travel Guide & Safety Tips
Day 4 – Somare to Gorakshep
After another good night's sleep, I woke up around 7 am. Being at 4100 mt, I was expecting some headache but it was good so far. That day was another sunny day. Breakfast was served in the form of egg-toast and tea.
The plan was to skip Dingboche and trek toward EBC via Periche and stop around 4 pm. I was hoping that I should reach Lobuche.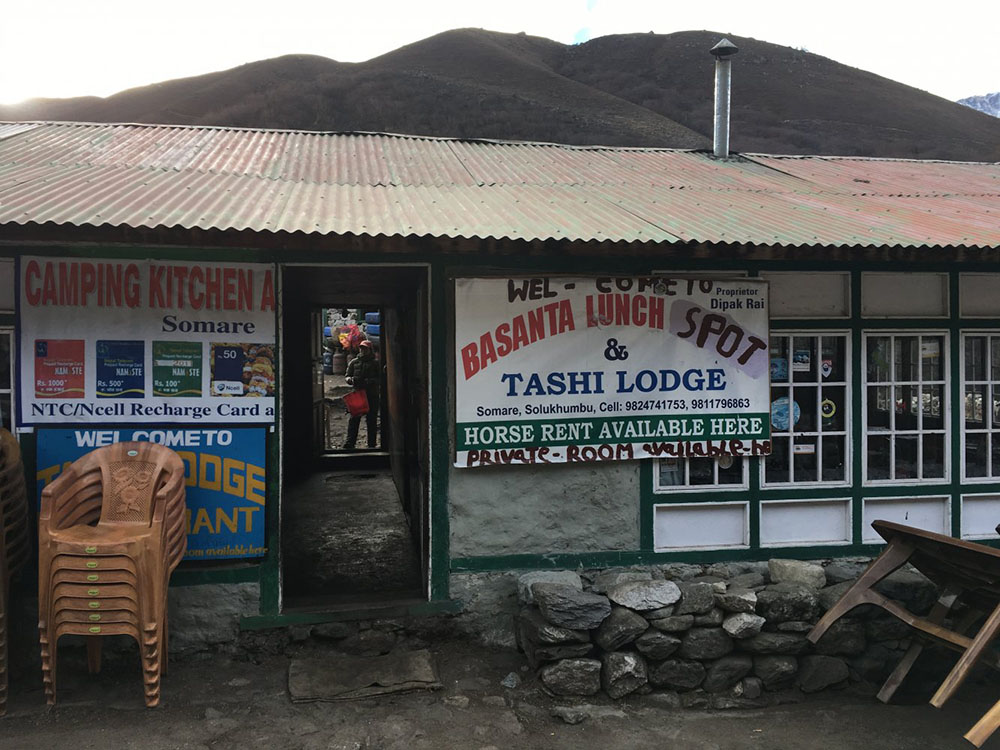 Somare to Lobuche
At 4100 mt and going up, my 12-13 kg backpack started to seem heavier. It was getting difficult to carry it. The landscape had changed completely as well. There were no trees or grass. If there was water, it was frozen.
I reached Periche around 11 am and continued till Dughla. Dughla (4600 mt) is a place with 3 teahouses along a river crossing. This river is the outlet of Kumbu Glacier.
At 12:30 pm, I reached Dughla and had a good lunch. There are good food choices in teahouses on the EBC trail. Food is not a problem.
Around 1:30 pm, I was back on the trail. I filled my bottles with normal water and added a few purification tablets which takes 30 minutes to sanitize the water.
At Lukla, one water bottle was Nepalese Rs. 100. It was Rs. 400 at this place and kept on increasing with altitude and distance along with food prices.
After Dughla, it is a steep climb (300 meters) to Everest Memorial. It is a place with prayer flags to honor Everest climbers and Sherpas who died while attempting to climb Everest.
From Everest memorial, a bit of decent then steady climb to brings you to Lobuche. It was getting cold at this height with winds. My backpack seemed heavier than before without adding anything.
I was carrying two water bottles. One was inside my backpack, insulated with my clothes, and the second one within my jacket. By now, my water bottle inside my jacket was frozen solid as the temperature was well below 0°C at 3 pm.
Lobuche to Gorakshep
At 3 pm, I was at Lobuche with two options. I could either stay at Lobuche or continue till Gorak Shep. After doing some strange calculations, I decided to move forward to Gorakshep.
As I got closer to Gorakshep, the trek got tough. I got lost a few times (not for more than 50meters though).
Finally, slightly before 5 pm, I reached Gorakshep (5200 mt). It was damn cold. I entered the first visible teahouse called "Snow Land Highest Inn". Bukhari was on. I sat next to the Bukhari with a hot cup of tea. After dinner (8 pm), I went to bed, which was a small plywood room with two beds. It was cold in there but much better than outside at -18 to -20°C at night.
Also Read: Pin Parvati Trek – A Spellbinding Experience
With a sleeping bag and additional quilt (provided by tea house), I kept myself warm enough. Inside the cabin, the temperature was below -4°C. A fresh warm bottle of water froze solid in two hours.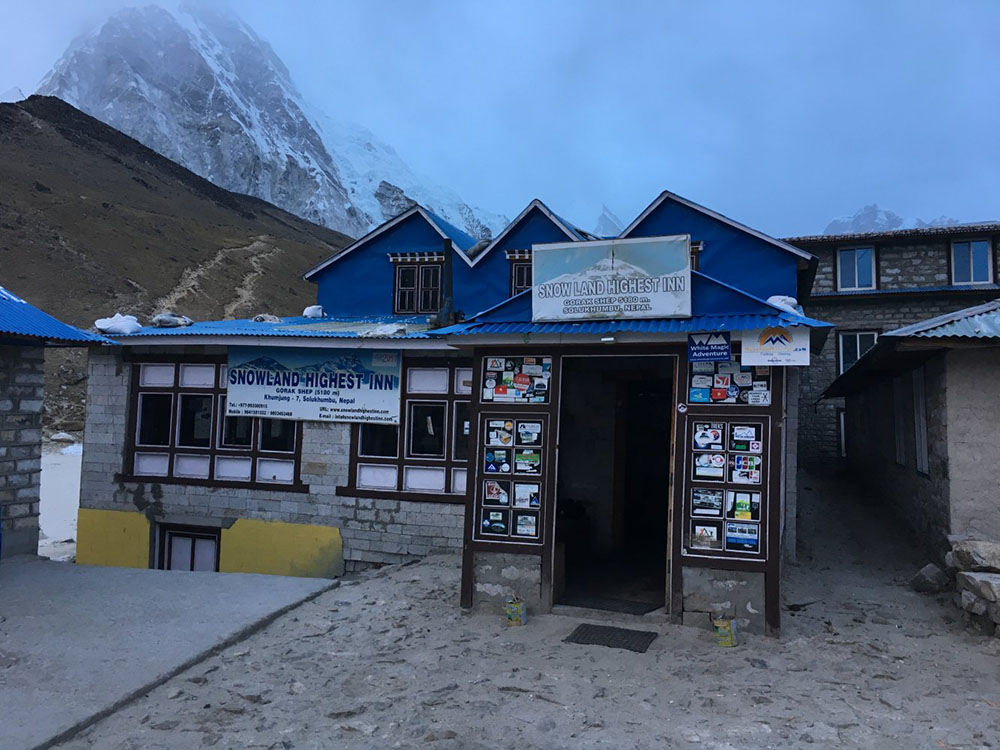 Generally, trekkers go to Kala Patthar during the early hours at 3-4 am. It is done to see the sunrise through beautiful mountains and also to avoid high winds during the day. Later they trek to EBC and come back to Lobuche.
I decided to stick to my schedule. I planned to start the trek in the sun (8-9 am) to Kalla Patthar and then Everest base camp and be back in Gorakshep by 4 pm. So I was going to stay at Gorak shep another night.
It was again a wonderful day with 17 km trek from 4100 mt to 5200 mt (1300 mt ascent and 200 mt descent)
While sleeping, I kept the water bottle and batteries inside my sleeping bag to keep those warm enough.
Day 5 – Gorakshep to Kala Patthar to Everest Base Camp to Gorakshep
Last night was very cold. I had good sleep but slightly less comfortable than previous nights due to the cold and altitude.
In the morning, I did not have a headache, which was a good sign. I believe that my yearly pilgrimage to Ladakh helped me in avoiding AMS.
Also Read: Bhrigu Lake Trek – How to Plan your Trip Safely
Gorakshep to Kala Patthar
Around 8 am, I had a hot cup of coffee and biscuits and started my trek towards Kala Pathar. It was a 2.5 km climb, uphill all the way from 5200 meters to 5620 meters. From there you get a beautiful view of Mount Everest, Nuptse, Pumori, and other peaks around. Finally, I was on the last leg of my solo trek to Everest base camp.
I was carrying my DSLR camera and water bottles (2-3 kg). It took approximately 2 hours to reach the Kala Patthar summit.
The view from Kalla Pathar was worth all the time, energy, and effort. It was simply breathtaking. Mount Everest was standing tall and beautiful with Nuptse on the right, Pumori on left, and Kumbu icefall. The view cannot be expressed with words. You need to be there to experience it.
I wanted to spend more time there. But after 30 minutes at Kala Patthar summit, cold and strong winds convinced me to come back to Gorakshep. Trekking down was a matter of 30-40 minutes.
On the way down, I stopped multiple times to see and absorb that beauty. Looking at majestic Everest, I was wondering about its Summiteer's motivation, willpower, strength, and passion.  For sure it is not an easy task.
Also Read: Rani Sui Lake Trek | Sour Tal Trek – Fun and Adventure
Gorakshep to Everest Base Camp
Around 12 noon, I was at Gorakshep. I had lunch at the teahouse and started the trek towards Everest Base Camp. It was a 3.5 km walk, climbing from 5200 mt to 5300 mt. It was a relatively easy trek along Kumbu Glacier and 8000+ peaks around you.
To be honest, it is too difficult to express in words the beauty of mighty Everest and around. (Everest is not fully visible from EBC)
I reached the Everest Base Camp around 2 pm. After spending 30 minutes at the camp, I started on my way back to Gorakshep and reached there before 4 pm.
Bukhari was heating up. I had a cup of coffee and sat next to the Bukhari. It was 31 December, New Year's Eve. I celebrated with a few fellow trekkers at 9 pm before going to bed.
It was THE DAY, seeing Everest so closely. My solo trek to Everest base camp trek was worth every minute and penny.
At night, it started to get cloudy and it seemed that tomorrow morning may not be a sunny day.
With my fingers crossed for the morning, I went to bed
Also Read: Stok Kangri Summit – At the Top of the World
Day 6 – Gorakshep to Namche Bazaar
I slept very well on the second night at Gorakshep and started my trek back towards Namche Bazaar at 7 am the next day. The weather was not good. It was overcast and it appeared to be snowing at a distance towards the Everest Base camp.
A cold morning with no sun and strong winds were making trekking difficult. I kept moving and ensured that I am warm enough.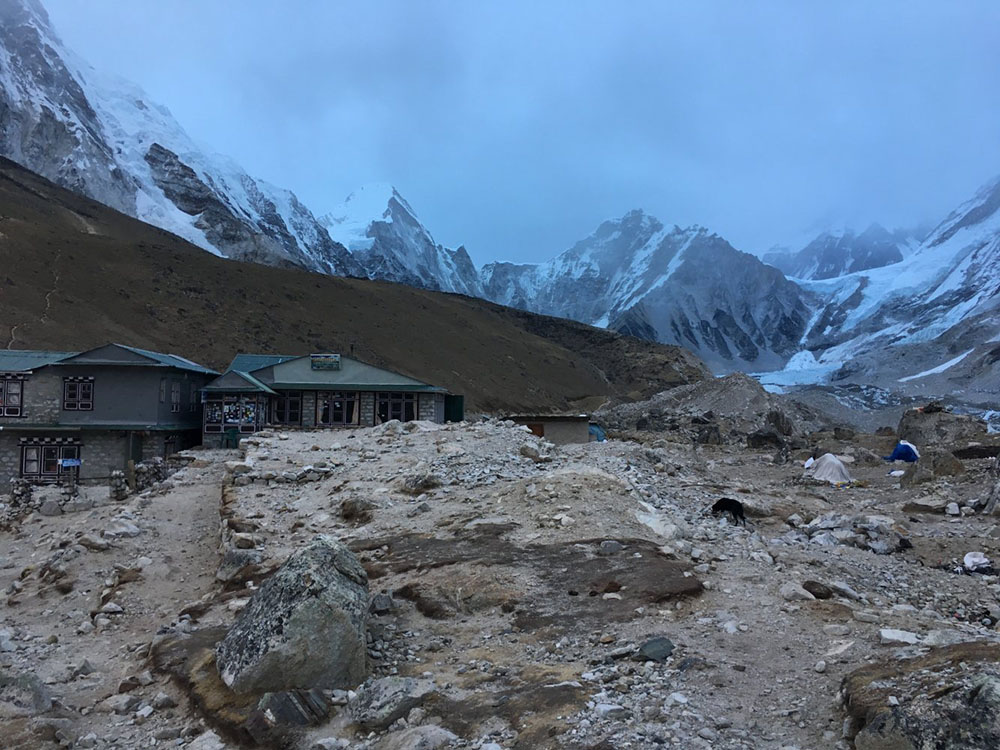 I reached Periche at 10:30 am and had breakfast. There had been no snowfall so far and I was feeling really lucky about that. It took more than 1 hour to get breakfast as the place was not expecting guests.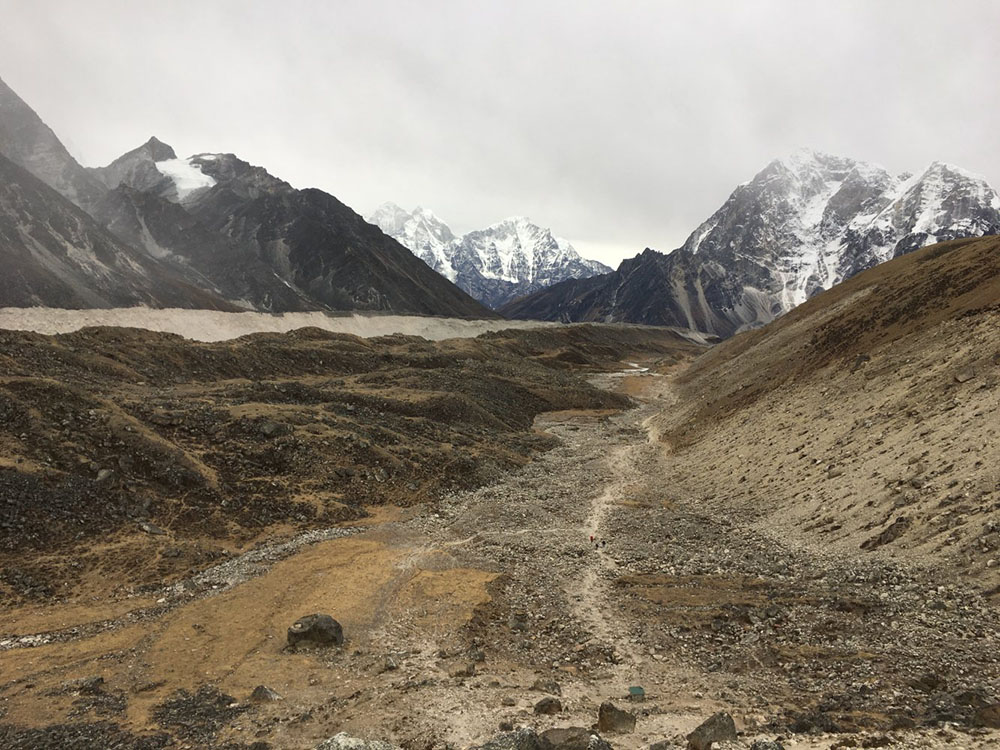 I reached Tengboche Monastery around 2:30 pm. Here I was an hour later than planned. I believe that the last 4 days exertion was catching up. But the weather was good now. The sun was out and it was warm too.
From here, it was 3 km downhill (600 mt) and then 6 km uphill towards Namche Bazar, a total of 9 km. It was going to be difficult going up with a backpack.
I kept going and finally reached Namche Bazaar at 5:40 pm, just when it got dark. I stayed at the same hotel 'Kamal'.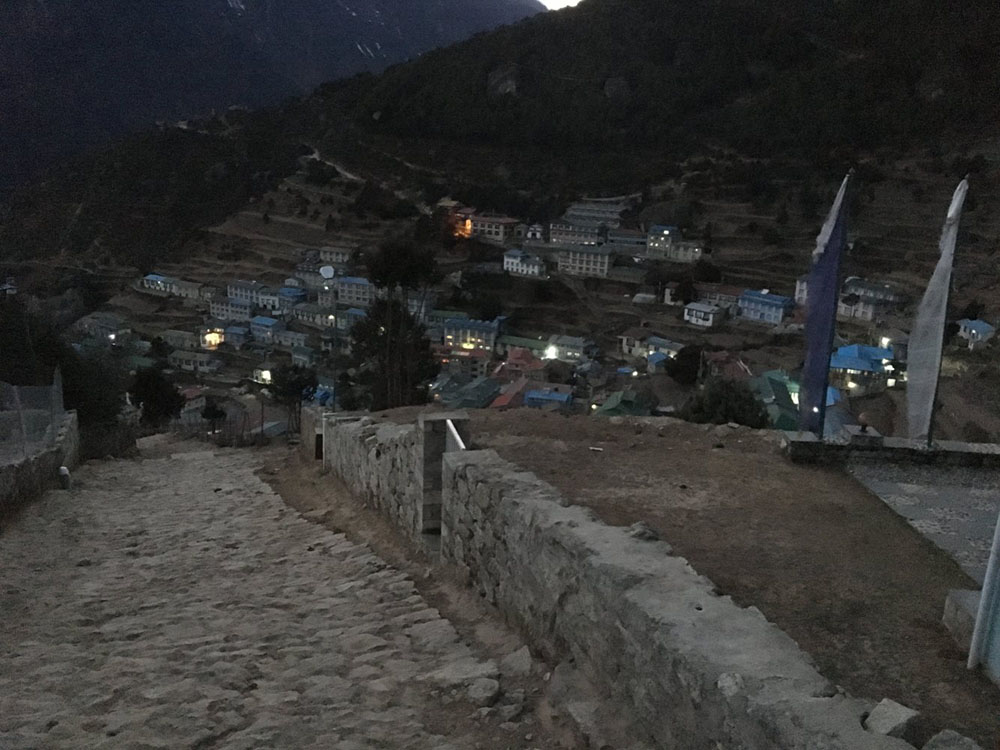 At Namche Bazaar, the 4G signal is good. I changed my flight from Lukla to Kathmandu on 3rd Jan and bought a ticket from Kathmandu to Delhi.
So fingers were crossed that I would get my Lukla-Kathmandu flight on time and will be home in a week after spending the new year at the Everest Base Camp.
Tonight the bed was super luxurious as compared to the previous 3 nights.
Day 7 – Namche Bazaar to Lukla
I slept like a log and woke up fresh. The sun was out. It was a beautiful day but still cold. I planned to take it easy today because there was enough time to reach Lukla.
This was pretty much the last day of my solo trek to everest base camp. So yes, I was feeling a little sad as well.
After having a good breakfast of Tibetan bread, jam, and butter with a cup of tea, I started my journey back to Lukla at 10 am.
Clean and Beautiful Namche Bazaar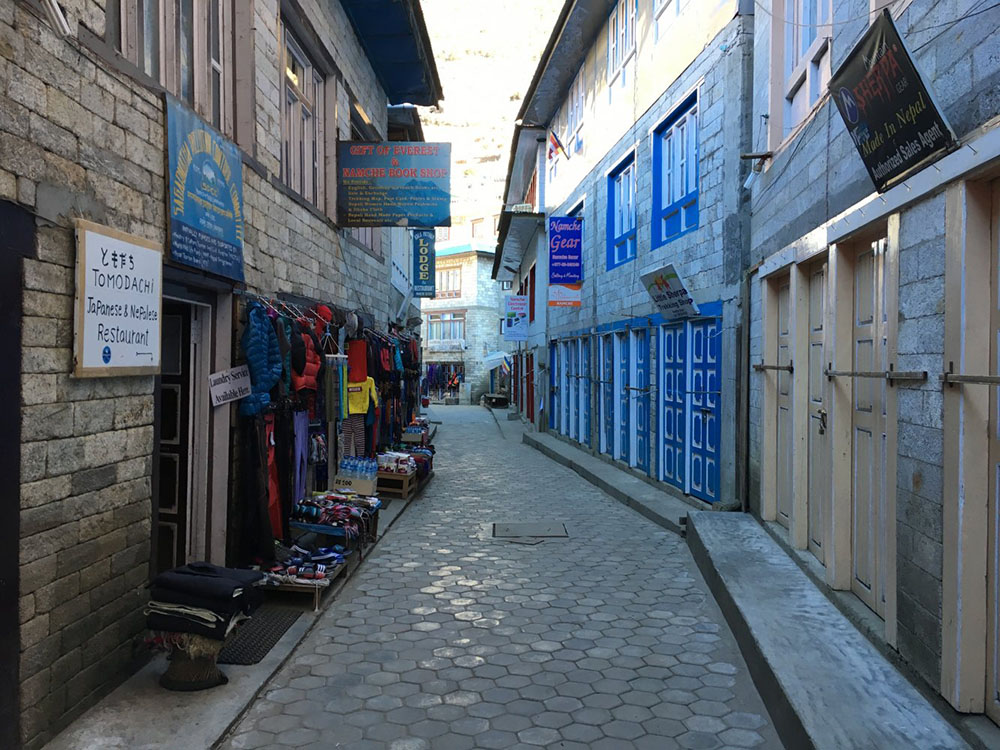 It was going to be my last day on the Everest base camp trail.
There is a steep incline/decline near Namche called Namche steps. It has its own challenges while going up or down. Going up on these steps is very tough & tiring and going down had risk to slip. Any kind of injury is bad on this trek.
As I was approaching Lukla, dark clouds were gathering, and soon (at 3 pm) it started snowing. My concern was tomorrow's flight from Lukla to Kathmandu which is known for unpredictable delays during bad weather.
Also Read: Beas Kund Trek – A COMPLETE Travel Guide and Itinerary
I decided to stay near the airport at "The Nest". It is a decent place to stay with good food. As soon as I entered The Nest, it started snowing heavily. My worries about tomorrow's flight were growing. Anyway, It was a beautiful view out there with hot coffee in hand, sitting next to Bukhari.
After dinner, I went to bed hoping there would be a flight tomorrow.
Snowing had stopped at night and the weather seems to be clearing. Or maybe I was imagining due to 5 days of fatigue and hoping to be home soon.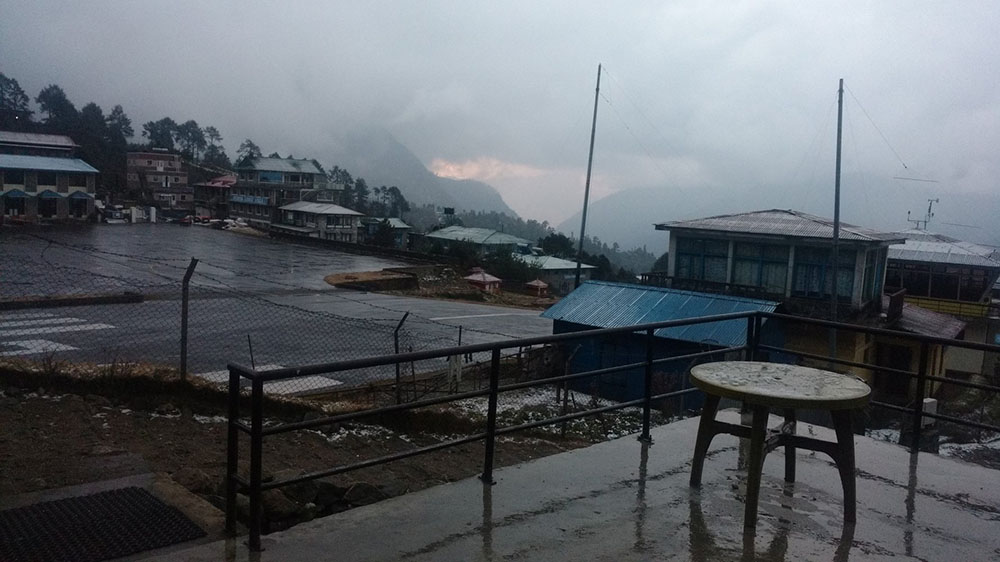 Day 8 – Lukla to Kathmandu to Delhi
My prayers were answered the next day. There were no clouds in the sky and the runway was black. It looks that most likely flight should be operating today.
Around 7 am, I heard a flight landing at the airport. The runway was just 2 minutes walk from The Nest. I walked to the airport and checked-in for the 9 am flight.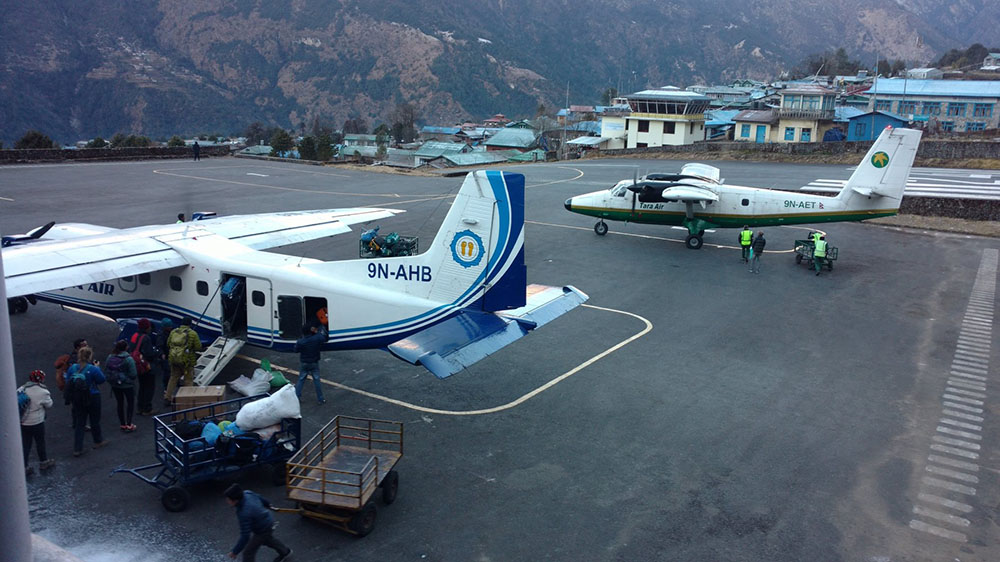 I would be home this evening. At that time I had a very strange feeling which was the satisfaction of completing the EBC trek fast enough without issue and leaving this place so soon.
You leave a place to come back again.
Everything worked well after that. I reached Kathmandu around 9:30 am and waited at the airport for my Delhi flight at 1 pm.
I reached home at 5 pm after going through all the Delhi traffic, noise, and smog smell. All the way I was thinking about where I was at this time yesterday, the day before yesterday, and on new year's eve.
Thank you for reading.
Solo Everest Base Camp Trek
One way approximately 60 km including Kala Patthar. Total 120 km of a hike.
Trek Start at 2800mt from Lukla to EBC (5300mt) and Kala Pathar (5600mt)
Total Ascent /Descent – 7000 meters
Recommended Time – Trekking up to EBC days should be done in at least 8-9 days depending on acclimatization. Return can be completed in 3 days.
Lukla- EBC-Kala Pathar- Lukla is approximately 12 days assuming no weather disturbances
My Trip Statistics
Solo Trekking, without Guide or porter. No issue with directions or accommodation.
Trek Lukla to EBC, 2.7 days without Acclimatization or rest day
Weight carried 12kg + 2 water bottles. This weight included multiple backups for worse. It can be reduced to 7 kg depending on weather and planning
Return 1.5 days (Long day)
2 Nights at Gorakshep (3 km from Kala Patthar and EBC). Gorakshep is the only place to stay at EBC.
Also Read: Jiwa Nala Trek – A COMPLETE Travel Guide
Accommodation on Everest Base Camp Trek
Basic Accommodation (Called Teahouses) is available at regular intervals, after every 2-3 hours of a walk. As you get close to the Everest Base Camp, it will be available at an interval of 3-5 hours walk.
Accommodation is very basic in the form of a small room with 2 beds, or a dormitory with a common toilet. Cleanliness depends on the number of tourists at a given time.
Trekking Path
The trekking path is mostly paved with stones but with a lot of dust and animal ( Horse/Yak) biowaste.
Close to the Everest Base Camp, the trek is over big stones and glaciers under the stones (2-3 Km before EBC)
20% of the trek is paved with stones but dust is there which is blown by high wind/trekkers and animal movement.
Challenge is trekking to EBC.  The rest of the support/logistics are easy to manage.
Trek Directions are well marked and understandable. There could be some confusion close to EBC but help is available.
Trek gradient can go up to 16+ degrees. Some sections are very steep.
Solo Everest Base Camp Trek Cost
Kathmandu-Lukla-Kathmandu Flight US$ 250-300, depends on the season.
A guide will charge approximately US$ 50/day. Food may be extra depending on your agreement. Porter will cost about US$ 30/day. Food may be extra depending on your agreement.
Food will cost approximately US $10-15 per meal. Breakfast+Lunch +Dinner will cost US$ 20-30 per day per person. Bottled water costs US$ 1-4 as you go up. Normal water is free and you get water purification tablets at Kathmandu.
Accommodation will cost US$ 4 per night or free at a given Teahouse, with the condition that you have all your meals at the same tea house where you stay.
Hot baths are available at a few places at a cost of US$ 4-5/person
Mobile charging/Wifi will cost US$ 3/hour
Also Read: Kareri Lake Trek – How to Plan a Trip to this Hidden Jewel
Network on Everest Base Camp Trek
4G connectivity till Namche Bazar, Later it is only 3G or 2G.
At the base camp, SMS/Call or 2G depending on the traffic. Working on Solar, it starts 1 hour after sunrise and closes 1 hour before sunset.
Bad weather means no Network.
Weather
 The weather is extremely cold in December and January. It could get down to -25°C without windchill but dry.
Generally, the trek is open 12 for all months with reduced facilities. The best months to trek are March, April, May, October, and November. But traffic in these months is very heavy and accommodation may be an issue if traveling solo. Guide /porters are helpful in these cases.
Other Tips
Guide and potters are available from Kathmandu or Lukla or Namche Bazaar.
Food & Drinks are available with multiple choices includes Nepalese food, Noodles, pasta, chicken, all kind of soft and hard drinks, beer.
For Indians, no Visa is required. For others, Visa is available on Arrival)
Nepalese people are wonderful, kind, and helpful.
Did not sense any security issue.
English/Hindi is common.
Conclusion
I hope the travelogue, pictures, and information above on solo trek to Everest base camp were of help. If you have any questions, please feel free to ask in the comments section below or at our Community Forum, and I will be glad to answer.