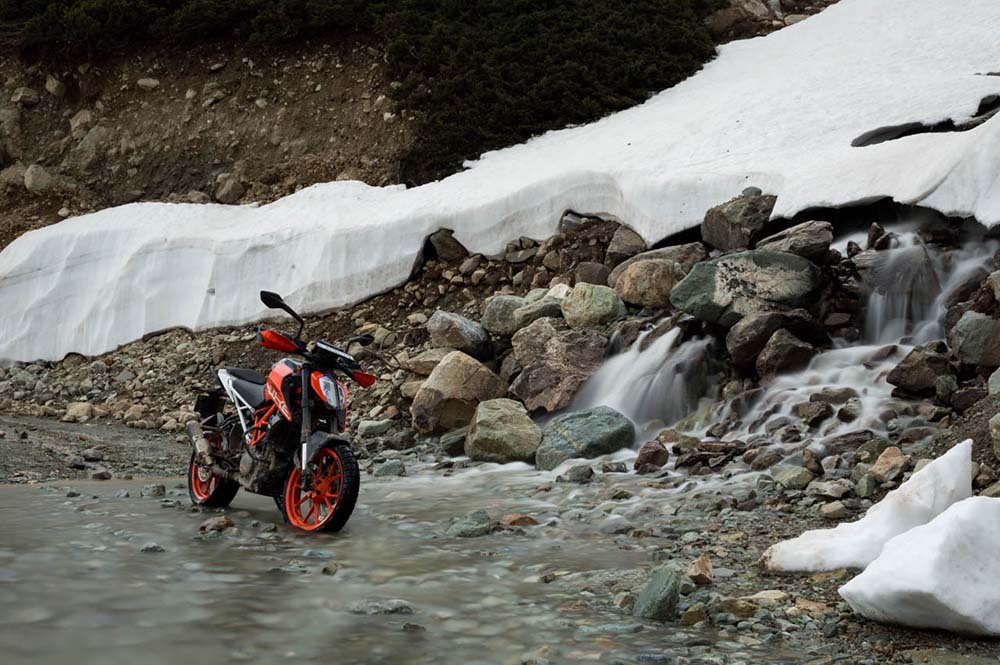 Last weekend I got a chance to go on a Kashmir bike trip after many months and decided to make the most of it. Three days in Kashmir is not much, but it was enough to make me happy for the time being. I covered the Pahalgam side (Chandanwari and Aru Valley) and made day trips to Sinthan Top and Margan Top.
The trip to Margan Top was the most exciting part as it was my first visit here. The road had opened just a few days prior and it was full of water crossings and snow.
Kashmir Bike Trip
With three days in hand, I started on my bike ride in Kashmir on KTM Duke.
Day 1 – Jammu to Anantnag
I left from Jammu on Friday morning and reached Anantnag late in the afternoon. I didn't make many stops, just the necessary food and loo breaks. This route doesn't offer any good views in my opinion and lately, it has become a nightmare to travel.
Since I was on a motorcycle, I was able to navigate my way through horrendous traffic jams for kilometers at a stretch. Back in 2017 when I took multiple rides through the route, it was better and safer.
I stayed at my grandparents' place in Anantnag and decided to rest for the remainder of the day. At night, I told my plans to my cousin who decided to join in for the rest of the trip. I have up till now always traveled solo, so this was a delightful experience and fun throughout.
Also Read: How to Plan a Trip to Kashmir – A Complete Travel Guide
Day 2 – Anantnag to Pahalgam
First, we decided to explore the Pahalgam side and have a night's stay there. We left by car after having a light breakfast. The route from Mattan onwards is beautiful with fields on both sides of the road.
Our first break was near the Aishmuqam shrine. This was the place where Adnan Sami sang the Sufi song in Bajrangi Bhaijaan.
We didn't visit the shrine, instead wanted to enjoy the famous Halwa-Paratha combo. We got it packed and stopped a couple of kilometers ahead on the bank of the Lidder river to enjoy it.
This is the beautiful spot where we stopped to enjoy the snacks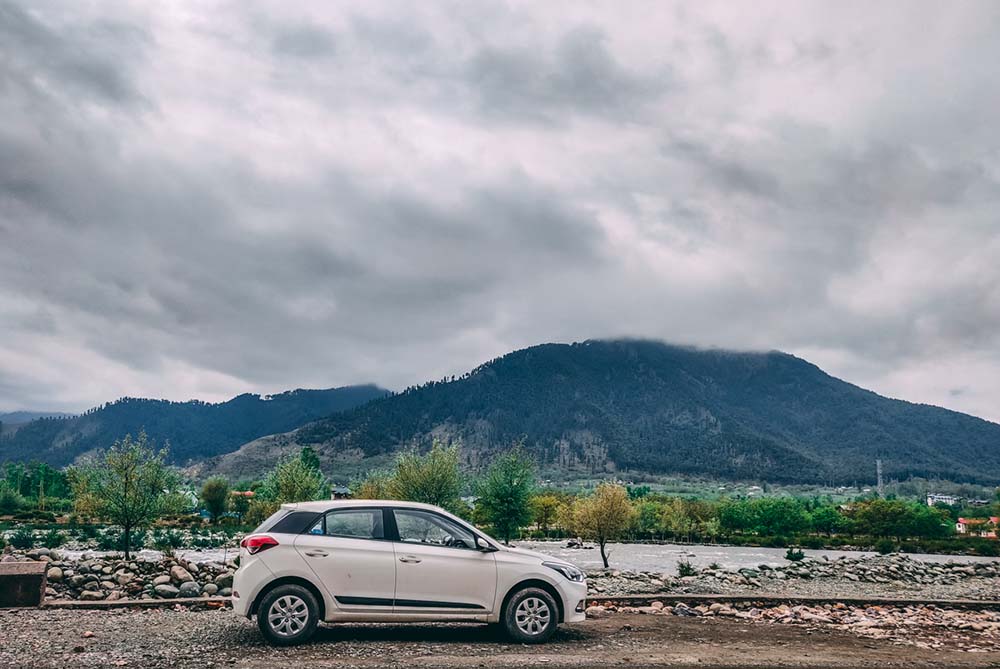 We initially decided to check out the property where we were to stay for the night. The hut is owned by a friend of my cousin.
It was better than what I had expected. It had a beautiful garden and a bonfire place. If possible, I would love to stay for a couple of days here and enjoy the peace and tranquillity.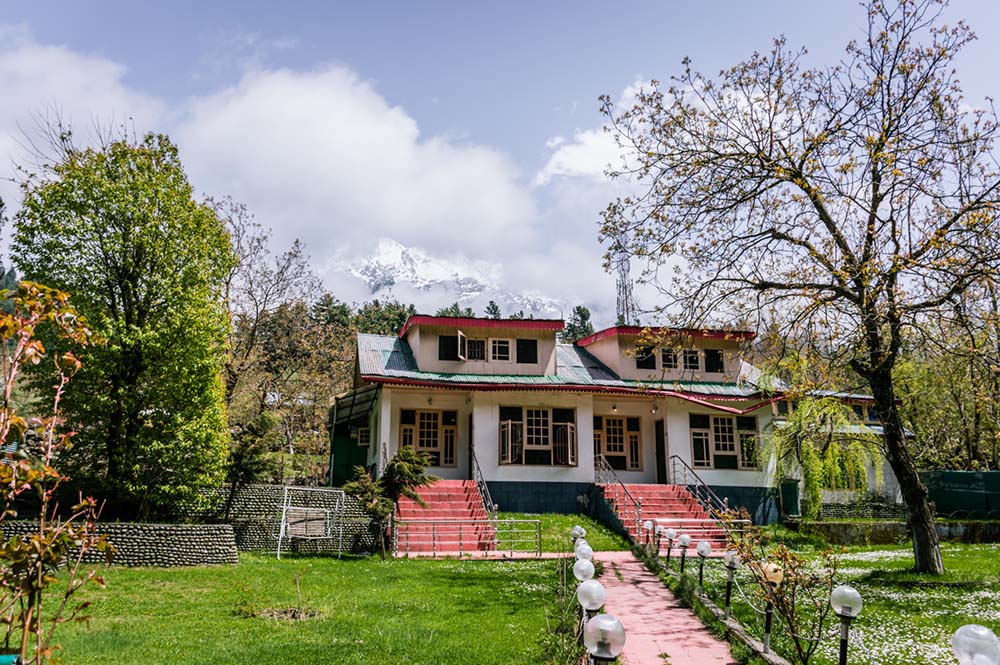 Chandanwari
We first decided to visit Chandanwari. We packed a few snacks for the market and moved on. The route to Chandanwari is beautiful. There was snow along the way.
The last time when I visited Chandanwari, it was desolate. But since this was the beginning of the season, there were quite a few tourists.
Just after the parking space, it was all covered with snow. Since my shoes weren't grippy on snow and I am uncomfortable wearing gumboots which are worn by strangers, we decided to move back and have lunch in the Pahalgam market.
Some pictures en route Chandanwari and back. I tried some different editing styles for some of these pics, so color tones may not match in all the pics. Black n white was done in an older style with the added grain.
I purchased a 10-Stop ND filter from Haida a couple of months back and used it for the first time on this trip. I hope to get better with more practice.
Aru Valley
After that, we moved towards Aru Valley. I have been to Aru a few times now and love it every time. The evening golden light was illuminating the area and it was a sight to behold.
The mountain blocked the sun well before sunset, so there is no chance of seeing a proper sunset from Aru.
Returning back to Pahalgam, we stopped at the riverside and spent well over an hour here just relaxing.
After having dinner, we moved to the hut. I decided to try and capture star trails. I managed to capture just this one.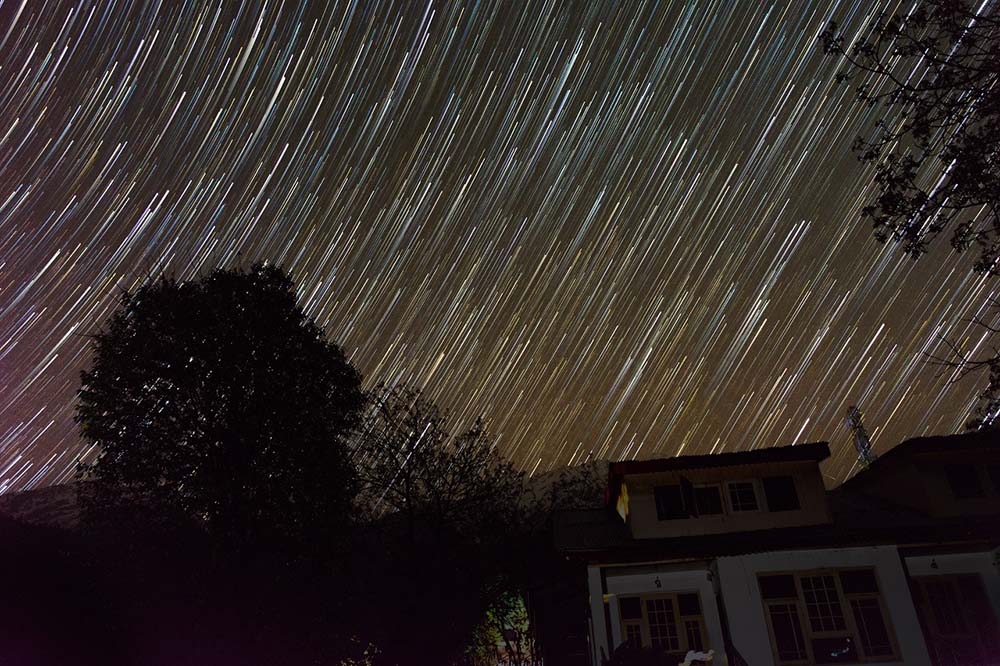 Day 3 – Pahalgam to Sinthan Top
After spending a wonderful night, woke up to the pleasant sounds of birds chirping and the river. We left back for Mattan at around 9:30 am.
Not having planned anything for the day and I was feeling too lazy to go out. We had a breakfast of typical Kashmiri tandoori bread with butter and tea.
At around noon, we (my cousin and I) thought instead of lazying around the house, it is better to go out, but had no particular destination on our minds.
We took my motorcycle as we had not thought of going anywhere far. Some 5-6 km from home, my cousin jokingly suggested that we should ride to Sinthan Top. This stuck with me and I agreed with the idea.
Sinthan Top is a remarkably beautiful place, and I have been to it a couple of times before. Many riders now prefer this route to Ladakh after coming from Sach Pass.
The route is beautiful with a smooth road and less traffic.
As we rode up the Pass, the amount of snow on the roadsides increased as well.
A few kilometers before the Top, there had been an avalanche sometime earlier in the day and the road was closed. Because of this, we could reach the top. But the scenery till here was was more than enough.
Many selfies and photos later, it was time to ride back. We didn't take more photos after this and solely enjoyed the homeward ride.
Reached home in the evening and made plans on what to do the next day as I had to leave back for Jammu a day later.
Day 4 – Margan Top
After an enjoyable day, I was thinking of going to an unfamiliar place that I had never been to. There are many places that were not recommended because of the election season. But this was the last day of my Kashmir Bike trip and I wanted to go exploring.
I have had my mind on going to Margan Top for quite some time now. But since this Pass is not on the traditional route, the plan never materialized.
This trip being the one where I was not following any fixed itinerary, I decided to go for it. But I was apprehensive about whether the route would be cleared of snow or not.
I woke up fresh and got ready after having breakfast. Today as well, we took only my motorcycle for the ride. The route is the same as Sinthan Top till Larnoo, where we have to take a left diversion instead of going straight.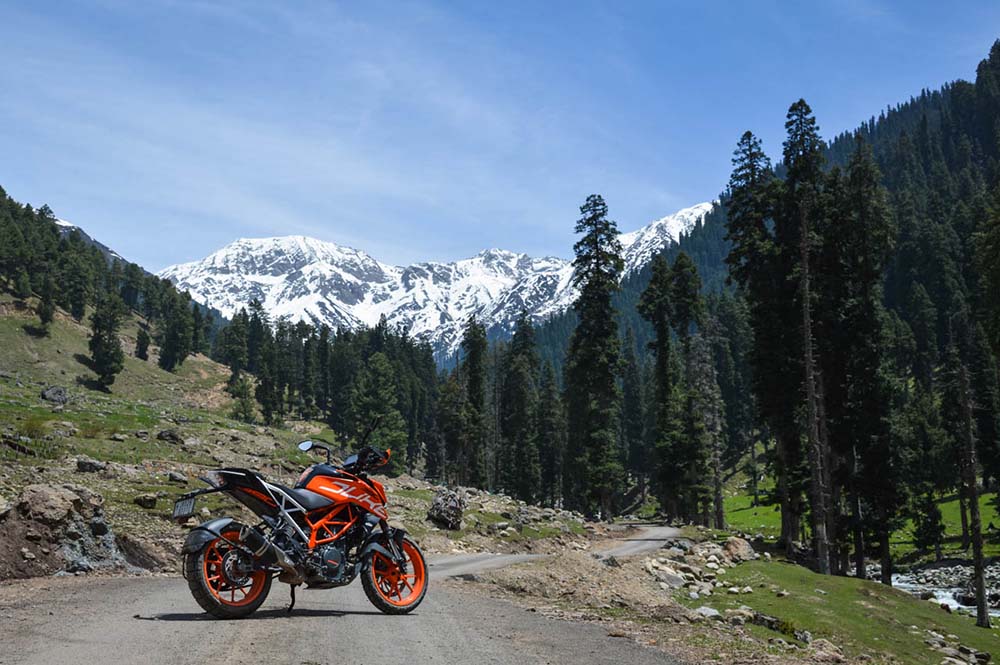 After taking the diversion to left and after Vailoo, smaller villages dot the route. We stocked up on snacks and water as there aren't any options on the route.
A couple of turns later, the tarmac ends and a dirt-type road leads the way and the ascent begins. The scenery of this area was truly mesmerizing.
The road had not been stabilized yet and there were several landslide zones and deep slushy sections. Many water crossings were there which were bigger and deeper on our return.
It was challenging at sections with a pillion, but we managed it. We stopped many times for pictures.
But I had seen proper board markings at the top on a few pictures over the internet. So rode further down the road. It was extremely slushy after this point.
A few kilometers later and we reach the top.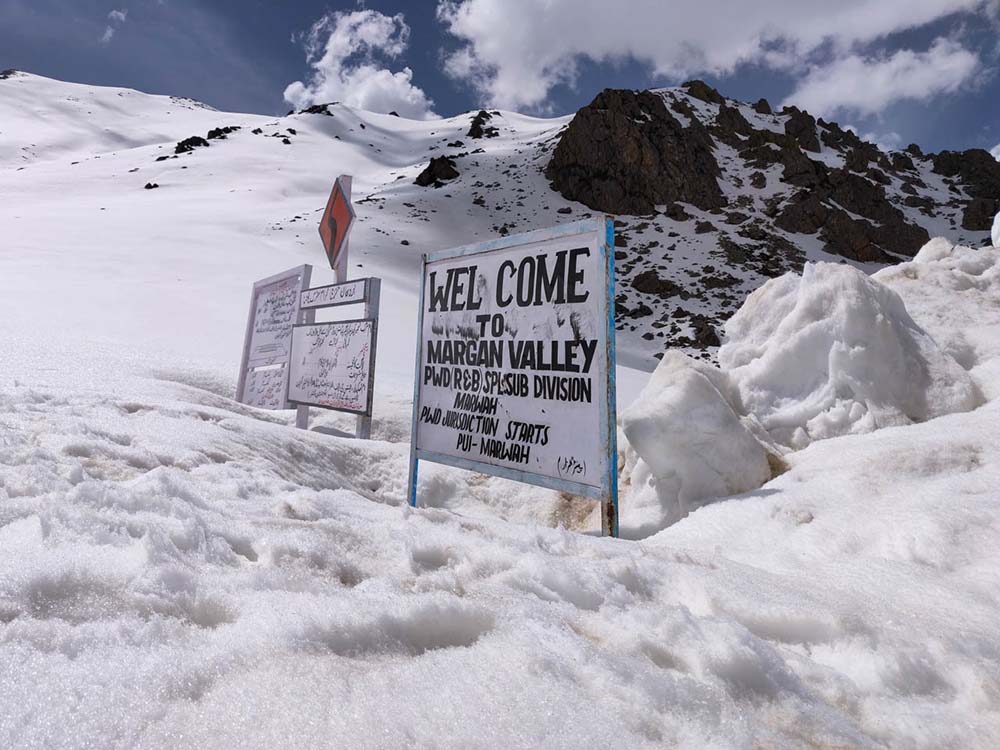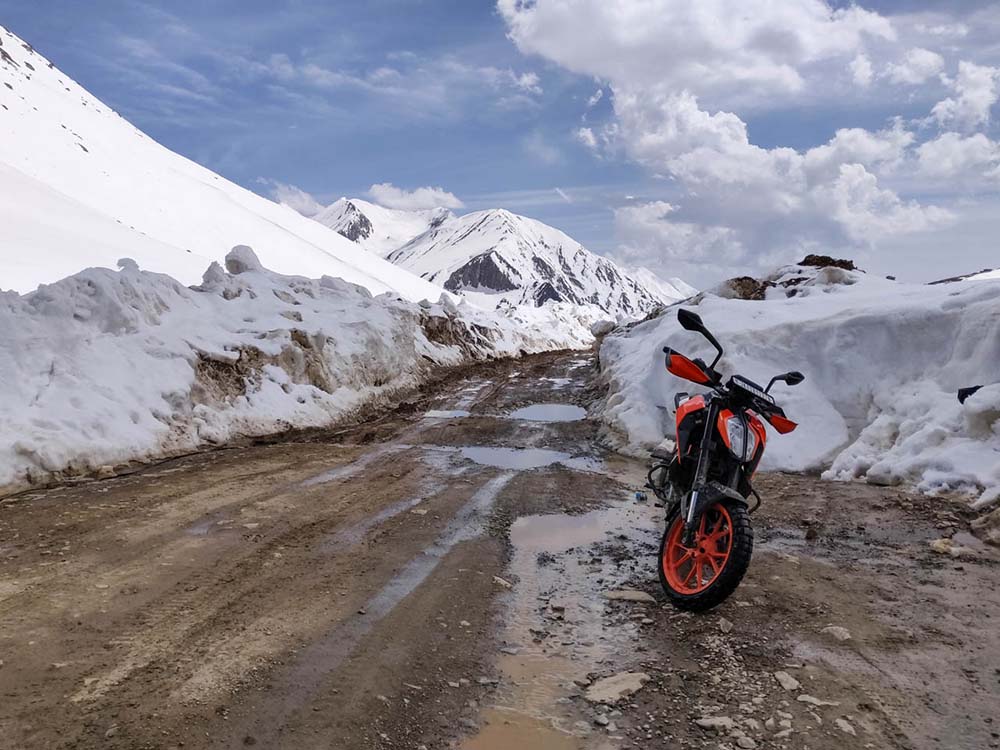 Ride Back Home
The road leads to Warwan Valley which I have heard is extremely beautiful and full of unspoiled beauty. It has not yet been spoiled by the tourist mania, so a visit in the coming months is due. One more thing, there are 4 lakes called off the road about 2 hr trek from the Top.
By the time we were on our way back, the water crossings had increased in size. Almost the whole of the dirt road was wet.
Here I stopped to wade into the ankle-deep icy water and take this picture. But I like the result. Would have liked to move a bit towards the left, but there wasn't any room to move further.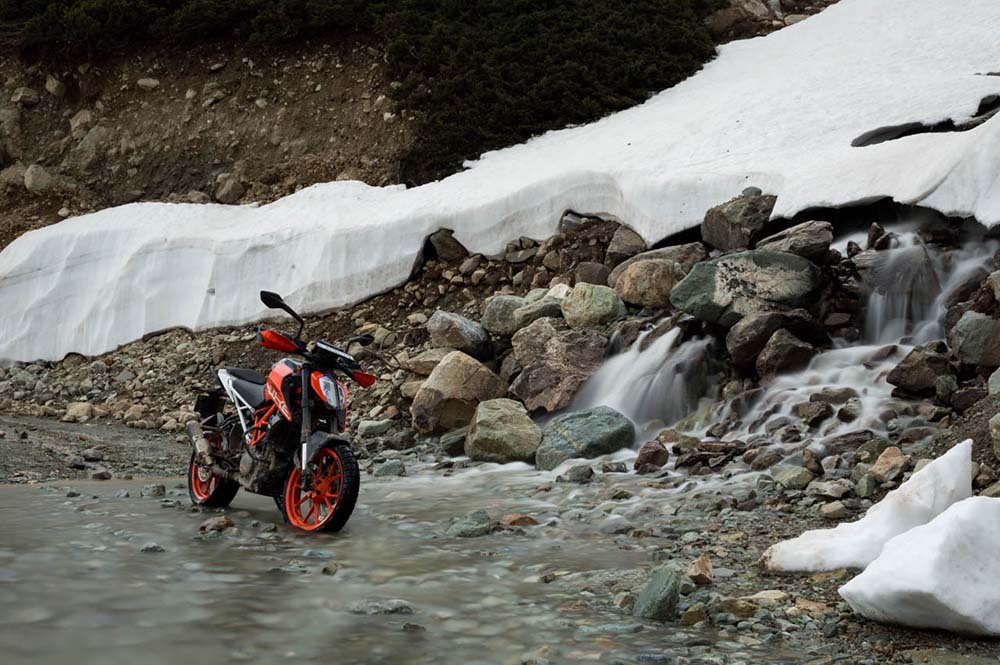 Some more pictures that were clicked on the way.
Moving on, stopped a few more times till the point where the tarmac starts. After that, we rode straight home as I was pretty tired riding the whole day.
We reached back just before dark.
It was a fantastic day of riding and I got to explore one of the places on my wishlist for the season. The bike performed flawlessly and the tires are utterly perfect. It offered excellent grip and never fishtailed.
Kashmir Bike Trip – Conclusion
I rode back to Jammu the next day and so concluded my Kashmir bike trip of 823 km. If you have any questions, you can contact me on Instagram and I will be happy to answer. You can also consider subscribing to my YouTube channel and asking a question there.
This error message is only visible to WordPress admins
Error: No feed found.
Please go to the Instagram Feed settings page to create a feed.