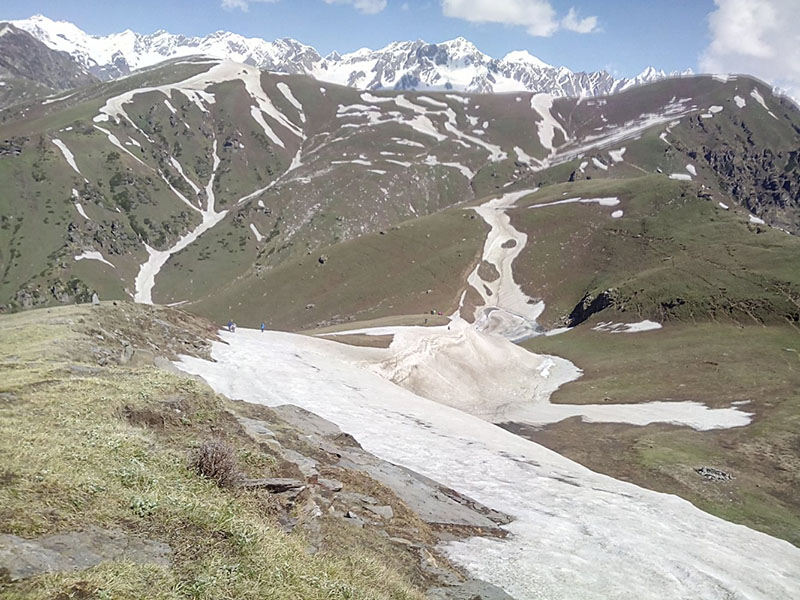 I want to keep this post about the Rani Sui Lake trek as much as possible. First, it is warranted that I at least introduce myself – a professional in the IT industry having the well-known (for the wrong reasons) work-life balance. The perfect way to describe me is that people who are undergoing a mid-life crisis would be able to relate to me the best. I do like to travel, but at leisure and in as much comfort as possible.
Rani Sui Lake Trek / Sour Tal Trek
Rani Sui Lake, also known as Sour Tal (3700 meters ASL) – a trek destination not so popular among the trekking circuits. There are far more well known. Manali (a popular hill station) being the well-connected starting point.
This trek happened in 2017, and soon after I wrote about the experience on my WordPress page. On May 27 this year, exactly 3 years later we re-lived some of the summit moments on our WhatsApp group. It brought so many fond memories back and reignited the desire to go back to the mountains. So I thought of recounting my experience with this community, and share some information about this trek. Better late than never.
The Plan
As you might have noticed in my introduction, I am not an avid trekker. Far from it. I got into this because of my persuasive friend Sudhakar. This is how a typical conversation would go with him after the general chit-chat.
Friend: By the way, on <so-and-so-date> we are going for a trek to <name-of-place>
Me: Oh cool, so where is this place?
Friend: Describes the place, the plan, duration, etc.
Me: Sounds like a good experience, but not sure if I can join
Friend: Ok think about it and let me know if you would like to join.
The call gets over, and then I never express my intention to join the trek. This has repeated so many times that slowly he stopped insisting on me joining.
Sometime in the month of July in 2016, we spoke again. The conversation went similarly to the one above. However this time he was more determined. He was also the designated trek leader from Karnataka Mountaineering Association (KMA). According to him, another friend of ours Sri – was also thinking of signing up.
He also suggested that we can pull in my cousin, Jai. His ultimate lure – four friends together on a trek, having fun. I was getting into an unavoidable situation. I discussed it with my cousin, hoping to wiggle out if he is not interested. Instead, he jumped on to the idea. Somehow I also started accepting the idea of a trek, and finally, we signed up for the trek by the due date.
We were in batch 3 that year. The program dates were 21-05-2017 to 31-05-2017, with all meals, accommodation, and travel included Delhi to Delhi.
Trek days: 24-05-2017 to 29-05-2017.
Manali
As many would know, Manali lies in the Beas valley, with mighty mountains on either side. From the left bank rises the Pir Panjal ranges, leading up to dizzying heights of peaks like Deo Tibba, Indrasan, etc. On the other side, we have an equally mighty Dhauladhar range.
Sour Tal is located in the middle reaches of this range, above the snowline. The trek is graded as an easy-moderate one. As a result, many of us first-timers had enrolled. So there were a lot of questions about the program and trekking in general. KMA kept us informed through emails and WhatsApp group.
A briefing session was held, where they also distributed rucksacks. We were instructed to practice walking/running 6 km a day within an hour every day as preparation.
In the summer of 2017, we did half-day treks to Kabbaladurga [26-03-2017], and Savandurga [16-04-2017] near Bangalore. This also helped us familiarize ourselves with the other members of batch 3.
I will skip the details of reaching Delhi, and limit to the trekking expedition.
Prini Base Camp (1950 meters)
We reached Manali in the morning viewing the snow-capped peaks through the panoramic windows of the Volvo bus. From there jeeps were arranged to carry us and our rucksacks to Prini base camp.
Many trekking expeditions use camping facilities at Prini as their base. A stream called Prini Nallah flows next to the property. It is around 5 km away from the main Manali town, on the Manali-Naggar-Kullu road.
Here we were introduced to our local guides – Sonu, Om, and Samir. Then tents were allotted. Soon breakfast was to be served in the dining tent. So we were asked to freshen up quickly and be there on time. As we had breakfast in the dining tent, we were introduced to the rigid schedule:
5:30 AM – Wake up call
6:00 AM – Tea/Coffee
6:15 AM – PT (Physical Training)
7:00 AM – Breakfast (followed by (re)packing rucksack and backpack)
8:00 AM – Trek starts
1:00 PM – Trek ends, Lunch
4:00 PM – Tea/Coffee
6:00 PM – Soup
7:00 PM – Dinner (no artificial lights after sundown)
A short briefing was given about the campsite and expedition. The trail was all set and all campsites were already established. Energy packs (juice, chocolates, biscuits, etc) would be distributed after briefing on trek days. We would carry our backpack for the day, while our rucksacks would be carried by mules to the next campsite. Very convenient!
Also Read: Stok Kangri Summit – At the Top of the World
Getting Ready
Additional conveniences like electricity, fixed structure for a toilet, and bath facilities were available here. One peculiar thing was that the men's bath and toilets were on the other side of the stream. This meant that we had to descend down to the stream, cross a narrow rickety wooden bridge, and climb up to the same height to reach the restrooms. Women participants were thrilled to see the stream, whereas it was a frequent hurdle for us.
Wooden bridge over Prini Nallah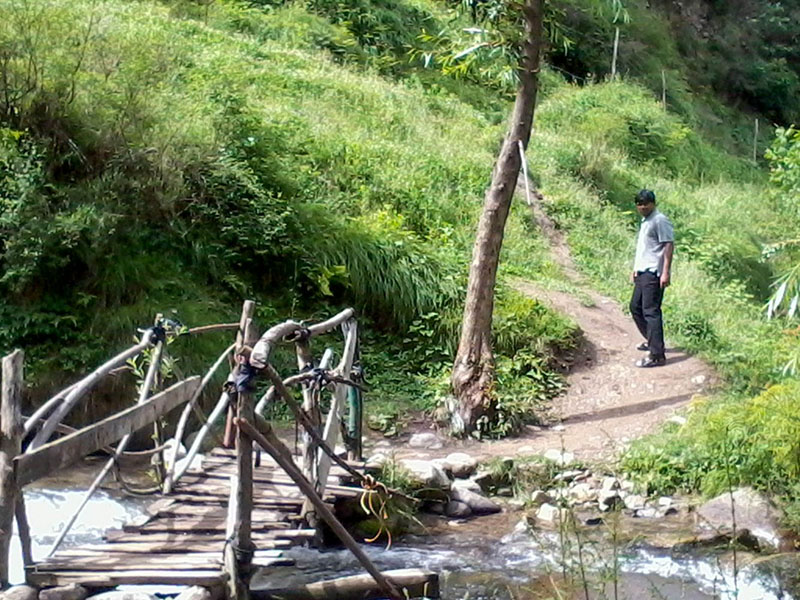 The acclimatization walk for the day was canceled as it started raining during the briefing. After the rains, the sky had cleared up and we could feel the freshness all around. Few of us went out for a walk and spent some time here enjoying the views and just having a fun talk.
After dinner, we were introduced to the main guide of the trek – Ganga Ram. I felt amused as I zipped myself in the sleeping bag for the first time to spend my very first night inside a tent.
Acclimatization Walk
We collected our energy packs and set off for the acclimatization walk after breakfast. The path took us through apple orchards and small mountain villages.
Our mid-way stop was at a serene temple in Shuru village. Walking further for around an hour brought us to the Arjun Gufa. The overall time taken was around 4 hours. We were back in the base camp for lunch.
Views as we ascend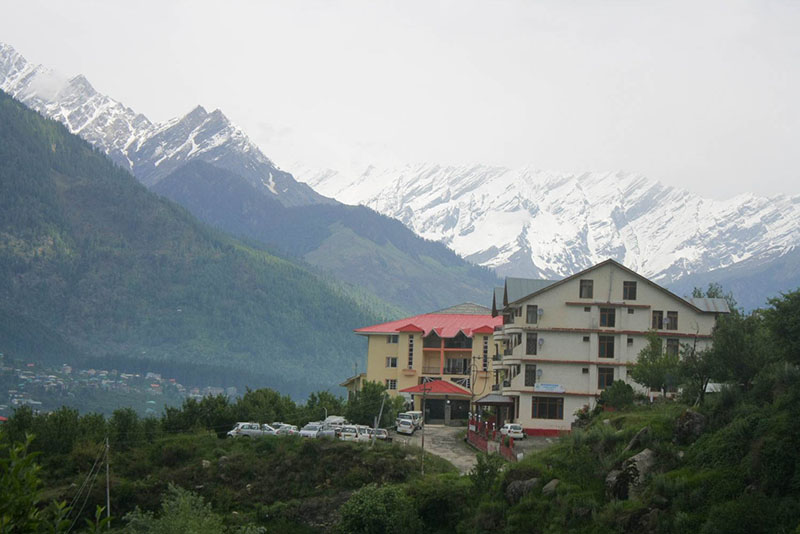 View of the valley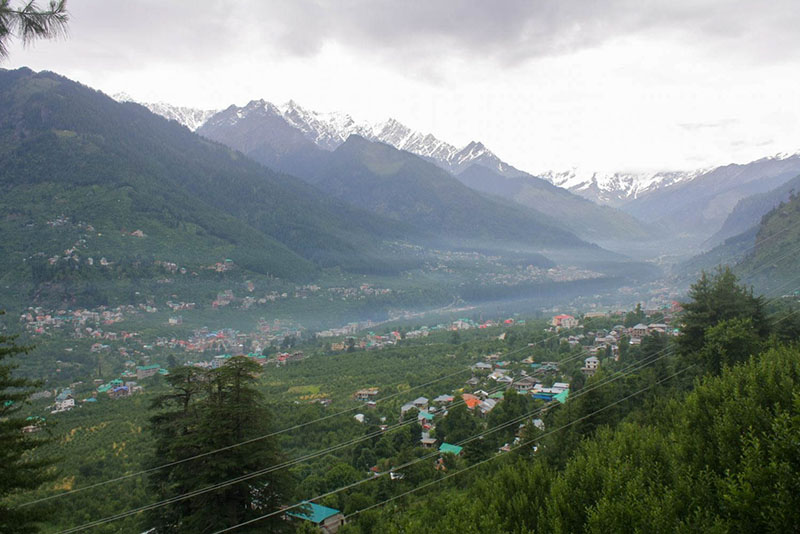 Bird's eye view of base camp while descending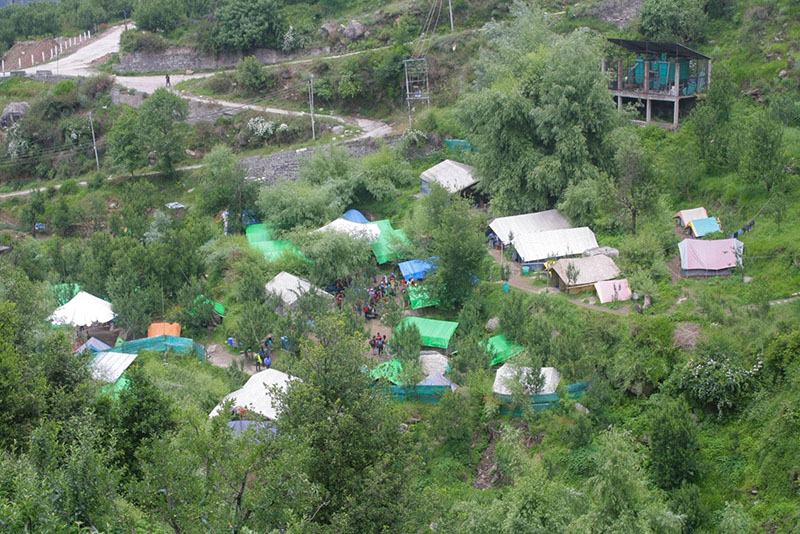 After lunch, we were again free. Post tea, we went for a walk into a nearby village and returned by "soup time". We settled in our tents and drifted to sleep, only to be woken up by noises outside.
Several members had suffered from stomach ailments and we could hear them vomiting. Without getting out of the tent, we could recognize them. Slowly we gave in to sleep again, hoping for the best tomorrow.
Note: Some pics are shot on a mobile phone, please excuse the quality.
Camp 1 – Klount (2230 meters)
I woke up in the morning with mixed feelings, not because I was unwell, but because 10-12 members of the 35 member group had fallen ill. Exactly when the trek is about to begin. The mood was somewhat anxious than upbeat as everyone lined up for the day's briefing.
Instead of the briefing, we got a scolding 🙁 from Mr. Khemraj Thakur – the proprietor of the Base Camp. A man in his 60s, apparently having good mountaineering experience. He blamed inadequate warm clothing as the cause of stomach infections.
Also Read: Beas Kund Trek – A COMPLETE Travel Guide and Itinerary
He criticized us for not wearing sufficient warm clothes. Indeed many from our group were roaming around in t-shirts. He started pointing at the offenders individually. Luckily I was wearing a jacket on top, so I was let off with a suspicious look.
Many also got criticized for needlessly drinking (cold) water. Drinking extra quantities of tea/Coffee was highly recommended. All members were cleared to start the trek after some deliberations, except Mr. Sridhar who suffered the most the previous night.
Start of the Trek
After the "briefing" we collected our energy pack for the day and started the hike. Leaving the convenience of electricity, foam mats under sleeping bags, not having to wash our plates – for the next 6 days. Our rucksacks were getting loaded on the mules as we departed Prini Base Camp.
Views as we neared Beas valley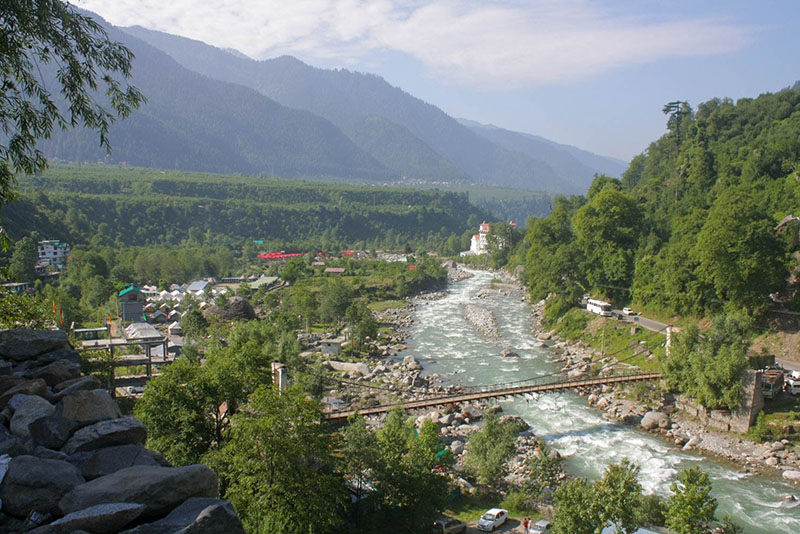 Through the by lanes we proceeded towards the Beas valley. Then there was a steep descent towards the Bhanu bridge. We bought a few bottles of packaged drinking water, to avoid drinking the water filled at base camp.
We then crossed the bridge to the Dhauladhar side and started climbing over a concrete path laid for villages. Soon the paved path ended and entered a pine forest. The slope was quite steep, but because of shade, it was very cool and pleasant. Soon the mules carrying our rucksacks overtook us.
Midway, we stopped and rested – trying out all filmy photoshoots. A hike of another hour and a half brought us to the campsite. The campsite was located in a small clearing among trees. Welcome drink (of non-alcoholic nature) was being served. The cool breeze, beautiful views, and the refreshing drink took all our tiredness away.
At the Campsite
Post lunch "Rope walking" activity was planned at 3:00 PM. Some explanation about the safety equipment was given. Most of the people tried their hand and enjoyed it. I played the part of a spectator and encouraged the participants.
We returned to the camp for tea. By this time, Mr. Sridhar had reached. He was given a jeep ride to the village. He had recovered enough to climb through the pine forest.
There was no supply of electricity here onward, so we had to take advantage of the late sunset and finish dinner around 7:30 PM. Courtesy of Mr. Raghavendra, we had rasam (like a spicy and tangy soup) on the menu. Hot rasam was just too perfect for the cool weather. Soon after dinner, it was dark, we got into our tents and waited for sleep to come.
Also Read: Mount Batur Sunrise Trek – A Hike to Remember
Camp 2 – Dudu Dhog (2750 meters)
By now I had become accustomed to zipping inside a sleeping bag and tent and had another night of good sleep. Dawn was already breaking by 4:45 AM, and the sky was gradually lighting up. It was a beautiful morning. Spent some time lazing around and taking in as much fresh air as possible. Morning tea was served soon, after which we prepared our rucksacks and day packs. Once breakfast and day's briefing was over, we started our ascent to the next campsite.
Sun rising over snow clad peaks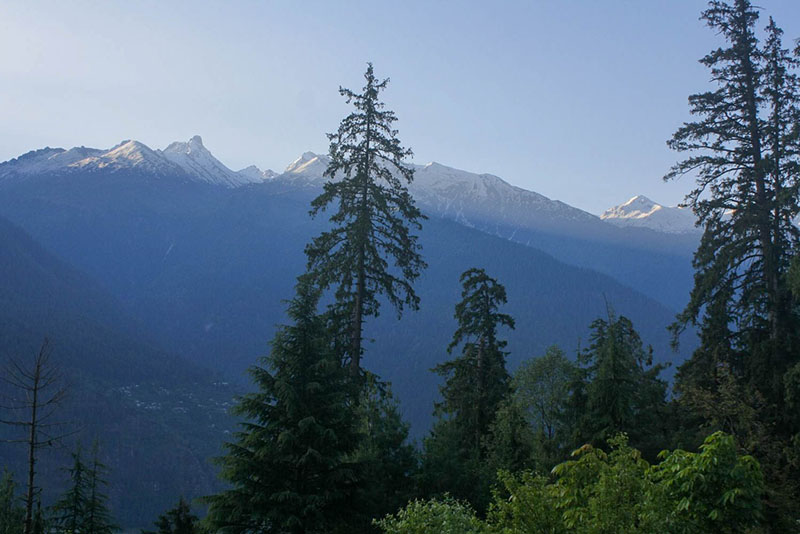 Till the mid-way point from here, the trail went in and out of cedar/pine forests. The density of trees kept reducing as we gained altitude. Most of the hike was under the open Sun, through fresh, green grassy meadows. A steady climb of a couple of hours brought us to the mid-way point. Those who reached earlier were resting under a big tree. I remained out in the sunlight as the breeze and warmth were enjoyable.
All of us lost track of time and kept chit-chatting, a good 30 minutes later Ganga Ram prompted us to start climbing again. Climbing in a zig-zag pattern on the steep incline helped in keeping the breathing in control. However, the hot water filled at Klount campsite was not palatable, and I was running out of drinking water. I kept moving ahead, hoping to find some source of water. Slowly we entered a small area shaded by trees, and there was a tiny single stream of water.
Many members lined up to fill their bottles with this water. The water was very fresh and tasty. On one hand, the stream helped in quenching my thirst, and on the other, it made the ground slushy and slippery. Moving further up, we could see the campsite.
The Campsite
Upon reaching, I had multiple servings of the welcome drink. Tents were allotted and soon lunch was served. Today's adventure activity was rappelling. Some of the folks chose to remain at the campsite, including myself and Jai. We relaxed and refreshed until others returned.
View from campsite at 7:15 PM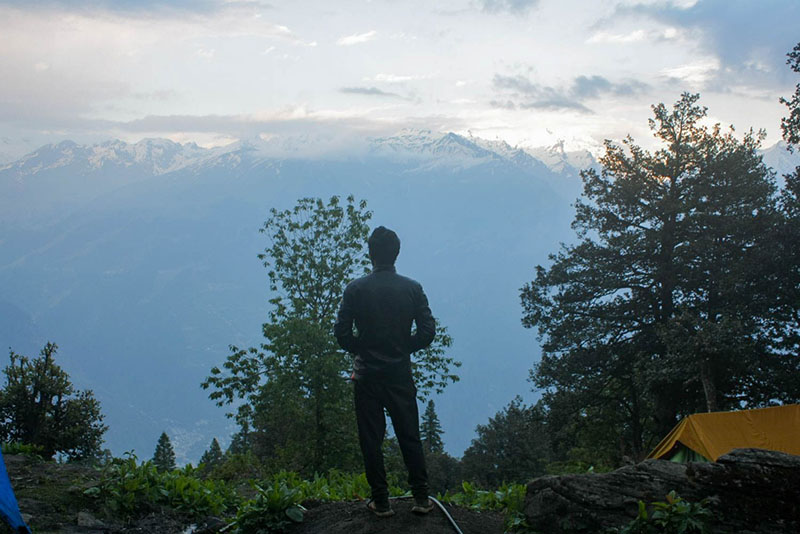 As the sunlight dimmed, most of us gathered in the dining tent. Divya (Raghavan) mesmerized us by singing some melodious Hindi, Tamil, and Kannada movie songs. Outside, the campsite staff was preparing for a campfire. The last rays of the Sun were fading away as everyone assembled around the fire with their dinner. Soon it was dark.
We washed plates in the light from torches while fingers were going numb. What's a campfire without song and dance? Boring! Several people jumped into the party, especially the youngsters. Slowly people (we included) started retiring into their tents as it became biting cold.
Also Read: Trekking in Parvati Valley – A COMPLETE Travel Guide
Camp 3 – Laanga Thach (3320 meters)
After a rather undisturbed sleep in the night, I woke up early again to soak in the sunrise. We had escaped PT (physical training) session in Klount campsite but were not so lucky in Dudu Dhog.
As if trekking was not enough, after tea we had to line up in the small clearing between trees with level ground. The challenge was to fit 37 of us, especially for PT movements in the limited space.
After PT we packed our bags quickly and assembled for breakfast and day's briefing. Ganga Ram detailed the terrain leading to the next camp and concluded as always that "We should be there in 3-4 hours". Today we have to ascend over 3000 m ASL (another first for me) to reach Laanga Thach.
As we ascended, the treeline thinned out and most of the trail was out in open pastures and meadows. The climb was constant, with varying degrees of incline. We stopped for a mid-way break after close to 2 hours of climbing. I started feeling a little lightheaded, maybe as we crossed the 3000 m mark. It was manageable.
We continued after the break. It took a little over an hour to reach the campsite. It was set just above the treeline, and we could see patches of snow nearby.
Patches of snow at our level – Laanga Thach campsite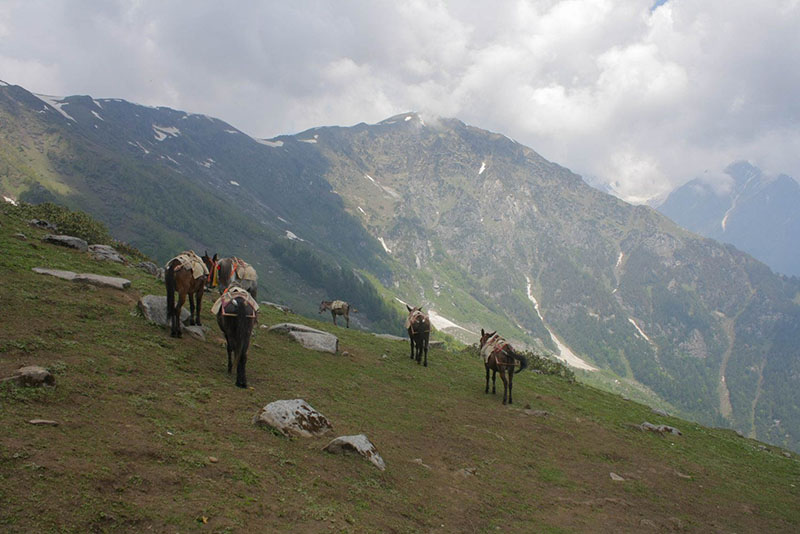 The Hailstorm
The location was just perfect, like a balcony with a spectacular view of formidable peaks in the Pir Panjal range like Indrasan and Deo Tibba. Strangely I could feel a sense of achievement already.
A "deluxe" 4 men tent was allotted for us to stay, like icing on the cake. With such spellbinding views around, I didn't realize when the dizziness faded away. I was feeling absolutely fine. Unlike previous days, everyone was outside the tents. Maybe they shared the same sense of achievement.
Waiting inside the tent for a hailstorm to stop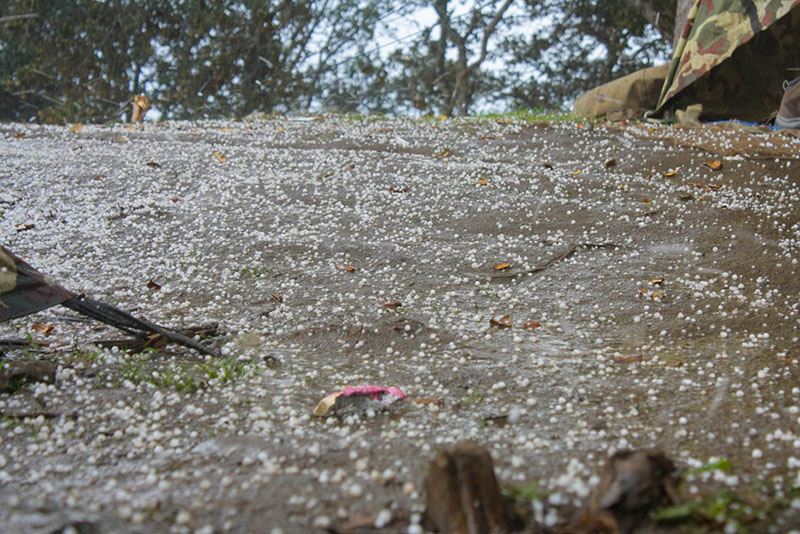 After lunch it started drizzling, we scampered into our tent quickly as it transformed into a hailstorm. We peered out of the opening as pea-sized balls of ice fell on the ground, some bouncing into our tent. Few members remained out in the hailstorm (wearing ponchos).
By tea time, the campsite staff supplied hot tea inside each tent, a very kind gesture. The skies cleared in some time, but adventure activity for the day got canceled. The atmosphere became magical as clouds started wafting through the valley.
Mt. Indrasan and Mt. Deo Tibba (partly hidden in clouds)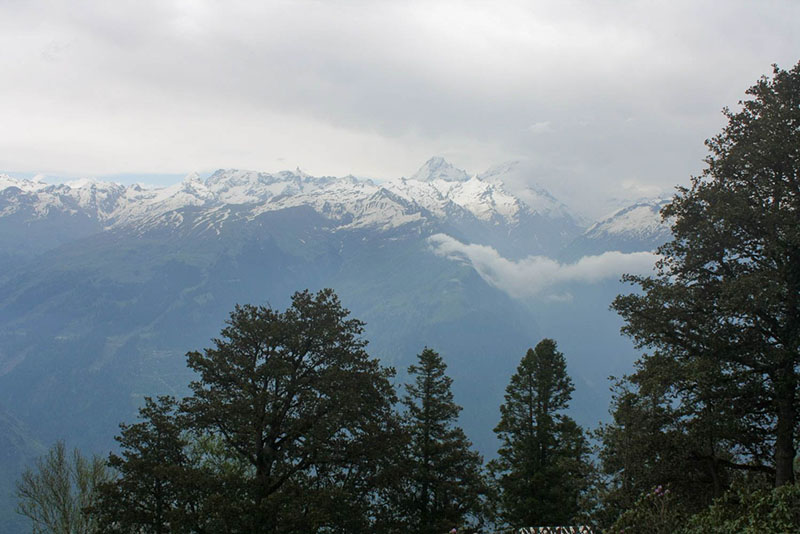 Views of Beas valley and Pir Panjal range
As sunlight weakened, the temperature plummeted to 4 °C. Down jackets were readily available for the needy. I had carried sufficiently warm clothes so I didn't need them. In dimming sunlight, we were treated with hot rasam rice for dinner – courtesy trek leader(s). As we retired to our tents for the night, we were excited about the next day – the summit day!
Summit – Rani Sui Lake / Sour Tal (3700 meters)
If you have read the posts till now, you will know that I used to have sound sleep in the night – while others complained of fitful sleep. In Laanga Thach, a little while after dozing off to sleep I felt suffocated and woke up. Unsurprisingly, the other two tentmates – Sudhakar and Jai were already awake. They were also feeling the same way.
The tent was flapping as it was windy outside. It was very cold in spite of having a fleece liner inside the sleeping bag. We took the hard decision of opening the vent window flaps even though it would make it even colder inside. After a while, I fell asleep blissfully. Luckily it was just ventilation, not altitude or anxiousness.
As already briefed on the previous day, we had to start much earlier than usual. The plan was to reach the summit and descend to Camp 4 (Mahili Thach) by (late) lunchtime. Morning tea and breakfast were clubbed, which means we had to eat breakfast at 5:30 AM! Just imagine the campsite staff who prepared it so early in the morning.
We collected energy packs and started walking – slower members of the group were given a headstart.
The Climb
Steep climb towards the ridge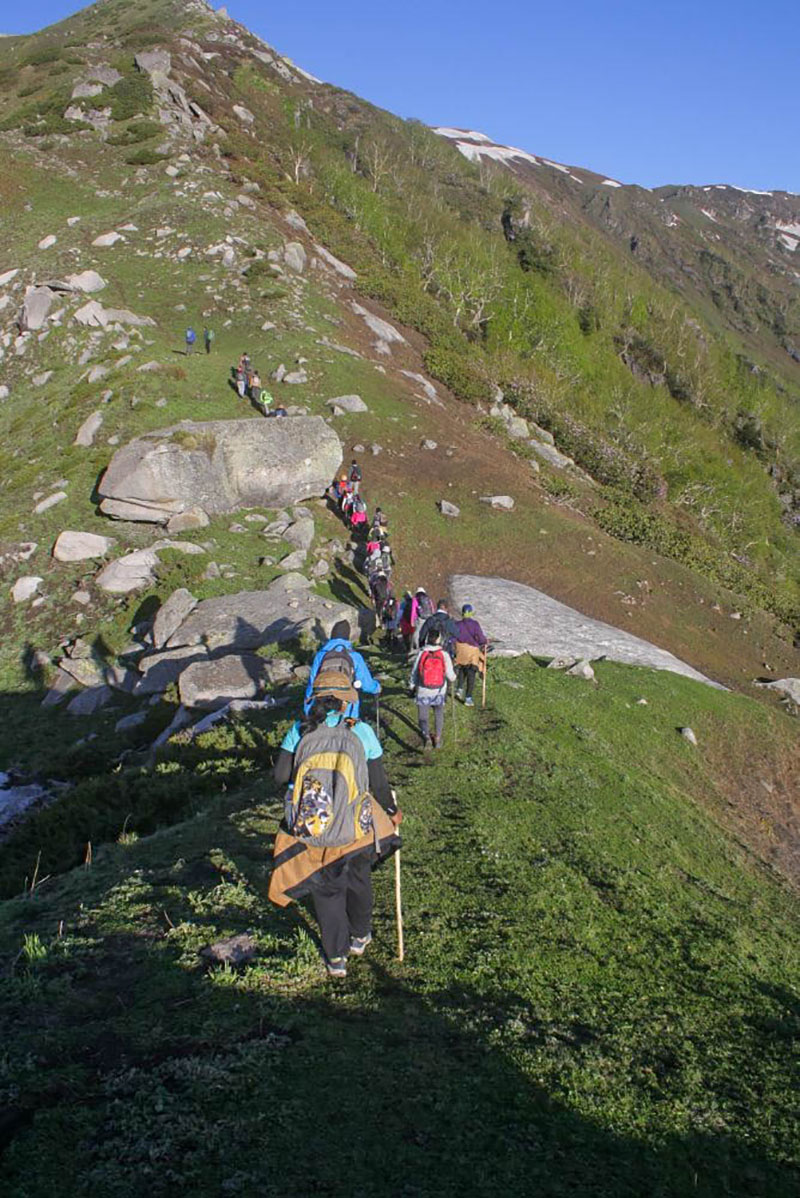 Right from the campsite, the ascent was steep. After that, we walked past some ravines and cliffs. Sun was shining brightly, but the wind chill negated the heat. Mid-way break arrived in an hour and a half. By now we had reached the ridge of the mountain range and the landscape was a mix of grassy, snowy ridges and gentle slopes.
Climbing against the backdrop of mighty Mt. Indrasan and Mt. Deo Tibba towering in the Pir Panjal range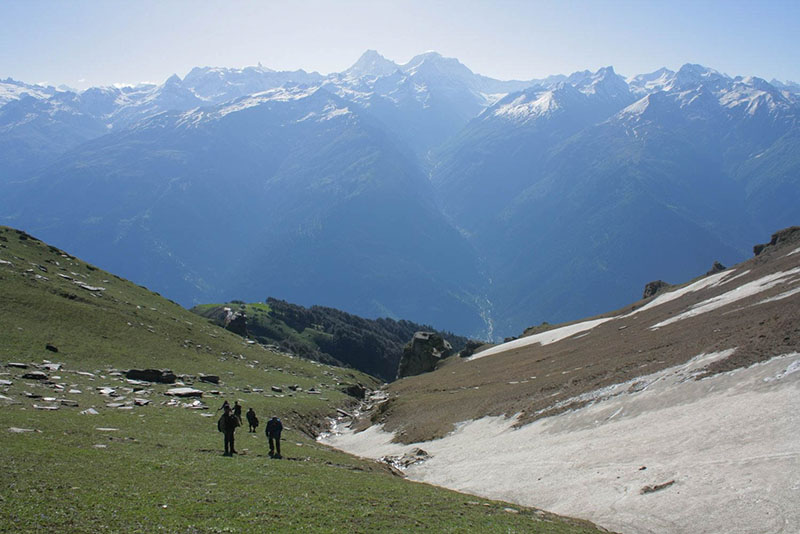 Walking over gentle undulations for an hour brought us to… wait for it!
Yours truly at the summit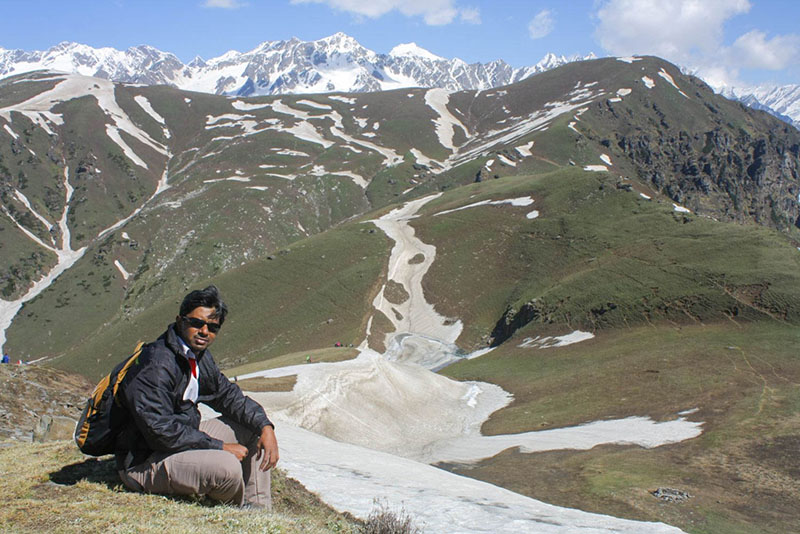 Initial impressions were somewhat underwhelming. The small glacial lake formed in the depression was mostly frozen. Whereas spectacular scenery surrounded us from all sides here. Or rather we were a tiny element of nature. Most of the folks went down to the lake, some of us decided to stay back.
Beautiful scenery all around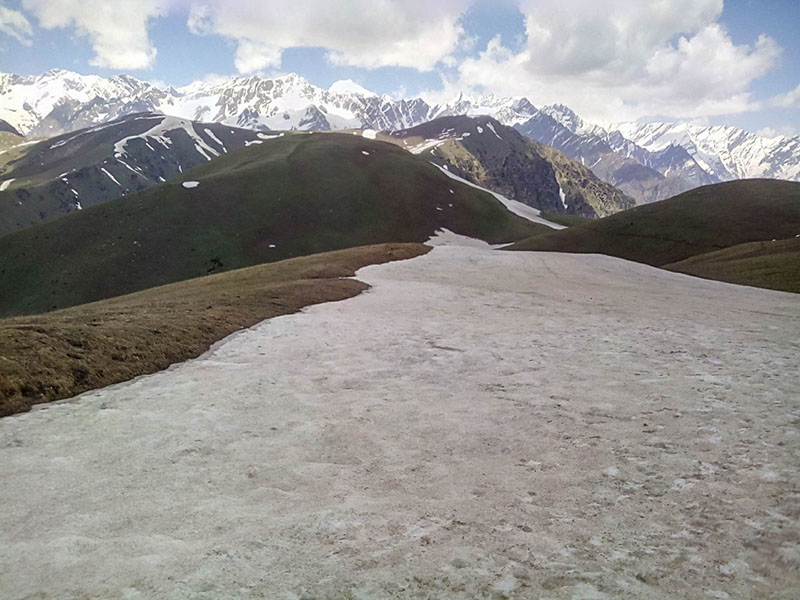 The Summit
The icy breeze and pleasant warmth of the sunshine. The calmness and serenity. Breathing the pure but slightly oxygen-deficient air, the spellbinding scenery all around. The time we spent at this place until others returned was one of the most blissful and peaceful times.
We (Jai and I) clicked some photographs, got a feel of snow (for the first time), and just sat admiring the picturesque landscape. Our accomplishment was sinking in slowly. Once everyone was back, we had another round of celebratory photographs with the summit banner.
Instead of walking on grassy meadows, Ganga Ram coaxed everyone to glissade on snow. Those who were reluctant, including me, got a "gentle" push. The fastest way to lose 100 meters of altitude!
Some repeated the activity just for the fun of it. Our descent to Mahili Thach started from here. As a legendary mountaineer, Ed Viesturs used to say "Getting to the top is optional. Getting down is mandatory."
Also Read: Jiwa Nala Trek – A COMPLETE Travel Guide
Mahili Thach (3200 meters)
Continued from the summit day and descending to Mahili Thach.
Having attained the pinnacle and the purpose of the expedition, everyone was in a cheerful mood. Ganga Ram also appeared more laid-back than usual. We started traversing the ridge, crossing many snowfields. Patches of snow were slippery and required a fair amount of care to cross. The clouds were playing hide-and-seek with the Sun. It was a very pleasant walk. We marched forward in a jolly mood, cracking jokes, and having fun.
Returning towards camp from the summit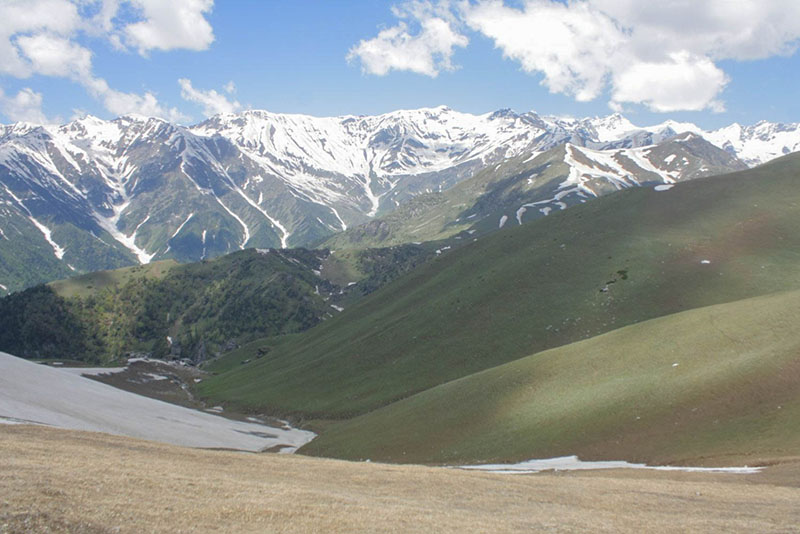 High altitude cows grazing on grassy slope :p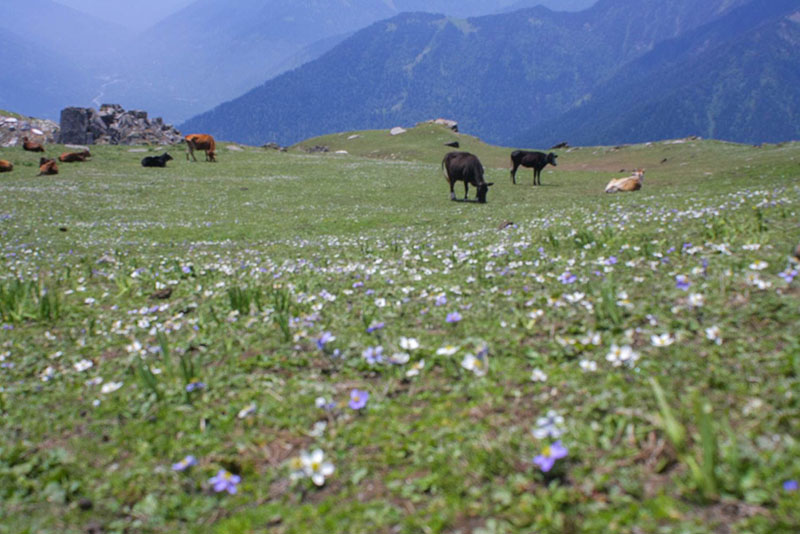 A little ahead, out of nowhere among the grassy slopes, there was a long patch of boulders. Some gaps were deep and wide enough for a person to fall through if they slipped.
Though for a change, it was fun leaping and hopping over the boulders. There were a few thrilling moments while crossing deep crevasses. After the boulder stretch, we stopped for a mid-way break.
Boulders among the green carpet of greenery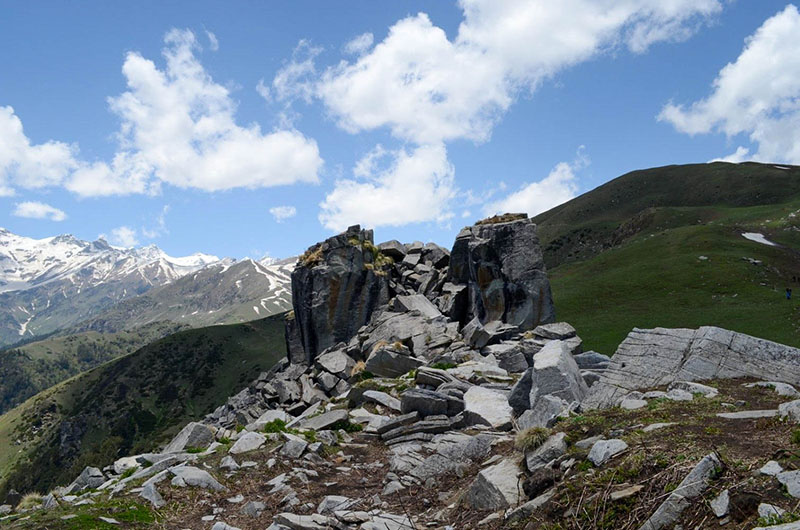 Campsite visible below, steep descent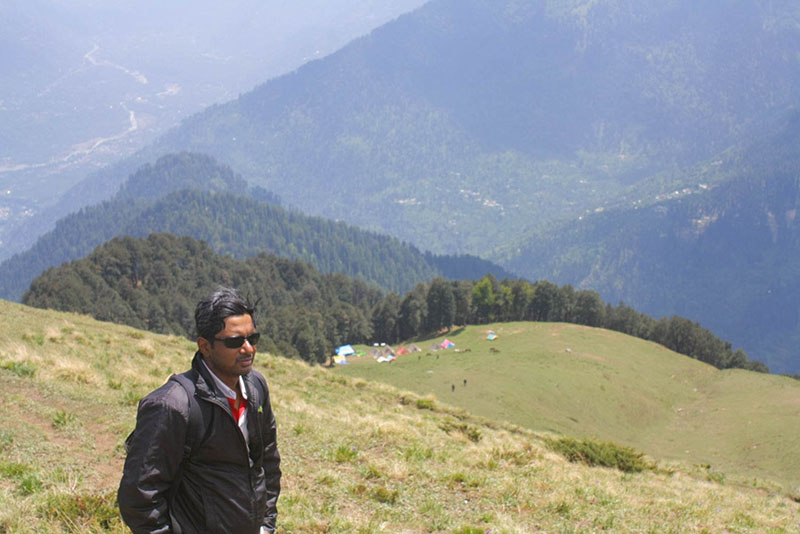 Back at the Campsite
From here the trail went visibly steeply downhill, we followed the trail, and sometime later we could see our campsite below. Another section of steep descent brought us to the level terrain where Camp 4 was located. Like Camp 3 (Laanga Thach), this camp was also on the edge of the treeline. We reached the campsite close to 2 PM and got the much deserved welcome drink.
Today we hiked for close to 8 hours, as against the usual 4 hours on other days. Soon after getting our tents allotted, we had lunch. Most of the people opted to rest and skipped the ziplining adventure activity after tea.
I cheered the participants as usual and relaxed. After the activity, soup and dinner followed. Sudhakar was feeling somewhat uneasy, having had some sleepless night(s) before. Jai wanted to accompany him in his tent, so I volunteered to stay the night alone (another first) in a tent. It was quite dark by now, after shuffling our things around we settled into our respective tents. My initial apprehensions of sleeping alone were unfounded as I fell asleep immediately.
Also Read: Kareri Lake Trek – How to Plan a Trip to this Hidden Jewel
Malah (2190 Meters)
Return journeys are always mundane compared to onward journeys. They always seem to end faster too. Especially when it comes to returning from a trek, once you've been to the summit the excitement and enthusiasm comes down along with us.
Also, on this trek, the ascent was on the mountainside facing the Beas valley with the Pir Panjal range of mountains in clear view most of the time. We descended in a different direction, with terrain that was not having many open views – mostly pine forests and thick shrubbery.
Unfortunately, this also means that photographic opportunities, as well as interest, also were lesser than ever.
My sleep was broken when Jai came into the tent and called out for me. The time was 5:30 AM. Another night of good sleep! PT was planned after tea and everyone assembled in the open area. To continue the fun mode, we were made to do a "Penguin" drill.
Not only did it give a splendid exercise to the body, but it was also equally hilarious to perform (and watch). Can anyone imagine asking for a repeat of PT? That's exactly what happened! Hot breakfast was served soon after, followed by a briefing.
View from Mahili Thach campsite, preparing to leave.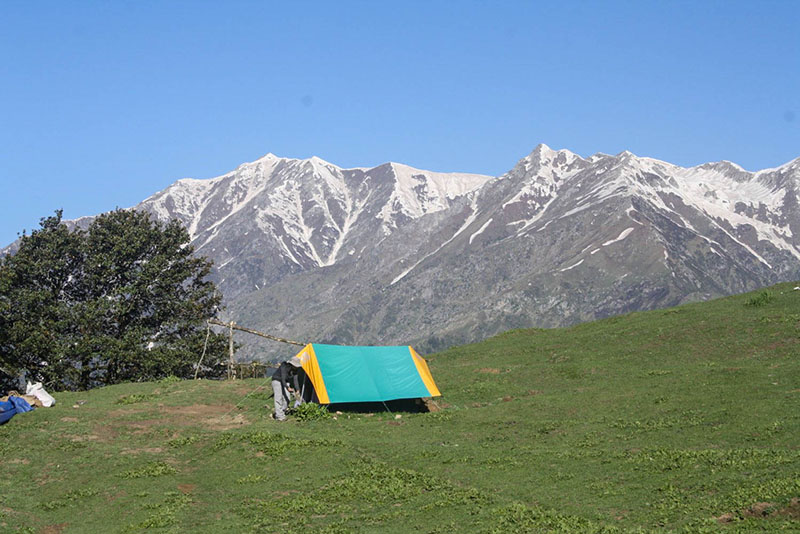 Walking Down
Today we had to descend from 3200 m to 2190 m. Losing more than 1000 m of altitude in a day. The trail entered pine and cedar forest. The slope was steep and descended continuously. We got some relief at the mid-way point, at the end of the forest. From here a clearing with a flat surface could be seen. As we moved forward, we could see a campsite set by another trekking group. It appeared that they were attempting the summit from this direction.
After crossing this campsite, the trail became very narrow and steep through dense shrubs. There were streams running close to the trail. Some areas of the trail were wet as well, leading to minor slips and slides. Unintentionally, I had picked up a wooden stick in the cedar forest. It came handy to push away branches, and lend me support on slippery mud.
We proceeded through this stretch slowly and very carefully. Emerging unscathed from this stretch, we reached Shangchar village. We regrouped here and rested for some time. Now we were on much easier paved village pathways, combined with a gentle gradient. In a quick time, we reached Malah campsite. Welcome drinks were served as usual.
Courtyards of village houses adorned by pretty flowers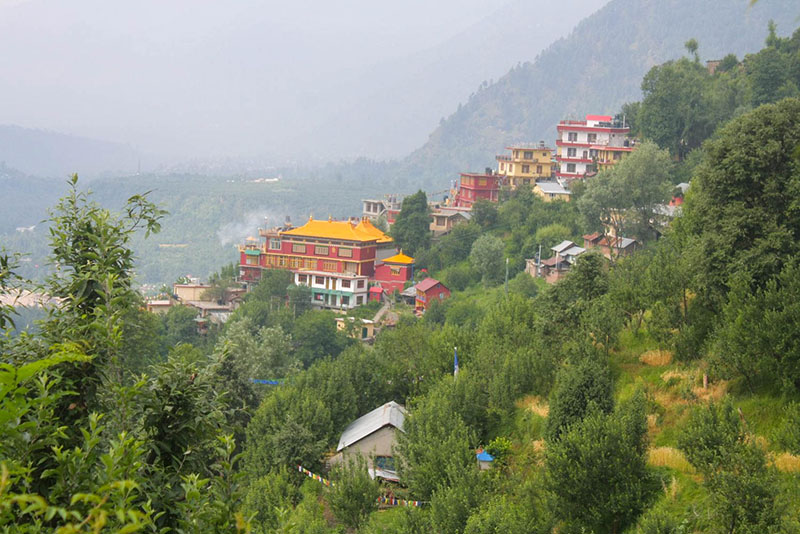 Fun on the Last Day
The evening activity was a game of kabaddi. The local camp caretakers, guides, and some enthusiastic members of our group participated. Unfortunately, Dr. Srinivas got one of his toes injured in the game.
Incidentally, it was also Shruthi's (wife of Dr. Srinivas) birthday, and a small celebration was announced. The camp caretakers were kind enough to bake a special cake for the occasion. It was a wonderful gesture.
After the cake cutting ceremony, more celebrations ensued. The mood in the camp was really jubilant. Sudhakar also arranged for some local brew, which many of us tried.
Trek was not yet over, but this was the closest to completion. A group of people from the village gave us a local folk dance performance.
One (literally) bright aspect was that we had illumination here for the dining area. We had a "late" dinner by 8:30 PM. Jai and I kept roaming around at the campsite till about 10 PM before tucking in.
Also Read: Darma Valley Trek – How to BEST Plan your Trip
 Prini Base Camp (1950 Meters)
It is said that deep sleep accompanies a loss of altitude. Descending from above 3000 m ASL to around 2000 m ASL had the effect. I slept well through the night as usual, but others reported the same for a change.
We were in a relaxed mood as today's hike was relatively easier. The previous day's descent of around 1000 m to Malah had taken a toll on Mr. Manjunath's knees. He had difficulties even walking. A jeep was arranged to take Dr. Srinivas and Manjunath, back to base camp.
This was the final day of our trek, we started our hike after the usual servings of tea/coffee and breakfast. The path was a semi-paved one as it connected the village to the road head. We stopped by a temple courtyard. From there a lane brought us to the road ahead on the Kullu – Manali road, we boarded a bus from here and alighted at Bhanu bridge.
Homestretch
Only 45 minutes of steep ascent separated us from the end of the expedition. Moving at a casual pace we reached the entrance of the Base Camp. Khem Raj Thakur spotted us and congratulated us, other staff of the base camp also joined in. We were allocated spacious tents (6-8 men) for the remainder of our stay.
Mobile Electronic gadgets got a long-overdue recharge. Other conveniences like hot water bathing and personal grooming were nothing less than an achievement. Then everyone gathered in the dining tent for lunch. We returned the ponchos and windcheaters. Debriefing was held at 3:00 PM, everyone shared their experience briefly while providing feedback for improvements.
This officially concluded the trekking expedition!
We were free to spend the evening and next day (30-05-2017) as we wished while being based at the base camp. We utilized this time for doing the touristy things. Till we returned home, there were several other side plans and activities. However, that's for another day.
Thanks to those who liked, commented, and managed to read up to this point!
Conclusion
I hope the travelogue and information above on Rani Sui Lake trek was of help. If you have any questions, please feel free to ask in the comments section below and I will be happy to answer.