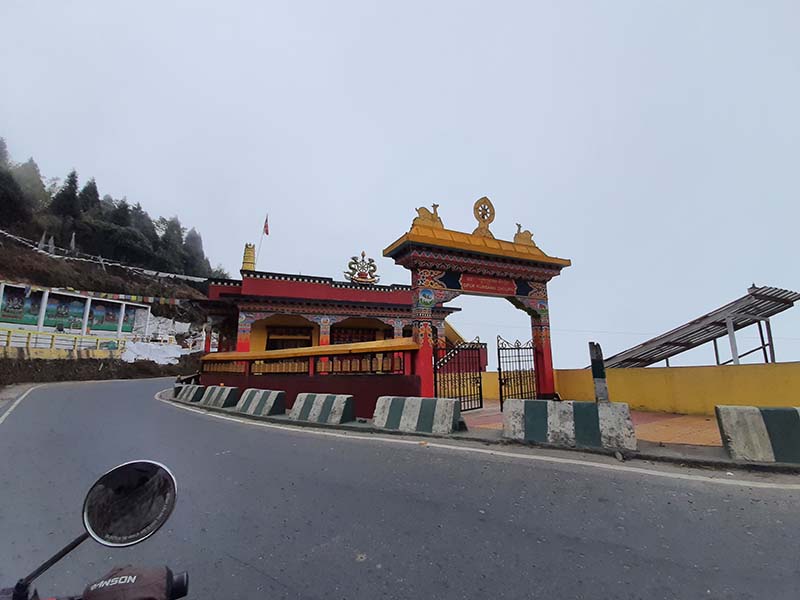 This Travelogue is about my bike trip to Darjeeling, Queen of the Hills on my beloved Blacky (my motorcycle). After doing Gurudongmar in November 2019, my traveler instincts again started showing restlessness. In December 1st week, I made a plan to ride to some offbeat places in Darjeeling.
Although there are plenty of hamlets and small towns to make peace with the calls of a traveler's mind, we could explore only a few places because of a tight schedule. Usually, I like to travel solo or at most with 2 or 3 people but as an aftereffect of marriage, I also had to take my wife as a pillion rider this time.
Hence, I asked some of my friends to join us and a friend with his wife agreed. En-route Darjeeling, we needed to go through Kurseong, so I kept some sightseeing in there as well. Despite planning a complete circuit full of newly discovered off-beat places, I couldn't arrange homestays booking in my preferred places as it was Christmas time and peak tourist season for Darjeeling.
Also Read: Places to visit in Kolkata and Things to Do !
About Darjeeling
What comes to your mind when you hear the word Darjeeling?
Yes, correct. It is indeed one of the most beautiful hill-stations in West Bengal that is also famous world-class tea farming. It is often called as Queen of Hills by Mountain Lovers and quite rightly so.
Darjeeling was the summer capital of British India before they shifted their capital to Delhi from Kolkata. The evidence of their activity can still be witnessed in the form of tea estates, ancient cottages, and stunning architecture.
For many travelers Darjeeling is not only a place to spend their holidays but an emotion (Bengali people can relate more with this statement). Geographically Darjeeling is a district as a whole and is divided into both plains and hills.
About Kurseong
Kurseong is a sub-division of Darjeeling district that remains covered in mist most of the time and round the year. This somnolent of a place is perfect to rest one's anxious mind. The name Kurseong is derived from Lepcha word Kharsang (the land of white orchids). Well, you may not call it the same now due to mighty human settlement destroying nature, but surely can find many orchids here still.
Due to the foggy climate, the taste of tea grown here is a bit different than that of the tea gardens of Darjeeling. Some unusual horror stories of a place called Dowhill will be an added advantage for you. For a detailed version of the haunting stories of Dowhill, please read The Headless Ghost Of Dow Hill, Kurseong.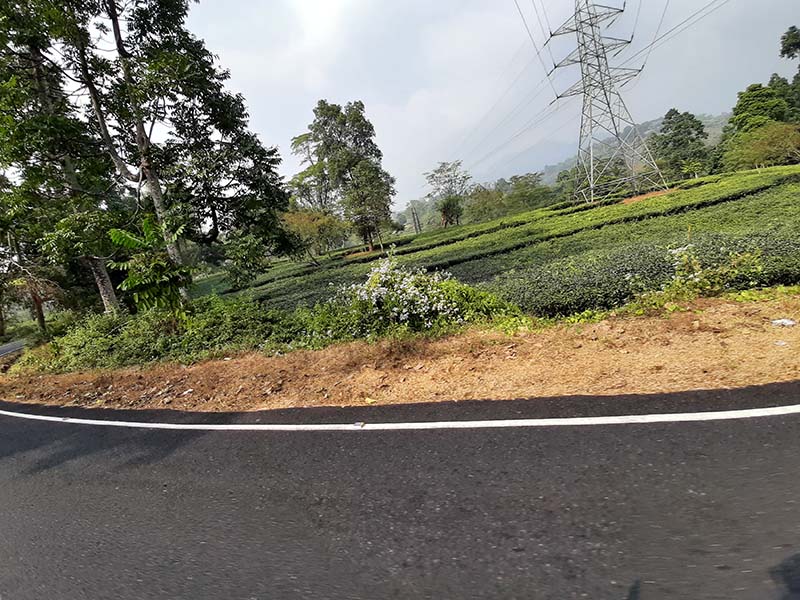 Bike Trip from Kolkata to Darjeeling
Our trip was a total of 5 days ride from our doorstep and back. We planned to stick to the Darjeeling district as we were on a tight schedule. It was Christmas morning when we started our ride and ended on the 29th of December. On a chilling cold morning of 25th December, breaking the silence of a sleepy locality, we rolled our Royal Enfield bikes to the highway.
Day 1 – Kolkata to Islampur
Islampur is a sub-division of the North Dinajpur district and was our destination on Day 1. We started at 6 am from Kolkata and covered a total of 485 kilometers, reaching Islampur late at night.
After meeting my friend at Dankuni, our first stop was Shaktigarh. It can be called a sweet stop because we tried the Bardhaman special sweet item Shitabhog and Mihidana there. After rewarding ourselves with a sweet treat, we continued our journey to the destination for the day.
Due to multiple and somewhat unnecessary breaks, we reached Islampur late at 9 pm in the night and booked a small hotel for the night stay. The road was a mix of both state and national highway; good, bad, and ugly.
As we all know there is nothing interesting about highway ride except the fatigue of a long ride; so not really much to share about this day. After freshening up, we had mouthwatering dinner from a Dhaba with some friends who were locals there and went to sleep to be prepared for the next morning ride.
Also Read: The Ghosts of National Library of India, Kolkata
Day 2 – Islampur to Lepchajagat
Since a solar eclipse happened last year on 26th December, we couldn't get Sunlight till 10 am. However, we still started rolling our bikes at 8 am and took Pankhabari road to reach Eagle's Craig, Kurseong, covering 98 kilometers in 5 hours or more.
When the wheels touched the inclined twisty mountain roads, we forgot about time and often stopped to appreciate the landscape. But at Eagle's Craig, much to our disappointment, we could not get any views due to dense fog.
At last, the ticking clock reminded us to throttle up and cross 35 kilometers more to reach Lepchajagat. Closer we got to our destination; the more we experienced the bite of freezing cold wind. Finally, at 4 pm we reached our homestay in Lepchajagat. We had a romantic evening walk through the beautiful hamlet after lunch.
Soon it started to get dark and we came back to our homestay after a leisurely walk. We had campfire type setup arranged by the home-stay owner and enjoyed the rest evening by gossiping, singing, etc before dinner.
Day 3 – Lepchajagat to Latpanchar via Darjeeling and Bagora
On the 3rd day, we woke up early in the morning at 5 am to witness the incredible sunrise view of Kanchenjunga. The viewpoint was 600-700 meters trek from our home-stay on grass and stone-paved way with sharp inclination. The grass was white because of frozen dew drops. Kanchenjunga started becoming visible with its own majestic appearance and golden cap at the peak.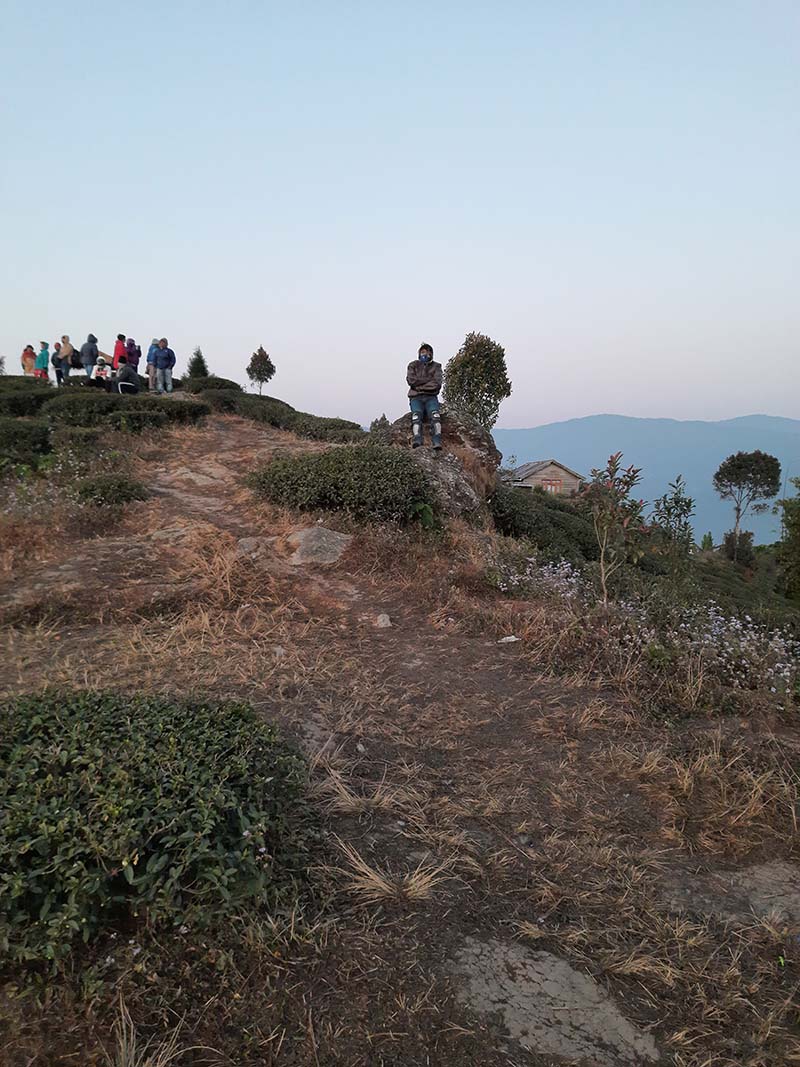 After spending a splendid hour, we returned to our homestay and had a steaming hot breakfast. With our bellies full, we got back on the road to visit Ghoom Monastery, Batasia Loop, and the rolling toy-trains which were around 10 kilometers from Lapchajagat.
Then we rode another 4.5 kilometers to reach the Darjeeling mall. Due to the long queue of Keventer's lovers, we dropped the plan to eat there on returning from Batasia. Instead, we tried some authentic Darjeeling tea in a tea corner. While we were finishing up, we also experienced a light snowfall outside. With a lot of excitement, we resumed our journey to Lapanchar.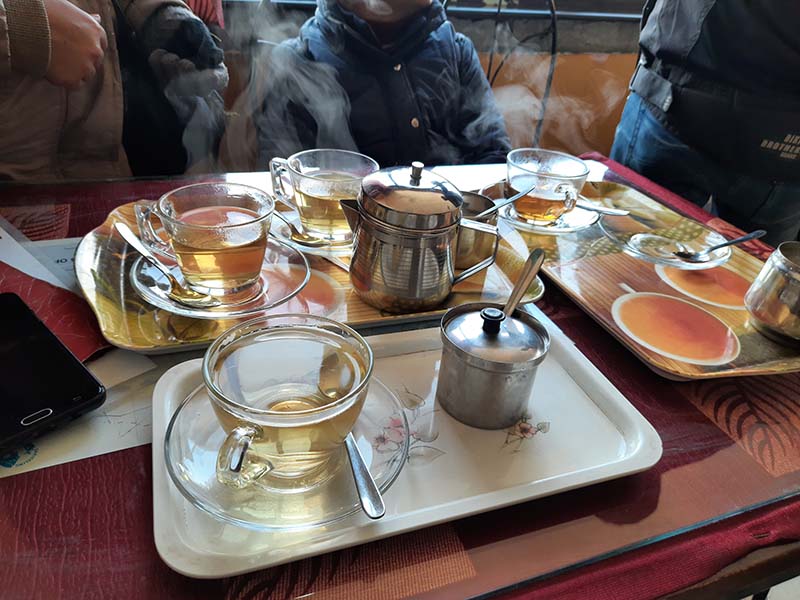 The next 45 kilometers ride was all downhill within the Senchal forest region after getting out of Darjeeling. Experiencing the unmatched silence of the hilly forest, we reached our destination by 3 pm.
The 2nd half of this day was only to relax and enjoy the peace and tranquility of the mountains.
Also Read: Best Itinerary for North Sikkim – How to Plan your Trip
Day 4 – Ahaldara, Sittong, and Latpanchar Sightseeing
Sunrise on hills will always beckon you to see its beauty. I am not sure how it is for others but for me, it always had a very soothing and calming effect.
By 5 am we went out for Ahaldara top. After riding mostly off-road for 1 hour or more, we reached the top to witness the unparalleled beauty of 'Sleeping Buddha'. We also saw the hill which is shaped like the face of Kabiguru Rabindranath Tagore.
En-route 'Namthing Pokhri' we came across a largely unknown 300 years old Lepcha monastery. This was not included in our itinerary but we still decided to pay a visit and spend some time there. After trying to find some peace there in front of the Buddha statue, it was soon time to move on. We throttled up again to reach and find the unique species of Salamander in Namthing Pokhri but had no luck due to the cold and dry weather.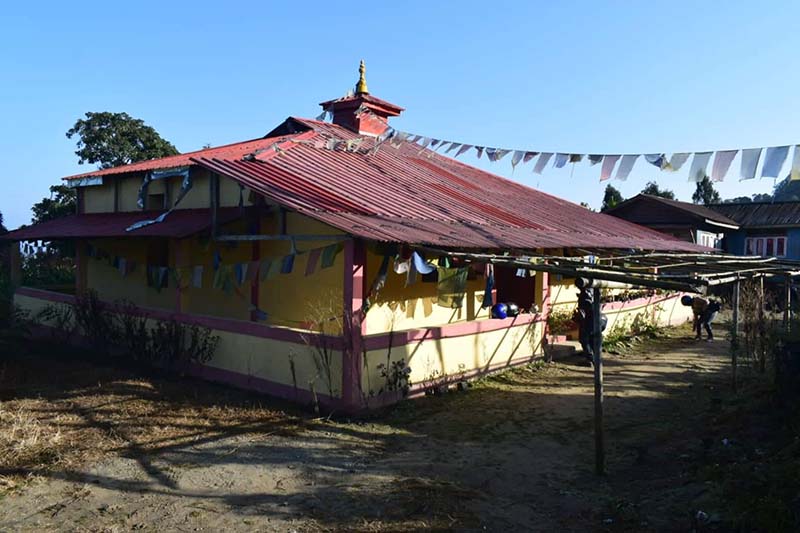 Our next destination was Sittong, the famous orange garden region in Darjeeling. Unfortunately plucking those oranges from trees is strictly prohibited so that is not something that I could do (though I badly wanted to). The rest of the day was spent in an evening walk, campfire, singing, and enjoying roasted chicken with a couple of pegs.
Also Read: Motorcycle Trip Checklist – Things to Carry on a Bike Trip
Day 5 – Latpanchar to Kolkata
This day started with a heavy heart as this was our homecoming day, the last day of the trip. But an interesting thing that happened this morning was sighting of super famous Hornbill bird within the premises of the home stay. This is something that we had no luck with in the last 2 days but finally, we were able to get a view of the majestic bird on the last day.
Geetaji, our beautiful host, woke us up for that beautiful scene. The forest around Darjeeling is especially known for the sighting of this bird. After clicking some photos of nature's beautiful creation, we buckled up and got ready for homecoming ride.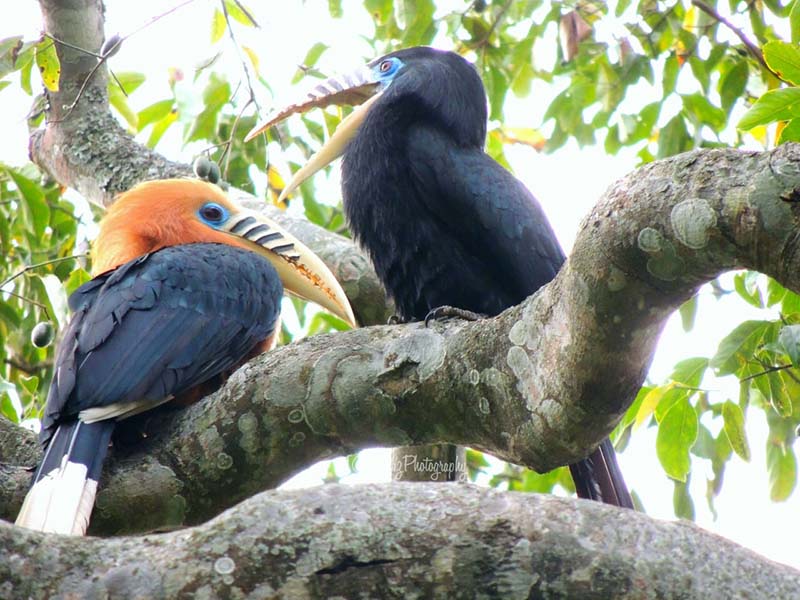 Bidding goodbye to Geetaji there we rolled down to the plains. Starting at 8 am we finally stopped our bike's engines at 11:30 pm. The distance was about 580 kilometers which made us super tired. Since this was mostly just a long and monotonous ride back home, nothing worth mentioning happened on this day.
Also Read: Gangtok – A Complete Travel Guide and Itinerary
Route Plan for Bike Trip to Darjeeling
Siliguri is the junction point that connects North Bengal and Sikkim with the rest of the country. So you have to cross this place irrespective of where you were coming from. After crossing Siliguri, multiple routes can be taken to reach Darjeeling district aka North Bengal. Let me provide our route plan from Kolkata to Kolkata.
Kolkata to Darjeeling
After getting out of our locality we rode up to Bardhaman via NH-2. From Bardhaman, we took a right turn on SH-7 and continued our ride via moregram till we reached NH-34.
Passing through Farakka and Malda, we took the NH-31 which extends to Siliguri. On NH-31 you will get Raiganj, another famous stop for Road trippers. After Raiganj there are two routes to reach Islampur. We took the Dalkhola route, famous for its traffic jam. The shorter and faster route is through Botolbari which isn't really safe at night.
On the second day also, we decided to stick with NH-31 till Siliguri. From there we took the Pankhabari road via Ghoshpukur and Bagdogra to reach Kurseong. After crossing Bagdogra another route is there which is via Rohini Tea garden. The second route takes a bit less time but we decided to go via the first route that also connects to Mirik by a left turn.
We continued straight to Eagle's Craig as we were running out of time. Otherwise, I had some more plans in Kurseong. From Eagle's Craig again we rode reached the Hill Cart road. Via Sonada we reached Jorbanglow from where we took left turn and it was 8.5 kilometers to Lepchajagat.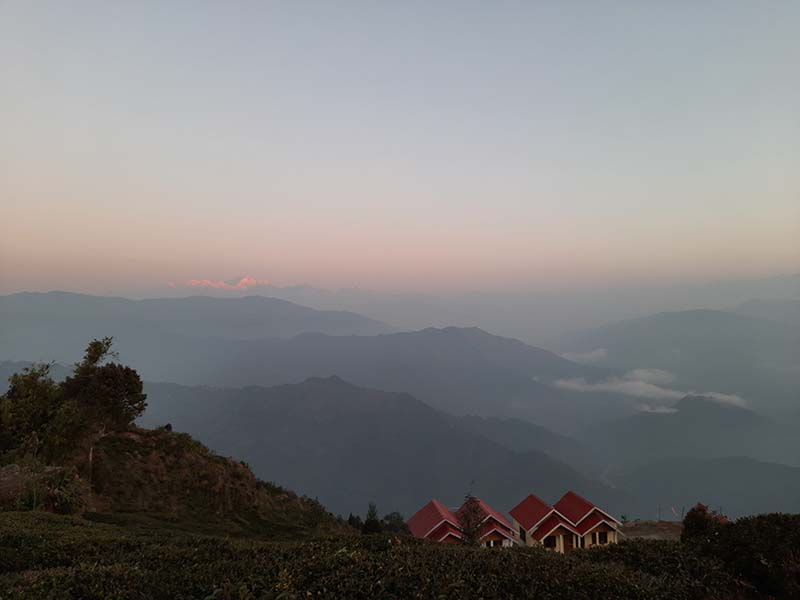 Sightseeing in Darjeeling and Return
The next day, we came back on the same route to Jorbanglow Mod and traveled on Hill cart road again to reach Darjeeling main town via Ghoom. After sightseeing, we got down the same way via Sonada to Dilaram. From Dilaram we turned left towards Baghora Road. This road goes within the Senchal forest. Many famous hamlets among offbeat travelers like Chatakpur, Mahaldiram, Ahadara, Latpanchar, Sittong, etc fall under this forest region. Around 25 kilometers of a ride, it took us to the 6th mile, a village in Latpanchar block where our homestay was.
Our day 4 was for sightseeing around places like Ahaldara, Sitting and Latpanchar itself. Hence it was infamous village roads within this region only which I can't even properly remember.
The homecoming ride was straight from Latpanchar; 20 kilometers of a complete offroad downhill road towards Kalijhora, a dam on the Tista river in Kalimpong district.
From Kalijhora we got smooth Sevoke road towards Siliguri again. From Siliguri the same way we crossed Islampur, Raiganj. But this time we took the botobari route from Islampur as it was the day time. Crossing Farakka we rode on NH-34 itself and didn't opt for Bardhaman route. We reached Kolkata on this route via Berhampore and Krishnagar.
Petrol Pumps
This point is important for road-trippers and riders like us. You don't have to worry about the fuel availability on this trip though. There are several petrol pumps en route after every 10-30 kilometers. No matter which car or motorcycle you were driving, you have no need to make arrangements to carry spare fuel.
Where to Stay and Eat
On this route, there are plenty of options to stay around Kurseong and Darjeeling which you can choose according to your budget. There are two types of pocket-friendly options. The first are average priced hotels in the core town area; and the second option is of homestays that you can find only in different hamlets on the outskirts.
For me, the second option is always the preferred one. This way, I can feel nature more closely keeping a safe distance from the tourist crowd. This is also a great option for budget travelers. Yes, you can also camp in those hamlets or town outskirts, in homestay properties for a nominal charge.
There are some luxury hotels in Darjeeling town as well as British Bungalows in both Darjeeling and Kurseong. The availability of eateries is also ample. If staying at a homestay, it would be better to eat with your host only but you can also try the local restaurants if you wanted to.
In Darjeeling Mall, there are some super famous restaurants, perfect to try some mouth-watering foods. A few recommended ones are breakfast at Glenary's, Lunch at Keventer's, and dinner at Shangri-La.
Also Read: Best time to Visit Gangtok – When to Plan your Trip?
Cost of Bike Ride to Darjeeling
How much with the trip cost you? Well, it's very tough to calculate the budget for a trip like this. A lot of factors will get considered; like the time and mode of your travel, the total duration of the trip, and your personal preference.  Still, I will try to break the total cost down here for two people.
Peak tourist season (from October to May)
Budget-friendly hotels:  Rs. 2500-3000 per day (with AP meal plan)
Homestays: Rs. 2400 2800 per day (with AP meal plan)
Mid-range hotels: Rs. 3000-3200 per day (with breakfast only) and 2500-2700 per day for accommodation only
Costly hotels: Rs. 3500-4000 (with breakfast only) and 3000-3500 for accommodation only
Off-season Rates (from June to September)
Budget-friendly hotels:  Rs. 2000-2500 per day (with AP meal plan)
Homestays: Rs. 2000-2400 per day (with AP meal plan)
Mid-range hotels: 2400-2800 per day (with breakfast only) and 1800-2200 per day for accommodation only
Costly Hotels: Rs. 3000-3400 (with breakfast only) and 2500-3000 for accommodation only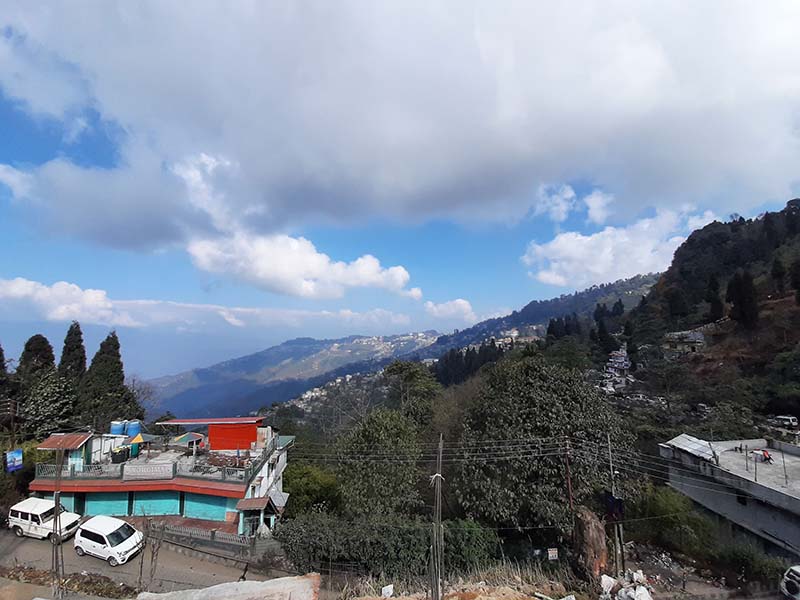 Mobile Connectivity
Mobile or Internet connectivity after entering Kurseong will get weaker, especially in some interior places or small hamlets. In the town area of Kurseong or Darjeeling, you don't have to worry about network connectivity irrespective of the network you were on.
BSNL has the widest and greatest coverage in the villages and remote areas. In some villages, you will get Airtel and Jio and Vodafone in others. BSNL however will remain available pretty much everywhere.
Also Read: Sightseeing in Gangtok | Best Places to visit in Gangtok
Road Conditions from Kolkata to Darjeeling
From Kolkata to Siliguri (almost 550 kilometers), we were on mostly highways (State and National both). Up to Bardhaman, we were on Durgapur Expressway which was super smooth and allowed us to ride at top speed.
Then we got onto SH-7 which was not so great and narrow with rough patches almost every 10-15 kilometers. The two-way traffic will make you extra cautious while riding or driving.
This road took us to NH-34 which can be called one of the worst National Highway in India from every aspect; be it its width, presence of heavy vehicles or condition of the road. Since we were on bikes, we managed to bypass the traffic jam and crowd of heavy vehicles and reach Dalkhola, the end of the NH-34.
From there NH31 allowed us to connect with Pankhabari road. This road is mostly smooth sailing all the way. Reaching the Pankhabari road means you are approaching the hilly roads. Despite the steep climb in some places, the road was mostly good.
After this, through Hillcart road we ended up in Lepchajagat. The Hill Cart road can be described as okay due to heavy traffic. Since this is the shortest connectivity of Darjeeling with Siliguri, all types of vehicles pass through this road.
From Lepchajagat and Darjeeling, we took the Baghora road which was surprisingly good. But you will have to be careful on it because of its narrow and steep climb.
The return journey started from Latpanchar. After 20 kilometers of extreme off-roading, we got into Sevoke road which was in a near-perfect condition and bliss to ride on.
After Sevoke road we reached NH31 and took the same way back.
Conclusion
I hope the travelogue and information above on bike trip to Darjeeling was of help. If you have any further questions, or need any other details, please feel free to ask in the comments section below, or at our Community Forum, and I will be glad to answer.