Everyone has their own reasons for visiting Spiti Valley. Some visit for adventure, some to explore a new place and some to just know what the hype is all about. Photographers come here to get some stunning shots of a beautiful cold desert. The explorer kind visit to add a new offbeat destination to their list. Motorcyclists simply come to experience the challenging terrain and ride through it. Spiti caters to all. It has destinations that will sate all kinds of tourists. One such lesser-known gem hidden in its hills is the Mane Village.
Also Read: How to Plan a Trip to Spiti Valley – A Complete Travel Guide
Not many people would have heard of Mane Village. Even the ones who have been to Spiti a couple of times would not know of it. It is just a cluster of about 50-60 houses and a small population of simple-minded farmers. The only thing that probably puts Mane on the tourist map is the nearby Sopona Lake. It acts as a base for people wanting to trek to the lake or further towards Manirang Peak / Pass. But Mane Village is much more than that and staying here for a couple of days can give you a true taste of how life in Spiti goes.
In this post, I will talk about how you can plan a visit to Mane Village including details like how to reach, where to stay and what to see.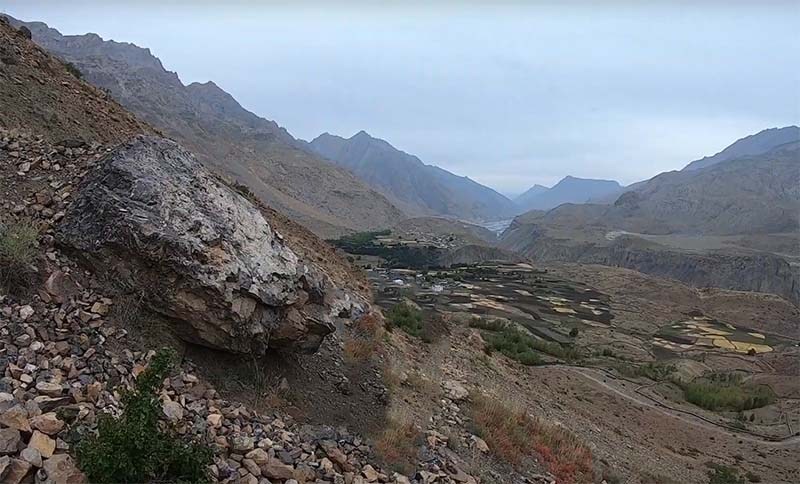 About Mane Village
The village of Mane is a group of about 100 houses divided into two sections: Mane Gongma and Mane Yongma. They are both actually the same village (or they used to be the same village) until a flash flood destroyed it a few years ago. After the flood, the village got divided into two – Mane Gongma which means the lower Mane Village and Mane Yongma which means that upper Mane village. Both of these villages can be easily reached by a motorable road.
Life here is simple, calm and content. The locals mostly all follow Tibetan Buddhism and depend on farming and animal husbandry for living. They mostly grow barley, cabbage, carrots, and potatoes.
Also Read: What Clothes to Pack for Spiti
Location
Mane Village is located in the Spiti Valley of Himachal Pradesh, at a distance of 35 kilometers from Kaza and 26 kilometers from Tabo. Manali is 240 kilometers from here and Shimla at 390 kilometers. The place is connected by a motorable road and can also be reached by public transport.
How to reach Mane Village
In order to reach Mane Village, you will first have to get to Spiti Valley. There are two route that you can take for this. The first and the easier way is that you plan to reach Spiti Valley via Shimla. This route remains open for all 12 months of the year. You start your journey from Shimla and then reach Kaza via Narkanda, Rampur, Pooh, and Nako. This will be a journey of about 430 kilometers and will take you at least 2 days to complete.
The second route that you can take is Spiti Valley via Manali.This road however remains open only from Mid May to Mid October. You start from Manali and then reach Kaza via Rohtang Pass and Kunzum Pass. This will be a journey of 200 kilometers and can be done in a single day. You will also need to get a permit for Rohtang Pass without which, you will not be able to cross the pass from Manali side.
Traveling to Spiti Valley by public transport is not that difficult either. Both the routes, either via Shimla or Manali, are connected by a daily bus to Kaza that you can board. For more information on this topic, I will urge you to take a look at How to reach Spiti Valley by Road, Bus, Train or Flight.
Kaza to Mane Village
Now traveling the routes I explained above, once you have arrived in Kaza (or Tabo if you were coming from Shimla side), your next destination would be a small place called Atergu Bridge (not to be confused with Attargo Bridge of Pin Valley). It is located above 20 kilometers after Kaza on your right and about 4 kilometers after Attargo Bridge. If you were coming from Tabo side, then this bridge will be to your left and 4 kilometers before Attargo Bridge.
Cross the bridge and get to the other side of the river. The road will immediately start climbing up. You will arrive at the lower Mane village after about 3 kilometers. Continue driving and after another 3 kilometers, you will reach the upper Mane Village.
Where to Stay in Mane Village
It is a small village so there are no fancy hotels or guest houses. Accommodation is available in the form of homestays and camping, which can be organized on request. Some of the villagers have extended their homes by a few rooms and rent those out to the tourists. Your stay will be basic but comfortable.
I stayed at Sonam Homestay at Upper Mane Village. It is owned by a gentleman called Sonam. Their rooms were surprisingly good and comfortable. Other than the homestay, they also have a campsite within the village. So you can either stay in the cemented rooms or spend the night in a tent.
Also Read: Mobile Network in Spiti Valley and Data Connectivity
What to see & Things to Do
Mane is just a small village in the middle of nowhere and as such, it doesn't have much to offer from the tourist point of view but has plenty to offer for a traveler. The natural beauty of the place is its greatest attraction. If exploring an offbeat destination and to get away from the crowd is the purpose of your trip then the village of Mane is where you will find such peace and tranquility.
To be honest, you do not come to a place like Mane to do plenty of stuff. Rather, you come here to do nothing. The village has a very calm and peaceful feel to it. Just relax, slow down the life for a couple of days and relinquish yourself. Nights of Mane are lit with countless stars in the sky that city folks like us rarely get to see. The Milky Way can be seen with naked eyes. If you are into photography, then you will have your fun getting some long exposure shots of star trails and the Milky Way. The misty village landscape and soft golden tint on the barren mountains every morning will give you a soul searching experience.
Sopona Lake
The main attraction of Mane Village is Sopona Lake; a small body of water located about 5-6 kilometers from the village. It is a seasonal lake formed by glacier melt and only exists from May to October. During the winter season, the lake vanishes entirely. It can only be accessed on foot and takes about 2-3 hours of trekking from the upper village. It can either be planned as a day trip or you can even camp overnight at the lake.
I have covered the details on Sopona Lake in a different article. For further information, please take a look at How to Plan a Trip to Sopona Lake from Mane Village.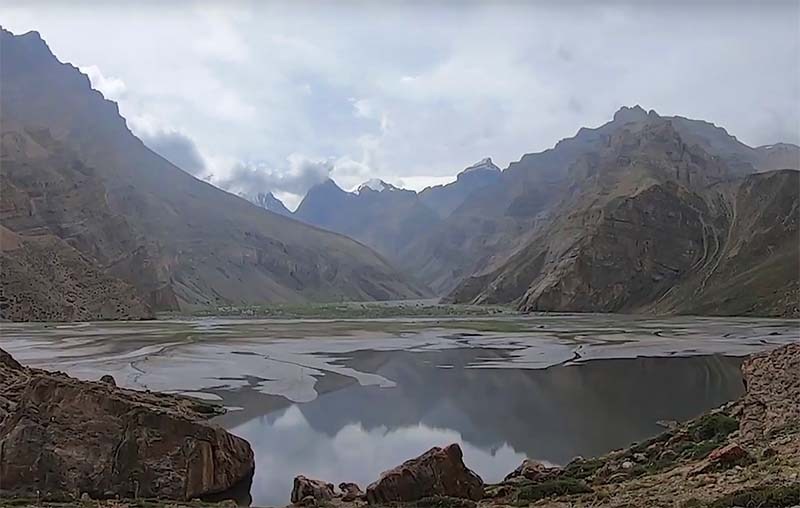 Village Gompa
Another place that you can visit is the village Monastery or Gompa which is located on top of a small hill in the village. It is also a good spot to get a view of the village and the valley around it.
Confluence of Pin and Spiti Rivers
This is not actually in Mane Village but rather on the way. Before you turn towards the village from the highway and cross the bridge, you will come across a mesmerizing sight as the rivers of Pin and Spiti merge into each other.
That is pretty much it. This is all that can be called as tourist attractions in Mane Village. The best thing to do here, even if you do not want to trek to the lake, is to walk around in the village, observe the lifestyle, talk to the villagers, listen to their stories and have a true Spiti experience. For a complete list of of places that you can visit during your Spiti trip, please read Sightseeing in Spiti Valley – What to see in and around Spiti.
There is also interesting folklore related to this village. It is said that a long time ago, Mane used to be a cursed village. The unsatisfied soul of a villager did not move on to the other world and haunted the village and its residents for a long time. The monks from Kaza and Dharamshala were called in to bless the village. After several days of rituals and chants, the village was finally cleansed and both the unsatisfied soul and the villagers were finally able to move on.
What & Where to Eat
In terms of food as well, you will have to eat at the homestay only. There are no eateries or a restaurant in the village.
The per-day tariff you will pay be will be inclusive of the meals as well but it will be better to clarify it with the owner before you check-in. The food provided too will be basic but delicious.
'Arak' is a drink that I will recommend you to try here. It is an alcoholic drink that the locals made on their own from barley to help them stay warm in the cold days. If you are OK with alcohol then try it out. You will feel the heat instantly.
Paranthas with butter, curd or milk tea is the common breakfast. You can also ask for Tibetan Bread stuffed with egg or omelet. Lunch and dinner are generally Rajma dal, roti, rice, and cabbage. Some local food items that you can ask your host for are Thukpa, Tsampa, Momos, and Timo.
Also Read: Food Items to Try in Spiti
Weather of Mane Village
Cold, harsh, unpredictable and unforgiving are the best words to describe the weather of not only Mane Village but the entire Spiti Valley in the winter season. I am writing this article now in the month of December and the weather as of now in Kaza and nearby areas is freezing -20°C. It is expected to drop down further to a -35°C in January. By this, you can imagine how difficult life must get here in these months. The entire region gets covered in snow and everything freezes. Even running water becomes impossible at this time.
But things get pleasant during the summer months with warm days and moderately cool nights. Temperature between May to September ranges between 10°C at night to 25°C during the day.
Spiti is in a rain shadow area which means that it either does not rain here at all or rains very less. The nearby areas of Kinnaur, Shimla, and Manali, however, receive heavy rainfall during the monsoon season, sometimes enough to even cause landslides and block roads.
Best time to visit Mane Village
The best time to visit Mane Village will entirely depend on the purpose of your visit. If Sopona lake is what you were after, then you must come between May to September because for the rest of the time, either the lake will not be or will be a more slush than water.
On an overall basis as well, this is the best time to visit Spiti Valley. All the roads and routes will be open and you will be able to cover all the major tourist attractions. You can start from Shimla, visit Kinnaur, Pin and Spiti and exit via Manali. Places like Chitkul, Kunzum Pass and Chandratal will all be open at this time.
For more information on this topic, I will recommend you to read When is the Best time to Visit Spiti Valley.
Itinerary
Below is an example of an itinerary that you can follow for visiting Mane Village. The itinerary, of course, covers the entire Spiti Circuit and not just Mane Village. It is a very elaborate plan that ensures that you travel in a very relaxed manner while covering all the major tourist attractions. Depending on the time you have in hand and your choice of places, you can add, remove or skip days from this plan.
Delhi to Shimla / Narkanda – Day 1
Shimla / Narkanda to Sarahan – Day 2
Sarahan to Chitkul – Day 3
Chitkul to Kalpa – Day 4
Kalpa to Nako / Tabo – Day 5
Nako / Tabo to Mane Village – Day 6
Mane Village to Sopona Lake to Mane Village – Day 7
Mane Village to Kaza – Day 8
Kaza – Day 9
Kaza to Chandratal – Day 10
Chandratal to Manali – Day 11
Manali to Delhi – Day 12
Other Tips
Mane is located at an altitude of 3280 meters (10761 ft).
It acts as the base for the trek to the lake as well as the Manirang Pass.
The trail to Sopona lake is not a well laid one but easily navigable. I will advise taking a local as a guide. It will ensure that you do not get lost and stay on the trek which will further ensure that you complete it in time. The locals can also show you some other sites on the way that you may miss. Another added benefit will be that you will support the livelihood of the villagers.
It is a humble request to please not litter. If you were carrying any items to eat or water bottles, please make sure that you bring them back and do not discard the trash either at the lake or on the trail.
I will strongly recommend wearing good trekking shoes with a good grip.
Only BSNL / MTNL works here. Surprisingly, I was able to get the BSNL network even at the lake. The Internet, however, was of course not working.
The nearest petrol pump is either in Reckong Peo towards Shimla or in Kaza towards Manali.
The nearest ATM also is in Kaza.
Medical assistance, if needed, is available only in Kaza. There is however a primary health care center in Tabo as well.
Conclusion
I hope the information and details above on Mane Village were of help. If you have any questions; or need any other details; please feel free to ask in the comments section below; or at our Community Forum; and I will be glad to answer.