If you were a little conflicted about it, then let me, first of all, confirm that visiting Leh Ladakh in September is definitely a great idea. It is one of the best times to be in Ladakh for several reasons that I will discuss further in this article. But September also has its own set of challenges that you must be prepared for.
There are two aspects to planning a trip to Ladakh in September. Are you traveling in the first half of the month or in the later part of it? Why do I ask? It is because the chances of snowfall increase with each passing day after September 15th.
Due to this fact, your itinerary would have to be planned carefully, irrespective of whether you were reaching Ladakh by air or by road. The cold weather of the region will be your next challenge and you will have to pack accordingly.
The views in this month however will surely charm you and you will be glad that you visited Ladakh in September. How can you plan your trip in the best possible manner is what I will be talking about in the post below.
For planning a trip in any other month of the year, you can take a look at How to Plan a Trip to Leh Ladakh – A Complete Travel Guide. To organize your trip to Ladakh, book a taxi, rent a bike, or get the best hotel rates, you can contact Kunal @ 9910402252.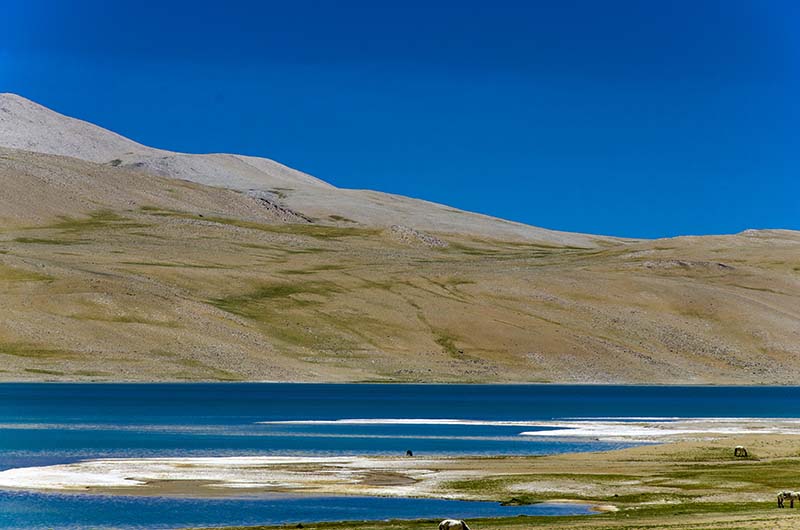 How to Plan a Trip to Leh Ladakh in September?
Let us first briefly take a look at how you can reach Ladakh in September. After that, I will move on to other details like where to stay, what to see, itinerary planning, and safety tips, etc.
Manali to Ladakh in September
You can definitely plan a journey on Manali Leh Highway in September. It is only after early October that traveling on the Manali route becomes a bit risky.
The road remains open until Mid-October though, and then is declared closed after it starts to snow at Baralacha La. So going from Manali to Leh by road in September is perfectly safe.
Do keep in mind though that the longer you delay it, the colder it will get. If possible at all, then plan your journey in the early part of the month.
Between Manali and Ladakh, there are 5 high altitude passes, and it may very well snow at the top of either of these. If not heavy then a light shower of snow is definitely possible.
Srinagar to Leh in September
Srinagar Leh highway remains open for a little longer than the Manali Leh highway. In recent years, the road was open until early December so there should not be any problem in traveling from Srinagar to Leh by road in September.
But yes, there is a high chance of snowfall here as well. It won't snow in lower areas but a light shower of snow is definitely possible at the top of passes en route like Zoji La.
By Bus
There is a daily bus between Manali and Leh operated by HRTC. From the Srinagar side, JKSRTC operates a daily bus between Srinagar and Leh.
Both of these buses remain operational in September. There is also an HPTDC bus between Manali and Leh that remains operational until the 15th of the month.
The difference between these buses is that the ones by HRTC and JKSRTC are ordinary buses. The one by HPTDC though is a deluxe luxury bus. For more details on this topic, you can take a look at the Manali Leh Bus Service and Srinagar Leh Bus Service.
By Private Taxi
Yes, you can also rent a taxi for your trip. But the important thing to remember is that a private taxi from either Srinagar or Manali can only take you to Leh. It cannot be used for sightseeing in Ladakh and no driver would even agree to it.
So for example, you rented a taxi from Srinagar. It will drop you in Leh and then you will have to rent another taxi there for visiting places like Nubra Valley or Pangong. The ones from Srinagar and Manali will not be allowed to travel on the local routes.
Another point to note is that it will be better to book a taxi in advance. If there are a lot of tourists in Ladakh at the time of your trip, you may have trouble finding a cab for your trip. For more detail, you can also take a look at Leh Ladakh Taxi Rates & How to Book.
By Shared Taxi
Shared taxis also remain available in September. They may not be as cost-effective as a bus but will also not be as expensive as a private taxi. You can find shared cabs to Leh near the bus stand in Manali and from TRC in Srinagar.
On average, it will cost you between Rs. 2500 to Rs. 3500 per person to reach Leh by shared taxi. There is no advance booking for shared cabs and you will have to find one on the spot. For more detail on this, you can also take a look at How I Traveled to Ladakh by Public Transport.
Local Commute
In Ladakh, buses on all routes like Nubra, Pangong, and Moriri will be available in September. From the bus stand itself, you can also find shared cabs for these destinations if a bus wasn't available.
Just reach there in the morning and if you can't find a bus for your destination, look for a shared taxi which is mostly a Sumo or Bolero. Fare per person will be a little higher than the bus but these are more frequent and easily available.
Just keep in mind that during the latter part of the month, if there was a heavy snowfall at Khardung La or Chang La, you may not find public transport until the road is declared safe to travel on.
Where to Stay
It is still the tourist season so all hotels and guest houses will remain operational in the month of September. It is only after the first week of  October that they start to wind up for the season.
In the last few years, Ladakh has started to get a bit crowded, and finding a hotel in the months of May and June. This however is not the case in September. By this time, the number of tourists starts to go down and you can easily find a place to stay.
With that being said, a lot of people still chose to book in advance and you may do so for your peace of mind. For budget travelers, I will recommend that you arrive at your destination, find a hotel per your liking, and negotiate an on-the-spot deal.
Places to visit in Leh Ladakh in September
Every major and minor tourist attraction in Ladakh can be visited in the month of September.  Let me give a breakdown of different tourist places in Ladakh that you can include in your itinerary while visiting Ladakh in September.
Nubra Valley in September
Nubra Valley remains accessible throughout the month of September. You will easily be able to reach Nubra from Leh directly via Khardung La or from Pangong by Shyok Road.
All internal areas in Nubra Valley including Diskit, Hunder, Turtuk, and Panamik will also be open in August. Since this is the peak tourist season, all tourism-related businesses including hotels, guest houses, and guides will be open for business.
Diskit and Hunder are where most of the tourists stay but you can find accommodation in other places like Turtuk, Panamik, and Sumur as well.
Pangong Lake in September
Pangong Tso remains open and accessible in the month of September. A trip to the lake is ideally a 2 days journey. You travel from Leh to Pangong on Day 1, stay there for the night, and return to the city on Day 2.
There are numerous campsites on the banks of Pangong where you can find accommodation. If you want to stay within cemented walls, then you can look to stay as a paying guest at Spangmik or at any of the guest houses in Man or Merak.
You can also visit from Leh to Pangong Lake in one day but that will just mean that you spent most of your time on the road. Nonetheless, it can still be done.
You just need to ensure that you take an early start from Leh, possibly by 6 AM so that you have some time to spend at Pangong before you return.
Another way to plan the trip is to first go to Nubra Valley on Day 1 and then continue to Pangong from there via Shyok Road on Day 2. The connection road between Nubra and Pangong will remain open in September.
Also Read: Leh City Travel Guide
Tso Moriri in July
After Nubra Valley and Pangong Tso, Tso Moriri is definitely the third most visited place in Ladakh. This freshwater lake may be smaller in size than Pangong but is no lesser in beauty.
Like Nubra and Pangong, Tso Moriri too remains open in September. Accommodation here is available in the form of small guest houses and homestays.
Chushul Route & Hanle

The direct route from Pangong to Tso Moriri via Chushul too is open for tourists at this time It is ideally a 2 days journey with a night halt at Hanle but if you wanted to, you can make it directly to Karzok as well.
Reaching Hanle in September will also not be a problem. For more details, please read How to Travel directly from Pangong Tso to Tso Moriri.
Sham Valley

The road between Leh and Kargil actually remains open all year long so you will definitely be able to visit places like Gurudwara Patthar Sahib, Indus Zanskar Confluence, Magnetic Hill, Lamayuru Monastery, Mulbekh Maitreya, Moonland, etc.
If you were traveling on the Srinagar Leh Highway, then all these places will fall on the way and you can cover them all by taking short sightseeing breaks.
Sham Valley is actually the area around the villages of Likir, Suspool, and Hemis Shukpachan. It is best known for its trek routes and is among the least visited places in Ladakh. To know more, please read How to Plan a Trip to Sham Valley.
Umling La
Umling La remains accessible in the month of September and you can include it in your itinerary. You will first have to reach Pangong, then Hanle via Chushul, and then plan a day trip to Umling La pass from there.
Zanskar Valley in August
Zanskar Valley will be accessible in September. The most common way of including it in your trip plan would be to reach Ladakh from Manali and then return to Srinagar while covering Zanskar on the way.
The entire route from Kargil to Padum is open in September and you will also be able to find public transport on it. An ideal way to plan this trip is to have at least 2 days in your itinerary for Zanskar.
On Day one, you can reach Padum, and then the next day, you can either return to Kargil or go straight to Manali via Shinku La. If you have time, then stay for a day in Zanskar and explore other places while making Padum your base.
Snow in Leh Ladakh in September
Does it snow in Ladakh in September? The answer is a yes but as I mentioned above, at the top of the peaks only. The chances of snowfall in Leh City or other places like Diskit or Hunder are very less. There will not be any snow in Leh in September. In lower areas, it starts to snow only towards November or December.
But with all of that being said, global warming and climate change have started to prove all this wrong. The chances of snowfall are higher after September 15th. So if the weather turned extreme, do not be surprised if there is a light spell of snow even in Leh City toward the end of the month.
Weather in Leh Ladakh in September
Weather in Ladakh starts turning cold in September, but it won't be unbearably cold. In the first half of the month, it would still be pleasant. Days will be moderately warm but the temperature will drop at night.
By mid of September, it starts to snow at Khardung La and Chang La top which brings cold winds even in lower areas like Leh City and Nubra Valley. Snow is often accompanied by rain.
So when it is snowing at the top of the passes, lower areas may witness a bit of rain. The frequency however won't be that great and is more towards the latter part of September.
On a general basis though, if you are thinking of visiting in September, you should be ready for temperatures close to 0 degrees Celsius in some places like Pangong Lake.
Clothes to Wear in Leh Ladakh in September
Continuing from the point above, a trip to Ladakh in September means that you would have to bring your winter clothes. It does not matter if you were coming by motorcycle, car, or flight, your packing would have to include a pair of thermals, woolens, good quality gloves.
If possible then warm socks and a good heavy windproof jacket. Make sure that your jacket has a hood to protect your head, face, ears, and neck. If not then please pack a muffler as well. For more details on this topic, please take a look at Clothes for Ladakh Trip – What to Pack?
That is why visiting Ladakh in September is considered a better time than other months. How you can plan your trip and what are some of the things you should keep in mind is what I will provide information on in this post.
The reason why visiting Leh Ladakh in September is considered a good idea is of more convenience and lesser risk. Convenience is in terms of road conditions which in September is as good as it will ever be. By now, the restoration work in the entire region is almost complete and roads will be in their near perfect condition. After September, it is just the harsh winter ahead and roads won't get any better.
If you went in the month of May or June, then it would be the opening of the season; and you will be met with badly broken roads; that BRO would have just started to work upon. This is also the time when snow would have just started to melt and there will be numerous water crossing en route.
Also Read: How to Plan a Trip to Leh Ladakh?
If you however went in the months of July and August then the problems would just increase further. Monsoon arrives in Himalayas by July and after that, there is no telling when and where it may rain. Landslides and cloudbursts up in the hills are common in these two months. Remember the Ladakh cloudburst of 2010 that killed hundreds? That happened in the month of August. Another problem with monsoon is the increased flow of water in water crossings. In July and August, fed by melting snow and rain, these small rivulets turn into monster nallahs and post a great challenge to cross.
This was in terms of safety and convenience. But this is not all that September is all about. It probably is also the best time in terms of vistas. Monsoon would be long gone by September but the greenery won't. You will still be treated by lush green hills in Lahaul and Kashmir valleys. It is the start of the autumn season and the views en route and in Ladakh will leave you spellbound.
Also Read: Places to visit in Ladakh – A Complete List
Last but not the least is the tourist crowd. Ladakh in recent times has started to get real crowded in peak tourist season. A few times people could not find a place to stay overnight at Nubra and Pangong; and had to return to Leh city. September on the other hand is considered as the end of tourist season. While there will still be tourists here, it won't be as crowded as it was in prior months.
Is Ladakh Open in September?
The answer is a definite yes. Ladakh is completely open for tourists in September. Though it is considered as the end of tourist season, all hotels and guest houses here remain operational well into October; as well as the other tourist related activities like taxis, bike rentals, rafting etc. The entire region of Ladakh including Nubra valley, Pangong Tso and Tso Moriri too are accessible by road in September.
Water Crossings
There will still be plenty of these but the intensity and flow of water will depend on your time of travel. If you were traveling in early September, then there will be plenty of water flowing through. As September progresses however, the weather starts to get colder, reducing the snow melting process and thus the water in the streams. If you were traveling towards late September, there will only be a few large water streams en route. Smaller ones would already have vanished.
Also Read: How to Plan a Solo Trip to Ladakh?
Black Ice
This is more or less related to the point above. As the flow of water decreases, some of these streams get reduced to mere puddles of water; or just a little bit of water flowing across the road. Problem arises however when this water freezes overnight and forms black ice on the road. This problem is more towards the second half of the month than first. If you were traveling towards end of September then it would be best to wait for the sun to come up before starting your journey for the day. This way, the black ice ice at least would have melted away. There of course cannot be any traveling involved at night; after dark or before sunrise.
Ladakh in September on Bike
One of my personal favorite times to ride a bike to Ladakh. Roads will be smooth, there will be no rain and the views will be mesmerizing. If you have even slightest of interest in photography, then you would find yourself stopping at every turn to click more and more pictures. The only word of precaution here would be to prepare for cold. It starts to snow at high altitude passes like Khardung La and Chang La towards mid September. Even at passes like Baralacha La and Zoji La, there could be lights showers of snow overnight. This also will get related to the Black ice point I mentioned above.
So when planning a trip to Leh Ladakh in September, ensure that you are carrying a proper riding gear that can keep you warm throughout the ride. This will include thermals, a heavy windproof jacket and good quality gloves. And once again, wait for the sun to come up before starting the journey. If there was any snow on the road from the night before, a bit of sunlight would ensure that it has melted away.
Keep Buffer Days in Itinerary
This actually applies irrespective of the time you are going to Ladakh. You should not tie yourself down to strict timelines. Keep at least one day as buffer in your itinerary. This way, if you got stuck at some place for a day or two, you would at least be able to afford it without something going wrong at home in your absence. If your trip went as planned then you could use this day to just relax at the end of the trip.
Also Read: Leh to Tso Moriri Travel Guide
Also Read: When is the Best Time to Visit Ladakh?
Also Read: What to See on Srinagar Leh Highway?
Places to visit in Ladakh in September
All of it and as many as time permits. The entire region remains open for tourists in September and the only restriction will be the number of days you have. Further in the article, I have suggested an itinerary that you can follow including all major tourists places to see.
Ladakh in September
So in order to summarize it all here is a breakdown of how Ladakh would be in which part of September.
Ladakh in September first week: This is the best time to visit. Plenty of greenery en route on both Manali – Leh and Srinagar – Leh highways. If you are a bit into photography, this is the time when you should plan a trip.
Leh Ladakh in Mid September: It will start to get a bit cold at this time and chances of snowfall at top of the passes would increase. Number of tourists in Ladakh would start to go down and you may actually get better deals at hotels.
Ladakh in September End: If you are planning a trip to Ladakh in September last week then ensure that you are bringing plenty of woolens, thermals and a heavy windproof jacket. It would already have snowed at top of high altitude passes by now. Temperature at nights would definitely drop close to 0 degrees Celsius.
Ladakh in September- October: If your trip was in a way that you were traveling in last week of September and first week of October then it would be better to go via Manali Leh highway and return via Srinagar.
Suggested Itinerary
That I think covers all that there is to know about visiting Ladakh in the month of September. To end it, below is an example of an itinerary that you can follow. For the sake of this article, I will assume that you are traveling from Delhi. If your starting point was different, then only the journey for first and last day will change; rest of the details will still apply.
Delhi to Jammu – Day 1
Jammu to Srinagar – Day 2
Srinagar to Kargil – Day 3
Kargil to Leh – Day 4
Leh – Day 5
Leh to Diskit – Day 6
Diskit to Turtuk to Panamik – Day 7
Panamik to Pangong via Shyok – Day 8
Pangong to Hanle – Day 9
Hanle to Karzok – Day 10
Karzok to Pang – Day 11
Pang to Jispa – Day 12
Jispa to Manali – Day 13
Manali to Delhi – Day 14
For more itineraries for a different number of days, please take a look at the Itinerary Section for Leh Ladakh.
Can we visit Ladakh in September?

Yes, definitely. Just keep in the mind the points I mentioned above and have a safe journey. I hope the information above was of help. If you have any other questions; or need any further details; please feel free to ask in the comments section below; or at our Community Forum; and I will be glad to answer.