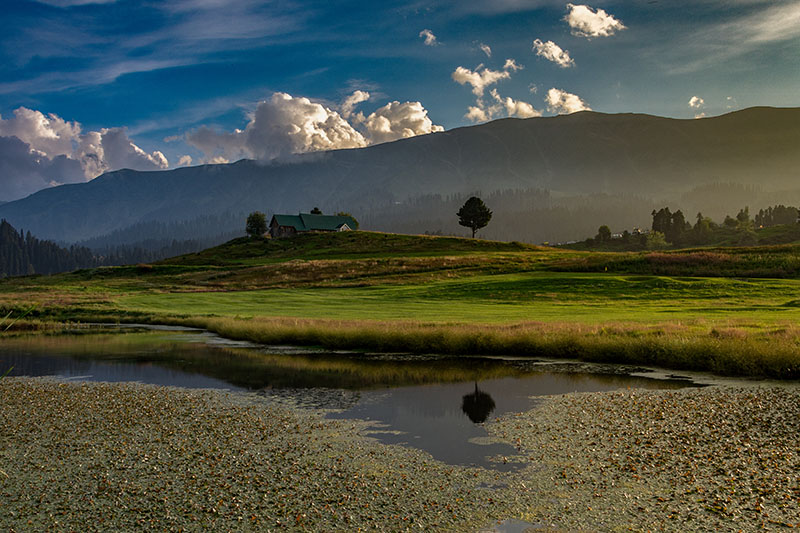 Are you planning your honeymoon trip in near future and thinking about going to Himachal? Below is my pick of the ten most beautiful, romantic, and best honeymoon destinations in Himachal that you can choose from.
Himachal Pradesh is one of the most beautiful states in India. Flush with gifts of nature like snow-clad mountains, lush green deep valleys, thick forests, waterfalls, lakes, and rivers, this entire state looks like a paradise on earth. Honeymoon is a once in a lifetime affair and every couple wants to make it the most memorable event of their life. Each couple looks for some spots and places where they can spend the most romantic moments of their lives. And Himachal Pradesh has plenty of such places which can be considered as a paradise for honeymooners.
Best Honeymoon Destinations in Himachal Pradesh
Here I bring to you the ten best honeymoon destinations in Himachal Pradesh, where you can not only have a quiet romantic time with your life partner but also indulge in some fun and adventure activities to add spice to your honeymoon.
Manali
As a honeymoon destination, Manali is one of the most sought after places. Situated at a high altitude and surrounded by lush green forests and mountains, Manali presents a picturesque view all around. With river Beas flowing in between, it gives a truly romantic feel to newlyweds.
There are plenty of places in Manali to go for a romantic walk in pleasant environs, where you can spend hours talking to each other. Go rafting in the Beas river, shop at Mall road, drive to Rohtang and ride a yak, get clicked in local attire, visit Hidimba temple, and seek blessings- there is much more to do in Manali to make your honeymoon truly memorable.
How to reach Manali
The nearest airport is at Bhuntar which is about 50 km. From there you can hire a taxi.
The nearest railway station is Jogindarnagar which is 163 km away. You can get a bus or a taxi from here.
You can travel by road also from Delhi. Regular Volvo buses are available from Delhi to Manali, both state-run as well as private.
Where to Stay in Manali
There are plenty of hotels and resorts in Manali suiting all budgets. You can choose according to your convenience and suitability. In peak tourist season, you may want to book in advance as hotels here get filled up pretty fast.
For more details, please take a look at How to Plan a Trip to Manali.
Dalhousie
It is essentially a quiet town and a heaven for honeymooners. Dalhousie is a very picturesque place. You can see the beauty of nature as far as you can see. The calm surroundings really fill you with a lot of serenity so that you can actually enjoy each other's company. A honeymoon in Dalhousie is like traveling to another world.
You can take a long walk on Garam Sadak without any disturbance or noise. Or take a quiet walk on Thandi Sadak. Sit for long hours at Subhash Chowk and admire the beauty spread all around. Then go to Gandhi Chowk to enjoy some local delicacies and do some shopping.
When you have done all this, move to Khajjiar and immerse yourself in the beauty of 'Mini Switzerland of India'.  A dream romantic location, Khajjiar will give you ample opportunities to sit together without any crowd around and try to know each other.
How to reach Dalhousie
The nearest airport is Pathankot which is around 90 km away.
The nearest railway station is again Pathankot.
If you wish to travel by road, direct Volvo buses are available from Delhi. State-run and private buses, as well as taxis, are also available from Delhi, Chandigarh, and Pathankot to reach Dalhousie.
Where to stay in Dalhousie
Dalhousie has a lot of hotels as well as resorts that cater to all budgets. Like Manali, here too, you may want to book your stay in advance if traveling during peak tourist season.
For more details, please take a look at How to Plan a Trip to Dalhousie.
Shimla
Third, in the list of Best Honeymoon Destinations in Himachal Pradesh is Shimla. It is one of the most attractive places for honeymooners. Fondly known as the queen of hills, and quite rightly so, Shimla is a very popular honeymoon destination. The very air of this small town has love and romance in it. The tranquil atmosphere will surely help you to come closer to each other. Take a stroll on Mall road, hand in hand. Go to Jakhu hill and get the blessings of Lord Hanuman. Visit Kufri to enjoy some snow games. Go to Ridge Road to admire the beautiful view. And then set up an open-air dinner. It is as romantic as it can get.
How to reach Shimla
The nearest airport is situated at Jabarhatti, which is about 23 km away.
Shimla is connected to the nearest broad gauge railway station at Kalka by toy train on the narrow gauge. Traveling on this train is an experience and adventure in itself. Try not missing it.
Shimla is connected to all major cities by road. You can get state-run as well as private Volvo buses from Delhi and Chandigarh. Taxis are also available from these places to reach Shimla.
Where to stay in Shimla
Shimla has no dearth of hotels and resorts, both private as well as the government. You can choose the best suited for yourself from among these.
Also Read: How to Plan a Trip to Shimla
Chail
Another very quiet hill station, Chail offers you perfect seclusion to enjoy your honeymoon. You can spend plenty of peaceful time with your partner here without any disturbance, thus giving you enough opportunities to get to know each other better. Look around and get a mesmerizing view of the snow capped peaks and lush green surroundings. The beauty of Chail is sure to enchant you. Go horse riding to add some fun to your honeymoon. Visit Chail palace and spend some quiet moments there. Go to Chail cricket ground, which is the highest cricket ground in the world. Stroll on meandering roads and talk your hearts out. You are sure to create great memories of a honeymoon made amazing by just being at this stunning place which is Chail.
How to reach Chail
Chail is situated just 60 km away from Shimla; and is among the nearest hill stations from Chandigarh. A drive to Chail from Chandigarh will hardly take more than a couple of hours. Regular buses to this small town are available from both Chandigarh and Shimla.
Where to stay in Chail
 Again, there are hotels and resorts available in Chail. To give a royal touch to your honeymoon, you can also stay at the Chail Palace. If not, then there are a few other budget stays available as well.
Also Read: How to Plan a Trip to Chail
Kasauli
This honeymoon destination of Himachal Pradesh is another gem. Located in the midst of Dhauladhar Ranges, Kasauli is again close to Shimla but away from the hustle bustle of the city; so that the two of you can spend some quiet time with each other and go for shopping or partying to Shimla. This way you have the best of both worlds. Kasauli has the perfect setting of a great romantic place. The town has a British feel with relics from the British empire. At the same time, it has some stunning vistas to hold your attention.
Surrounded by tall chestnut, Oak and Pine trees, Kasauli gives an impression of being a romantic film set. Away from the maddening crowd, you can enjoy solitude and can spend time with each other at your own leisurely pace. Kasauli has a breathtaking beauty and provides a panoramic view of great Himalayan Mountains. For adventure lovers among you, enjoy paragliding here.
How to reach Kasauli
The nearest airport is again at Jabarhatti.
The nearest railway station is Kalka on broad gauge and then the toy train to Shimla.
Kasauli is well connected to major cities by road and you can hire a taxi or travel by self-driven to reach Kasauli.
Where to stay in Kasauli
There are hotels and resorts available in Kasauli. You can also book a cottage to enjoy your time here.
Dharamshala
Another beautiful and picturesque destination to pick for your honeymoon is Dharamshala. The best part about this scenic town is that you can switch from being in the crowd or in seclusion as and when you decide. Lower Dharamshala is a crowded place while upper Dharamshala and Mcleodganj are comparatively peaceful and crowd-free. So you can decide where you want to be at any given point in time. You can go to Kareri Dal Lake and enjoy a peaceful leisurely walk by the lakeside getting into some heart to heart conversation. Enjoy the stunning view of Dhauladhar mountain ranges with your partner.
Visit Bhagsunag temple and the waterfall there and spend some time in the romantic setting there. Then go to famous Namgyal monastery for getting some serenity. Listen to the tingling of many bells there adding to the spiritual atmosphere. Pray there for a long and happy married life.
How to reach Dharamshala
Dharamshala has an airport where you can fly directly from Delhi or Chandigarh. Otherwise, HRTC and HPTDC run Volvo buses from Delhi and Chandigarh to reach Dharamshala. It is also well connected by road and the drive is both smooth and scenic making it a great place to drive on your own to.
Where to stay in Dharamshala
You can get budget as well as luxury hotels and resorts in Dharamshala. There is also an option of Tibetan Culture themed stays.
Also Read: How to Plan a Trip to Dharamshala
Narkanda
This is one of the most romantic honeymoon destinations in Himachal Pradesh. Narkanda is just two hour's drive from Shimla but totally diverse from it; in the sense that while Shimla is everything in city life, Narkanda is a secluded, laidback place with people content with their lives. It is a beautiful picturesque hamlet surrounded by tall trees, deep valleys, and snow-clad peaks. If you are looking to spend your honeymoon in a quiet environment with no disturbance and noise, this is the place for you.
While in Narkanda, go to Hatu peak, the highest point in the entire Shimla district; and spend time gazing at the breathtaking surrounding while chatting with your partner in a quiet environment. While at Hatu peak, you can also visit Hatu Mata temple; an architectural marvel and a very sacred place for locals. Get the blessings at the temple. Then head to Tani Jubbar Lake; another hidden, secluded spot in the midst of apple orchards. Enjoy the quietness of the place and stillness of the water in the lake. Take a leisurely stroll on the road without bothering about the traffic, as there is very less traffic on the road leading from Narkanda to Hatu peak. Visit the skiing resort nearby and enjoy the view of the valley from there. All in all, Narkanda can be a truly awesome honeymoon experience for you.
How to reach Narkanda
Narkanda is just two hours drive (about 70 km) from Shimla, which is also the nearest airport. Regular state-run buses are available to commute between Shimla and Narkanda. Private taxis are also available to reach Narkanda. Or you can directly board a taxi from Chandigarh as well. Direct buses from Chandigarh and Delhi for Narkanda are available as well.
Where to stay in Narkanda
Narkanda being a small place does not have many luxury hotels. However, there are hotels and resorts which offer complete comfort and privacy for honeymooning couples.
Also Read: How to Plan a Trip to Narkanda
Chamba
Standing on the banks of Ravi River, Chamba is a town with beautiful vistas. A truly peaceful place, it has all the makings of an ideal honeymoon. It has high hills surrounding it and when the cool breeze of the mountains caresses you, you can't help but get romantic.
Go to Chowgan, a beautiful grass field, used for festivals, games, and picnics; and of course for just hanging out. Visit the temples and museums of the city. Admire the exotic view of the surroundings from the comfort of your room. Visit the lush green farms and enjoy a slice of rural life. Chamba has very colorful markets. Go shopping in these markets. The peace and greenery surrounding Chamba town is an invitation to open your hearts out to each other.  Go to Chamera Lake and enjoy a romantic boat ride. Or sit at the bank of Ravi River and get immersed in some love-filled chat. Chamba makes for a great honeymoon destination in Himachal Pradesh.
How to reach Chamba
The nearest airport to Chamba is the Gaggal airport in Kullu, which is about 170 km away. The nearest railway station is Pathankot which is about 90 km away. You can hire a taxi from both these places to reach Chamba.
Chamba is also connected with all the major cities of Himachal Pradesh by a good road network and state-run buses.
Where to stay in Chamba
 There is a wide variety of hotels and resorts available in Chamba. You can choose accommodation based on your needs, budget, and convenience.
Tirthan Valley
Tirthan Valley is a valley located in Himachal Pradesh at a distance of 65 kilometers from Mandi and about 250 kilometers from Chandigarh. The place is named such after river 'Tirthan' that it is located on the banks of. At an average altitude of 1600 meters, the weather of the valley remains pleasant for most of the year; making it a perfect getaway for anyone looking to spend some time in peace and away from the crowd. The valley serves as the doorway to Great Himalayan National Park making it a paradise for trekkers, birdwatchers or anyone who has an interest in either wildlife or photography.
Because of its offbeat tag and the fact that not many people visit here, Tirthan is also a perfect destination for budget travelers. A trip here will not cost you too much and since the place is easily accessible, you can even reach here by public transport spending only a small amount of money.  Mesmerizing mountain-backed vistas, charming riverside villages, peace, and tranquillity of the region is bound to leave its impression on you. Tirthan Valley is also an ideal place for activities like trout fishing, hiking, trekking, camping, bonfires, and photography.
How to reach Tirthan Valley
Tirthan Valley is very well connected by road and you can drive here either via Shimla or Manali. Do keep in mind though that the road via Shimla gets closed in winters so if you were planning your honeymoon here in January, February or March, then reaching via Manali is the only option.
Chandigarh is the nearest railway station to Tirthan Valley and is located at a distance of about 250 kilometers. It is a major railroad and is well connected to the rest of the country. Once you have reached Chandigarh by train, you can either book a private taxi for Tirthan Valley or complete the journey by public transport.
Bhuntar Airport near Kullu / Manali is the nearest Airport to Tirthan Valley. It is located about an hour and a half from the Valley. The next and bigger Airport is located in Chandigarh city. You can catch a flight to Bhuntar and then travel from there to Tirthan Valley by either taxi or public transport.
f you were traveling by Bus, then I would recommend that you skip the Shimla route and travel only via Mandi. Or at least reach via Mandi and return via Shimla because it will be easier that way. There are regular buses from Delhi to Manali, both luxury and ordinary, that you will have to board for this journey. Traveling by Bus, you have two choices. You can either get down before Aut Tunnel and look for a mode of transport; or you can go all the way to Aut town and look for a bus there.
Where to Stay in Tirthan Valley
Find a place to stay in Tirthan will not be a big deal at all. The place is a known tourist destination and base for trekking expeditions to Great Himalayan National Park. Almost every town here has hotels and guest houses available; both budget and luxury.  Below is a list of places in Tirthan Valley where you can choose to stay. Jibhi, Ghiyagi, Gushaini, Banjar, Sai Ropa, Shoja and Nagini are some of the towns in the valley and they all have good accommodation choices available.
Also Read: How to Plan a Trip to Tirthan Valley
Kinnaur Valley
It has valleys with cold desert mountains. The lush green valleys and contrasting Desert Mountains combined with winding roads make it a place with romance written all over it. Other names given to this beautiful place are 'Land of Fairytales' and 'Land of Gods'. These names are enough to describe the beauty and sanctity of Kinnaur. Beautiful orchards, imposing mountains and tranquil surroundings make it an ideal place to romance and thus a preferred destination for honeymoon.
You will find a strong Tibetan influence on the culture here because it borders Tibet. So you can have a taste of two different cultures in one place. If you want to indulge in adventure, you can do river rafting, paragliding, and angling. Further up go to Nako Lake and enjoy the company of your partner in its peaceful surroundings. To get a taste of rural life, you can explore the nearby villages. Just take long walk with your partner on the meandering roads of the valley.
How to reach Kinnaur
The nearest airport is at Shimla which is at a distance of about 260 km. Get a taxi from Shimla to reach Kinnaur. You may need to break your journey as covering this much distance in a single day on hills is generally difficult. The nearest railway station is also Shimla and again you can hire a cab from there to reach Kinnaur.
Where to stay in Kinnaur
There are a several luxury hotels available in Kinnaur but apart from that, you can opt for other mid-level hotels and resorts too. Sangla, Chitkul, Sarahan, Kalpa and Nako are some of the most popular destinations in Kinnaur Valley and all these places have numerous hotels that you can stay at.
Also Read: How to Plan a Trip to Kinnaur Valley
Solang Valley
The last on my list of the 10 Best Honeymoon Destinations in Himachal Pradesh is Solang Valley. If you want to spend your time with your partner in a secluded place instead of in the hustle bustle of a city, Solang Valley is the place for you. It is just 16 km from Manali but does not have that city crowd to shatter your peace. Go any time of the year, you will always find it gorgeous. You can choose between spending a quiet holiday with just the two of you, or you may opt to indulge in adventurous activities like paragliding and gondola.
If you happen to be in Solang Valley in winters, you may enjoy skiing and skating. So you have umpteen choices to make your honeymoon the way you want it to be. While you will be away from the maddening crowd, you will be in the lap of nature in cooler environs and beautiful and eye-catching surroundings. A honeymoon in Solang Valley will give you memories to cherish for long.
How to reach Solang Valley
Solang Valley is just 16 km from Manali. Once you reach Manali, you can easily get a taxi to reach here or alternatively you can ask for a pick up from your hotel.
Where to stay in Solang Valley
There are only limited hotels and other accommodation options available in Solang Valley. So you need to book your place in advance.
Best Honeymoon Destinations in Himachal Pradesh
That will conclude my list 10 best honeymoon destinations in Himachal Pradesh. These are just a few most popular and commonly visited ones but the list could go on and on. The reason why I picked these places is that they are all scenic, have good connectivity, are not too hard to reach and have plenty of hotels to stay. I hope the information above was of help. If you have any questions; or need any other details; please feel free to ask in the comments section below; or at our Community Forum; and I will be glad to answer.