There are times and incidents in your life that are capable of changing its course altogether. As I sit down to write this first page of my Mcleodganj travelogue detailing our journey from Delhi to Mcleodganj, I can't help but wonder how these 4 days changed my life completely; gave it a new meaning and found me a new passion. Yes, I am talking about the passion of traveling, something that I never thought I would like so much but now is all that I can think about. I am a little late on writing this travelogue actually. This trip happened about 3 months ago, in July of 2008 and since then, I have been on numerous other journeys and have now even registered this domain to share my experiences with the world.
Also Read: How to Plan a Trip to Mcleodganj –  A Complete Travel Guide
This journey actually found me 5 new hobbies and not just one. If I am to list down, then things that I enjoy the most in my life today are traveling, writing, photography, motorcycles, and websites. Ever since that one trip to Mcleodganj, in the last 3 months, I have been on 3 road trips, have registered this domain and learnt from scratch about blogging and building websites, have bought a new Royal Enfield and now also thinking about buying a brand new Nikon DSLR. All because of my newfound passion of traveling which I intend to cherish all my life.
Mcleodganj Travelogue
This trip happened quite by chance actually. My friends at the office were planning a trip over a long weekend and I was initially not a part of the plans. Then someone asked me if I wanted to accompany them and I said yes. I don't even know why I did that because my reply to that question in the past was always a big fat no. I didn't even ask them where they were going and just agreed for the trip. It was only the next day that I asked and found out that the destination was Mcleodganj.
The discussion about the trip continued to happen over the next few days as we decided on the travel plans. A total of 11 people were finalized and we were going to be traveling in a Scorpio and Maruti Swift. I thought to drop out of the plans several times in between; but always for one reason or another, remained to be a part of the group. It was the first week of July and the news channels were reporting of heavy rainfall all across the Himalayas. While this bothered the group a little, I was actually kind of happy about it because it meant there will be plenty of greenery around to enjoy. I have bought a new Kodak point and shoot camera a few months before this trip so clicking plenty of pictures was anyways on my mind as an agenda of the trip.
Delhi to Mcleodganj
I was not much into traveling before this trip and the name of Mcleodganj was completely new to me. All that I knew about it was that it is a hill station somewhere and that was pretty much it. What were we going to do there or what places were on our list to visit were facts that I left for others in the group to decide.
Also Read: Places to visit in Mcleodganj and Things to Do
Finally, the D-Day arrived. The idea was to start as early as we can because Mcleodganj is almost 500 kilometers away from Delhi. We all work in the night shifts so early start did not prove to be much of a problem. By 5 in the morning, we were all on our way to Chandigarh.
The journey was long and also a monotonous one. Our first stop came at Haveli Karnal where we stopped to get something to eat.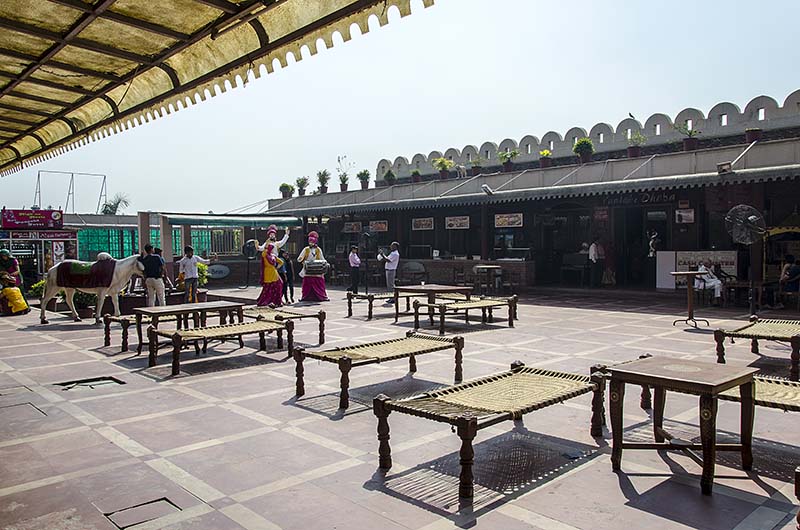 At Haveli, we met two other people from our office who were headed to Manali. Now that was a name that sounded a little more inviting to me than Mcleodganj. For a moment, I thought to change my allegiance and join the group going towards Manali instead. That, however, would have been a little rude so I remained on my current plans and continued to Mcleodganj. We continued on our way to Mcleodganj and reached there at around 6 PM after a few small breaks.
Delhi Lahore Bus
Somewhere along the way, we got stuck behind the Delhi – Lahore Bus. The rule is that this Bus is accompanied by police jeeps and they will not allow you to overtake it. So if you are behind this Bus, you will have to stay behind.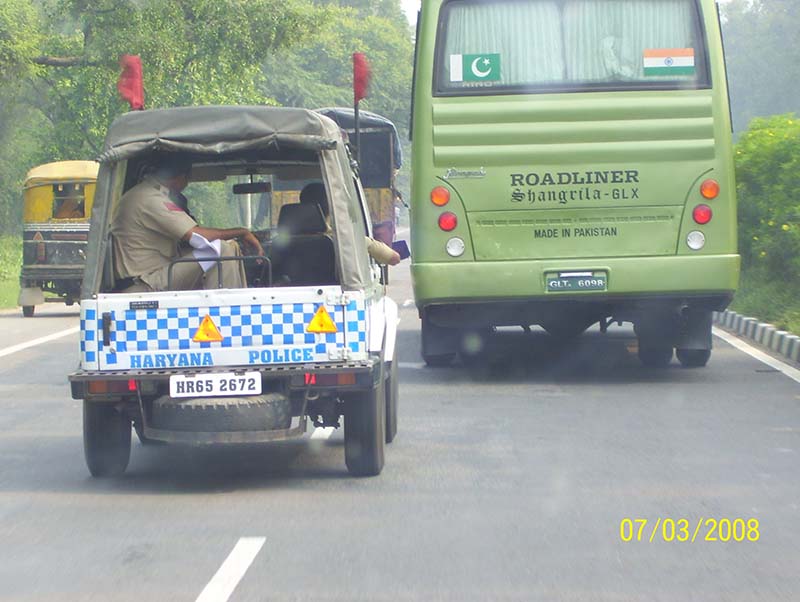 Luckily we did not have to stick with the Bus for long and were able to overtake it as the police vehicles were getting changed at Punjab Haryana Border.
Mcleodganj
Now the whole confusion about hotel started which I guess is always a case when you are traveling with a large group. There were 4 different opinions and arguments about where to stay. First one was to stay at a good hotel irrespective of the cost; second was to stay at a budget one, third was to stay on the outskirts of the town and the fourth one was to stay in the middle of the town. With much discussion and arguments as well, finally choosing a budget hotel in the town itself was agreed upon. We found a decent enough hotel who agreed to rent us the rooms at Rs. 400 for one room per day.
Also Read: When is the Best time to visit Mcleodganj
View from the hotel. It was nothing great but can't ask for more than this for Rs. 400 a day.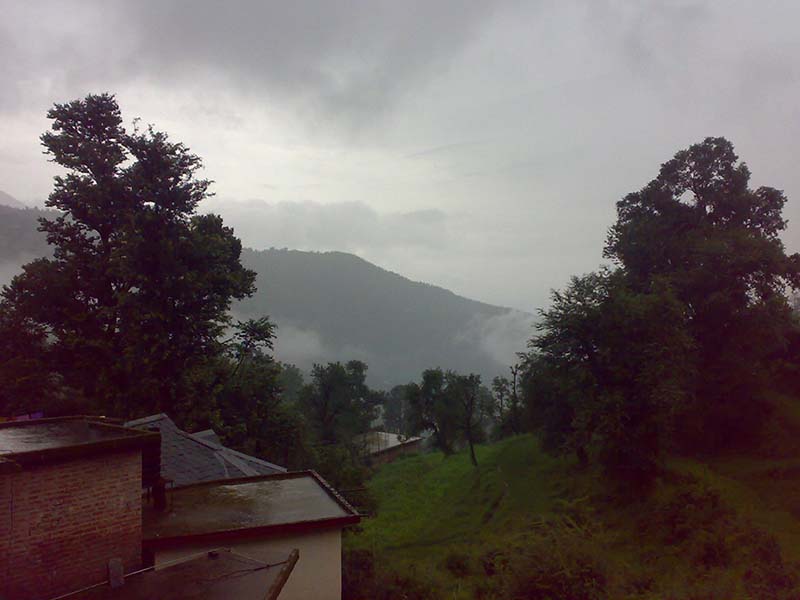 We were all pretty tired by that time and awake for over 24 hours now so not much happened after that. We checked into the hotel, changed and stepped out to see the town and had dinner. After roaming around for a while, we were back at the hotel by 9 PM and immediately in our beds snoring our worries away; with no set plan on what were we going to do the next day.
And thus ended our first day of the trip. If you too are thinking of visiting Mcleodganj in near future then mentioned below are details on how you can reach Mcleodganj from Delhi. Or you can continue reading the next part of the article at the link below.
Journey Ahead: Sightseeing in Mcleodganj – A Natural and Cultural Paradise
Delhi to Mcleodganj Distance
Mcleodganj is located at a distance of about 500 kilometers from Delhi, depending on where you start from in Delhi. Of this drive, about 320 kilometers is in plains and the remaining 170 kilometers is hilly region.
How to reach Mcleodganj from Delhi
There are several ways that you can reach Mcleodganj from Delhi. You can either travel by your own vehicle all the way. Or you can board a Bus which you will have no problem in finding one. The third way is to board a train and the last one is to board a flight but both of these options will only get you closer to Mcleodganj; and the final stretch of the journey will have to be done by the road. If within budget, you can also book a private taxi for Mcleodganj from Delhi itself. I have explained all these options in details further in the article.
Also Read: Monasteries in Mcleodganj and Dharamshala
How to reach Mcleodganj from Delhi by car
For someone traveling from Delhi to Mcleodganj by car, the route of the journey will be as mentioned below.
Delhi – Panipat – Karnal – Chandigarh – Rupnagar – Anandpur Sahib – Una – Amb – Kangra – Dharamshala – Mcleodganj
There can, of course, be several alternate routes but this will be the best and the fastest way to travel. Total journey will be of about 480 to 500 kilometers depending on where you started from in Delhi. Travel time will be anywhere between 10 to 12 hours. Road condition for the entire journey will be a mix of good and average. I will highly recommend taking an early start from Delhi though so that you are able to reach Mcleodganj well within time.
Delhi to Mcleodganj Road Condition
Condition of the road is good for the most part of it. As long as you are in plains, you will be driving on a super smooth highway. Even after you hit the hills, the road will continue to remain good with a few bad patches in between. Traffic can get a little slow after the highway turns into a single lane one but only for a short while.
Delhi to Mcleodganj by Car Time
A drive from Delhi to Mcleodganj will take you anywhere between 9 to 10 hours depending upon your speed and breaks.
How to reach Mcleodganj from Delhi by Bus
There are state-run buses available from Delhi to Mcleodganj operated by HRTC and HPTDC both. Service is available throughout the day and you can easily find a Bus going to either Mcleodganj or Dharamshala from ISBT Delhi.
The main Bus terminal in this area is in Dharamshala. This is where most of the Buses will stop and then you will have to board a local bus for the final stretch of the journey which will take you about half an hour and cost Rs. 20. But a few buses from Delhi and Pathankot go all the way to Mcleodganj as well so if you were lucky, you may find one direct for Mcleodganj.
In Delhi, you can board a Bus for Dharamshala and Mcleodganj from either ISBT Kashmere Gate or from the Tibetan colony near Majnu ka Tila. These are mostly all overnight buses that start from Delhi by 5 or 6 PM and will drop you at Mcleodganj by morning. Fare would be around Rs. 500 for an ordinary Bus and around Rs. 1000 for a Luxury Volvo one.
Word of caution, this journey can be very tiresome and uncomfortable for some people in an ordinary Bus. If you do not want to travel by an Ordinary bus then you can opt for a Volvo by HPTDC. Several private tour operators also have their own deluxe buses plying on this route.
Delhi to Mcleodganj Bus Booking
If you want to, you can book your seat on the HRTC Buses online by following the link below.
For private companies, you can either buy one via the travel agency itself or online sites like RedBus.
Delhi to Mcleodganj Bus Route
The bus follows the same Chandigarh Kangra route that I explained above for self drive.
Delhi to Mcleodganj Bus Duration
A Bus journey from Delhi to Mcleodganj will take you anywhere between 9 to 11 hours.
Best Bus from Delhi to Mcleodganj
If you were traveling on a budget, then boarding an ordinary HRTC Bus from ISBT Kashmere gate would be your best choice. If Budget was not a problem, then you should definitely look for a Volvo or Deluxe Bus because the journey can get a little tiresome in an ordinary one.
Delhi to Mcleodganj by Train
Nearest railway station to Mcleodganj is at Pathankot at a distance of about 100 kilometers from Mcleodganj. So if you wanted to travel from Delhi to Mcleodganj by Train, you will first have to board a train for Pathankot from Delhi. From Pathankot, you can then board a Bus for Mcleodganj. The Bus stand is in fact right in front of the train station. There are direct Buses from Pathankot for Mcleodganj throughout the day and it takes 3 to 4 hours to complete the journey. These are all operated by HRTC and fare per person is about Rs. 150.
There is another narrow gauge railway station at Kangra and is only about 30 kilometers away from Mcleodganj. This one, however, is a Troy train (like the Shimla Kalka one) and is really a very slow one. So unless you were hoping in to enjoy this train ride, better would be to board a train for Pathankot only and then reach Mcleodganj by Bus.
Delhi to Mcleodganj by Bike
A Bike trip to Mcleodganj is a great idea. In fact, riding a bike would make things even easier considering all the traffic jam between Dharamshala and Mcleodganj which can take you a while to navigate through if you were in a car. Just make sure that you are waterproofing everything if you were thinking of a bike ride in July or August.
Delhi to Mcleodganj by Flight
Gaggal Airport, also known as Dharamshala- Kangra Airport or Kangra Airport, is the nearest airport to Mcleodganj located about 20 kilometers away. Once you land at the airport, you can easily board a taxi from right outside which will drop you at Mcleodganj in about 30 minutes. There are several flights operated by Air India and SpiceJet Airlines between Delhi and Kangra. But please note that the due to the location of the airport, the weather is a very big reason here for flight cancellations; especially during winter and monsoon.
Delhi to Mcleodganj by Taxi
Direct private taxis are available from Delhi as well for Mcleodganj. You can either book a cab through a travel agent or find one directly from Majnu Ka Tila Tibetan settlement in North Delhi on the ring road.
Delhi to Mcleodganj Bus Fare
It will entirely depend on what kind of Bus you chose and whether it was a state-run or a private one. But on an average, the journey by an HRTC Ordinary bus will cost you around Rs. 500 per person whereas a Deluxe Bus ticket will be for between Rs. 1000 to Rs. 1500.
Delhi to Mcleodganj Taxi fare
Traveling by a hatchback or Sedan will cost you about Rs. 5000 to Rs. 6000 for a drop to Mcleodganj. If you opted for an SUV like Innova, the cost will go up to around Rs. 9000.
Delhi to Mcleodganj Itinerary
Your itinerary for the trip will entirely depend on factors like how you were traveling, for how many days and if there were any budget limitations. My itinerary for the trip was entirely by fluke because I had no idea about the place until we got there. So we actually reached Mcleodganj first and then went along the plans as the locals guided us.
Now based on my own experience there, below is an example of an itinerary that you can follow for your trip. 5 to 6 days is an ideal time that I will recommend for the journey. If you were however short on time, you can also plan it for 4 days which even we did.
Delhi to Mcleodganj. Start really early from Delhi and visit Kangra Fort on the way – Day 1
Visit Tsuglagkhang Complex, Namgyal Monastery, Dal Lake and Sunset Point – Day 2
Visit Bhagsu Nag Temple and Waterfall. Trek to Triund and camp there for the night – Day 3
Trek down to Mcleodganj from Triund. Visit the local market, do some shopping and spend time relaxing in the town – Day 4
This is an optional day but fun if you can add. On this day, you can drive to Masrur temples and return to Mcleodganj by evening. Or you can drive from Mcleodganj to Bir Billing and enjoy Paragliding there – Day 5
Return to Delhi – Day 6
Also Read: Triund Trek – How to Plan your Adventure
Cheapest Way to Reach Mcleodganj from Delhi
Traveling by an HRTC Bus would be the cheapest way to reach Mcleodganj from Delhi.
Best Way to Get to Mcleodganj from Delhi
Traveling by your own vehicle, either a car or motorcycle would be the best way to plan a trip to Mcleodganj from Delhi.
Delhi to Mcleodganj – Conclusion
I hope the travelogue and information above on traveling from Delhi to Mcleodganj was of help. Please read Sightseeing in Mcleodganj – A Natural and Cultural Paradise to continue reading the next part of this article. If you have any questions; or need any other details; please feel free to ask in the comments section below; or at our Community Forum; and I will be glad to answer.