If you think about it, there is really no standard answer to the question of the best time to visit any place anywhere. Why? Because it will depend on several things and will be different for every person.  Factors like your reason for visit, weather of that place, your mode of travel, duration of the trip and budget limitations will largely decide the final answer. With that being said, there is a period when every tourist spot receives the majority of its share of tourists. This time is what gets called as the best time to be there and weather mostly is the deciding factor behind it. The same logic applies in the case of best time to visit Prashar lake as well. When should you be here will entirely depend on the weather and your reason for the visit.
Also Read: How to Plan a Trip to Prashar Lake
For a brief introduction, Prashar Lake is a small lake located about 50 kilometers from the town of Mandi in Himachal Lake. At an altitude of 2730 meters, this lake sits at the top of a mountain and is one of the most popular destinations sought after for trekking and camping. The short trek to the lake is easy to moderate in terms of difficulty and is perfect for even an absolute beginner. There is also a motorable road that leading to the lake which makes it really easy to access. Apart from tourism, Prashar Lake also holds religious significance and is considered sacred. There is a three-storied pagoda-like temple right next to it; dedicated to the sage Prashar who is believed to have meditated on the banks of this lake.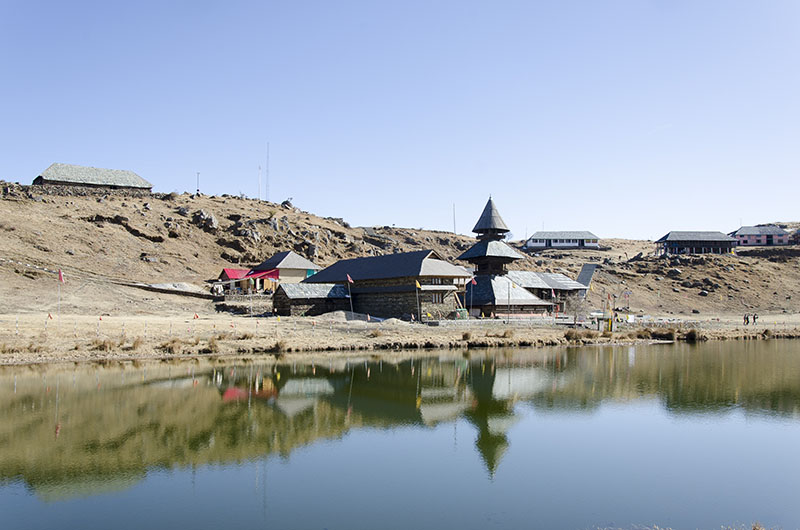 Prashar Lake Weather
Due to its high altitude, the weather at Prashar Lake remains cold throughout the year but also changes drastically from one season to another. In Summer, it mostly remains pleasant from the months of April till June. Monsoon arrives in July and August and the entire region receives moderate to heavy rainfall each year. During Winter, the lake freezes partially if not entirely and the temperature drops several degrees below zero. Let me provide a short overview of how the weather trends here month by month.
Also read: Delhi to Prashar Lake – A Journey Memorable
Prashar Lake in January
White is the word that defines Prashar Lake in January the best. The entire area gets buried under a light sheet of snow making the lake look like a shimmering jewel. The temperature at night can drop as far below as -5 Degrees Celsius and won't go beyond 5 to 10 Degrees during the day. It can start to snow here anytime in January which makes it a great time to visit for someone wanting to catch a live snowfall. With that being said, if planning in January, you must prepare for extremely cold weather. Packing heavy woolens and a windproof jacket is must at this time. The road to the lake too can get closed sometime due to snow and if that happens, the only way to reach will be on foot.
Prashar Lake in February
The weather and temperature in February are pretty much the same as January. The only difference is that the snow on the ground will be even more than the previous month. If you were visiting in early February, you will find plenty of snow accumulated around the lake and may even catch a live snowfall if you were lucky. Heavy woolens, windproof jacket with a hood, gloves, and shoes that can handle snow are a must for visiting at this time.
The last 2 to 3 kilometers of the road near the lake will most probably be blocked at this time so please call in advance and inquire. If the road was blocked, you will have to drive as far as you can and then walk the rest of the way. The average temperature in February will be 0 to -5 Degrees at night and 5 to 10 degrees Celsius during the day.
Also read: How to Plan a Trip to Chandratal Lake
Prashar Lake in March
Vistas will change in the month of March as the snow starts to melt away. From white, it will all turn to yellow or light brown. Snow will mostly be all gone by end of the month and weather will turn pleasant during the day. The temperature at night will still remain close to 0 and day temperature will increase to an average of around 10 Degrees Celsius. It is not really a good time in my opinion as the beauty of the region seems diminished a little in March and there won't even be that much of snow left. If planning in March, I will urge you to visit in the initial part of the month rather than later so that you can at least find some snow on the trek.
Prashar Lake in April
Spring arrives in April and officially marks the beginning of the tourist season; not just for Prashar Lake but the entire Kullu and Manali region. This is one of the best times for planning a trip here. The average temperature at night remains cold at 5 to 10 degrees but more of a pleasant cold. Days are moderately warm at 15 to 20 degrees Celsius. With Spring season on, there is plenty of greenery around to soothe your eyes. This is a perfect month for planning a trekking and camping trip to Prashar Lake.
Prashar Lake in May
With Summer now in full swing, things start to warm up a little even at Prashar but not like it does in plains. The average temperature in May at the lake will be around 15 to 20 degrees Celsius which makes it an ideal destination for people to visit and escape the scorching heat of north Indian plains. This is another good month to spend a couple of days camping on the banks of Prashar Lake.
Also Read: How to Plan a Trip to Deoria Tal
Prashar Lake in June
This probably is the warmest month that the region experiences. Day temperature may go as far up as 25 to 30 Degrees Celsius but nights will remain pleasant at around 15 Degrees. Vistas at this time are a bit dry and not that scenic if you asked me. Even with this weather, it still makes Prashar Lake an ideal destination to plan a weekend trip; to trek to the lake and spend a night in a campsite.
Prashar Lake in July
Monsoon arrives towards the end of June and by July, it can rain here anytime. This entire region receives quite a bit of rain each year. So much that it is sometimes enough to cause landslides and block roads for several days. If the rain continued, it may very well spoil your entire trip and any intentions of trekking or camping. On a positive side, this is also the time when the scenic beauty of the region is at its best.
Prashar Lake in August
The average temperature in the months of July and August at Prashar remains around 20 to 25 Degrees Celsius. It continues to rain throughout August and the valleys get covered under a thick carpet of grass. All that was dull and brown in June turns dark green in July and August. With flowers of numerous kind blossoming and clouds looming over the valleys, it is indeed a sight that will leave you mesmerized for days.
Also read: Lakes of Ladakh
Prashar Lake in September
September, in my opinion, is the best month to plan a visit to the lake. Monsoon would be long gone but would have left behind plenty of greenery for you to enjoy. In short, September will offer you all that the monsoon season had to offer but without the risk of any rain at all. Weather will neither be cold nor too hot. The average temperature at this time hovers around 20 to 25 Degrees Celsius.
Prashar Lake in October
October is the time for Autumn and all that was green in September turns Orange in October. Magical time is what I call it as the valleys turn golden all around. It is a perfect time if you want to see that orange color in the trees. October too is considered as another good month to visit Prashar Lake. It will, however, start to get cold towards the end of the month with the average temperature at night dropping close to 10 Degrees. Days will still be moderately warm between 15 to 20 Degrees.
Prashar Lake in November
This is by far the least favorable month to visit Prashar Lake. Vistas at this time are very dull and dry. November in a way really has nothing to offer. The scenery will be boring, weather terribly cold and there won't even be any snow around. The average temperature in November at day will be around 10 to 15 Degrees and around 5 Degrees Celsius at night.
Prashar Lake in December
By December, the winter season is all settled in again and the region will start to prepare for its first snowfall. Temperature at night will again get close to 0 Degrees and days too will feel cold at around 5 to 10 Degrees Celsius. By the third week of December, it can snow here anytime. Off-late, the campsites here have started to become a destination for people to come spend the 31st night and start their new year at Prashar Lake.
Best Time to Visit Prashar Lake
Now based on the information above, the months of January and February are a good time to visit if you want to enjoy the snow. The place is almost freezing at this time covered under a thick blanket of snow. You can actually see snow here from the last week of December till mid-March but the amount of snow on the ground is highest in February. The trek too will be slightly difficult but will be definitely worth it.
Also Read: A Drive to Prashar Lake
The months of April, early May and September are the months of greenery and a beautiful time to visit. The scenic beauty of the region at this time is the best and a photographer's delight. These three months are most suitable for the purpose of trekking and camping. October is a great time if you want to catch that Golden orange in the hills and the valleys. The months of Monsoon and November is not a good time to visit Prashar and you are better off postponing your trip by a few weeks.
Prashar Lake Photography
For someone who enjoys photography, the months of February, April and September are best if you want to get some great shots of the lake.
Best time for Prashar Lake Trek
For someone who just wants to enjoy an easy to moderate trek and spending a night at a camp site, any time of the year will be good enough. Just avoid the months of Monsoon because you do not want to be walking up a hill all wet and rain beating down on your head.
Prashar Lake Snowfall
The months of January and February will be best if you want to catch a live snowfall at the lake.
Also Read: Prashar Lake to Delhi
Clothes to Pack for Prashar Lake Trip
Last but not the least, let me also provide some information on what kind of clothes you should be packing for a trip to Prashar Lake. This too will entirely depend on your month and mode of travel.
Prashar Lake in Summer
If you were visiting in Summer, then pack plenty of cottons, a couple of light woolens and a jacket. You won't need the jacket during but will do after the sun goes down. If you were going to be trekking, then you must get a pair of good trekking shoes.
Prashar Lake in Monsoon
If you were planning to visit in Monsoon season, then you should pack clothes that can dry fast like polyester. Do not bring any woolens or thick clothes that can take forever to dry. You will have to bring a jacket along which is both windproof and waterproof.
Prashar Lake in Winters
For visiting in winters, you will have to pack heavy woolens and a thick windproof jacket. Ensure that your jacket also has a hood to protect your head, neck, ears and face. For this time, you should also pack a cold cream and a lip balm as well. If you were going to be trekking then get a pair of shoes that can provide a good grip in snow, otherwise you will just be falling and slipping around all the time.
Prashar Lake Altitude
The elevation of Prashar Lake is 2,730 meters (8956 ft).
Prashar Lake Temperature
Temperature at Prashar lake ranges between -5 degree to 25 degree Celsius throughout the year.
Prashar Lake Best Time to Visit – Conclusion
That is pretty much all there is to the weather, temperature and best time to visit Prashar Lake. I hope the information above was of help. If you have any questions; or need any further details; please feel free to ask in the comments section below; or at our Community Forum; and I will be glad to answer.