Delhi to Pabbar Valley sounded like a good plan for a short trip but I initially was not too convinced with the idea. When we first identified Rohru and Chanshal Pass as the destination for our next trip, we were quite certain that we wouldn't find any better than basic accommodation in the region and were even willing to camp a night or two.
However, I then remembered that I'd read about the Dwarika Residency on the internet, and thus passed on this info to Aarti.  Always the first one to find out more about good places to stay, she promptly Googled it, and voila! It looked as pretty as a picture on its website. The slightly higher tariff, though a problem usually, was okay for this trip as it was a short one, and more so because we had a personal milestone coinciding with it.
Also Read: How to Plan a Trip to Chanshal Pass
Before I knew it, Aarti had booked the place for three nights, and we were all set by mid-March for our end-of-April trip. The next task was to find out more about the region, which I did so, though only a few days before the trip.
So, the Chanshal Pass was obviously on the itinerary, although we were a bit skeptical about it being open, and then there was the Giri Ganga temple which looked good. A few other options included driving up till Tikkar village and also trying out the road till Sarahan, apart from our usual enthusiasm to off-road on the banks of a river (Pabbar on this trip).
The Travelers: Aarti & Harsh
The machine: Our very own wild ass – Tata Safari 4×4, we call it Kiyang
Day 1: New Delhi to Pabbar Valley (Shelpani)
As usual, we left home by 4:30 am, expecting it to be a 12-hour journey, but it was not to be so for various reasons. The drive on NH-1 from Delhi to Ambala takes considerably more time these days due to the widening of the highway construction going on. A typical 3 hours drive has now been converted into a 4-hour slog. We reached Ambala at 9:00 am after a pit-stop for breakfast at McDs.
Surprisingly, we did not get stuck on the highway from Ambala to Kalka, not even on the narrow roads of Pinjore and Parwanoo! Soon enough the winding path towards Shimla began, and with some clouds for company, it was a pleasant drive all the way till Dharampur, which was supposed to be our stop for an early lunch.
Going by Mayur & Rocky's (the hosts of the show 'Highway on my Plate') suggestions, we stopped at Giani Da Dhaba for a fantastic lunch of lemon chicken and garlic naan. I'd thought of taking a snap of the dish, but sadly could not control myself and finished it off in a jiffy!
Solan – Chail – Kufri
We reached Solan around 1 pm, and thinking we were doing good on time, decided to take the more picturesque but longer (in terms of time) route through Chail to Kufri, instead of the crowded NH 22. The pine-lined, narrow winding road towards Chail was pleasant to drive on and gave a lot of photo opportunities.
With all the time on our hands, we meandered slowly towards Kufri. A pleasant snow-shower later, we managed to reach the ugly highway back by 3:30 pm. It had taken us 11 hours so far, and we were still about 70km away from our destination.
A lovely place to have lunch, near Sadhupul.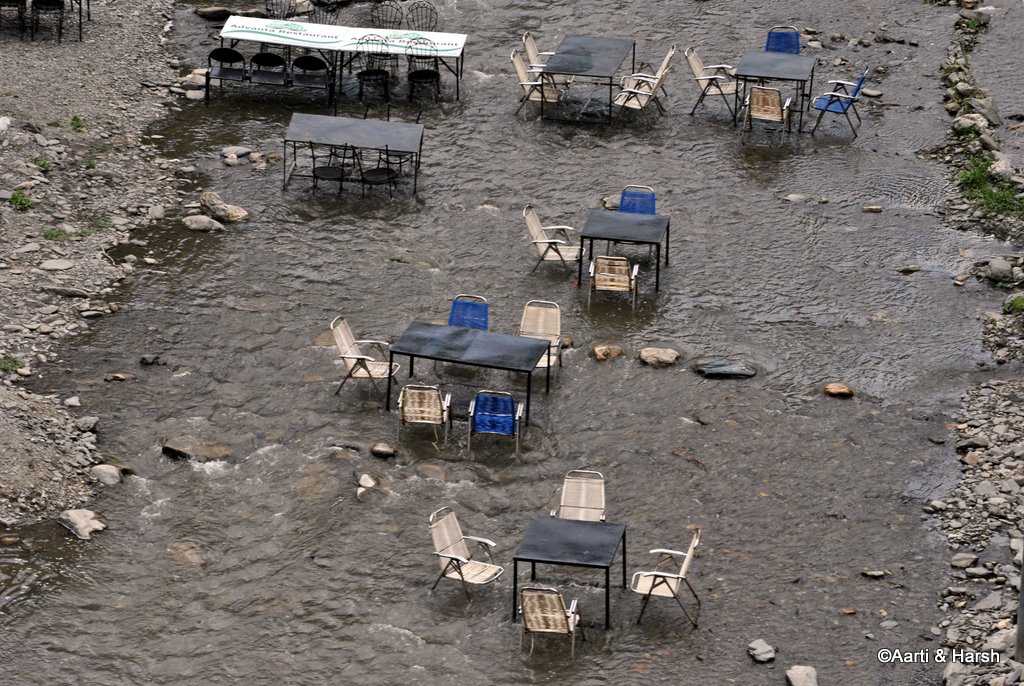 Theog – Kharapatthar
We'd assumed that there would be a reasonably good highway till Kharapatthar from here onwards. Unfortunately, that was a gross underestimation of the 'bad roads' we'd read about from Theog to Kharapatthar.
Work on four-laning the road from Theog to Rohru has been on for years, and will still take another year or two. Hardly tarred and full of potholes, the road is a nightmare, especially if you've already driven for 11 hours. Anyway, it took us a good three hours to reach from Theog to Mandhol, a village 7 km away from Kharapatthar.
Also Read: How to Plan your Chanshal Pass Itinerary
Then we spent another 20 minutes covering the 1.5 km jungle track from Mandhol to the Dwarka Residency estate. We finally managed to reach the place by 7:30 pm, thus making it a 15-hour drive in all, longer than what it takes to get to Manali from Delhi, and we were thoroughly exhausted.
A beautiful sunset just before Kharapatthar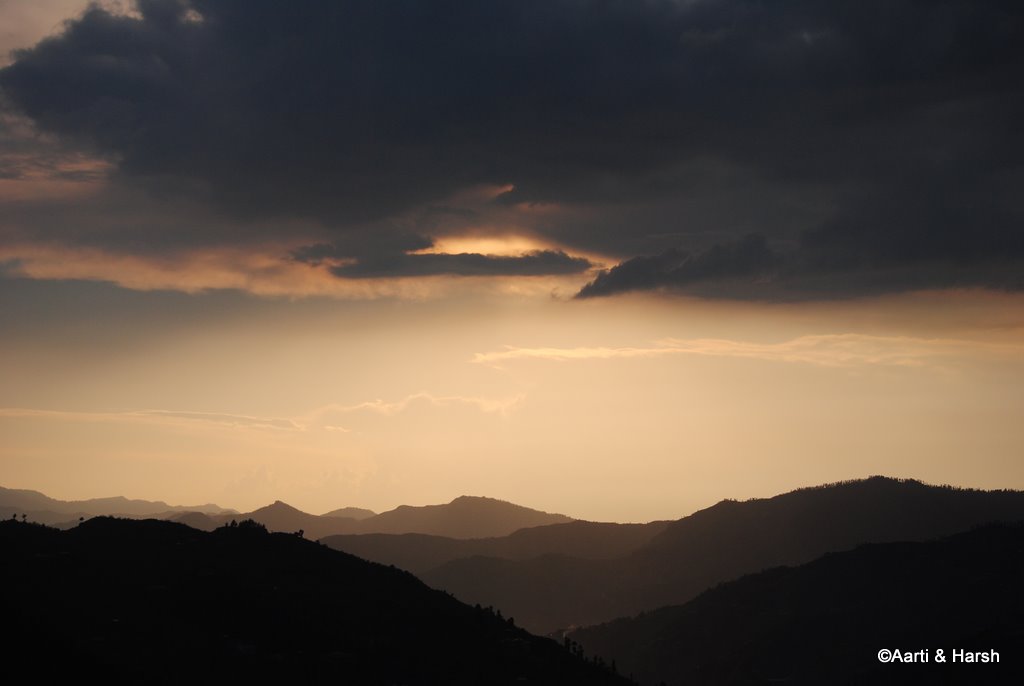 Pabbar Valley
When we saw the estate, all our tiredness seemingly faded away in an instant! It looked even prettier than it had on the website.
Sudhir Khimta, the owner of Dwarka, was waiting for us, and after quickly freshening up, we had a cup of tea with him. I had especially taken a bottle of cognac to enjoy up there where it's still cold even during the summer months.
We then explored the lovely house, and Aarti, as was expected, was first thrilled at the prospect of spending the weekend at the house, and then got depressed at the thought that she may never own such a pretty house!
The house, and the estate, are indeed lovely. After a 1.5 km drive through a beautiful pine forest on a jungle path, which, in the rains, would definitely become an only 4×4 track, you end up in a small parking lot. From there, it is a 2-minute walk through an apple orchard to the house.
With the typical sloped roof, the contemporary-looking house with a stoned path leading up to it, and a pretty fence around it looks like a toy house in a fairy tale. The location too is perfect, on the edge of a hill, with a wonderful view of the Pabbar valley below, and the mighty snow-capped Himalayas in the distance.
The lights from Rohru at night give the place a surreal feeling. The house itself has four rooms, and a very charming living room, complete with a fireplace, and a library corner. Soft, soothing music plays in the background always, making the place a perfect getaway from work.
After a good Indian dinner, made by the ever-smiling Vikram and his assistant Vinod, we retired for the night with a smile on our faces.
Day 2: Shelapani to Rohru to Chansal pass to Shelapani: 160kms
We'd planned to wake up early the next day to catch the sunrise, and also push off early for our day trip to Chanshal, but plans on a vacation are just as stable as the government of Pakistan!
Also Read: Leh Ladakh on Scooter – An Adventurous Journey
All thanks to a tiring drive and a few pegs of cognac the previous evening, we got gloriously late in leaving. After an ordinary breakfast at Dwarika (it was not bad, we've just been spoilt by the likes of Johnson's Lodge in Manali and Raju's Cottage in Gushaini), we finally got our act together and started moving towards Chanshal by about 10:15 am.
The view from our balcony at Dwarika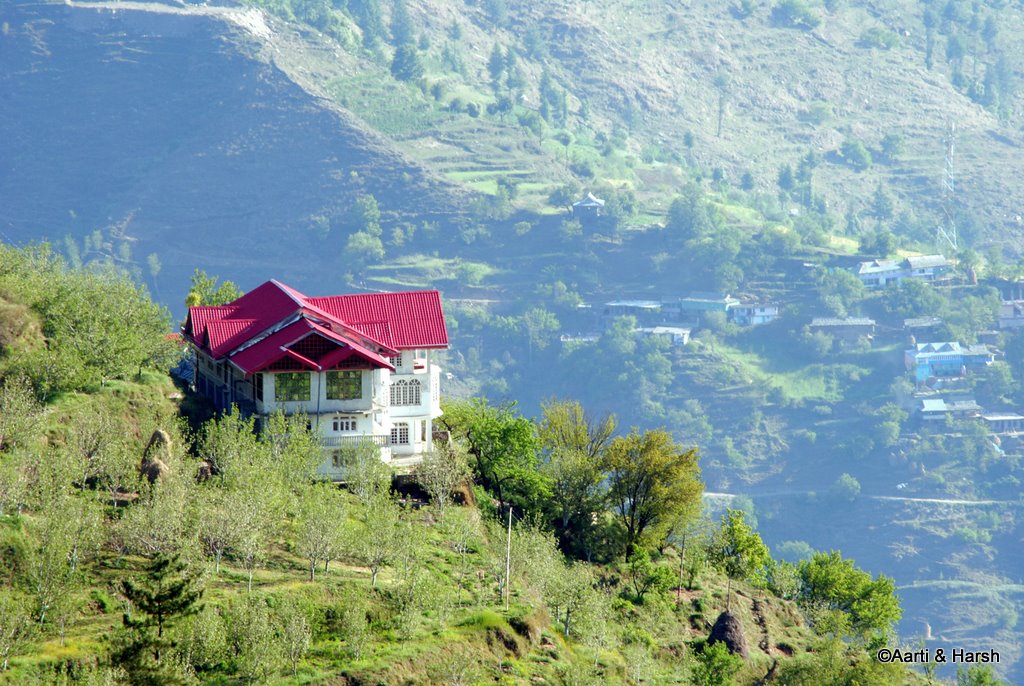 The beautiful Dwarika Residency.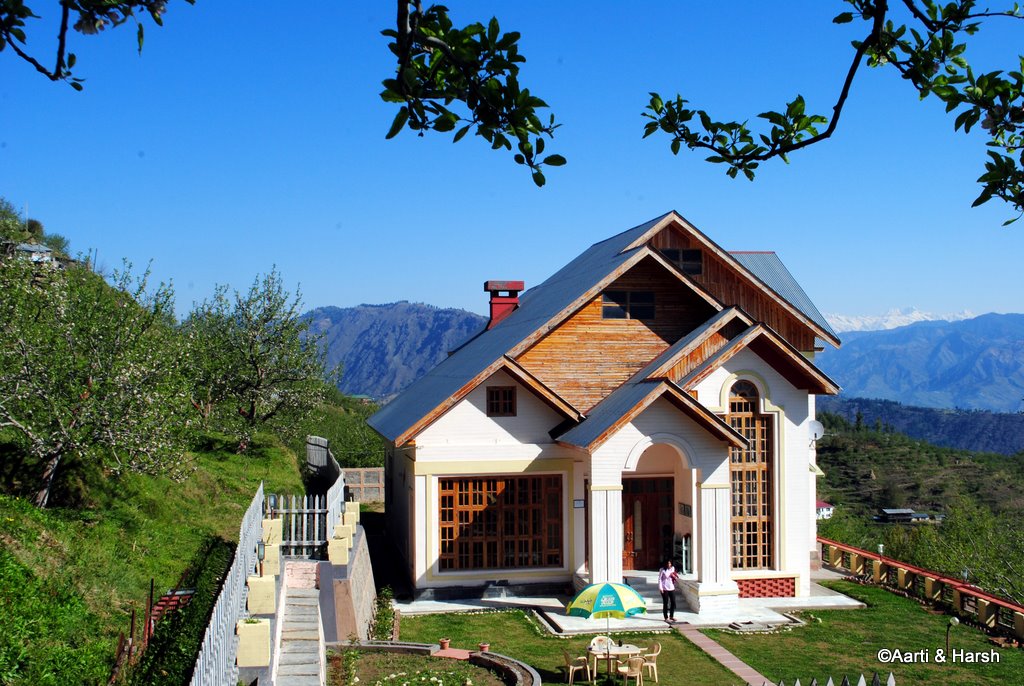 Rohru
We took the direct route towards Rohru through a track on the hill. Though narrow and hardly tarred, this road was much better than either the Theog – Kharapatthar or the Kharapatthar – Hatkoti – Rohru route.
A word of advice to those who intend to travel to Rohru – after Kharapatthar, take the narrow direct road towards Patsari village instead of going through Hatkoti. The 35-odd km to Rohru took a bit more than an hour and a half, of which the worst part was from Patsari, on the banks of the Pabbar River, till Rohru.
A huge "mela" in the middle of Rohru town ensured that we got further delayed in our progress, and it was only about an hour later that we managed to cross the river to begin our climb towards the village Larot.
Also Read: Chanshal Pass Trip in May
The road from Rohru stays on the right bank of the Pabbar River until one climbs at the end of the road to a non-descript village after Chirgaon. The road from here is not tarred, narrow, and terrible. One crawls from here on towards Chanshal in the super-frustrating first gear.
We knew, even before we had begun the climb, that the pass was not open yet (as several locals had mentioned it), but given our past experiences with locals and their knowledge about "opening" and "closing" of places, we decided to try our luck.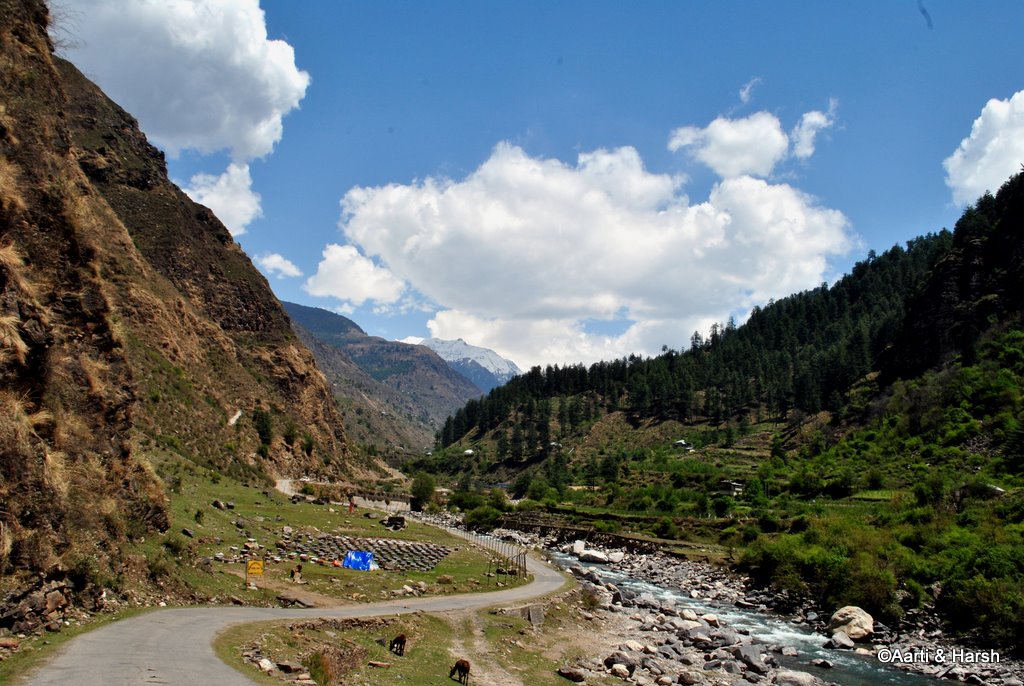 Larot​
To be honest, the climb to the village Larot is actually quite mundane; apart from a couple of nice views of the majestic peaks around. Or maybe it was the cruel afternoon sun and dust, coupled with the nightmarish road, which made the drive quite humdrum. I mean I don't mind off-roading, but I've never loved Rohtang either.
Beyond Larot, a thick pine forest welcomed us. It was the only saving grace of the drive towards Chanshal. The kaccha road through the pine forest was refreshingly beautiful. On a turn, I braked suddenly seeing some uneven road up ahead, and my heart sank.
The brake pedal touched the floor. This could only mean one thing – the brake fluid was leaking, AGAIN! I immediately parked the car and asked Aarti to press the brake while I inspected underneath. My worst fears were confirmed. Kiyang was indeed leaking brake fluid again, and again it was on a climb.
It had been fixed once last year in July (Ladakh log), and once more sometime in Feb. 2011. I kicked myself for not carrying the right-sized spanner and some washers. However, I  was thankfully prepared with plenty of spare brake fluid. We decided to trudge a little more carefully from that point on. We also did not take any undue risks, such as putting on snow chains, as we'd earlier planned.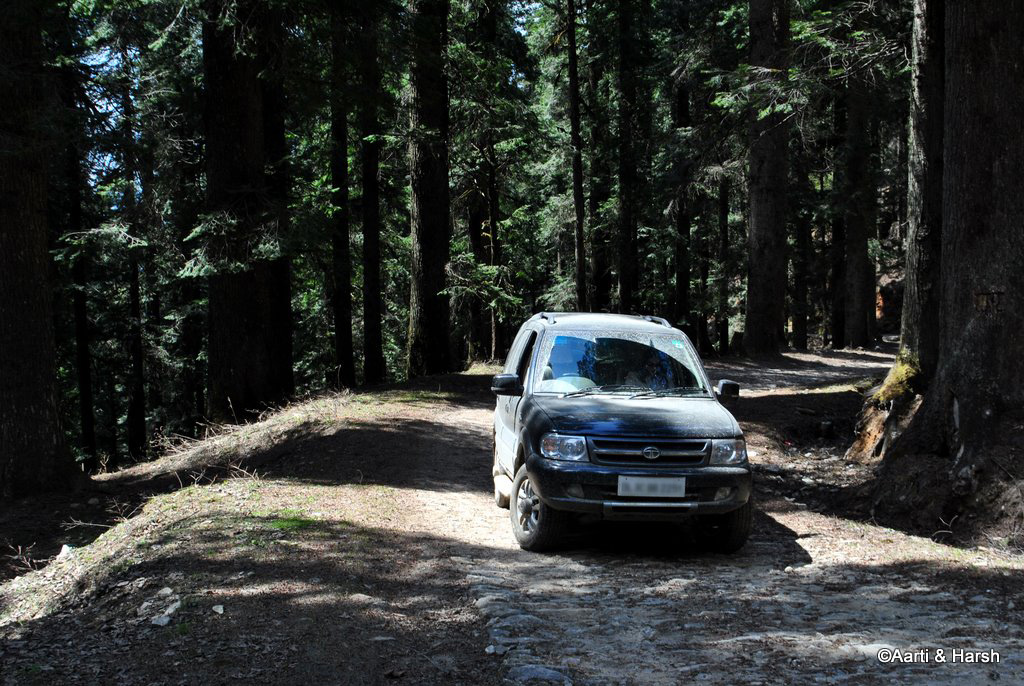 Chanshal Pass (Almost)
​Finally, at about 2:30 pm, after crossing a couple of snow patches on the road, we came across a patch which was difficult to maneuver without snow chains. I tried walking on the snow patch, and it was rock solid, the tyre ruts created by the dozer deep. The hard ice would've hit just about near the leaking brake washer.
Also Read: Delhi to Ranthambore Road Trip & Tiger Sightings
I walked a bit and found that the dozer was parked just up ahead on another bend. This meant that this would be the end of the road for us as far as Chanshal was concerned. We tried crossing the patch once without the snow chains. But soon we realized that we couldn't do it without further damaging the washers.
Thus, with a heavy heart, we decided to take a U-turn and head back towards Rohru to get the brakes repaired.
The dead-end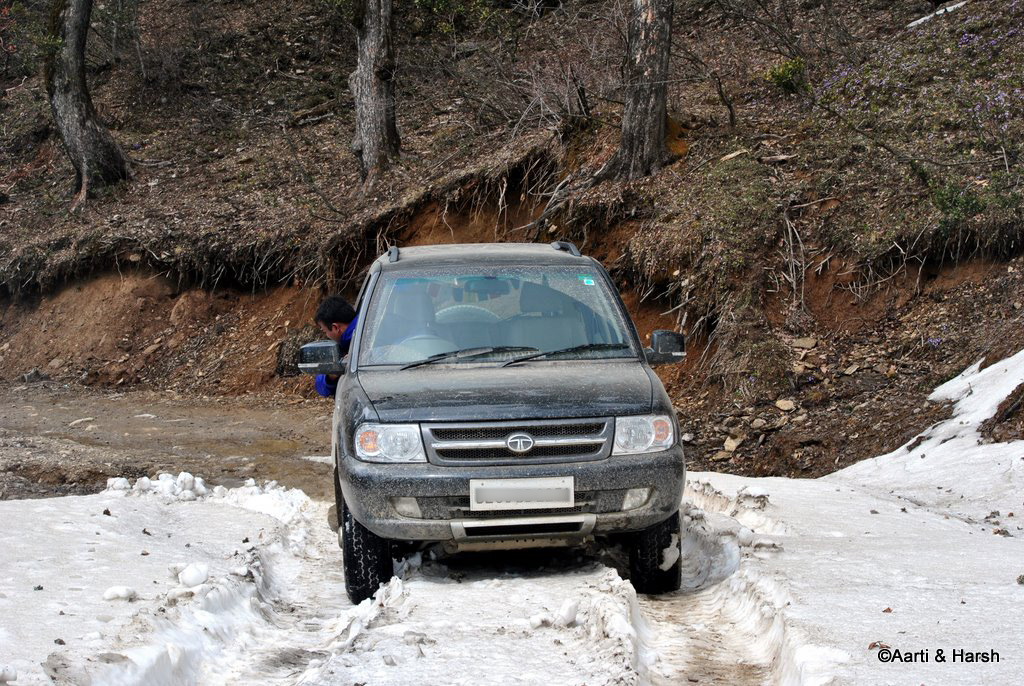 The aroma of packed sandwiches mixed with that of the pine-wood forest enticed us to break for lunch before we left for our long and bumpy journey back.
A recently "dozed" route.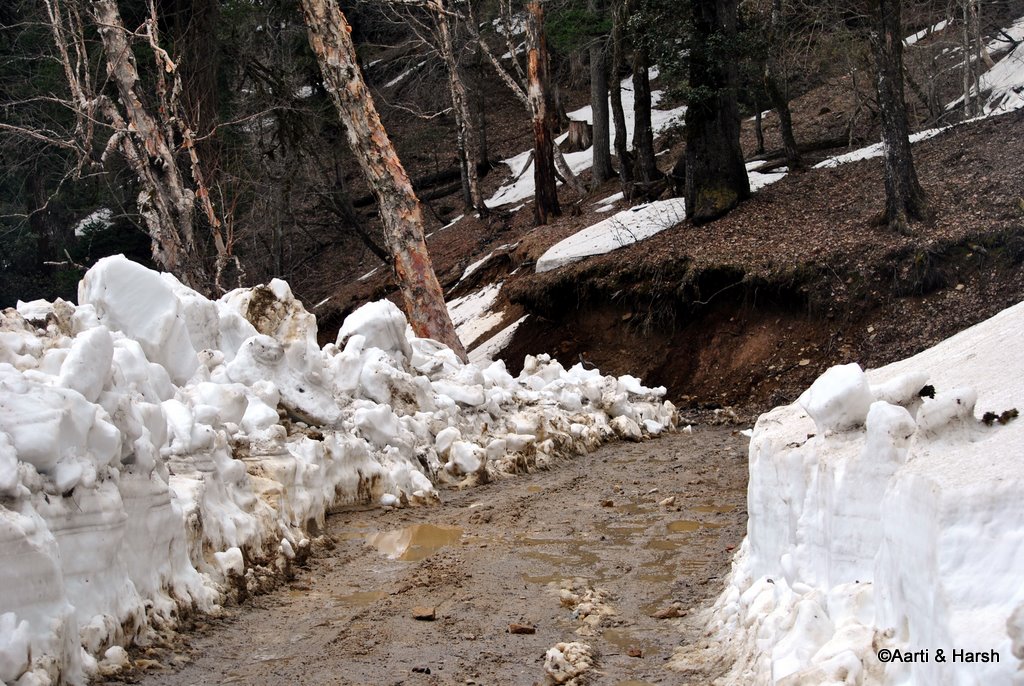 Rohru
A half-an-hour lunch break ensured that we reached the base of the hill, next to the river by 4:45 pm. It had already been a 6.5 hours grueling drive since morning, and we were already quite pooped.
On the drive back, a huge collection of boxes lying on the ground caught my attention. On a closer look, a masked fellow in the middle of them aroused further suspicion. It had to be an apiary.
Also Read: Sach Pass Road Trip and Season's First Snowfall
Mr. Anil Sharma from Bahadurgarh, (near Delhi) was managing his apiary business far up in the mountains. He was kind enough to give us a really long tour of his prized possessions, explaining at length about birds and bees.
Bees just disgust me!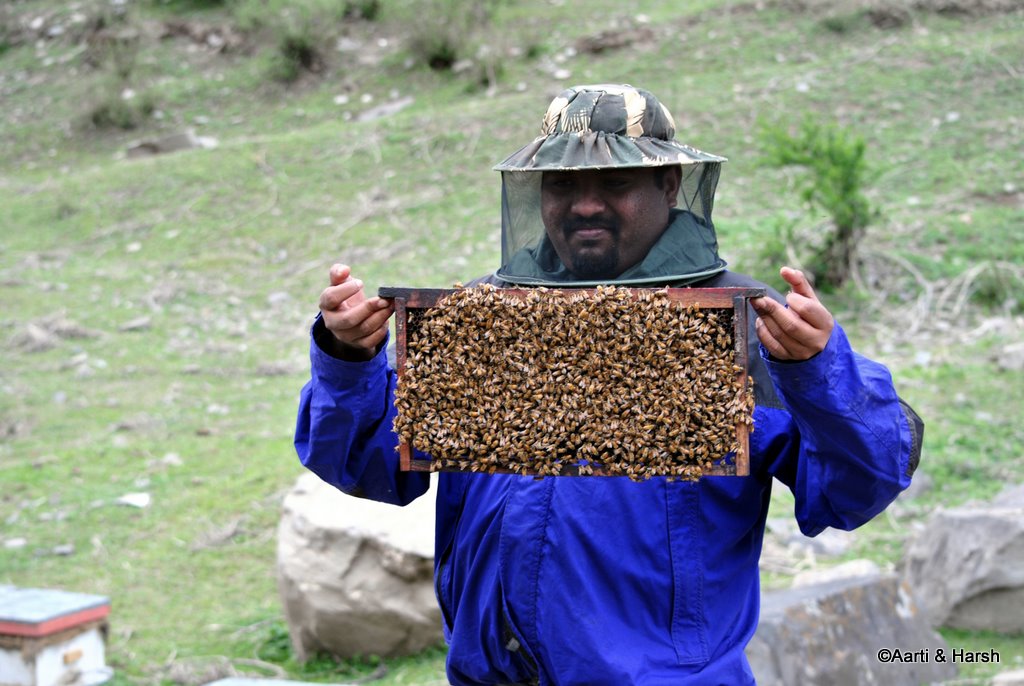 Bidding adieu to him as soon as we could, we reached Rohru by 6:30 pm; in a hurry to get the car repaired. Sadly due to the mela mentioned earlier, no one was interested to have even a look at the car; leave alone to get it repaired.
We must've tried about 10 odd shops. Getting late ourselves to catch the Mumbai vs CSK IPL match, we dashed off towards our abode for the weekend and reached just in the nick of time to watch the match from the 3rd over. Sadly CSK lost that day, but the day was a win.
A decent dinner of some veg pasta with some garlic bread awaited us Dwarika on our arrival. Pretty decent stuff actually, especially when compared to the Indian fare Vinod dished out for us, the night before.
Day 3: Rest Day in Shelapani
We decided to take our last day at Shelapani a little easy. The drive from Delhi to Pabbar Valley and then Chanshal trip the previous day had been exhausting, and we wanted to relax a bit and enjoy the estate itself.
Also Read: Delhi to Jim Corbett Road Trip – An Exciting Adventure
While Aarti decided to sleep late, I wanted to catch the sunrise, so woke up at 5:30 am. Sudhir, the owner of Dwarika, was awake and we had a cup of tea together. I took some shots of the house from the outside but sadly was not able to get the desired effect I had in my mind.
Off-Roading
Since time was on my side and I had plenty of time before Aarti would wake up, went off to explore an off-roading track that I'd been itching to try since we came to Dwarika. It was a path branching off the track from Mandhol village to Dwarika Residency.
It was pretty steep and quite muddy with deep ruts (also since it had rained a bit the previous day). However, it was totally exhilarating for me! The sunrise was not great and the sun had risen behind the peaks. I did find a cute little companion on the top of the hill, a puppy. After a few shots, I retraced my steps; this time stopping every few meters to take a beauty shot of Kiyang.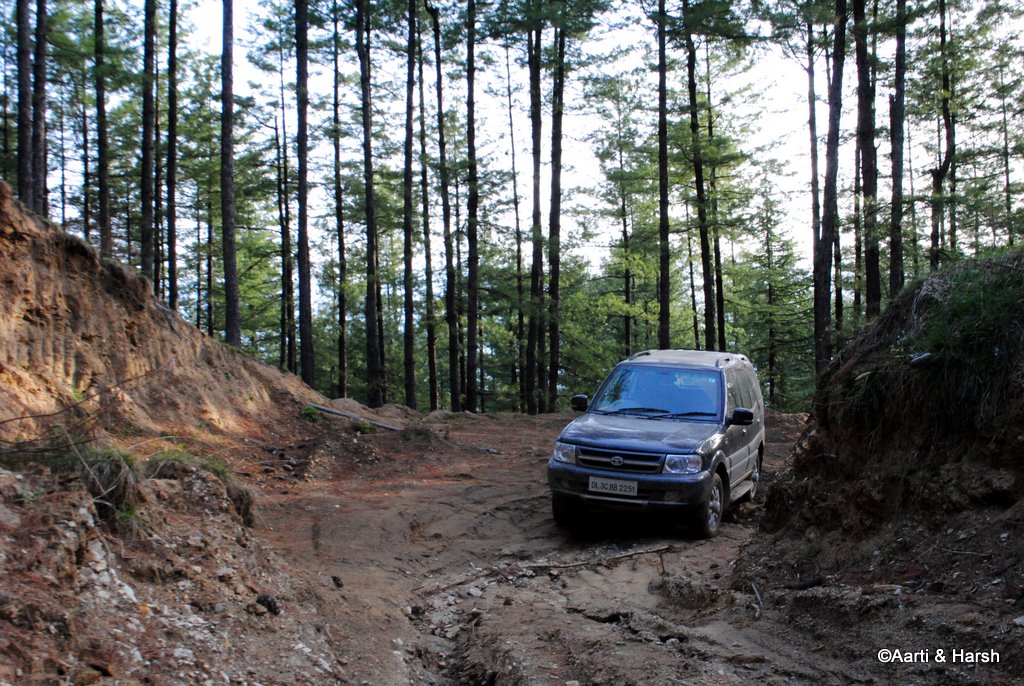 Sadly the gradients are not easily captured on camera! This particular one was something
​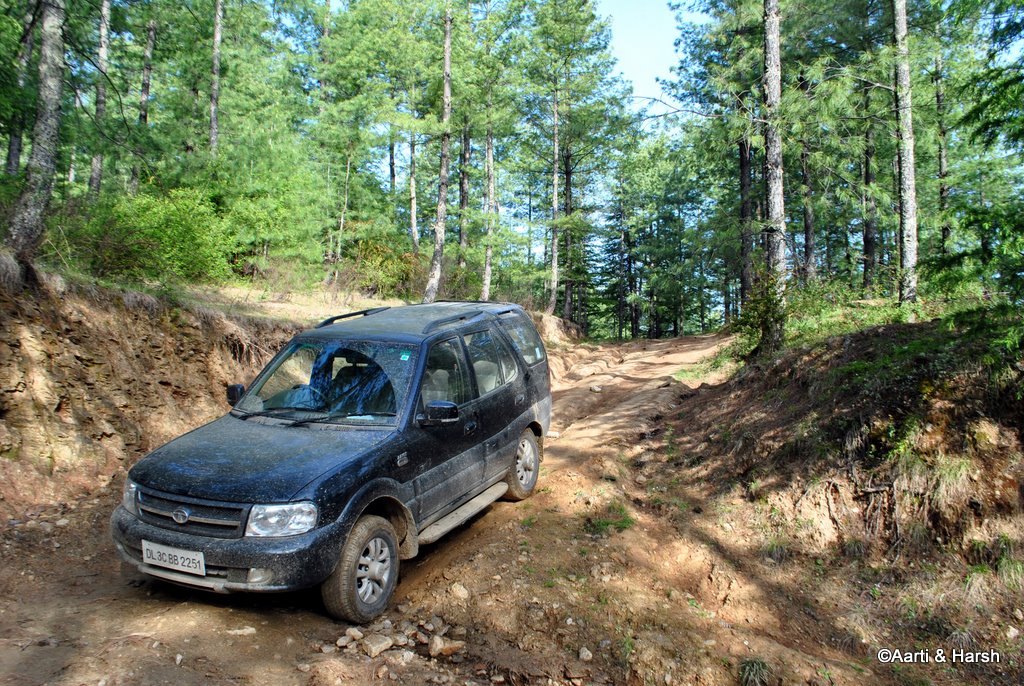 Kharapatthar
By 8 am, I was back at the house, and Aarti too was awake. We had a cup of tea, lazed around, and then had breakfast. It was our 7th anniversary that day – 7 years of being together – and we'd decided long back to celebrate by watching 'The Seven Year Itch'!
We thoroughly enjoyed the movie (who wouldn't? Marilyn Monroe looks like a dream!) and then decided that we should now head out to get the car repaired.
We left finally at 12:45 pm and headed straight to Kharapatthar, where Sudhir had said that we'd find a mechanic. We were really hoping that we do since neither of us was in the mood to drive till Rohru to get the car repaired, the bad roads being the reason.
Also Read: Delhi to Rann of Kutch by Road – A Winter Drive
Thankfully, we found a mechanic in the first workshop we stopped at. He fixed the leaking brake fluid in 10 minutes flat! As I'd expected, only the washer had to be changed. I took some spare washers from him, just in case something were to happen again, and then we moved on.
Right next to the workshop was the Giri Ganga hotel. We were quite hungry by then and decided to stop for lunch there. The lunch was indeed super, much better than the kitchen at the resort.
After having a satisfying lunch, we proceeded towards the Giri Ganga temple. It was only 3'o'clock when we left the Giriganga resort, so time was on our hands.
The road to the temple branches off the main road just about 3 km from the Giri Ganga hotel. It was not tarred, and very narrow; narrower than the road to Hatu peak or Chandra Tal, if that is possible.
Giri Ganga Temple
The turns were especially scary, with Kiyang's turning radius not helping one bit. I prayed to all my gods that we do not encounter a vehicle descending the path while Aarti drove. The total length of the road is about 8 km and would be best avoided for a couple of days after rain. The track was tricky at places since it had rained a couple of days back.
The temple complex itself was quite beautiful and serene, and there was no one around. The complex is quite unlike the typical temple complexes found elsewhere in India. The quietness of the place along with the fact that no one else was there, and is set amidst a beautiful pine forest, was simply amazing.
The Giri Ganga temple complex. A stream runs next to the complex, making it even more beautiful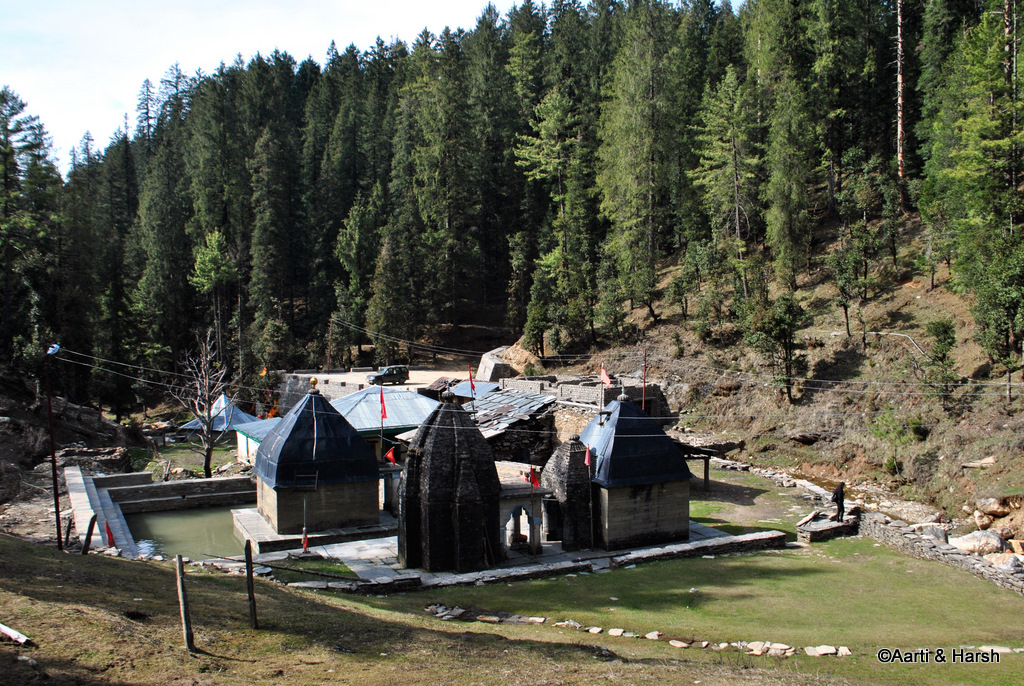 Taking a walk inside the complex. And of course which meant walking barefoot on cold stone.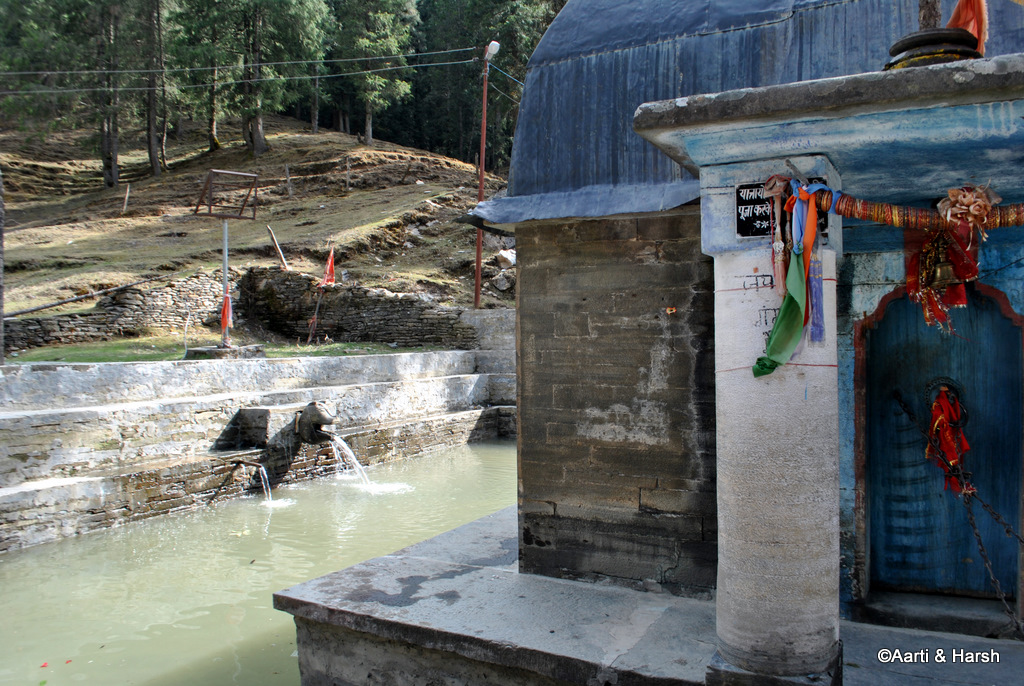 We explored the complex leisurely, spending time by the little water reservoir in the middle of the complex. I then spent some time trying to capture a mountain rat on camera.
Also Read: Trip to Chandratal Lake by Car – An Adventurous Drive
After a bit more ambling, we headed back, stopping at a rocky ledge we'd spotted on our way up to the temple. After a bit of posing here, we moved on.
A mountain rat. The little guy was curious to catch a glance of the visitors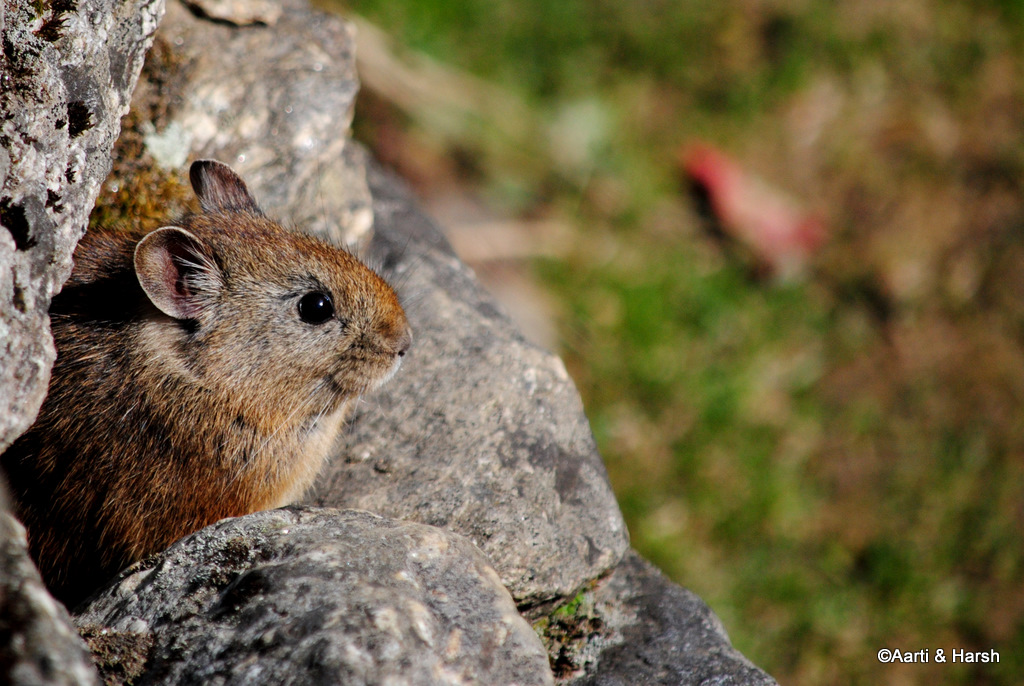 End of Day 3 and the Trip​
We reached Dwarika Residency in time to see the sunset, which was not very spectacular. Evening tea followed, and then a wonderful bonfire – a perfect ending to a perfect weekend getaway.
Day 4 – Pabbar Valley to Delhi
Nothing much to write about this day really. It was a long and tiring haul back, back to civilization and work. We pretty much drove straight back home with only a few breaks in between. The trip was fun and it was a special 7 year anniversary for us. Chanshal Pass was left out as we could not go all the way to the top. We will soon return and conquer it as well.
Delhi to Pabbar Valley Distance
The total distance from Delhi to Pabbar Valley is about 450 kilometers. If you were also planning to include Chanshal Pass, add another 100 kilometers to this distance. Any sightseeing to any other nearby areas will be in addition to this distance.
Delhi to Pabbar Valley Trip Time
A minimum of 5 days is what I will recommend for traveling from Delhi to Pabbar Valley and Chanshal Pass. This will ensure that you have plenty of time for sightseeing and are not rushing through the trip. If you were short on time, you can do it in 4 days as well but not less than that.
Delhi to Pabbar Valley and Chanshal Pass – Conclusion
I hope the travelogue, pictures, and information about traveling from Delhi to Pabbar Valley and Chanshal Pass were of help. If you have any questions or need any other details, please feel free to ask in the comments section below or at our Community Forum, and I will be glad to answer.