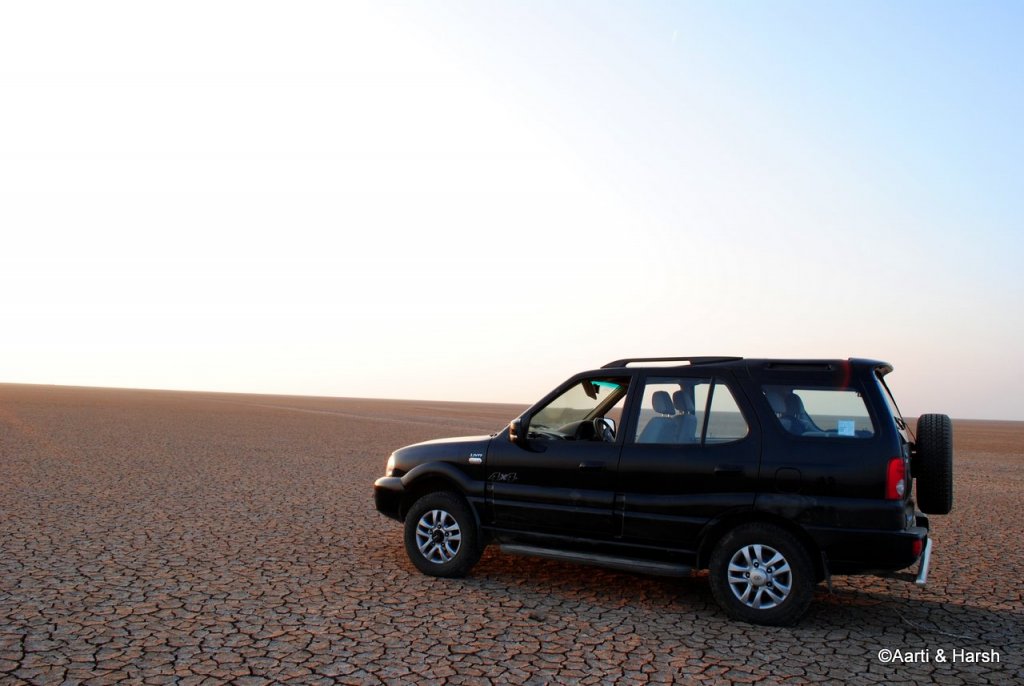 The decision to spend our last vacation of the year in Kutch was not easy. We're essentially mountain people, and for us to even fathom a holiday outside of the mountains is difficult. However, both of us knew deep in our hearts that we would like to explore other areas as well. After much debate, decided to give Kutch a shot, and a trip from Delhi to Rann of Kutch by road was finalized.
When we plan a holiday, we usually know our entire itinerary about 3 months in advance. However, for Kutch, probably because we did not have knowledge about the area, or maybe because we were still apprehensive about the whole thing, we did not plan at all!
I still did read a few blogs, but Aarti did nothing at all. Finally, towards the mid of December, she took the initiative on a Sunday, opened the map, and made a rough itinerary.
Also Read: How I traveled to Leh Ladakh by Public Transport
Delhi to Rann of Kutch by Road
And that was it! So armed with some GPS markings made over google earth, Eicher maps, and a good book about Gujarat, we were off on 25th December. The journey covered 4000 km in all and it took us 8 days to do it.
Day 1: New Delhi – Nasirabad – Pali – Abu Road – Palanpur (810 km)
The day before we were supposed to leave finally arrived and Aarti woke up with a terrible cold and cough! At that moment it seemed as if this trip was not meant to be. Still, we were determined to go, and Aarti took the day off to rest and be in a shape to travel the next day.
As is tradition with us, we left early morning the next day at 4:15 am. We'd been warned by friends who'd left for a holiday in Rajasthan a few days before about early morning jams near Manesar. And half an hour after leaving, we found ourselves stuck royally in precisely such a jam right after IFFCO chowk.
A Slow Start
We tried to bypass some of it by taking a detour into the by-lanes of Gurgaon. Unfortunately, we were able to avoid only about 3 km of the jam. The reason for all of this was a very long truck's unsuccessful desire to take a U-turn in the middle of the highway!
We managed to clear the jam by 6:15 am and decided to stop at McDonald's for breakfast before we actually started our journey. Finally, at 6:45 am, with our stomachs full and the jam behind us, we zoomed away!
The NH 8 was in a terrible state, with work in full swing to make it a six-lane highway. Also, traffic was a lot, and thus our average speed was pretty less. We reached the cut for Ajmer at 9:45 am, and thereafter the road was as smooth as butter!
To reduce time, we took the cut for Nasirabad instead of going through Ajmer. The left for Naisrabad goes further towards Chittaurgarh, which is currently the fastest way to reach Udaipur.
After that, we took the right towards Mangaliyawas, and the State Highway was fantastic albeit narrow. With 4 laning of NH8 in progress, our average speed till Beawar was quite slow. As we took the right towards Pali, our stomachs started growling unbearably, and we broke for lunch at the Sendra Valley Resort.
Not too beautiful to be called a resort, but clean loos & decent vegetarian food​
The Long Monotonous Drive
All in all, the 450 km took us about 10 hours with only a half an hour break for breakfast. While our average speed initially was pathetic, the wonderful road after the Jaipur bypass more than compensated for it.
All this while, Aarti was still feeling quite unwell, and hence had not driven at all. After we took a left from Barr towards Pali, the road to Sirohi is a decent two-laned highway with average speeds of 80 to 100 kmph.
Also Read: Nepal Bike Trip – Itinerary, Travelogue, Cost, Hotels
We reached Sirohi at sunset and were bored of driving on straight roads since morning. Hence, we off-roaded a bit to settle our nerves and carried on. As it started getting dark, the highway too turned beautiful as we approached Mount Abu.
Off-roading before Sirohi​
We'd scoured the map, and decided against our initial plan of staying the night at Mount Abu, and zeroed in instead on Palanpur as our night halt.
When we finally caught the expressway at Jhadoli, we were in for a total treat! What roads! World-class is an understatement. As we whizzed past several sleepy villages, we realized that we should have caught this expressway long back and that even though it would have been a much longer route, the drive would have been effortless.
Also Read: Delhi to Bhutan Bike Trip – Ride of a Lifetime
Palanpur
We reached Palanpur, the diamond district, at 7:45 pm, and went straight to check out the two hotels Aarti had read about in the super book on Gujarat we'd bought – the India Guide on Gujarat.
In half an hour, we'd checked into a decent hotel called Way Wait.  Next, we proceeded to have a colorful, although average, Gujarati thali for dinner. As we ate, a disturbing thought that had occurred to me before the start of the trip suddenly became a harsh reality. Chicken would definitely be in short supply on this trip!
The vegetarian Thali, omnipresent in the region​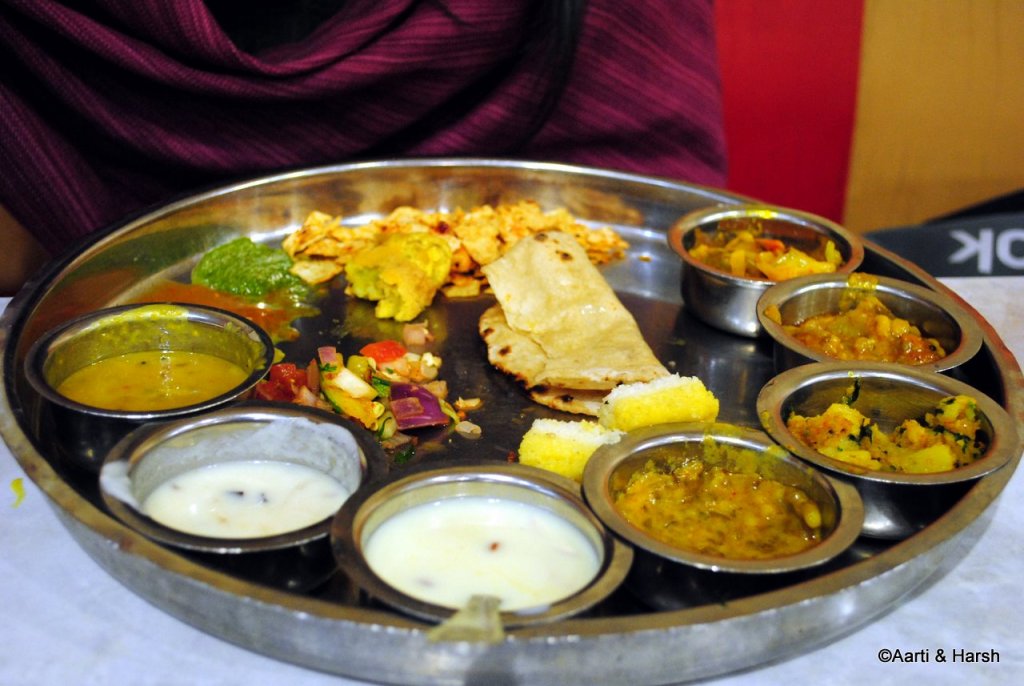 Hotel Way wait at Palanpur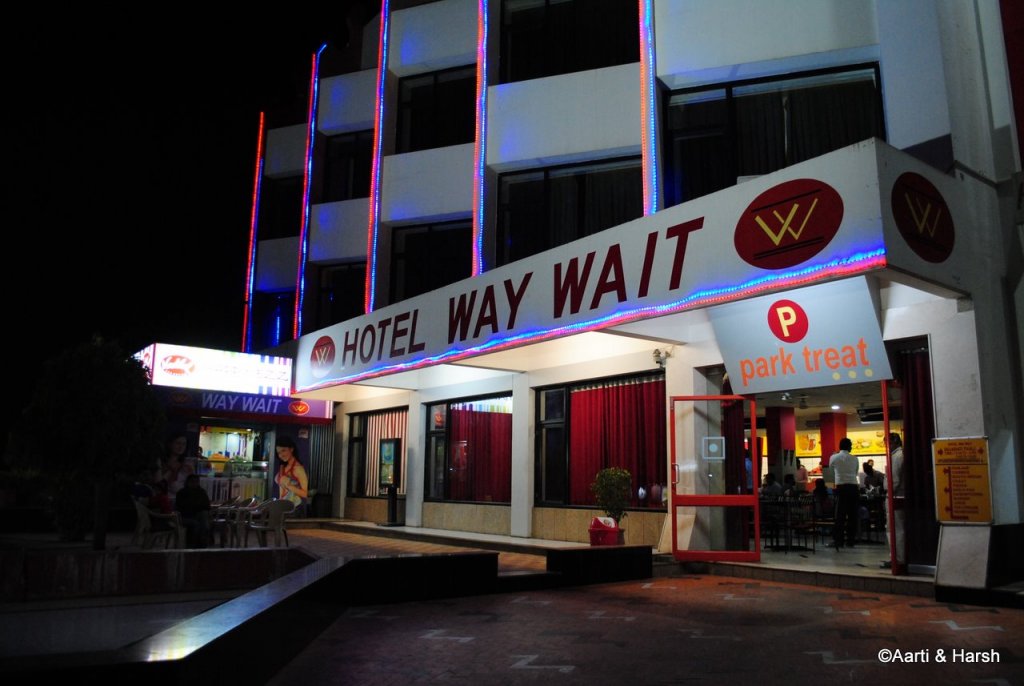 Thus our first day on the road came to an end. Aarti was still not feeling well, so we decided to rest properly the next day and leave late by about 11 am. This concluded the Day 1 of our trip from Delhi to Rann of Kutch by road.
In hindsight, I think we had taken a sub-optimal route. Upon our return, it turned out that the best route towards the Little Rann of Kutch would've been Delhi – Chittaurgarh – Udaipur – Ahmedabad – Little Rann of Kutch.
Although the distance would have increased by about 100 km on this route, better roads would've to lead to eventually some saving on time and lesser risk of getting stuck in a bottle-neck.
Also Read: Road Trip from Delhi to Kinnaur and Mussoorie
Day 2: Palanpur – Zainabad – Little Rann of Kachchh – Zainabad (175km)
We got up pretty late the next morning, thanks to our decision not to set an alarm. But it was good that we slept late since we got up fresh. More importantly, Aarti was feeling much better, and that was a relief!
After a quick breakfast and tea at the hotel, we left around 11 am. We were expecting several photo-ops during the day. Hence I'd cleaned the lenses in the morning while Aarti was still getting ready.
We decided to head straight towards Desert Coursers, the resort where we were booked for the night in village Zainabad. Our earlier plan of going to Suigam and Nadeshwari temple in the Greater Rann was abandoned since that would have become hectic.
Moreover, we may not have been allowed to enter the Rann in the first place by the BSF. In hindsight, that was a good decision. Of course, reaching Zainabad early also meant that we could catch the sunset in the Little Rann, which was very tempting.
The Lens Problem
Our planned route for the day was to reach Zainabad via Mahesana, Modhera, and Dasada. An hour into the drive, I was trying to capture the excellent roads we were driving on when I realized that something was wrong with the lens. It was completely fogged out. After fiddling around a bit, the problem still persisted. And it was not one lens, but both.
I got pretty anxious and called a friend who was our "go-to guy" while on the road. He advised us to keep the lenses in the sun and said that they will start de-fogging immediately, although not pointing directly at the sun, and to get some silica gel and a zip lock bag.
Keeping the lens in the zip-lock bag with the Silica gel acting as a desiccant would help remove the moisture within the lens and reduce the problems in the longer run. The challenge was now to get my hands on these items in rural Gujarat.
For now, I kept both the lenses on the dashboard in the sun and hoped for the best. The de-fogging started immediately, and I cannot express how relieved I felt! I later realized that some moisture must have seeped in into the two lenses while I was cleaning them, and swore to be more careful the next time onwards. With the lens fog behind us, we moved further towards our destination for the day.
Also Read: Road Trip to Morni Hills and Tikkar Taal
Sun Temple
Till Mahesana, the expressway is fantastic. Beyond that, the state highway till Zainabad too is awesome, despite being two-laned and undivided. When we reached Modhera, I was super excited to see the Sun Temple. I actually took Aarti to the wrong one, despite her saying repeatedly that this temple couldn't possibly be the Sun Temple.
She was right (as the better halves normally are), but I did manage to get a couple of decent shots there! Anyway, we did finally reach the real Sun Temple, and it turned out to be quite charming. It was difficult to shoot at the location though since the Sunday picnic crowd was difficult to get rid of in each frame. A short while later, we decided to move on towards Zainabad.
False alarm sun temple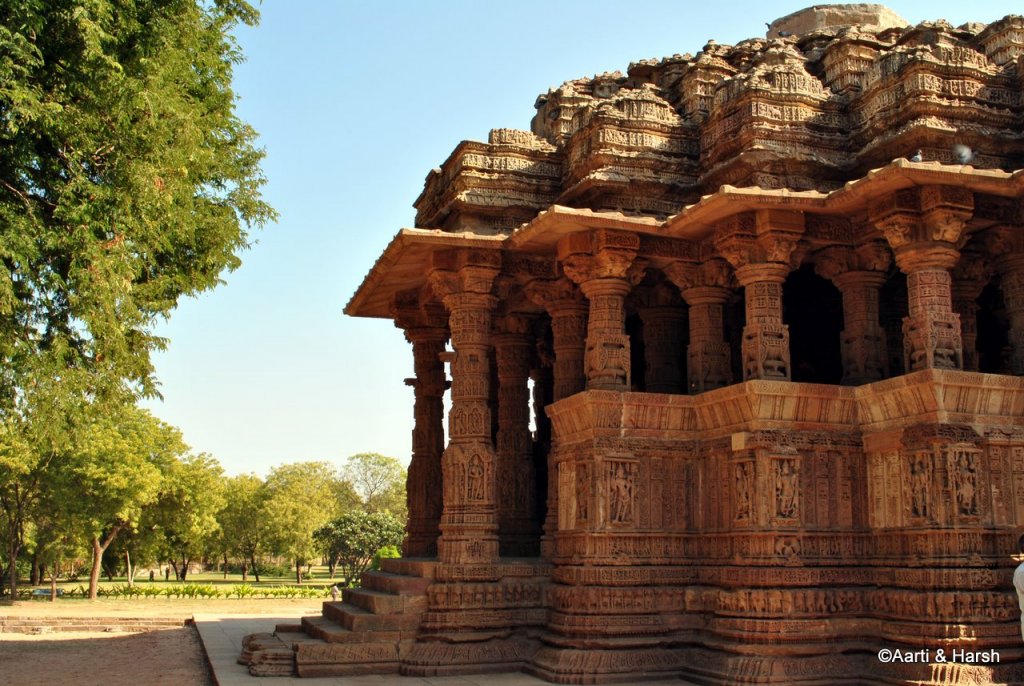 Zainabad
We reached Zainabad around 3:30 pm, just as the owner of Desert Coursers, Mr. Dhanraj, was getting ready to take the people staying there for a desert safari. He said that the jeeps were leaving in 12 minutes and that if we wanted to join them, we'd better hurry up.
We gobbled our lunch and wondered whether we could take our own car along with their jeeps. However, he insisted that a permit was needed to take our car in the Little Rann of Kutch (LRK) and that there was no way that we could get it then. He added that even if we did manage to somehow enter the LRK, the babul (shrubs) there would ruin the paint on our car.
We'd seen shots of people taking their car into the Little Rann of Kutch and weren't totally convinced. Also, none of the logs I had gone through mentioned anything about permits to enter the LRK. We decided not to join the safari, but instead to take our car and try our luck. Of course, we kept this to ourselves.
Once the jeeps left, we checked into our cute 'bhunga' shaped hut, freshened up a bit, and then took off, armed with the directions marked on our GPS. Bhungas, for the uninitiated, are mud huts with a peculiar architecture found in the region. The huts at the resort are quite nice and comfy. There are also big, clean bathrooms attached to each hut.
Also Read: Delhi to Sach Pass Bike Ride – Dalhousie and Sach Pass
Little Rann of Kutch
We headed towards Jhijhuwada, a village 15 km away, and then after that proceeded toward the LRK after crossing a salt farm. We spotted a track going west and consulted our GPS markings from Google Earth. It seemed to be the correct direction, and my gut feeling said that this track would definitely lead us to the Little Rann of Kutch.
We took the cut and followed the tire marks. We were hardly 10 minutes into our off-roading when we spotted a beautiful, brown animal family, and were lucky enough to capture them on camera. The idea of traveling from Delhi to Rann of Kutch trip by road was to see the Rann only so sighting wildlife definitely came as a pleasant surprise.
At first, we thought that they were Neelgais, but then ditched the idea since they were not blue at all. However, thanks to friends back home, we now know that they were in fact Neelgais and that a female Neelgai is not blue and has white marks on her ankles.
The entire family of Neelgai, only women and children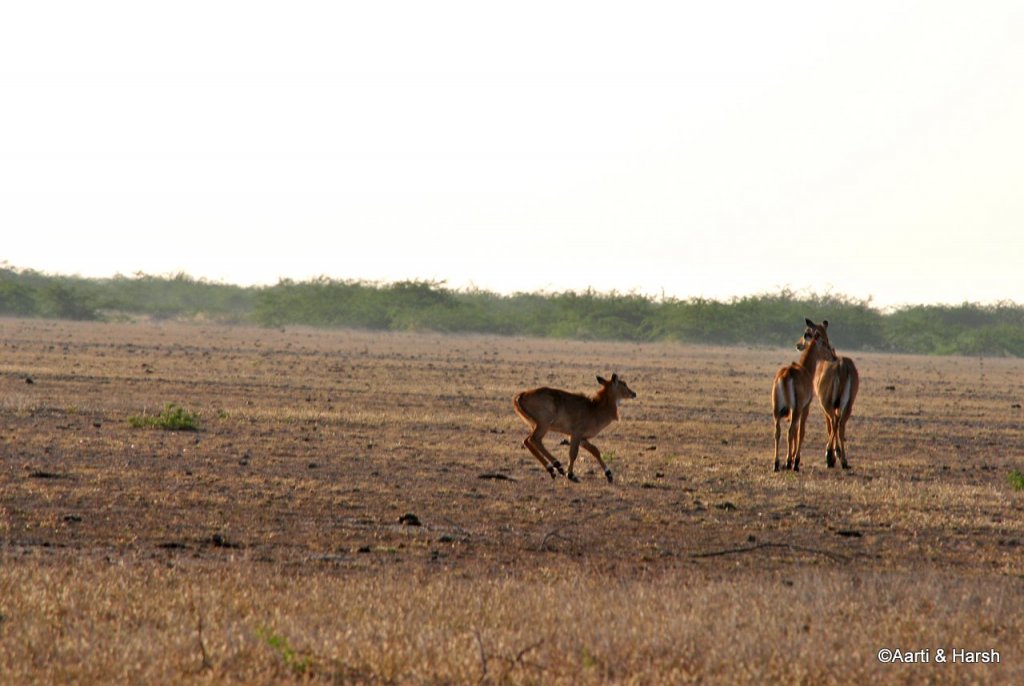 Fun in the Rann
After clicking the Neelgais, we tried to go into the actual Rann by going pure west. However, we could not do so, thanks to the shrubs blocking our path. As several shrubs scraped Kiyang, I was sure glad that I'd taken the extra effort to get the second round of Teflon coating done just before leaving.
Also Read: Road Trip to Madikeri – Boat Rafting in Madikeri
A word of advice to people entering the Little Rann – stay on tire marks while entering the Rann. There are few tracks that allow cars to enter. There are just too many shrubs to deal with otherwise. The same goes while exiting the Rann too. However, while one is in the wide-open, make your own road.
As we went further towards the Rann, we met some Khurs. We were thoroughly delighted at having spotted them, more so because they look almost identical to Kiangs found of Ladakh! We chased them a bit, but could not get good shots.
Khurs, also camera shy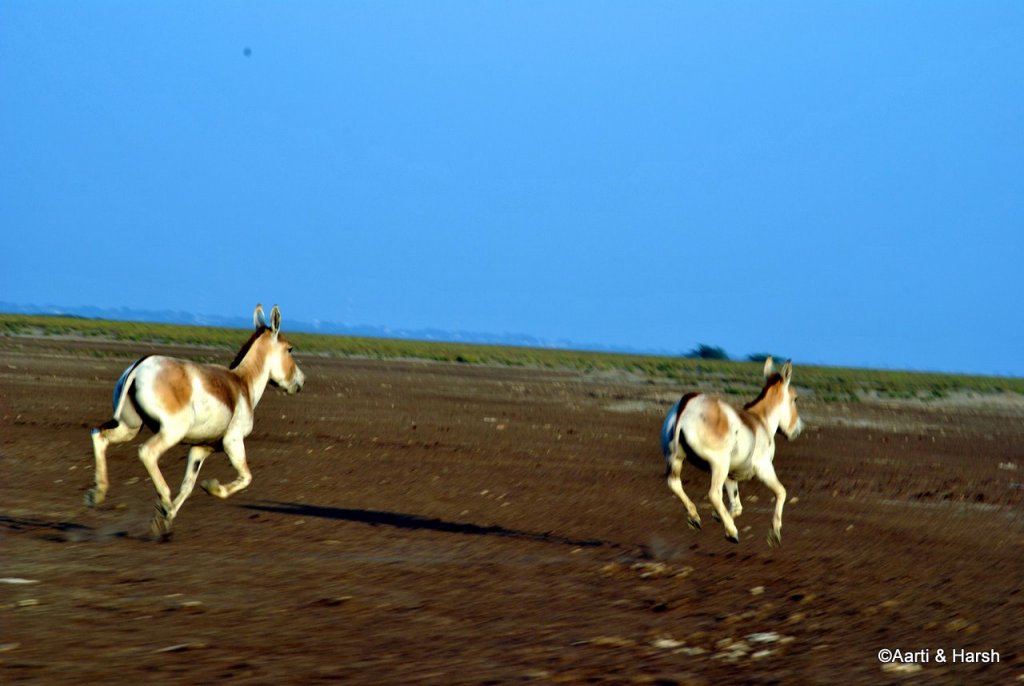 Photography in the Little Rann of Kutch
We thought not to disturb the Khurs anymore and headed further west deeper into the LRK. Finally, after another 10 minutes of driving, we found ourselves in the wide open. It definitely was a sight to behold!
Also Read: Bike Trip to Nandi Hills – Dawn At Hill's Edge
Dry, parched land stretching in all directions, with not a soul around, and the sun waiting to set. I had a shot in mind – Kiyang with the setting sun in the background – and made sure that Kiyang was in position when the moment came.
A settlement of salt-farm workers deeper in the LRK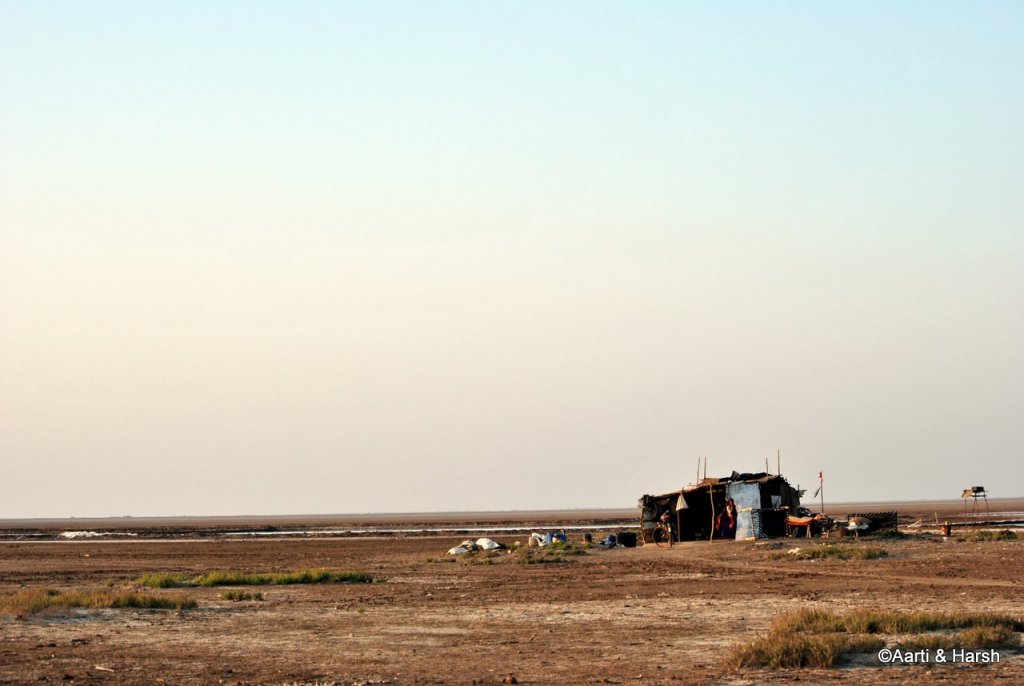 A wide expanse of nothing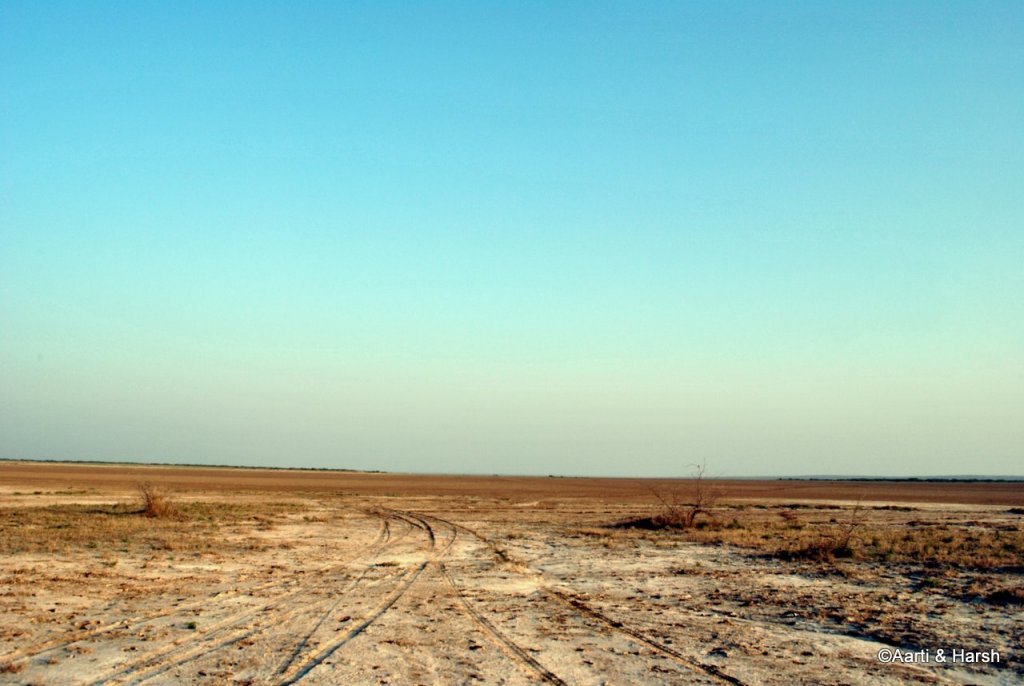 Tire tracks in the Little Rann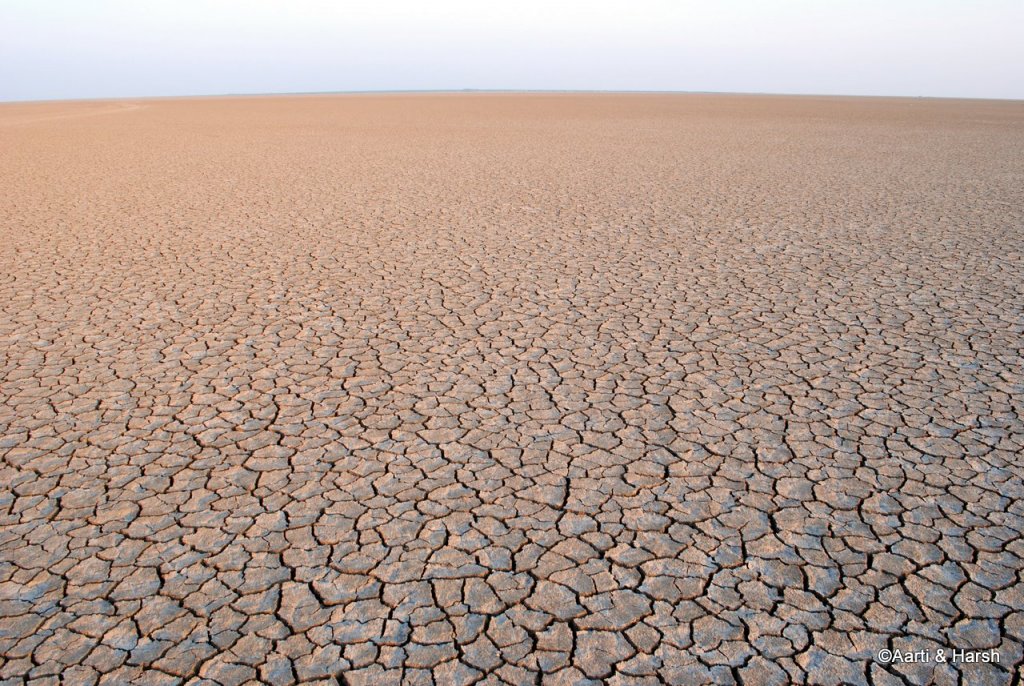 Parched earth, a defining characteristic of the LRK
​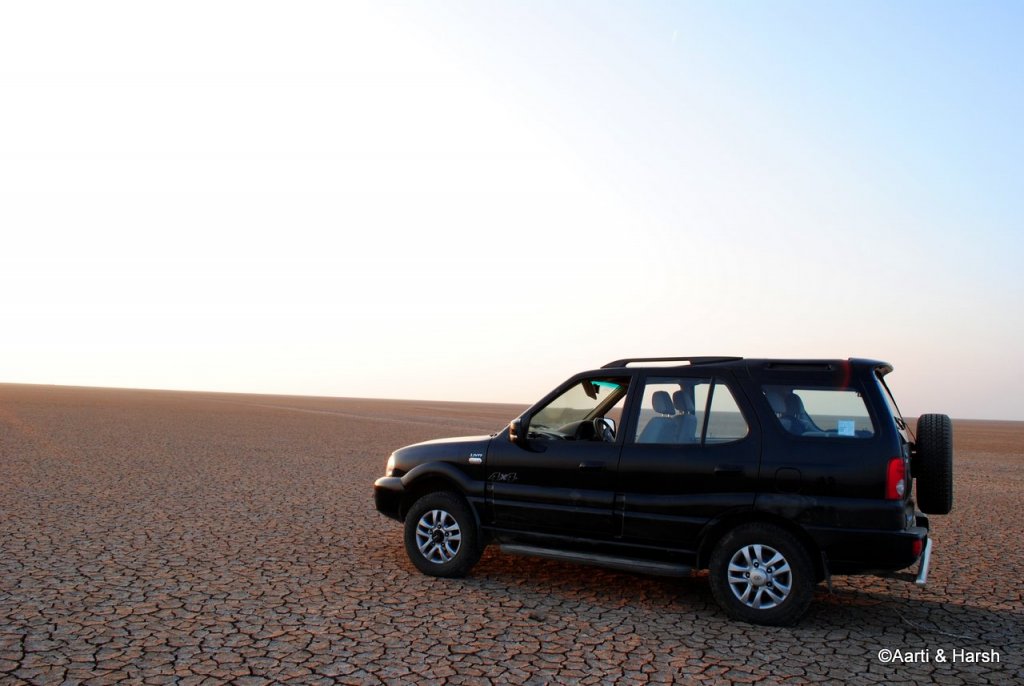 We took several shots, enjoyed the sunset, and then started back towards our resort. To ensure that we do not lose our way while going back, I'd marked some positions on the GPS; much like Hansel and Gretel dropping bread crumbs, as both Aarti and I joked later.
One of the few couple shots of the trip, courtesy of the tripod.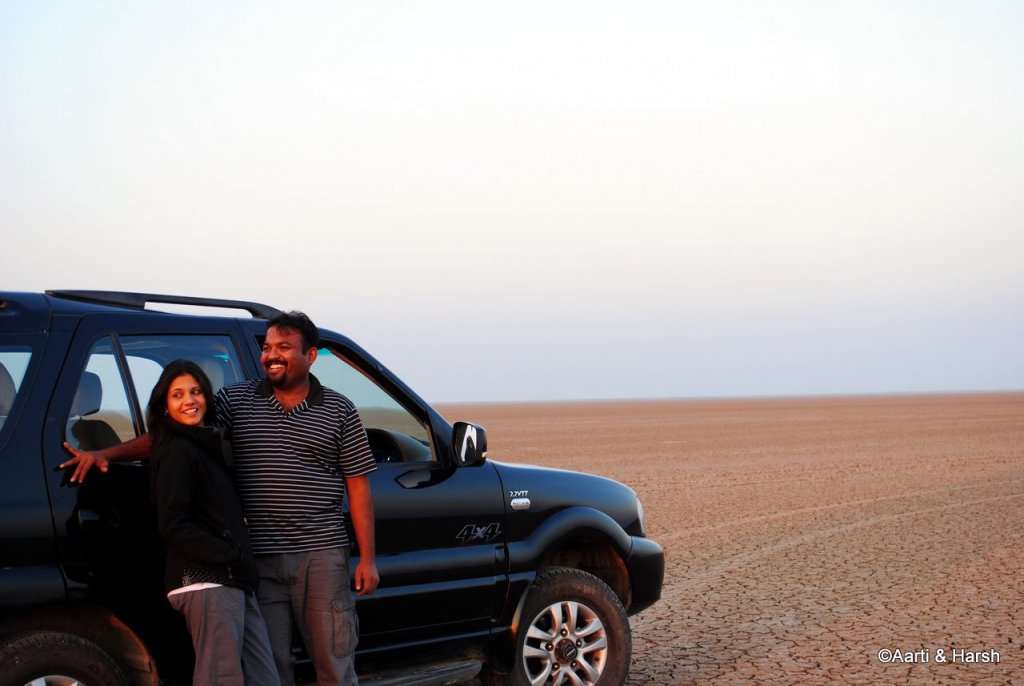 Return to Zainabad
Our plan for the next day was set. We intended to drive through the Rann, making an east-to-west run, and probably come out north; crossing about 100 km of the LRK in the process. For now, we were sticking to our original itinerary of Delhi to Rann of Kutch by road.
Also Read: Delhi to Lansdowne – A Weekend Drive
That meant that we would probably be in the middle of the LRK during lunch. Hence we asked the resort guys to pack some lunch for us the next morning. Also, I noticed a bird-enthusiast with a 400mm lens hanging in front of him at the resort. He unbelievably had a Ziplock bag and silicon pouches to spare and the heart to give it to me.
A shot of the 'Bhunga' from the outside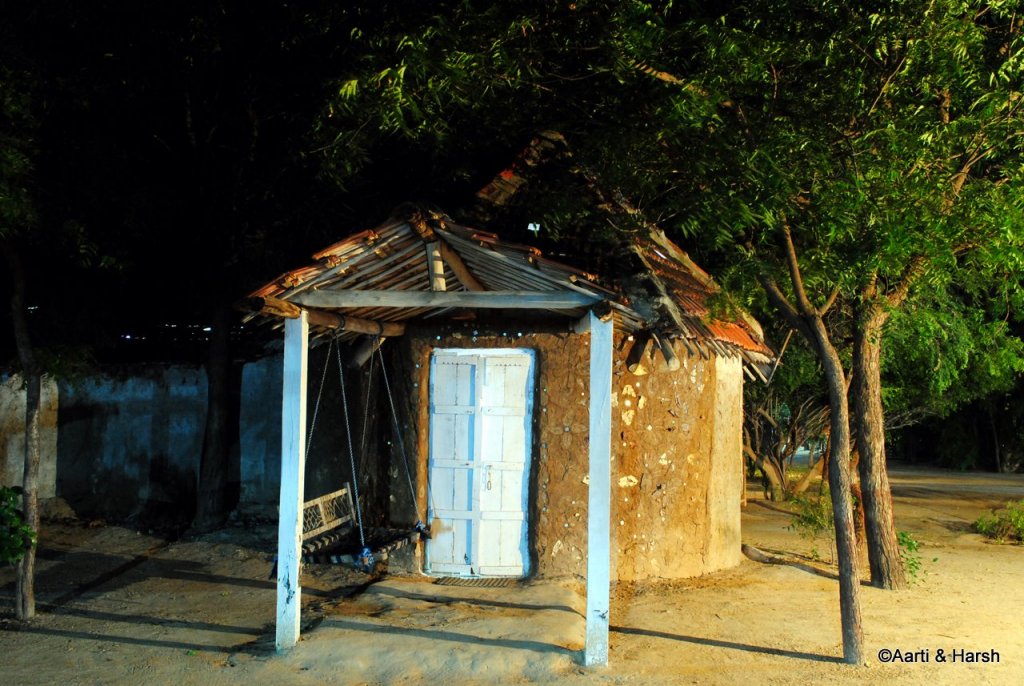 We had dinner, which was average, and then called it an early night since the day had been long. The bed was not too comfortable, but the room was overall nice and clean, and the whole place had a good vibe about it.
That concluded the second day of our road trip. So far it has been nothing but a lot of fun.
Delhi to Rann of Kutch by Road – Conclusion
I hope the travelogue, pictures, and information on planning a trip from Delhi to Rann of Kutch by road were of help. Please click on the link above to continue reading the next part of this travelogue. If you have any questions or need any other details, please feel free to ask in the comments section below or at our Community Forum, and I will be glad to answer.