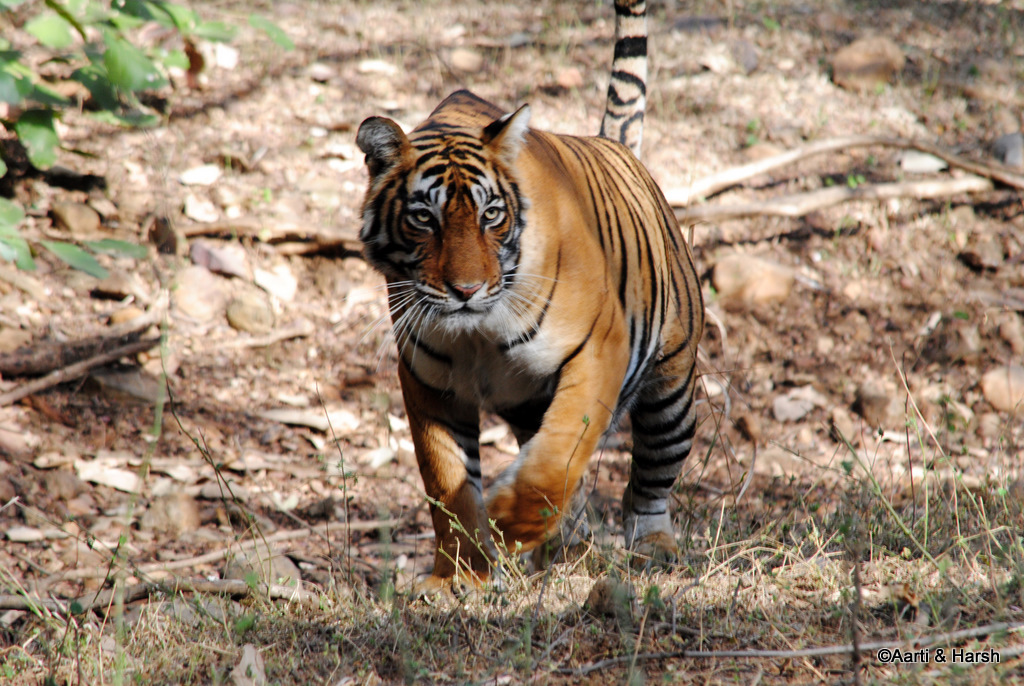 We gazed with our wide eyes open. The sight in front of us was the sole reason for our Delhi to Ranthambore road trip. A beautiful sight that had us stare without a blink. She lay basking in the morning sun deep within the jungle. We could see only a silhouette of black and orange from the not-so-dense foliage which concealed her body.
Aware of voyeurs watching her from a distance, she twisted and turned, flaunting herself, adding to the growing excitement of her admirers. Suddenly a prancing peacock appeared to vex her, and she decided to give up her laziness and give the humans a show they wouldn't forget for the rest of their lives.
She ambled towards her watchers, ever so slowly, swaying her hips. She seemed to look through the tourists, their babbling hardly seeming to perturb her, walking at her own luxurious pace through the jungle of which she is the queen.
As she walked, a bump in her belly told us that she was carrying a baby. She paused for a few moments to lick her paw before finally ambling into a different part of the jungle, leaving the humans starry-eyed.
This truly majestic animal is T-39, as the forest officials call her, but we will always remember her as the first tigress we ever saw up close. The experience was one of its kind converting cynics like us into believers in a brief span of 15 minutes.
Delhi to Ranthambore Road Trip
Often the best trips are those which are planned at the spur of the moment with an undecided itinerary. Our trip to Ranthambore National Park was exactly that – spontaneous and unplanned.
We had to attend Aarti's friend's wedding in Jaipur on the 17th of February. Ever since the wedding date had been finalized, we had been thinking of combining it with a trip. The wedding was, after all, on a Friday, and while we could have driven back home on a Saturday morning, our scheming brains obviously did not agree.
This was the perfect opportunity for a weekend trip, and we could simply not let it go. However, we could also not decide WHERE to go for the longest time. Mandawa, Bikaner, Ajmer, Pushkar were all ruled out due to various reasons. It was on a lazy Sunday in January while having brunch that Aarti proposed a trip to Ranthambore National Park.
As soon as she mentioned it, we both knew that this was IT. Thereafter, the plan was made in 30 minutes flat and the bookings took an hour more. Ranthambore is a well-visited place and bookings for safaris and rooms are best done before visiting. We booked ourselves into RTDC's Hotel Vinayak for two nights and also booked 4 safaris on canters. The gypsy safaris had been sold out much earlier.
Neither of us was too excited about the trip though really. Thus, after that Sunday, we pretty much forgot about it till two days before the trip when we had to pack for it.
The Travelers: Aarti & Harsh
The Vehicle(s):  Our very own 4×4 Tata Safari (We call it Kiyang) & Canters for Safaris.
Day 1 – Delhi to Jaipur
We left for Jaipur on 17th, Friday morning, attended the wedding in the evening, and spent the night in Jaipur. On the 18th morning, we left early at 7 am to be able to reach Sawai Madhopur in time for our 2 pm safari.
There are many alternate routes to reach Ranthambore from Jaipur. The shortest one that the Google maps mention is to take the NH-11 towards Dausa and then take state highway – 24 towards Lalsot. Although the shortest, this route is not preferable because of the bad quality of roads between Basi and Lalsot.
We took the road towards Tonk from Jaipur and turned left towards Lalsot at Kothun and then finally turned right towards Sawai Madhopur at Lalsot. The road between Jaipur and Kothun (Tonk road) is under repair and the average speed thus stays on the lower side.
However, as one leaves the Tonk road, the average speed shoots up on a fantastic NH-11A towards Lalsot and the road is then stupendous all the way from Lalsot to Sawai Madhopur (SH-24). The SH-24 is now an NH project with the objective of connecting this superhighway from Nashik to Delhi. Although a bit longer than the shortest route, it takes lesser time and we covered a distance of 160 km in less than 3 hours including a breakfast break.
Also Read: Delhi to Jim Corbett Road Trip – An Exciting Adventure
Day 2 – Jaipur to Sawai Madhopur
The moment one turns right towards Sawai Madhopur from Lalsot, a parallel universe begins wherein everything is prefixed by "Tiger". So you have:
Tiger Resorts
Tiger Camels. More on this later!.
Tiger Trail Resorts
Tiger Jungle Safari Camps. This is on my plans to try as well
Tiger Highway.
Tiger State Highway. The unofficial names I suppose
Tiger Safari. Obvious one
Tiger T-Shirts
Tiger (printed) Sofas
You get the drift, right?
We reached our hotel well in time by 10:30 am and had to wait a while before we got our room. In the meantime, we took printouts of our safari bookings at the hotel and gave them to the hotel manager, Mr. Rajkumar, so that he would have some physical proof of our booking. We also requested him to get us at least one gypsy safari in our two days there, and he promised that he would try.
STRIPES
After freshening up, we decided to go check out a new shop that had opened just a day before in Sawai Madhopur. This was no ordinary shop. It belonged to the organization (ACCESS Development Services) where Aarti had worked for 2.5 years and had recently quit.
The shop sells products made under one of the organization's projects based in Ranthambore. Called STRIPES (Sustaining Tigers in Ranthambore through Innovative Poverty Eradication Solutions), the project works with 200 women from villages in and around Sawai Madhopur to provide them with an alternate livelihood option apart from farming.
These women make simple handicrafts based on the tiger theme and sell them as souvenirs under the STRIPES name. It was a pleasant surprise for Aarti's ex-colleagues when we entered the shop, and I must say it is an excellent outlet! I'm not usually very appreciative of such things, but I too was drawn by the colorful products and the story behind them.
Apart from products made under the STRIPES project, the shop also sells handicrafts from other parts of the country which are sourced by Ode to Earth, another one of the organization's initiatives.
The STRIPES store at SWM​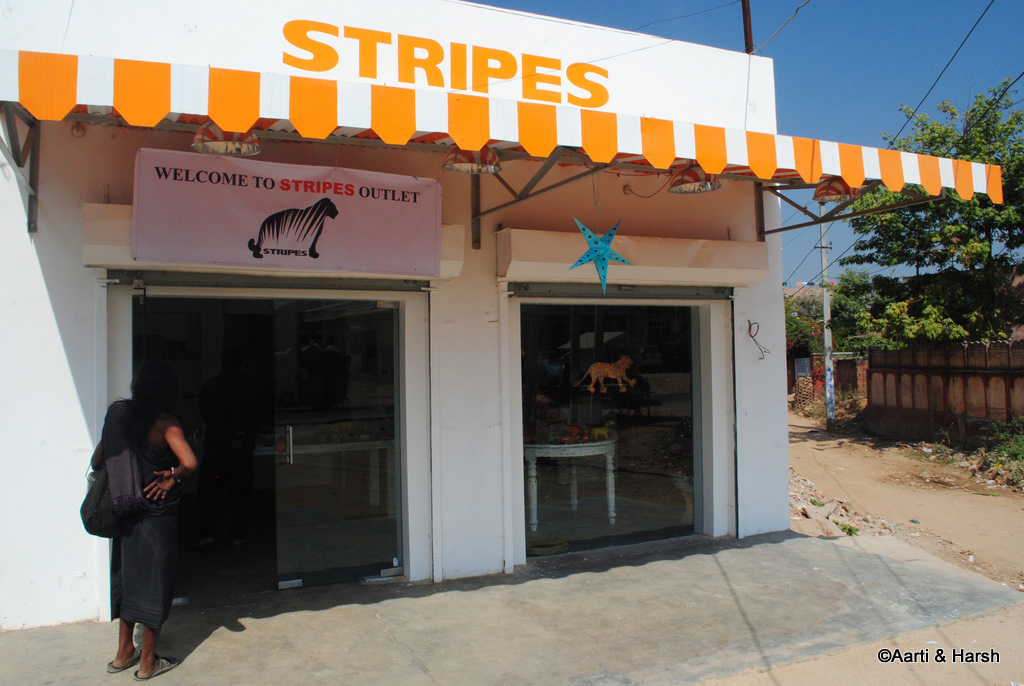 1st Safari – Evening
After Aarti had shopped some, chit-chatted with her friends, and promised to come back to shop more, we went back to our hotel to grab a quick lunch before our afternoon safari.
We were ready by 1:30 pm for the canter to pick us up, but it ended up coming only by 2:45 pm. The timings are 6:30 am for the morning safari and 2:30 pm for the evening one in the winter, which gradually become earlier in the morning and later in the afternoon as summer arrives. In peak summer, the timings are 5:30 in the morning and 3:30 in the afternoon.
Canters pick up tourists from the two RTDC hotels in Ranthambore, and a bunch of other private hotels. If one is lucky, the canter will be empty when you are picked up so that you can choose the best seats.
Canter Safari in Ranthambore
Contrary to popular belief, the best seats are usually the ones right in front, or the ones with the driver. The back seats, which although have a 270-degree view, are too uncomfortable to be of any use. Since this was our first safari on a canter, we did not know which seat to take, and ended up choosing the last ones, thinking it would offer the best views.
These are undoubtedly the worst seats as the canters have little in the name of shock absorbers and the back of any vehicle is much more sensitive to bumps than the front. Also, the national obviously does not have a tarred road, and bumps on a dirt track are inevitable. Not to mention the little leg room the back seat offers. My knees were hitting the seat in front at every bump, making the first safari really uncomfortable.
Now another aspect of the safari is the zone you're allotted. This is decided at the last minute, and you only get to know which zone you're going into when your canter arrives to pick you up. Each canter has a signboard that displays which particular zone it is going into that morning/ afternoon.
Zones in Ranthambore National Park
The park is divided into 8 zones, with zone 1 to 5 being core zones. Zones 6 (Kundal) and 7 (Chidikho) too are a part of the core now, but they were added to the park area a couple of years ago. This was done keeping in view the increased tiger population and their increased habitat.
The villagers in these zones were resettled outside the park. Since these are new habitats, the probability of seeing a tiger is lower as compared to zone 1 to 5. The last zone 8 (Balas) is essentially a buffer zone with some villages inside it.
If you are booking yourself for safaris online at rajasthanwildlife.in, ensure that you are booking Ranthambore National Park Zone 1 to 5, and not in the other ones. As for priorities, a canter ride in Zone 1 – 5 is way better than a gypsy ride in other zones.
So off we went on our first safari. Seated in the last row of a petrol canter, we were pretty excited, having heard from a couple of people in the hotel that they had seen a tiger with his kill (a sambar deer) in the morning. We had been allotted zone 2 and were looking forward to exploring the jungle.
The first check happens at the entrance gates to all zones. A forest official climbed on the canter and checked everyone's ID proof. All bookings have to be made with government-authorized ID proofs. One must carry this proof at all times while on a safari since the officials there take this pretty seriously. It is good to know that there's little corruption in a place like this.
The Guide
We also understood from our experience in Corbett and now in Ranthambore that in order to become a guide in any tiger inhabited national park in India, one should follow certain rules. These are:
One should always start a safari with a line introducing oneself.
One should then say the following words before each safari. "Hello everyone, today we are going to look for the tiger first, and only then will we look at other animals".
One should crack jokes such as: "Tigers love white meat, Indian meat too spicy", if foreigners are in the tour group.
Like a true believer, our guide, Fawaz, too followed the rules of his profession. The mixed group of Indians and foreigners agreed that we should look only for tigers. And the white-skinned people laughed each time the white meat joke was cracked.
Also Read: How I traveled to Leh Ladakh by Public Transport
Entering the Jungle
The entrance to zone 2 of the safari is at the fort. One is greeted by a huge banyan tree at the entrance, after which one enters an old walled gate and into the forest. We were greeted by some langurs upfront. One of them was bold enough to jump onto a gypsy giving us a lovely candid moment.
The forest is inhabited by many species of deer, and we were greeted by Cheetals and Sambars. I think I saw a Sambar for the first time in my life. They are huge and truly majestic and one doesn't really associate them with the deer family.
Unlike Corbett, the animals hear do not fear the passing canters and gypsies and stand their ground, giving trigger happy tourists perfect poses and angles to shoot. The jungle also is not too dense so visibility increases.
A candid moment: Monkeying around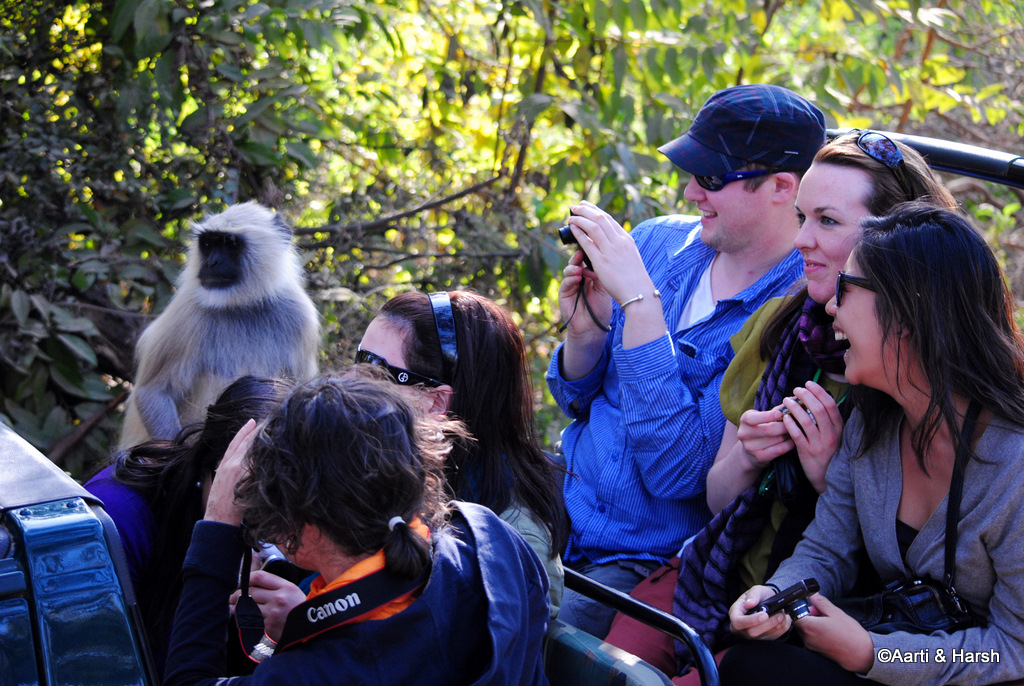 Cheetals were hardly scared of us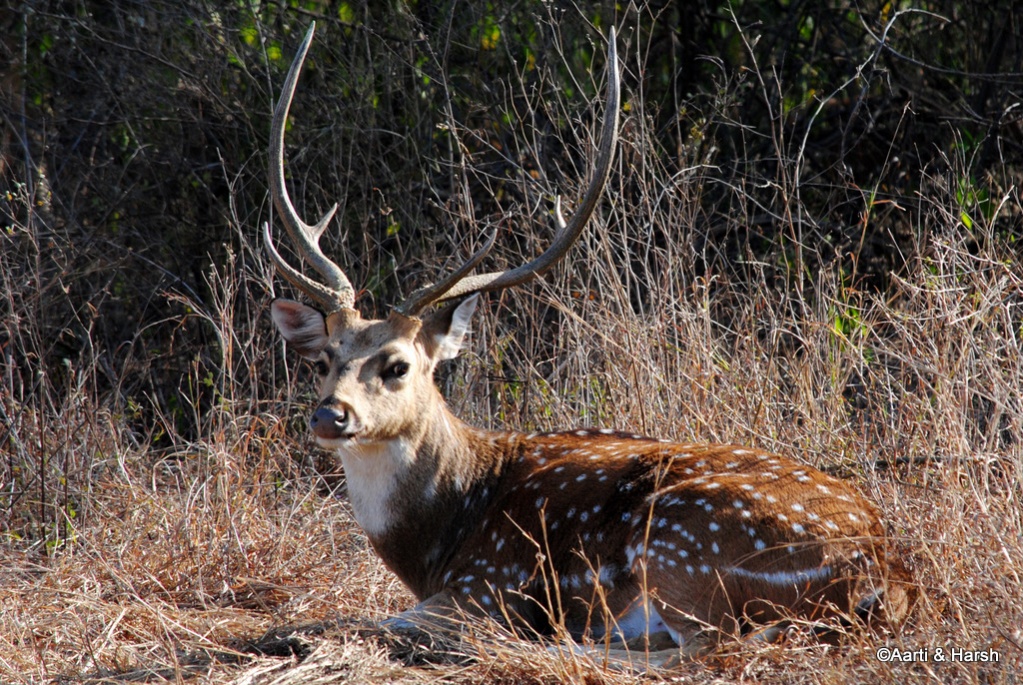 This one is a small Sambar deer. The grown ones are huge. ​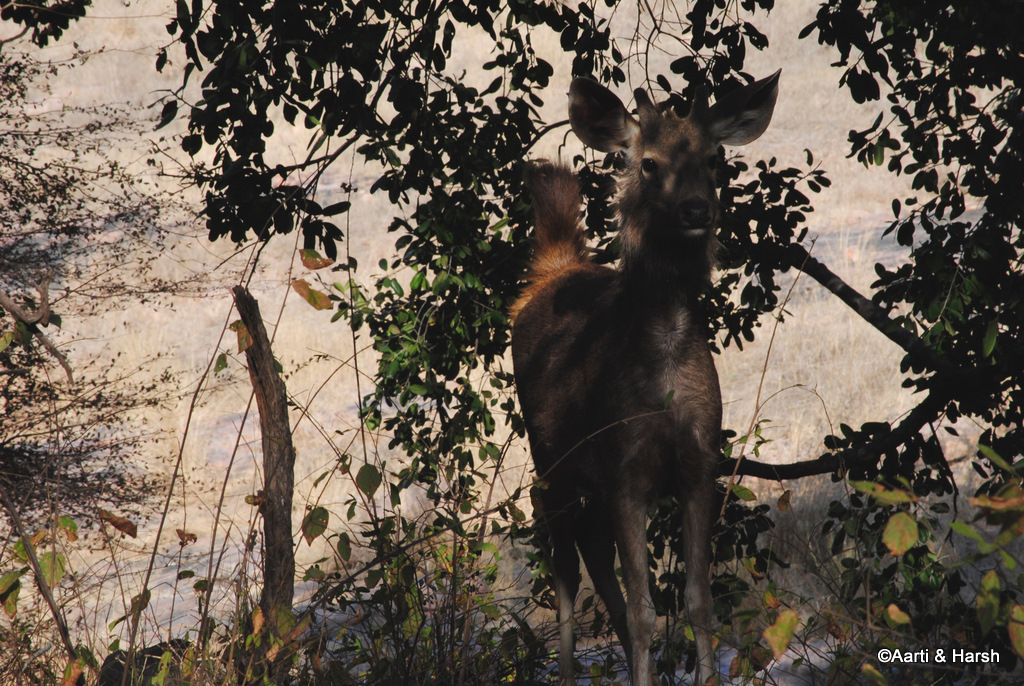 We crossed a river that was running mostly dry now and saw a Kingfisher waiting to jump in it for a late evening snack. It was too far away to get a decent shot but I tried my level best. I was amazed at the guide's ability to spot the bird in the first place. At that distance, it was hardly visible to the naked eye in a stationary vehicle.
Also Read: Trip to Chandratal Lake by Car – An Adventurous Drive
Pugmarks
Moving on, we came to the end of the zone boundary. We waited for a while at a spot where a tiger pugmark was spotted. The guide was listening intently for a warning call by a deer giving away the position of a tiger. But to his and our dismay, we could not hear anything apart from the roosting call of birds.
It was almost 5:30 now and it was time for us to head back to the exit. The tiger had eluded us yet again. I could hear the cynical side of me saying "I told you so". Tigers, to us, are elusive creatures never seen easily but only to be witnessed as pugmarks or at best through some alarm calls.
A cynical friend once jokingly suspected that these national parks have a dedicated person who has rubber stamps in the shape of a tiger's paws and stamps away to glory before tourists begin their daily safari.
A panorama shot of the place where we waited to hear calls​. End of Day 2 of our Delhi to Ranthambore road trip.

End of Day 2
On the way back, I suddenly spotted something and shouted at the guide to stop and reverse the vehicle. The hopes of everyone else in the vehicle rose suddenly. Everyone assumed I had seen a tiger. But it was only a serpent eagle I'd seen, much to everyone's disappointment.
Also Read: Delhi to Rann of Kutch by Road – A Winter Drive
It was beautiful but was behind some twigs. I was ready to wait to get that perfect shot but others in the canter were not too excited with an eagle. People can be very insensitive when on a tiger trail! I was not sure about others, but we two had a good time on the first safari. The smell of the forest is absolutely lovely and the experience itself thrilling, tiger or no tiger.
The damn crested serpent eagle did not give a clear shot. ​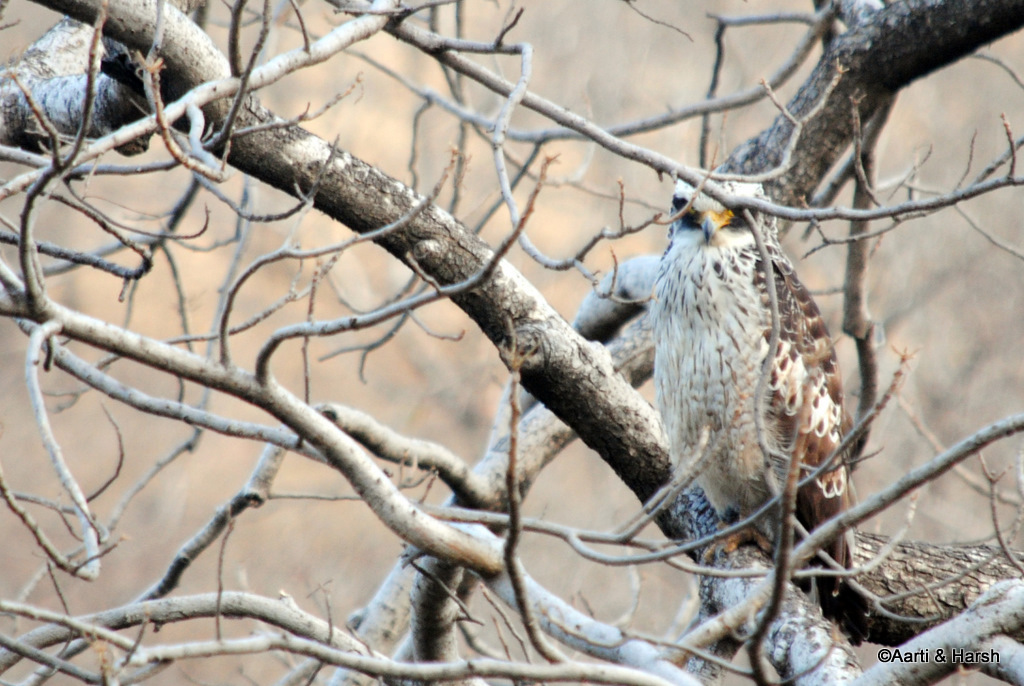 That evening we decided not to have dinner at Vinayak's 'sad' restaurant. Instead, we chose a nearby Rajasthani restaurant which seemed new and was called Niralo Gaon. Sawai Madhopur has a lot of hotels but few restaurants which specialize in food.
This was amongst the few. It had seating like one sees at Chokhi Dhani but is not so popular amongst the tourist folk yet. The food was a treat, as authentic Rajasthani cuisine as one can get. You name it and they had it; Dal Baati Choorma and everything else, all at a price of about 200 per head.
A good day in the jungle had come to an end, and it was time to hit the sack. The next day would see an early start, and with tiger dreams in our eyes, we slept.
Day 3 – Delhi to Ranthambore Road Trip
We'd been asked to report at the hotel's reception at 6:30 the next morning by the manager, and at precisely 6:30 we were there. However, the canter was late as usual, and we used the wait to grab some tea and toast.
Around 7, the canter arrived, and this time we took the front seats which were indeed much more comfortable. We were going into zone 1 today, and although we'd both heard that tiger sightings were rare in that zone, we did not let that dampen our spirit.
After picking up tourists from a couple of other hotels, we reached the park's entrance. We went through the usual procedure of ID checking and declaring that we did not have a video camera.
Also Read: Delhi to Pabbar Valley and Chanshal Pass
2nd Safari, Morning
Thereafter, we entered the park, the entrance to zone 1 being much earlier than that of zone 2. One does not have to go all the way to the fort to enter the zone like in the case of zone 2. At the entrance of the zone, the guide signed in a register, the common process for all zones. A humongous banyan tree greeted us, and we spent some time clicking it in the wonderful morning light.
As soon as we entered, the guide signaled to us to stop talking as he thought he'd heard a sambar's warning call. A tiger was around. We waited at a clearing for around 15 minutes along with a couple of other gypsies and canters for the tiger to show up, but none came.
A bit disappointed, we went deeper into the zone. It seemed like a fake mock thing that these guides do for tourists. There was no tiger! There never is, we learned that in Corbett.
The jungle is beautiful, and the dirt track winding through it is even prettier.
​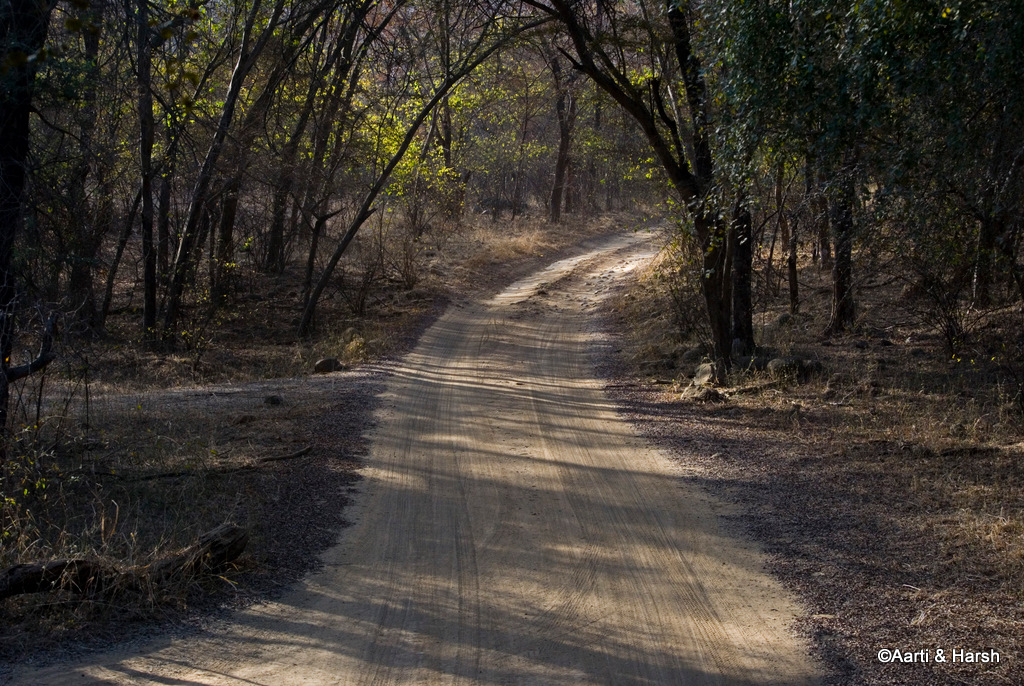 Zone 1
Zone 1's topography was pretty similar to that of zone 2, but there was one vital difference. After nearly an hour of being in it, we had not seen a single animal, and hardly any birds.
In zone 2, langurs, spotted deer, and sambars could be seen every two minutes, but here we saw nothing. By the time we were halfway through the safari, Aarti and I had pretty much lost the hope of seeing a big cat or any interesting animal at all.
Also Read: Sach Pass Road Trip and Season's First Snowfall
We stopped for a short break near some buildings inside the zone. There were several treepies and jungle babblers here, and we had fun feeding them. The treepies are extremely friendly and actually eat off your hand. Several of us got pictures clicked with them pecking off our heads and hands.
The jungle babblers particularly fascinated Aarti and me. Their name is so contrary to their general look which is totally of an angry bird. Rovio must definitely have this bird in mind when they developed their angry birds!
Angry bird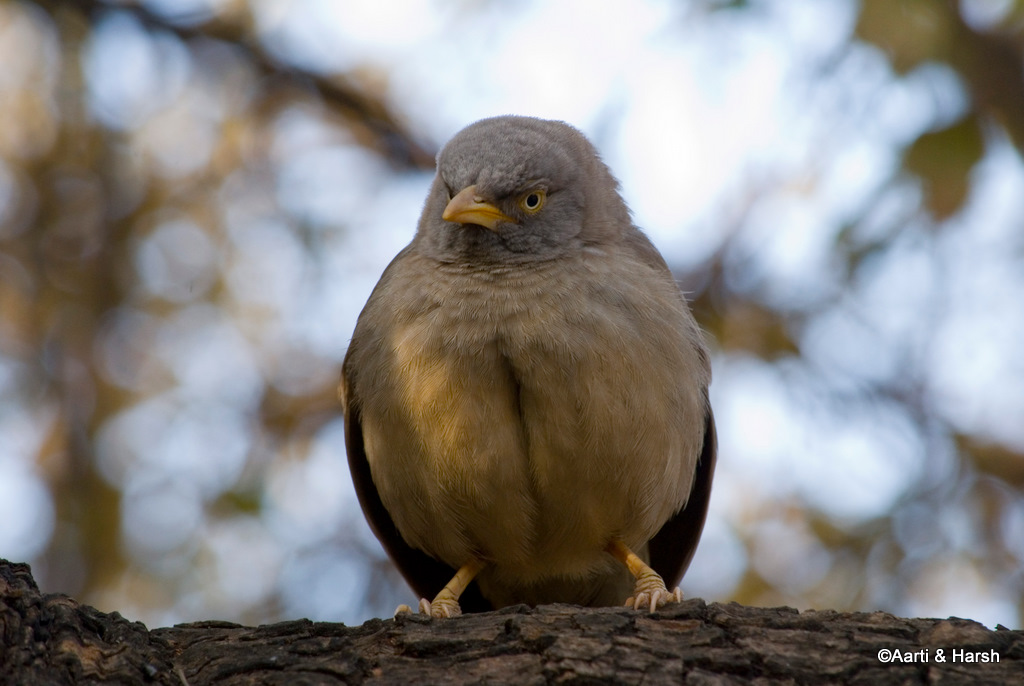 A treepie. They sit on peoples' heads…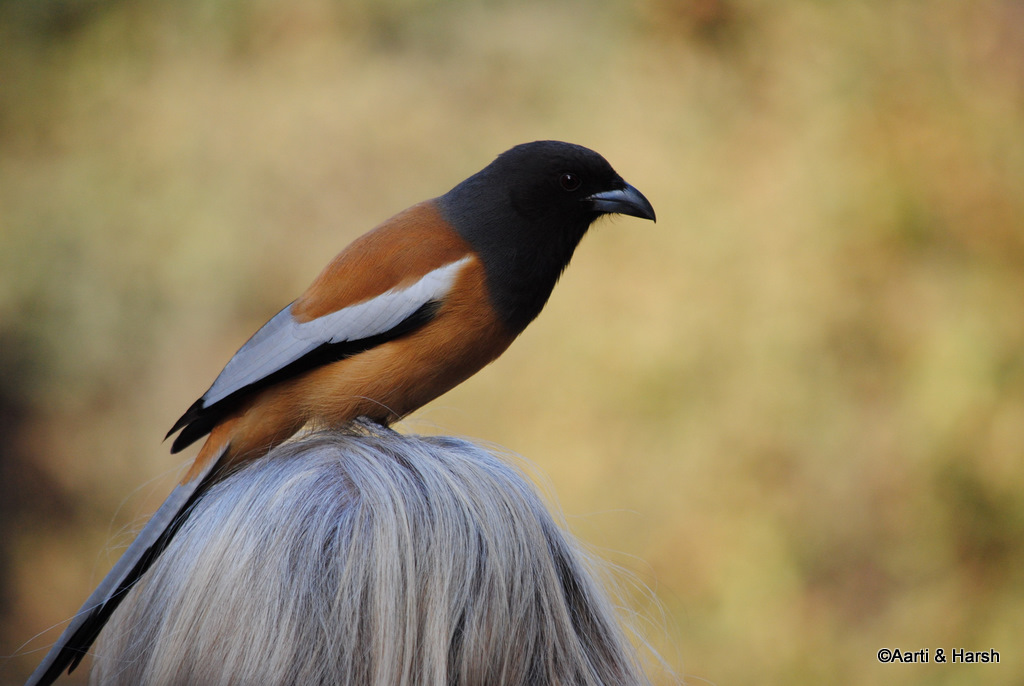 and feed off their hands!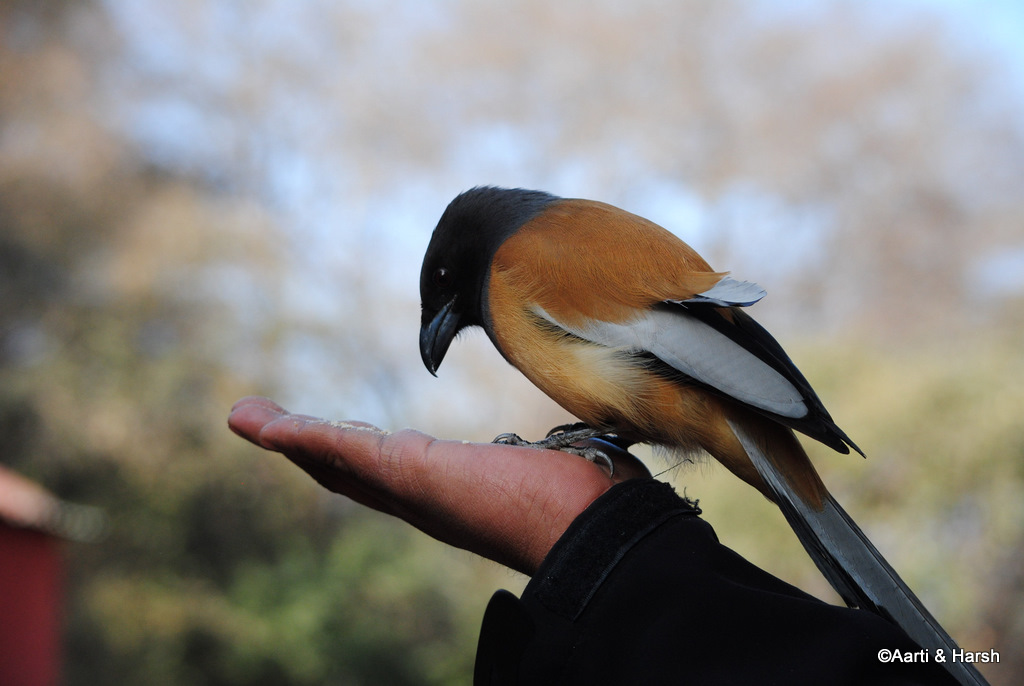 Meanwhile, some parrots fight but kiss and make up as well.
​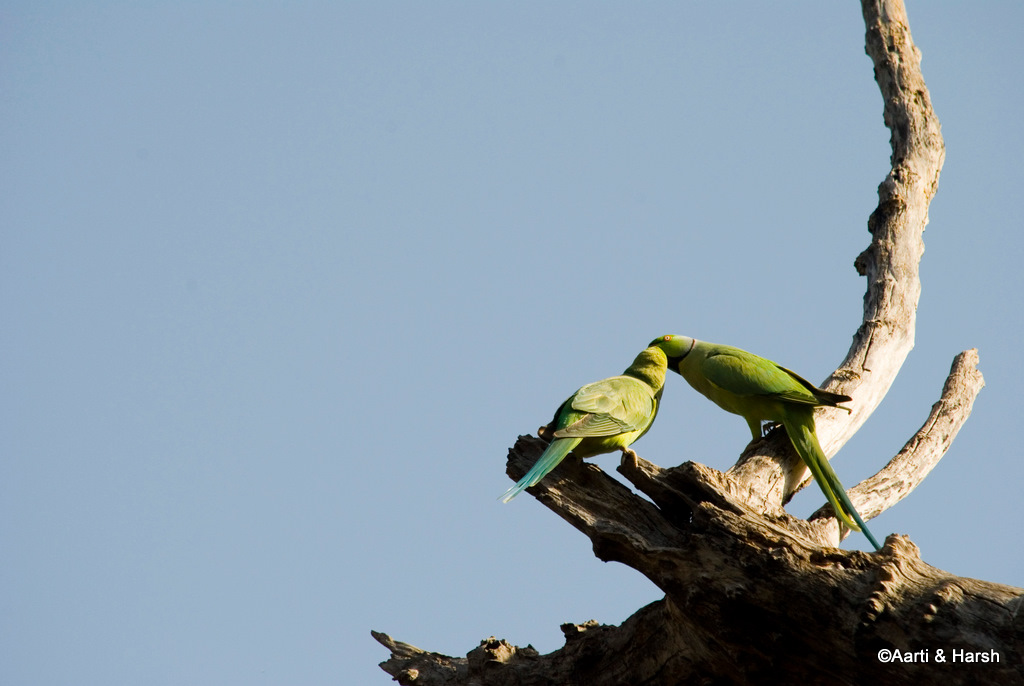 We then turned back from that point since the guide thought that our chances of spotting a tiger were more in that direction and not deeper into the zone. It had hardly been 5 minutes since we'd resumed our safari that we saw a line of gypsies and canters parked at a point. We looked at each other and knew that we'd hit jackpot!
Tiger Sighting
The guide instantly asked us to keep quiet and started pointing to the left. There, shrouded by the foliage, lay an orange animal with black stripes. It was difficult to see it at first. But after a minute or two we too could see something orange lined with black sitting and basking in the morning sun.
After a silent high five with Aarti, I got down to business. Manual focus, full zoom. Everyone on the canter wanted a look. Hence it was difficult to not get shoved around. Somehow, I still managed to get myself into a good position to shoot.
Meanwhile, Aarti kept staring with her eyes widening every second; as she took in the sight of the majestic animal in front of us. Just as we were beginning to think that T 39, the tiger's name as the guide told us, would not budge from her position, a bunch of peacocks appeared before her and she suddenly got up!
Also Read: Leh Ladakh on Scooter – An Adventurous Journey
T39
All of us in the canter froze, some because they were scared that she might come towards us, some because they were numb with excitement. We, of course, belonged to the latter category. T 39 came walking straight towards us, giving us an excellent view of herself.
As she came closer, we realized that she was pregnant, her baby bump showing clearly. She walked at a leisurely pace, as if she had not a worry in the world, and looked at us tourists from time to time, but did not react. We repeatedly got the feeling that she did not register our presence there, and seemed to be looking through us.
She then started walking in the opposite direction, and our canter's driver started reversing the vehicle in tandem with her pace. We were luckily the last vehicle in the bunch that was watching the tiger, so we had the best view and could keep pace with her.
She walked on the road for a minute or so, then went into a small water body next to the road, cleaned her paw in the water, licked it, and then got back on the road again and crossed into the other side of the jungle.
And our first jackpot! T 39 spotted hiding in the foliage.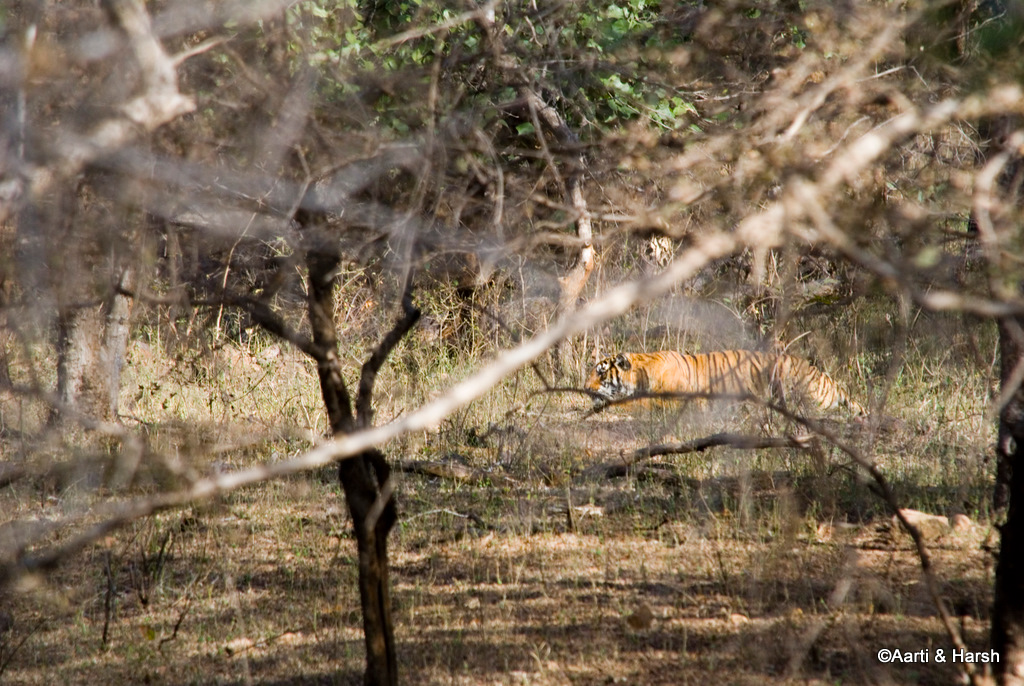 Perturbed by a pea-hen, she rises from her morning slumber and heads in our direction. Treading very slow, swaying her hips , with her poses that were to die for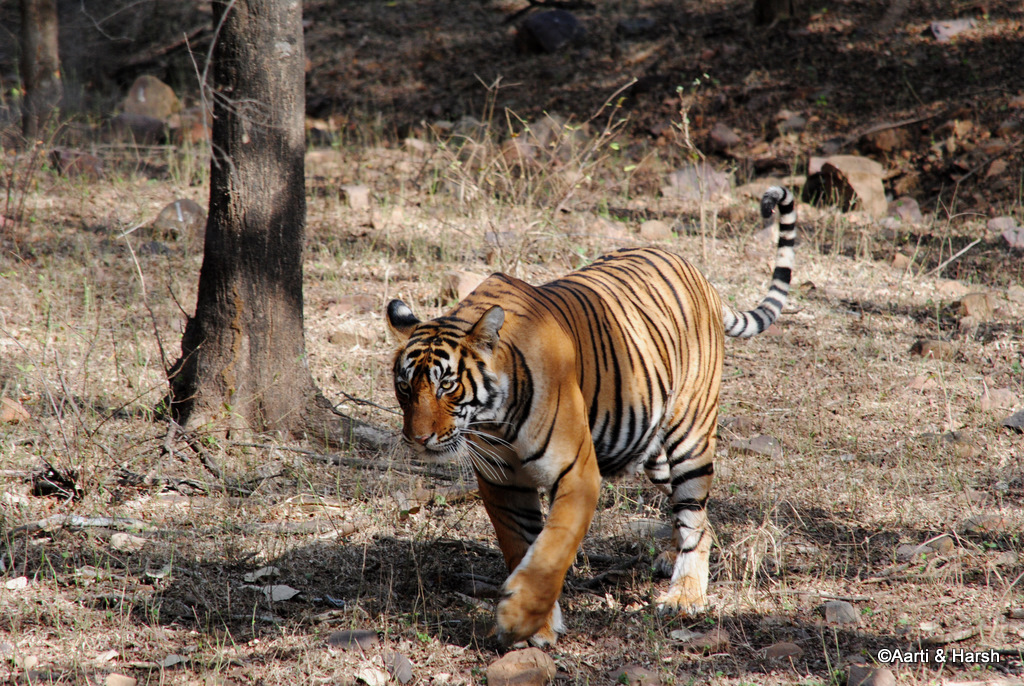 Aah, those eyes, those magical eyes.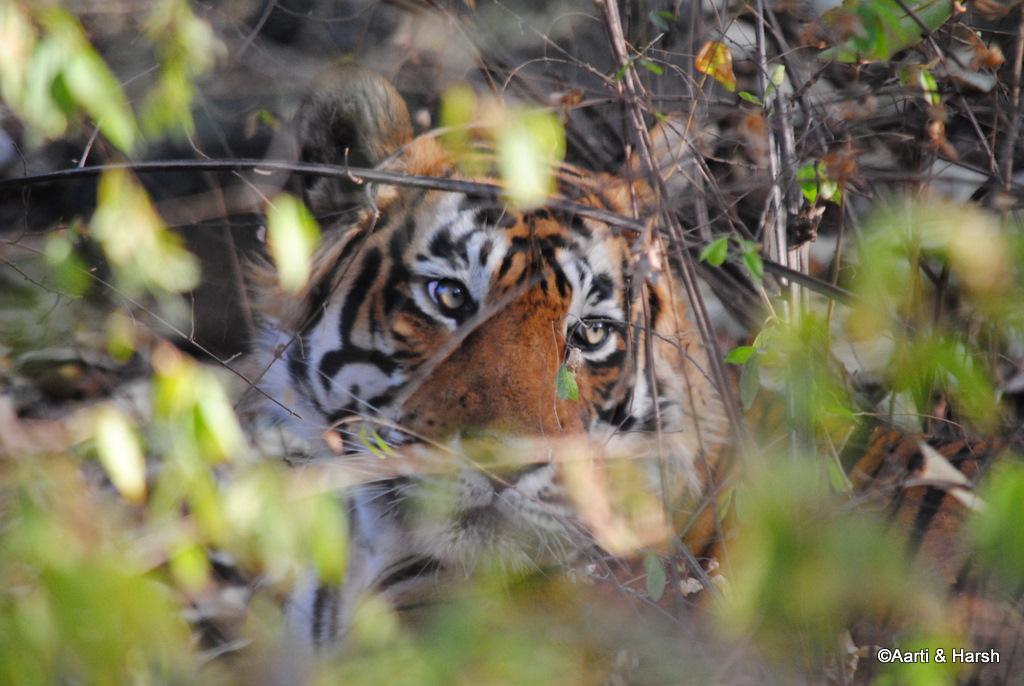 Does anyone notice the baby bump? A proud mother to be!
And there she goes licking her feet, to ensure perfect pugmarks are made.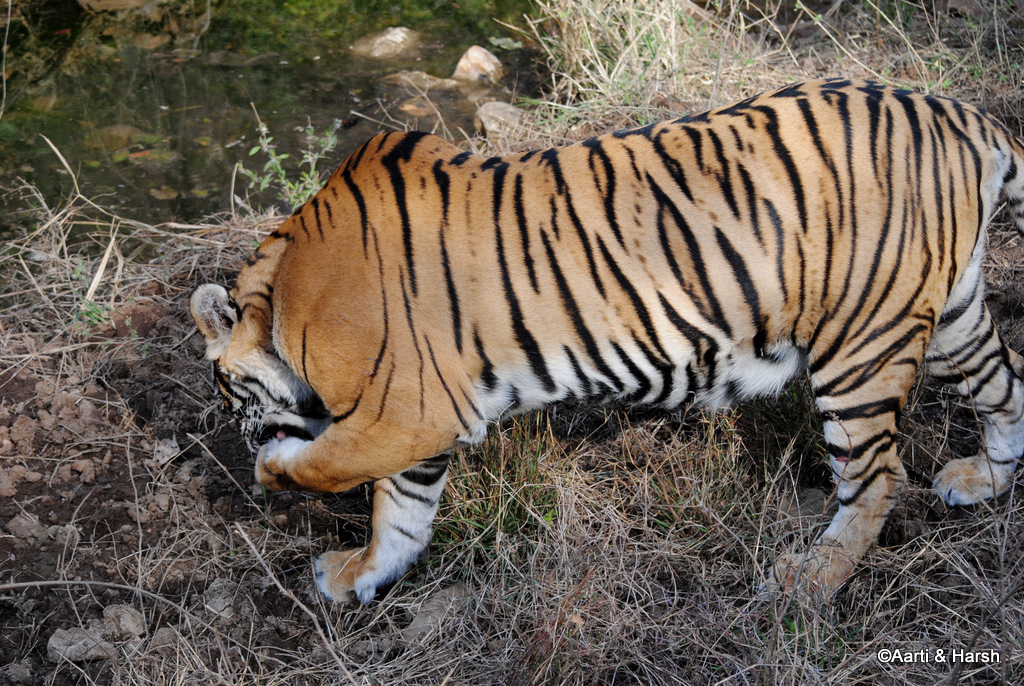 And there she goes, back into the jungle. The highlight of our Delhi to Ranthambore road trip.
​
End of the 2nd Safari
Phew! We had just spent about 10 odd minutes with a tiger hardly 7 feet away from us! Needless to say, we were on top of the world, as were the others in the canter, as well as the guide and the driver. Both of us had not felt an iota of fear. But some others in the canter were pretty shaken up at the sight of a tiger so close.
It was now nearly time to exit the park, and so we proceeded towards the exit, all with smiling faces. As we neared the main gate of the national park, the guide stopped the vehicle at a tree and showed us an owl sitting on it. It was very cute, perched on a branch and snoozing, and we clicked several pictures.
Also Read: Road Trip to Auli, Malari Village, and Niti Valley
A few meters ahead, he stopped the canter again and showed us a crocodile that lay sprawled on the side of a pond. Then we exited and got dropped at our hotel. We thanked our guide profusely for such a wonderful safari and then proceeded to boast about the tiger we'd seen to the others in the hotel.
This colorful bird provides the perfect composition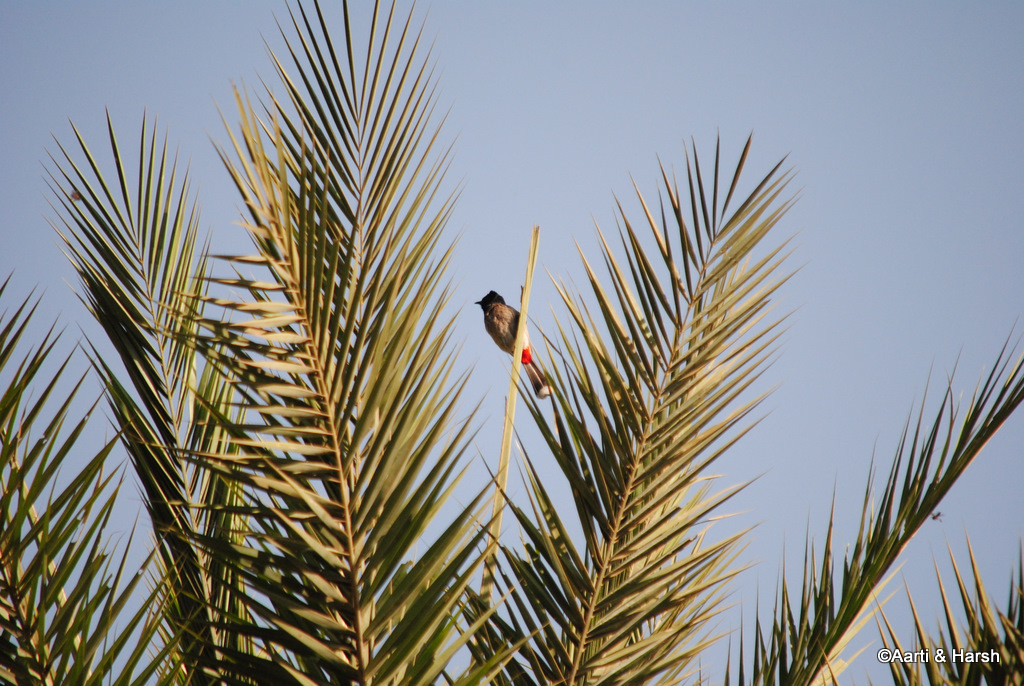 Errol, the owl, welcomes us.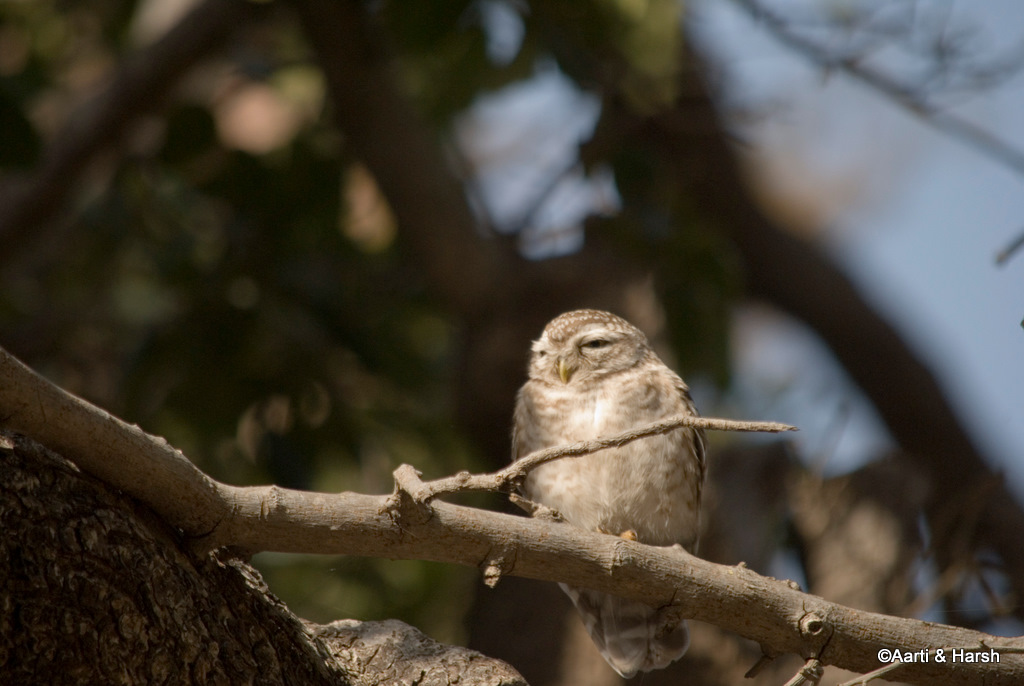 Little did we know that our trip was going to get even better with even more sightings. For now, we were on Cloud 9 after having seen a Tiger in the wild so close, for the very first time.
Please click on the link above to continue reading the next part of this travelogue.
Delhi to Ranthambore Road Distance
Depending on the route you decide on, the total distance you will cover in your Delhi to Ranthambore road trip is about 360 to 400 kilometers.
Delhi to Ranthambore Road Trip best Time
The best time for a Delhi to Ranthambore road trip for wildlife sighting is just before the rains, the months of April to June.
We extended our trip by a couple of days due to the wedding we had to attend in Jaipur but you can easily plan a Delhi to Ranthambore road trip over the weekend as well. If you were lucky, you may sight a tiger in your very first safari or you may have to try a few times like we had to.
Delhi to Ranthambore Road Trip – Conclusion
I hope the travelogue, pictures, and information on Delhi to Ranthambore road trip were of help. If you have any questions or need any other details, please feel free to ask in the comments section below or at our Community Forum, and I will be glad to answer.