The last time anyone had decided to drive non-stop from Delhi to Spiti was John himself. It has been almost two decades since that feat was achieved. What made that feat even more commendable was the fact that John had been shot – twice – in his guts and yet he managed to drive an SUV all the way from Delhi to Kaza without batting an eyelid. We intended to do the same thing, well almost the same thing, since I did not intend to get shot before undertaking this adventure. Sadly though, thanks to the weather gods, we could only make it from Delhi to Kalpa.
If you are confused, I'm of course talking about Mr. John Abraham in the movie Paap (2003). But then again, as I type I also realize that there are many crazy guys on this forum who might have ridden/driven and undertaken such a journey, probably even more difficult ones.
Needless to say, unlike Mr. Abraham, they too would have done it without two bullets in their guts. Anyway, personally speaking, if achieved this would have been a first non-stop 26 hr drive for us. Why did we want to do this crazy drive? Because that was the only way we could cover most of a white Spiti in the limited 6 days.
The Plan & The Planners
We planned to begin the drive on a Tuesday afternoon after getting free early from work, and head straight for Spiti Valley. By our calculations, we would have reached Kaza by around sunset on Wednesday. However, I must say folks, plans are just plans when regions such as Ladakh or Spiti are concerned. Here, the best-laid plans are easily thwarted by a flick of the weather God's finger.
So, what was supposed to be an all-Spiti trip turned out to one in which we covered 3 different regions of Himachal. We ended up driving from Delhi to Kalpa on Day 1. We witnessed the heaviest snowfall of our lives, white landscapes everywhere, and met up with fellow travelers at almost every other bend on the road.
The trip was also about making impromptu plans and traveling as a group. But most of all, it was also about discovering a couple with weirdly similar tastes in travel like us.
The travelers: Aarti & Harsh
The machine: Our very own wild ass – Tata Safari 4×4, named Kiyang
The co-travelers: Mr. and Mrs. Tanveer Singh
The machine: Their very own elephant- Tata Safari 4×4, they call it White Elephant
6 Days Himachal Itinerary
Our original itinerary, as you can probably already guess, was way different than this one, covering the Spiti Circuit. The trip turned out to be way different though and the final itinerary turned out to be the one mentioned below.
Delhi to Kalpa – Day 1
Kalpa to Chitkul – Day 2
Chitkul to Jalori Pass to Banjar – Day 3
Banjar to Jalori to Tirthan to Manali – Day 4
Manali to Rohtang (attempt) to Parashar Lake to Bilaspur – Day 5
Bilaspur to Delhi –  Day 6
Day 1: Delhi to Kalpa
As the D-day came closer, troubling news started to pour in from the region. They spoke of landslides and snowfall, and of roads not yet cleared for vehicles to cross. Of Monsters so huge they could throw away vehicles into the deep gorge below. Well, the 'monsters' part was a bit too much, but the rest was true.
And who, you may ask, was the supplier of this news? A man with a weird name and a weirder background that goes along with the name. Many of you here might know him as Jamaica, and many would think that he belongs to Spiti. However, not many know that he hails from Jalandhar and shifts base to Goa every year in the summer. To add to that, he intends to visit Jamaica at least once in his life.
Also Read: How to Plan a Trip to Kalpa
How do I know all this? Well, we will get to that as the story progresses. For now, it suffices to mention that it was Jamaica who had informed us of the landslides, snowfall, and monsters on the route to Spiti and that it "might" be open by 21st Mar. You have to give the man some credit, because as promised the route did open a little before 21st Mar, only to close a couple of days before we had to leave.
Another fellow traveler, Imran, had posted pictures of a huge rock that had fallen on the Hindustan- Tibet road, blocking it for vehicular traffic. So up until the penultimate day, we were not sure of reaching Spiti, but neither one of us was willing to discuss/accept it openly. We would try as hard as possible to reach our destination, even if that meant getting stuck for a day or two en route.
Murthal
We did discuss this eventuality briefly on the night before we left, and hatched a plan. If we could not reach Spiti, we would head out to Manali, a place which we both love. Just to relax and to soak in Manali-ness.
It was difficult to work the next day with our scheduled time for departure slated for 5:00 pm. I kept looking at the clock every half an hour. At 4:30 pm sharp I called up Aarti and was off towards CP from Noida to pick her up. The drive had begun, but the target was far away.
The idea was to give an all-night run a try. This would ensure that we manage to save precious time, a commodity which we had little of on this trip. This would also open up the possibility of long-haul trips such as ones to the North-East in the future. Aarti could sleep at the back while I drove through the night and then we would switch at the crack of dawn.
We were soon at the set of Dhabas at Murthal, where we stopped at CCD to fill up our thermos with good black coffee. The otherwise deserted joint sprung into action with such a huge order. The cashier had probably not sold anything during the day because his face lit up on the mention of an order reaching almost 500 bucks!
Maybe he lives to see another day at his shop before it closes down. Well, this is what happens if you decide to open up a cafe near the infamous dhabas at Murthal with them churning out much more flavorful delicacies.
The empty Cafe Coffee day at Murthal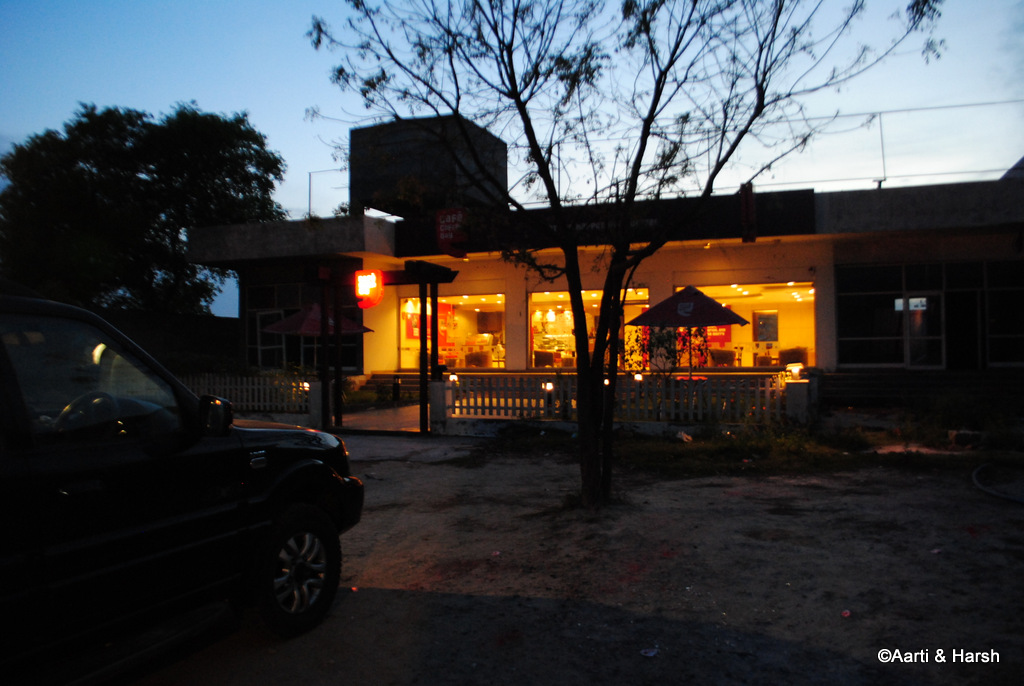 Solan
Thereafter, the drive was smooth and the traffic was light and it was not long before we broke for dinner at McDonald's near Zirakpur. It was the last place where either one of us wanted to stop for dinner but dhabas were strictly out of question, as they provide an opportunity of overeating and hence slumber, which I clearly could not afford that night.
So a place which serves "cheap", "low-quality", "non-edible" food was chosen. However, it does boast of some good and clean washrooms. There is no denying that.
Also Read: Shimla Manali Itinerary – How to Plan your Trip
Aarti jumped in the back soon after that and I got the entire front row to myself. It was just me and a pot of hot coffee. Sadly, the thermos was really low quality and what was supposed to be hot was just about lukewarm. Ugggh, I hate it when good coffee turns lukewarm – but beggars cannot be choosers, right? I had no choice but to gulp that cold black coffee along with my pride.
I decided to take it slow from here onwards. It was a prudent decision to let other vehicles pass and keep it slow and steady throughout the night. It was almost midnight when we rolled into Solan. The view was very tempting and I decided to take a break and shoot the town down on a full moon night.
Solan by night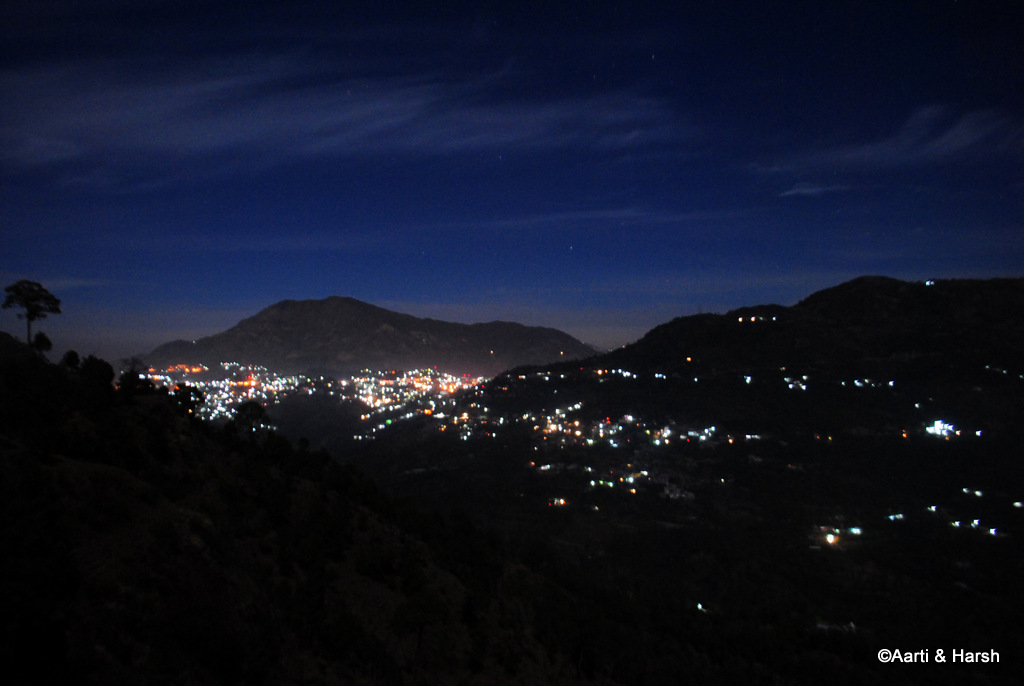 A moonlit sky near Solan – however, some clouds diffused the light around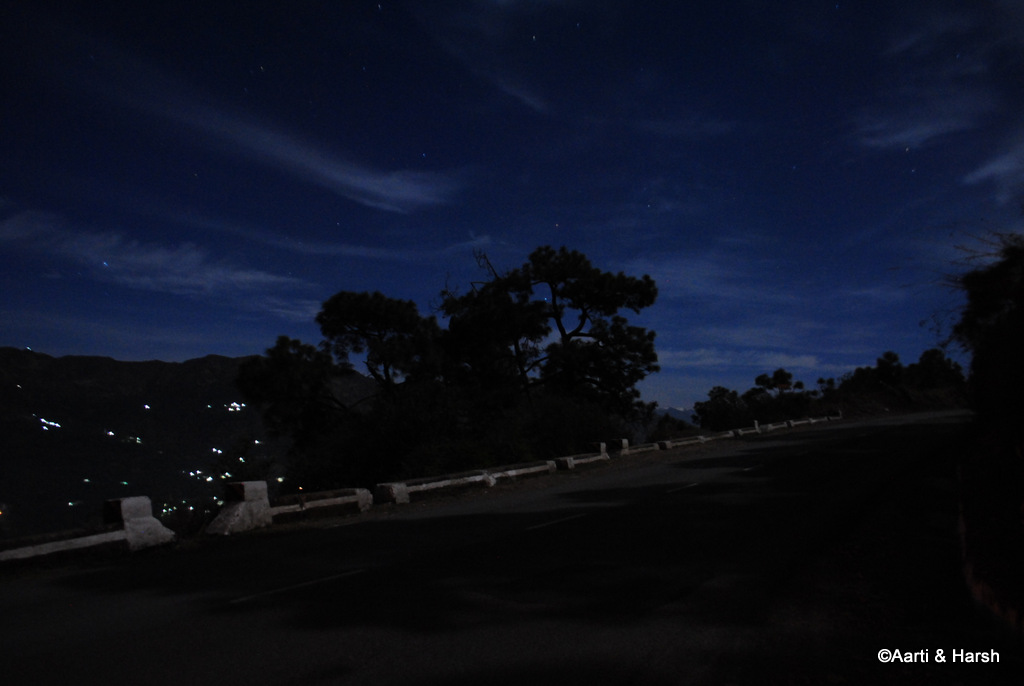 The Deer Incident
I was doing about 40 kmph on the climb towards Shimla when suddenly from the corner of my eye I saw a slight movement. I was not driving very fast, but it did not take Albert Einstein to realize that the object, a deer, which was now moving towards the center of the road, would crash into me within the next second.
Another thought flashed into my mind that Aarti was sleeping soundly on the rear seat and breaking hard would only cause her to topple over and hurt herself. I had the option to either hurt the deer prancing on the road or the doe-eyed Aarti sleeping on the rear seat. The decision was clear – I had to break hard, as hard as I could.
The tires were new and braking hard would decelerate Kiyang as much as possible. The incline would also help. It all happened within a time-lapse of about 2 seconds – Aarti fell from the back seat as I hit the barking deer at a speed of about 15 kmph.
Thankfully, neither of the parties involved was injured too much. The deer did not make a sound and pranced back to the hillside from where it had appeared. Aarti hurt her shoulder but not too much. Kiyang chipped its tooth (a plastic component installed beneath the bumper), but the damage was not much.
Needless to say, Aarti was a bit shook up as she was already against the idea of an all-night drive, but soon sleep took over and both of us back went back to doing our designated tasks for the night – she sleeping, me driving.
Narkanda & Rampur
The rest of the drive till Rampur was uneventful. A cousin of mine had also started riding from Delhi that evening towards Narkanda, and he informed me that he would halt that night at Pinjore. Tanveer called to inform us that the road to Spiti was still not open and that he had gone towards Kalpa. It seems our first day too was going to be a Delhi to Kalpa drive.
There were a few pit stops on the drive – cops requesting for IDs, failed attempts to find an open fuel pump, and some more to take advantage of the full moon night. However, by 3 am, the cloud cover ensured that night photography was out.
After a tea stop before Rampur and refueling at Rampur, dawn happened. We were still a good 4 hrs away from the reported landslide. Deep in my guts, I knew that we would not be allowed to pass.
Breaking dawn – somewhere near Rampur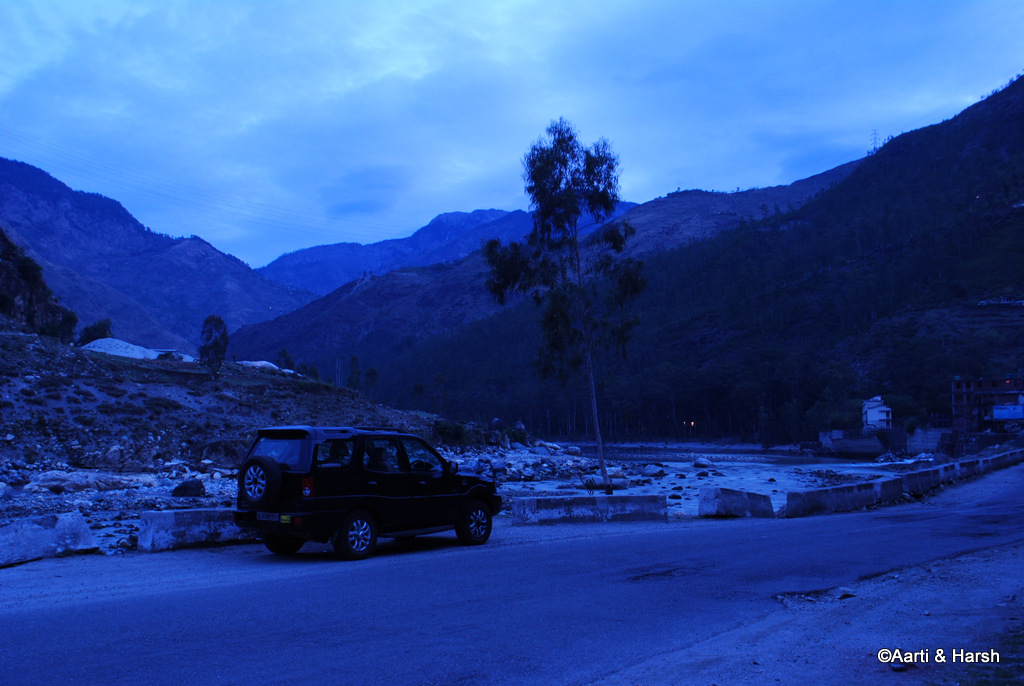 Kinnaur Valley
The sun was up and so was Aarti, ready to take over the wheel. I tried to catch some shut-eye, but owing to bad road conditions and my rumbling tummy, I could hardly sleep a wink. At about 9 am, we stopped at Tapri for some breakfast.
The locals had begun Holi festivities and colors were splashing around. Thankfully, they were too busy among themselves to notice a clean couple amongst them.
The omelet we ordered at the dhaba probably had all the salt produced in Rann of Kutch last year, but our hunger made us gulp it down with chai and bread. A quick call to Tanveer helped us decide our next plan of action.
I was to draft the first information report of the roadblock at Powari based on which the couple at the top of the mountain would either descend from heaven (Kalpa) or stay put. If open, we would move towards Spiti as far as we could, or else we too would join them in heaven.
These tunnels on the road have become a sign of Kinnaur Valley. Definitely, something to look forward to while driving from Delhi to Kalpa.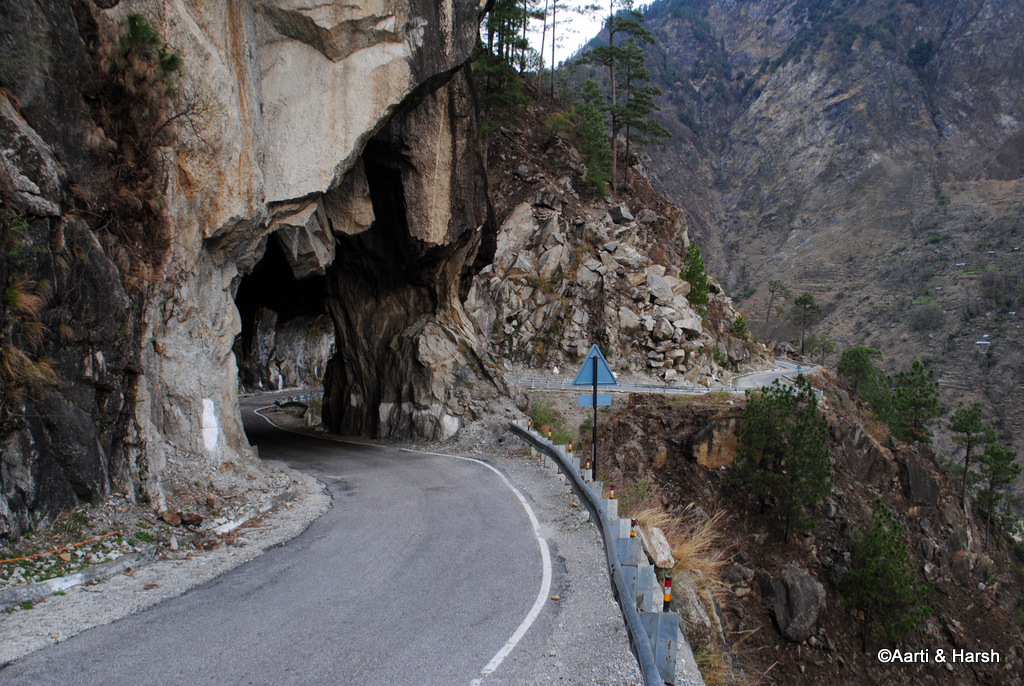 Those jagged mountains and beneath it one passes into Kinnaur. Another attraction of Delhi to Kalpa drive.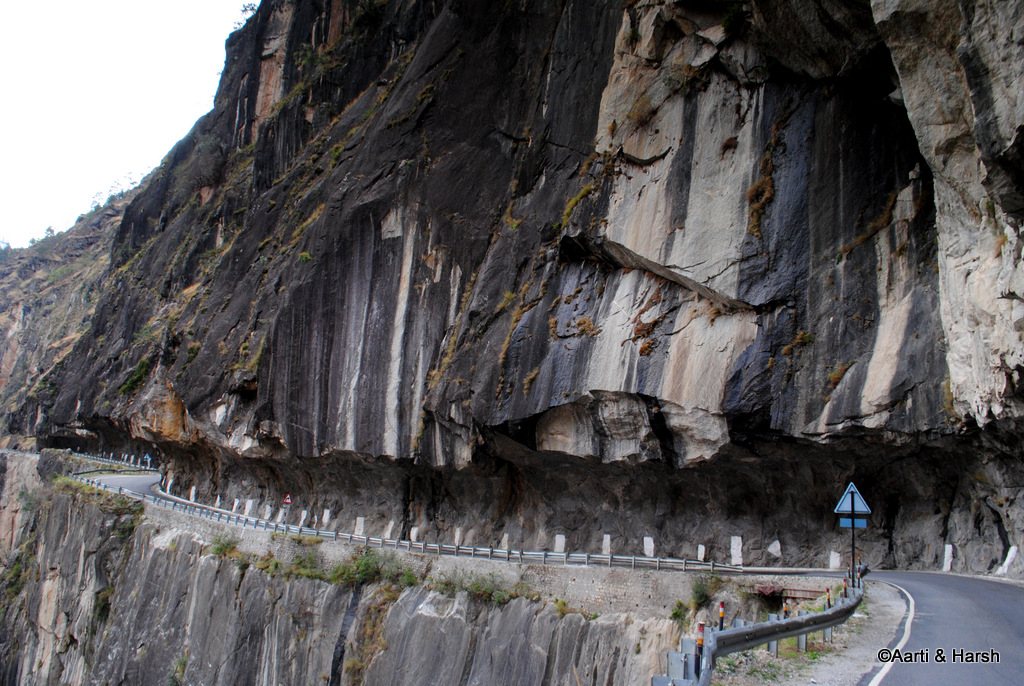 Kalpa
It was huge and it had 6 men on it and they were drilling with all their might standing over it (no pun intended). The rock was there to stay. The enormity of the landslide is difficult to describe in words or to capture in any photograph. We knew at first look that we were not going anywhere past it.
We chatted with a local GREF guy who looked in charge of the situation. He was forthright in his comments and said that if the scheduled blast at noon yielded the desired results, it was possible that the roadblock would be cleared later by evening. If not, then it would take at least one more day depending on how much damage the first round of dynamite inflicts.
I was confident that these guys with a truckload of explosives would be able to blast the bejesus out of the stupid rock in no time. Meanwhile, updates were given to the high and mighty above that the cannonball run had been stopped, and that the night halt at Kalpa was decided.
We reached an almost empty Auktong hotel, where the duo was put up. The room boasted of a wonderful view but was carpeted, a hotel attribute that we both dislike. It wasn't that cheap either at 900 bucks, so we decided to check out the other hotel we have always stayed at in Kalpa, Hotel Kinner Villa.
It usually has an asking price of 2500 but we expected it to be a tad cheaper in this season. Thankfully, rooms were available, and I made an offer to the hotel owner which he could not refuse. The deal was done at 1,000 bucks. We soon came across Tanveer and his wife who were strolling in one of the apple orchards at Kalpa.
Roghi Village & Suicide Point in Kalpa
After catching up briefly, we decided to part ways and meet later in the evening. What was supposed to have ended in Kaza ended up being a drive from Delhi to Kalpa. I was in desperate need of some sleep and was practically shaking by now.
It was 3:30 pm by the time we woke up. It was a short snooze, a just perfect snooze. Light enough to refresh and not long to keep you up all night. We met up with Mr. and Mrs. Tanveer and headed to the end of the road. Alas, some road work was going on, so we couldn't take Kiyang much further. We decided to walk instead.
Also Read: Places to visit in Kalpa & Things to Do
The short walk to the village Roghi, which lies at the end of the road, was refreshing but nothing to boast about. The highlights were some recently cut glaciers and landslides. The vertical drop from the road is pretty steep at certain points where one can plummet all the way down to the Sutlej if one wishes, thereby earning it the obvious name – the suicide point.
But it's more of a suicide stretch where there are multiple points to jump from if one wishes to engage in such an activity.
After walking for about a km, we headed back as it was getting dark and there did not seem much to see ahead. We mutually decided to spend some time sipping a particular drink made in a French village called Cognac.
Hotel Kinner Villa – Kalpa
This activity was precluded by some anxious moments with 4×4 action when Kiyang had to be parked up the steep hotel driveway. Burnt clutch, when attempted without 4WD, followed by the Safari going into a small ditch at the parking lot. With the snow not completely shoveled off the driveway, it was a precarious climb that had to be eventually done after engaging 4L.
The walk towards Roghi village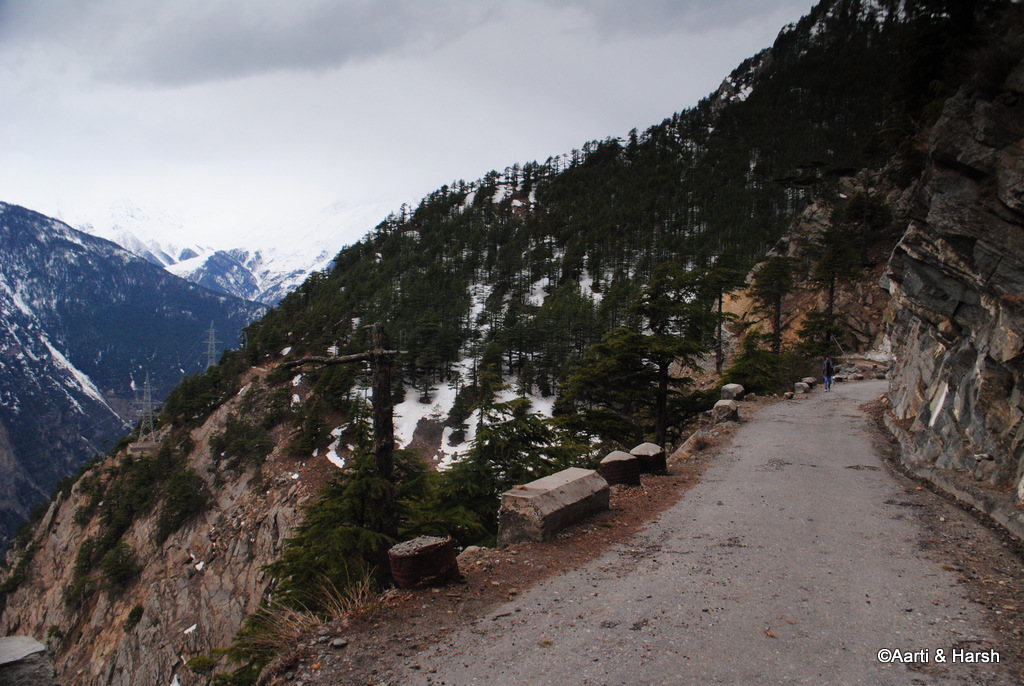 Overcast was the keyword on this trip – we hardly got any sunset shots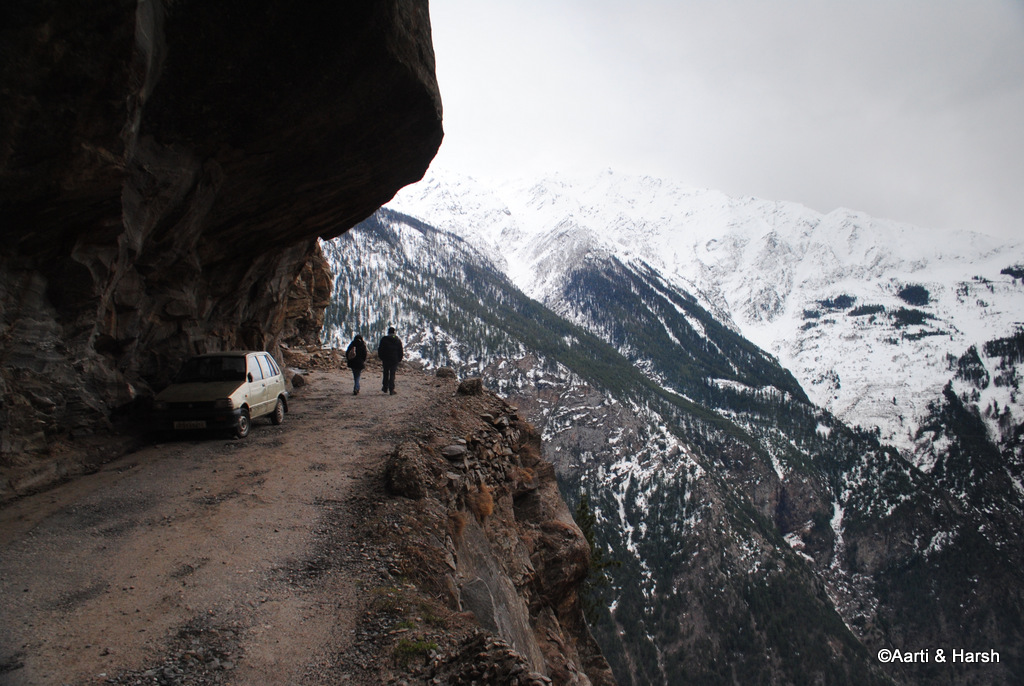 After that, in high spirits (literally), we caught up with Mr. Jamaica at Tanveer's hotel for a cup of tea. (Yeah talk about mixing drinks). It was fun discussing topics ranging from new rules at Rohtang to a guest house in Kibber village that boasts of WiFi connectivity! We left quickly though, as it was time to hit the sack.
Dinner was a simple affair, followed by a quick shot of the moonlit Kinner Kailash.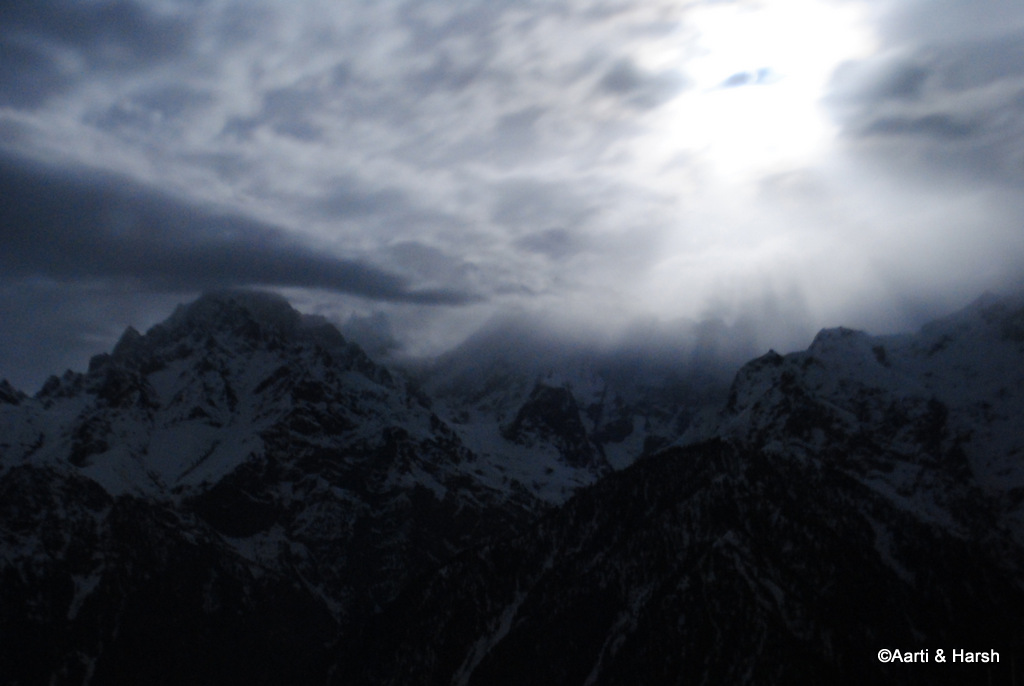 After that, we called it a day and it was time to catch some sleep. The day had been long but fun nonetheless as we drove from Delhi to Kalpa. The original plan for Spiti Valley was of course scrapped. We would now have to come up with an entirely new itinerary.
What followed was even more fun. We ended up exploring several different regions of Himachal; Kinnaur, Sangla Valley, Banjar, Tirthan Valley, Jalori Pass, Manali, and Prashar Lake. Please click on the link above to continue reading the next part of the travelogue.
Delhi to Kalpa – Conclusion
I hope the travelogue and pictures on traveling from Delhi to Kalpa were of help. If you have any questions or need any other details, please feel free to ask in the comments section below or at our Community Forum, and I will be glad to answer.