This article is in continuation with a previous one and a part of my winter trip to Kinnaur and Tirthan Valley. We started for Spiti Valley but due to heavy snowfall and blocked roads, had to change the plans at the last minute. After spending our 1st day in the shadow of the majestic Kinner Kailash peaks, we moved on from Kalpa to Chitkul on Day 2. Please click on the link below to read the previous part of the travelogue.
The next morning I noticed a lovely girl sitting outside the kitchen at our hotel. She was extremely pretty and had a nice athletic body. While I kept gazing at her, she kept staring at something inside the kitchen.
Aarti was still sleeping inside while I was out ogling at this beauty in front of me. It did not seem right to make a move but I could not resist the temptation. My eye caught hers and she too reciprocated my love. It was pure magic.
Before I could say "Kumbaya", she started running towards me – with ears twitching in the morning sun, her tongue-wagging, and her long and bushy tail swaying with each stride that she took. She was in my arms and we hugged as if two friends were hugging after meeting each other after a long time.
Her name was Chinki, and she is a very affectionate 4 yr old – German shepherd. The morning spent with her at the hotel's rooftop with Kinner Kailash and a relatively clear sky was amazing.
Day 2: Kalpa to Chitkul to Rakcham
I returned to the room to find Aarti up and about and we were soon busy getting ready for the day. The phone rang, and it was Manik on the other side. They had reached Kalpa the night before on their dukes and were staying pretty close to us.
After a few miscommunications between Kinner "Kailash" and "Villa", we finally found each other, exchanged stories, and moved back into our own hotels to get ready for the day. It was Manik who first mentioned an alternate road to Pooh which bifurcated somewhere at Peo.
Also Read: How to Plan a Trip to Kalpa – A Complete Travel Guide
It was surprising that an alternate route should exist since there were no taxis heard plying on this particular option. At breakfast, the alternate route theory was confirmed by the hotel guy and we thought it might be a good option to check it out.
I called up Tanveer to inform him that we would move ahead, to find out more about this alternate route, and have a look at the site conditions at the landslide below. Sadly, the alternate route had closed a year ago as we later found out.
Prayer flags always look pretty with a white background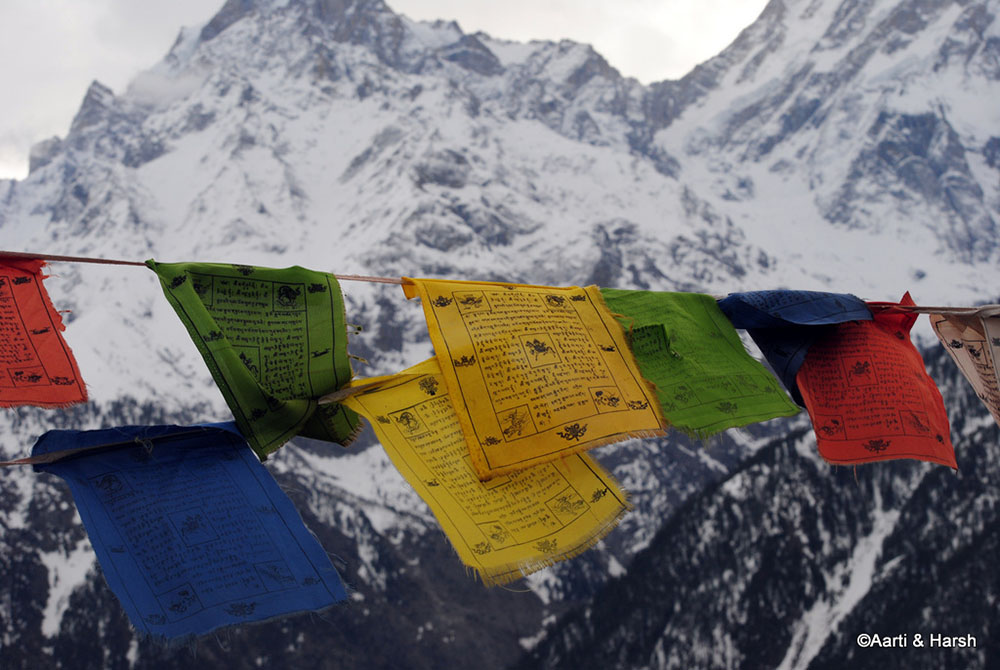 The apple orchards and houses below were covered in white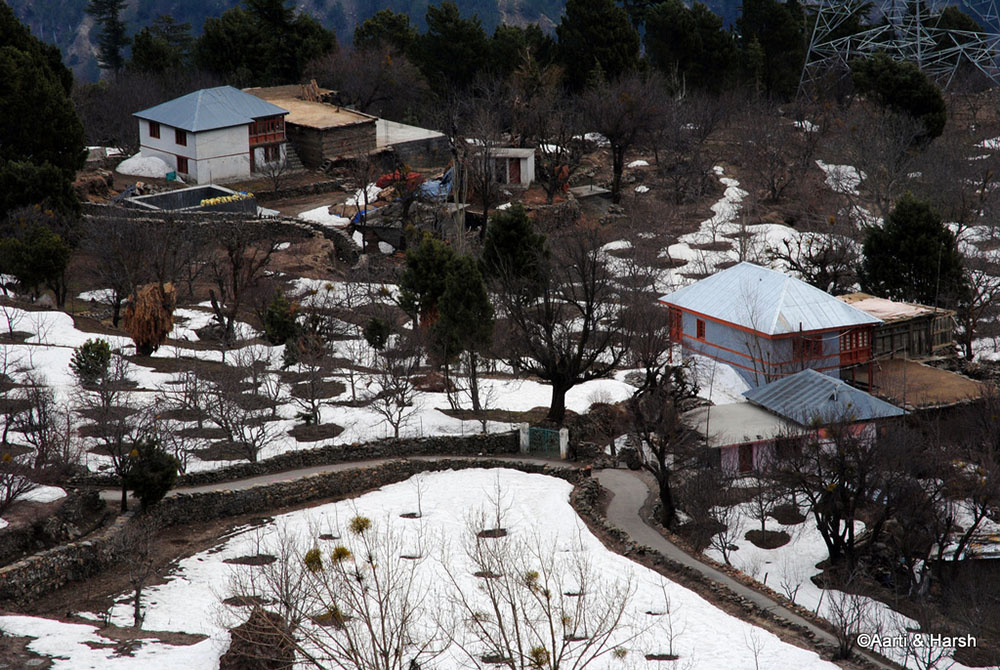 The driveway – a view from the parking lot towards the hotel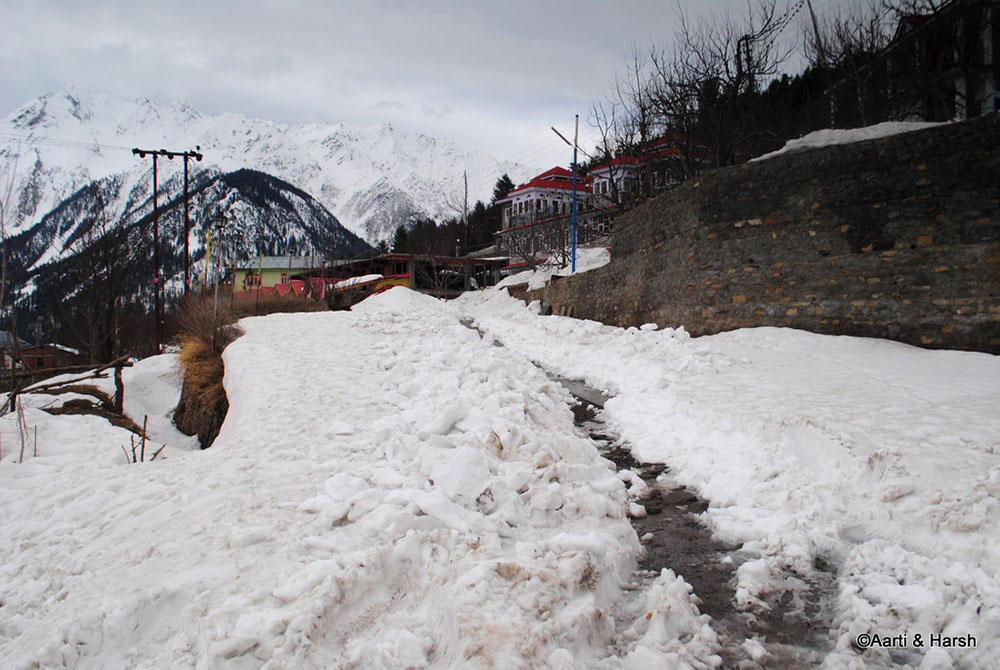 ​The First Roadblock
Remember the movie Independence Day, in which the president orders a nuclear strike on the alien spaceship thinking this was a necessary evil to eliminate the enemy.
However, as the story progresses we all know that the nuclear strike was hardly successful and there was absolutely no damage done to the spacecraft, whatsoever. I'm pretty sure that the GREF guys had felt similarly when they saw the outcome of striking that rock with dynamites.
The rock was absolutely the same as it was the day before, barring a small crack that was visible over its surface. And it was then that it dawned upon us that our plans to witness "A different Spiti' had come to an abrupt end.
Also Read: Kinnaur Valley in Winter – How to Plan your Trip
Change in Plans
The alternate plan was quickly drawn out. It had to be Chitkul for the day which, as rumors had it, was closed for vehicles – but that was the best shot we had of saving the trip. So the two Safaris turned about as quickly as possible and headed towards Rakcham.
I quickly called up my cousin Durgesh, who had spent the night before at Sangla, to inform him of our plans. We decided to rendezvous later in the day at Rakcham. I also received a call from Kartik and I updated the sad news to him that Spiti was probably out for all of us during this trip.
The second landslide – the smaller one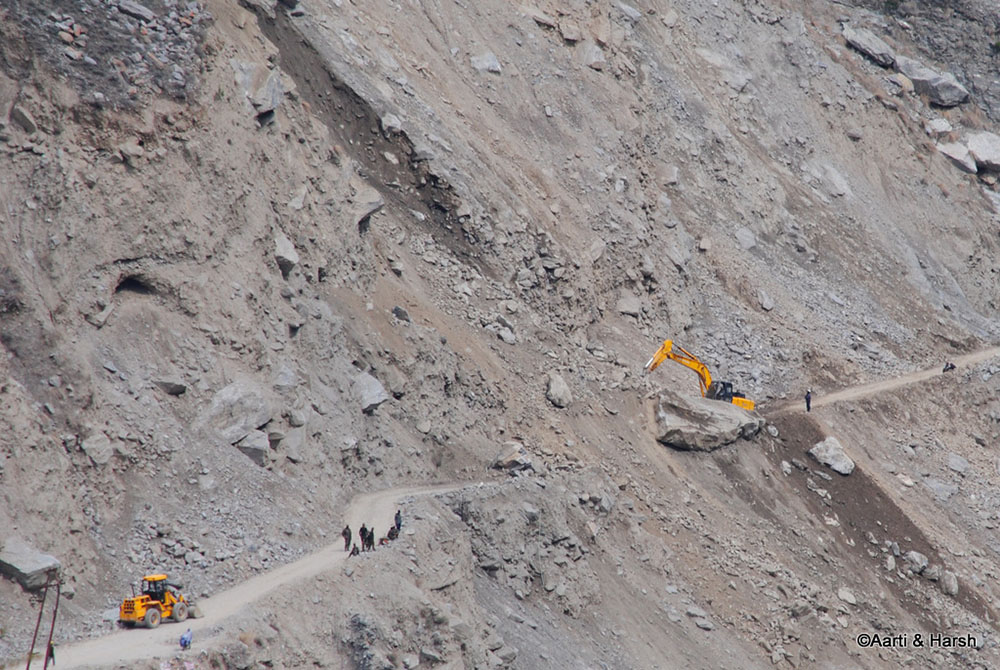 The Second Roadblock
Lady luck had mostly forsaken us on this trip, just before Rakcham we have stuck again on what felt like another roadblock up ahead. Expecting the worst, we assumed, at first that it must be another landslide. This time it was a truck slide.
A fully loaded truck carrying tonnes of steel rods had slipped off and was now hanging precariously over the edge. It seemed that one push would have sent it down to the raging Sutlej below. A part of the truck was blocking the road and traffic had come to a grinding halt on both sides.
The rescue mission was underway with two bulldozers trying to tow the truck back up – but due to site constraints, it was logistically very difficult to pull it back up. Eventually, a brilliant mind thought of an idea – why not take out one steel rod at a time to make the vehicle lighter so that one bulldozer could pull it up.
And then they started working – one steel rod at a time. This was going to take ages now and so we went back to our 'trucks' – made some quick ready-to-eat MTR lunch as we waited. Thankfully the wait was not long, probably an hour or 1.5 hrs, and the truck was successfully pulled out from its impending doom.
Also Read: How to Plan a Trip to Sangla Valley & What to See
Sangla
The rest of the drive to Sangla was pretty straightforward. The climb from Rakcham to Sangla was a familiar territory with broken tarmac at the beginning and a massive landslide area towards the end. There are numerous villages on the opposite hill with roads and hikers' tracks crisscrossing the terraced fields, making everything look very beautiful.
Oh, how much fun, it will be, to just stay here.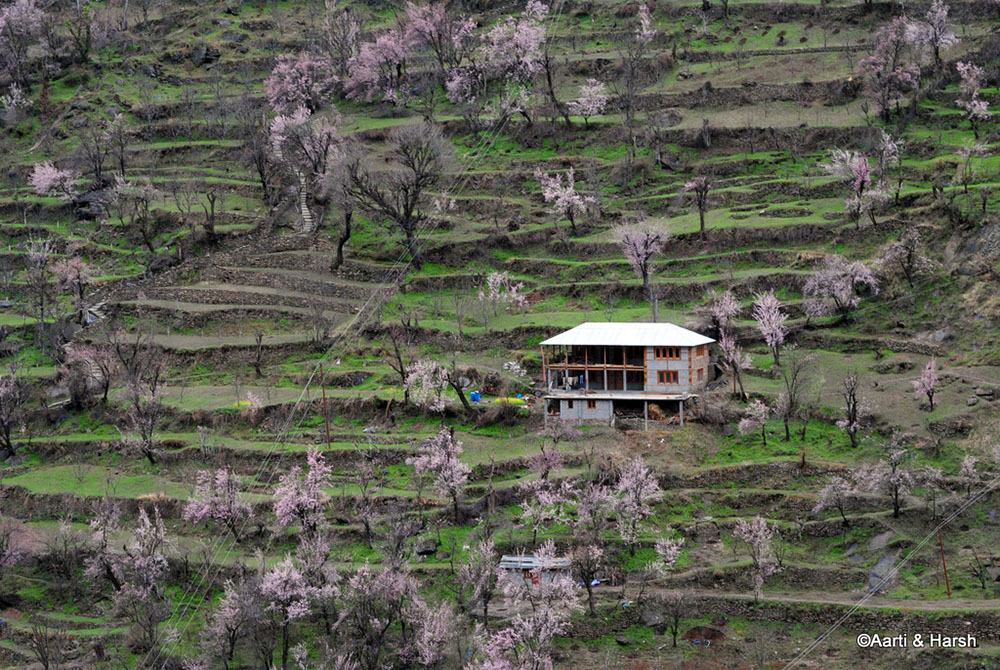 ​Sangla village seemed to have grown quite a lot since our last trip to the region back in March 2008. It is one step shy of becoming a concrete jungle. Well maybe a couple of more steps shy, but it is getting there.
However, as soon as one steps out of the village, a wide valley completely devoid of things city like welcomes you. It is quite a pretty sight, with a curvy Baspa River winding through a valley covered in snow.
We were rolling on towards Rakcham when a call from Tanveer informed us that the road towards Chitkul was heard to be almost open and that they were moving ahead to check that out. It seems that lady luck was smiling at us, finally. Beyond Sangla, the whiteness of the valley kept on increasing steadily as we started to gain altitude.
With the sky still overcast, there was a good chance of us catching snowfall later in the day. Upon a turn on the road, we saw a white Apache coming towards us. It was my cousin riding back from Chitkul.
Also Read: How to Plan a Trip to Chitkul
On the way to Chitkul
He was in absolute bliss – and I must take part credit on that front. The thing is that after much convincing he had planned his first solo ride to the hills during this Holi break. Riding through a snowy Sangla valley was truly a wonderful experience for him and he was really enjoying himself.
He mentioned that the road was not open all the way till Chitkul but probably a 4×4 could drive on the partially cleared road ahead.
The quintessential bridge shot from Sangla valley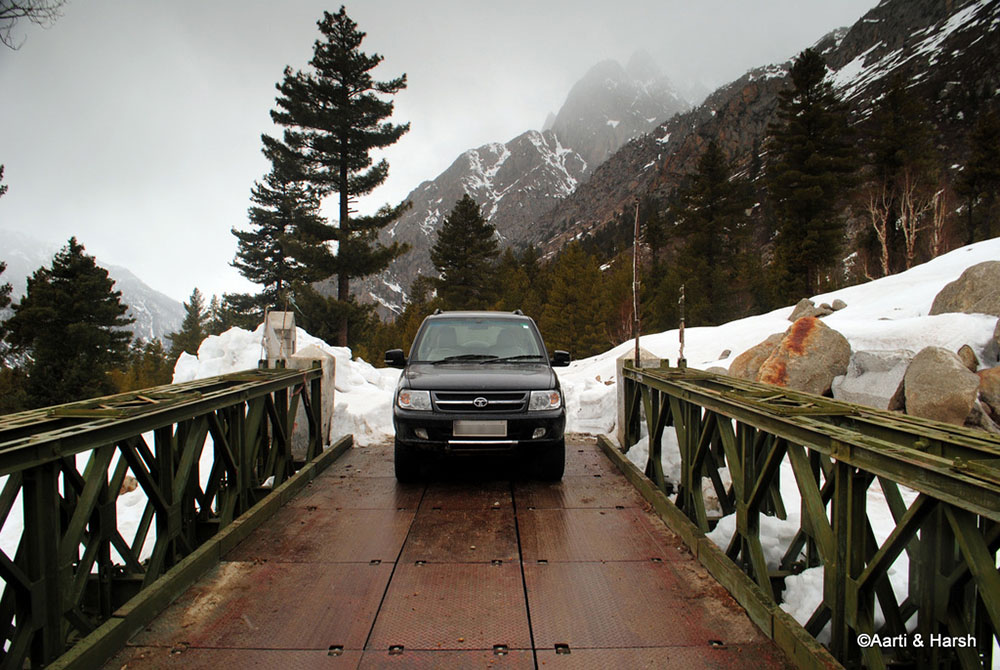 The road ahead – towers Rakcham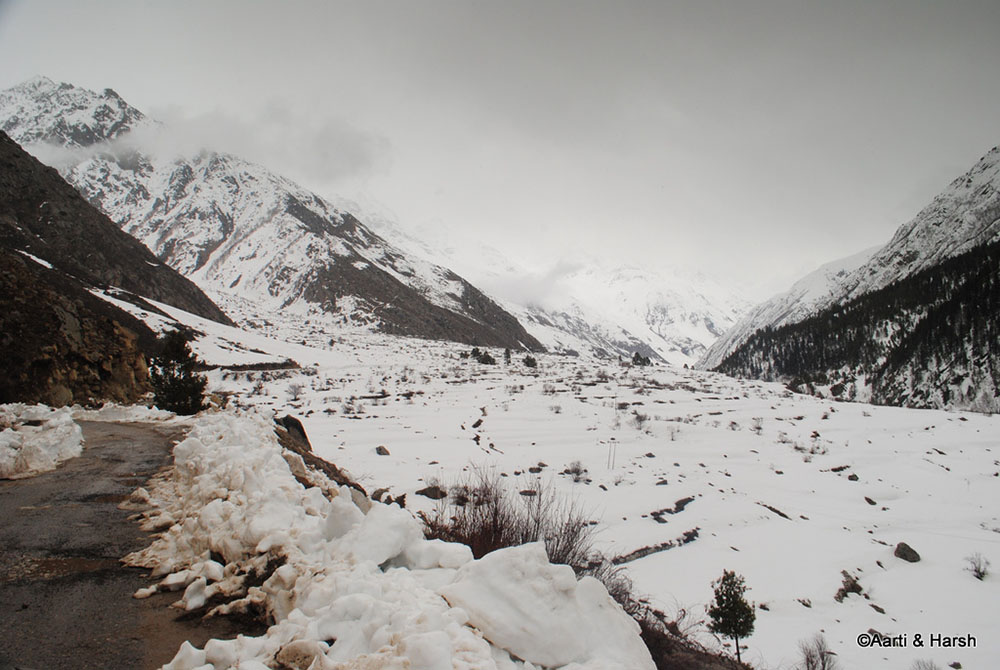 ​We parked his bike on the side and he sat with us in the Safari. We then marched ahead towards Chitkul. Soon we reached the stretch where he had had to turn his bike around and for good reason.
The road ahead was a sheet of ice. We engaged 4H and marched on. We also caught up with Kartik and his team (Rajeev, Rajib, and Tanya) in their Swift & Gurkha. They parked their Swift on the side of the road, and all of them jumped on the Gurkha to move ahead.
The road pretty much ended after a km from there, and we could see a dozer still working furiously to clear what was left. The dozer was out of fuel and further clearing till the village could only happen the next day.
Soon the Gurkha arrived, and after parking all vehicles on the road, the Gurkha, WE, and Kiyang gangs started on foot towards Chitkul village.
Also Read: When is the Best time to Visit Chitkul
Trekking to Chitkul
The snow was a bit soft and was caving in at certain points. I was perfectly comfortable in my Quechua shoes, but Aarti and Durgesh were struggling at places with numb toes.
The walk itself was nice initially only to turn into a muddy & dung-infested lane in the village. At this time it best decided to head back, as the weather also seemed to be taking a turn for the bad – or should I say for the good. Snowfall seemed imminent.
Kiyang marches ahead breaking walls in its path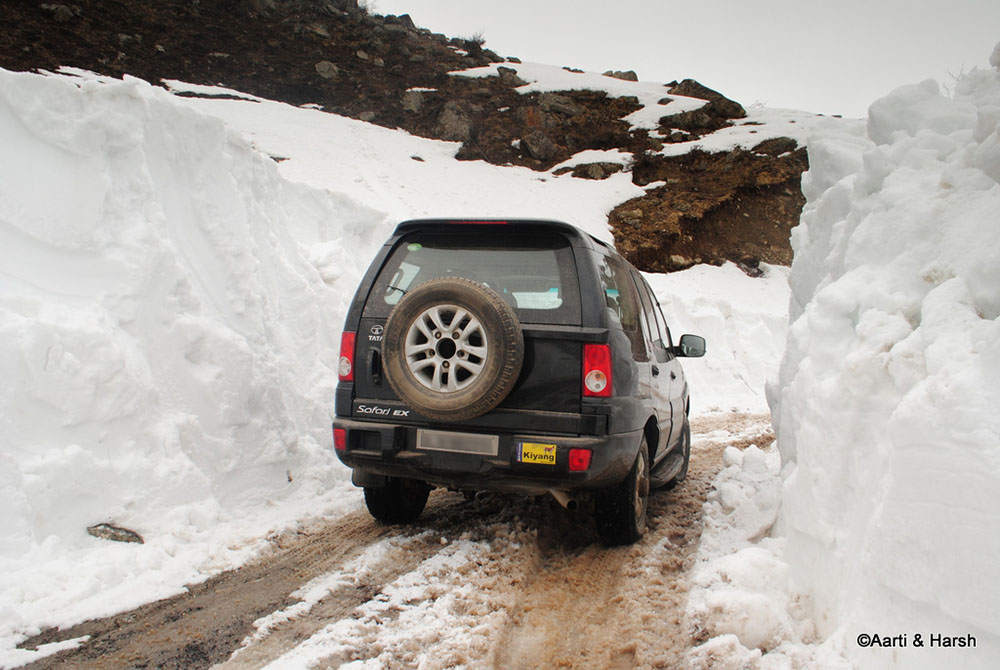 Well it was the bulldozer which broke those walls, the icy sheet of a road beneath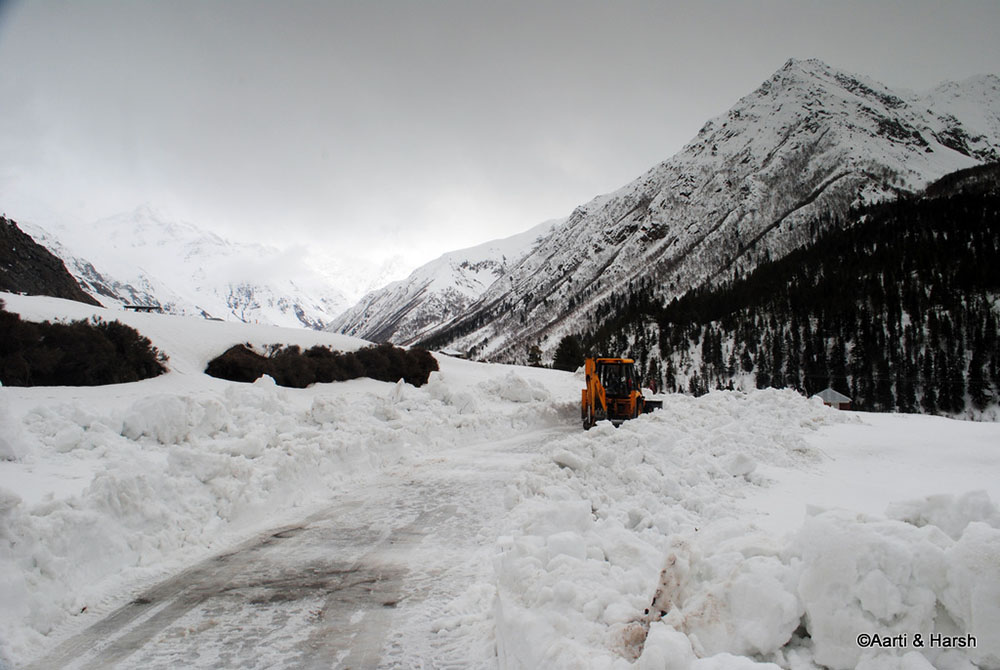 Safari owners unite!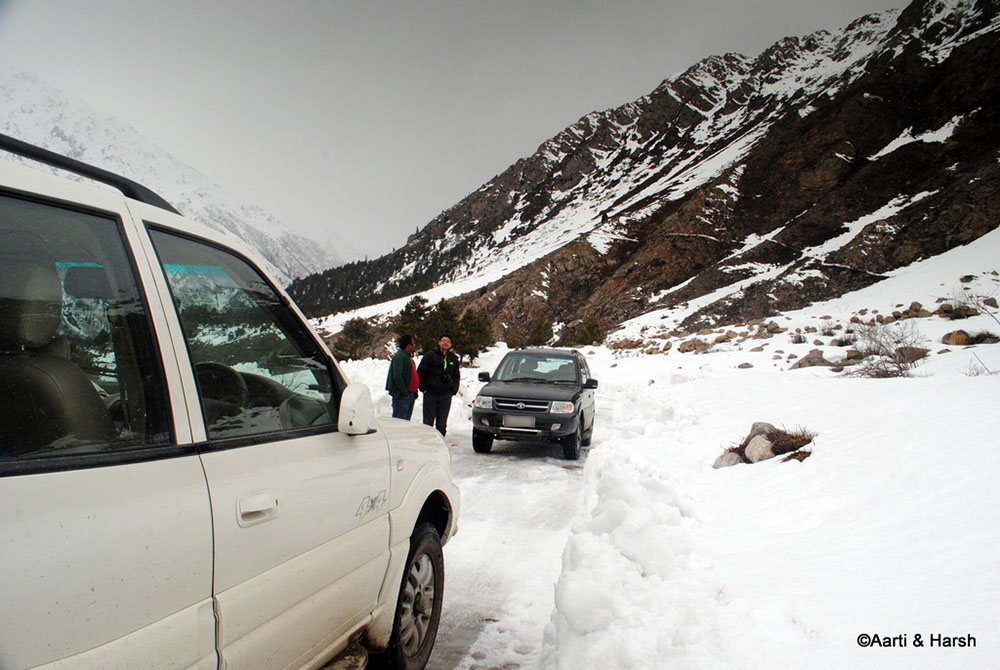 Aarti seen here with a Chitkul background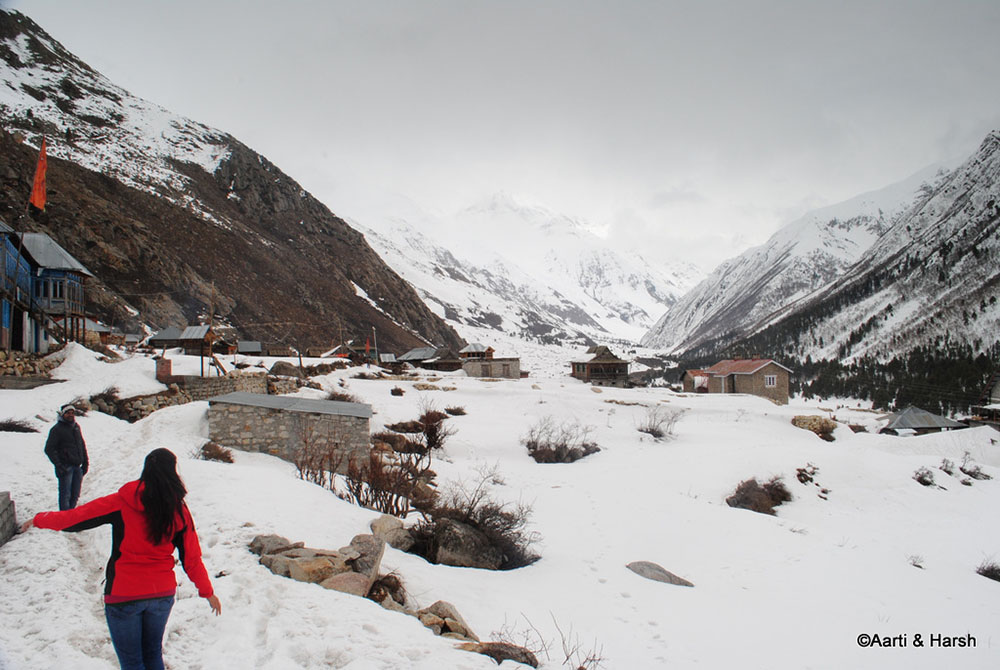 A White Get-Together
Back at the parking lot, a picnic had begun. All the 3 vehicles were well stocked in cooking apparatus, however, the Gurkha needs a special mention here.
The back seats had been removed and a single man folding bed had been made instead. On the other side of the bed was a customized cabinet – well equipped with an inbuilt stove, a kitchen sink, and drawers for utensils. Rajeev started to brew hot tea for all of us while we took out our small stove to cook some Maggi.
Also Read: Sach Pass and Pangi Valley – An Adventurous Journey
The picnic also consisted of some very bright-colored candy that Mrs. Singh was carrying, it was delicious but a few spilled candy on the white powdery snow revealed the true color content of the tasty devil. The picnic lasted for an hour and can be best described as a one-bit 4WD potluck. Whoever said that birds of a feather flock together was indeed correct.
The picnic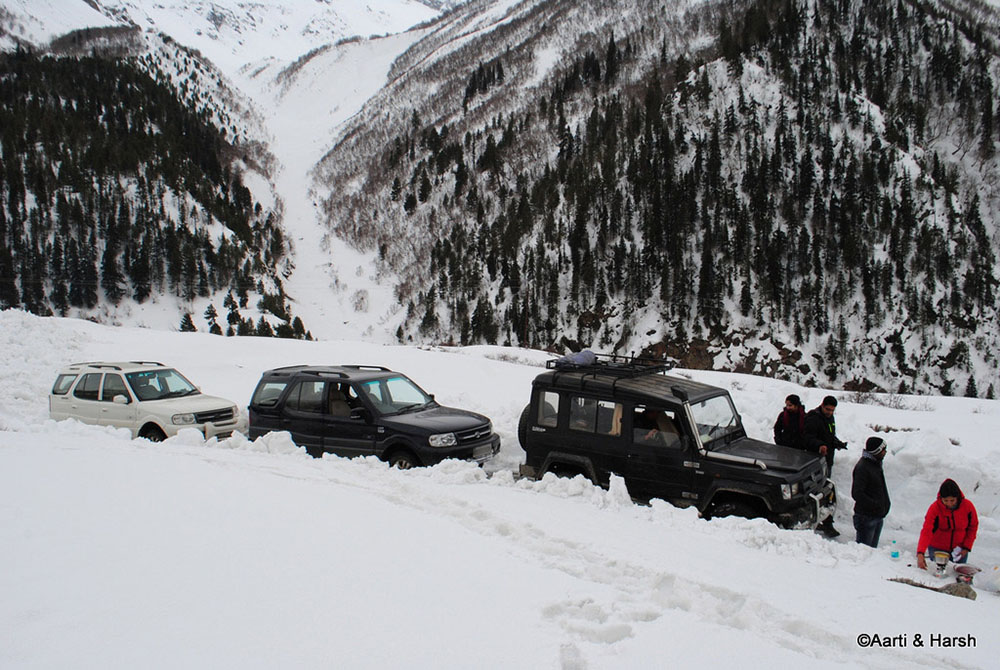 A pano of the picnic

Black Label and White mischief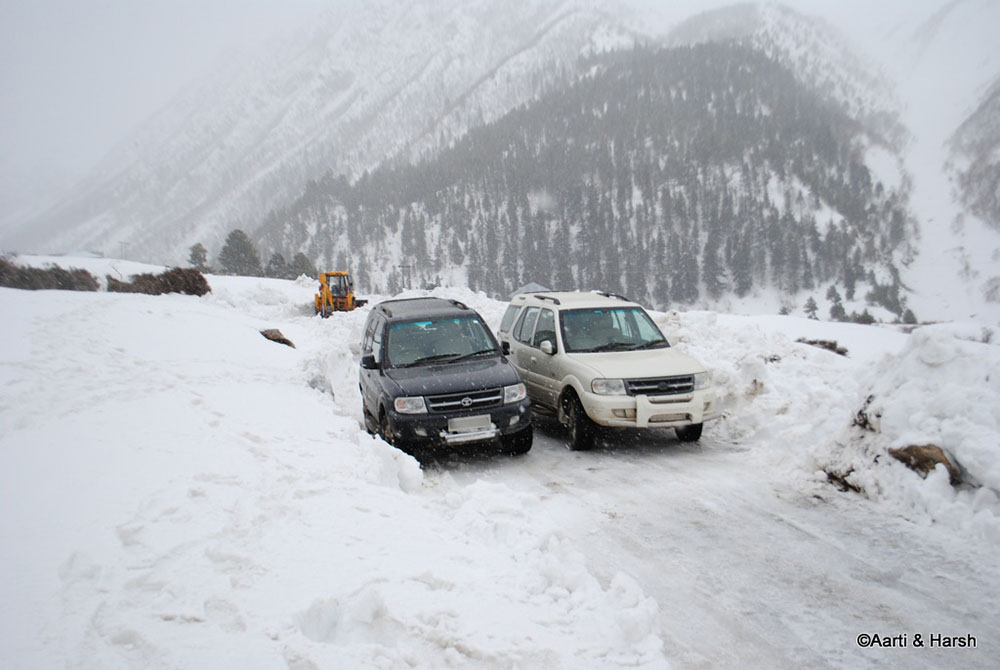 Rakcham
We broke up soon as the temperature started to plummet rapidly and eventually it started snowing. The snowfall was the heaviest I've seen in my life yet and was a lovely experience.
After a few shots in the storm, we all headed back to the only hotel at Rakcham, Hotel Rupin River view. It was already twilight – by the time we managed to reach the hotel. After checking into our respective rooms, we again rendezvoused for dinner and drinks from a pretty French village.
The food, drinks, conversations were followed by another bout of snowfall which had begun outside. We all knew that the next morning would be a sight for all of us, as we tucked in.
We also had to decide on a course of action for the next day, reports from Jalori mentioned that the pass was probably still closed.
The fun, uncertainty, and the white vistas continued on the next day of the trip. We pretty much went with the flow and kept deciding new places as we moved with the trip. Please click on the link above to continue reading the next part of the travelogue.
Kalpa to Chitkul – Conclusion
I hope the travelogue, pictures, and information on traveling from Kalpa to Chitkul were of help. If you have any questions or need any other details, please feel free to ask in the comments section below or at our Community Forum, and I will be glad to answer.