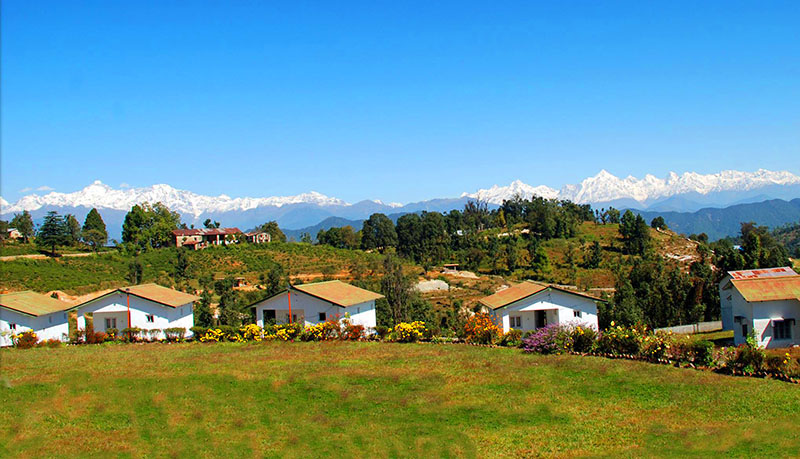 When should you visit Chaukori will really depend on what you seek there. Not just Chaukori, I believe this applies to every tourist destination there is. Chaukori is a quiet little hill station that has a different color in every season. Usually, it is the months of April to June that are considered to be the best time to visit Chaukori. But will this suit you as well? Read on to find out.
Please note that in this article, I am only going to talk about the best month and season to visit Chaukori. For other necessary details like how to reach, where to stay and what to see, please read How to Plan a Trip To Chaukori – A Complete Travel Guide.
About Chaukori
Chaukori is located in the Pithoragarh district of Uttarakhand. A trip here is usually planned together with another nearby hill station, Munisyari. Together, both these places have been gaining tourist attention of the stunning natural beauty and a wide and picturesque view of the western Himalayan range.
Located at an altitude of 2,010 meters (6,590 ft), Chaukori is perfect for someone wanting to visit an offbeat destination and spending time away from the crowd. It is very well connected with a good motorable road and remains open for tourism for all 12 months.
Weather of Chaukori
Due to its high altitude, the weather of Chaukori remains cold throughout the year. It never gets hot here and even in the months of May and June, you will be sleeping with a blanket on. The temperature changes drastically depending on the month and between day and night. During winters, the entire town gets wrapped in a soft carpet of snow and turns white. It turns dry grey in the months of summer, green in the monsoon and then orange in autumn.
Let us take a look at a month by month breakdown of the weather in Chaukori to determine when you should be visiting here. Please note that the temperatures I am mentioning here are just historical average and will be different depending on the time of your arrival.
Chaukori in November
November marks the beginning of the winter season in Chaukori. This is overall a bad month to go because the scenery at this time is very dull and dry. It will be very cold and there won't even be any snow around.
The average temperature will range between 15°C maximum to 5°C minimum. At night, this may drop even further down to 0°C.
Also Read: Lohaghat – A COMPLETE Travel Guide and Itinerary
Chaukori in December
The average temperature will remain between 1°C and 10°. The first half of the month will mostly be the same as November, dull and dry. After 15th however, it can snow anytime in Chaukori. The upper reaches of the valley start to receive snow by the end of November itself.
Chaukori in January
January is the month of white. This is when it snows the most in Chaukori. The temperature will fall further down to an average minimum of 0°C and a maximum of 5°C. This is a great time to plan a winter trip to Chaukori and see the entire village covered in snow. The road remains open throughout the month.
Chaukori in February
If it was snow you were after, you will have to plan your trip in the early part of the month. The chances of a snowfall reduce as the month progresses. The average temperature will range between 8°C maximum to 1°C minimum.
Chaukori in March
The chances of snowfall in Chaukori in March are very less. The snow even from the upper reaches of the region also starts to melt and is mostly all gone by end of the month, except for the top of the surrounding peaks. The temperature will range between an average of 14°C maximum and 3°C minimum.
For a trip in these winter months, you will have to pack all your heavy woolens, body warmers, jacket, woolens socks, and gloves. Please make sure that your jacket also has a hood to protect your head, neck, and face. If it does not, then you will have to pack woolens caps and a muffler as well.
Also Read: Harsil – A COMPLETE Travel Guide and Itinerary
Chaukori in April
April marks the beginning of spring and also the tourist season in the region. The average temperature will rise to 17° maximum and 7° minimum. The weather will be clear with sunny skies, moderately warm days, and pleasantly cool nights. You will get a clear view of all the Himalayan peaks.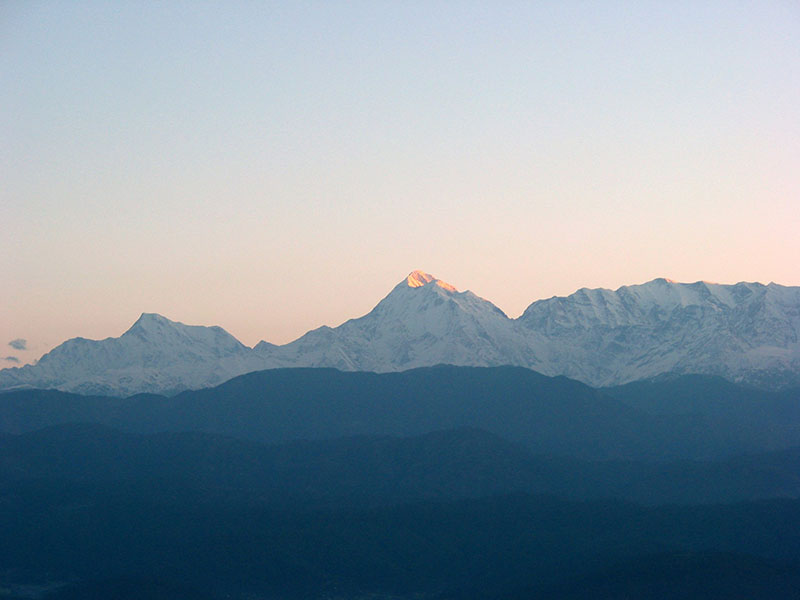 Chaukori in May
May and June are the peak tourist season in the region. This is when Chaukori receives the majority of its tourists in the year. With temperatures between a maximum of 22°C and a minimum of 12°C, it is a perfect time to spend some time in Chaukori and escape the scorching heats of the plains.
Chaukori in June
June is the warmest time of the year in Chaukori. The temperature will rise to 27°C maximum and 15° minimum. With vacations in the schools on, you will also find a lot of tourists here, but not an extent that it may feel crowded. It is another good month to visit here.
For a trip in summers, just pack your regular cotton clothes along with a few light woolens and it will suffice. A light jacket will be needed for the evenings and mornings.
Chaukori in July
Not just Chaukori but the entire region starts to receive pre-monsoon showers by the end of June. The months of July and August belong to the rain gods. Sometimes it rains so much that it can wash away entire sections of roads. A trip at this time anywhere in the Himalayas will have the risk factor to it. The temperature will range between 23°C maximum and 15°C minimum.
Also Read: Bike Trip to Auli – An Amazing Road Trip to Auli, Uttarakhand
Chaukori in August
It will continue to rain throughout August. If you are visiting Chaukori at this time, you must take a look at the weather forecast before you leave home. There is no point in coming to Chaukori and then sit inside the hotel if it continued to rain. The temperature will come down further to 23°C maximum and 15° minimum.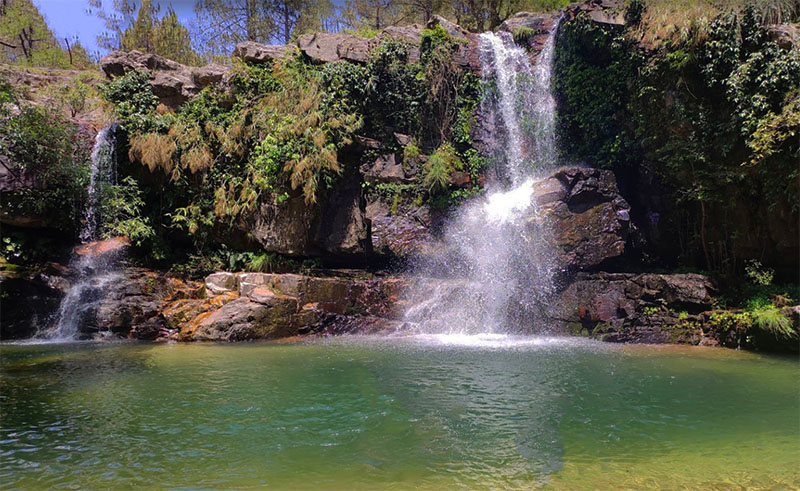 Chaukori in September
September is my favorite time to visit Chaukori. The rains will be all gone but would have left plenty of greenery behind. The hills would appear as if they have just been washed clean and covered with a carpet of green. The views you get at this time will truly be heavenly. The temperature will range between an average of 20°C maximum and 13° minimum.
For a trip in the monsoon season, you should bring clothes that can dry faster, like polyester. You will have to waterproof everything. If you were traveling in a car, it would be wise to pack an umbrella as well.
Chaukori in October
October marks the arrival of the autumn season. All that was green in September will now turn orange, giving a magical golden touch to the valley. The cold will also start to settle in by the end of the month. The temperature will drop further down to an average of 17°C maximum and 12° minimum.
Also Read: Less Crowded Hill Stations in Uttarakhand
Best time to visit Chaukori
Now based on the information above, I believe it is safe to say that the best time to visit Chaukori is from April to June and September to October. If you were visiting with family, May and June will suit you the best. For a photography visit, you should plan in September. If you were on a tight budget, a trip from July, August and November will be your best bet. If you were thinking of riding your bike to Chaukori, you must avoid the monsoon season.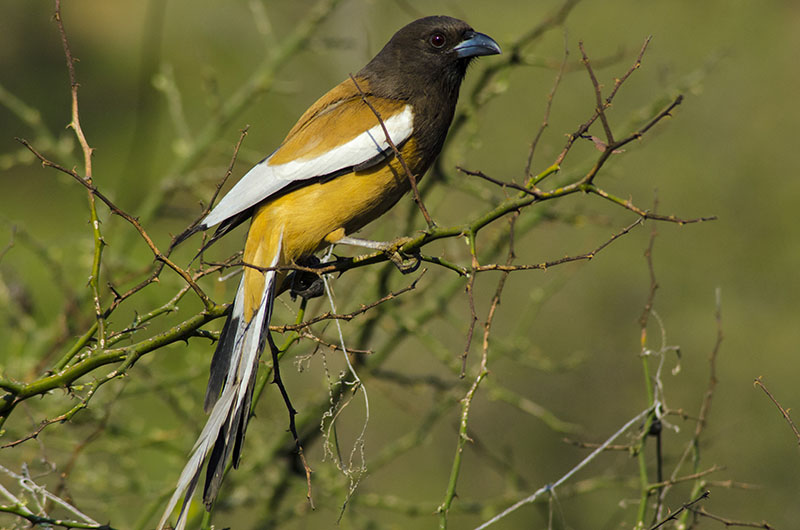 Conclusion
I hope the information above on the weather and the best time to visit Chaukori was of help. If you have any questions or need any other details, please feel free to ask in the comments section below, or at our Community Forum, and I will be glad to answer.